Post by bixaorellana on Oct 25, 2011 20:20:21 GMT
Just a few bits of my life from Friday through Sunday in October. Nothing exciting, only that I'm doing it in an exotic foreign place,
just as the activities of the rest of you are going on in places exotic to me.

Friday I had to go to the big produce market, whether I wanted to or not, since I was out of food.
Even though I don't like to take my camera there when it's crowded, this close to Muertos there are likely to be good photo-ops.
First I go over the ground rules with the puppy. She is shocked and wounded that I'd even think she was digging.
Yes, you're precious. Yes, I'm still leaving. Lemme go inside and change.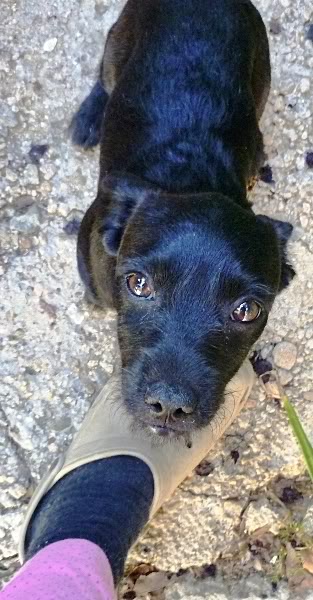 The game plan for this excursion was to take pictures of all my favorite vendors and their stands.
I mostly spaced out doing that, but did capture a few.
This plant vendor is always one of my first stops. She's lovely and has great stuff.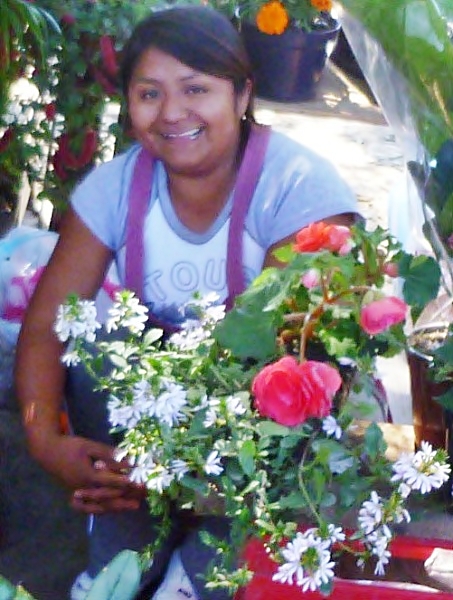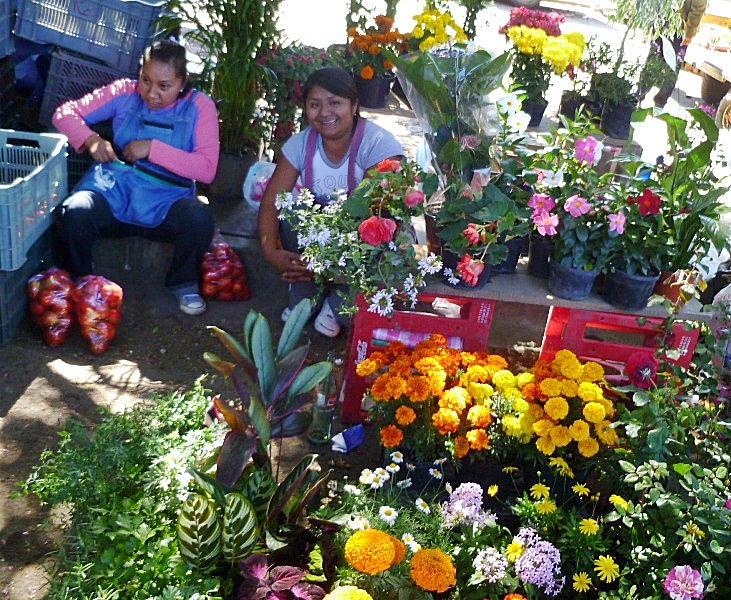 Almost immediately I come across some early warning signs of Day of the Dead, which you all may recognize from
my thread on that subject
. Actually, the marigolds in the plant picture are also specific to this time of the year, as they're not generally grown as ornamentals the way they are in other parts of the world.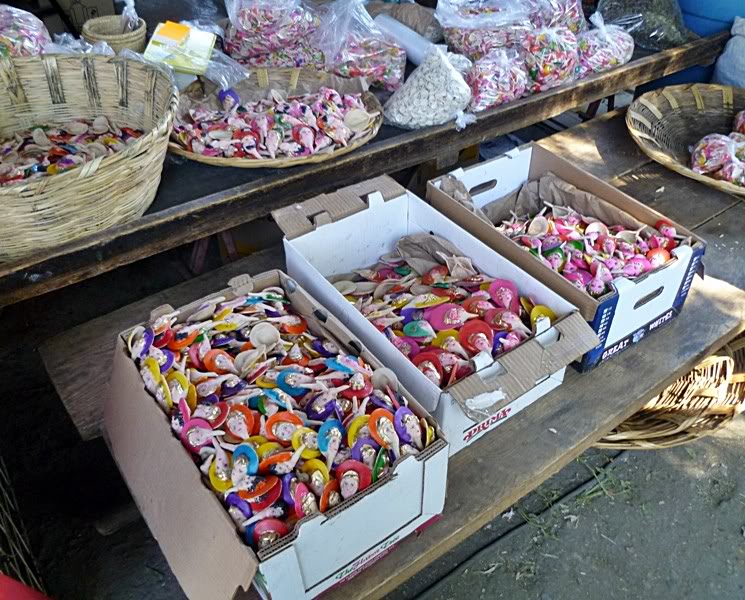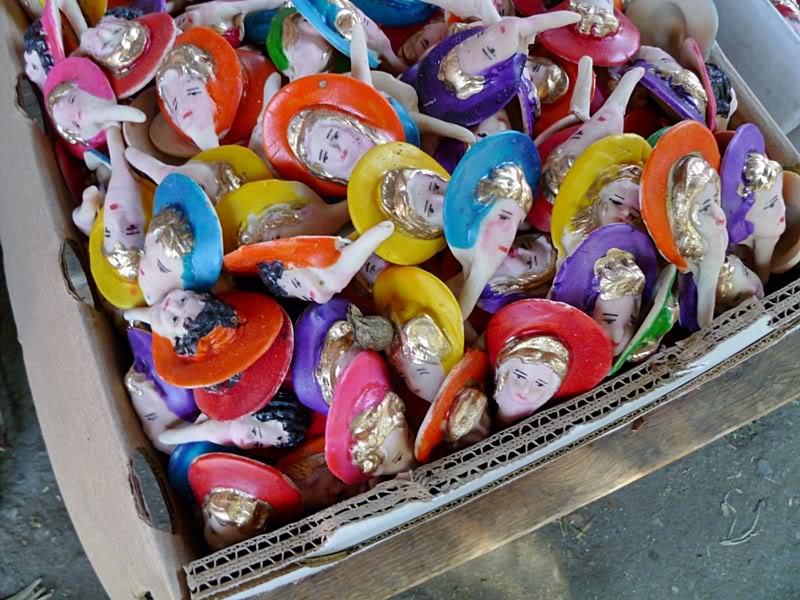 It's not super crowded for a Friday, but next week should be a madhouse.
Still, I have to keep out of the way of laden porters and vendors with unwieldy products.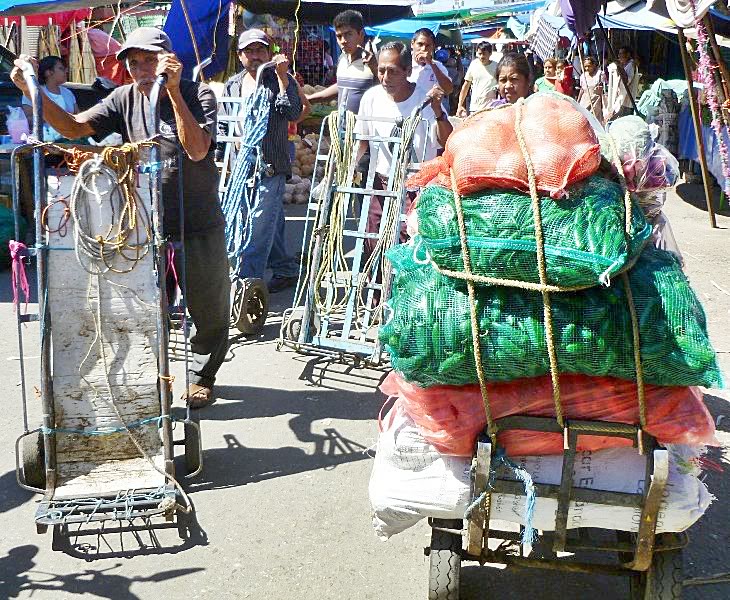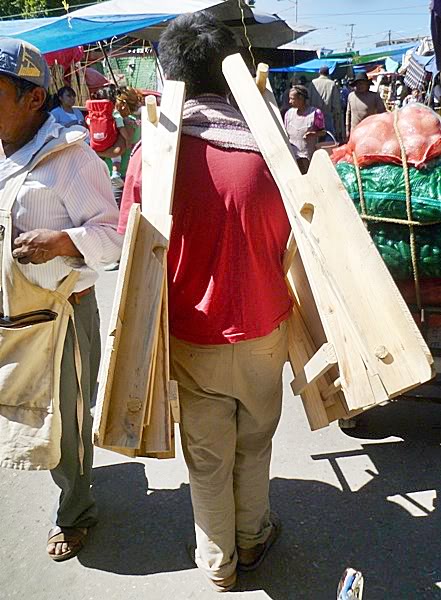 These markets have customer convenience and product availability down to a science.
This tiny grocery is fairly easy to set up and dismantle.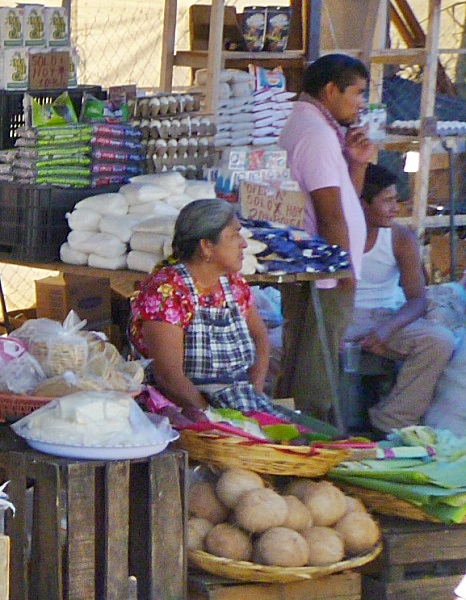 Garlic! Get some garlic! This vendor is in the section where the people from the Isthmus of Tehuantepec have their stands.
The women in the next photo wear clothing typical of that area. The standing woman is folding banana leaves.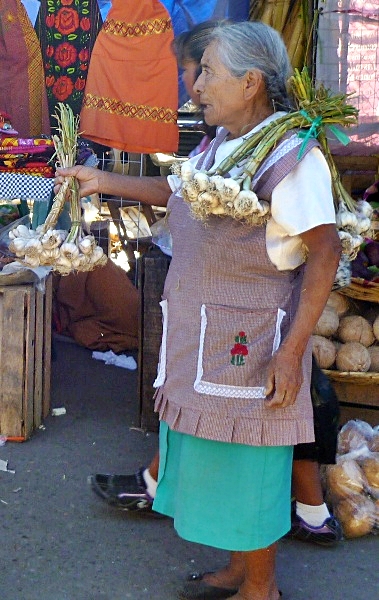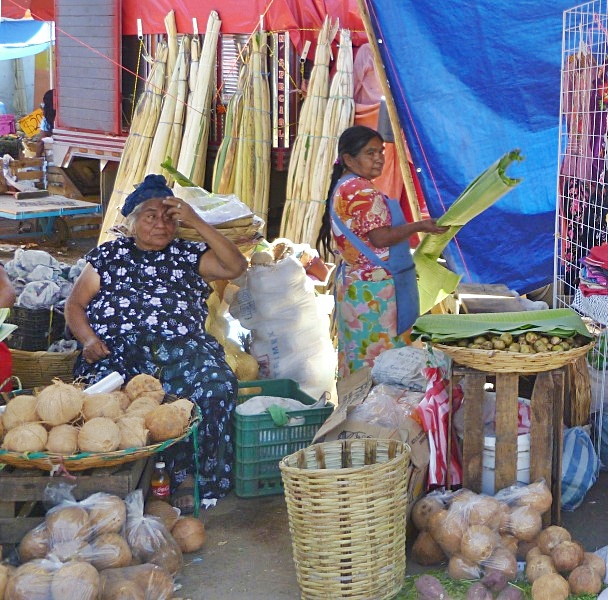 Oh, goody ~~ I've arrived at one of my favorite stands. Here's where I get my molasses cookies, my chile-flavored cheese, and where I found the prawns.
The husband announces to me that if I'd come earlier I could have had lobster, "but some Chinese person bought all of it".
Having learned my lesson about non-kicking crustaceans, I have to fake disappointment.
This couple are from the Isthmus, and as all ismeños seem to be, are very friendly and outgoing.
I wish the wife hadn't started acting silly for the camera, as she's actually extremely attractive.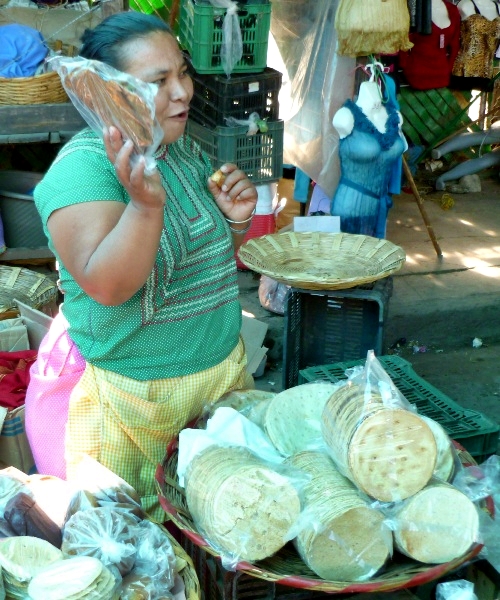 In the picture below, the discs with the dimples are
totopos
. The darker ones with no holes are lightly flavored with raw sugar. Both are addictive.
The stuff in gold wrapping is a dense, crumbly, salty cheese. That's fresh pot cheese next to it, both plain & with chiles.
There are fresh coconuts in the box on the ground, and some kind of very salty boiled crustacean in front of the little girl.