Post by bixaorellana on Oct 29, 2011 19:51:19 GMT
For years there was a Friday market in tiny Conzatti Park. One of the highlights was the opportunity to eat fabulous tacos in the few taco stands there. The first time my sister & brother-in-law visited me in Oaxaca, it was our first stop on the way back from the airport. They deemed it the perfect introduction to the city.
I used to live and work near Conzatti, so went weekly to that market. Later, I retired and moved out of the city. Then time, renovation, and crowding forced the Friday market to move to nearby, much larger El Llano park.
All of that meant that I hadn't penetrated further than the outside edges of the market's new venue for ages. So when I kept hearing about people going to El Llano to eat tacos, I was puzzled. That's because the few taco stands in the previous location were also to be found on other days in other weekly markets, so no reason to make a special trip.
I was in for a surprise. Let's go see ~~
These were taken yesterday, the Friday before the days of the dead, which explains the interesting clothing of the little girl we're following.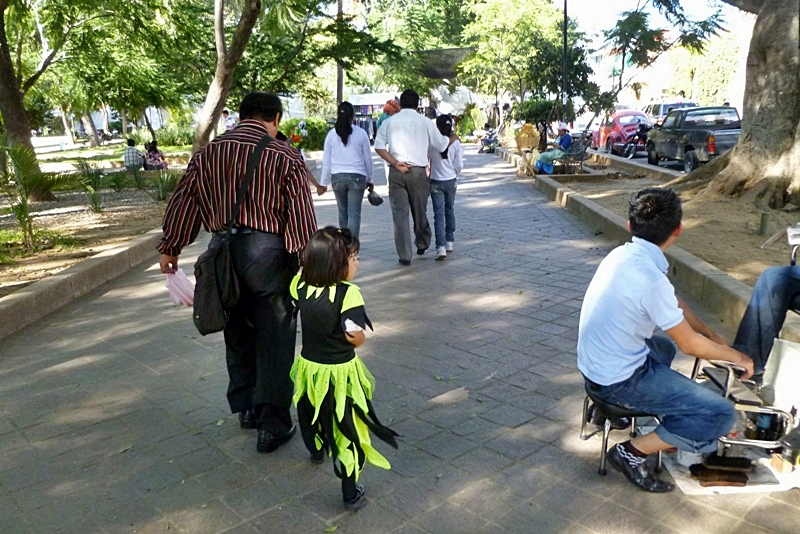 Okay, we're at the northeast corner of the park. Beyond the stands you can glimpse Guadalupe church.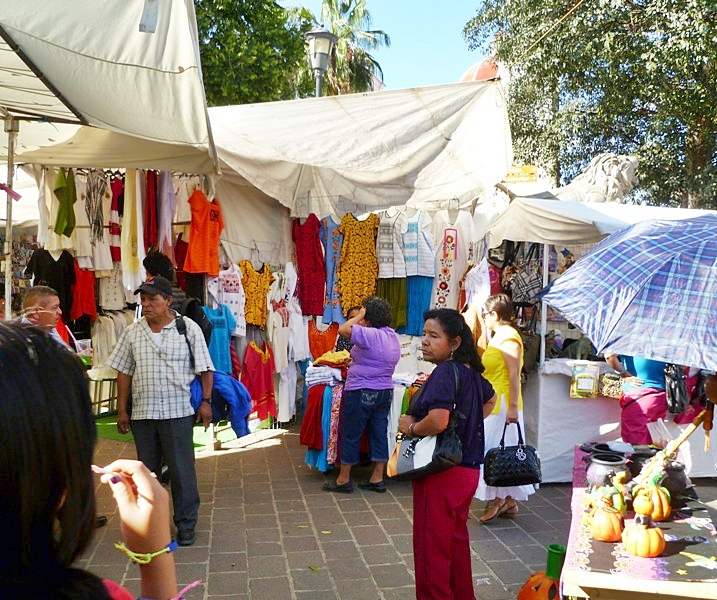 Yes, yes -- the church is pretty, but we're on a misson. Let's keep moving!
Our noses have told us we're approaching food, but oh my stars!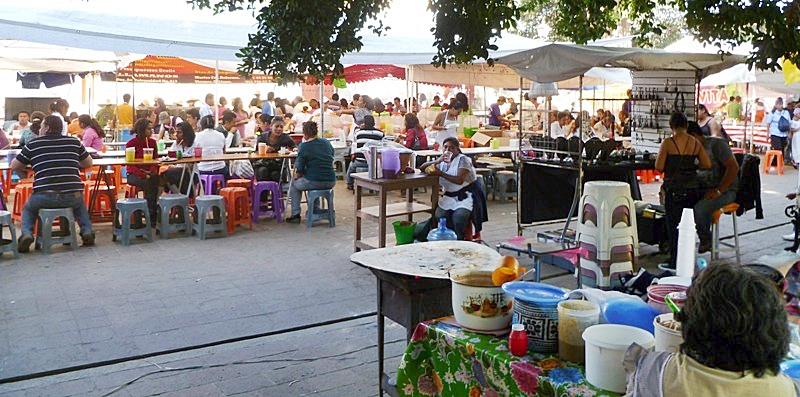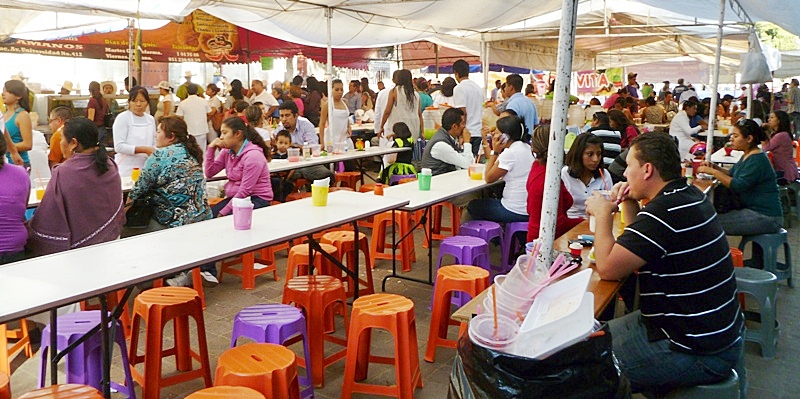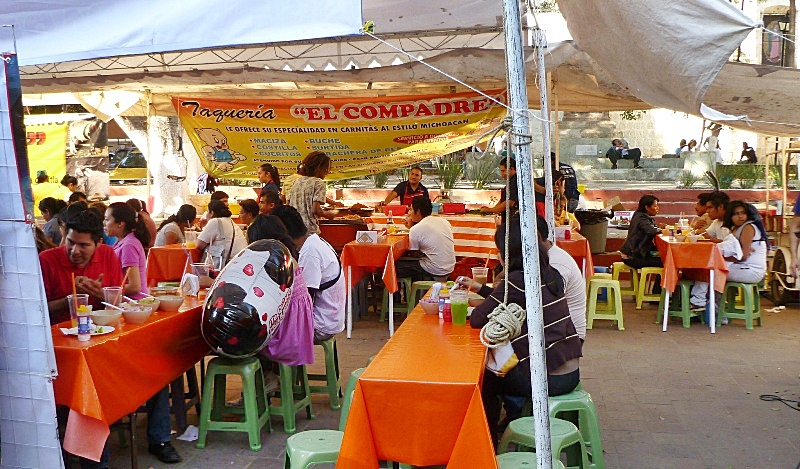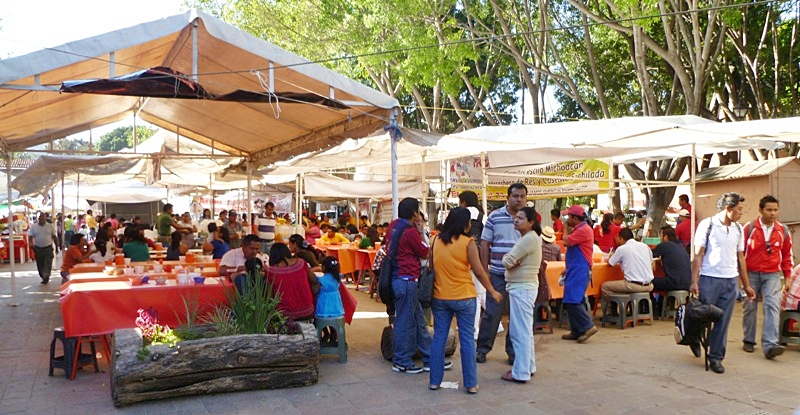 It seems like acres of awnings, tables, people, and smoking griddles and grills stretching off into infinity.
On the side closest to the park, regular market stands are set up as well.
They're also selling seasonal items such a sweet potatoes cooked in syrup or whole sugar-crystallized hubbard squashes.
The sugar cane stalks are for forming arches over the day of the dead altars.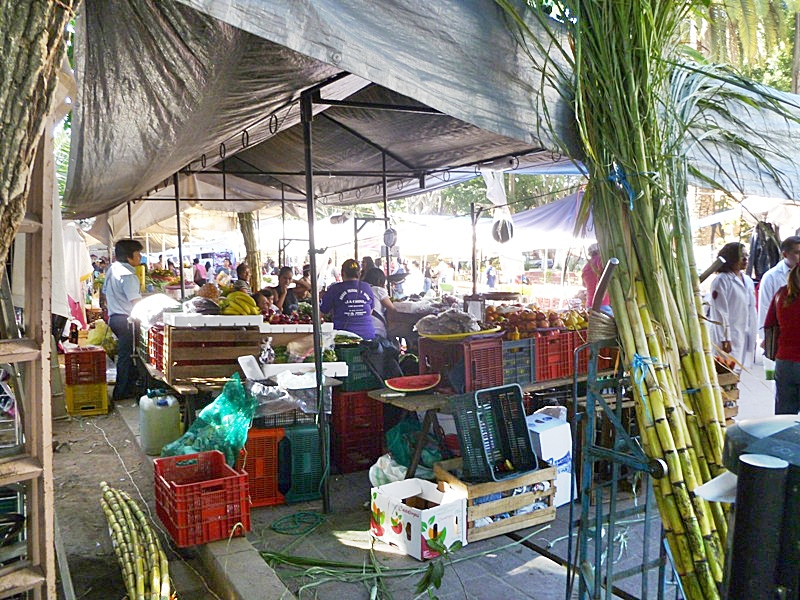 The man eating one of those icky red sausage tostadas is in front of a table where
tejate
is sold.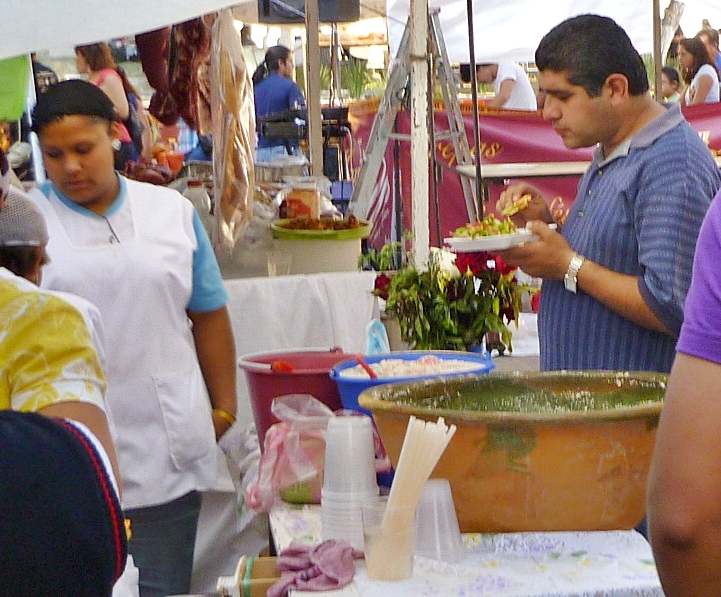 Big signs announce the specialties. Arrachera (steak) tacos are a big feature here, but goat, sheep, and chicken are also represented.