Post by spindrift on Nov 18, 2011 20:47:15 GMT
I know that Kerouac wrote about this film but I cannot find his post. I would be most interested to read his opinion of this movie.
I saw MELANCHOLIA a couple of weeks ago but it's still very much on my mind. Lars von Trier was the Danish director. When I saw pictures of the beautiful Kirsten Dunst I was captivated.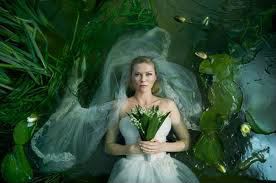 There she is, the perfect Ophelia, but she hasn't drowned, she is awake and aware, she isn't sinking into the morass of water weeds - she is borne up by them, and look! her wedding veil is nicely arranged, she is looking up at the blue planet that is about to engulf her/our earth. She is not afraid...
I knew that this film was not meant for the masses since it was being screened only once per day at 3pm. Then I found an evening when it would be shown very late so I went along.
The first five minutes were riveting with a finale of the earth being engulfed by a huge planet with no possibility of escape. This, therefore, set the scene of there being no hope of a rescue. Our planet was doomed.
We started viewing the film from this vantage point which made it all so much more poignant. Lars von Trien is, himself, a depressive and Justine (Kirsten Dunst) played the role of a seriously afflicted depressive with, it seemed, a death wish.
The first half of the movie dwelt on beautifully staged scenes of her wedding to a suitably compliant man who was also the son of her employer. Maybe he was hoping that he could redeem her?
During the wedding festivities our attention was brought to a rogue planet that had been 'hiding behind the sun'...and slowly it dawns on the assembled company that this planet is moving towards the earth. No one panics because all assume that it will be a near-miss situation. We see the best and worst of the main characters laid bare.
Part 2 focuses initially on Justine's sister, Charlotte Gainsburg, and then, inevitably, on the malevolent planet drawing ever closer until its huge mass dominates the entire sky.
The last few minutes are spellbinding. At the end it is Justine who takes control and gives comfort and even hope to her sister and her young nephew.
My only grouse against the film was that it was filmed with a hand-held camera causing me to feel very nauseous. I am sorry to say that I had to look away from the screen most of the time and I could hear, from others yawning around me non-stop, that they were feeling nauseous as well! Yet I stayed in the cinema for the last scenes.
Well, see it for yourselves and tell me your reactions.