Post by Kimby on Jun 13, 2011 7:13:21 GMT
(I should note here that none of the images are mine, as we took a slide camera and do not have a slide scanner yet.)
November 10-17, 2002.
Following a week of sightseeing in South Africa and fantastic game driving in Kruger
anyportinastorm.proboards.com/index.cgi?board=africa&action=display&thread=4853
, we flew from Johannesburg to Windhoek, Namibia. The car we'd reserved with Avis was not available as it was being repaired from its last accident (the dirt roads with dips for stream crossings are difficult for inexperienced drivers), but they found us another we could use, though without the automatic transmission we had asked for. We drove to our lodgings for the night, Rivendell Guest House, in a residential area, and moved into a poolside room.
www.tripadvisor.com/Hotel_Review-g293821-d303085-Reviews-Rivendell_Guest_House-Windhoek.html
Went for dinner, bought groceries and hit the hay.
Next morning, hit the tourist office and parks office to try to get lodging in Etosha National Park.
www.etoshanationalpark.co.za/
Being the shoulder season, we thought we could go without advanced reservations, but nothing is available for tonight except camping, for which we aren't equipped. The "Cardboard Box" travel shop
www.namibian.org/travel/namibia/etosha.htm
was able to book a room for us at Onguma Game Ranch 8.5 km north of Etosha's east entrance. Drove 320 miles and arrived around 5:30 pm. Were given a room with AC and visited the pool, which then was more more like a concrete pond though the place may have gotten a facelift since then. Dinner was excellent: kudu steaks, fries, red cabbage, salad and rumcake for dessert, for all of $8 per person. (This place offered complete leopard hunts for $4000, kill guaranteed. They baited for large male leopards, taking 2-3 per year. Sad.)
Woke early, grabbed coffee and box lunches from the kitchen, and headed into the park.
It was too early to check into our room at Namutoni Rest Camp
www.etoshanationalpark.co.za/accommodation/inside-the-park/namutoni
, so we started staking out the waterholes. Game watching at Etosha is completely different from at Kruger. In Kruger you drive around looking for animals (or for other vehicles parked along the road that have obviously spotted something); in Etosha, you park at a waterhole and wait.
You'll see a constantly changing parade of animals coming in for a drink (or predators hoping to make a meal of someone coming in for a drink!). At the first waterhole we saw a total of 26 kudu, 29 black-faced impala, 8 oryx (gemsboks), 2 giraffes and a marabou stork. Took the Dikdik Drive and saw more of the same plus 2 springbok and the first zebra of the day, plus 2 dikdiks: antelopes not much larger than our cats, with huge eyes and tiny horns. On the way to Chudop waterhole we saw a scruffy looking black-backed jackal. Chudop is distinguished by a reed island and sloping banks.
Saw 5 oryx, 2 warthogs, 19 zebra, 21 kudu, 26 impala, and watched a giraffe assume its awkward spraddle-legged drinking posture. Heading out we saw our first wildebeests, more zebra, a mama and baby giraffe (last year's baby), and off in the distance, about 35 elephants. Also saw 8 ostriches, a huge social weaver nest, and lots more zebras. At Okerfonteine waterhole, we saw about 70 springbok, another oryx, a wildebeest and TM2C zebras (too many to count). Plus 5 ostriches and our first red hartebeest. At Batia waterhole, we saw 3 more oryx and 21 wildebeest. Taking a side road to Goas we saw a Kori Bustard and a White-quilled Karhaan (a pheasant-like bird), and got rained on. At Goas it was still raining and we saw only 18 hartebeest and a giraffe. Drove to Etosha Lookout and watched 2 ostriches shimmer in the heat waves. Pulled into camp at Namutoni and checked in to a room with AC and fridge. Went back out for more waterhole watching but little to see at Okeri waterholes though we did see 2 more kori bustards and about 20 banded mongeese on the way back. At the "golden hour" just before sunset we went back to Klein Namatoni waterhole where 6 giraffes posed beautifully. A lappet-faced vulture and 4 brownish vultures waited patiently in the trees. A zebra chased a spotted hyena and it ran a ways then flopped down to wait. We couldn't wait - the gate is closing at 7. Went to a buffet dinner with a big salad bar, beef, pork, lamb, chicken, fish and oryx, with ice cream, fruit and cheese for dessert ($8 per person, beers 45 cents each). Checked out the camp's lighted waterhole, which sees activity all night long. (179 miles today)
It had rained in the night, so visitors to the waterholes were less abundant than yesterday. While driving through the park, we saw elephant dung the size of bread loaves, 25 ostriches including two running in perfectly synchronized slow-motion strides, a Secretary Bird and over 40 oryx (which BTW are thought to be the animal that inspired the myth of the unicorn: when they turn their head to the side, their scimitar-like horns appear as one horn). The best sighting was a hyena taking a bath in a roadside puddle, just 30 feet from the car. Pulled into Okaukuejo, a nice camp with a good waterhole,
(The first minute of this video is - and sounds - fabulous, and you can see the "unicorn effect" at :32, but then some distracting music is edited in for the next 5:30, though there is good elephant footage and the last 1:20 again is with natural sound.)
Left the park and headed for Twyfelfontein in the region once called Damaraland. Checked out the pricey Mowani Mountain Camp, but chose the Twyfelfontein Country Lodge
www.twyfelfonteinlodge.com/
which cost half as much, but still 3x what we paid last night! Headed out to see the rock art with a local guide
and also visited Burnt Mountain and the Organ Pipes (think Devil's Tower inside-out). The buffet dinner was very good and similar to the buffet in the park though without the wild game. The blankets and curtains in our room are custom printed with rock art imagery. (323 miles today)
On today's drive, we started seeing wildlife right away: 5 steenbok, 7 springbok, a troupe of baboons with babies, and our first klipspringer (Afrikaans for "rock jumper")
on its tippy-toes on a large boulder. Didn't meet another vehicle until 2 hours into our drive. The road varied in quality with areas of construction, but all passable to 2WD. Lots of local color along the way, hitchhikers, roadside stands selling dolls and seed/stone necklaces, donkey carriages, with 3 donkeys abreast, weaving along the edge of the road.
Turned north on the tarred salt Coast Road to Cape Cross Seal Colony. A low stone wall separates visitors from hundreds of Cape Fur Seals (more like sea lions than seals). Lots of new babies, gulls fighting over the afterbirth piles, terrific stench and noise. Bulls fighting, cows nursing pups, a baby seal being beaten up by an older seal while his mom was out swimming for a meal. Headed South into Swakopmund where we shopped the craft market and got two carved wooden wall hangings. Got a room at the Beach Lodge
www.beachlodge.com.na/index.htm
with its huge porthole shaped windows
www.beachlodge.com.na/tour11.htm
Had a good dinner of weiner schnitzel and goulash at Der Vin Maus restaurant. (282 miles today).
Had a lovely serendipitous start to the day today. We had taken the car for gas and a wash, and while they worked it over, we strolled over to the Karakula Carpet Factory where their 50 workers had just arrived and were beginning their day with a hymn sung in 4 part harmony. It brought tears to my eyes. We got a tour of the dyeing, spinning and weaving areas - what a treat for the eyes! Hit the road for Walvis Bay to see the flamingos (both greater and lesser) in its salt water lagoon. Then we turned inland and drove past sand dunes, gravelly desert, across "petrified dunes" and "passes" (more like canyon crossings). Found lodging near Sesreim at Desert Homestead, one of our favorite stays.
www.namibiabookings.com/namibia_photos/desert_homestead/desert_homestead_photos.htm
They call em chalets, but whatever, they were cute and comfortable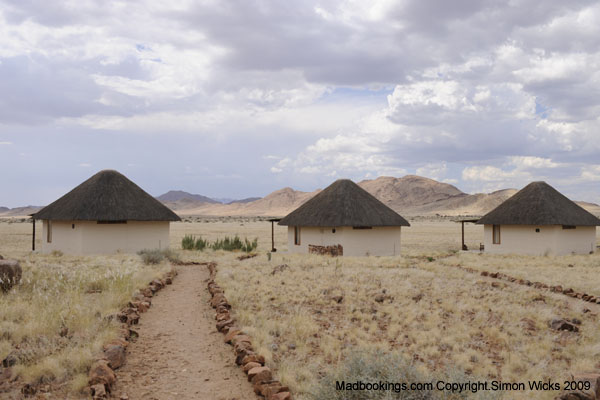 And they cost only $75 per night with B&B, and when we asked about a discount for 2 nights, they threw in dinners! Plus we had gemsbok visit a waterhole right outside our hand-built stone cottage. Excellent dinner, and the place even has friendly kitties. What more could we ask?
Woke early on our desert day, and headed for the dunes at Sossusvlei about 100 km away.
www.game-reserve.com/namibia_namib-naukluft.html
The dunes are orange from oxidation of iron over time (the sand starts out white at the sea shore and shifts in color as you move inland).
There is a shuttle into the dead lake bed, but it was being held for a bus tour group so we walked in 5 km, thinking we'd pick up the shuttle on the way back when it was hotter. Followed the Dune Crest Trail to the summit of a smallish dune with great views and "head-standing beetles", then took off our shoes and bounded down the dune's "slip face" like kids. Had to walk back out, as the shuttles were reserved for those who had ridden them in. Drove to Sesreim Canyon, a slot canyon of conglomerate rock, but too hot for a hike. Retreated to the Homestead and AC and another great dinner. Tomorrow we're off to Windhoek (188 miles) to fly (2 hours) to CapeTown for a week in that part of South Africa. (Only 124 miles today)
We loved Namibia with its varied terrain and excellent wildlife watching, though the long days of driving were tiring: we drove 1684 miles during the week.