Post by onlymark on Mar 11, 2012 12:16:57 GMT
Umm Qais
It was mentioned in a previous report about the ten cities of the Decapolis
(a group of ten cities on the eastern frontier of the Roman Empire in Judea and Syria. The ten cities were not an official league or political unit, but they were grouped together because of their language, culture, location, and political status. The Decapolis cities were centres of Greek and Roman culture in a region that was otherwise Semitic. Eight were in Jordan)
.
Umm Qais was one of them.
'Umm' used as a prefix usually means 'the mother of', this could also be written as 'Om' - as in Om Ali, an Egyptian dessert and Umm Kolthom who was regarded as the greatest ever female singer in Arabic history. Just to illustrate the difficulty in translating Arabic to our writing, she is also known as Om Kalsoum, Om Koulsum, Om Kalthoum, Oumme Kalsoum and Umm Kolthoum.
Anyway, Qais is derived from Caius/Gaius, a Roman name.
Also, and to confuse matters further, Umm Qais, was known in Hebrew as Gadara (fence or border).
Why on earth a city would be called the mother of Caius, I've no idea.
Around the time of 66AD, in the early stages of a Jewish revolt, the area around the city was razed by the Roman, Vespasian, having no mercy on any persons whatsoever. He placed a garrison in the city when it surrendered and extended it further adding several long aqueducts. The Roman Empire gradually became Christian and the city became an important seat of learning until about 636AD when it came under Muslim rule – but only remained so for just over a hundred years when it was all but destroyed by an earthquake.
The city was then abandoned and the usual pilfering of the stones and monuments took place.
The ruins now tell of a sizeable city with two theatres, a temple, a basilica, and many important buildings. Running from east to west was a double colonnaded paved street. It is thought the 'suburbs' stretched all the way down to the Sea of Galilee several kilometres away.
Excavations have been taking place since the 1930's, but as the following pictures show, the site is still far from complete and is generally in poor condition.
There are no markers for information, no protective fencing, little to make out other than many piles of overgrown stones marking where there probably was a building but of unknown use.
In saying that though it has an 'unspoilt' atmosphere to it and any amateur archaeologists would feel compelled to help out a little to get things a little more ship shape.
There is an air of 'we'll dig a bit here and there to see what there is but we don't have the time or money to do much else'.
So – that's where it is –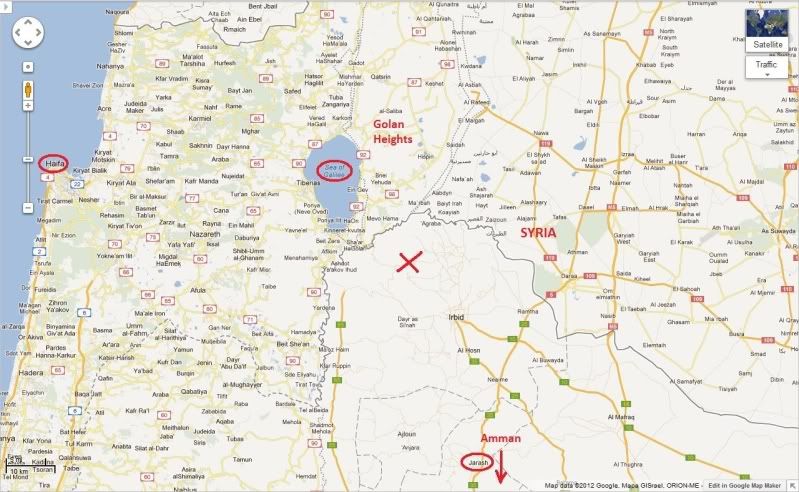 Overlooking the Sea of Galilee and the Golan Heights –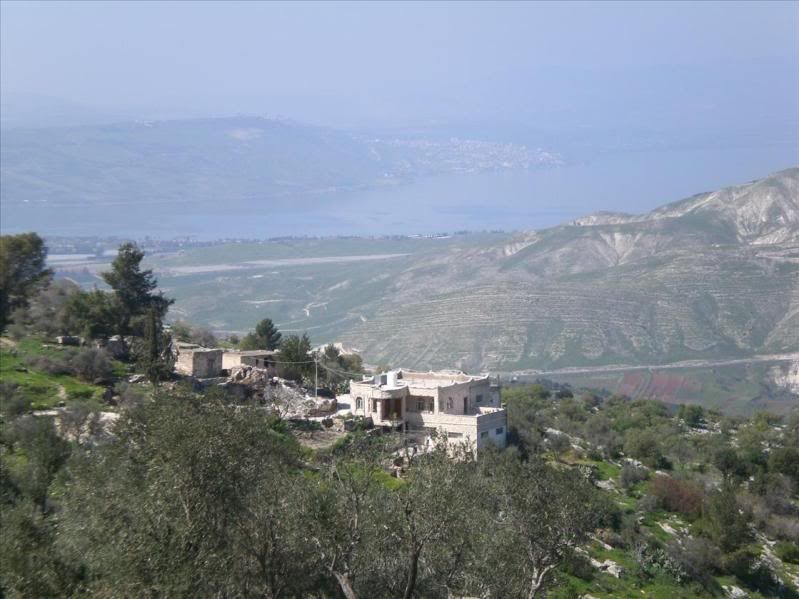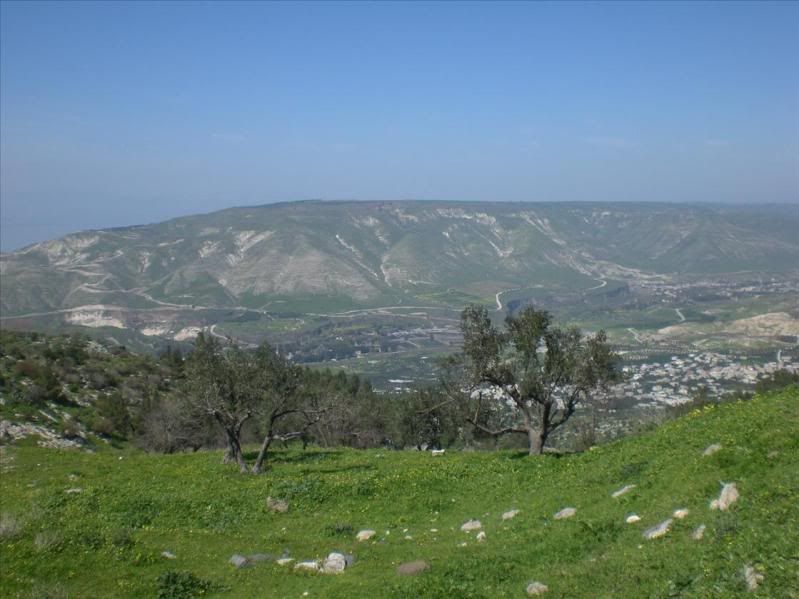 We enter from the car park –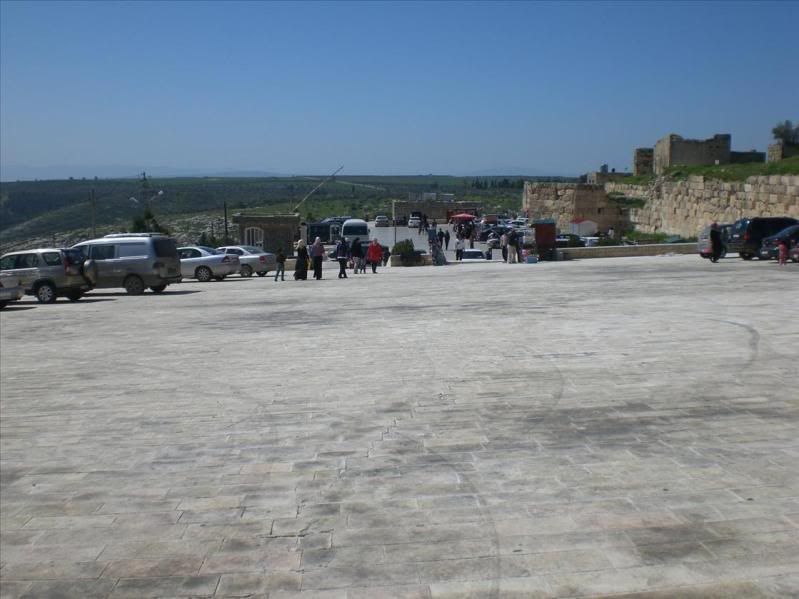 And notice the Spring greenery err......... springing up –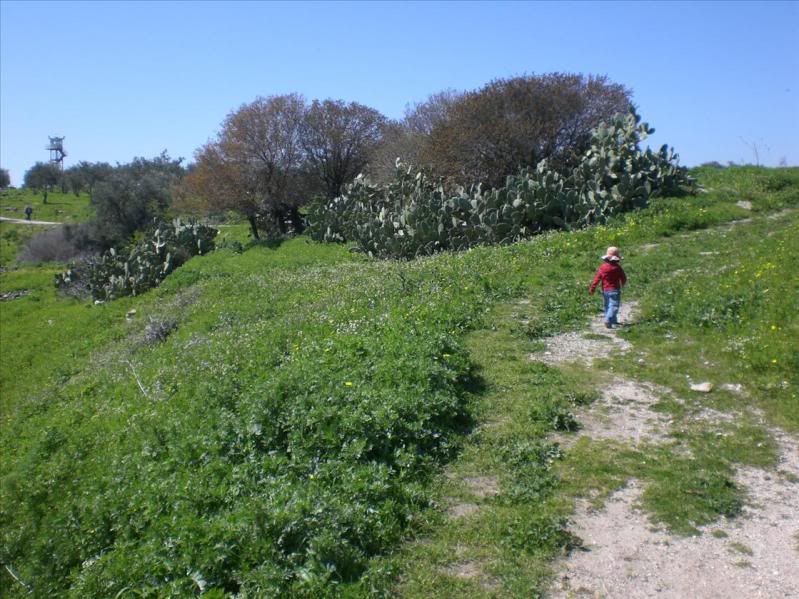 As we make our way into the site there are numerous bits and peices just laying around waiting to be either pilfered or used –
Anyway, we start to see some buildings –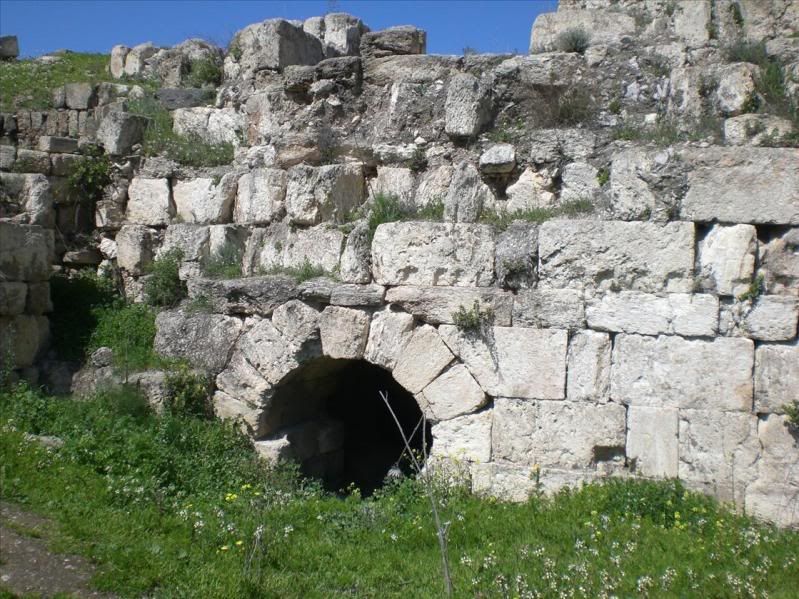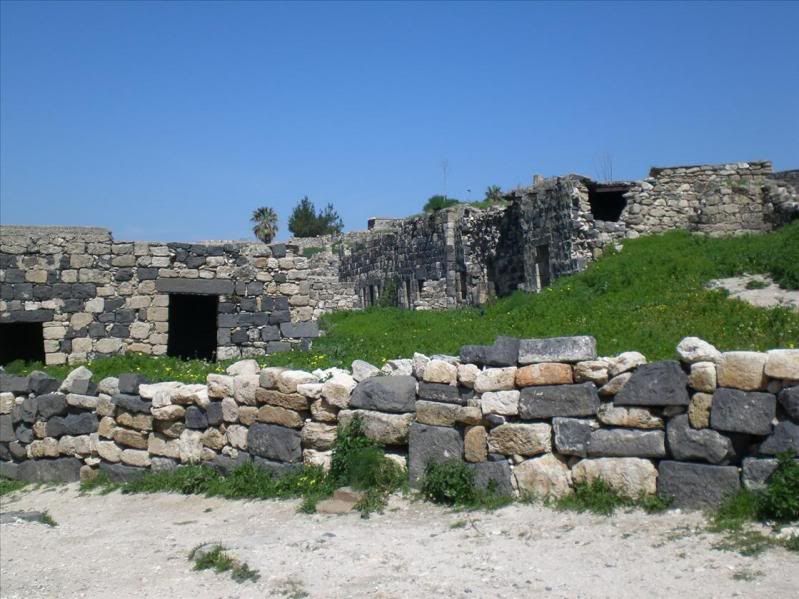 And more stuff dumped at the side of the path –
My eyes are initially drawn to the more modern, immediately at the edge of the site – the defensive positions overlooking the Golan Heights –