Post by onlymark on May 27, 2012 20:49:19 GMT
Mentioned as one of the places anyone must see before they die, Petra is felt to be the jewel in the crown of Jordanian tourist sites. It is a common stop off as a day trip from Egypt and Israel, though it must be quite a long day. I was there recently and for me there is far too much to see in just the one day. I would need two, but unfortunately one day was all I had time for on this visit. That's why the title is 'Part Petra' as I only managed to do part of it. However, this is what I did.
I have visited several times before and no doubt will visit again as there always seems to be bits I've missed.
The history in brief is that it was the capital of the Nabatean empire, a loosely controlled trading empire based mainly on a string of oases. They were active between approximately 168 BC and 106 AD when they were overwhelmed by the Roman empire.
Due to trade routes becoming more sea based Petra began to decline in importance and in 363 AD an earthquake caused large amounts of damage, especially to the water system. Petra then became nothing more than a curiosity until a Swiss gentleman, Johann Ludwig Burckhardt who whilst disguised as a local re-discovered it and brought it to the attention of Europe in 1812.
It was found to be in poor repair, the water channels broken and blocked and the buildings/tombs looted. Nevertheless it became a feature of tourist travel and is now a victim of its own success due to the lack of proper rainwater drainage and what must now be becoming too many tourists.
When I first visited in 1994, inside the site, there were no refreshments available at all. You carried in what you wanted and brought out the rubbish. The last time, previous to this visit, was around 1999 when there were a few Bedouins offering overpriced tea and water in a few tents.
Now there are even toilet buildings (good thing, though where the sewage runs to I've no idea), many, many places offering refreshments and souvenirs, and even the Crown Plaza hotel chain who have a proper restaurant offering three course meals to tour groups stuck in the middle (bad thing).
Anyway, right on the entrance to the site is a hotel called the Petra Guest House, though it is far from a guest house and is a four star hotel and a reasonable price.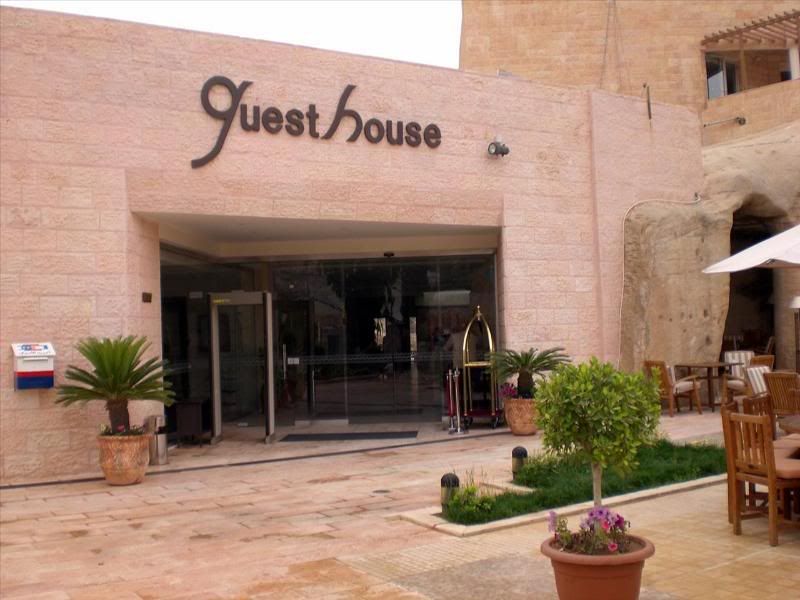 It is let down because it doesn't have a swimming pool, but otherwise I'd recommend it especially if you end up with one of the 'chalet' rooms which are clean and spacious.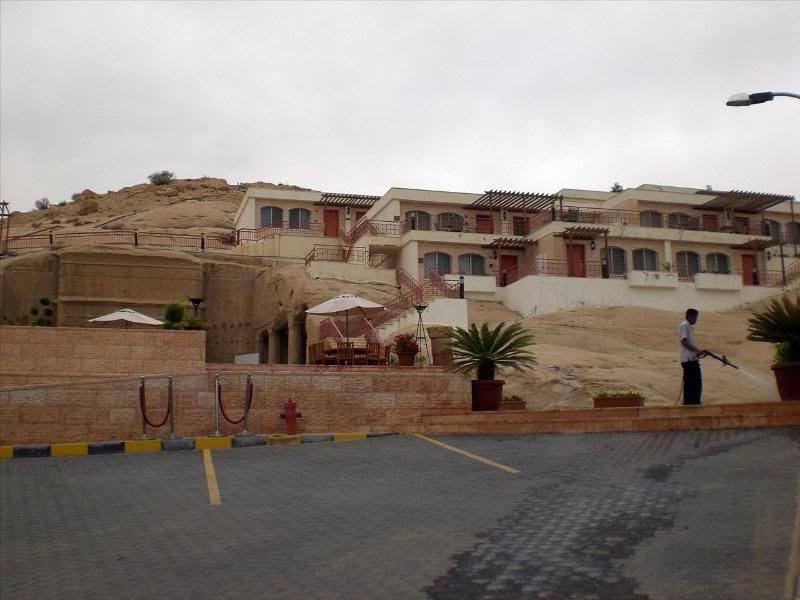 It also has a bar in an old Nabatean tomb –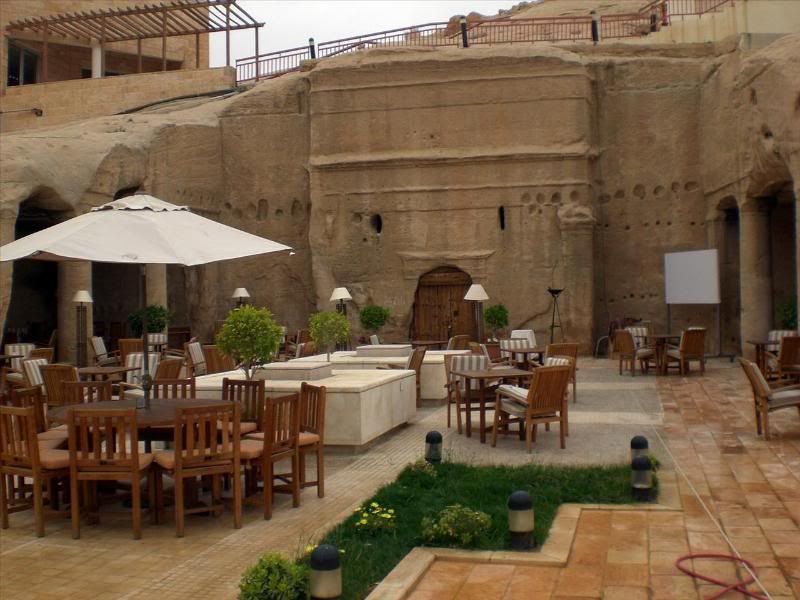 It is right at the ticket office as you can see from the hotel gate –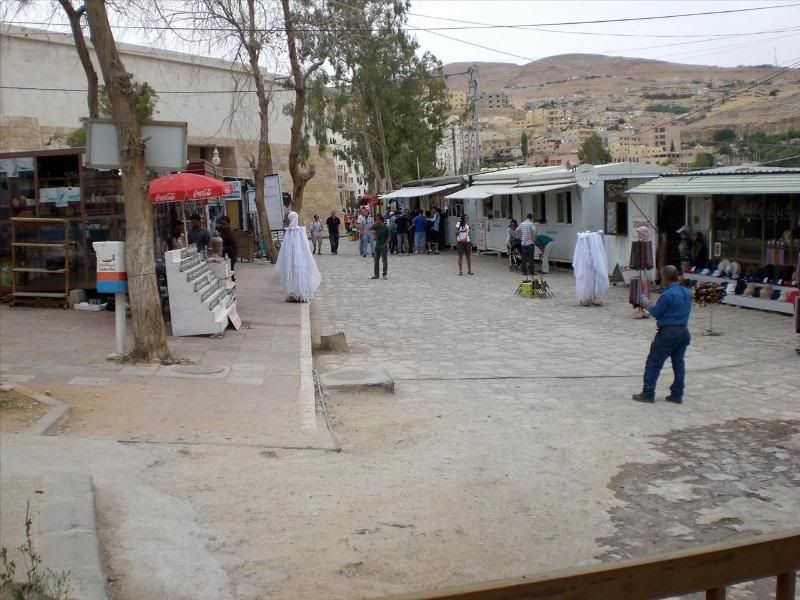 So – buying tickets – entrance for a day is 50JD (approx 70usd/56euro). If you decide you'd like to enter two days in a row then it is 55JD. If you are under 15 years old then it is free. If you do not spend the night in Jordan and are one of the day trippers on a tour then it is 90JD for that day.
If, like me, you are a resident, it is just 1JD.
After buying your ticket –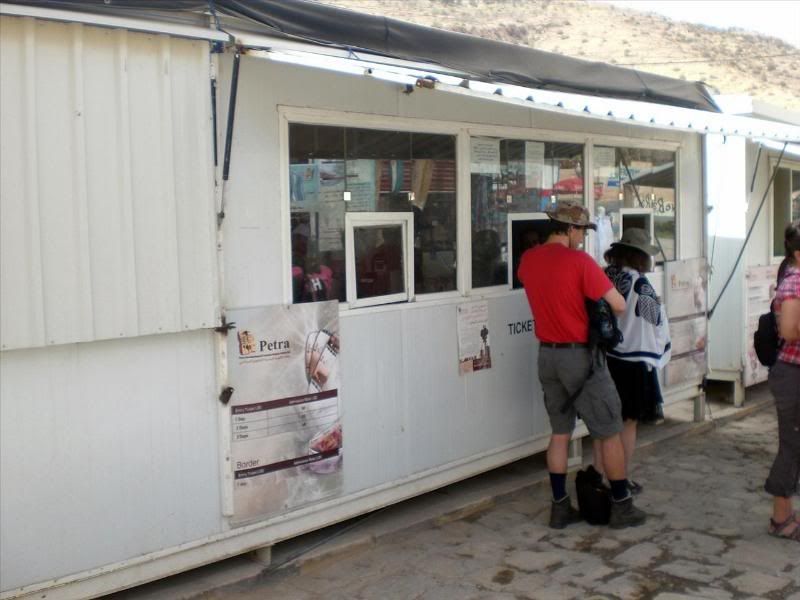 ...........you turn to walk past the hotel and through the entrance. Immediately the track begins to descend and you see where tourists are loaded onto horses –
As part of your entrance fee you get a free ride on a horse down to the real entrance which is where the canyon (Siq) starts, which we'll get to in a minute. Bear with me.
The stables behind the mounting area –
I just set off and started walking down –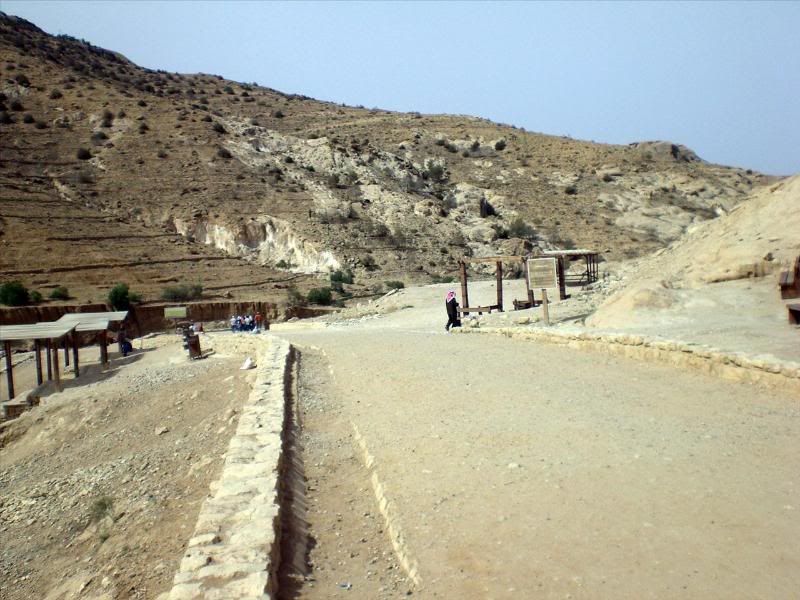 And further down –
Here you begin to have a taste of what is yet to come –
These are tombs built around 50AD and carved out of the rock.