Post by Deleted on Sept 14, 2012 17:35:33 GMT
Anybody who knows me even a little bit in real life know that my principal interest is the cinema, even more than travel, and thank god for that since I am not currently able to travel until further notice. But don't imagine that I am a film buff or anything like that, because I have very little interest in the classics. What interests me are the very latest events in filmmaking, new methods of storytelling and new technology. I often pay more attention to how the camera is moving and how the scenes are edited than to what the actors are doing -- except that I am also obsessed by the quality of the script and allow no discrepancy to pass unnoticed.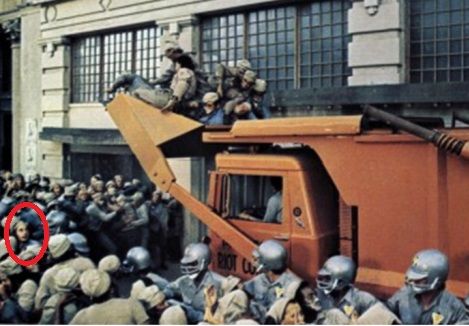 In other words, I have always wanted to make movies even more than to see them, and if I had followed my true calling in university, I would not have wimped out into political science and gone to film school instead. Well, in a way, I did go to film school, since I went to the University of Southern California, the prime film school of the United States along with Columbia University in New York -- so all of my optional credits in university were always film classes. We went to the studios, we talked to the directors, we saw movies that were so vile that they had never dared to release them and we saw movies so terrible that they were never able to release them.
I got my first job as a movie extra when I was in university, in Richard Fleischer's science fiction movie "Soylent Green" starring Charlton Heston and Edward G. Robinson. I appear on screen about 5 times in food riots, and that is me in the red circle in the photo. I was seen in lobby cards in cinemas around the world. Do you remember lobby cards? Of course not. Somewhere in my archives, I actually have an original lobby card of this photo.
I spent two days of glorious misery at the MGM studions in Culver City, California. The movie took place during a heat wave, but we were filming in October, and it was very chilly. As starving street rabble, we had a mixture of dirt and vaseline smeared on us and it was in the same condition that we had to eat during the catering service. I loved every minute of it, the hours of waiting for the minute of action. The assistant director shrieking "SILENCE" or "ROLLING" or "ACTION" was a major highlight. He was always running up to the director who would whisper things to him and then he would tell various people (sometimes me), "you walk diagonally over to that spot and then you stop and look around when the window breaks."
I was an extra in a few other movies -- a French movie called "La Clé sur la Porte" about a young boxer. I was just one of the excited spectators yelling. I went to Santo Domingo to be an extra in Sydney Pollack's "Havana," one of his biggest flops. I was fully costumed and made up in this one, and even had my hair trimmed and slicked by the makeup department to look like 1959. Most of my time was spent slowing strolling around the casino with my Jackie Kennedy style wife watching the people playing slot machines, while the real movie action was at a poker table. We were just blurs in the background. I was also one of the patrons standing at the bar while Robert Redford chatted with Lena Olin in a booth. Basically, everything I did in "Havana" ended up on the cutting room floor, which is extremely common. But I loved that, too, just walking into the big plywood shack on the outside and finding myself in an opulent casino on the inside, looking at the rails on the floor for the camera movements, the lights set up in every corner. It is a technical world that fascinates me.
I received an offer to be an extra in a movie called "Titanic" that was filming in Mexico. It sounded like a waste of time, so I turned it down, and I had no interest in going to Mexico anyway, and that basically ended my movie career, because it was the last offer.
But the other day, I knew where a film set could be found, and I knew that it was an open film set (super rare) because the location was in a French national monument. The Ministry of Culture allows filming in such places but refuses to close them to the public for the purpose of filming -- take it or leave it. And so I went to immerse myself in a day of filming again.
All of the trucks were there. You need a lot of trucks of equipment to film anything.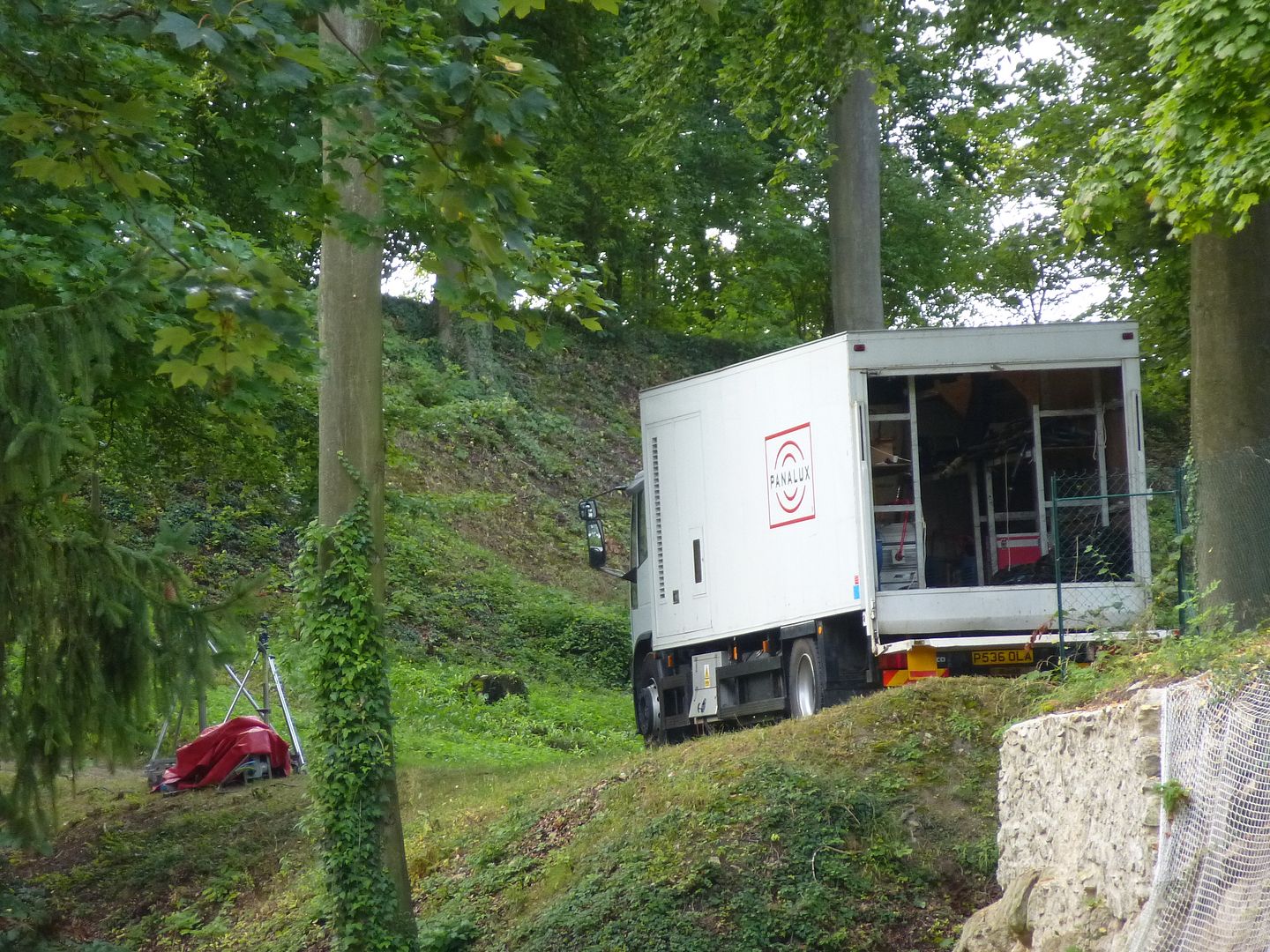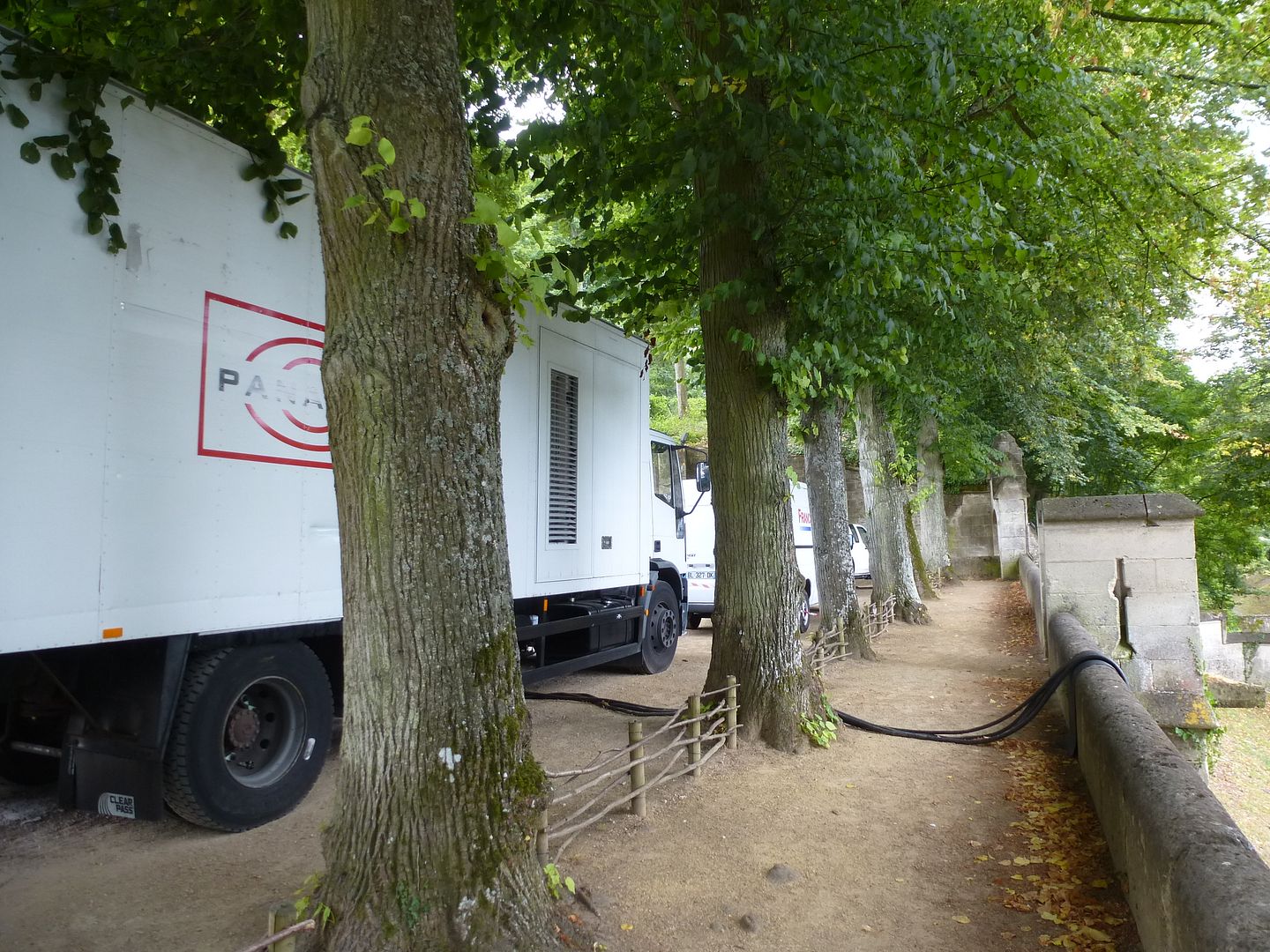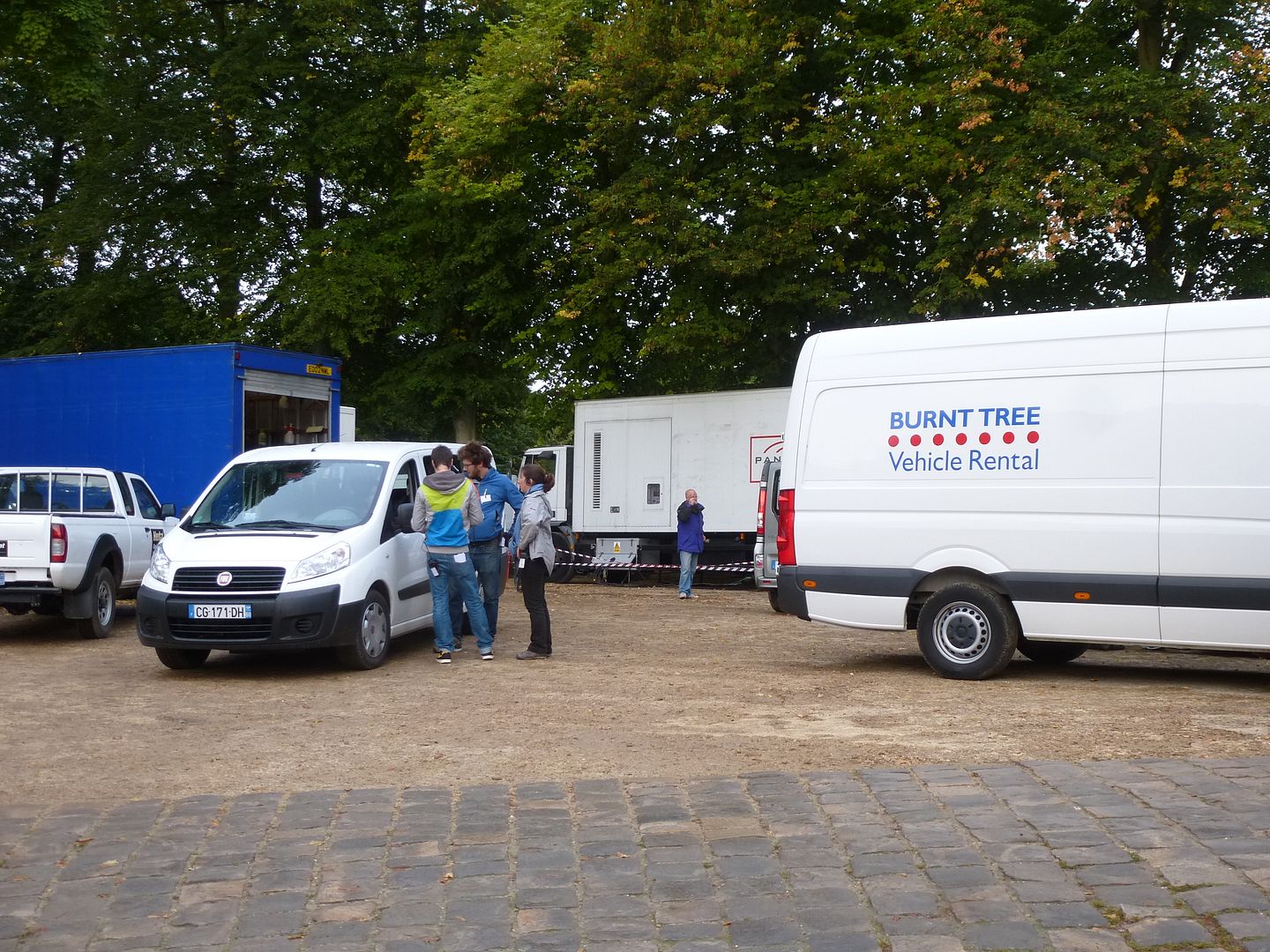 I was not the only person who knew what was going on.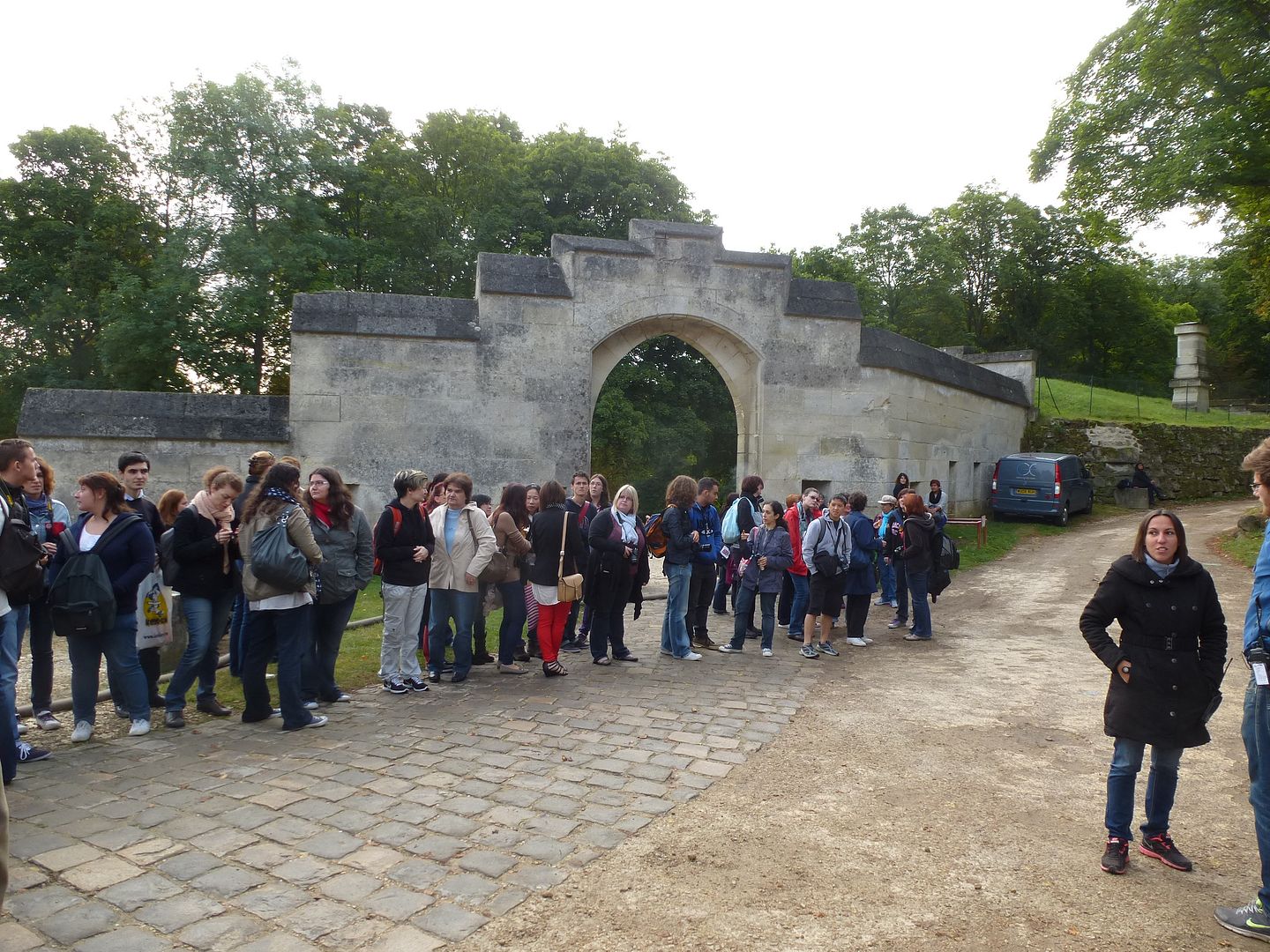 At one point, there was a terrible dilemma. To get into the monument (Château de Pierrefonds), people had to buy a ticket. But the ticket office (on the left) did not open until the château opened, while on the right, the various actors were arriving, and people didn't want to miss them. Stand in line and miss some arrivals or watch the arrivals and get into the château late and miss something else? I knew how slowly the day would go, so I wasn't really worried about missing anybody or not. Whatever will be will be.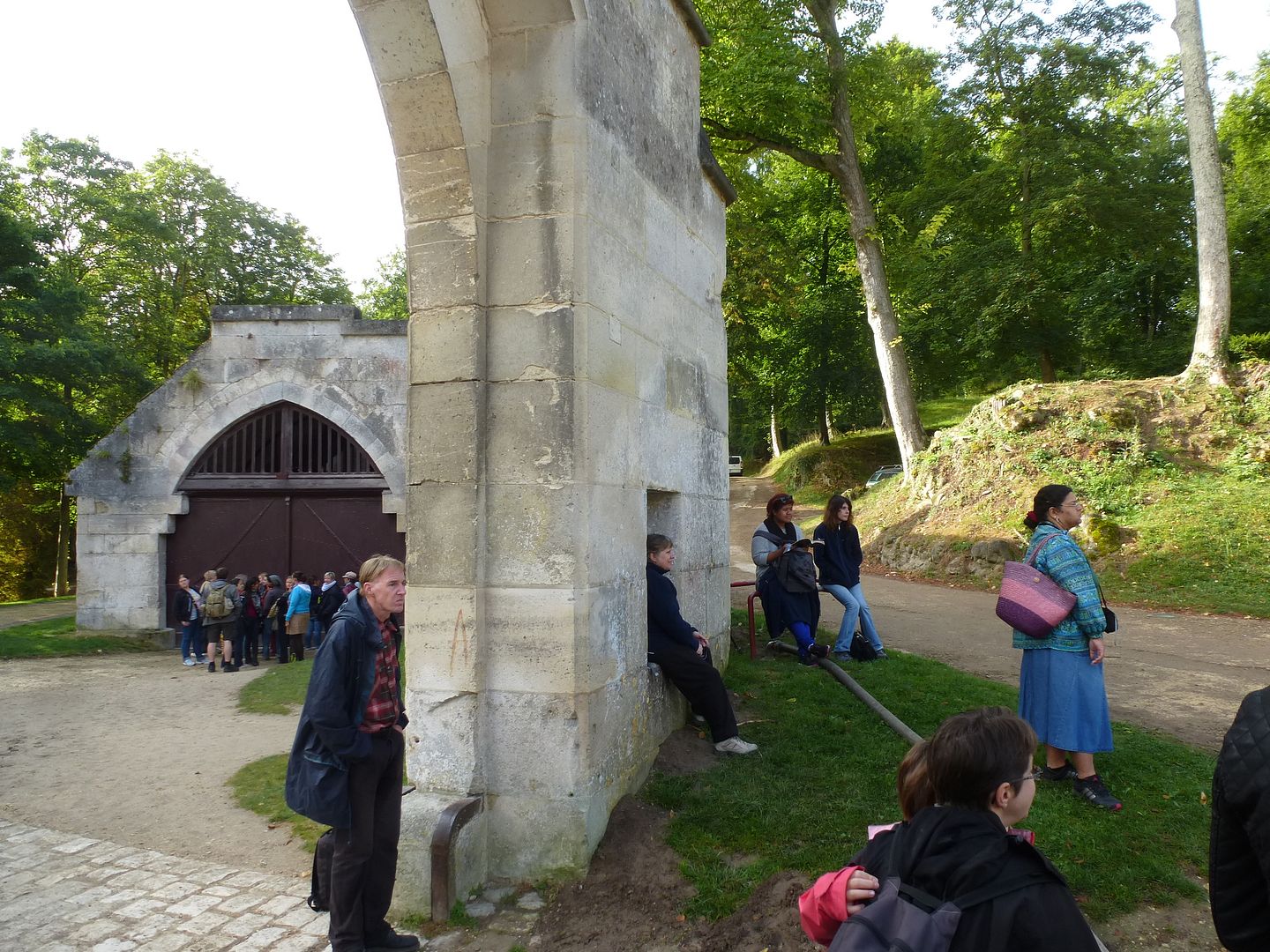 Oops, here's an actor who just arrived. He is the principal villain!
And here is the lady playing the Queen of Camelot.
What next?