Post by onlymark on Nov 14, 2012 17:40:28 GMT
"Then Jesus came from Galilee to John at the Jordan to be baptized by him (Matthew 3:13)".
Amongst religious scholars there seems to be a consensus that during the life of Jesus two events certainly occurred. One was the crucifixion, but previous to that was his baptism.
There was debate over the location of this baptism but in recent years and due to certain discoveries a site on the east bank of the River Jordan, in Jordan, is deemed to be the correct place. This is called "Bethany beyond the Jordan".
Rumours had abounded as to its exact position. Scholars poured over biblical texts and other accounts and sources of information to try and pin it down. The collective memory of local Bedouins pointed out a possible location but there was a snag. It was a military area immediately at the border between Jordan and Israel – the River itself is the border so this was in reality to be expected.
What has come to be known as The Baptism Site was a militarized zone, full of mines. Jordan and Israel signed a peace treaty in 1994 and this allowed for a de-mining of the area.
While on a personal trip to Mount Nebo, HRH Prince Ghazi bin Muhammad met the archaeologist and monk Father Piccirillo, Father Piccirillo explained to Prince Ghazi about the significance of the Baptism Site, and the possibility of looking for it now that the peace treaty had been signed. Prince Ghazi arranged with the military for them to visit the site. On their visit, they found mosaic patterns and ruins of a church. It was enough for Prince Ghazi to order further investigation.
On one site near the river Jordan, mosaic remains were found; then marble remains; then more remains. In total, the remains of five different churches, built at separate times, were found.
Old pilgrims' accounts show how closely their descriptions matched with what was discovered –
Antoninus of Piacenze (A.D 570) said: "By the side of the Jordan, where the Lord was baptized, at the place where the water returned to its bed, marble steps descend into the water."
Remains of the marble steps were found during the excavations.
Various other accounts were authenticated with relevant discoveries at the site as to location and composition of the layout.
This is the location. The blue is the top of the Dead Sea, Jericho is to the west and Amman to the east –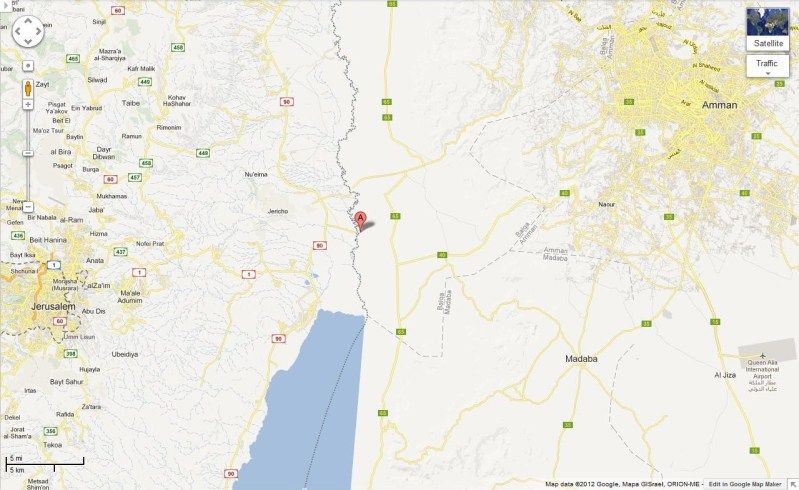 Simple enough for me to get to, about 45 minutes away, but I'd not yet been as I had little interest to be honest. However, in recent days we've had two friends from Germany staying with us – and both are priests – so guess what the theme has been of where I've been taking them?
So we went.