Post by Deleted on Feb 13, 2013 23:06:04 GMT
Anybody who remembers
last year's report
knows that I was determined to see the carnival in Binche on the correct day, the only day that you can see the mythical
gilles
which have eluded me for the past two years.
This year I booked a train to Maubeuge, which is 28 kilometers from Binche and I reserved a car once I got to Maubeuge, and I also reserved a hotel for spending the night before. I knew I wanted to be in Binche as early as possible, if only to be able to get a not-too-horrible parking space, and even though the main festivities were not scheduled until 15:00, I was absolutely certain that I would not be bored during the day.
One thing to worry about was the weather. It has been snowing all over the place in recent days, and even though it instantly melted in places like Paris, it has been very cold in northeastern France and Belgium. I kept an eye on the forecasts, though, and it became clear that it would indeed be quite cold, but it would not snow. It might even be sunny on Tuesday.
I am very used to taking direct trains, so it was a bit dissettling to have to worry about a train with several stops and also a change of trains along the line. I guess I am becoming a rail wimp in my old age. I was at Gare du Nord in plenty of time. Train platforms are supposed to be listed 20 minutes before departure, but this was not the case for a lot of trains. The screens kept mentioning certain delays due to what is strangely called a "snow episode" -- Thalys to Brussels 30 minutes late, train to Lille 10 minutes late, and when we got to 20 minutes before the train to Valenciennes that I had to take, the platform did not appear. Well, we were in the same company as a train to Lille whose platform was missing as well... Finally, the Lille train was announced and then they also mentioned that the train to Valenciennes was being "put in place" and that the platform would be announced shortly. Normally, I don't care at all if my train is a little late, and if it is at least 30 minutes late, the SNCF already refunds 25% of the fare. But the fact that I had a connecting train worried me a bit -- not much of a deal normally, since it was just a local commuter train and I could always catch the next one (when?), but my original train was supposed to get to Maubeuge at 17:16, I had reserved a car for 17:30, and the Europcar agency closed at 18:00. And although I was not completely sure where the rental car agency was, Google Maps had shown me that it was not right across from the train station, which is where most such agencies are normally found.
The train platform appeared 5 minutes before departure. Train passengers are a very efficient bunch, because we were all on the train when it left on time after all. Snow decorated the landscape outside within 10 minutes of travel. The train stopped in Arras where half of it was uncoupled to go to Dunkerque, and then we went on to Douai, and then I was ready to panic again. The train seemed to be empty in Douai, and the lights went off. I was ready to start gathering my stuff and jump off the train before it went to the depot or something. But then I saw that there were two other people still in the car, and they seemed completely calm. Okay, so the train would continue in a few minutes.
Indeed, the lights came back on and the train started moving -- in the direction from which we had just come. Whatever. I had heard the platform announcement "departure for Valenciennes" and had no map on which to check the geography of these places, so this going back in the same direction stuff remained a mystery.
In Valenciennes, I had 12 minutes to get the next train. This is more than enough in a small town.
But these stupid little cities don't have proper screens (which they don't need because everybody else knows exactly where they are going), so I had to go all the way inside the station to consult the departure board to find my local train. In the end, I was only on the new platform about 3 minutes before the train appeared.
And thus I arrived in Maubeuge on schedule. I was hoping that the car rental agencies would have signs and directions inside the train station but no such luck. I walked outside to see if I could see anything. My hotel was right there, but no sign for any car rental agencies. My instinct made me start walking in a certain direction, but then I decided it would be unwise to keep going without more information. I returned to the train station and asked at the ticket office, which got me a blank look at first, but after the 4 employees discussed this weird request among themselves, they concluded that all of the agencies were in approximately in the same place, far away. "You need to
walk
there?" the guy asked me. Duh, well yes, since I needed to get a car from them...
Well I had to walk to the far away bridge (across the train tracks), past the hotel, past the cineplex, cross the bridge and walk all the way back to about the same place on the other side of the tracks, and then it would be up that road. Night had fallen, it was bitterly cold, and I kept going on faith -- there was nothing to be seen. Then I finally saw the Hertz agency, nothing else in sight. I figured that if I kept going and saw nothing, I could always run back there and ask them... still going... climbing a hill of course... such nowhere locations are never flat for some reason. And there was Europcar at last, after walking about 3 kilometers. "Oh, we didn't think you were coming."
Anyway, I got the car and drove back to the hotel, which seemed like an oasis of civilisation after all the other stuff. Nice car with GPS, which I can never figure out -- it was such a nice car it took me at least 2 hours the next morning to figure out how to even tune the radio.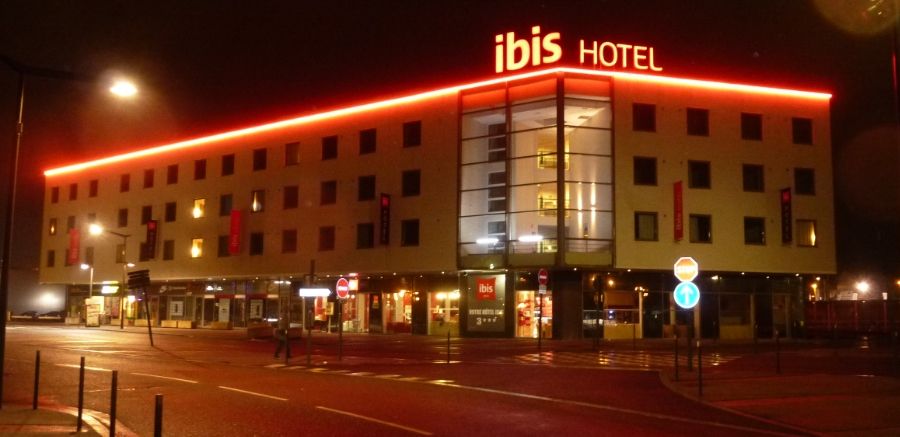 I left the hotel the next morning after breakfast for the short drive to Binche. There had been a minor dusting of snow during the night, but nothing to really worry about.
The entrance to Binche welcomed me.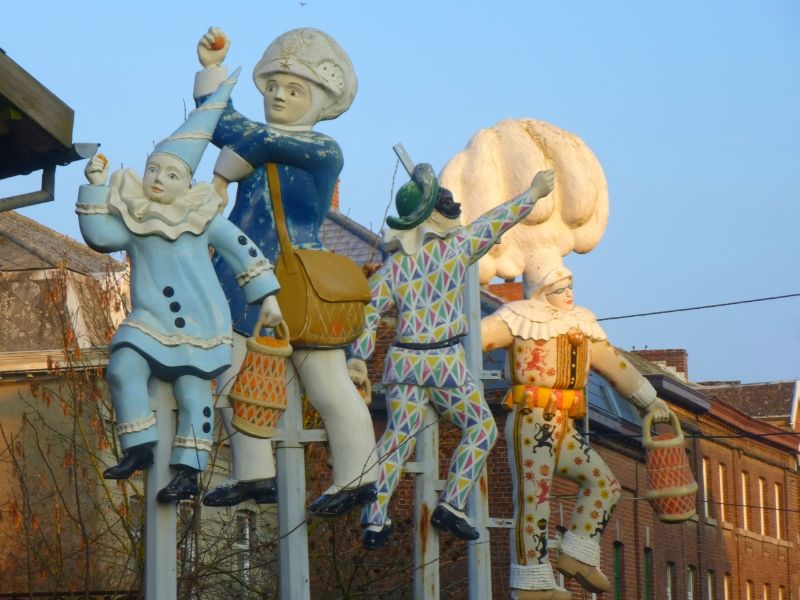 I found a place to park on the outskirts and then hiked through the closed streets with the others.
Along the way was the Binche train station, very impressive and mostly abandoned.
To get to Binche by train, I would have had to go to Brussels first.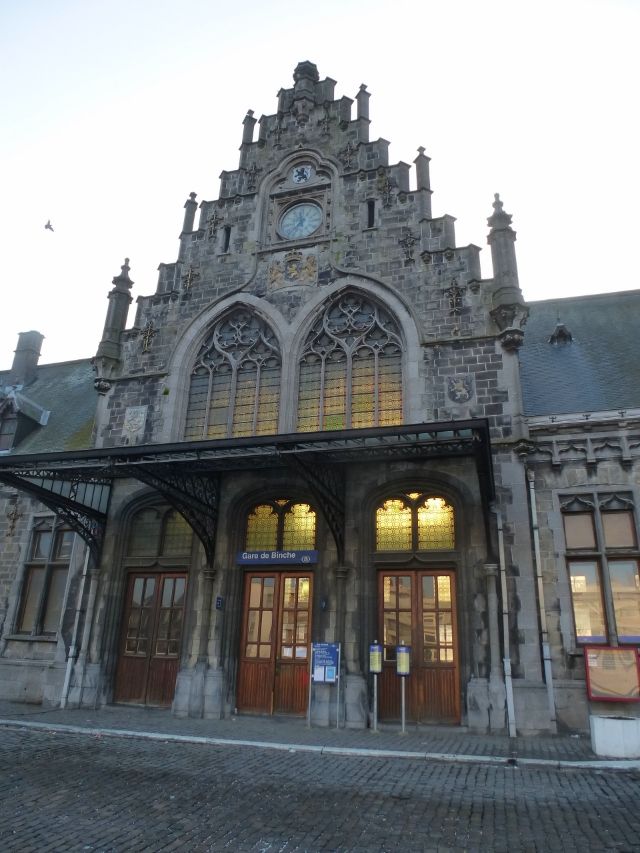 Just this little central section of the station is still used.
Important services no longer exist.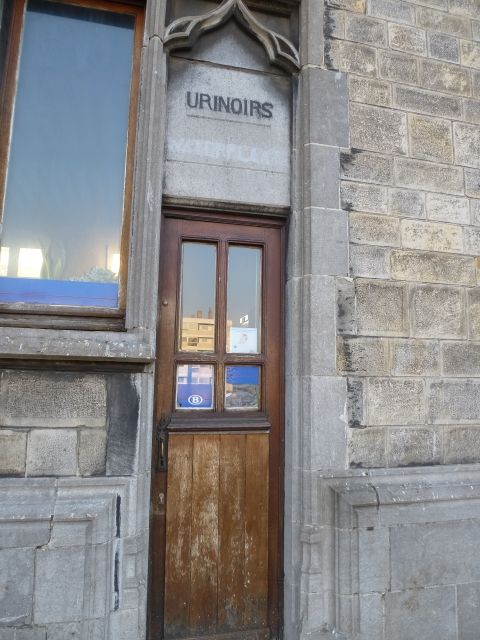 I walked around to see the platform for future reference. There is a train every hour.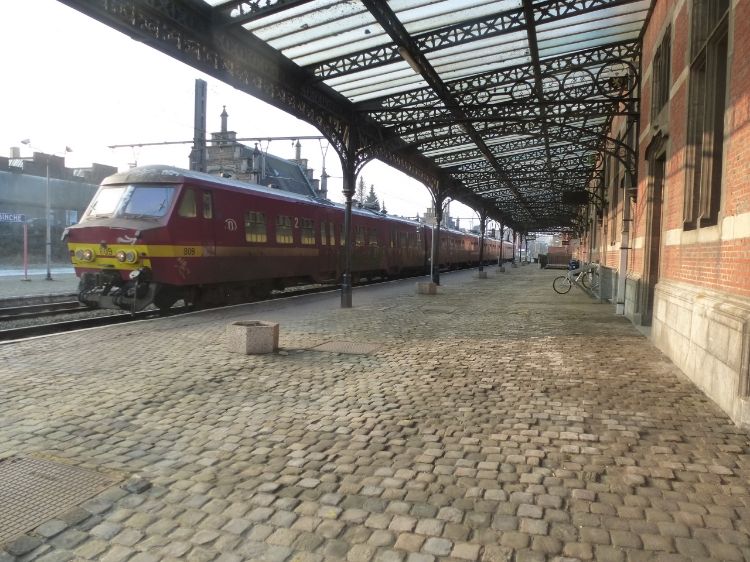 The center of Binche was full of people.
And I finally saw my first
gille
.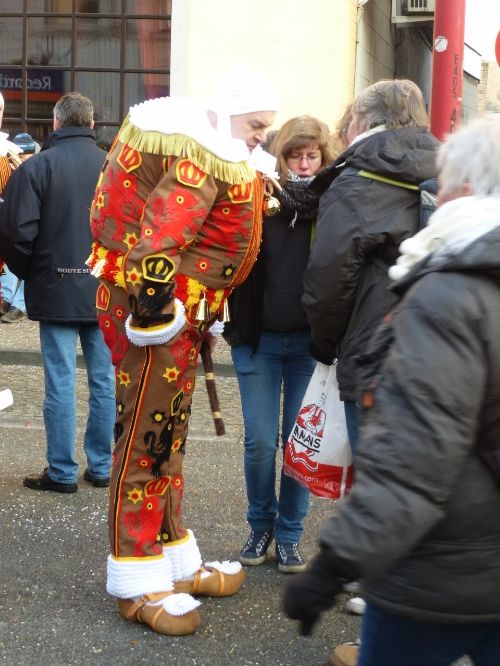 And then the
gilles
multiplied like gremlins.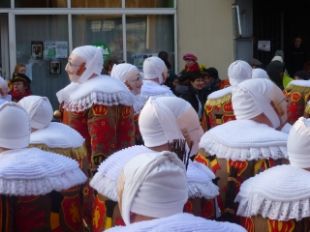 Don't forget that clowns, masks, disguises scare the shit out of me. Luckily I was able to escape into the crowd.