Post by nycgirl on May 30, 2013 14:11:26 GMT
This is a continuation of my trip which began in
Cape Town
and
Namibia
.
We arrived in Kruger National Park in the late afternoon after driving through Botswana the day before. The first animals we laid eyes on were the ubiquitous impalas. Although they are so common that they quickly grow wearisome, they do have pretty, dainty little faces.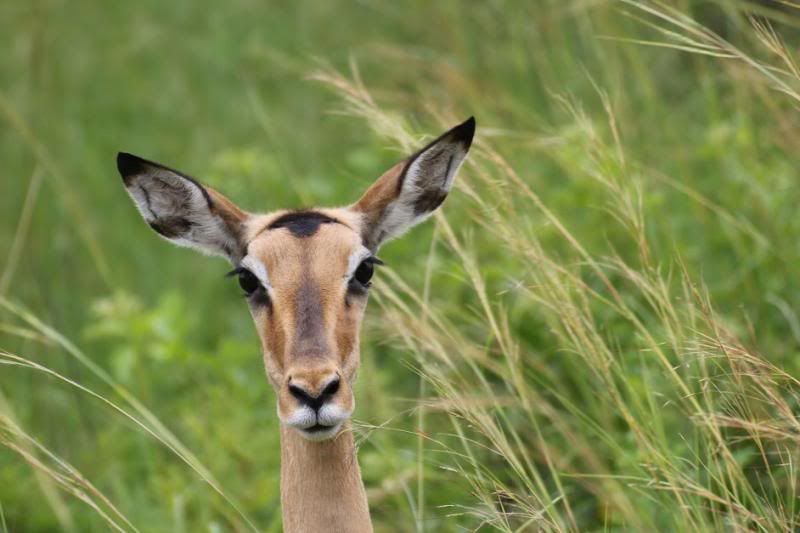 They also have impressive athleticism. They can leap distances of up to 33 feet (10 meters) and soar as high as 10 feet (3 meters) in the air. Later in the trip, we witnessed a herd of impala executing balletic leaps in the air. Whether they did it to escape a predator or were just goofing off, it was cool to see.
Here they are showing the "M" on their rears. As Tod has mentioned before, these markings, along with their position on the food chain, earned them the nickname "McDonald's of the bush."
We drove on and few minutes later, to my absolute delight, a herd of elephants emerged from the trees and stepped into the road right in front of us.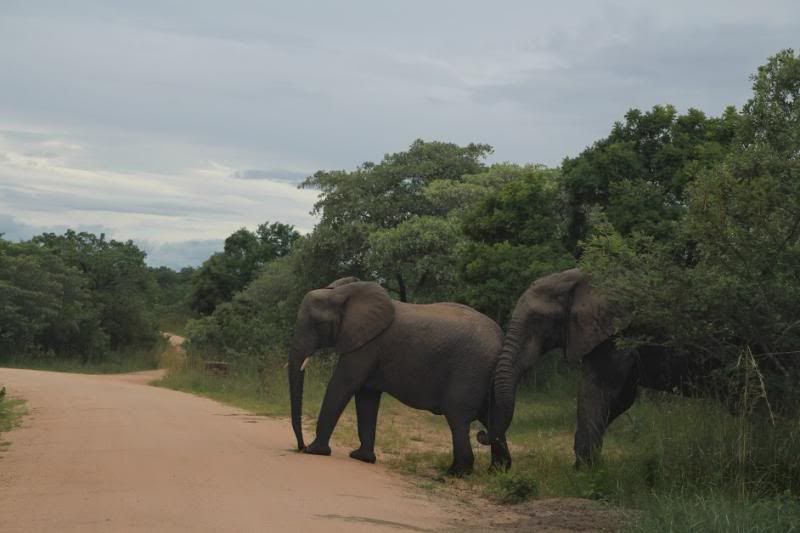 One of them walked right up to the car and stared at us, causing my heart to skip a beat. Even though he was a young one, I had seen enough footage of elephants flipping cars over to be concerned. He, however, only tentatively touched the hood of the car with his trunk and moved on.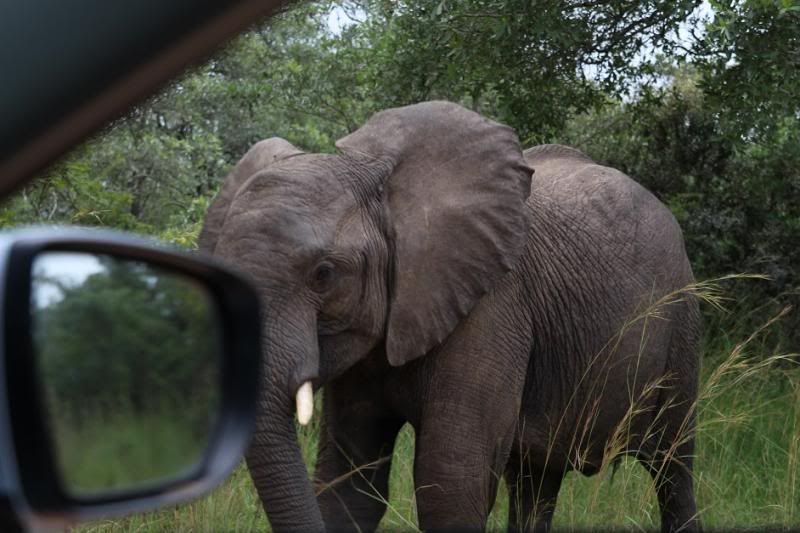 The herd had little babies with them.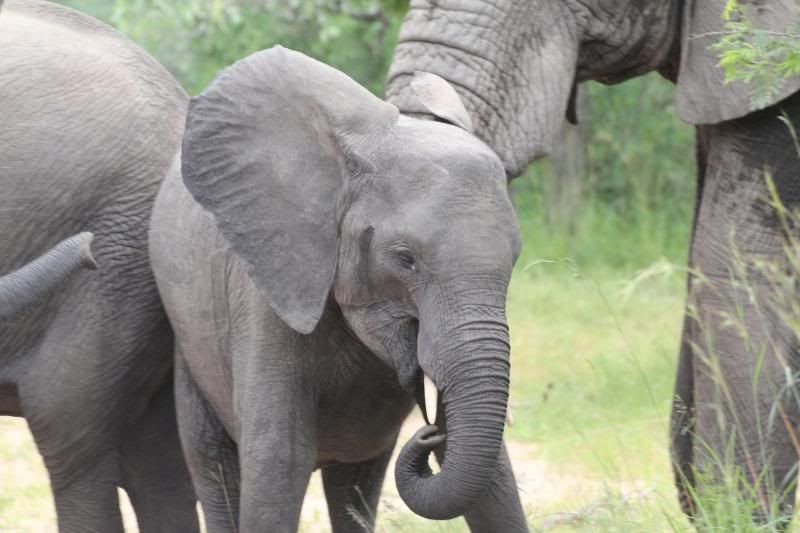 This little guy was the smallest of them all.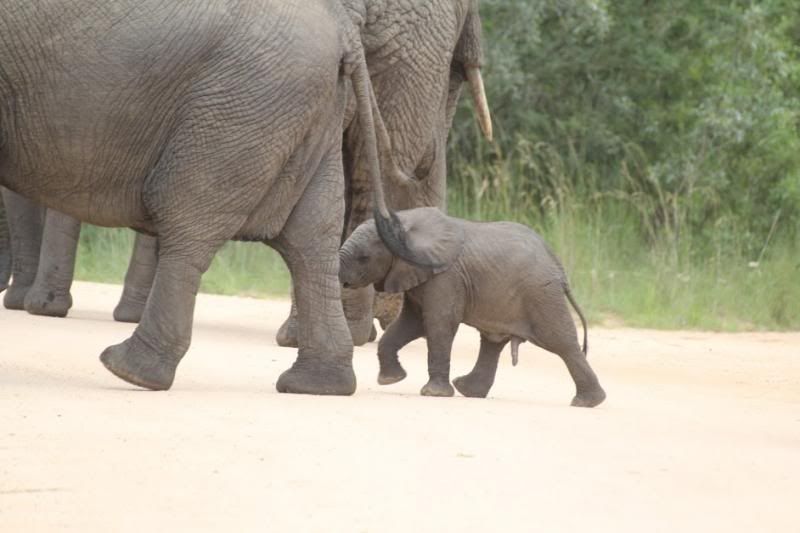 Soon after we spotted our first rhino! Unfortunately, I didn't get a good look at its face. One disadvantage to traveling to Kruger in January, which is summer in South Africa, is the foliage is so lush that the animals are easily obscured. White rhinos, like this one, can especially be hard to photograph because they walk with their heads down. Black rhinos, on the other hand, walk with their heads held high.
That little blue blur over his head is the woodland kingfisher, an absolutely gorgeous bird. We'll see more of him later.
Next we saw some kudus. We had fleeting glimpses of them in Namibia, but these kudus were less skittish, so we were able to take lots of photos. They are such stately animals.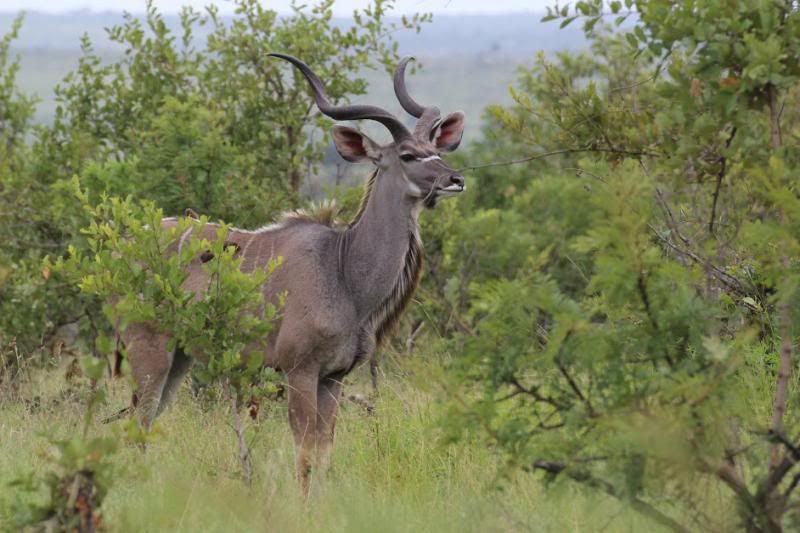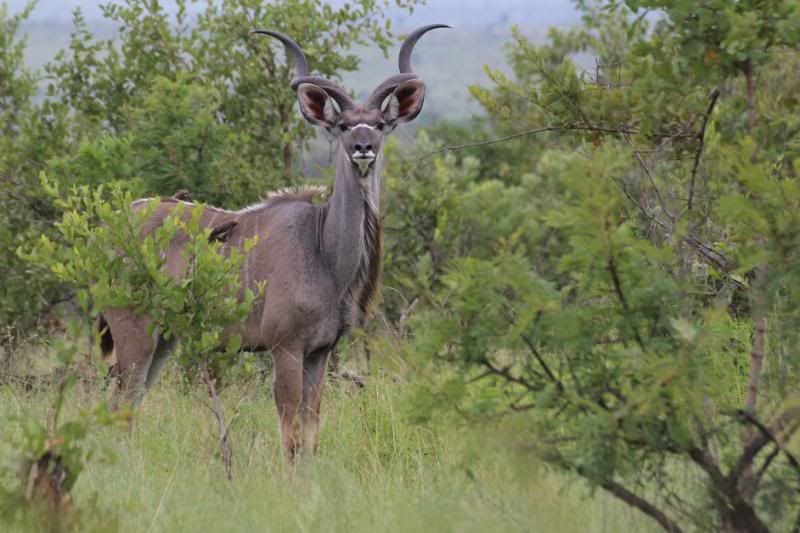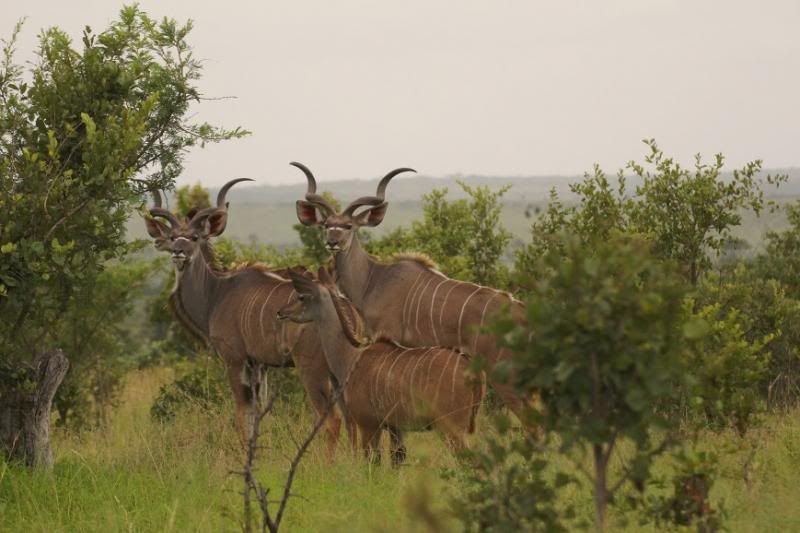 We came across another herd of elephants strolling across the road, taking their time. We came to find out that they often do that and don't much care if they hold up traffic. If you're an elephant, people will wait.

We pulled over and watched them for awhile. It was so heartwarming seeing the baby elephants romp with each other.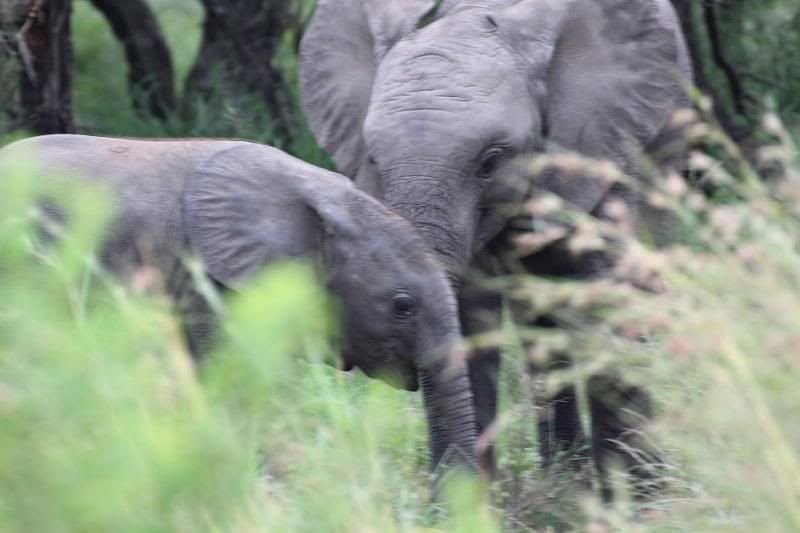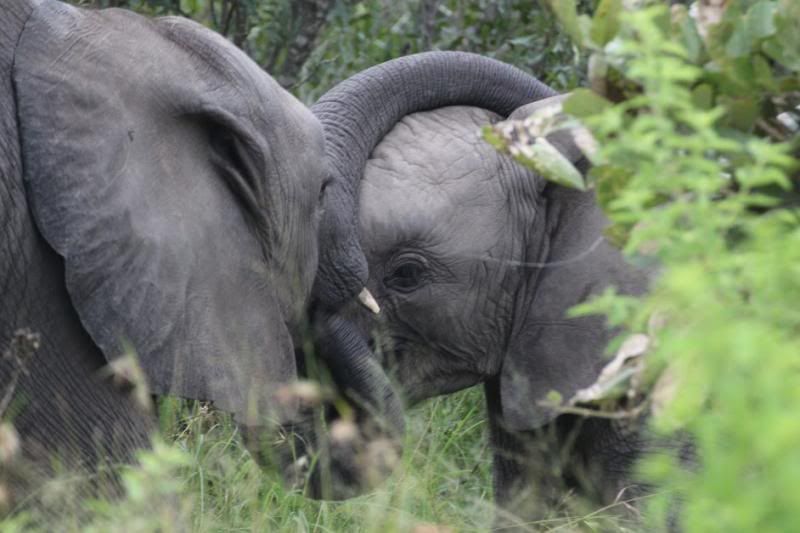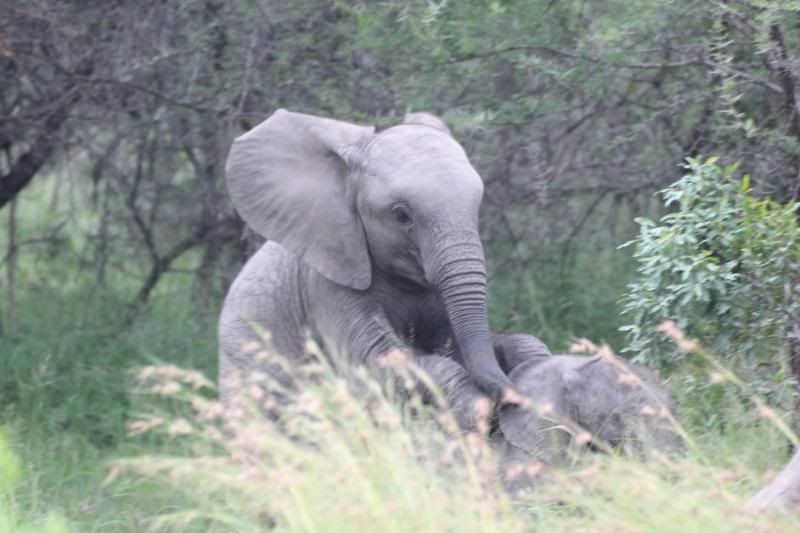 It was getting late and we needed to head back to camp before the gate closing time. On the way, though, we were amazed to see a group of wild dogs trotting down the road toward us. They were one of the animals my husband and I most wanted to see, but we never expected to see them right away.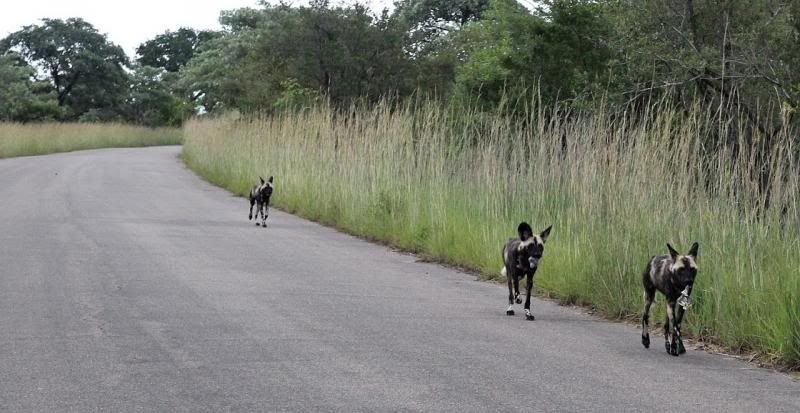 Wild dogs are the most efficient hunter in all of Africa, possibly the world. They have a whopping 80 % success rate, far better than the king of the jungle's 30 %. These guys, though, had only caught pieces of trash, which they were carrying away with them for some reason.
They seemed like they had important business to attend to as they trotted away at a brisk pace. In seconds, those saucer-like ears and pretty mottled coats disappeared from view.
We reluctantly headed for camp, pausing for a herd of water buffalo on the way. We checked into our accommodations and grabbed a bite to eat. That night, although we were tired and our bungalow was cozy, my husband and I took a walk around the perimeter fence and listened to the strange and eerie sounds of the bush. Our safari trip was off to a fantastic start.