Post by Deleted on Jul 29, 2013 19:10:15 GMT
From 1983 to 1985, there was an absolutely terrible famine in Ethiopia and Eritrea (not yet independent at the time). Older people may remember this period, because it was when Bob Geldof with Band Aid invented the concept of the "charity song." Of course that was in 1984 when so many people had already starved to death. The video makes one wonder if it should have been called Hair Aid instead.
Anyway, since I am the worst son in the world, it was when the famine started that I took my mother on holiday to Ethiopia. This requires a little bit of explanation. After living in France for 9 years, my parents had moved back to the United States in 1981 and they took my grandmother with them at her request (but yes, my mother had offered that possibility). By 1983, the old lady was driving them crazy, so I would organize individual R&R trips for my parents due to my airline employee tickets. One parent would babysit my grandmother while the other one had fun.
This worked quite well, except for the fact that in the end, it was decided that my grandmother would be happier back in France, and I am the one who took care of her for 8 years until her death at age 92. She was in a lovely retirement home, but I went to see her very often, too her to the restaurant, walked her around a mall or a park and also deposited her at various family sites for a week or two because frankly, she was a wonderful person and everybody loved her.
Okay, I'm getting off track. Back to the Ethiopia trip. My original plan was to offer my mother "a trip around the world" since my father had been in the navy for a long time and and been just about everywhere in the world already. My airline employee tickets covered parents for some routes but not all of them, so I had to face the facts in the end. I couldn't get my mother across the Pacific Ocean, but I was determined to take her on a trip she would never forget. Well, damn, she has forgotten every little bit of it thanks to Dr. Alzheimer, but I have proof that I took her there.
The actual route she flew was Raleigh-NYC-Paris-Rome-Asmara-Addis Ababa-Dire Dawa-Djibouti-Aden-Jeddah-Bombay-Singapore-Riyadh-Paris-NYC-Raleigh. Not very logical, I agree. We also had tickets for Beirut, but the situation was not totally stable and it seemed like a bit much, so that was dumped.
Anyway, the title of this thread is Addis Ababa - March 1983, so here are a few photos.
Coming into Addis Ababa airport...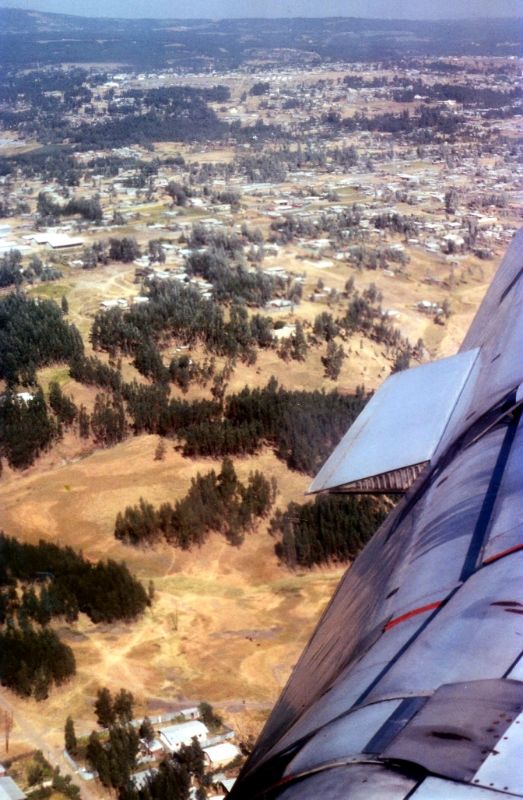 I was still in my fancy hotel phase back then, so I discarded the idea of most of the hotels in the city, so we went to the "second best" hotel of the city after the Hilton which was next to the OAU headquarters. It was the Hotel Ghion.
This is the same as my photo but my mother took it, and I want to give her at least one photo on this report.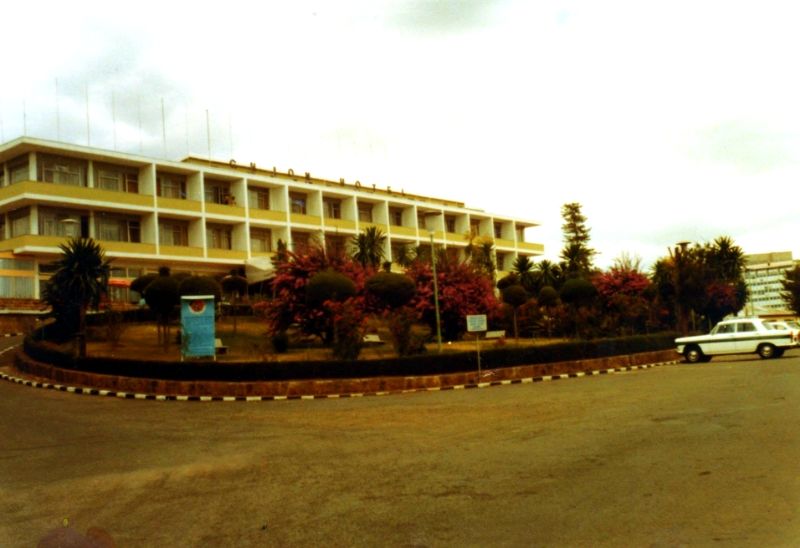 There was a restaurant complex in the hotel where we discovered
doro wat
. This deserves a whole thread soon.
National Bank of Ethiopia - my mother's 2nd and last photo on this thread
Downtown tried to keep up a few appearances.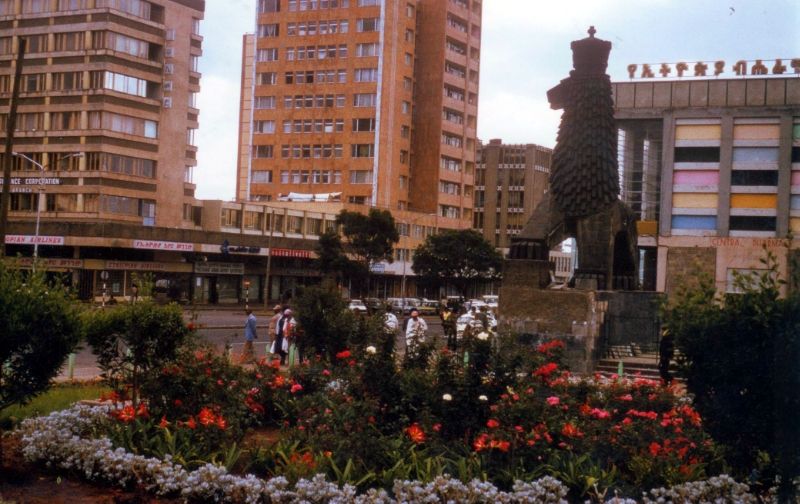 We saw a number of barefoot priests with huge silver crosses.