Post by Deleted on Oct 6, 2013 10:07:18 GMT
On my trip to Brazil, I did something that I had not ever done before -- I made no research whatsoever, did not read any guidebooks and made absolutely no plans. This is extremely for me because I am opposite when I travel. I want to know all of the details down to the price of a bus ticket and what the electrical sockets look like.
Okay, I confess -- I did look up the electrical sockets because I have so many cables and things to charge now -- and also a collection of adaptors. As it turned out, Brazil has apparently been unable to choose a socket or an electrical current of its own, torn as it is between American and European influences. So its sockets are 'universal' for most of us -- taking American plugs, British plugs, European continental plugs. Electricity is 110 or 220 volts, apparently at random and sometimes mixed within the same dwelling. Therefore, every single socket that I saw had a label over it saying 110 or 220 to avoid nasty surprises.
I am getting off track, but anyway my lack of planning was due to the friend I was visiting, who seemed to have a schedule and an itinerary totally planned for me so there was clearly no reason to wear myself out coming up with alternative plans cribbed out of a book or off the internet.
And so we were off to Paraty for the weekend. All I knew about it was that it was on the coast and it was reputed to be extremely pretty. How were we getting there? "Do you mind driving?" I was asked. Of course not! My whole idea of a holiday was to drive several hundred kilometres out of a city of 16 million on totally unknown roads with signs in an unfamiliar language. Actually, the group would split up on Sunday night at the bus station and my friend and I would continue on to Rio Monday morning, which would also certainly be a treat for diving with a population of only about 8 million.
For technical reasons, we couldn't get the car until noon on Saturday and then our comedy of errors began. First of all, just when one of the group was getting into the car to start the trip, we were accosted by an old woman. It was a very hilly street and she wanted to know if we would be so kind as to drop her off on her own street, only about 300 metres away. There was a bit of hesitation since we were already running late (I don't even know why more time was wasted hesitating, since I couldn't understand the conversation). Finally, the old lady -- age 91 -- gets into the car and off we go. Everybody knew where the street was but since they were non-drivers they didn't know about "you-can't-get-there-from-here." The route was blocked by a giant thoroughfare with a concrete barrier to prevent getting across. So I had to go the long way around, discovering numerous one way streets which demanded a constant revision of my plans. It took more than 30 minutes to take that woman those 300 metres.
Then it was time to programme the GPS which everybody had insisted that I would need, except that nobody knew how to programme it and it got stuck in "demo" mode with a fictitious street scene rolling along on the screen and having absolutely no relation to reality. However, since our first goal was to just get out of the city and on to the motorway in the direction of Rio, I didn't really feel that I needed the GPS... yet. I had in fact looked up the main points of getting out of the city on the internet before we left -- north on
Nove de Julho
until it sort of turned into
Prestes Maia
which would lead into
Santos Dumont
. That would take us to the open sewer that used to be a river, and the expressway that ran along it went out of the city. After that, there would be signs, right?
Dream on. We crawled along in the heavy traffic while I was entertained by backseat drivers saying things like "I think you should have turned there" or "Do you know where you're going?" Unsuccessful attempts to work on the GPS were still being made, but it any case, even I was becoming convinced that we were definitely heading in the wrong direction.
It got even better when I was told "we have to go back -- I forgot some important stuff!" I am in a remarkable state of zen when I drive, so I dutifully managed to go back in the other direction and even find the way back to get the "stuff." Then I headed back out of the city. We had only lost about two and a half hours so far. Are we having fun yet?
This time it seemed to be that it was pretty important to actually find the correct road, so I started pushing buttons on the GPS, which I could only look at out of the corner of my eye if we were to remain alive as I drove along. Through some miracle, I found the correct combination and
Fernanda
started telling me where to go in Portuguese.
After so much adventure, we quickly stopped at a motorway restaurant for some sustenance.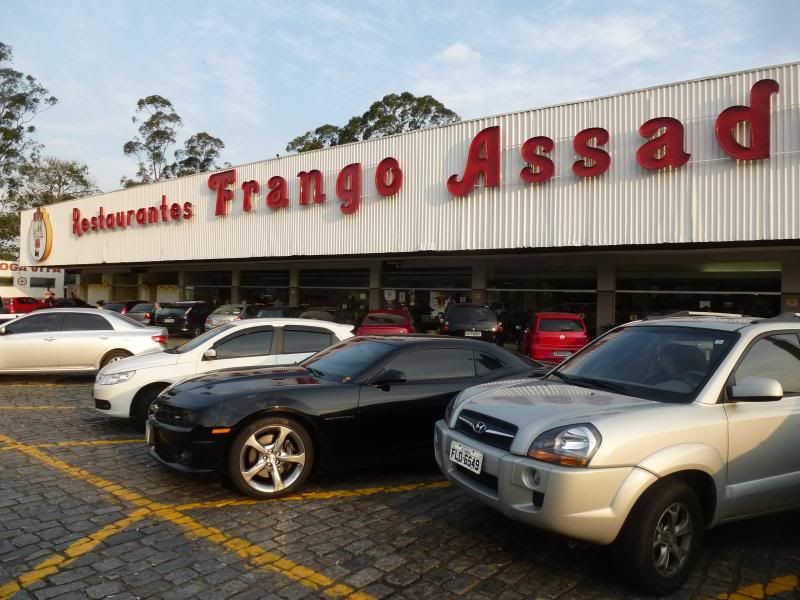 The sun was already getting ready to set.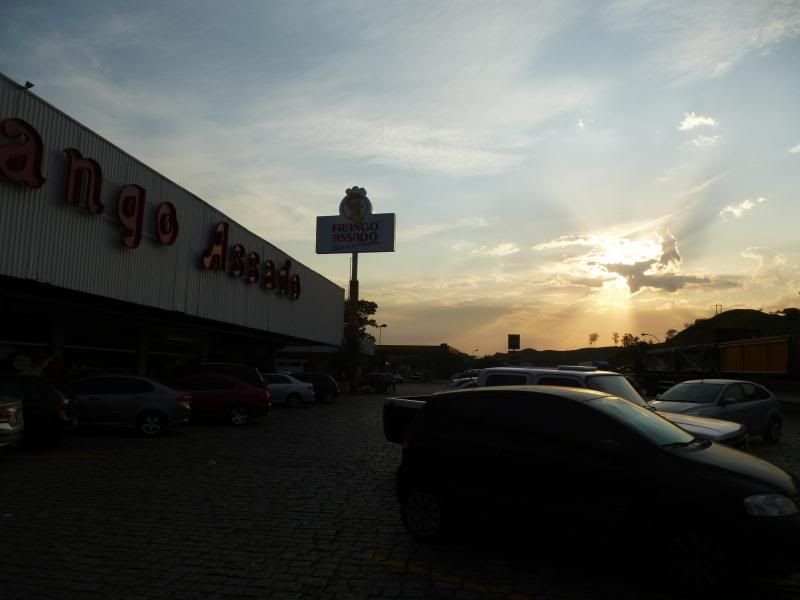 And very quickly we were back on the road.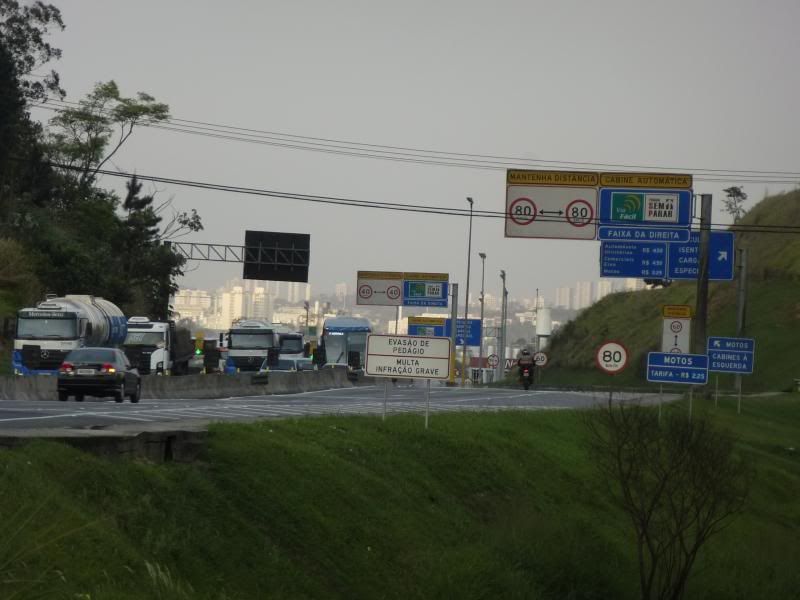 One of the things we were supposed to have done was to follow the beautiful and treacherous coastal road, and we did in fact leave the motorway to do this, except in total darkness in pouring rain with patches of fog. However, I managed to get a few glimpses which indicated that the road is positively magnificent during daylight hours, sunny if possible.
As things turned out, we pulled into Paraty around 20:30. The place was really hopping on a Saturday night. Did we have hotel reservations? Of course not. However, there are so many hotels in the city that it turned out to be not too difficult at all to find rooms, although it was a bit more complicated to decide, since one place was nicely decorated but the people running the place didn't seem friendly at all, one convenient place had a cleanliness problem, a couple were overpriced compared to the competition... My companions seemed quite indecisive, so I finally pulled rank as the elder guest who would also soon be in need of an evening meal. It wasn't the fanciest place that we had seen, but the old man running it was very nice and even opened a seldom used gate in the wall so that we could safely park the car for two days. We referred to him as "the captain" since the name of the hotel was the Pousada Capitão.