Post by mossie on Jan 17, 2014 10:23:47 GMT
When my son was home at Christmas we unearthed some old slides which I had taken at odd times during my working life.
Some time ago I wrote about my time in the RAF, now a bit of boasting about my blacktop career. About the fourth job I had on leaving the RAF was with a small public works contractor who did mostly small blacktop surfacing jobs. They had just purchased an asphalt plant, for the benefit of Americans, asphalt in Britain is used to refer to what you call blacktop, we call asphalt, bitumen. Here is another plant built later for the same firm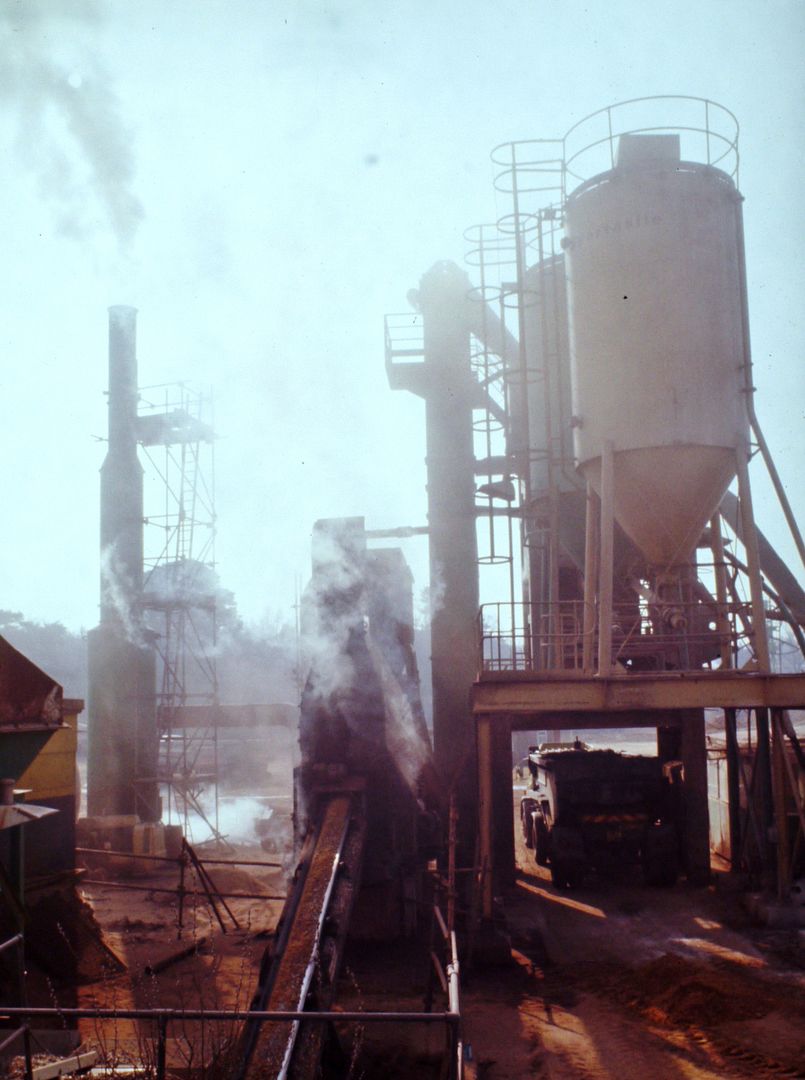 This plant was in bits and had to be totally rebuilt and I gradually became involved while being put in charge of odd jobs. Once it became operational I then had some bit of responsibility in supervising the laying of the materials produced, using a machine known as a "paver", of which this is typical.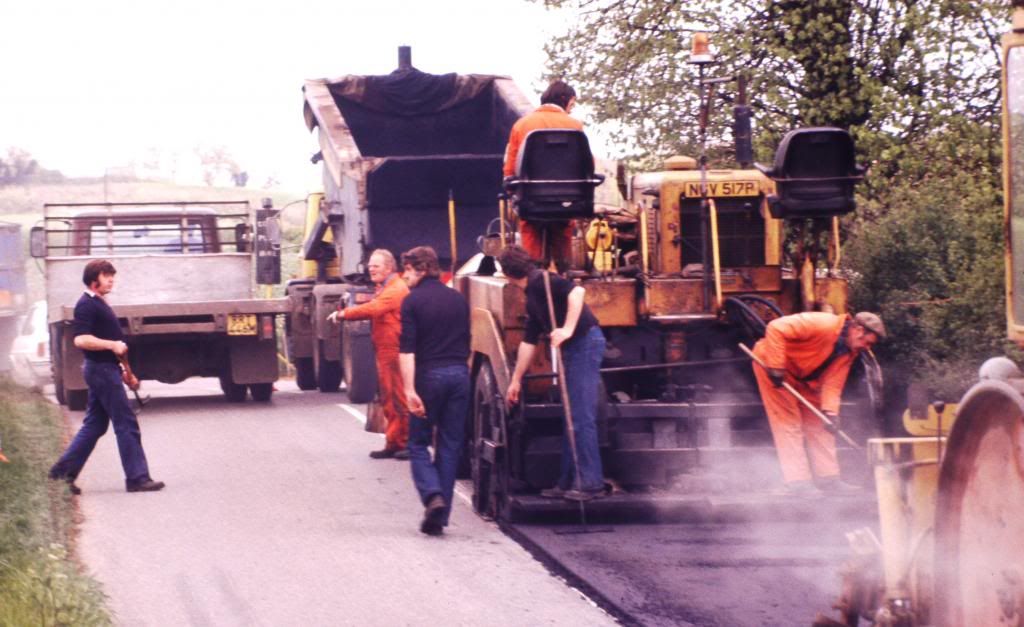 Note how we were obliged to keep this country road open to traffic
Here is a further stage in the process with a "chipping machine" behind the paver, applying precoated chippings to the surface of the freshly laid asphalt. These are subsequently rolled in to give a texture to enable tyres to maintain a grip in wet weather.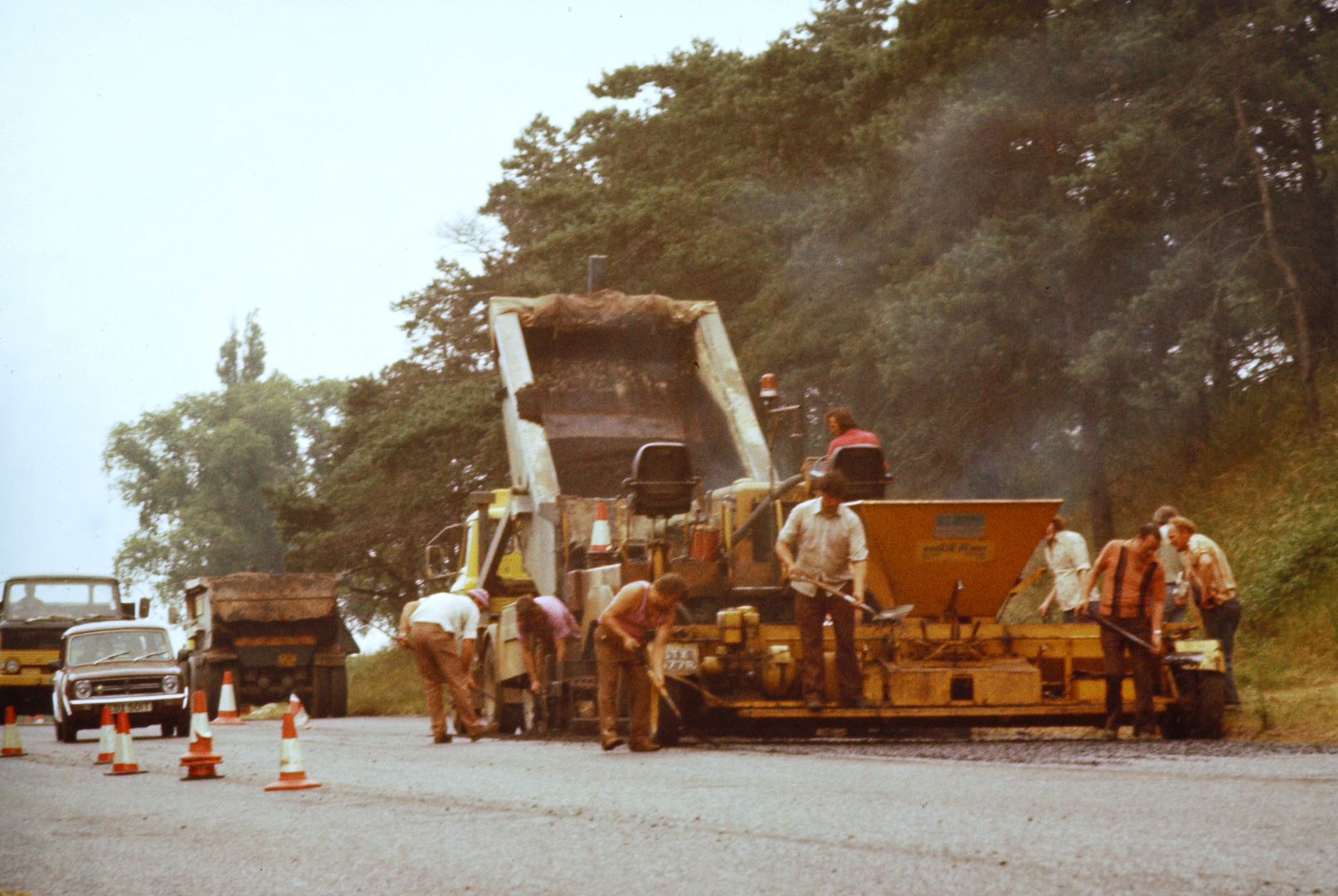 Here is the chipper being loaded with chips, note how the tractor has to run in the live traffic lane with the normal road traffic. Not popular on busy roads. Safety rules have stopped this procedure nowadays but it was regular accepted practice.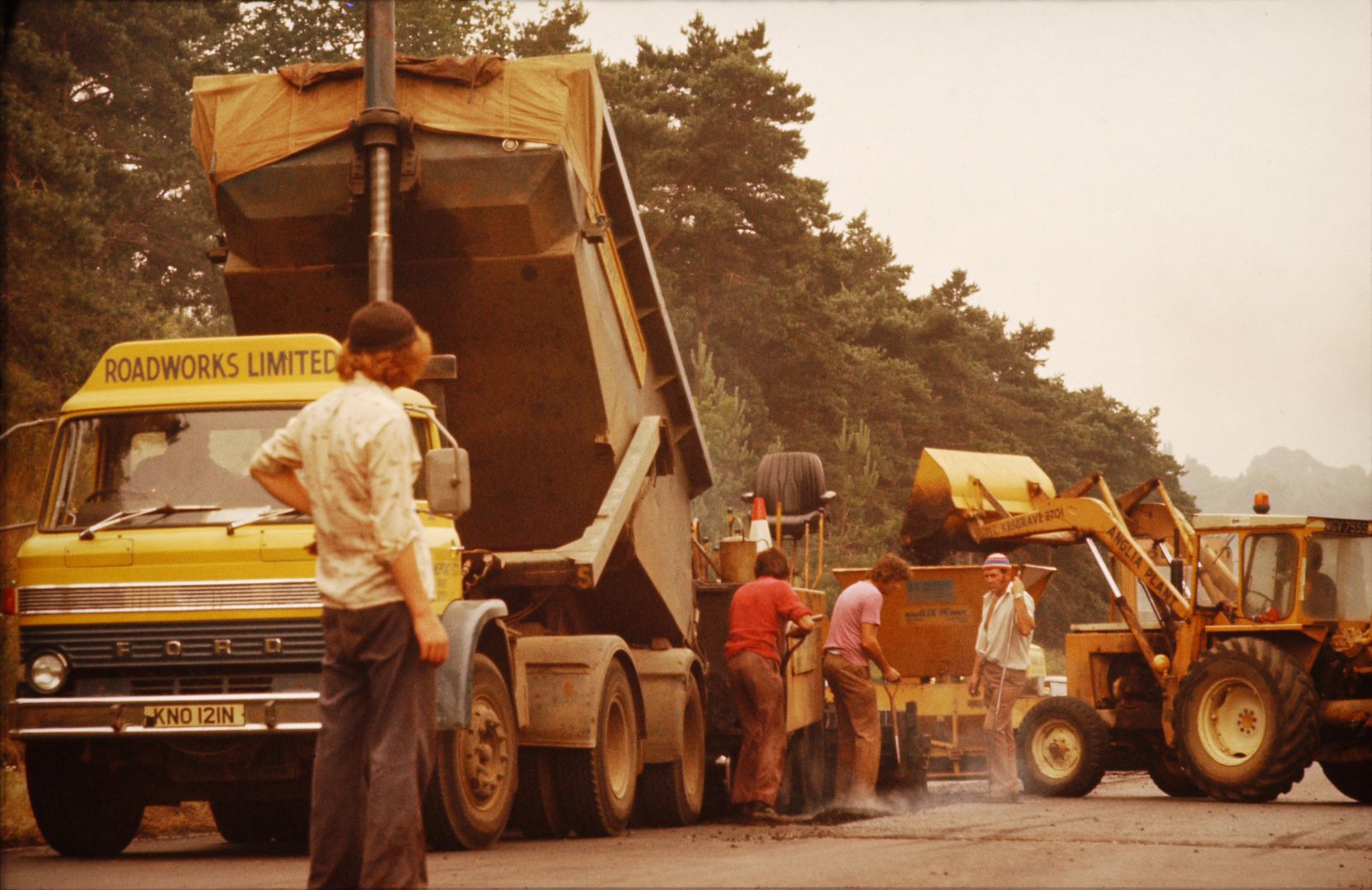 Here is how it was done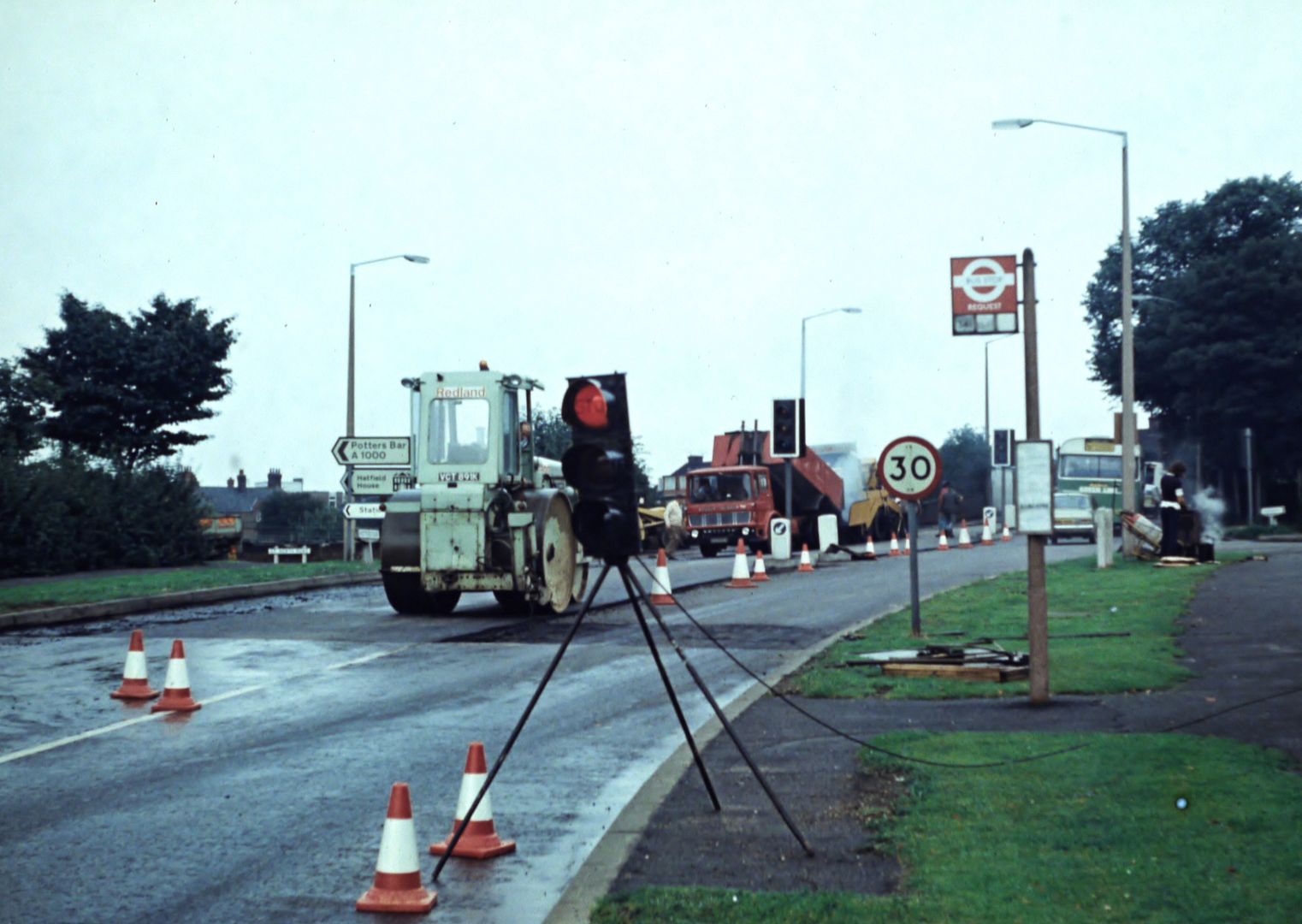 Back at the plant of course all sorts of problems could arise, the mechanical parts operated in very hostile conditions. Drying and heating wet aggregate to 170-180C, while blowing off considerable quantities of very abrasive stone and sand dust does not mix with meatls and moving parts. Constant repair and maintenance is needed to prevent unnecesary breakdowns which could create havoc on site.
Here is my plant foreman replacing the ducting for the dust extraction system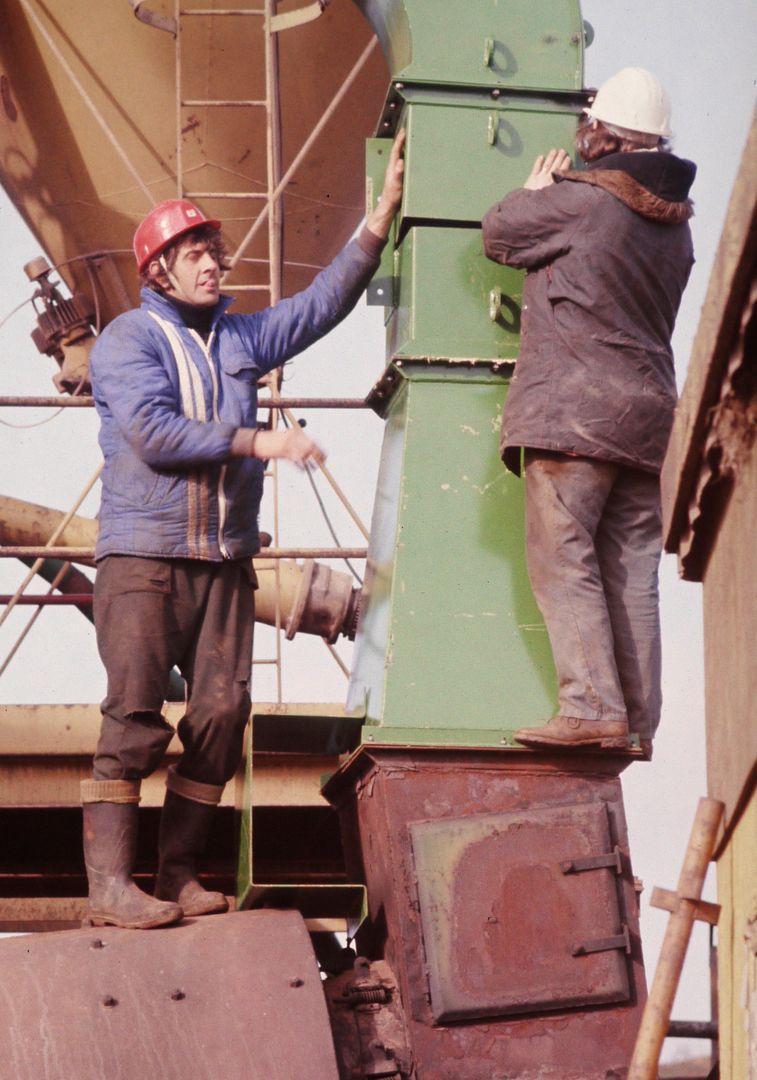 He was also handy with the welding equipment, and often used the acetylene cutting lance on recalcitrant bolts. As a joke if somebody was making comments or over supervising him, he would pick up a bolthead he had just cut and hand it over. Of course it will still be red hot and the recipient would swiftly drop it, to which Charlie would say "Heavy, ain't it?"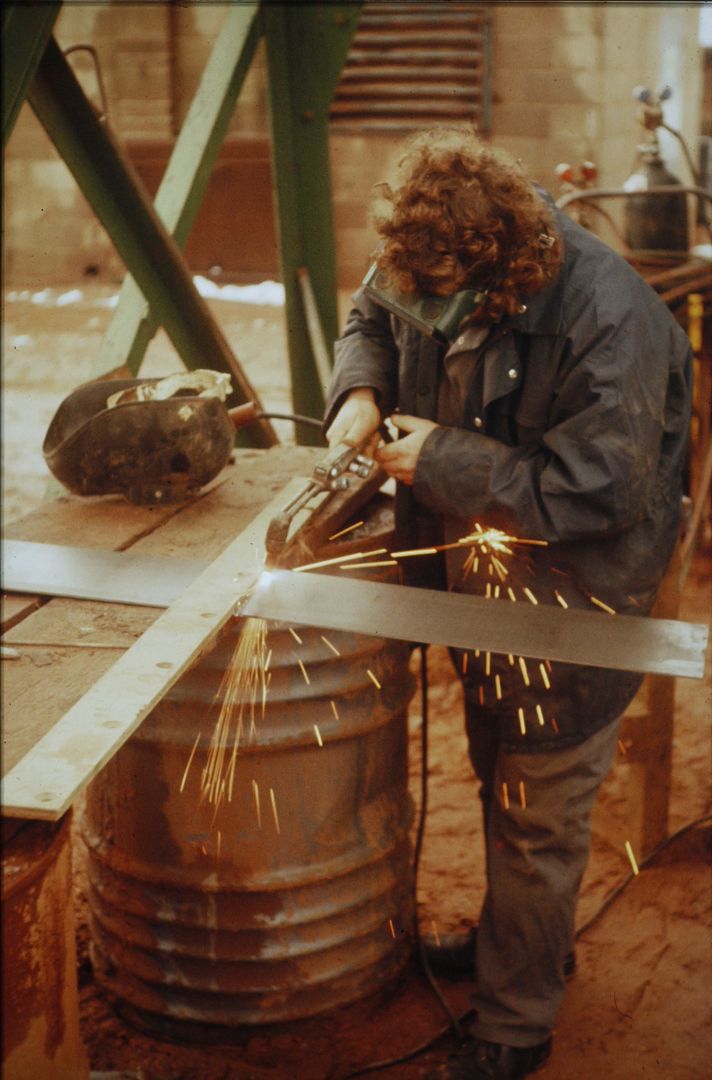 This is the burner on a plant capable of producing 90 tons per hour of mixed material. The last plant I operated I converted to using waste oil, which the boffins thought was the best means of disposal as the residual nasties in the oil would be deposited on the aggregate and lost in the road. A lot of this waste oil was from engine sumps etc which contained variuos odd metals from bearings.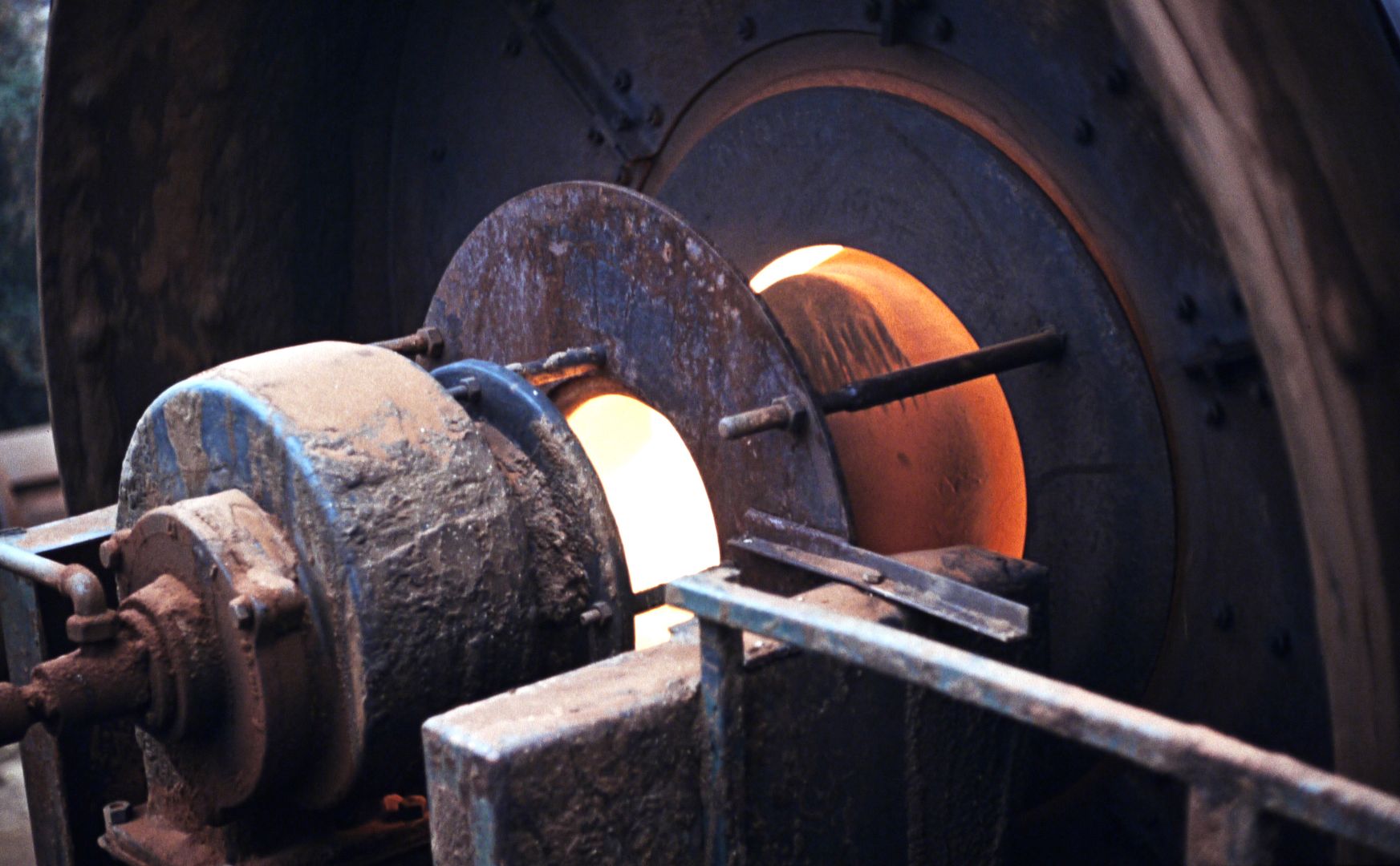 This is one of the plants which came under my control at some stage.