Post by onlyMark on Jan 28, 2015 20:15:00 GMT
Due to the recent anniversary at Auschwitz I thought I'd visit, for me at least, a rather closer camp.
Buchenwald (beech forest) was one of the numerous German WWII concentration camps. By the end of the war it was the biggest on German soil.
First opened in 1937 it lasted to 1945 when it was eventually liberated by American troops. However, as it fell in the Russian sector from 1945 onwards they decided they had a ready made camp for their own purposes until 1950.
An estimate of over 56,000 died there during the war. Around 1 in 4 of those committed.
In 1937 a clearing was made on a wooded hill, this expanding over time. My visit was made at a time of thick snow whereas only a couple of kilometres away, at a lower altitude, there was none. This impressed upon me the harsh conditions suffered by the inmates. The location of the camp was chosen because of the armament factories nearby at which the inmates were forced to work. The deaths were caused by torture, medical experiments, execution (over 8000 Soviet prisoners were shot at a specially constructed facility), malnutrition, disease and worked to death under the 'Vernichtung durch Arbeit' policy (extermination through labour).
This was not a prisoner of war camp where allied personnel were interned though at one time there were several hundred there on their way elsewhere. This was a camp where the undesirables were kept. That meant Jews, Poles and other Slavs, the mentally ill and physically-disabled from birth defects, religious and political prisoners, Roma and Sinti, Freemasons, Jehovah's Witnesses (then called Bible Students), criminals and homosexuals.
The camp was originally built by the prisoners, as was the access road to it –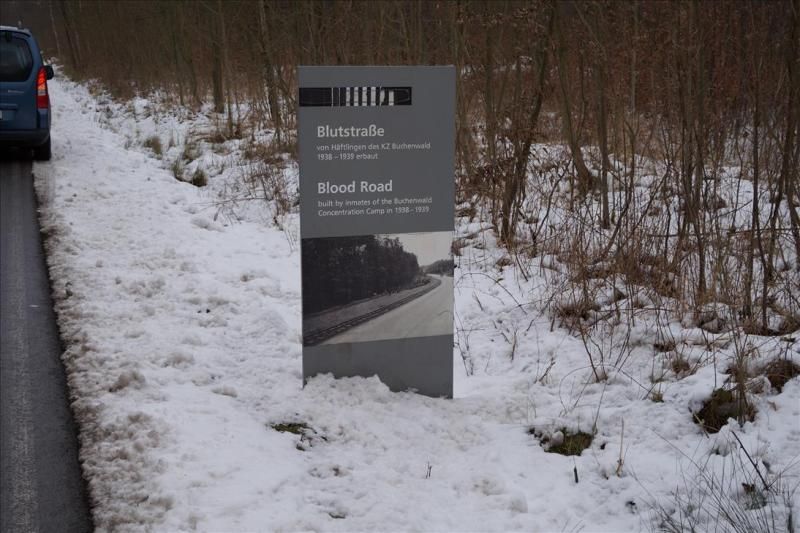 The car/bus parking area is now where the accommodation blocks for the guards were. These have also been turned into office, information and youth accommodation. Walking from there to the main camp area. What at one time was a pleasantly wooded hill –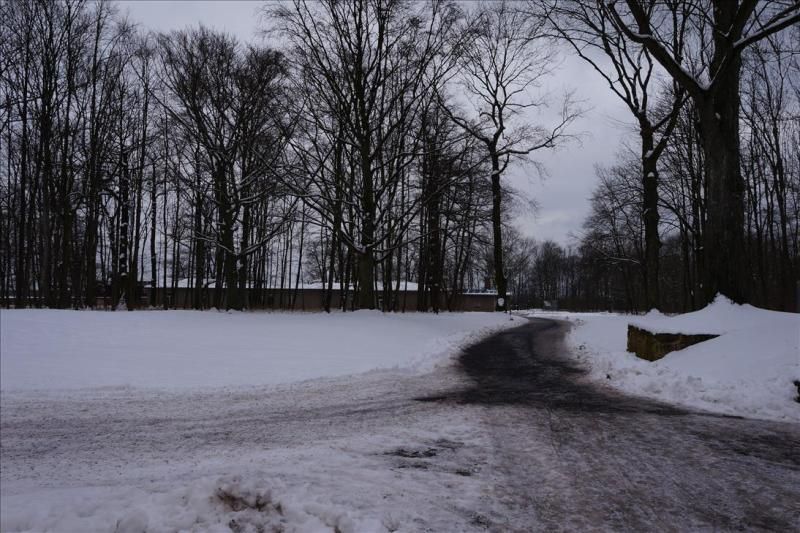 A little further away are the rail yards where the prisoners would have arrived. They would have walked along here. There are small administrative buildings either side of the road as we are not yet inside the secure camp –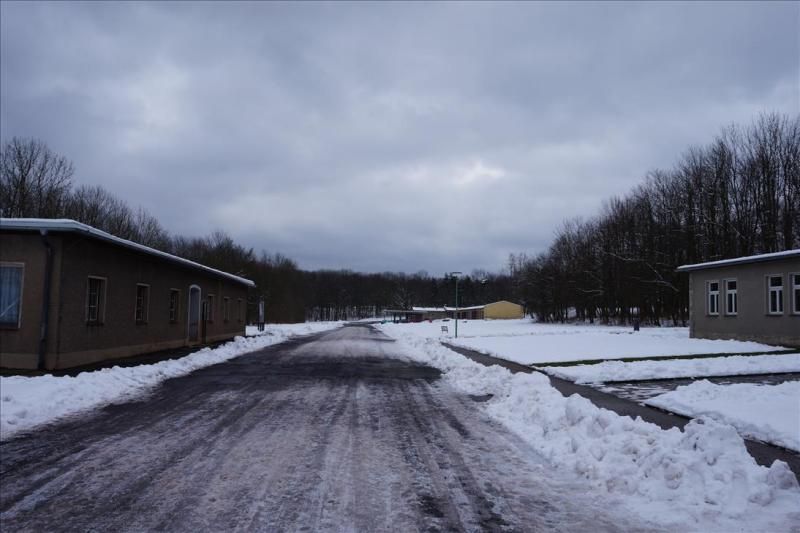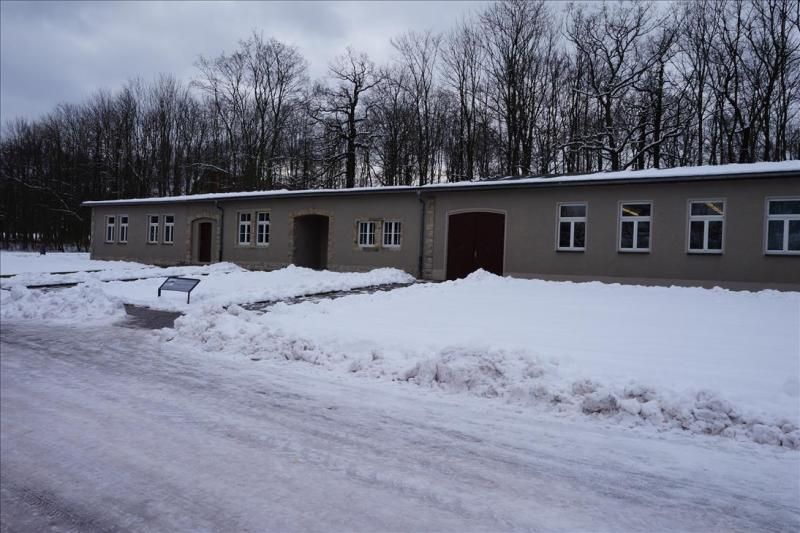 Eventually they would have come to the main entrance. Not as imposing as, say, Auschwitz but nevertheless I'm sure the prisoners weren't bothered about that.
One Canadian airman afterwards said,
"As we got close to the camp and saw what was inside... a terrible, terrible fear and horror entered our hearts. We thought, what is this? Where are we going? Why are we here? And as you got closer to the camp and started to enter [it] and saw these human skeletons walking around—old men, young men, boys, just skin and bone, we thought, what are we getting into?"