Post by onlyMark on Aug 5, 2015 13:03:47 GMT
A walk around Caceres.
whc.unesco.org/en/list/384
The city of Cáceres is in the Extremadura region of western central Spain. I was there a week or so ago to kill two birds with one stone. We tend to go anywhere but north when we venture away for a few days but this time, because the city seemed interesting, we decided to have a drive up there. It's about 4 ½ hours away and close to two other places I'm determined to visit, Merida and Trujillo. The second reason is that we've been struggling to source a stone sink for outside in the 'dirty yard', the place we hang the washing and do odd jobs like potting plants.
You'd think old style sinks would be ten a penny, but not so. We've searched and searched, asked farmers and all sorts, but to no avail. Probably there is one just around the corner, but we seem to have missed it. We found a company in Caceres that still made them. We decided to go and get it personally rather than have it delivered. This is it, and for a price of fifty Euros which I think isn't bad at all –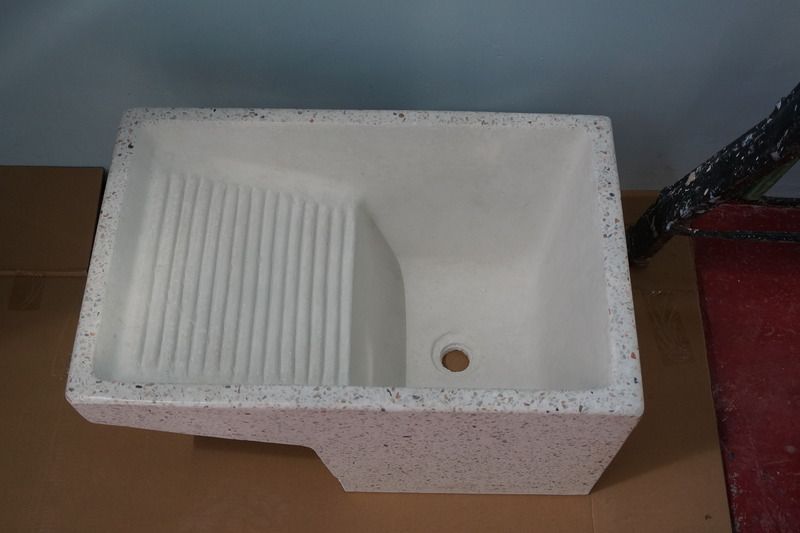 I enjoyed the drive up there because of the change in scenery. The first hour took us to Cordoba, a city I've visited many times, so that part was overly familiar. Then we rose in height several hundred metres as the road headed north. The countryside changed from around us being all olive trees, to arable farmland approaching Cordoba and then to what I can only describe as somewhat like the savannah in Africa, but without the acacia trees, more of a small oak type tree which looked similar.
The road for a while was dotted with the remnants of coal mines, which came as a surprise (though I know there are coal mines in Spain) and gave my brain a bit of a hard time mixing the coal mine landscape of my youth with the forty degree Celsius, blazing sunshine of Spain. Anyway, I digress.
There have been settlements near Cáceres since prehistoric times but the city was founded by the Romans in 25 BC. The old town still has its ancient walls, is known for its amount of storks' nests and that it doesn't appear modernised in any way. Cáceres was declared a World Heritage City by UNESCO in 1986 because of the city's mix of Roman, Moorish, Northern Gothic and Italian Renaissance architecture and thirty towers from the Islamic period still stand in the city.
The Romans perceived it as an important location but after the fall of the Western Roman Empire, the city was occupied by the Visigoths, and entered a period of decline until the Arabs conquered it in the 8th century.
Cáceres was reconquered finally by the Christians in around 1229 but had changed hands a few times beforehand. After this many of the locals grew wealthy due to them participating in the voyages to America and making their fortunes.
Nowadays the small streets have some shops selling local produce and even the Convents sell homemade sweets and pastries. Produce includes sheep cheese (a well known Torta del Casar, a very rare cheese since it is made from milk of Merino and Entrefina sheep that yield very low milk and it takes a herd of sheep to make 1 kg of the cheese), salt-cured ham and red wine are produced locally and are officially recognized by the Spanish government with both goat and sheep cheese produced by traditional methods and renowned throughout the country. Cáceres is also famous for its stews, roast meats (especially pork, lamb and game), fried breadcrumbs (migas), trout, pastries and honey.
Many buildings are noteworthy in themselves but for this report I just wanted to have a general walk round to get my bearings and see what the fuss was about. Another time, if I go back, I'll visit them in more detail. See if you can spot the occasional Moorish arched window now bricked up. For now though, this is what I saw –