Post by Deleted on Sept 27, 2015 19:10:03 GMT
I think I have already mentioned here and there the origin of the "Lille 3000" events. For most of the 20th century, the rest of France considered Lille to be a rather dismal and decrepit city of little interest, especially after the decline of the regional textile industry and the closure of all of the mines in the region. And then of course there was the weather, which is often far from ideal, if you like skin cancer. But in 2004, Lille was designated as the European Capital of Culture. This was basically a consolation for what was considered to be a tragedy in the region. Lille was a candidate for the 2004 Olympics and lived the dream until 1997 when it lost to Athens. Even though it was the smallest city to ever vie for the summer Olympics at that time, it really felt it had a good chance due to its proximity to Paris, Brussels and London, but if I am not mistaken, it came in last in the final voting.
After digesting its rejection, Lille decided that it needed to do some to show that it had not given up its dream of renewal, so its designation as a culture capital became its defining event for the 21st century. "Lille 2004 Capital of Culture" was a huge success that far exceeded everybody's expectations. The city was cleaned up, modernised, pedestrianised and the events were absolutely dazzling. The "Tri Postal" an old postal mail sorting building that had been abandoned was renovated into a huge cultural centre, 12 "
maisons folies
" were created as cultural centres, including 3 across the border in Belgium and a number of parades were organised. Rue Faidherbe which connects the Lille-Flandres train station to the centre of Old Lille was converted into a dazzling neon street celebrating Shanghai. Since that event, rue Faidherbe has become the symbolic street for each event with jaw-dropping decorations each time.
Anyway, when Lille 2004 came to an end, it had been such a huge success that it was out of the question to return to business as usual in the city. Lille just decided that it did not need to be officially designated at a Capital of Culture anymore but would create its own events every few years under the title "Lille 3000." In 2006, it was
Bombayser de Lille
celebrating Indian culture. In 2012, it was
Europe XXL
celebrating the expansion of Europe to the east and on to Istanbul. In 2012 it was
Lille Fantastic
which was delightfully weird and totally off the wall. If you look hard, you will find reports of mine regarding all of these events. Amusingly enough, what made me determined never to miss any of these events was the fact that I went to Lille just a few days after Lille 2004 had ended and saw all of the amazing Chinese neon signs along rue Faidherbe... but dark.
So there was no way I was going to miss
Lille Renaissance
this year, which celebrates the rebirth of 5 cities of the world: Rio de Janeiro, Detroit, Eindhoven, Phnom Penh and Seoul. It started last night with the Brazilian parade, and I managed to be there. I will return for a longer visit in November and maybe yet another one before it ends in mid January.
It was cloudy at the train station when I arrived.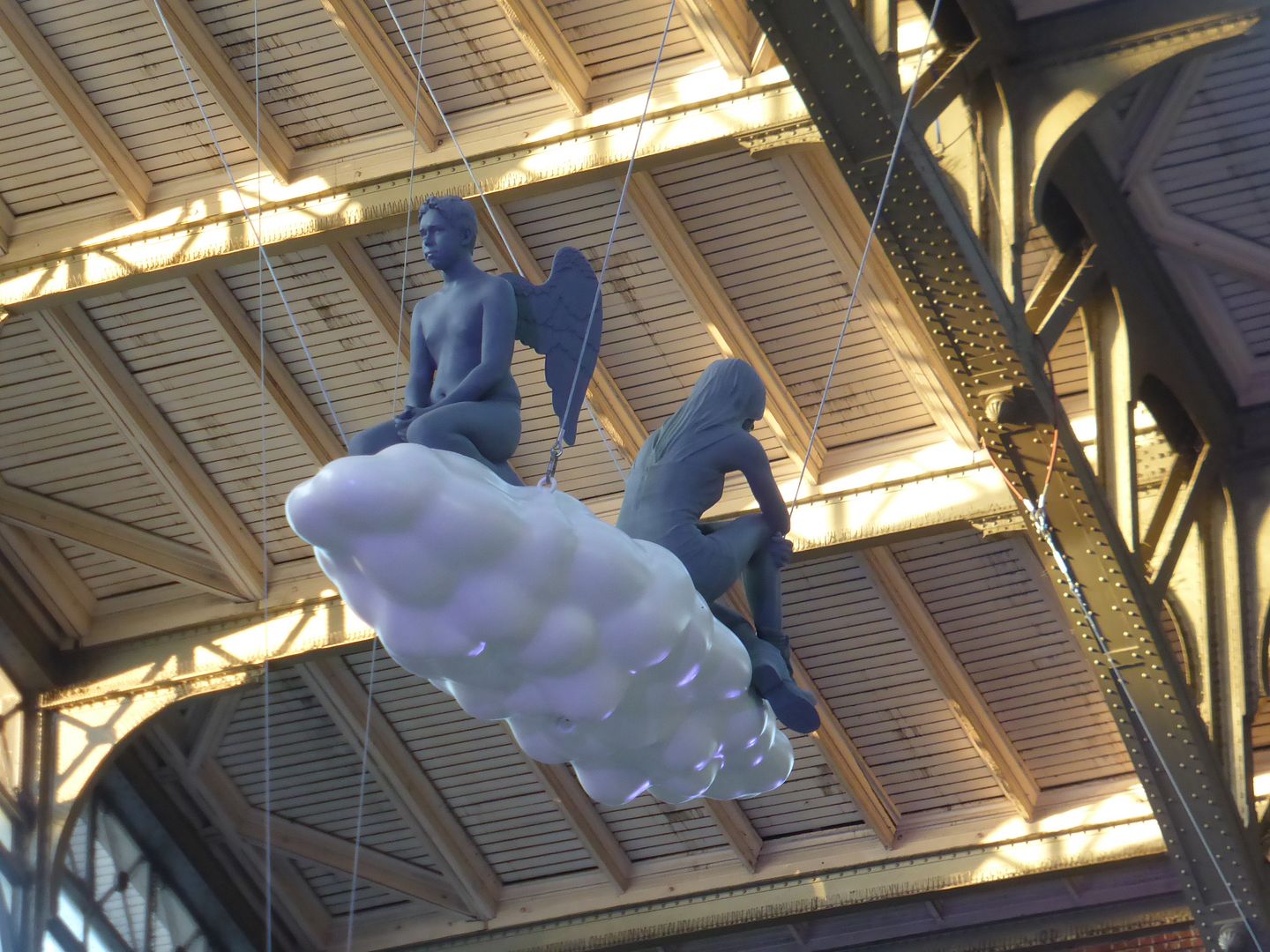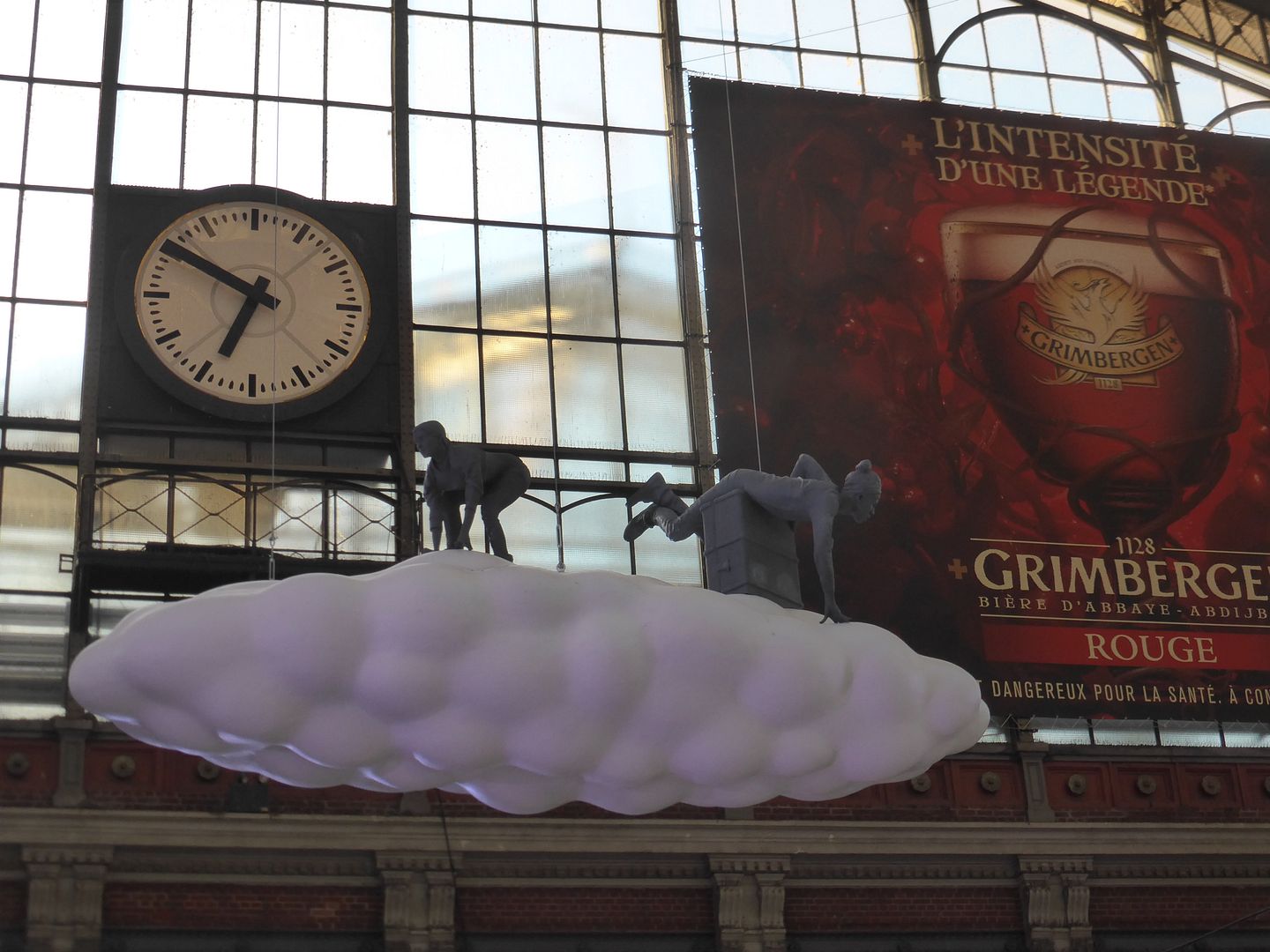 I also got a little glimpse of a few mysterious things being prepared for the parade.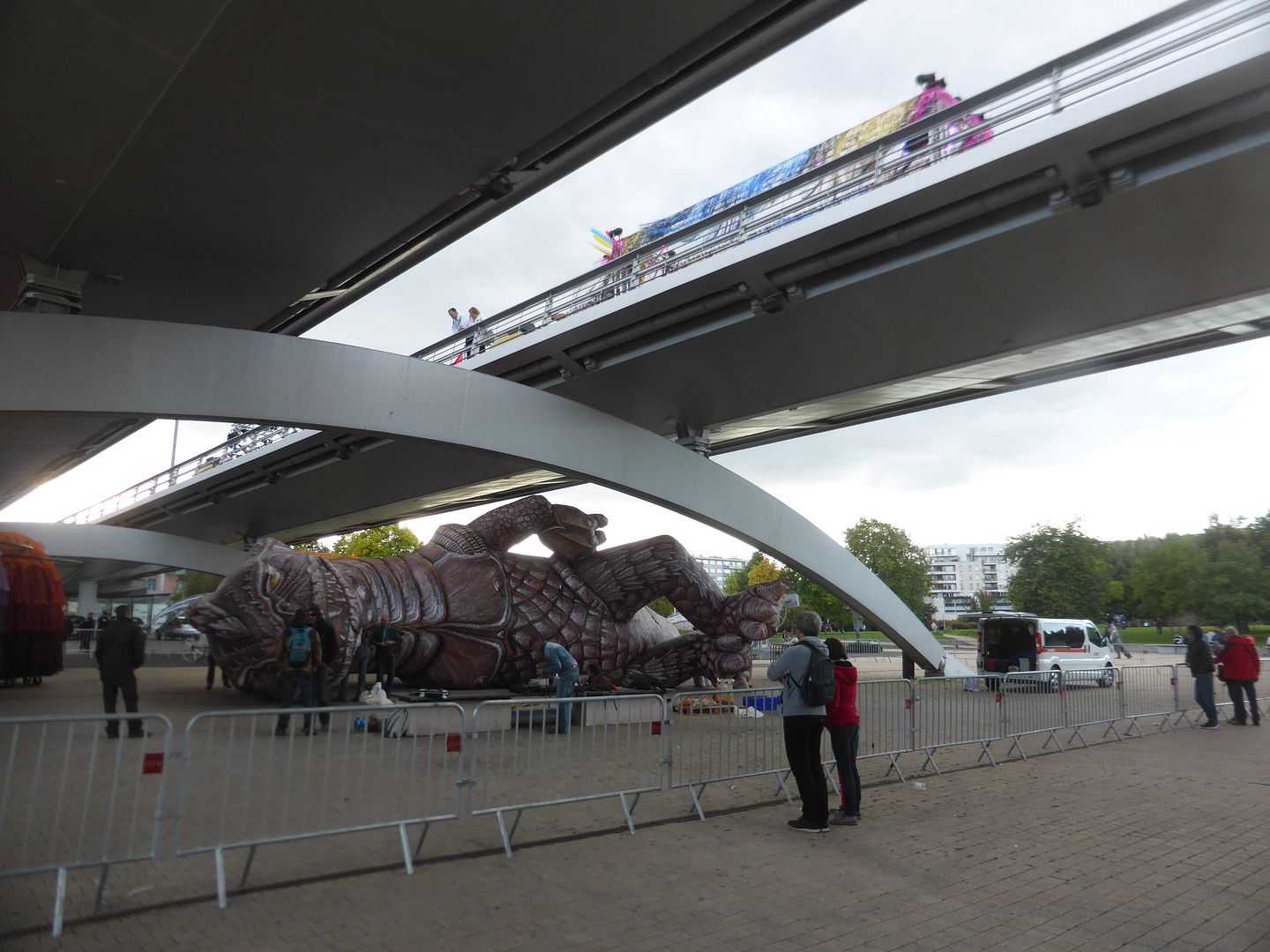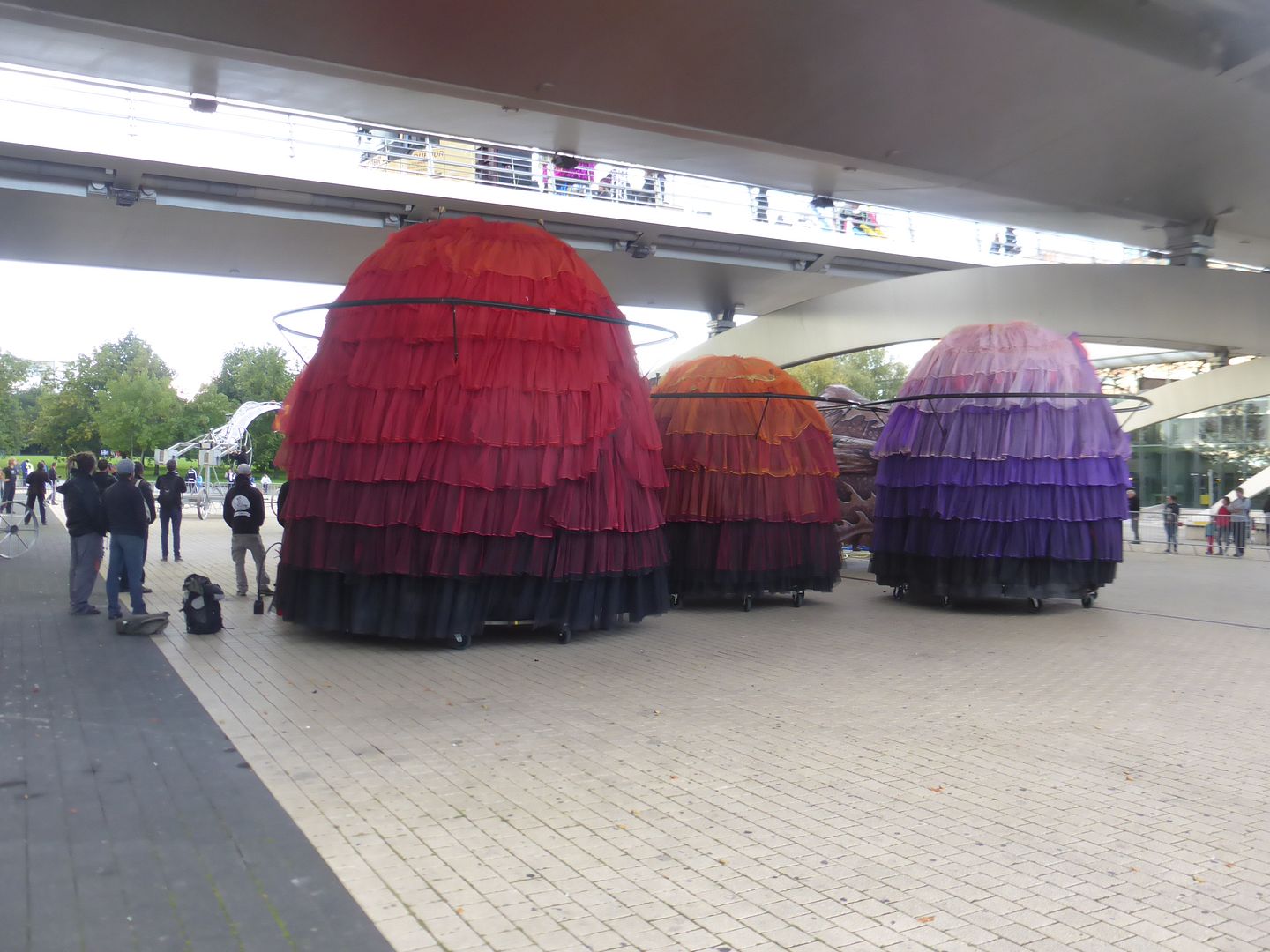 Some of the streets had already been closed to traffic, but not all of them.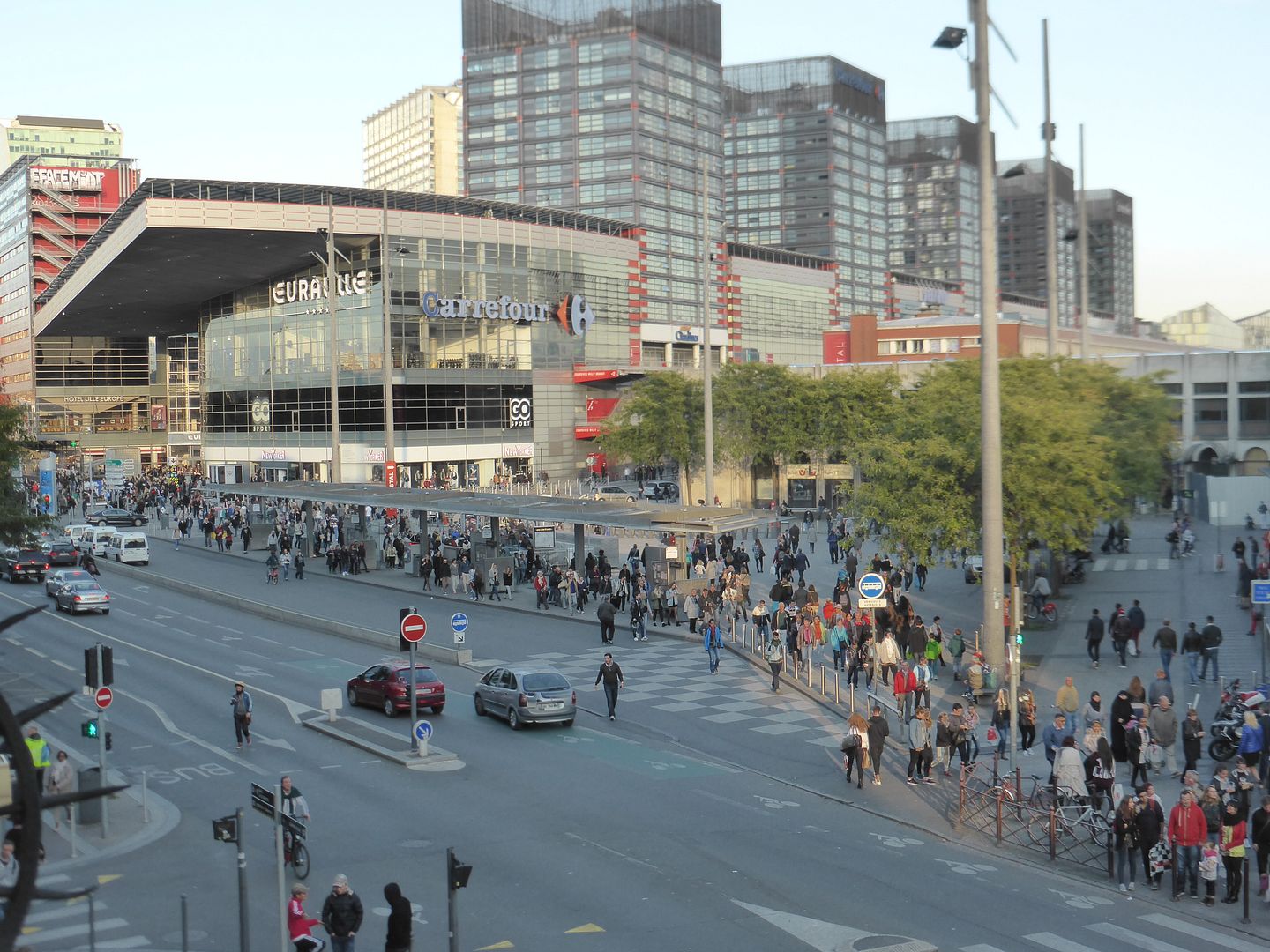 The same lotus that I had seen in the Parc de la Villette in Paris could now be found in front of the train station.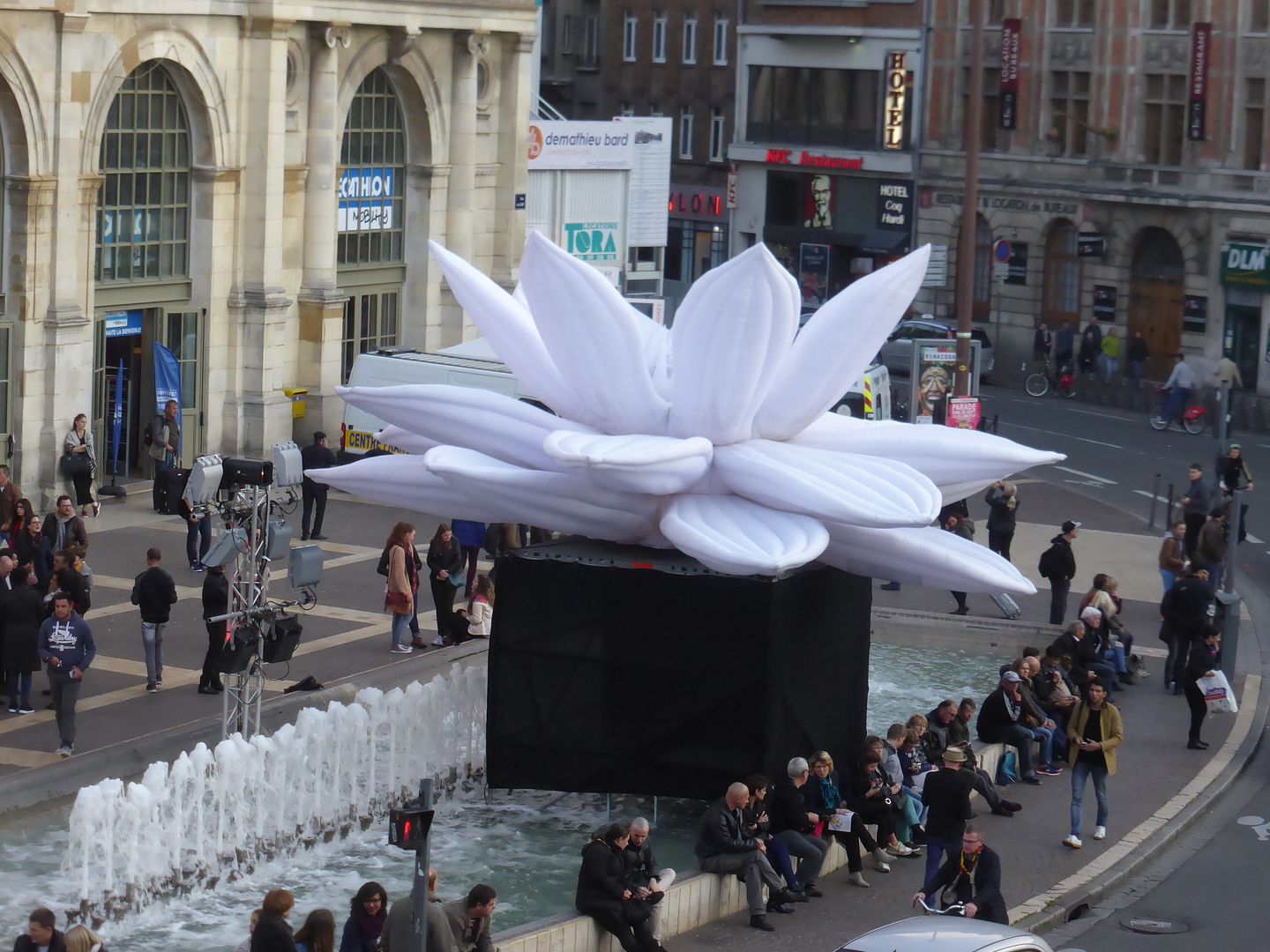 From my hotel window I also saw that the security officials were beginning to gather.
Time to visit rue Faidherbe.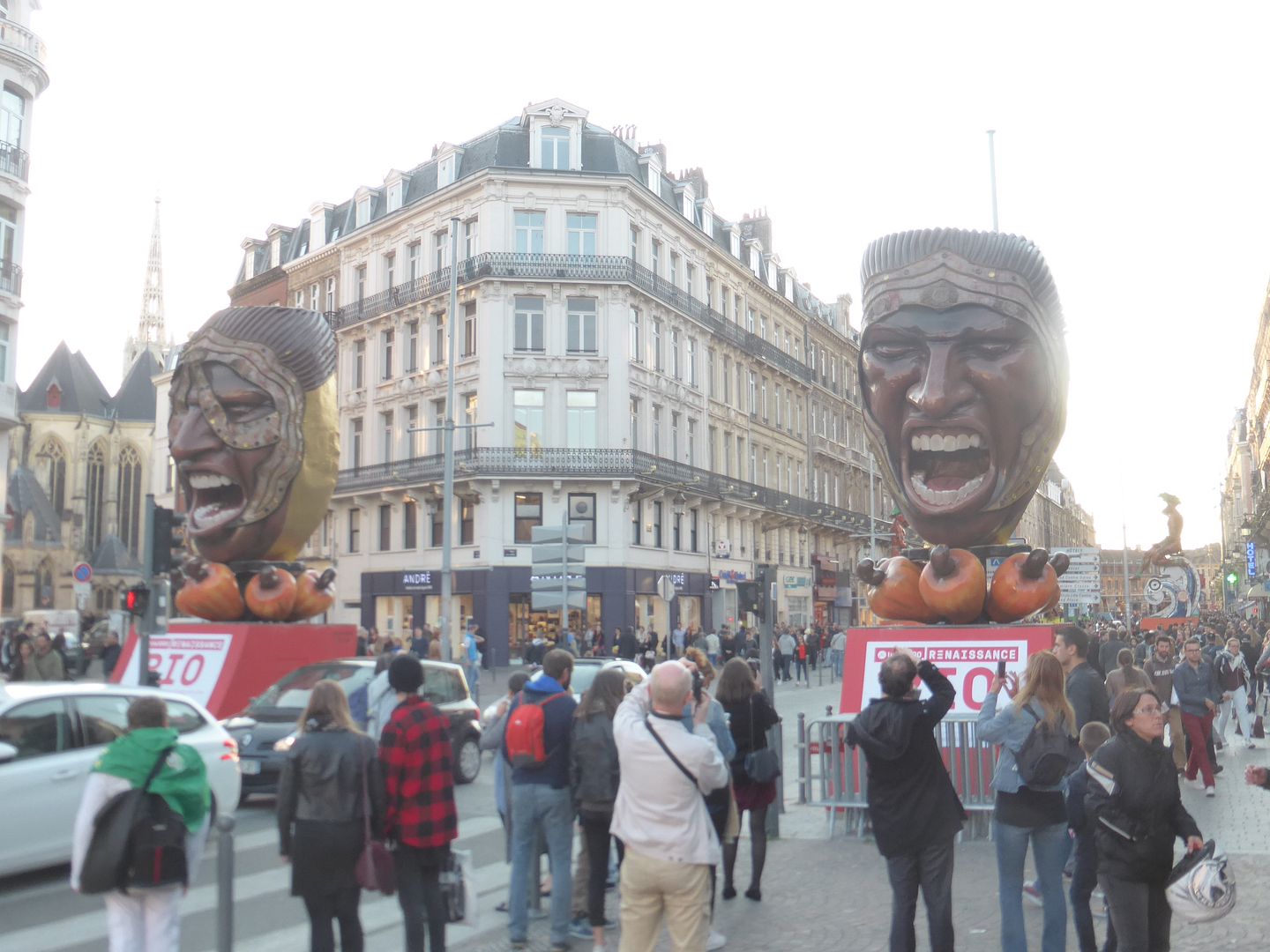 This year there is no unified style for the statues due to the number of cities being honoured.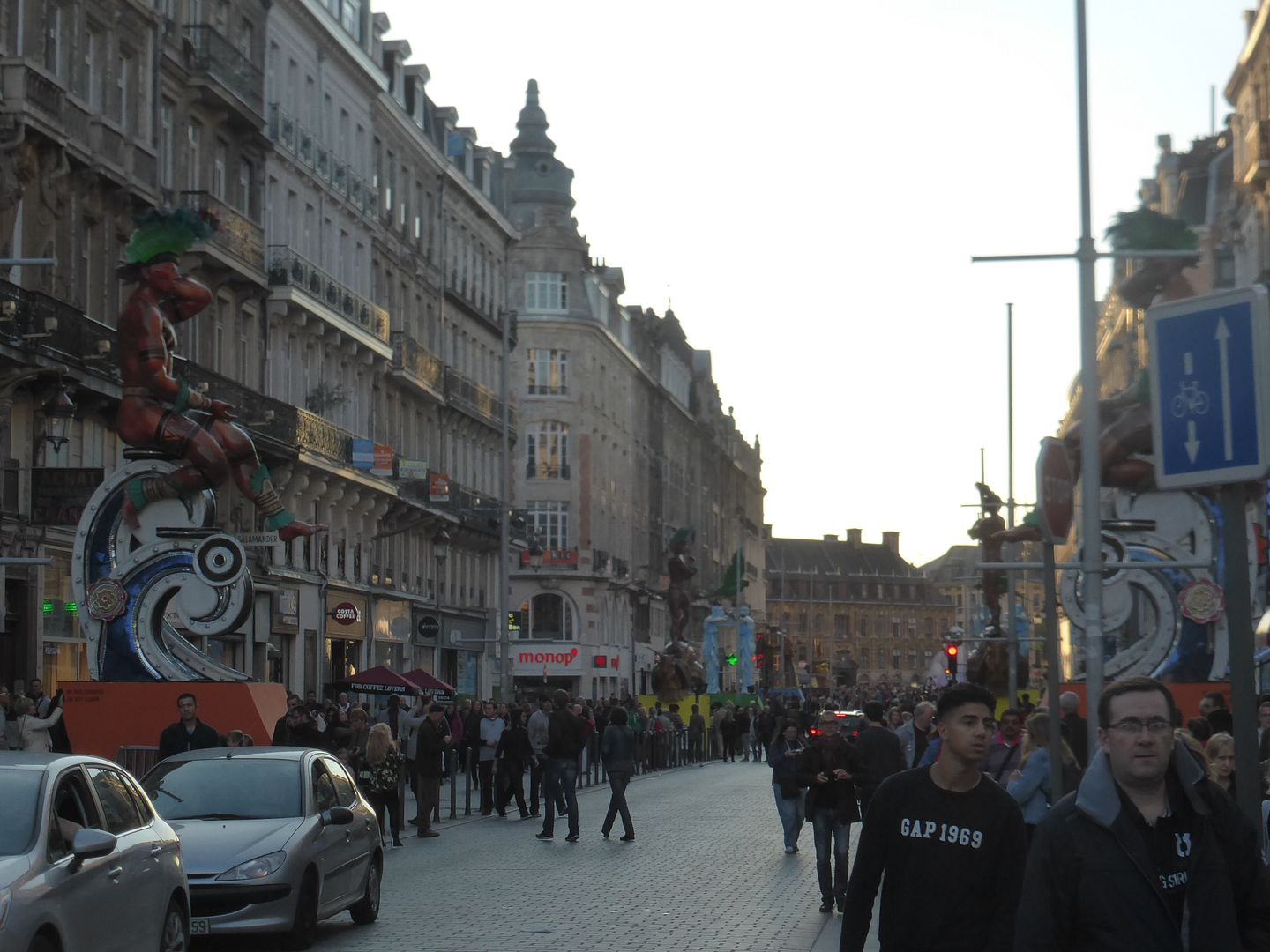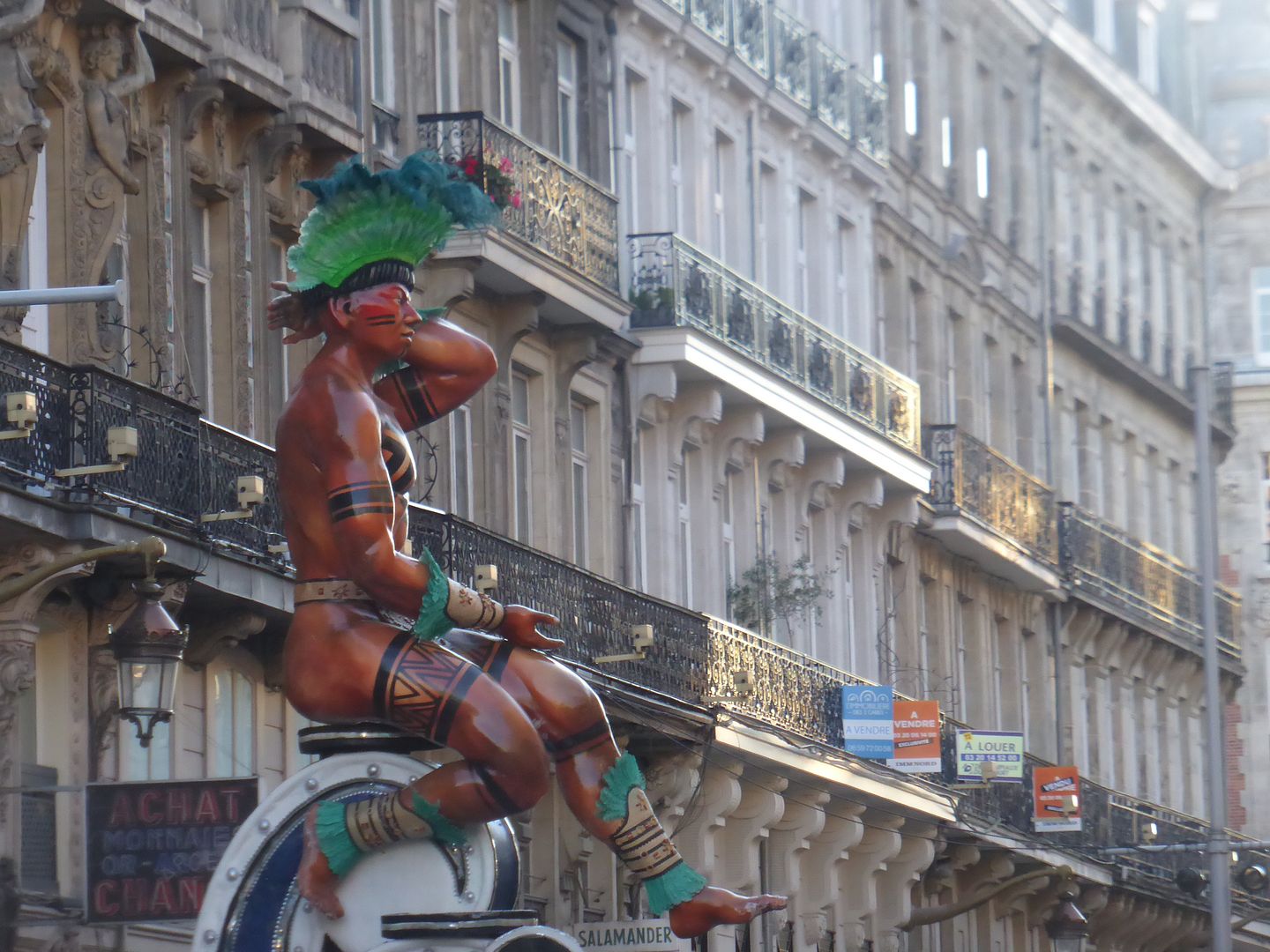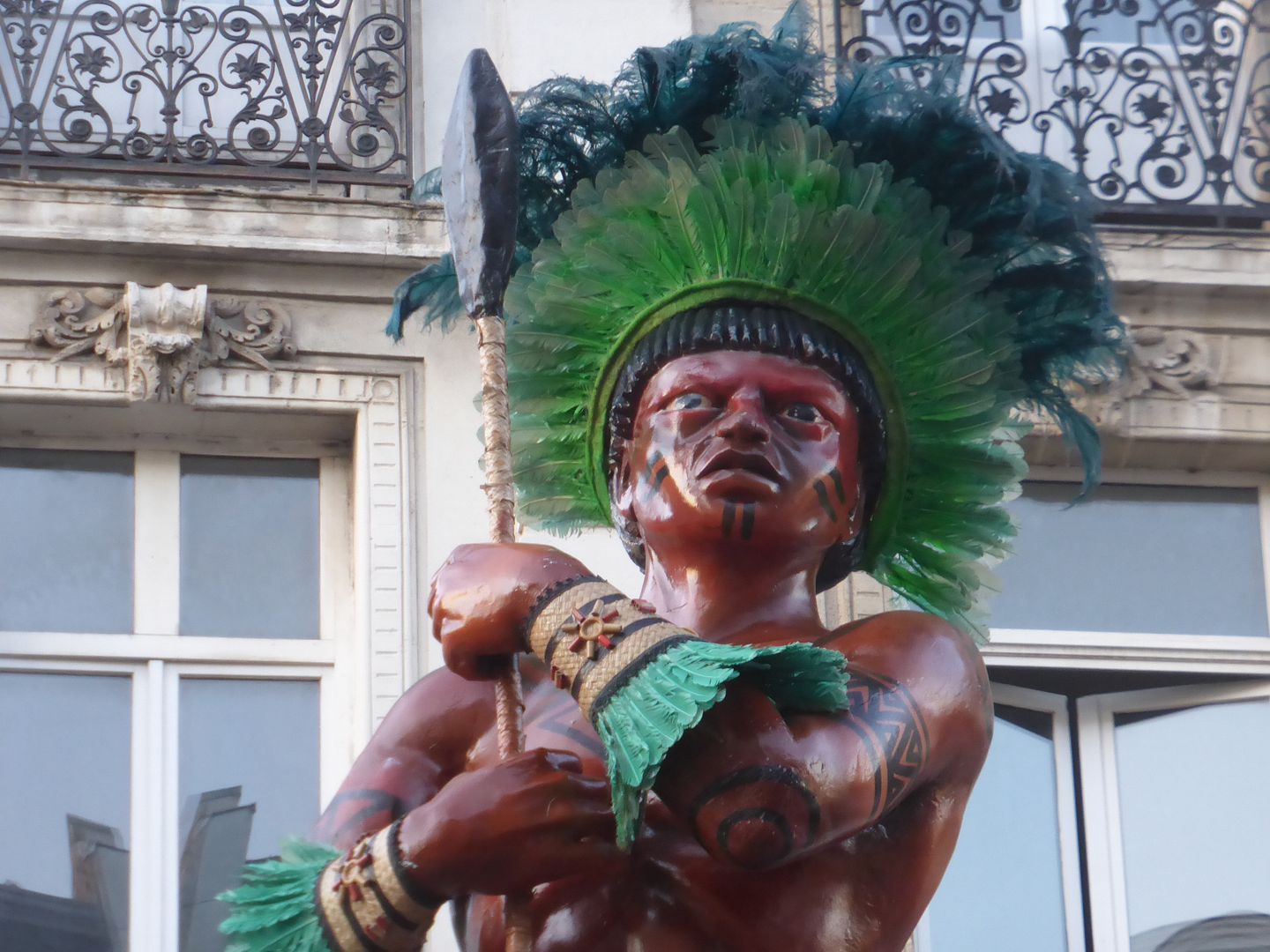 People were now taking over the streets.
Oh, another old friend that I had seen in the Parc de la Villette a few weeks ago!