Post by onlyMark on Oct 22, 2015 9:40:14 GMT
About 40% of all olive oil made in the world comes from Spain. About 75% of what Spain produces comes from Jaen province in Andalusia. This is the province I currently live in and you may well have seen photos I've posted that happen to include rows of olive trees in the background. In my local town a few years ago they made a display out of some old olive oil production machinery. I've been meaning to stop and take some photos of it and eventually managed to do so.
Compared to making a lot of things it is a relatively easy process. The manufacture of the oil has changed little over the centuries until recently when new methods have been introduced as regards the grinding and separation. Obviously up until a few hundred years ago it was all done by hand or by animal power.
There is a lot more to be said on the subject of olive oils and their production and a lot of differing opinions as to what is the best method, the best oil and the best usage. I won't get into that here as I'd like to keep it fairly basic and simple, but I will introduce you later to a new word that I expect you to drop into a conversation sometime in the next few days. You will get extra points if you can manage it today.
The first problem is getting the olives from the trees. When they are ripe they can be damaged fairly easily and if they are bruised the oil begins to degrade. It is at this very first point in the process where the marketing men have decided they can make more money out of you (this doesn't take into account the extra kudos/value from having so called organically grown olives).
It may specify on a label on a bottle that the olives were 'handpicked' (rather than 'ground'). Ground olives are those picked from the ground rather than meaning they are ground as in using grinding wheels.
Before the onset of machinery the trees were hit with sticks to drop the olives onto the ground. Under the trees nets were laid to collect them. The earth was initially cleaned as much as possible to both avoid damaging the nets and to avoid detritus being picked up as well.
It was quite labour intensive –
In my area nets are still laid down but the trees are now shaken with a machine attachment to a tractor. This has an arm tipped in rubber which grabs hold of the trunk or a branch and vibrates quickly. Rather like grabbing someone by the neck and trying to shake some sense into them. There are methods where the nets are actually attached to the arm and held off the ground so that the olives don't have so far to fall.
The olives are then cleaned and washed to remove any soil, leaves, twigs etc and the next step begins.
Various methods are used then to feed them into the grinding wheels. In this case an Archimedes type screw lifts them from a hopper and drops them between three cone shaped grinding wheels –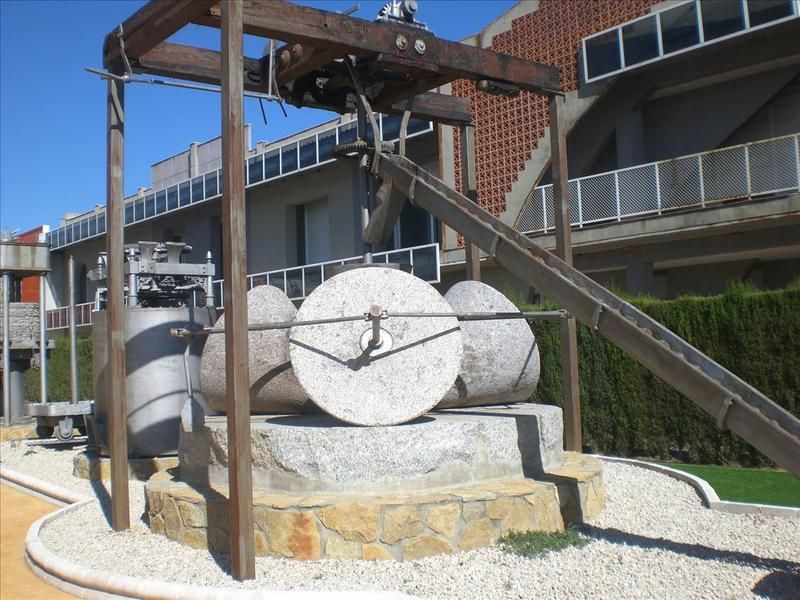 The wheels must be cleaned regularly to prevent old grindings contaminating newer stuff.
The next step is to slowly mix the resulting paste with water. The water has to be below a certain temperature and the whole process conducted also without heat, thus resulting in what you may see on a label on a bottle stating the oil is 'cold pressed'.
This is a mixer –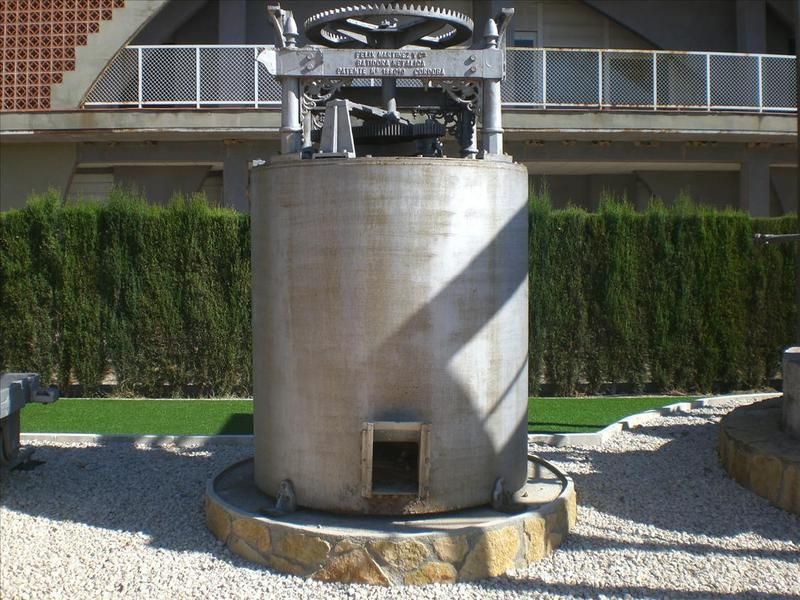 Why is water mixed in? To initiate something called "malaxation". This is the new word for you.
This is done to allow the tiny oil molecules to clump together and concentrate and thus being able to be extracted better.
The paste is then spread, traditionally, on circular hemp or coconut fibre mats which are stacked on trolley like this –
The stacked trolley is rolled into a press, in this case a hydraulic press, lifted and squeezed. The engine to pressurise the hydraulic fluid can be seen to the left –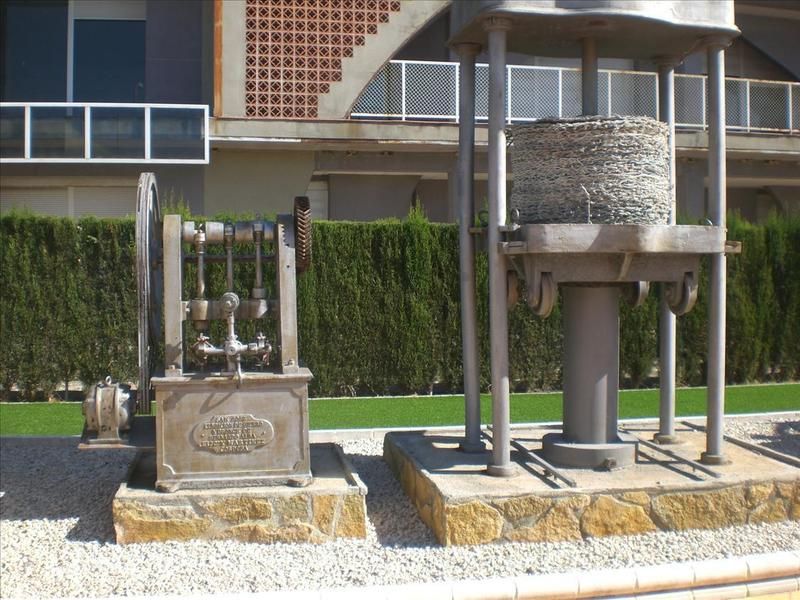 I found some random overweight and scruffy individual to stand at the side to give an idea of scale –
The fluid runs off and is collected to be later decanted where the oil and water is separated. Modern day technology uses a centrifuge to do this more efficiently.
The solid matter remaining still can retain a certain amount of oil and there are processes to extract this also. However, the solid matter is called pomace and any resulting oil must/should be labelled as pomace oil and is of low quality.
The oil is then stored on large containers to be transported or used as necessary –
The whole process from start to finish –
You may also see on a label where olive oil is classed as virgin or extra virgin.
In olden times, before mechanisation, virgins under the age of eighteen were solely used to handle and press the olives. To extract the most and best oil frequently a village would run out of them. Thus more would have to be drafted in from surrounding areas. That is why ordinary oil is classed as virgin whilst the best is extra virgin.