Post by onlyMark on Mar 2, 2016 13:43:29 GMT
A pretty coloured house.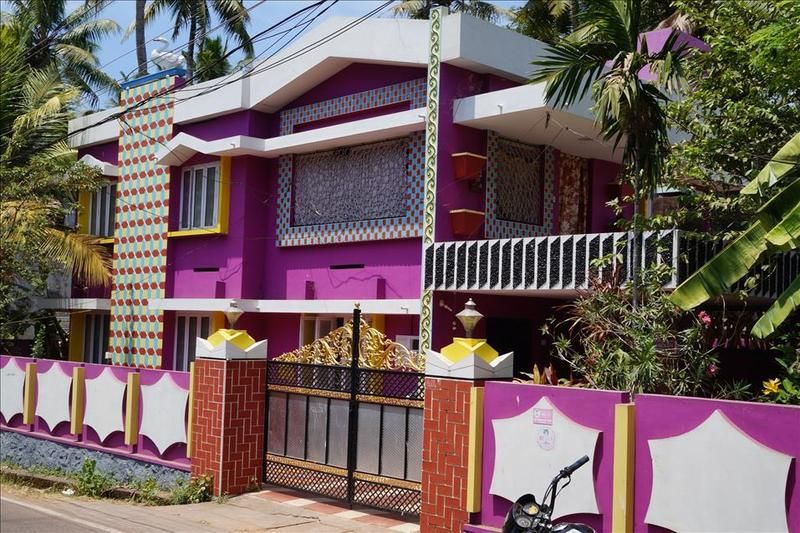 A couple of scenery shots to show I did see some countryside.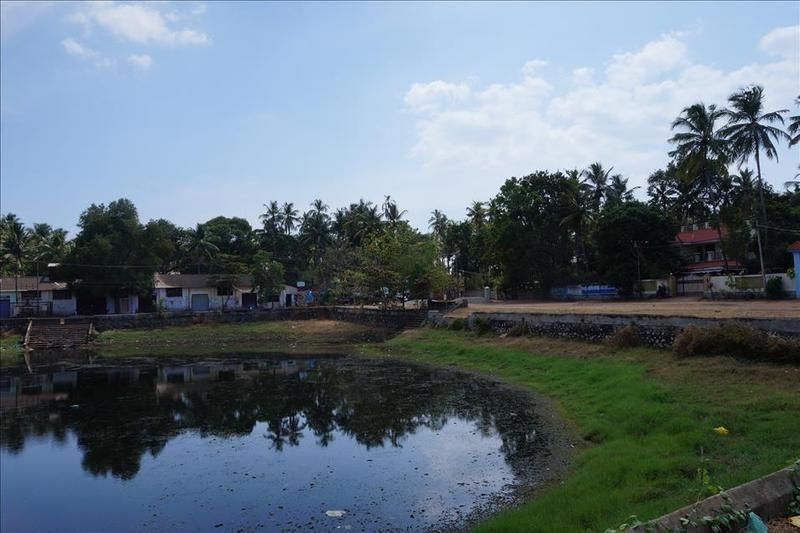 And well blow me down with a feather! I ended up on a beach again. What luck!
Interesting cliffs behind it.
Guess what. No tourists.
They were all just down the road on this beach and nearby.
This is the semi-classic shot of the beach that some, who have been here, will recognise if they didn't from the previous two.
Varkala Beach.
When I was here reasonably regularly twenty years ago or more the beach was more of a working beach with fishing boats and associated stuff.
But time passes and I think they realise there is more money to be made from the tourists. But, not too much money as prices are still fairly cheap.
For example, I called here for something to eat, just at the back of the beach in a prime spot. I sat upstairs.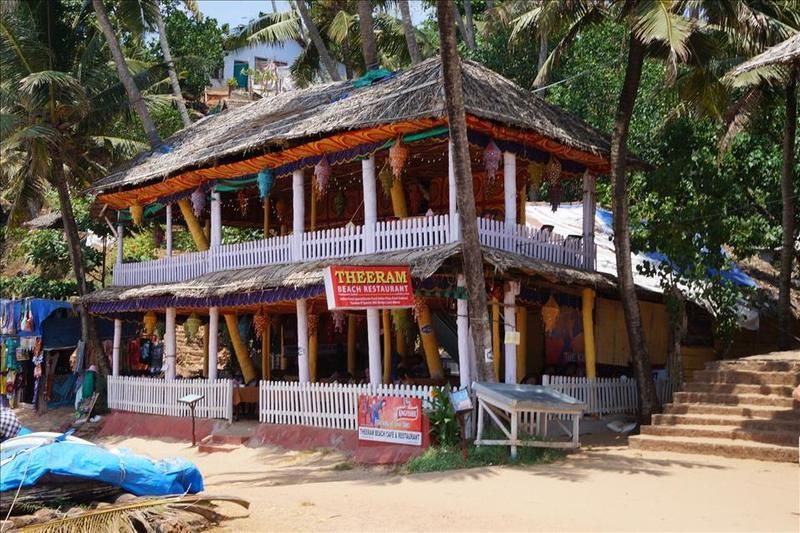 My companion declined any food. At least while I was looking.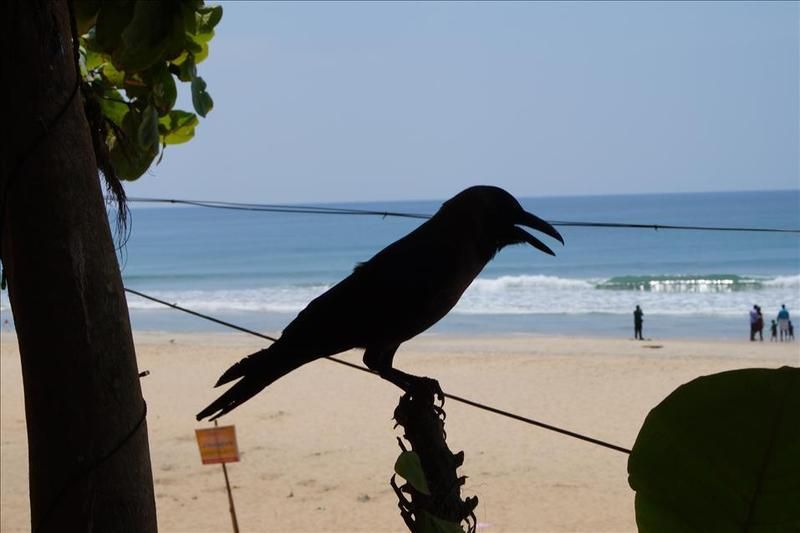 I had a vegetable sandwich, with four slices of toasted bread. We'd call it a salad sandwich.
The tomato and tuna salad had seared real tuna, not tinned. I put most of the tuna in the sandwich to have a tuna salad sandwich. And thus a plain tomato salad. I'm innovative like that.
There were small bowls of oil and vinegar. I had a bottle of water and a fresh lime soda.
It came to 280 rupees, about 3.80 Euro/just over 4usd. All very fresh, very tasty and actually a bit too filling.
Plus a very good view, which is often worth a fortune.
I got trapped near the door of my room by an attractive Romanian woman in her forties who asked to look at my helmet. I said to her, "This one?" as I had it in my hand.
She replied, "You have more than one?"
I decided the smut shouldn't proceed any further so I just mumbled about having another one at home. She wondered why I had one and I showed her the scooter and said that the helmet came with the bike.
Conversation began from there about travels and the such like, as it does, she mentioning that she's spent time in South America, in India and Europe and in the USA where she did a couple of courses.
I naturally asked what they were about and was told they were regarding setting up an internet business. She mentioned they were a rip off and not really worth it but she was hooked in by the adverts and spiel.
She runs this business now by remote when she is travelling and makes enough money from six months at home to travel six months on average.
My next question was obvious, "What type of business do you do over the internet then?"
"Energy distribution in simple terms".
Me – "What? Like oil tankers or electricity grids? That sort of thing?" I had a bloody good idea where this was going though.
"Not really. A different form of energy. I send it to the needy."
"Like solar lamps to Africa then?"
I could see she was a little frustrated by this question as I think she began to realise I was being deliberately obtuse.
Yet, she was so determined to tell me all about it, she carried on. And on.
It seems people send her money, I'd love to see the website by the way but she's left now and I didn't get chance to ask her. But people send her money and she sends them positive energy in a nutshell.
She manoeuvred herself so that I couldn't get in my door without virtually pushing past her. Her talk ranged from all the good she has done to all the Ashrams she had visited, some are silent, some are purely about laughing, most are to do with what I can only interpret as getting her to recharge her batteries enough so that she can 'spread the good' elsewhere, especially for those who can't come to India themselves.
She tells me she has done any and every course in India regarding meditation, yoga, spiritual healing – which she does for others via the internet as well, and she now is repeating them. (Yoga, meditation I think good. Spirtitual healing bad) Especially one fairly locally, from a woman who is so powerful you only need to look at her and your mood lifts, you have a spring in your step, your warts and blemishes disappear, world peace breaks out, Mother Nature sighs in relief, climate change reverses itself, all nuclear bombs disarm themselves and politicians start telling the truth.
I may have exaggerated the last one though as I was still trying to side step her and wasn't listening properly.
She at last took the hint and maybe thought I was a fellow soul when I mentioned I had to send an email to my mother with an attached photo of the aura over the beach, just to cheer her up as she's been a little down since a plague of locusts decimated the crops on the farm and it looks like my babies won't have anything to eat this winter. I'm hoping the energy from the aura will help her rebuild the barn and farmhouse which collapsed from the sheer weight of numbers, before I get back. The whole family is living in the coal cellar at the moment.
That shifted her and I shot off into the room and locked the door.
Damn, I wish I'd asked her which website.
P.S. If anyone reads this and does believe as she does then live and let live I say. As long as you do no harm there is no argument from me. Plus, James Randi would like to hear from you. Look him up if you don't already know him.
But, my view is akin to my view on religion and penises, as this post seems to follow that helmet theme, sorry. You may have one and I know it. I may have one and you know it. But whip it out and push it in my face and I'll react badly. Keep it in your pants, be satisfied with that and I'll be happy.
Tomorrow explore and swim.