Post by onlyMark on Sept 4, 2016 13:13:35 GMT
You've begged and pleaded with me to show you a little of Frankfurt.
Ok, not quite begged or pleaded. In fact you've not asked at all.
But I thought I would inflict it upon you anyway. Because I'm like that. No compassion, that's me.
Firstly though you have to understand Frankfurt isn't the only Frankfurt. There are two of them. One called Frankfurt am Main due to it being on the River Main and the other called Frankfurt an der Oder, due to it being on the River Oder. Logical really.
Frankfurt (Oder) is about as far east as you can get in Germany without tripping up and being in Poland. The other one, the bigger one, Frankfurt am Main, is central(ish) and a little to the west of the middle. This one is a major traffic hub, major flight hub and major financial centre. It's the fifth largest city in Germany, around half of the population, and a majority of young people, have an immigrant background and a quarter of the population are foreign nationals.
It has a large number of skyscrapers, one of the few cities in Europe to have so and is known by Germans either as Mainhattan or, because of the so many banks, as Bankfurt.
Walking around and seeing the many new buildings you would think it is a relatively new city. But no, it has a history back to around the 1st Century and was an important city in the Holy Roman Empire (not to be confused with the Roman Empire by the way).
Looking around today though there seems to be little of the old history left. WWII had a lot to do with that, obviously.
Imagine you've arrived at Frankfurt airport and you have a long layover because you're too cheap to book a proper interconnected flight. You've ended up with an overnight flight from your home country that arrives at 'FRA' at 07:20. Your follow on flight doesn't leave until 18:05, maybe another overnight flight to your exotic destination. So you've got all day to do bugger all and as you are a cheapskate you are certainly not going to book an airport hotel for the day.
It may be you are one of the few who see Frankfurt as a tourist destination anyway, or, more likely, the city is right now on your doorstep for a few hours, so why not have a walk round it? Nothing to lose, that's for sure.
You drop down a few levels at the airport to the Regionalbahnhof (there are two stations there, the local trains and the long distance trains) – you do have a visa for Germany or at least have a passport allowing you in, don't you? Otherwise your plan is cocked up right at the first hurdle.
You come to the underground station and you look for signs saying S8 or S9. These are the trains to take you to the city. But, make sure you get on the right platform, the one where the trains go in the direction of Offenbach/Hanau.
On the level above the platforms or on that level itself you will see ticket machines. There are also human helpers as well just in case. The machines can normally be changed to various languages denoted by flags. But, what you want is one of two types of tickets. Either a single journey to the city, called an Einzelfahrt and then the same back to the airport later from your return station, or, a Day Ticket called a TagesKarte. This allows you unlimited journeys all day. This is the one I'd get as you never know where you'll end up.
There are various zones for the trains, the airport is the furthest out anyway, so if you buy a ticket it will cover you for all of the system.
There are mainly three types of trains in Frankfurt, if you ignore the long distance one and the buses. By the way, the ticket covers you for local bus journeys as well. There are two mainly underground trains denoted by the letter S or the letter U. Generally the S line goes further. There are also street trams called the Straßenbahnen. That funny curly letter is a double s. The trams stay above ground and are a good but slower way to get around as you can see everything. Your ticket covers you for all of these.
The system is that you don't need to 'validate' your ticket on a machine on every train like you do in some countries. Just carry it with you. The authorities are hot on riding without a ticket, the fines are instant and expensive, the ticket checkers will often be on a train without you knowing and will sweep through a carriage between stops so you can't run away. Pleading ignorance and/or being a confused foreigner doesn't wash with them. Nor does language difficulties. I have seen people try this and all that happens is they are detained at the the next stop until someone official turns up, and there will be someone, who speaks the same language. I know of the son of a friend who is currently serving 6 months in prison for persistent not paying.
Unless you know any better you're best first stop is probably the main railway station, called the Hauptbahnhof. From here, and with a pair of legs, you can get most places.
After emerging to street level this is what you will see -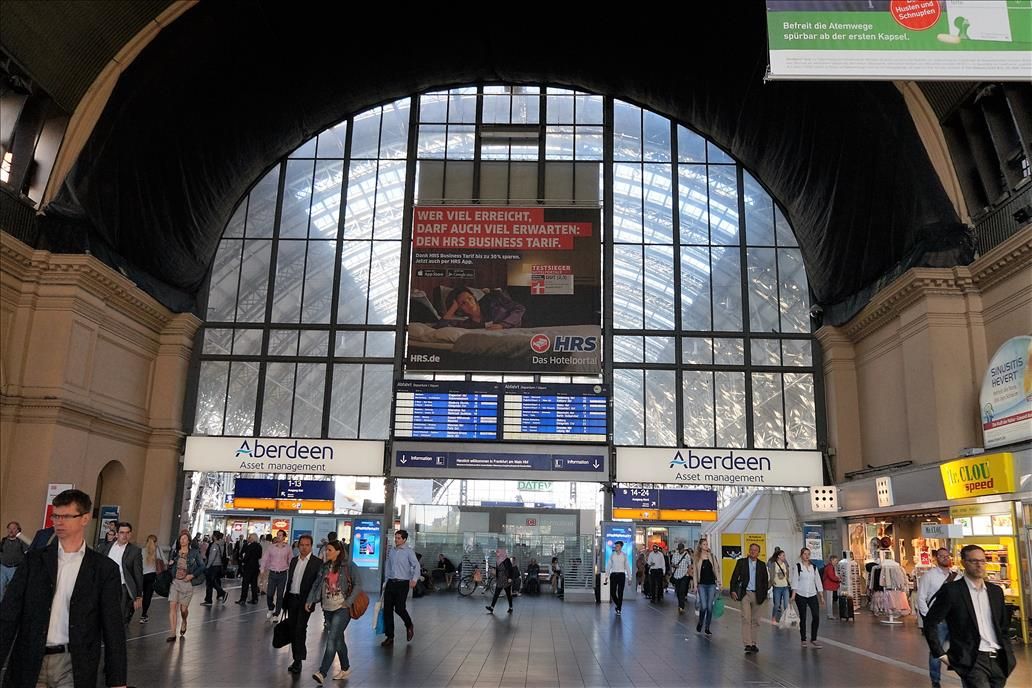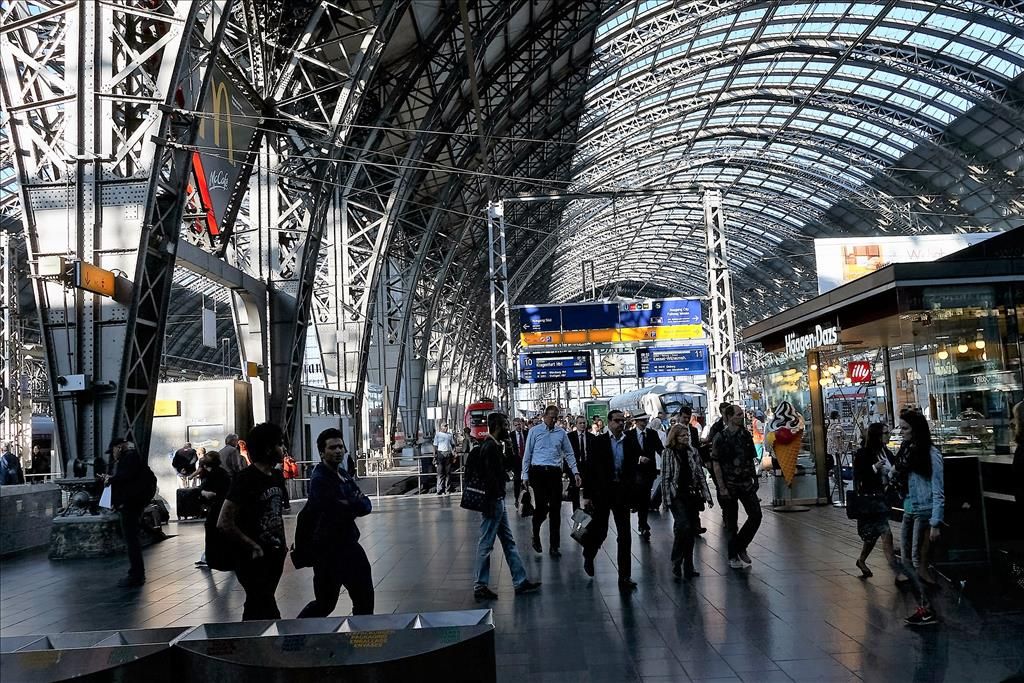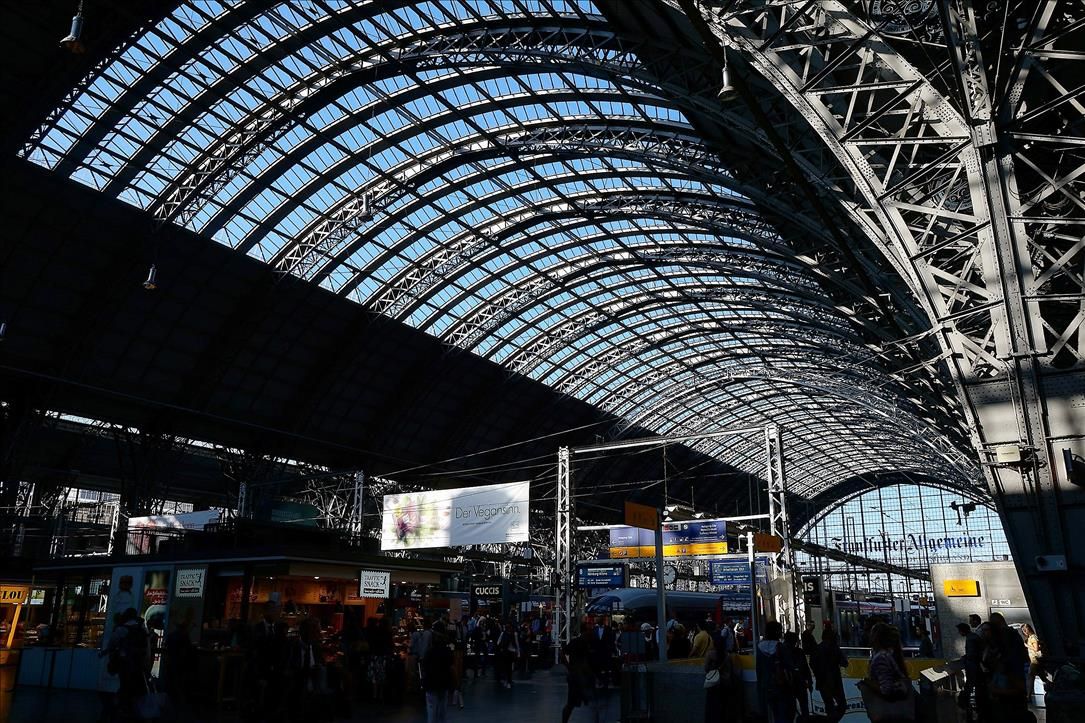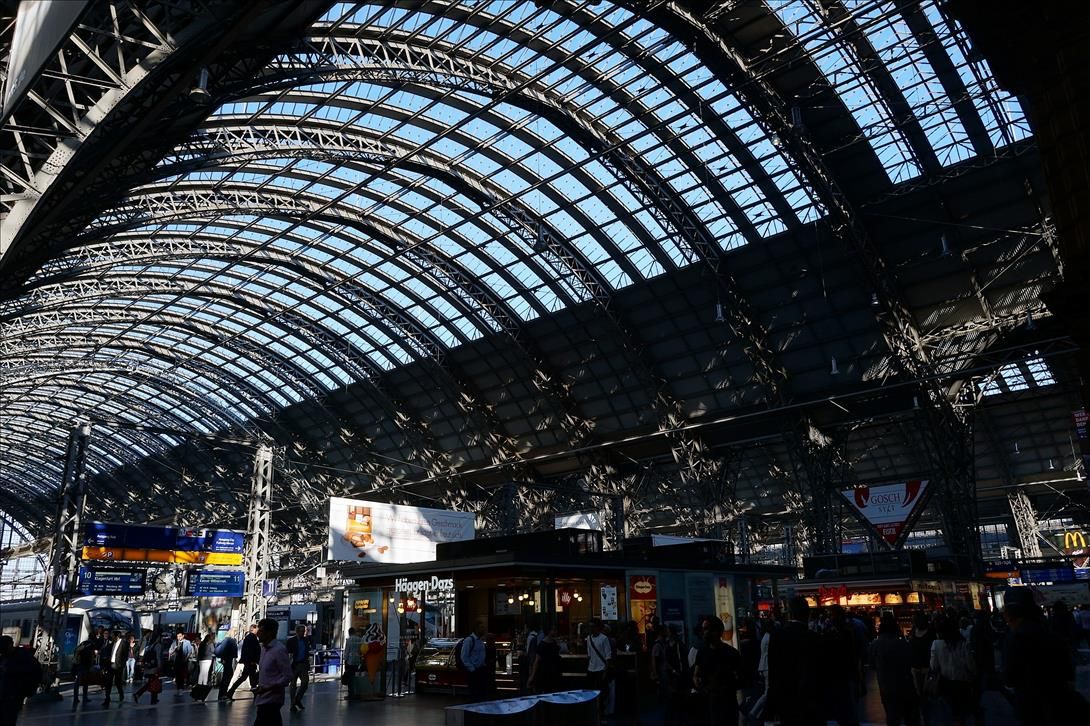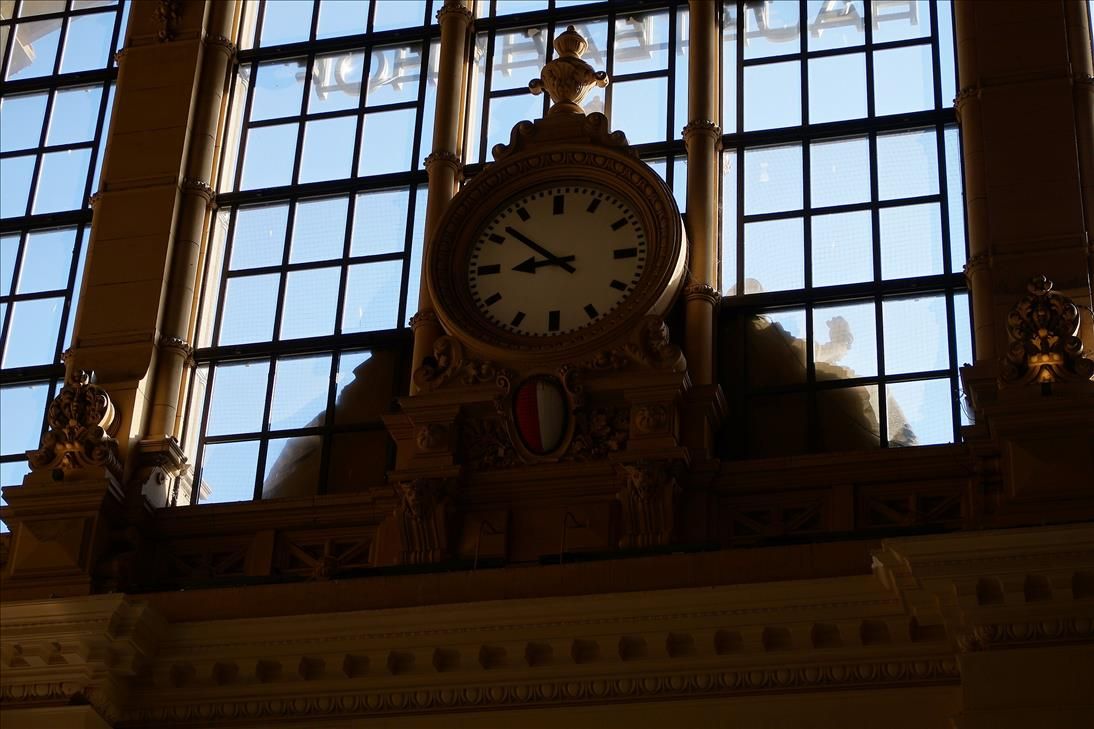 As you emerge, blinking into the sunlight, you'll see -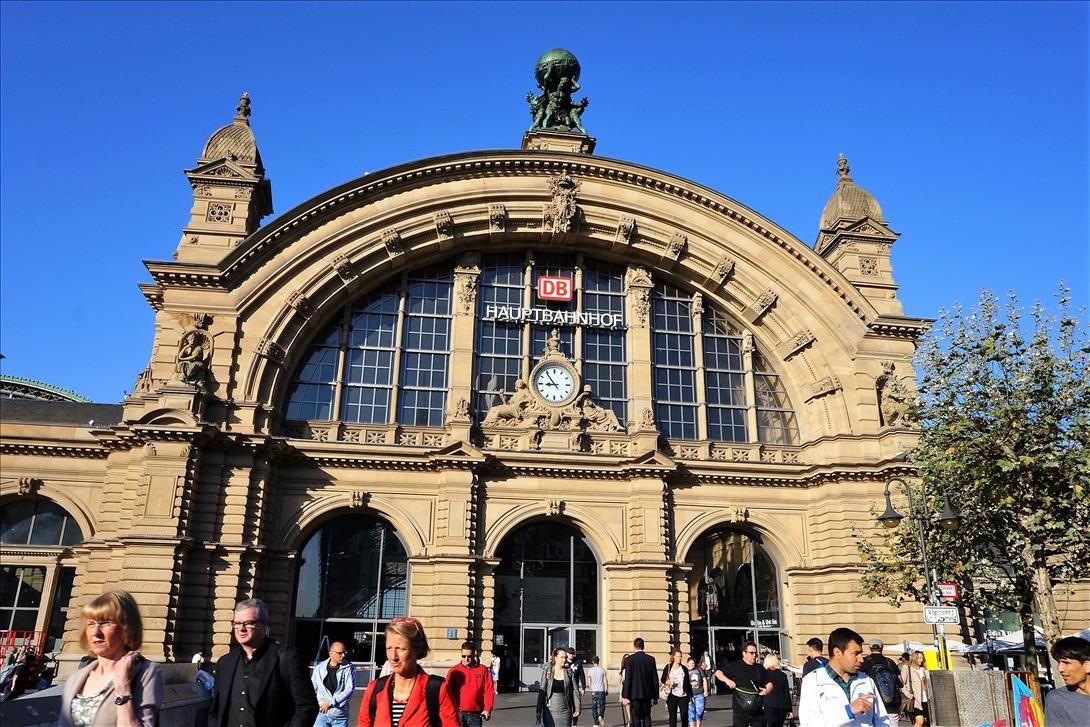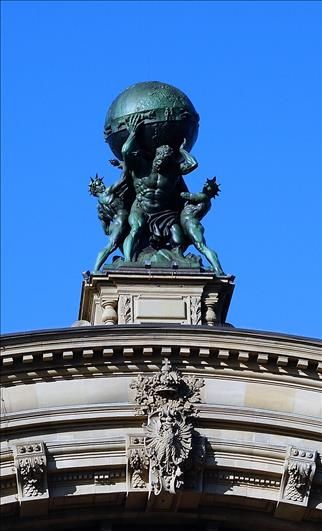 A quick look around -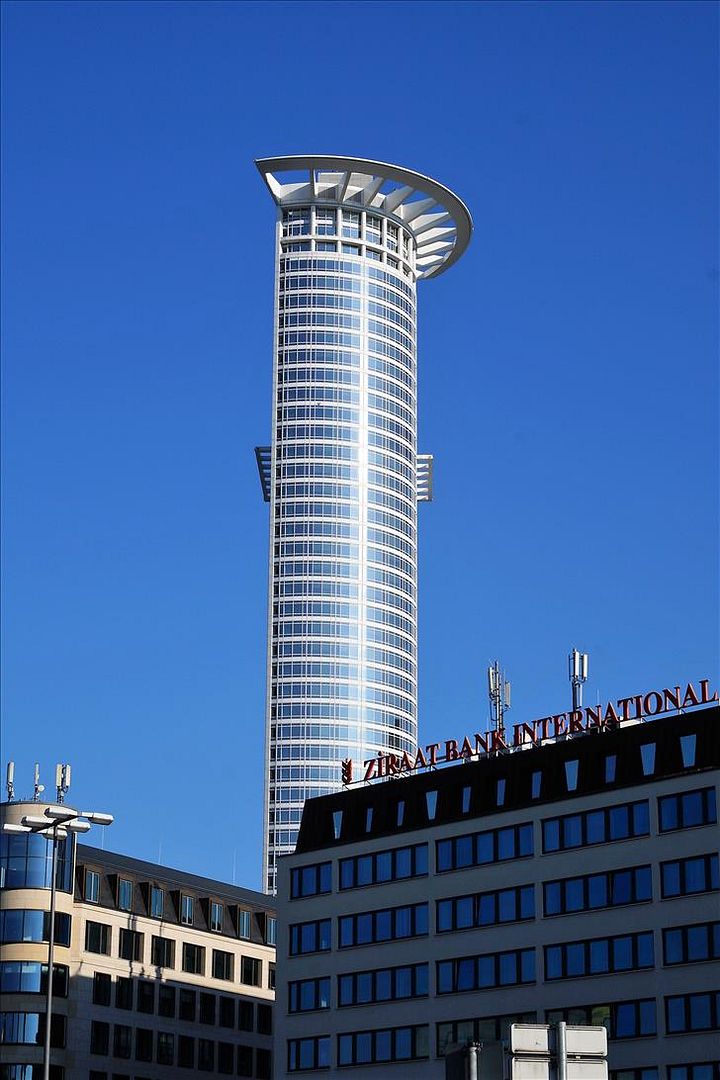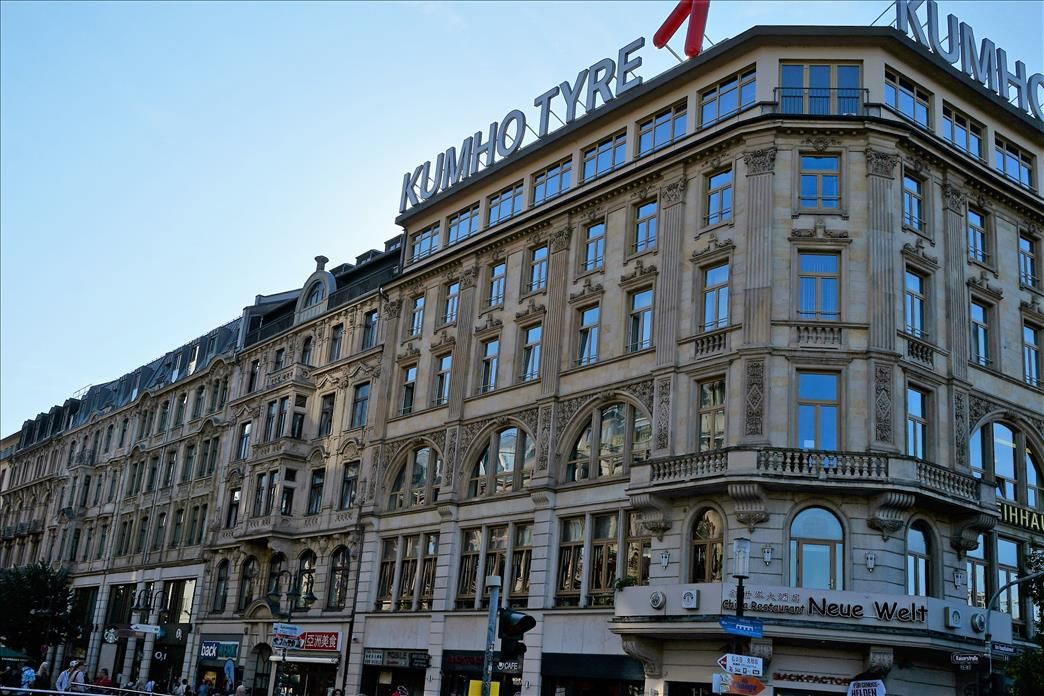 In front of you will be Kaiser Strasse, a tree lined street -
Best head up there and I'll show you some more. As you walk you'll see on your right several bakeries. These are usually of a high standard and work in a different way depending on the company. If you see the name 'Werk' or 'Factory' above the door in Frankfurt they are self-service. The choice they have is pretty damn big and I could spend all day, every day, eating in them. There are displays with everything you could ever need and after grabbing a tray and and a cup of coffee/tea/juice/slushy/yoghurt you load up with carbs, pay at the Kasse (checkout) and either sit down inside or carry out what you have. The one in this photo, and it only shows a small percentage of the display, is my regular breakfast spot. Don't be surprised if you come to the city and see me sitting there (if I'm also in town).
The other type of bakery is counter service, i.e. you tell the assistant what you want, they get it and you pay. If it is to be eaten there and then in the shop, and they often have a sitting area but not always, you ask for what you want and can simply say "Für hier " (for here) or, "Mitnehmen" (to take) -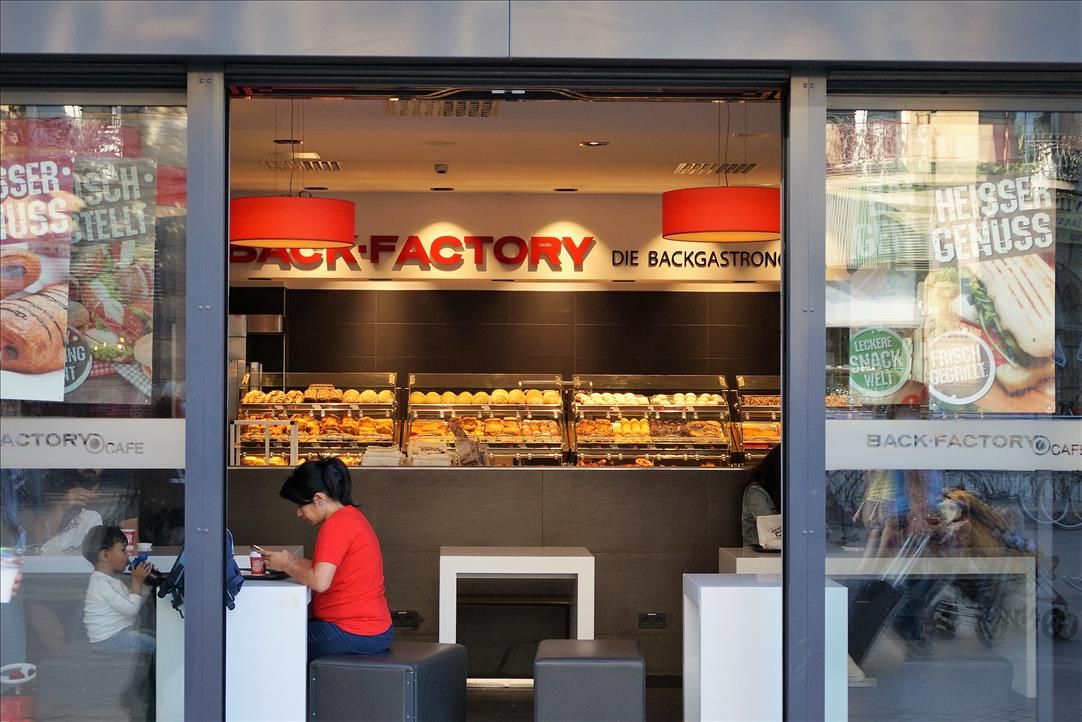 Checking back over your shoulder you notice the area, like a lot of main railways stations, has a unique set of characters. When I used to live here we always preferred to live near the school for the kids. Within walking disatnce. If we return to live here without them there are a couple of areas I'd plump for. One is in an area called Bockenheim, the other is right here, on Kaiser Strasse. It's always full of life and character(s) -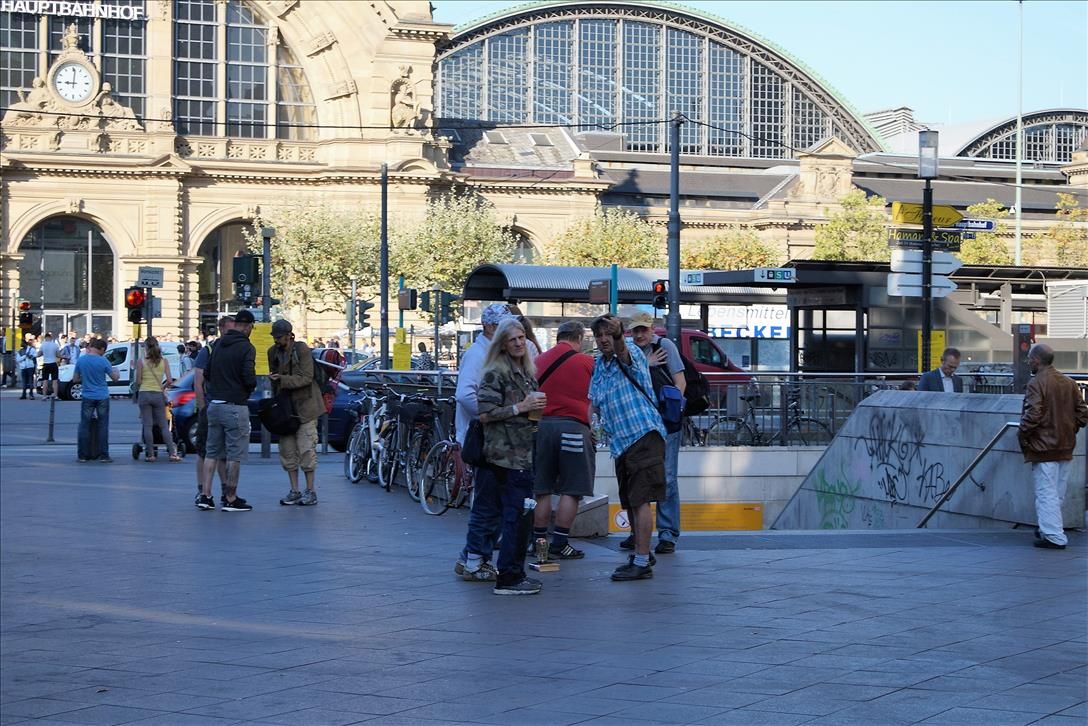 Walking up the street you notice some of the shops are also not quite 'genteel'. But you can also cast your eyes around to see what else there is. This street is cut by a number of cross streets. Often a section between two cross streets is blocked off and a street market is held. Today the theme is selling plants and cheese. No idea why. It's pot luck what you see -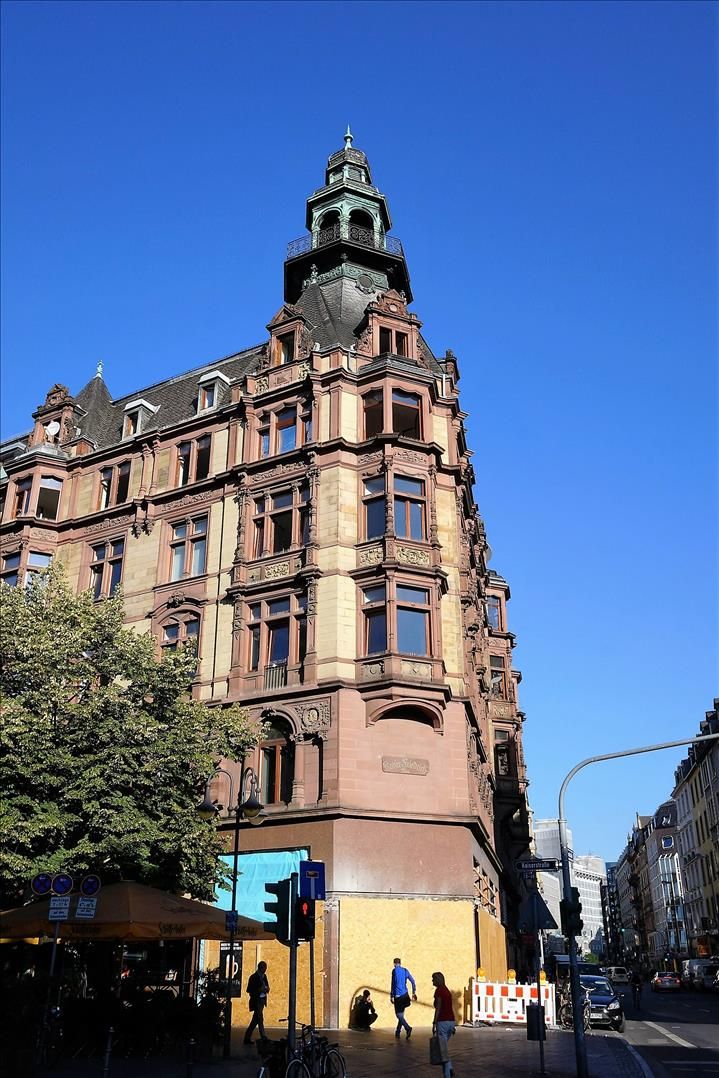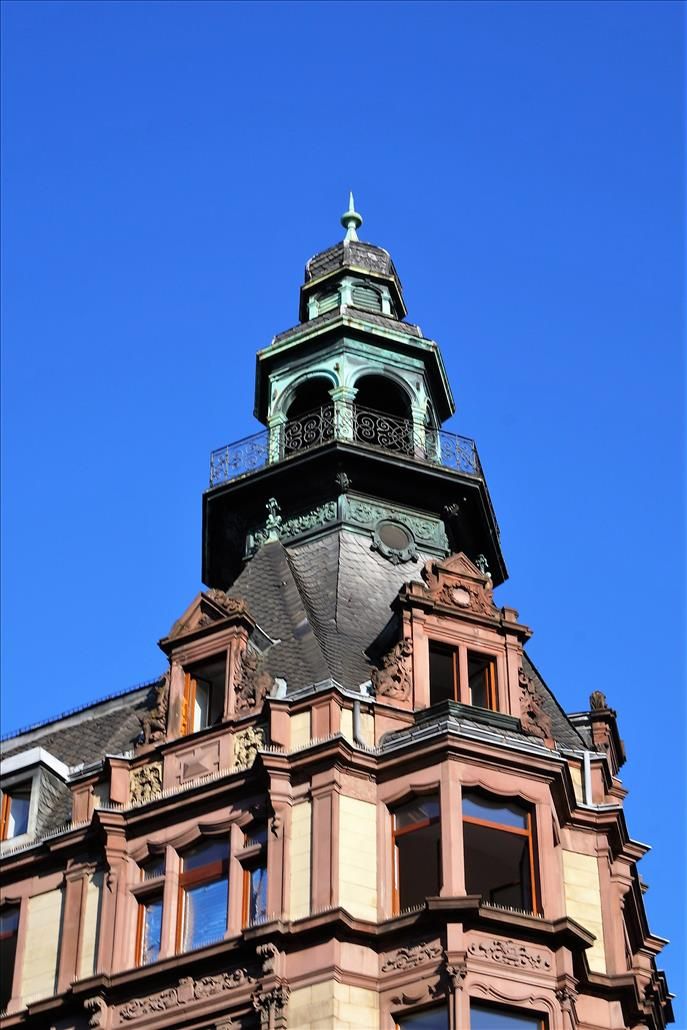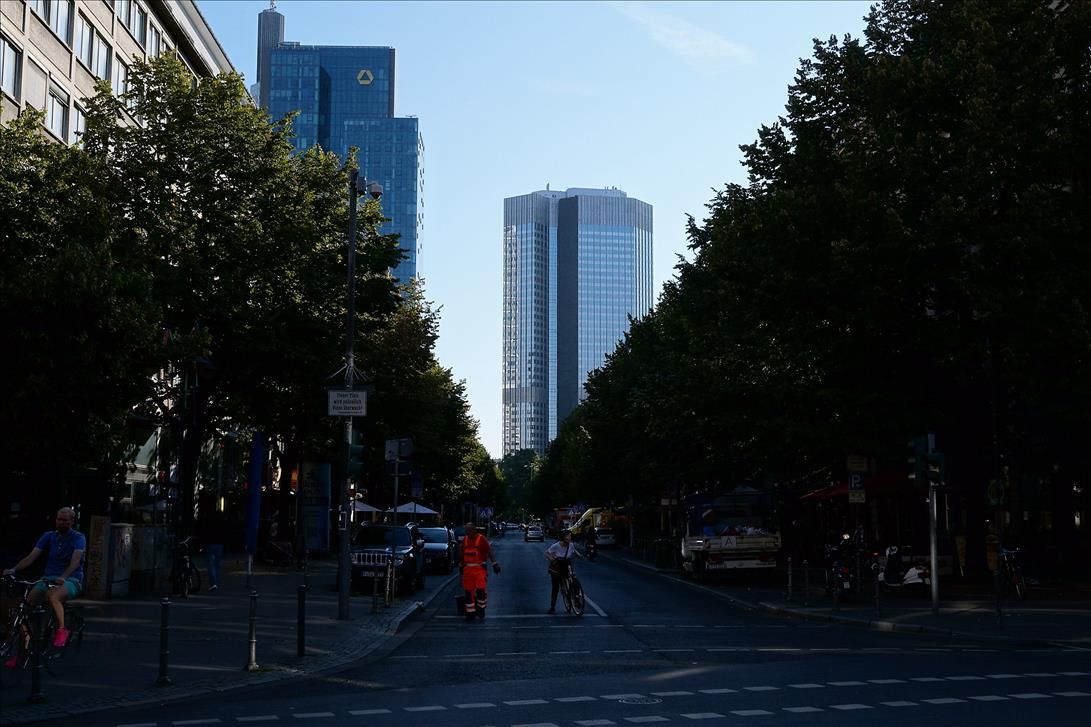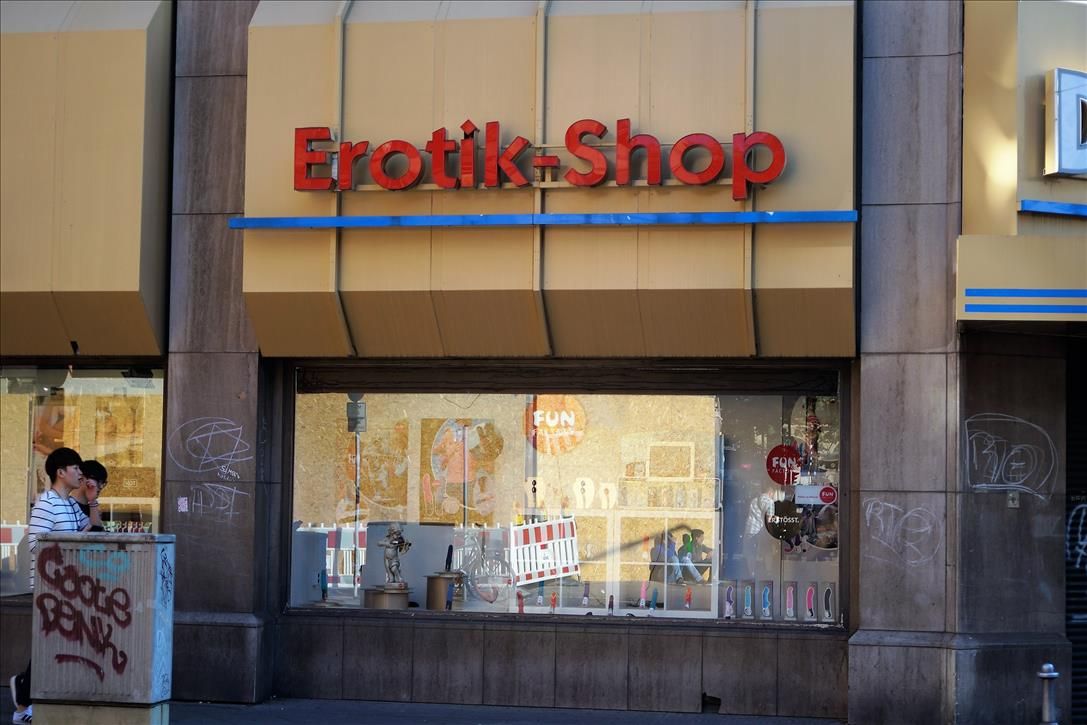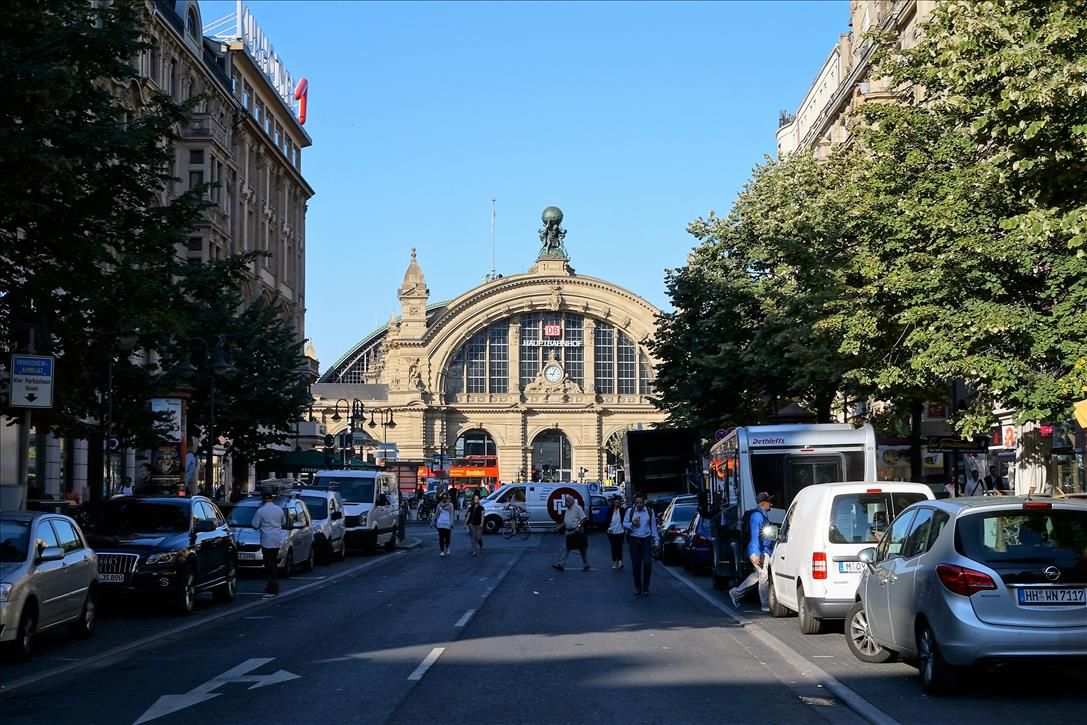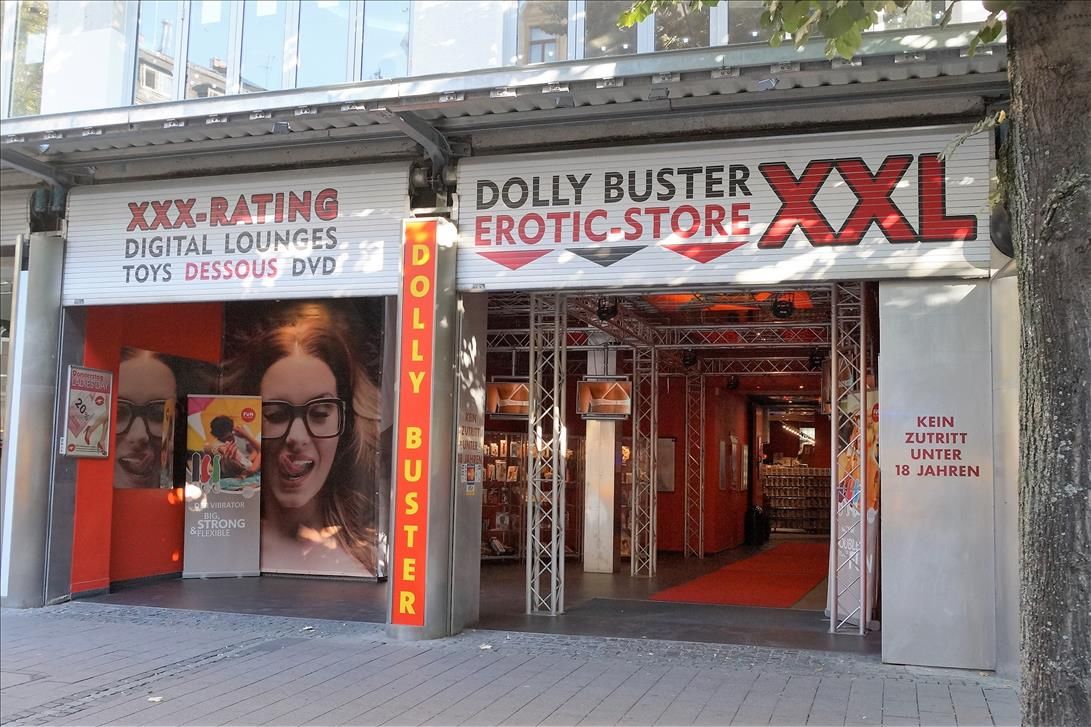 This is one of the normal bakeries -