Post by mossie on Mar 27, 2018 19:00:52 GMT
When I went to petticoat Lane last week I had also intended to have a look at Spitalfields Market, but did not have the energy or time to cover it. I am aware that Mick gave it an excellent coverage a few tears back, unfortunately his photos don't show up in My magic box.
So yesterday I took another ride into the Smoke, and passed the site of the old BX Plastics works at Brantham The X stands for xylonite, better known as celluloid, which was an early version of Plastic. One of their chemists, who worked in their research headquarters just up the road at Lawford, was one Margaret Roberts, better known as Margaret Thatcher. The firm is now defunct, having suffered the fate of most British industry, sold off to wide boys from the City, asset stripped and dumped. The site beside the railway is now being prepared for the Dutch State railway to service the new trains they are going to run on our main line, the heap of crushed concrete on the left is all that remains bar the few scruffy buildings in the background.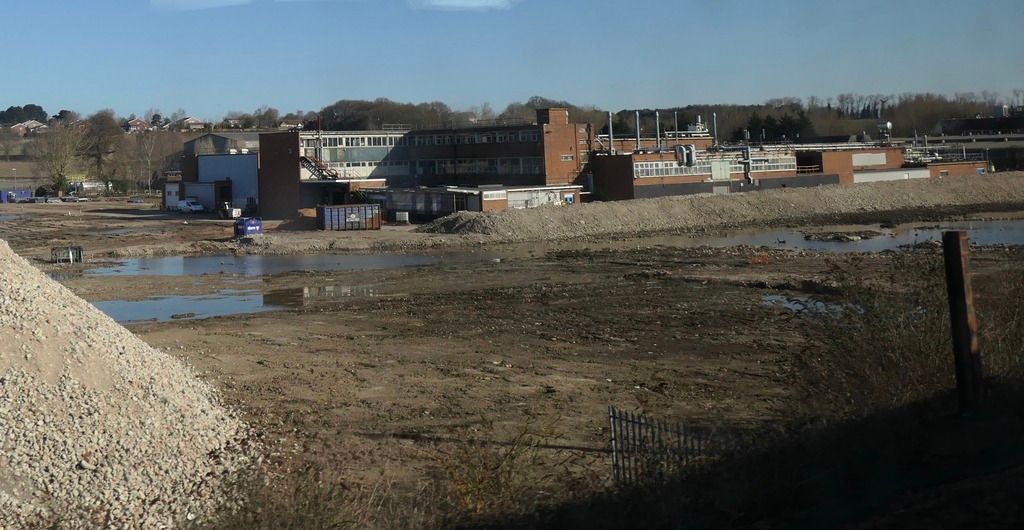 I sat on the left of the train this time so can show the view back towards Dedham, blocked by the road bridge, at least the tide was in.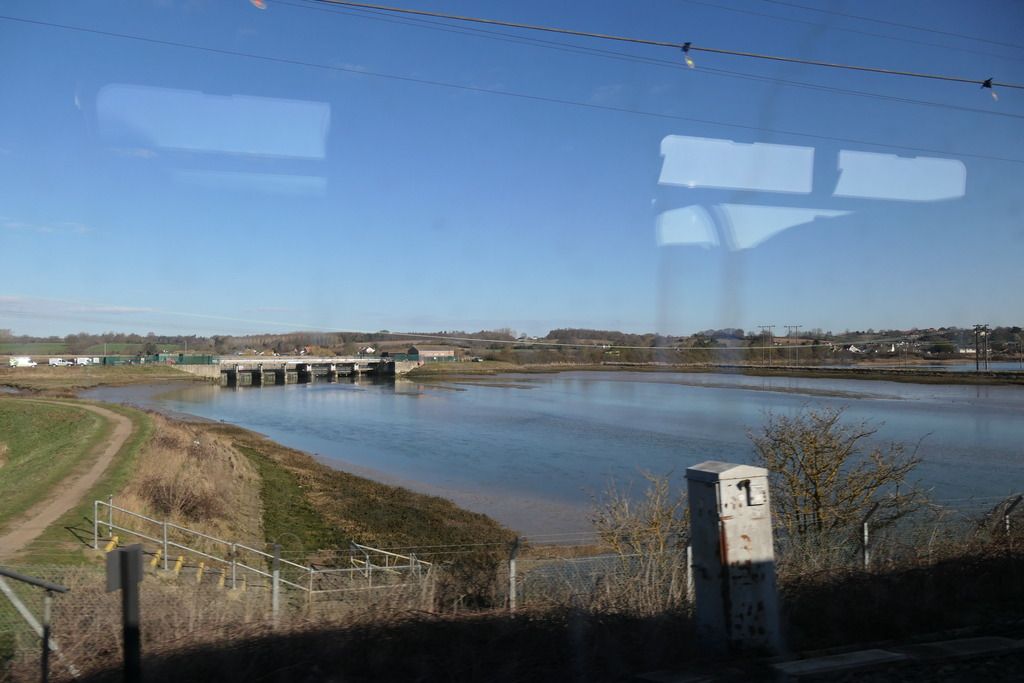 Turning left up Bishopsgate from Liverpool St station continued past Middlesex St to the next decent Junction, passing this good Victorian building with the twin pinnacles, the Bishopsgate Institute. This was to give some culture to the area including a library and a hall for public functions which are still in use today. Further up is the massive glass menagerie housing one of the banks.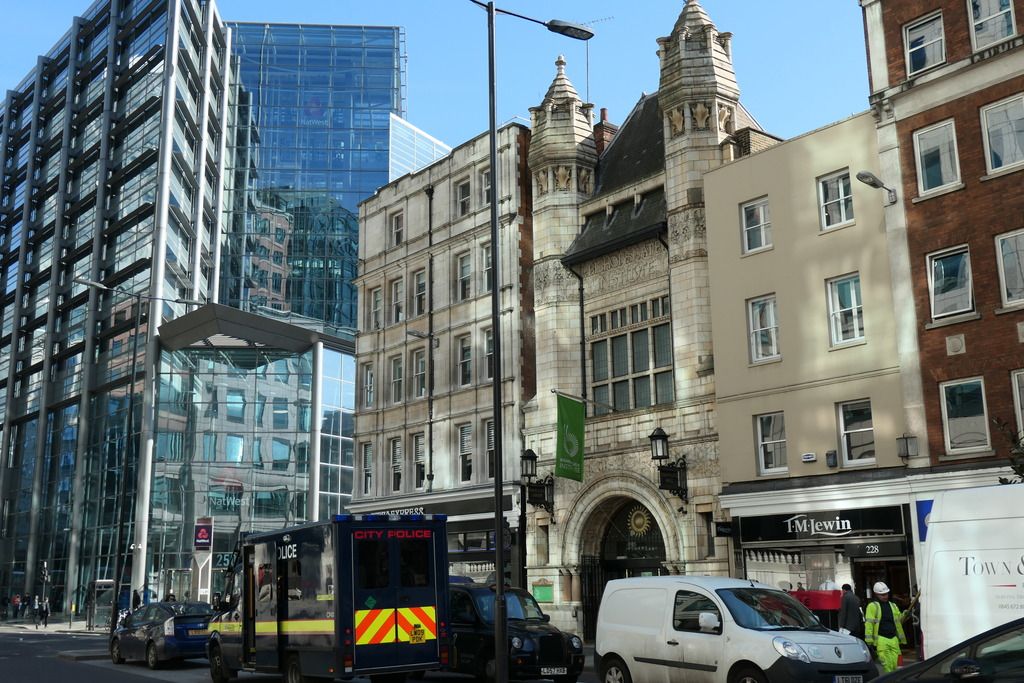 Bishopsgate continues on to become Norton Felgate, housing this derelict building. It is very strange that it hasn't yet been redeveloped into another palace of filthy lucre.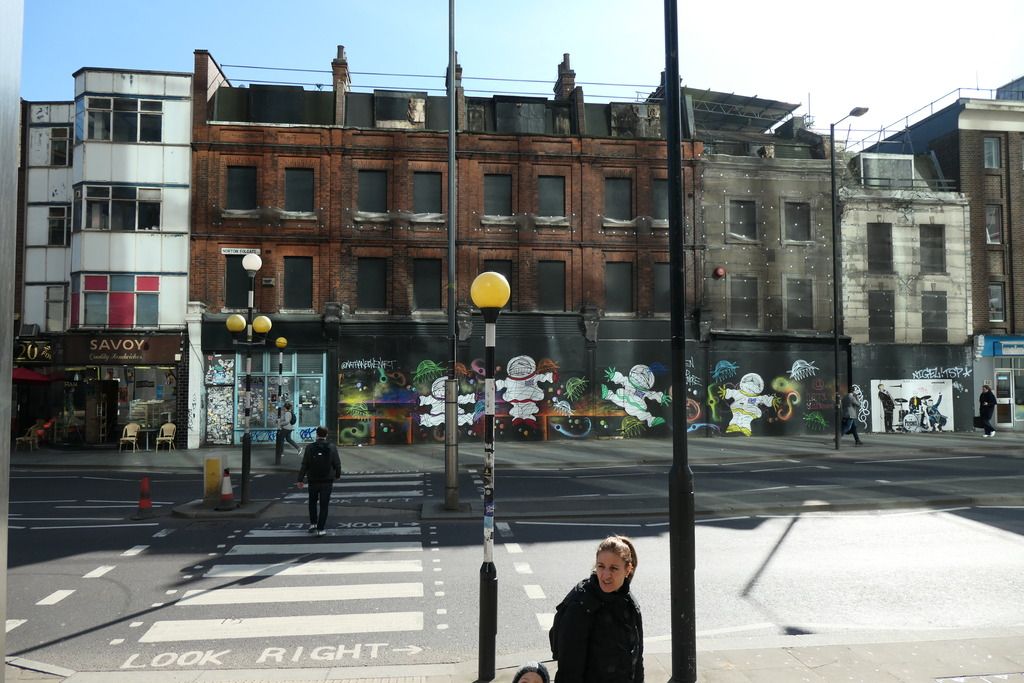 We now pass one of the Griffins which mark the City's boundaries and the road gains a new name, Shoreditch High St. nowadays another up and coming area for fancy restaurants etc,.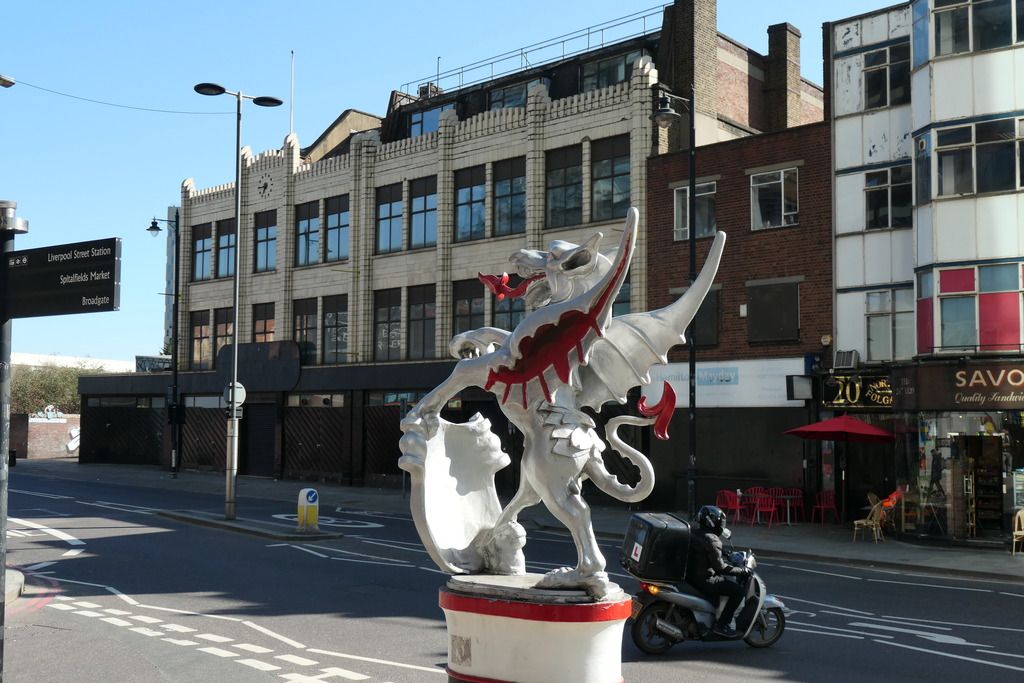 and being graced with this 50 storey tower to provide more flats and offices for the City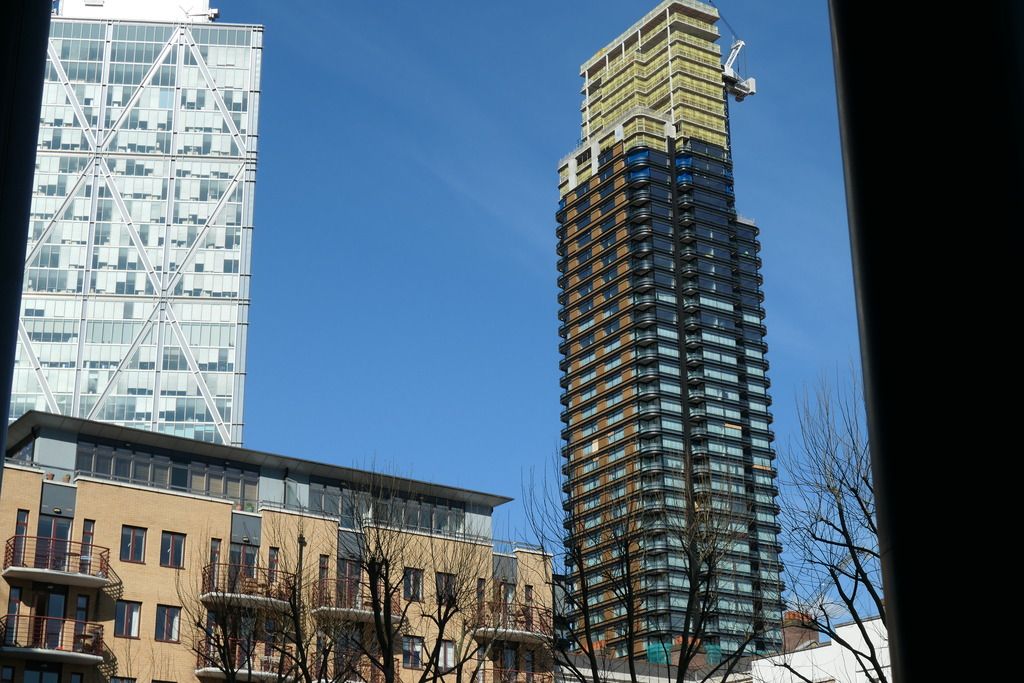 A big architect has his name up, Red Squirrel incidentally is just coming out of the oddly named Worship St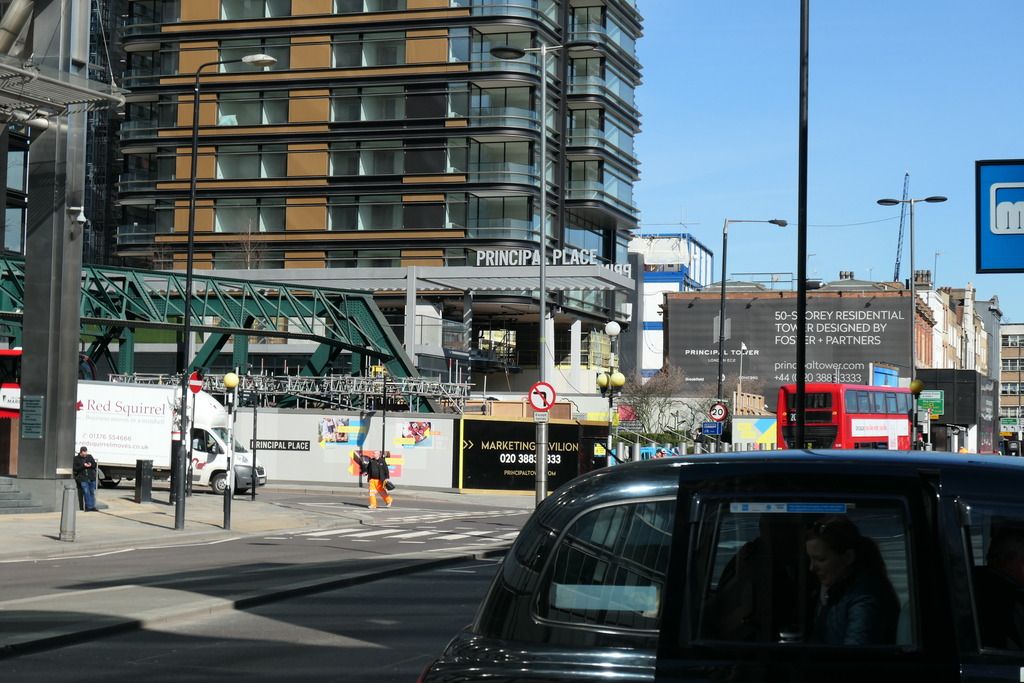 I have overshot the turn to Spitalfields Market so turn back towards the City where there is a slim clear view of the Gherkin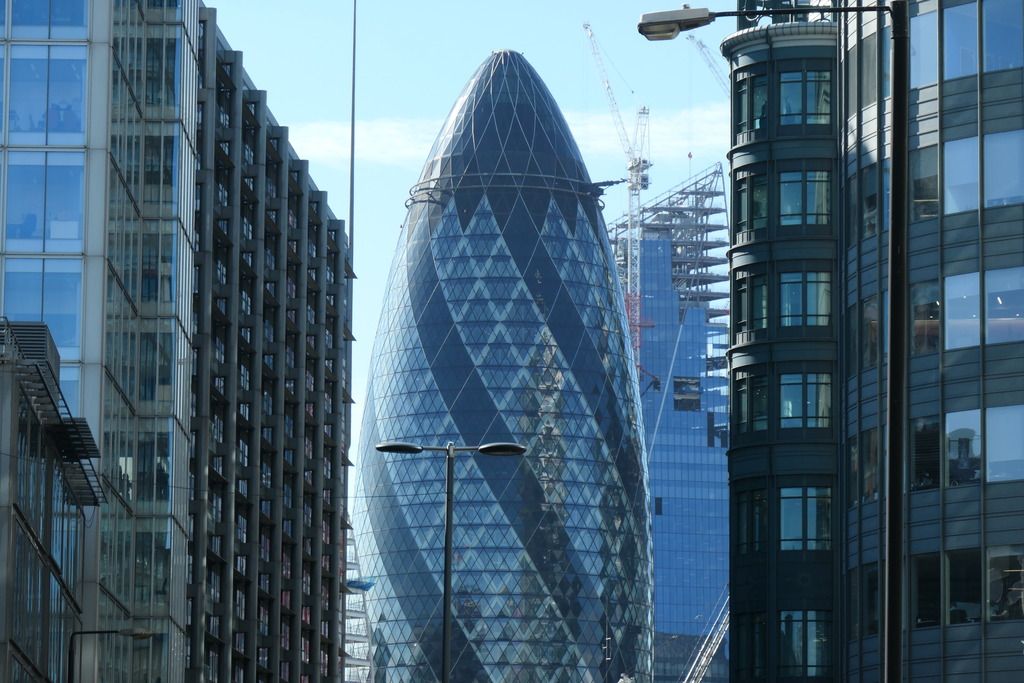 and the turn up past the glass bank to the market. It is still rag trade territory, but there are some excellent fabrics to be seen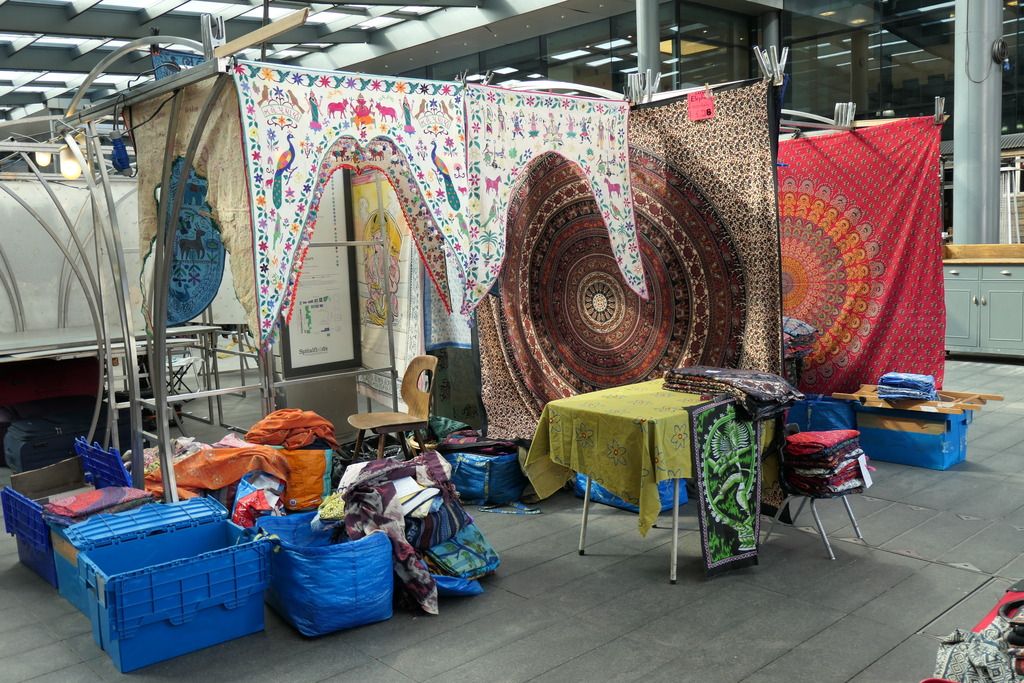 This work of art was displayed in a suitcase
I'll break off here, my tryping finger is getting worn down