Post by onlyMark on Oct 20, 2018 13:18:15 GMT
As I like to be a bit rebellious now and again, I'm going to put my conclusions first, just so you get the idea of where I stand.
Zimbabwe is a beautiful country being cocked up time and time again by stupid, corrupt, power hungry and selfish people in positions of authority. I know of no other African country with such a large amount of potential to make great that is being squandered and wasted without a thought for the people and the future. I would dearly like to grab hold of the authorities and bang their heads together to make them see sense. I can only shake my head in disbelief at the waste in many more terms than one.
Moving on -
It was a simple enough idea. Every month Mrs M has to fly to the capital of Zimbabwe, Harare, for a few days due to her being responsible for not only the office in Zambia, but there as well as it is a far smaller concern. She tends to fly in one day, have a couple of days more work and then fly out the following day. So four days in total every month.
I been to the country several times and saw no great need to go back as I've seen what I wanted to see. Mrs M and I actually had a few days there in 1999, driving through to get to Namibia for the job I had then.
But, Mrs M hit my weak spot when she mooted the idea of me going with her one time and then having a few days off after the work was done to do a bit of exploring. She said, "We could drive."
It took me all of three nanoseconds to agree so I set about doing the research for the logistics of it all. Mainly it was the paperwork necessary to drive our car across the border, plus where we wanted to go, what to see and where to stay. All the usual stuff really.
As for the paperwork, I needed my car registration document, passport, COMESA Insurance (car insurance to cover me for south African countries) and a piece of paper that required some comings and goings to get, but was in essence a clearance certificate from the Police so that I could take the car out of the country. That was a whole 'nother story to get but eventually I did.
A week or so before we were due to go we started hearing stories of fuel and food shortages which became more severe as the time got closer. We discussed for ten seconds or so postponing or cancelling the trip, but we both knew we'd go anyway and the only thing that would stop us is news of dangerous riots and violence in the major towns. Hearing from people in the country we understood this was not the case, all was quiet, though as with any African country, it could all kick off at short notice. I did plan which roads to take to get us out of the country quickly just in case.
To tie things all together I'll post the photos and map here from a previous thread that you would have seen but it helps as a reminder and to get things in context.
These are photos of the prices of various goods taken from a large supermarket just before we left.
The prices you see are in US dollars. This is what people are generally only accepting for payment.
If you want to pay by USD it is one price, credit card another and local notes a third. An article stated -
"At a shop in Gweru on Monday morning, a 2 litre bottle of cooking as an example is pegged at US$4.00 and $11.50 for swipe and Ecocash and $9.00 for Bond Notes."

Swipe means credit card and Ecocash is payment over a phone. Bond notes are a new form of Zimbabwe currency - "Zimbabwean bond notes are a form of banknote in circulation in Zimbabwe. Released by the Reserve Bank of Zimbabwe the notes are stated to not be a currency in itself but rather legal tender near money pegged equally against the U.S. dollar."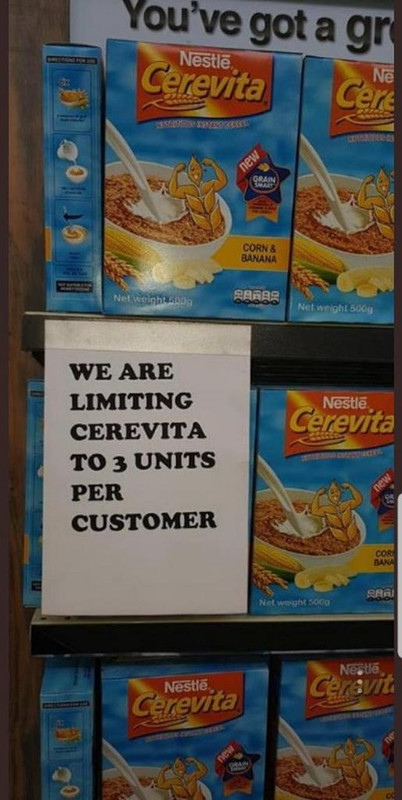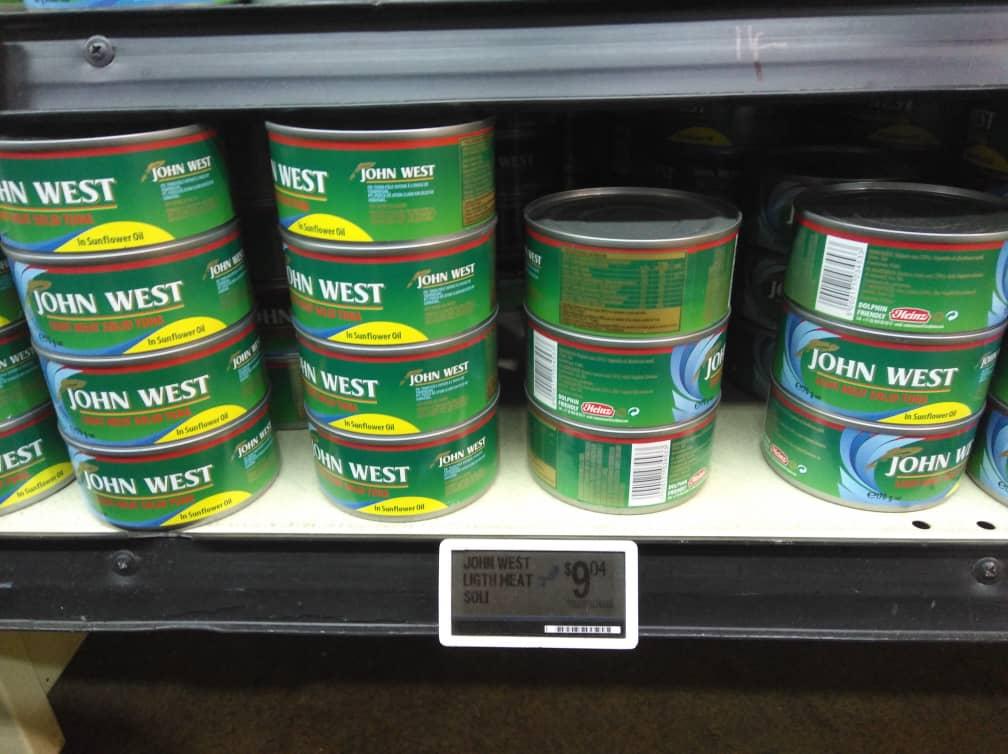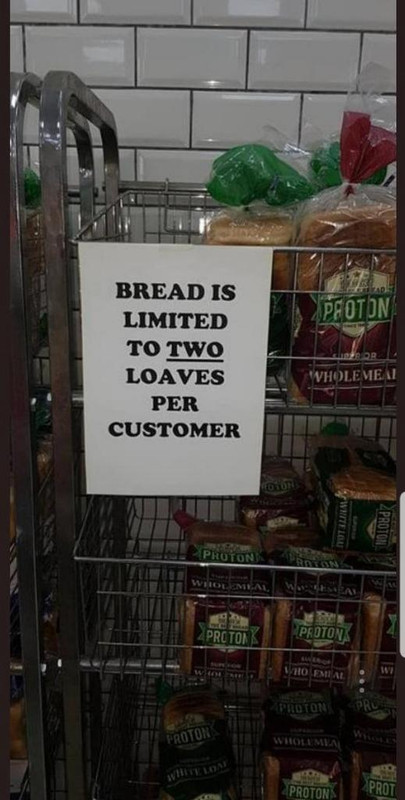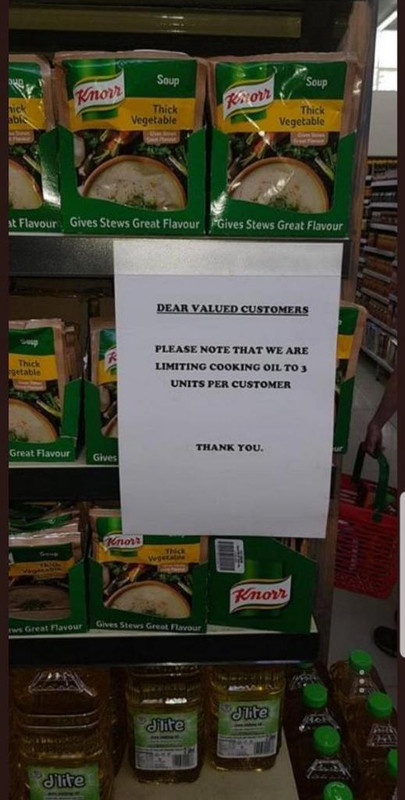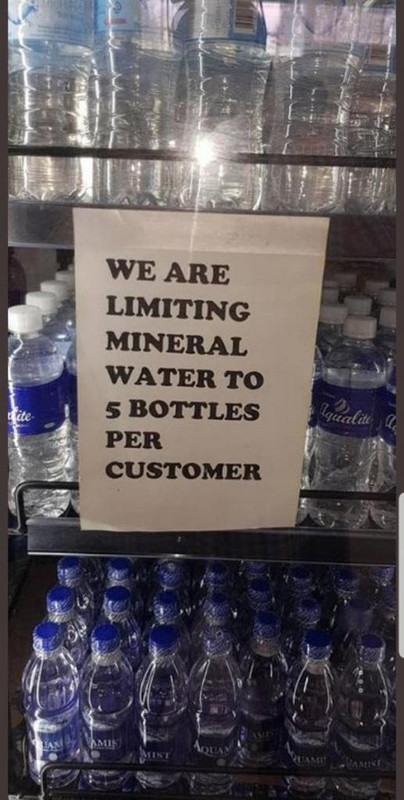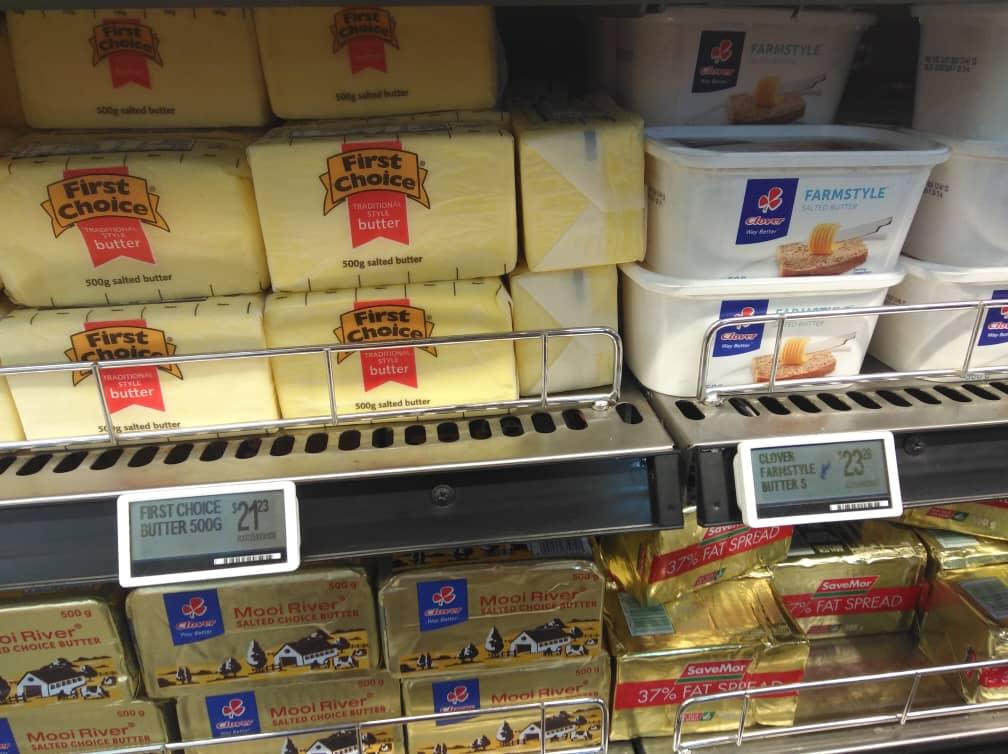 This is the route we planned to take. Lusaka is out of shot to the north and the top edge of the lake is the border between the two countries. We would round it off at the end by returning to Lusaka. The other border crossing is far left at Victoria Falls -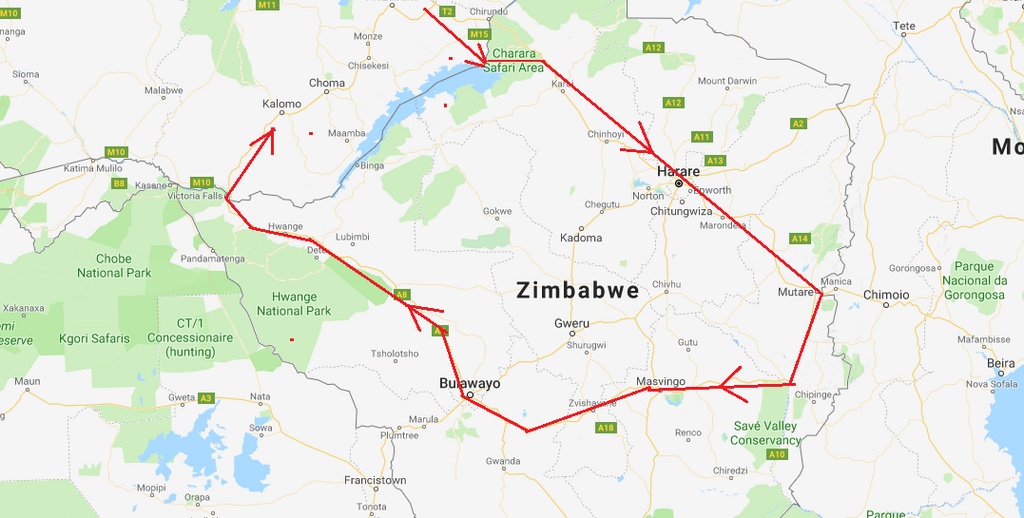 As you maybe can make out, there are routes through to Mozambique and Botswana and to the south, South Africa if the poop hit the fan enough for me to consider "removing ourselves from the vicinity."
To cut that story short, we found no threatening atmosphere at all anywhere. People were very friendly and helpful as though they were quite bored with the continuous upheavals of normal life and had little energy to kick up a fuss again and again.
Zimbabwe was always a magnet for the Police to get pernickety with foreign registered cars about infractions due to, for example, having the wrong sort of reflective tape on the front and back. Every twenty kilometres or so was a check point, especially near the borders. Another was not having an expiry date on the fire extinguisher you are supposed to carry. I checked mine and realised it didn't have one. I carry one anyway as it is sensible.
But, whilst doing a bit of shopping at a supermarket in Lusaka I spied a van in the car park where a couple of men were reconditioning and checking the extinguishers from the shopping centre. For payment of fifty cents they stuck a sticker on mine anyway.
The current situation meant that, as the police were not being paid regularly by the government, rather than setting up even more checkpoints to get money from everyone, they'd mostly gone home. Thus, I sailed through the country with only going through a handful of checkpoints where I was invariably waved on with a smile.
Before setting off I dug out all my fuel cans and bits and bobs and this is what the back of the car looked like (usually covered up with a blanket). Four jerry cans totalling 80l of petrol, to the foreground left is the all important brew bin with stove, kettle and mash kit within with various eating irons and bowls (we took a supply of noodle soups and bits and bobs just in case plus to have a coffee with mid-morning if we felt like it). To the right is a container with drinking water and engine oil. We ended up taking about 30l of water as we knew there was a bottled water shortage anyway. Also there is a high viz jacket, as per Zimabwe regulations -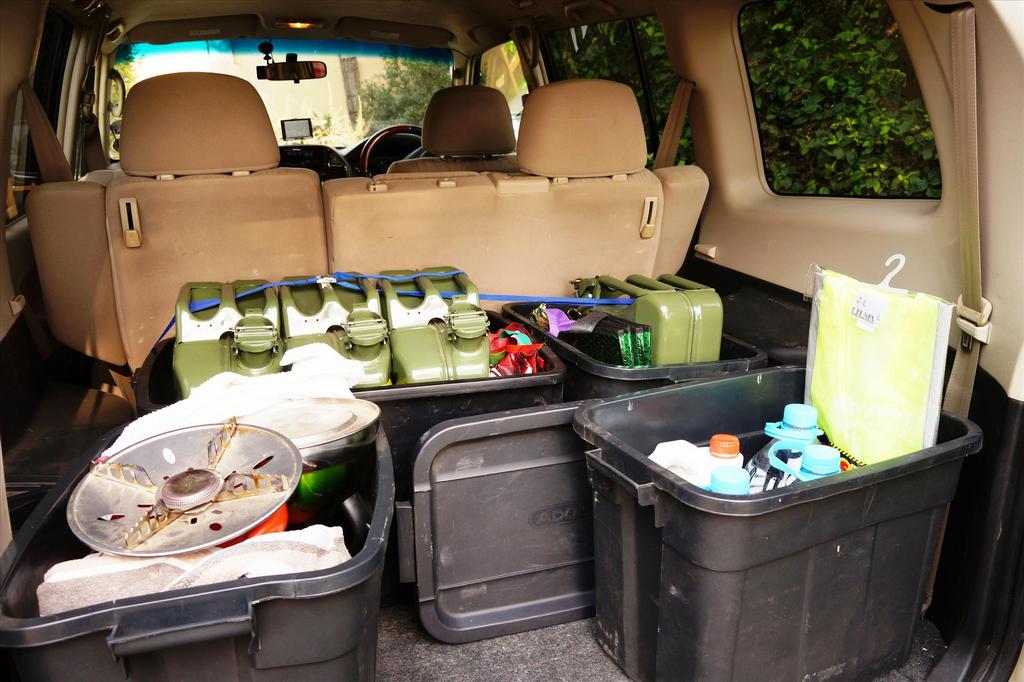 If you just flick back to that photo, you'll just see on the dashboard the satnav and peeking behind the rear view mirror is the ever useful to argue with the police with, is a dash cam.
In the pocket of the back door are a number of warning triangles. Six in total. Metal ones for Zambia, double sided plastic ones and single sided plastic ones for Zimbabwe, plus hidden away is a funnel for the jerry cans and the fire extinguisher -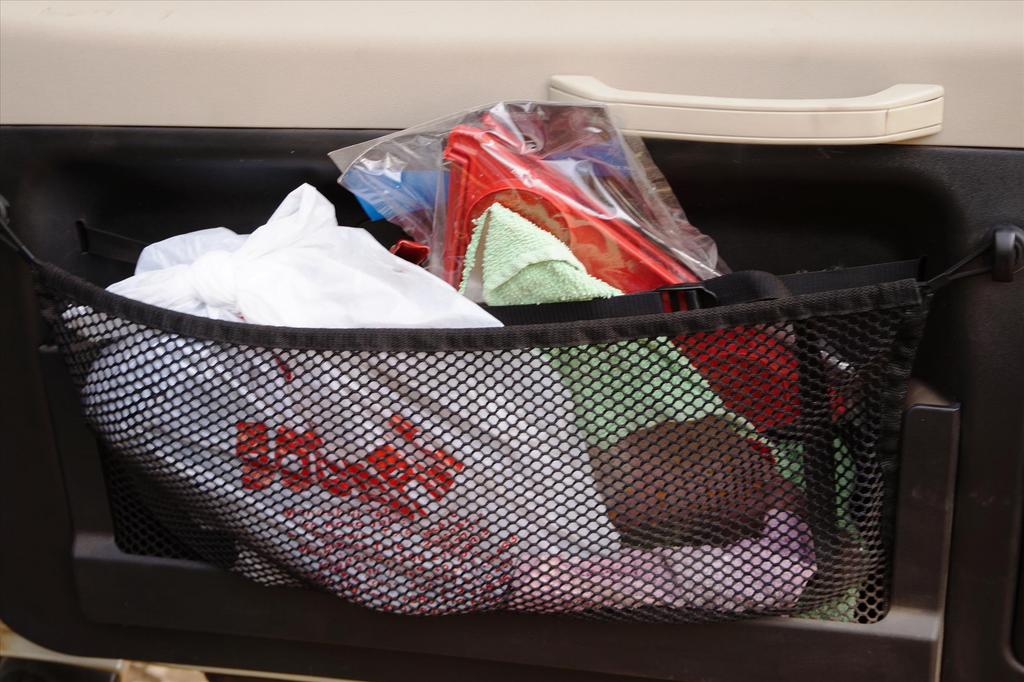 One each corner of the car are reflective strips. The small one is what is required for Zambia. The long one is the Zimbabwe requirement. Red at the rear, white at the front. I also carried the end of the roll that they'd come on so I could ask the police nicely what is actually what they would like? And I'll do it for them.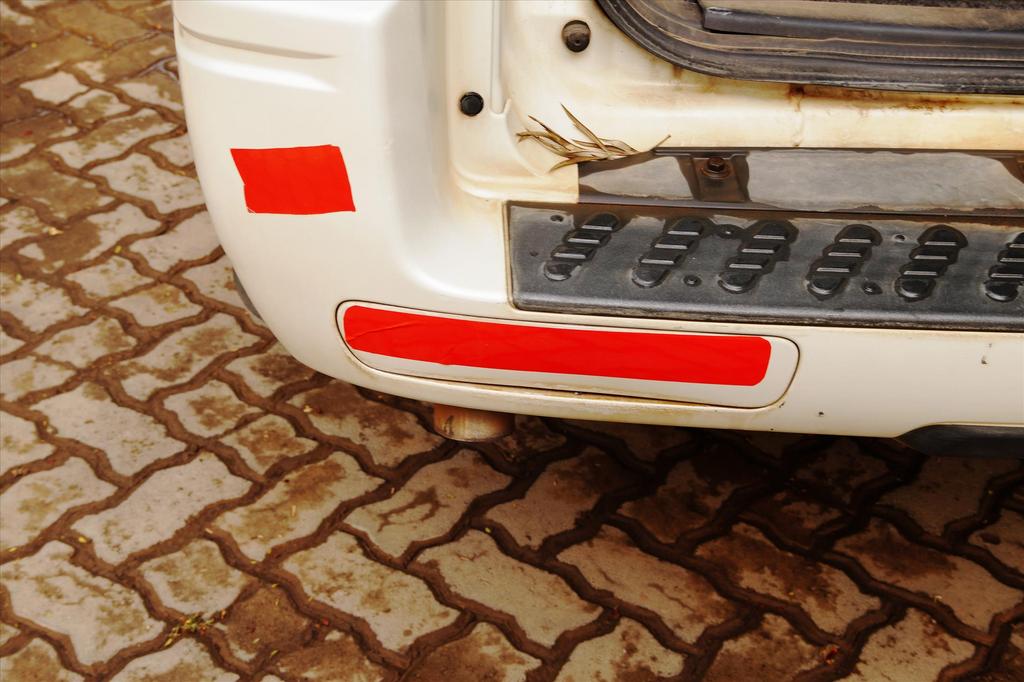 At last we set off.
I picked up Mrs M from work in Lusaka at lunchtime and we headed south to Lake Kariba. Our first night was to be at a town called Siavonga on the Zambian side.
A couple of hours later we were more or less forced off the road by the truck carrying a large earth mover tipper body for a vehicle at the mining area in the north of Zambia (the "Copper Belt" the area is known as) -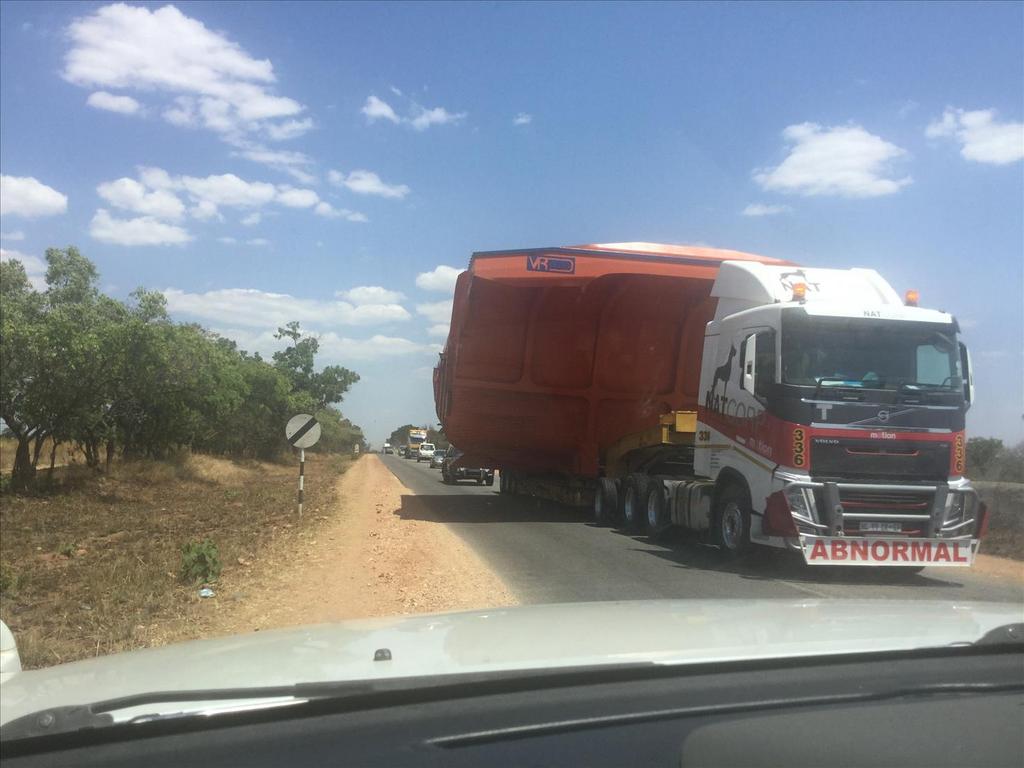 We'd just come over a single carriageway bridge over a river, the River Kafue and I had a thought as to how the truck would get across. Well bugger me but later I heard the truck and body had got stuck on the bridge, broken down and it took twelve hours for it to be cleared. What a stroke of luck. Half an hour later and we'd have been forced to wait as there is only one road south.
We arrived at our hotel for the night late afternoon. The one we really wanted was full but this turned out to be a good alternative. Called The Lake safari Lodge -
lake-safari-lodge-zm.book.direct/en-gb
Our room was quite big -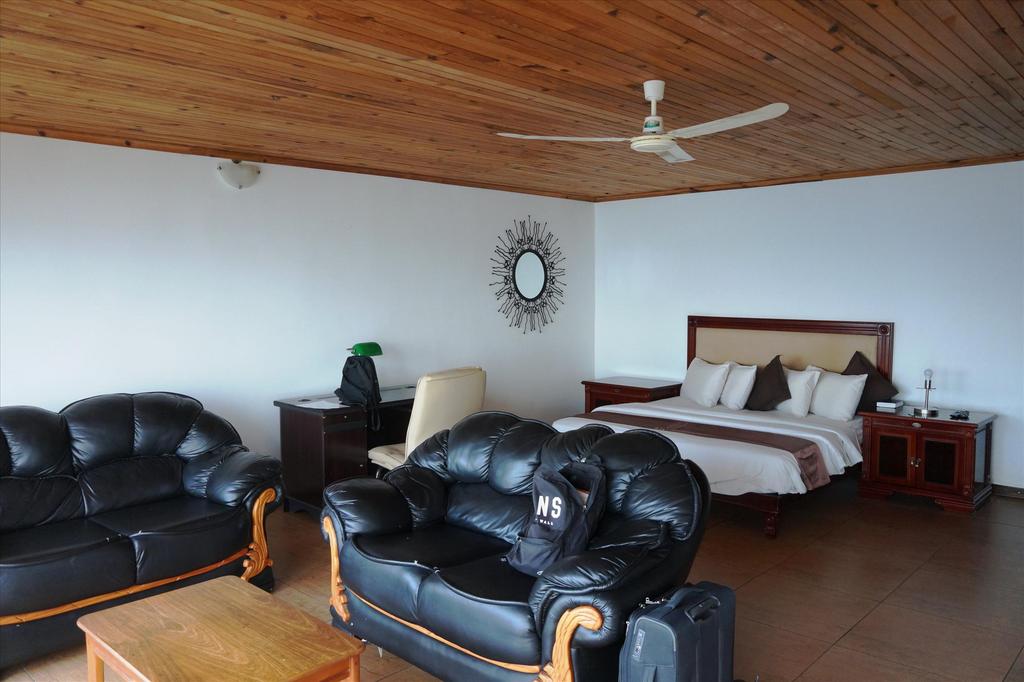 With a view of the lake (the photo is obviously washed out) -
And a double Jacuzzi!! -
In though, the usual Zambian/African way, there was not nearly enough hot water to fill it. I managed about a centimetre of hot water in the bottom before it ran cold.
Shots off our balcony which was directly over the water -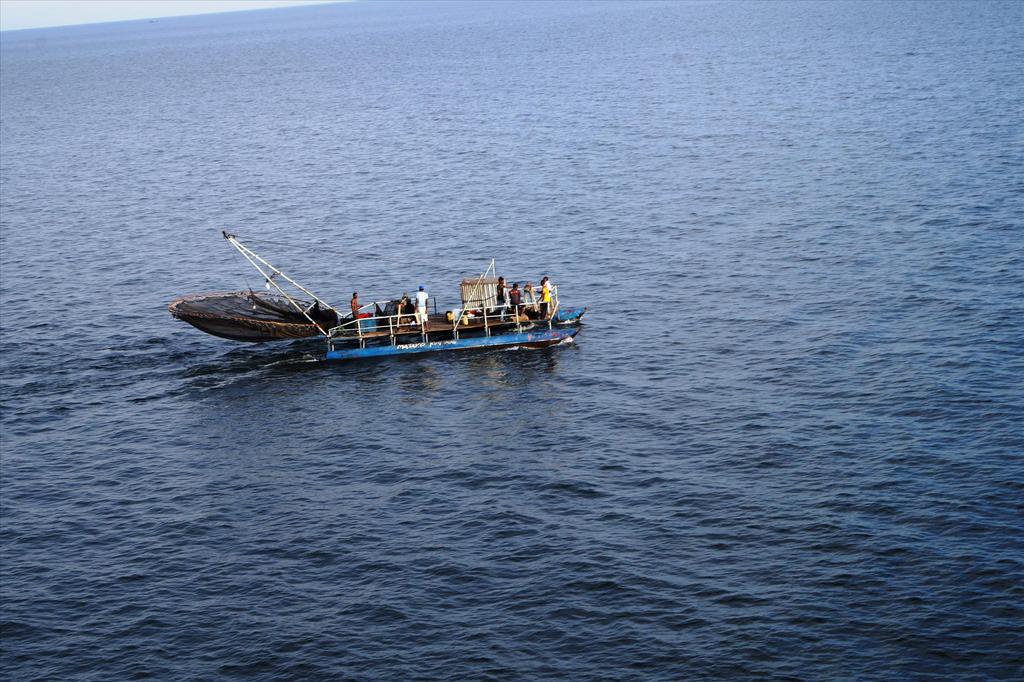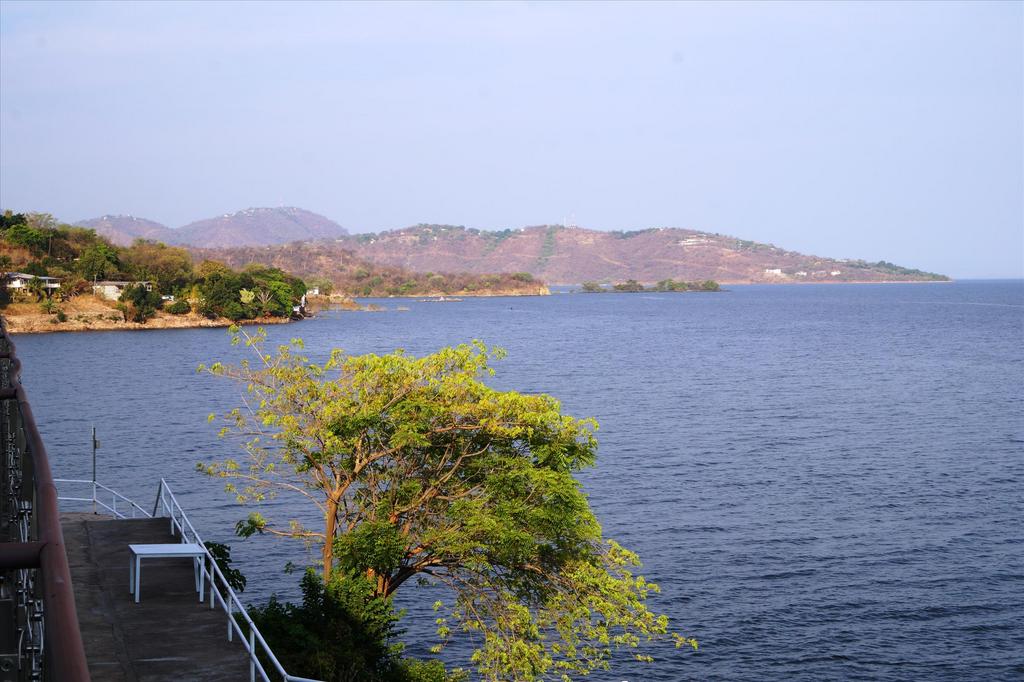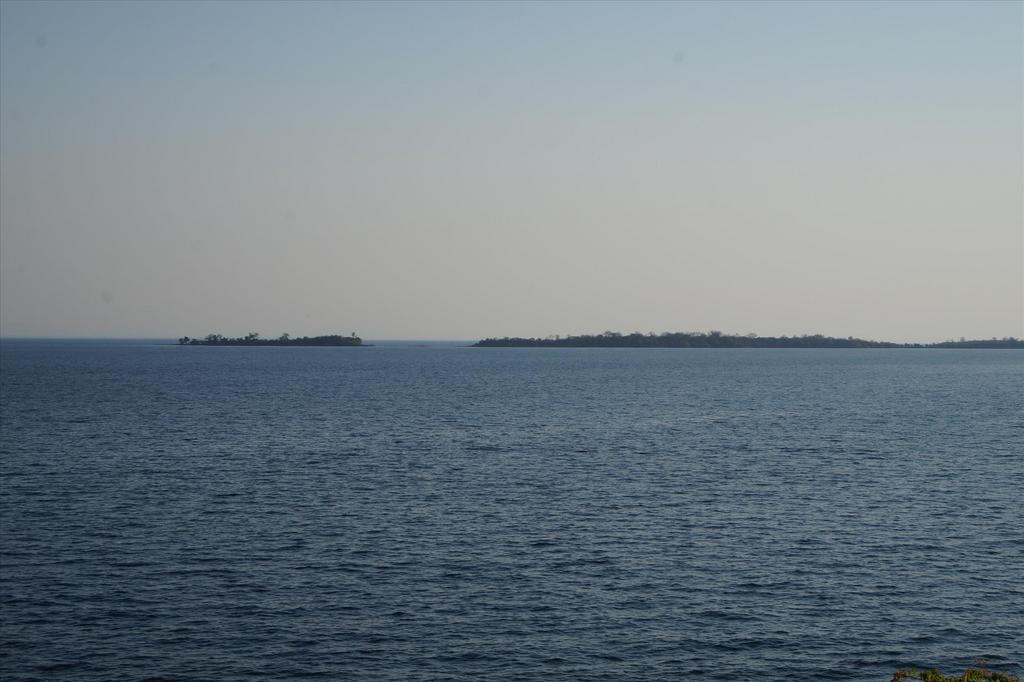 After a short rest we went for a walk round the grounds -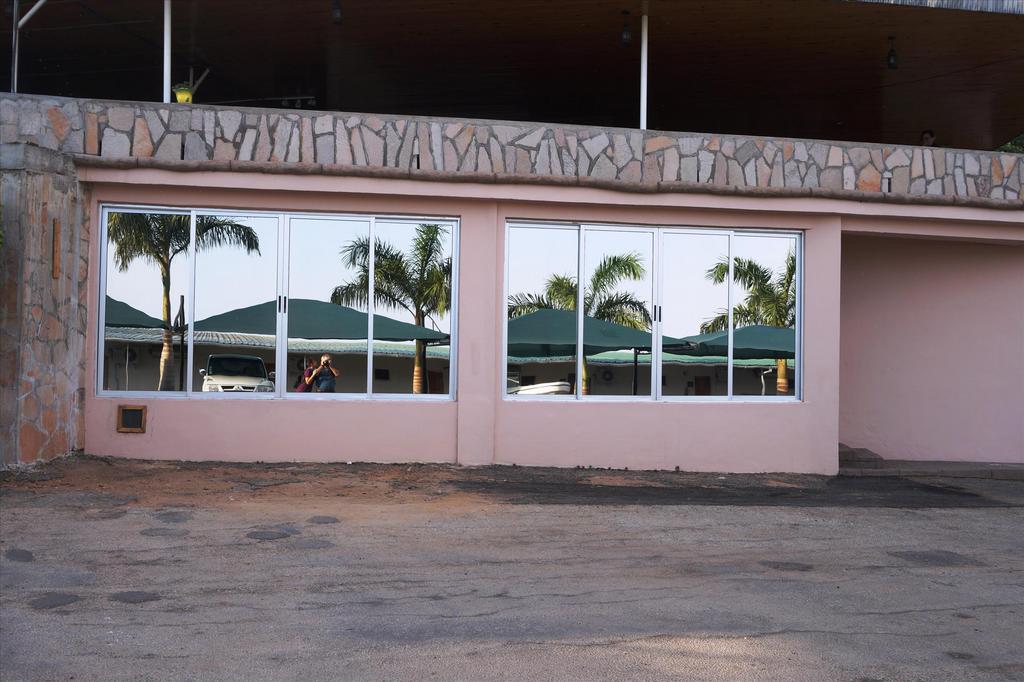 This is not a turd, but what is supposed to be the top of a hippo head made out of plastic -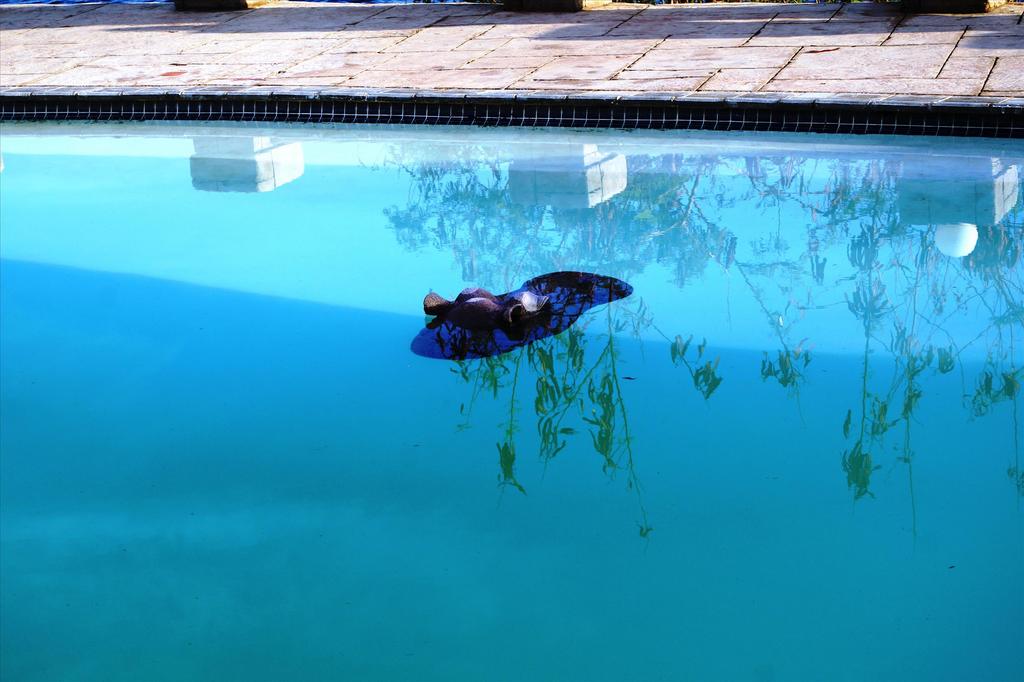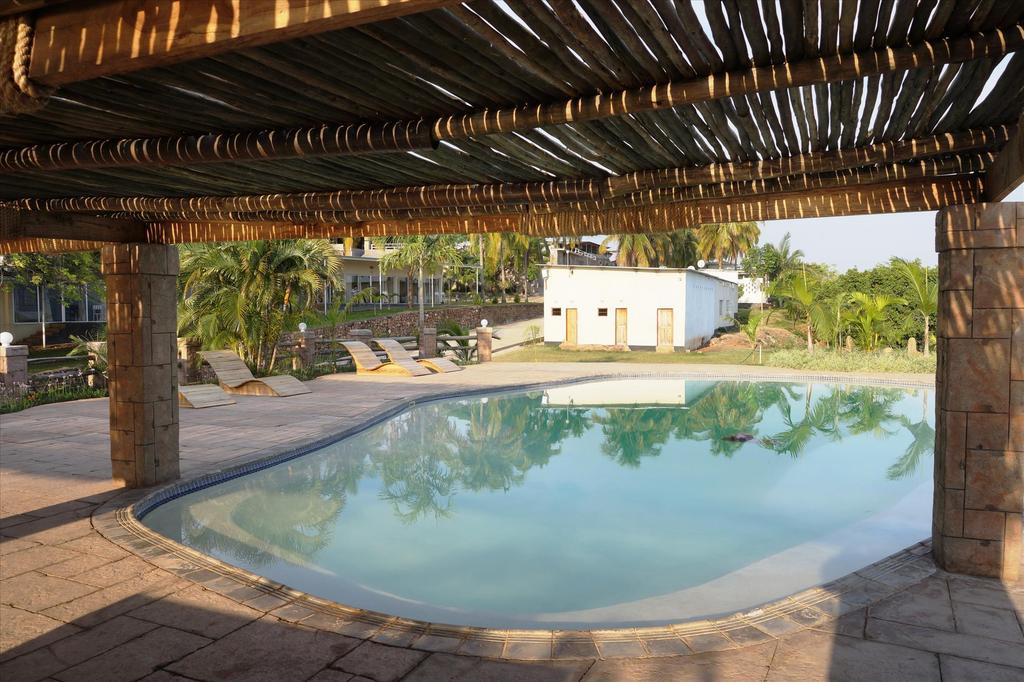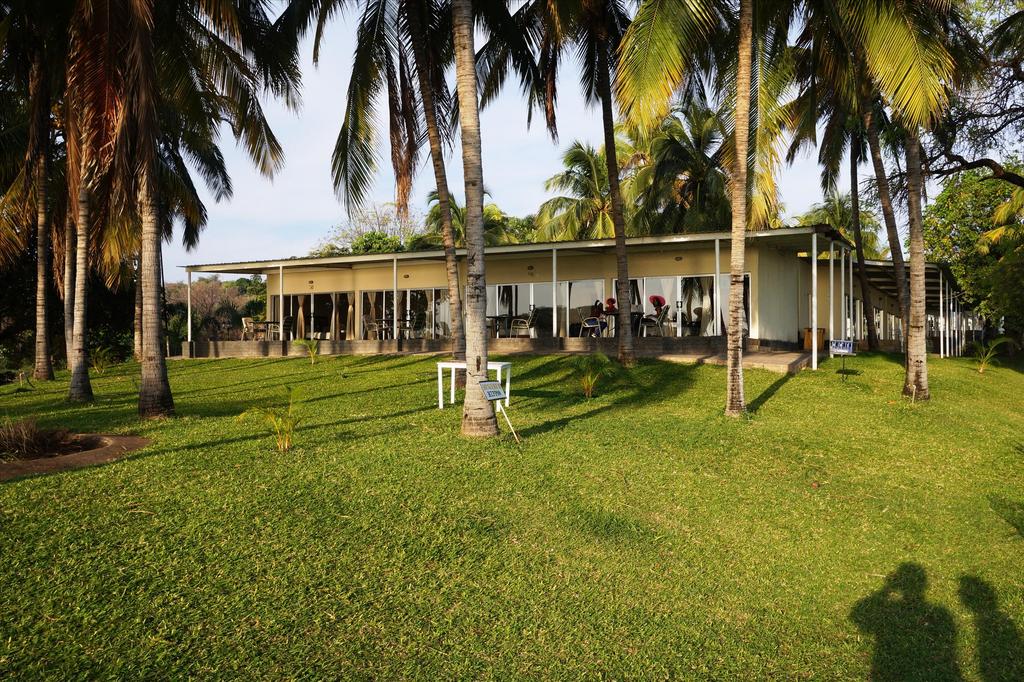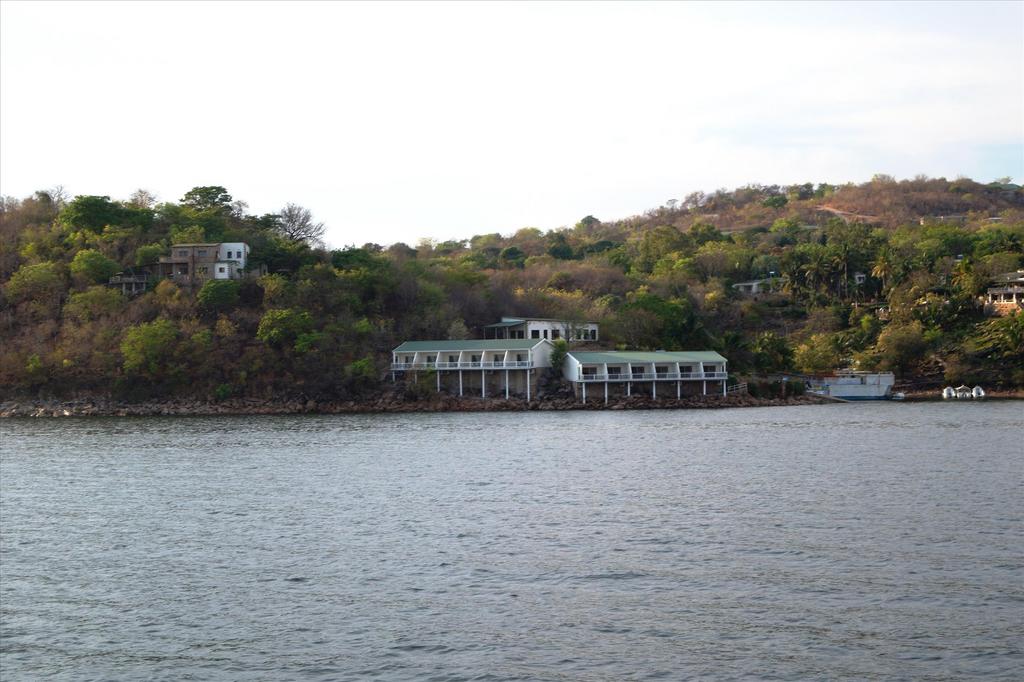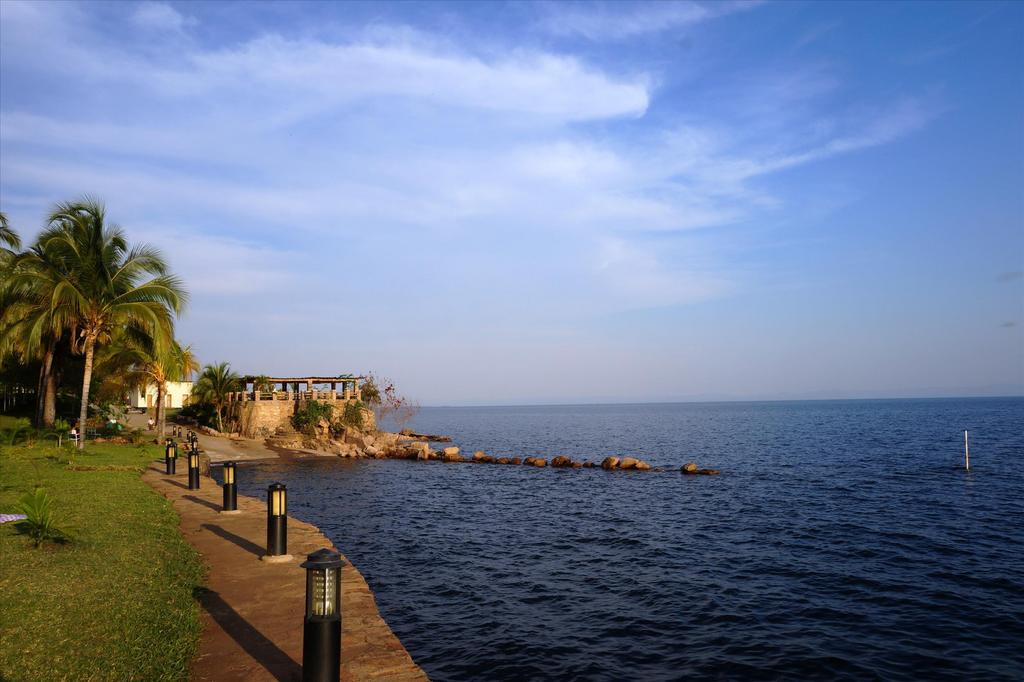 Our night was spent with the curtains fully open watching the lights of the fishing boats twinkling on the lake.