Post by amboseli on Feb 8, 2019 9:26:59 GMT
Costa Rica has been on our bucket list for a long time. Beautiful nature, that appeals to us. Still, there were a number of things that mainly stopped me:
1. the long flight (at least 16 hours – back then with a stopover in Panama or in the US)
2. the time difference of 7 hours
3. the heat and the high humidity.
That is why it lasted until 2019 until I dared to jump. The long flight had now been reduced to 11 hours and 45 minutes (KLM flies directly to San José in the winter). And the heat … oh well, I had survived it this summer in our own little country.
This was a trip out of our comfort zone. It was our first ever group tour where I had no control at all over things. Difficult, but given the medical problems my husband has faced the past year, this was the only way to go. Afterwards I can only conclude that the trip was 100% successful. We can look back on a beautiful, fascinating but also very tiring journey.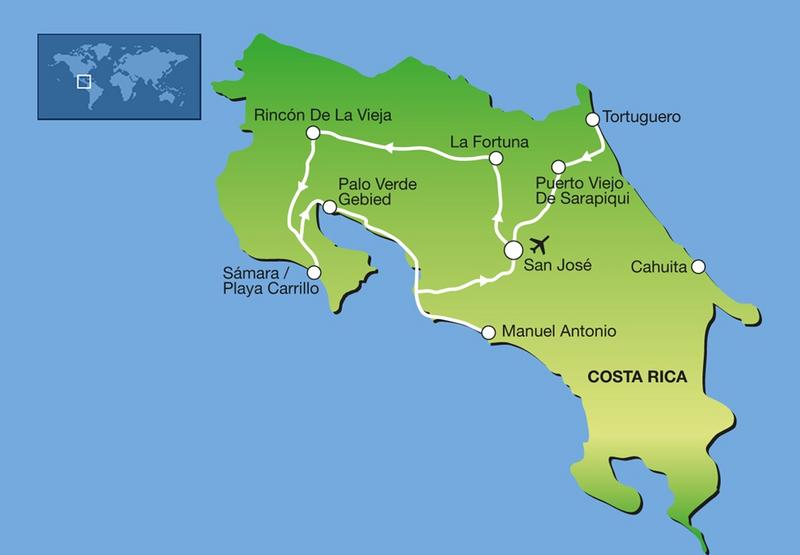 Amsterdam - San José – La Fortuna
January 11 ... at 7:15 PM local time we arrive in San José where our tour guide is already waiting for us. When our little group was complete, Jorge – who would be our regular driver during the whole journey - takes us to the hotel Balmoral in San José for a night's sleep after the long flight.
After breakfast with the typical Costarican dish gallo pinto (rice with beans) we are expected at the bus at 7:30 the next morning for the 130 km drive to La La Fortuna. In Belgium this would be a one hour trip ... in Costa Rica three long hours. But the road we drive is beautiful. It runs right through the Parque Nacional Braulio Carillo, through the mountains and cloud forests of the central volcanic valley. Our first experience with a cloud forest and our first (and only) tropical rain shower.
Along the way we visit a banana and pineapple plantation in Sarapiqui on the Finca Sura of the Gómez family. Besides pineapple and bananas, the family grows other fruits (yummie guanabana!) and spices on a small scale (cinnamon, clove, pepper and turmeric). It is not a big plantation and everything is for local trade and for personal use. We get an extensive tour and tasting on the finca and the plantation. We spot butterflies, iguanas and poisonous 'blue jeans' frogs. In the afternoon we enjoy lunch with tilapia my husband caught from their pond, fresh vegetables and fruit from Rodolfo's garden. The pineapples were to die for.

More to follow ...