Post by onlyMark on Oct 29, 2019 10:26:07 GMT
Day 29 -
The problem with Katima Mulilo is that the nearest Namibian town is about 500km away. The nearest Zambian town is a stone's throw. This is why as soon as I arrived here it all felt Zambian.
The town is stuck on the end of a long strip of land skirting the top of Botswana and this land, the Caprivi Strip is a result of colonial times past.
The strip is about 450km long and 32km wide.
In 1890 the then German Chancellor, Leo von Caprivi negotiated a land swap with Britain so that Germany, the colonial power in Namibia at that time, had access to the Zambezi River and ultimately a route through to the African east coast and Tanzania, another German holding.
Germany gave up any interest in Zanzibar and we gave them what turned out to be a relatively useless strip of land.
And this is what I can't work out, unless the Germans were a bit lacking in knowledge and the British not saying anything but – Victoria Falls were well known for 35 years or more at that time – and the falls are, to put it mildly, a bit of an impediment to river navigation.
Hence, using the Zambezi, or trying to use the Zambezi, turned out to be a damp squib.
The strip has had a bit of history since then, the most recent being a movement to declare it independent by the CLA (Caprivi Liberation Army) resulting in 1999 for the Namibian Army to have to roll in and violently squash/quash the movement after they'd taken over a few key points in and around Katima Mulilo.
In 1999 I was doing my overlanding job and was in this part of Africa and received instructions not to come anywhere near this part, even though it had been used to transit to different areas at times. A few months later it was all quiet again.
This is the road along the strip, and it goes on and on and on -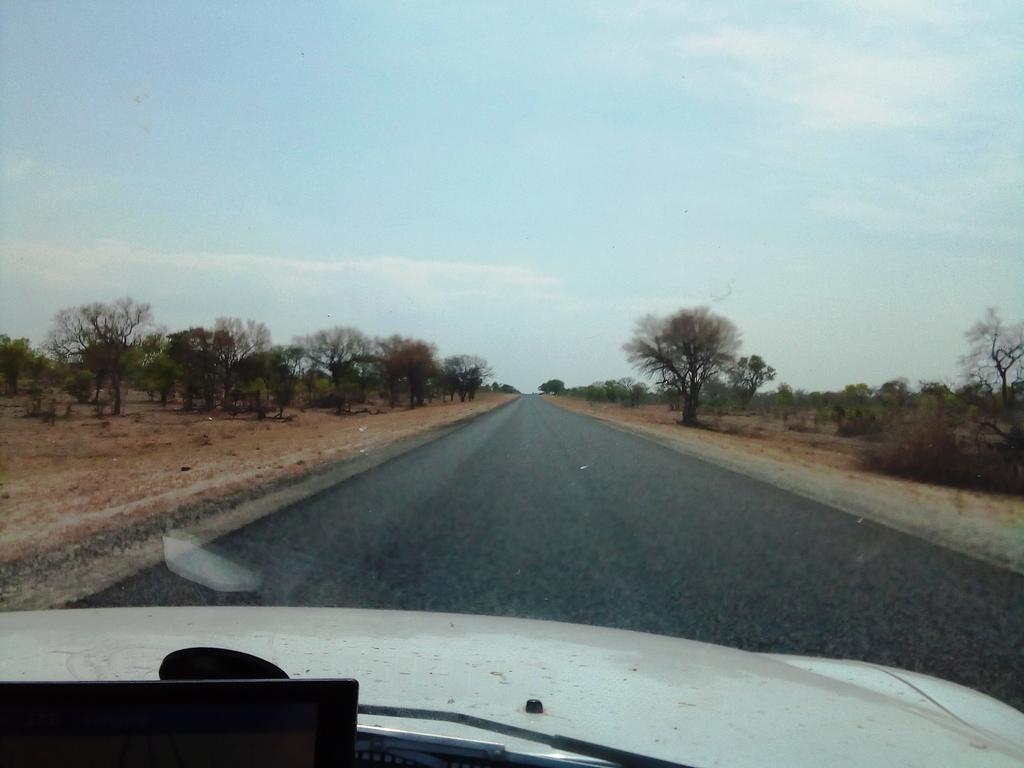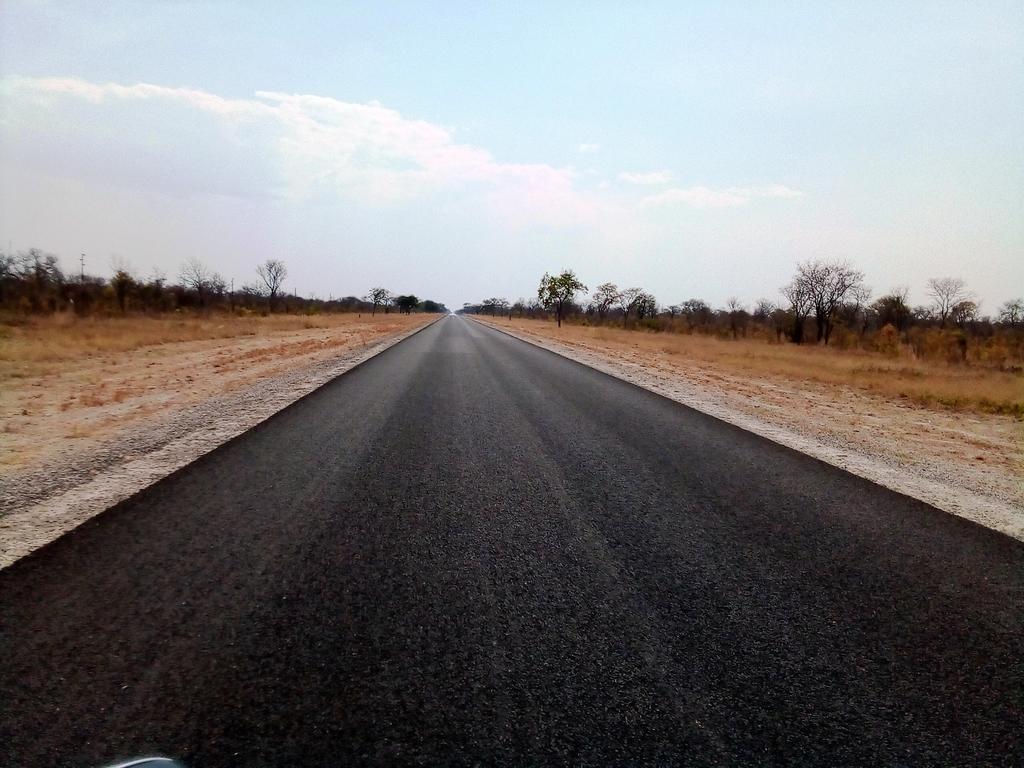 I filled up with fuel when I got to town and the pump attendant realised it was a Zambian car. Even though you can see Zambia across the river, he had little knowledge of the state of affairs in the country. He was asking me about how it is to live there. I related about the power cuts and low water levels etc and he asked if we have Chinese there.
I replied in the affirmative, saying there are a lot, and he gave the reason why we were in such a predicament because of them.
I asked why, thinking he was meaning the debts the country has, and he said it was because they were taking all the trees.
It is true Zambia has problems with deforestation because of logging and areas are being opened up by the government in protested areas and it does seem this was tried in the Caprivi Strip, but eventually a stop was put to it by the Namibian government.
An interesting thought.
To continue – I arrived at my hotel, the Protea, which is a large chain of good hotels, and immediately I was struck by the air of neglect.
I checked my room and found it to be of what I thought to be a poor standard. Not cleaned properly, or at least not for a week or so, stained sheets and pillow cases, lights not working, stained carpet, wire holding a window closed and poor security and so on.
I went to reception and politely asked for someone to come and look.
First was the receptionist, then was the housekeeper, then the housekeeping manager, then the maintenance manager and all the way to the top here, being the general manager.
I spent some time being polite but firm that I understood often the manager gets little money to update and maintain things, but some things can be done for virtually free, like sweeping up properly, using vinegar to remove mould between tiles etc.
It all showed a lack of care, pride and being bothered at all – just like in Zambia, and in Namibia, it's not something you often see.
I said a big impression could be obtained by just sweeping up all the dead leaves and detritus from around the buildings. It all looks unkempt. It is free to do because you already have the brushes, you just need the workers to actually do it.
Funnily enough, as I went for breakfast this morning (the next day now) I saw two men with brushes standing outside in a corner talking together. Good, I thought, maybe they've been told.
I ate and returned the same way after half an hour or so. They were still there gabbing away.
You can lead a man with a brush to the dirt, but you can't make him work.
The end result of my complaints was that I was upgraded to a better room. It wasn't my intention to have this happen, more because I was hot, tired, irritated and disappointed and needed to say something – otherwise nothing will ever change. Maybe still it won't, but I've done my bit. Plus considering the reviews of the place should have given them the clue before, that some things weren't being done properly.
I got one of the VIP rooms, the ones Government Ministers will stay in.
It's fine but a mish mash of stuff and somewhat impractical in its layout. But fine enough.
This was my new key -