Post by bixaorellana on Mar 8, 2020 20:22:34 GMT
Reporting here on a work in progress.
I have long hated the bathroom in my house because it was poorly designed and poorly executed. It's fairly common here to find bathroom and kitchen fittings made out of concrete block, possibly the worst possible choice for those endeavors. Case in point is my kitchen, one feature of which is a pointless island sticking out of one wall which is made from more concrete than the slab beneath the Eiffel Tower. It's covered with poorly seated and poorly placed tiles with random hollow spaces beneath them. This means you can easily crack one by simply setting down a coffee cup, for instance. Also, those tiles fall off any vertical spaces from time to time.
Those of you who live in fully developed countries should know that this bathroom I hate so much & this kitchen I criticize are actually quite nice compared to what is generally available around here, although from looking at real estate ads I note that the standard kitchen with nice wooden cabinets etc. is becoming more common.
The bathroom vanity was made by the same thug or team of thugs and is idiotic and hateful. For one thing, it ends too close to the toilet, meaning that it's impossible to effectively clean around the toilet, which sports a nice brown stain apparently from an extended period of unnoticed dripping. The vanity is also too deep, with the sink placed too far back. To add to the inconvenience, there is no kick space beneath it because the blithering jerk who built it made a raised area of concrete for the floor of the vanity.
The bathroom itself is a narrow corridor which had a door that opened in. That door was accessed by a mystery step-up area. Some time back I had the door removed and the step-up area enclosed, effectively making the bathroom slightly bigger & getting rid of the space-gobbling door.
But I continued to seethe with hatred over the very ugly and worn out bathroom. There is nothing to be done about the toilet except in emergency, because at some point the tile was changed and whatever nitwit did that built up the cement and tile around the base of the toilet.
Day before yesterday I got a shockingly high estimate from some masons who would deliver a final product very little different from the current crappy vanity. I told my landlord about it & he said he'd get a friend of his to come look at it. That mason came yesterday afternoon & gave a much, much, much lower estimate for completely removing the present vanity, making the area around it presentable, and installing a new vanity. Furthermore, my immensely kind landlord drove me all over hell and back to find a nice replacement vanity.
So the mason and his assistant arrived this morning as promised, not only on time but bringing me tamales. Does it get any better than this?
At this point they've completed the destructive part of the process and are busy filling in and smoothing all the rough parts. Time for pictures.

This photo is really from later in the process, but since I neglected to take a "before" picture of the entry alcove, I'm adding it here ~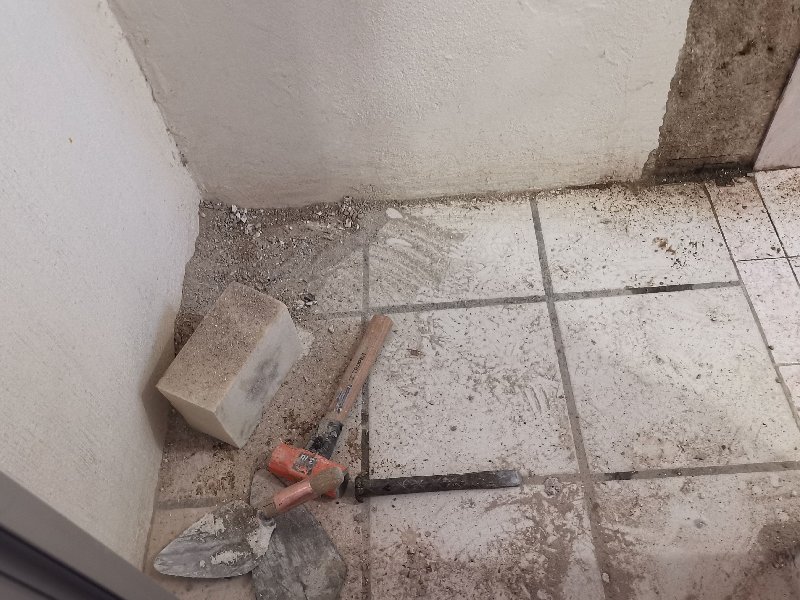 Before pictures of the bathroom. These are phone pictures, which is I guess what caused the wiggly lines ~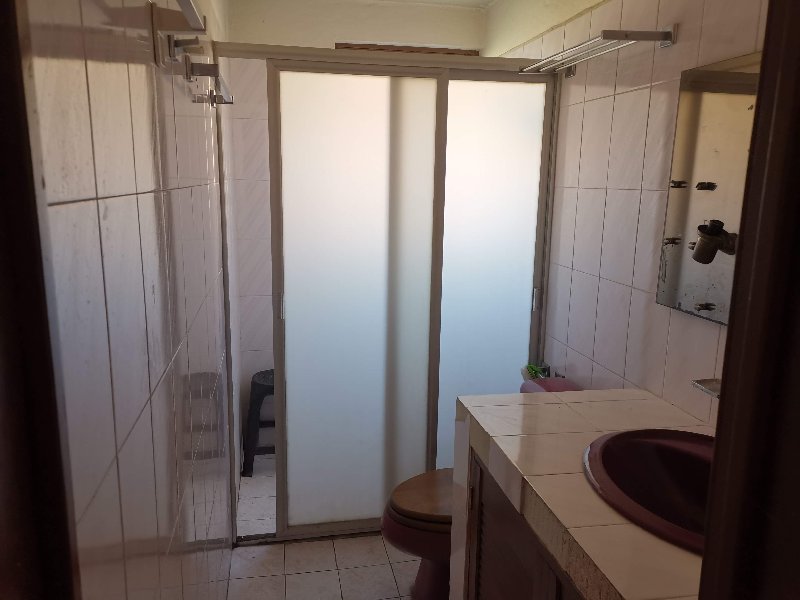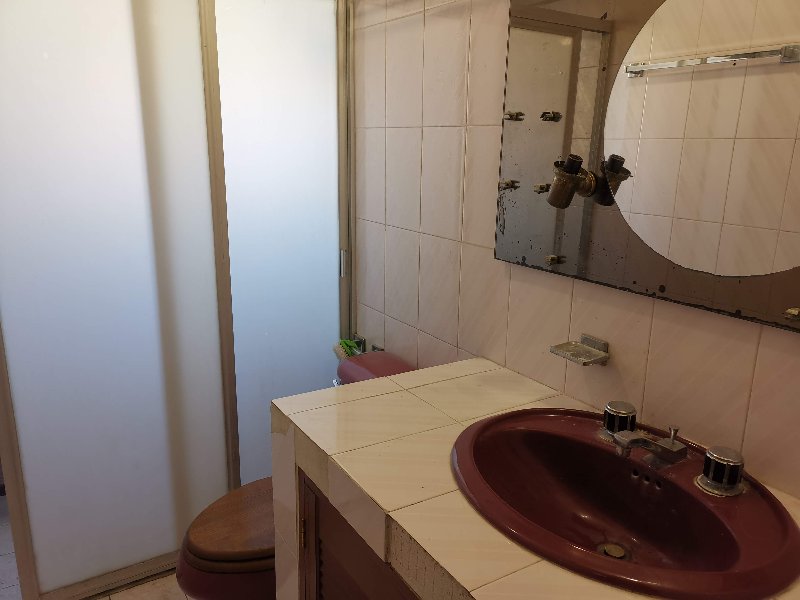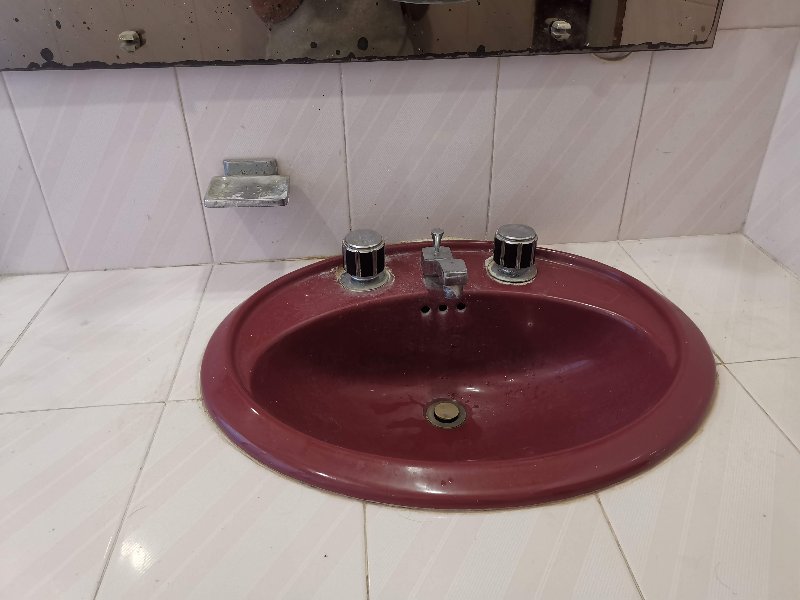 Space beneath vanity. That wooden plate for the cabinet doors is completely eaten by polilla, a wood-eating moth larva ~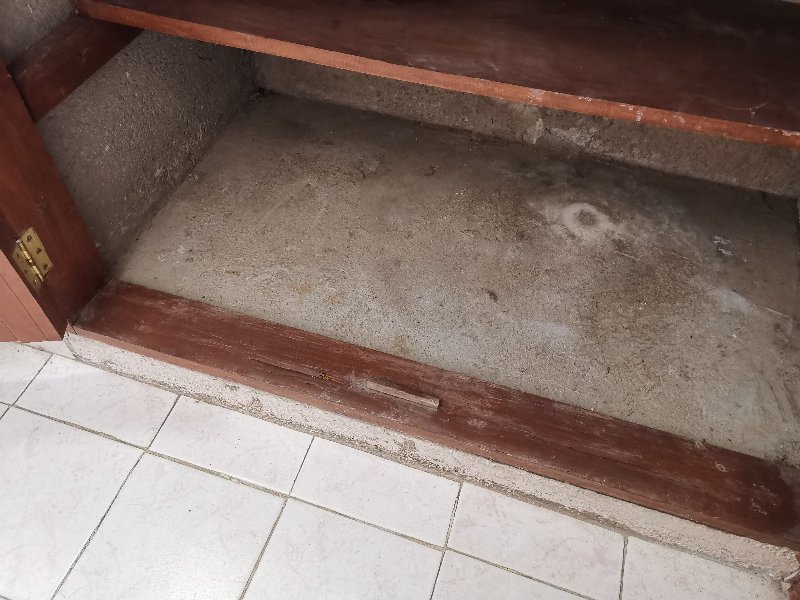 See how the vanity is practically on top of the toilet. If my shoulders were a little wider, I couldn't sit on the damned thing ~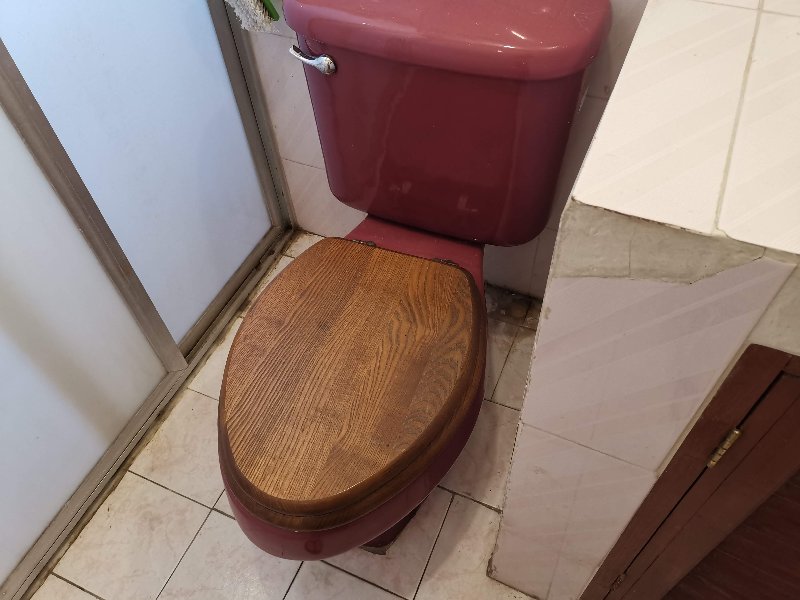 Even the poor old mirror is worn out. It sports non-working light fixtures ~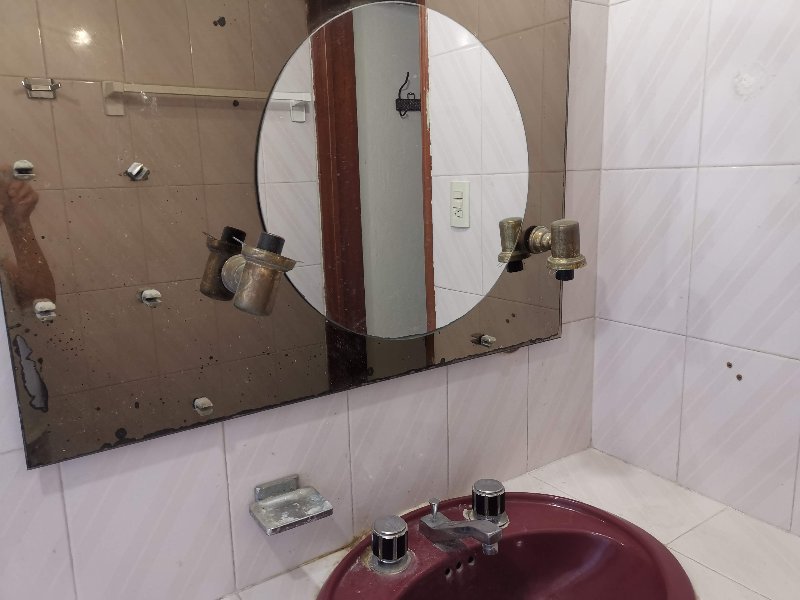 The upstairs hall leading to the bathroom entry alcove there on the left. Those bags are all full of the broken concrete & tiles & stuff ~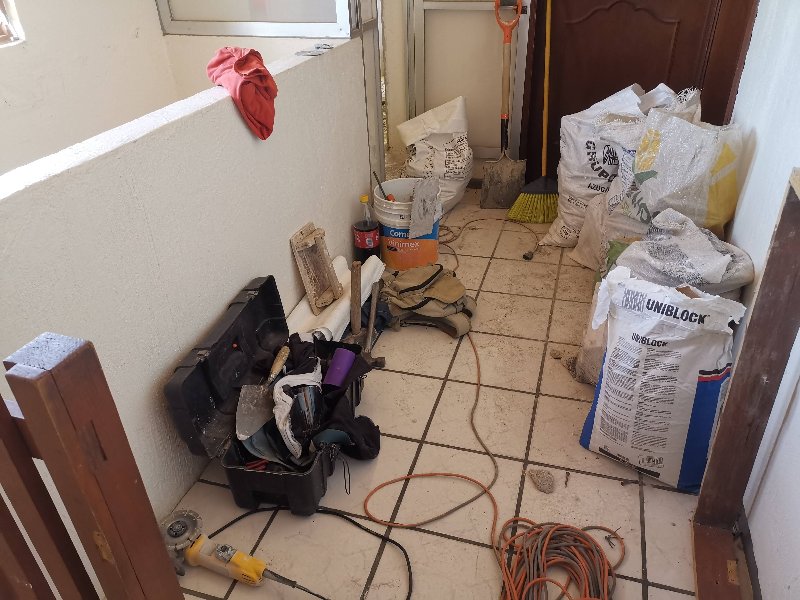 The mason's helper is filling in where the vanity was removed ~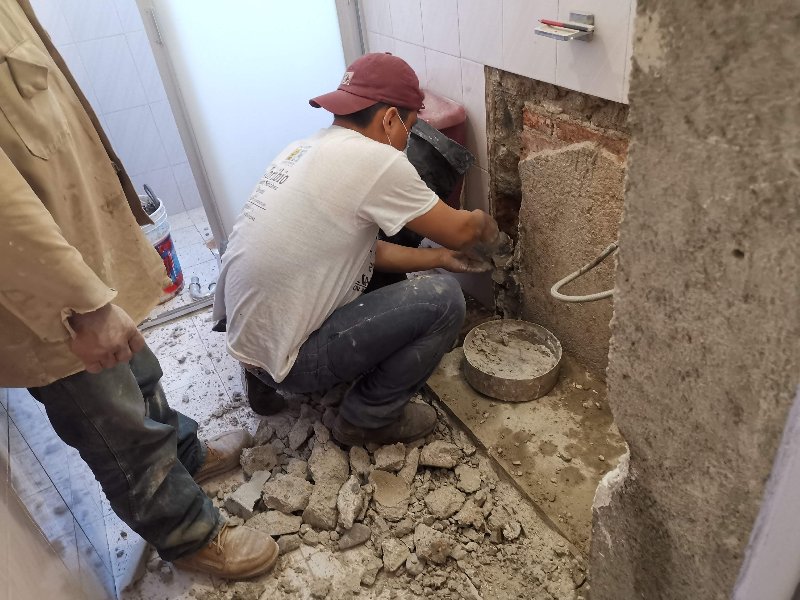 ~ More to come, as I believe they're almost at the point of mounting the vanity ~