Post by onlyMark on Jan 6, 2021 16:56:02 GMT
First, a story.
I think I'll make a little start on this and add to it as time goes on, just to give you a flavour.
I'll deal with the details of the history and more in depth subjects as they come to pass but for now I'll treat this as a bit of a place holder as colourful photos are not forthcoming at the moment due to the weather and various other factors like getting settled in.
The story starts on December 31st, a Thursday.
We'd kept abreast of covid developments from various official sources and even at one point contacting official bodies in Bosnia like the border police, immigration etc to get the latest info. With passing from Germany into Austria, Slovenia, Croatia and then into Bosnia rules and regulations were changing regularly with added complications from Brexit, Schengen rules and EU coordination or not of responses and to add to that, we both have two passports, one being a German official one, Mrs M having her normal German one and me having the UK one.
An example is the previous possibility of me needing some visa or other or denied entry to a country because of UK freedom of travel arrangements ending at midnight on the 31st - plus the German official passport cannot be used in EU/Schengen countries so I couldn't rely on that to save me.
Suffice to say I am relieved my obsession with following the changing rules has now ended.
Another example is some countries specify if you are transiting you have a time limit. One or two didn't, or none that I could find. In the last minute Slovenia reduced that time from 12 hours to six. Considering in theory we could slip through there anyway in about an hour, we felt that wouldn't be too bothersome.
With the car loaded down we set off in the morning and passed the border into Austria with a short stop for the border official to ask why we had a German registered car, but going the wrong way. We mentioned transit to Bosnia and he waved us through.
The Slovenian official likewise did the same. Smooth sailing so far.
We were supposed to keep to the main transit route through the country but I had half a heart attack when a police car followed me off the motorway when I diverted away from it - we intended to and did have a stop at a relation in Maribor for a 'socially distanced' pee stop, exchange of Christmas presents, a rest and a meal. The police car ignored me and turned off anyway.
Into Croatia with a cursory look at us from the border official there and we were heading soon to skirt Zagreb. Rain and sleet had dogged our journey so far and had not let up and now was getting worse. The Croatian motorway has a speed limit of 130km/h but due to the weather conditions had activated their overhead electronic signs to reduce it to 100km/h and at times 80km/h.
Safe going but slow going considering I think it was only me who was obeying it. Most cars just wafted past hardly slowing down at all. I wasn't going to push it as I was transporting the most precious thing in my life.
I'd packed my Bisto gravy granules in quite tightly but in the event of a high speed accident I certainly didn't want the foil top to come off.
We'd 'celebrated' the New Year in Maribor and by now it was, obviously, Friday, January 1st.
We reached the border between Croatia and Bosnia, exited Croatia with a quick answer again as to where we were going and pulled up at the Bosnian Immigration booth.
Just to note, all borders/countries previously did not need a negative covid certificate to transit the country.
And yes, this is where it all went tits up.
Right up until we had left the official websites and official bodies we had contacted all, without exception, had categorically stated we would be allowed entry without a certificate due to our official German passports.
Apart from other exceptions there was 48 hour validity on the results. Due to the length of the journey and the time needed to wait for results in the first place, this was a bit of a godsend.
But - Jan 1st saw a subtle change not mentioned anywhere (and I did have everything printed out for all the countries in case of dispute nevertheless) - yes, we were allowed entry, but only if we had previously registered our address in Bosnia with the Bosnian police (a step needed before getting a residence permit which would have allowed us in, in any case).
And no, you can't just do that at the border.
Bugger.
We were turned away.
On though to plan B.
Anyone is/was allowed into Albania without the need for the covid certificate.
Plan B was to go to the next border post and declare we were transiting to Albania through Montenegro and Bosnia.
But would Croatia let us back in to do so?
Yes they did because we were heading the right way now to 'transit back to Germany' so no questions arose as to our intentions.
An hour or so later we again exited Croatia further east. No problems there, official just waved us through.
Bosnia Immigration came up and we stopped.
We declared we were in transit to Albania. They wanted to see our Albanian residence permits. Just moving there we said, you can see the car is loaded up with personal effects.
Not good enough, you are only allowed through here with a residence permit for Albania.
What about Montenegro, we asked, that is between here and Albania and we'll transit through there.
Nope, they said, same applies, we can't let you through to there either and Albania won't let you in anyway.
Yes, they will we said because of the official passports.
No, they won't was the reply.
Here, I said, look at this print out from the Albanian authorities saying we are allowed entry.
Changed on Jan 1st he said. Only now with a residence permit for Albania.
Bugger.
We 'discussed' how it can be that the Bosnian border police are allowed to dispute and enforce entry to somewhere two countries away when there isn't any combined border policy or any agreements between them.
Because we can, was more or less the reply.
We had to turn around, back into Croatia and again just waved through. Back towards Zagreb for plan C, which we didn't really want to get to, Plan C that is, but we had no choice.
I'd researched into getting a covid certificate from various cities en route. This had been a problem anyway due to the time of year, bank holidays, weekends etc and trying to get one that would still have been valid from where we were in Germany was also problematic.
Bear also in mind the restrictions on overnight hotel/accommodation stays except in certain narrow circumstances in many countries.
Graz was the (nearest) only option with an open testing centre, working lab and results quick enough.
So we backtracked and went there. If that wasn't an option we'd have had to go all the way back to Bonn.
So back through Croatia, Slovenia and into Austria.
Test done and back into Slovenia to await the results.
Twenty four hours later mine came via SMS with an internet link. Not though for Mrs M. The testing centre was now closed for the Sunday and we didn't know where/what the lab was, so we couldn't make contact to ask why.
We continued to wait but there had to come a point whereby I'd continue on alone so I could try and enter again within the time frame.
And so........ I left. Not unusual for me to be doing things alone so no great stress but would have been nice to been able to do what we intended and be together. But, in incidents like this I always ask, 'what is the worst that could happen?' - it'd be being knocked back yet again, driving back for another test or some other paperwork and the only thing lost would be time - apart from one thing I'll mention in a minute.
It's a good job I like Croatia and Slovenia but going in and out of it yet again does get tiresome, I must admit. I'm lucky and grateful they just kept letting me/us through.
Rocked up again at the Bosnia border, said, "Dobar dan" (Good day) handed over my passport and certificate, said "Sarajevo", smiled, and she let me through.
I think it was the smile that did it.
Several hours later in torrential rain I entered Sarajevo, negotiated a parking garage under the apartment that needs a shoe horn for me to get the car into its space (precision and sixteen point turns) and is not what you need after a journey like that, also a landlady who rattled on and on in a totally unfathomable language and then I put the kettle on for a coffee (Nescafe, one sugar, spot of milk).
Job done for me.
Mrs M's test results eventually did come through, but not until the next day, i.e. 48 hours after the test which by then were useless to enter Bosnia with. I'll fill you in on her another time.
If I had been knocked back again the problem would be that one of my daughters was flying in to Sarajevo the morning after and I wouldn't be there to sort her out, so losing time going back yet again would have been a difficult set of circumstances to overcome. Do-able, but not easy or convenient.
As it did turn out I as there at the airport early to wait for her - but - for her the timings between test and arrival meant only I happened to notice just before I set off to the airport when I asked her for and was sent the test result, that the 48 hours were up more than three hours before she arrived.
I had a tense time waiting and wondering if the Immigration official would send her away and back - though she'd had the results checked at check in, in Germany and nothing was said. I'm naturally a pessimist where to comes to any border requirements and have been refused entry to several countries, several times just on the whim there and then of an official.
On landing the Bosnian official did have a bit of a squint at the test result she told me, but let her through. At the time she didn't know why the hesitation and mentioned it when I asked if the certificate was ok. I then told her why I had reservations about it. She'd not noticed she said.
All well so far that ends well.
It was a bad time of the year to do this journey but circumstances dictated it needed to be done then and anyway, why do things the easy way when you usually get a (good?) story out of a difficult way. Though I do have a few more grey hairs. We are both quite pragmatic about problems, these things don't leave us as jibbering wrecks and we both are solution orientated. It is what it is.
To add to the excitement a couple of photos taken during one of the short spells so far when it hasn't been raining. Though overcast and gloomy.
Sarajevo is set out in a valley running roughly east/west. The far east is the older quarter and that's where I am. I have a view, which I'm sure will be nice when the sun comes out, over the top of the surrounding houses from a balcony to the hills to the south of the river.
Nope, I can see bugger all definition either in real life. It's all a bit of a blur but at night, through the rain, the house and street lights are nice an twinkly -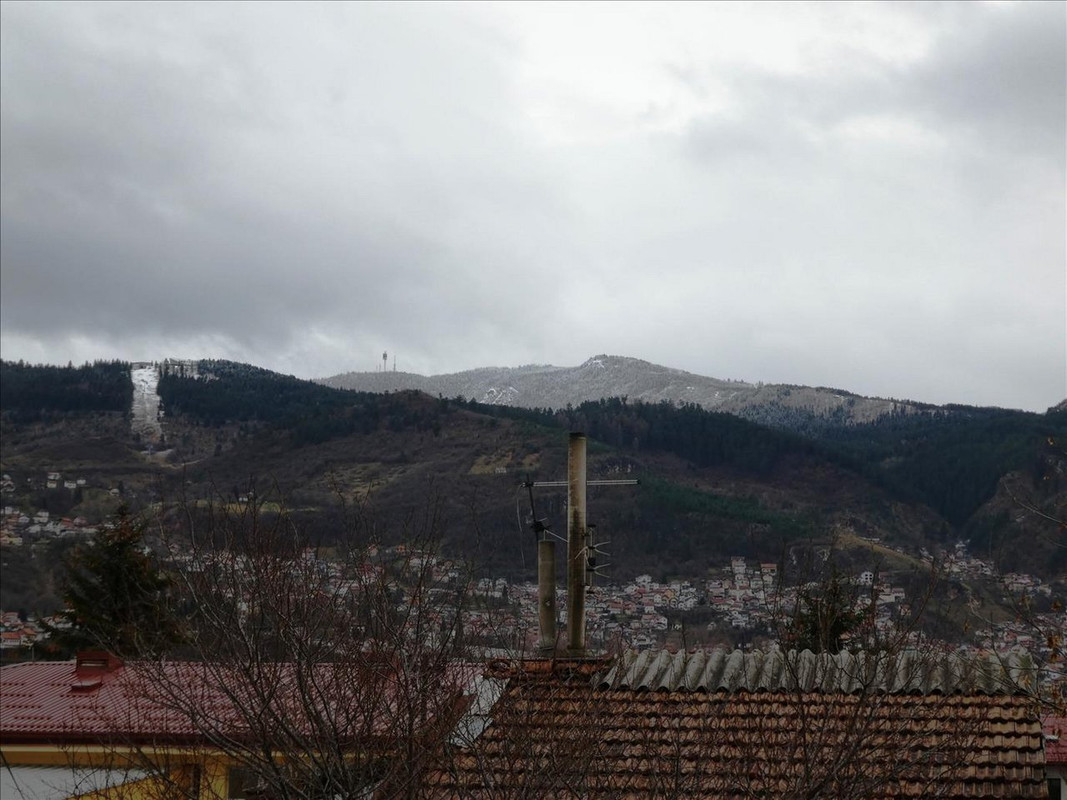 Just either side of me -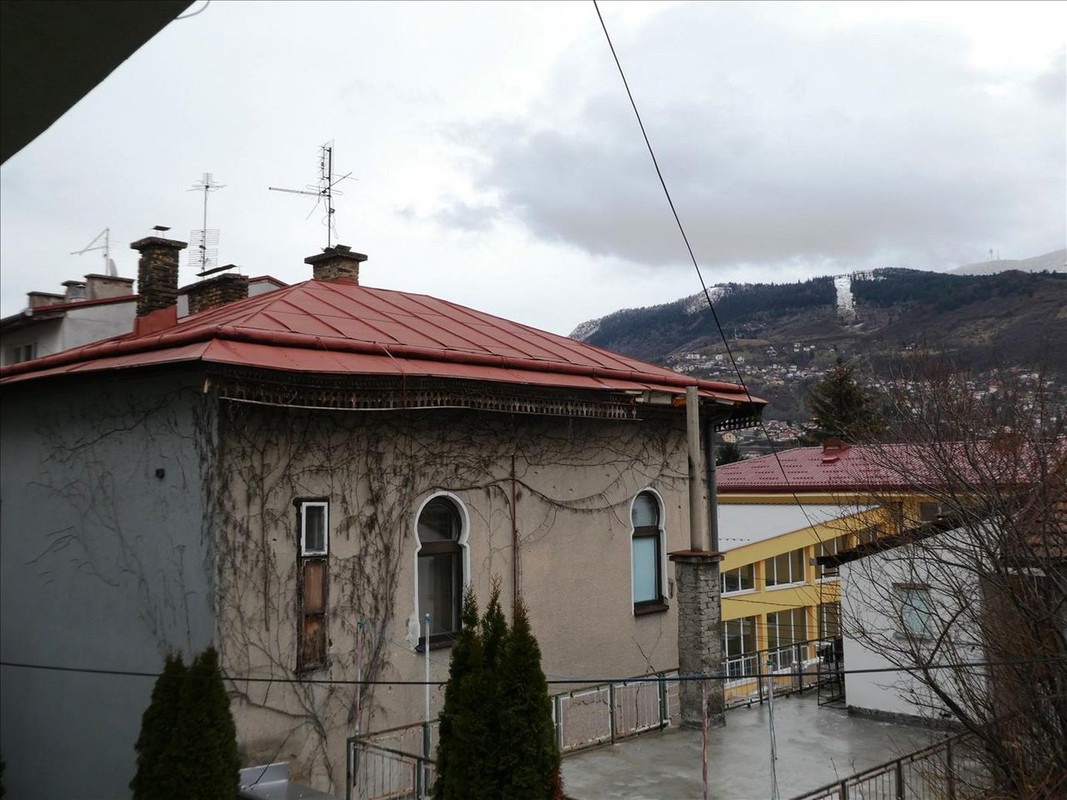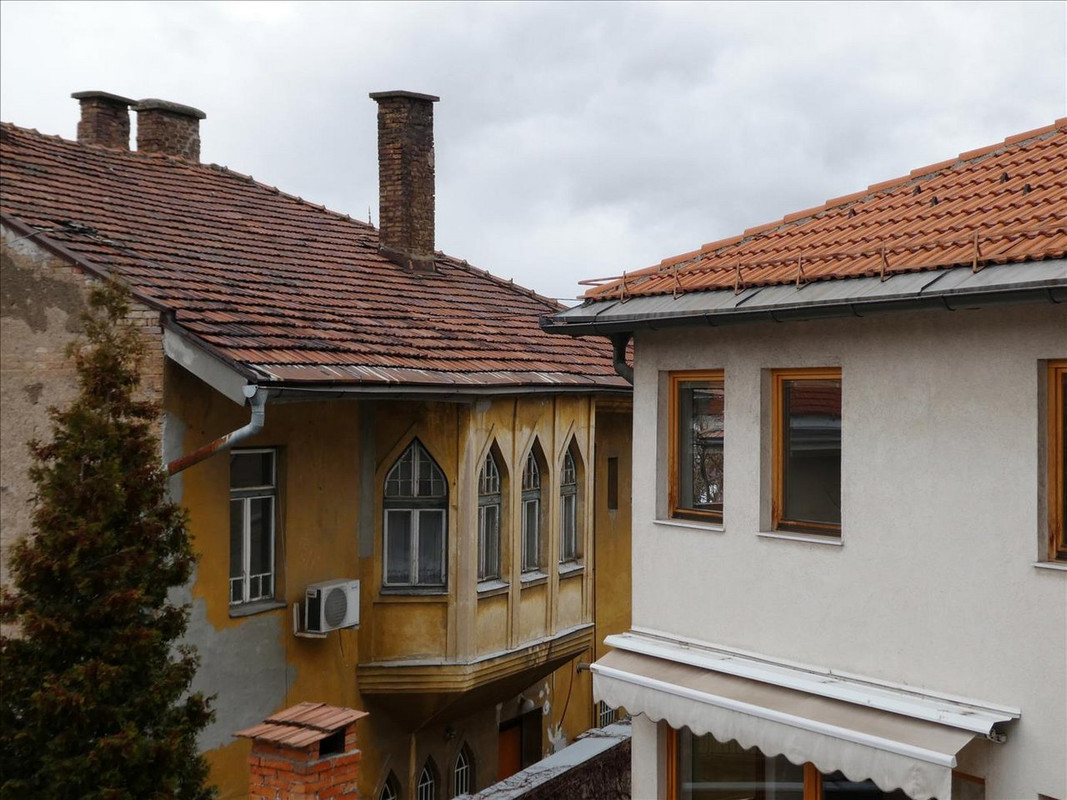 On a last note, my Bisto gravy granules were fine. I know you were wondering about them and had to read to the end just to find out for sure. It was a concern, but good packaging won through.