Mostar
Apr 5, 2021 9:45:07 GMT
Post by onlyMark on Apr 5, 2021 9:45:07 GMT
Two and a half hours drive away from Sarajevo is Mostar. The drive is very pleasant and at times, quite spectacular.
Initially a nice and fairly new motorway whips you away from the capital, but this soon runs out. Eventually, but don't hold your breath, this will form a corridor cutting north to south through Bosnia to the coast from the border with Croatia.
A quarter, 30km, of the journey between Sarajevo and Mostar is on the motorway (toll cost equivalent to one Euro thirty cent), the next quarter is on a normal road cutting through the hills and mountains to Konjic, the subject of a previous report. The latter half then follows the Neretva River valley through a few gorges to Mostar. This section is replete with restaurants and often with a view overhanging the river. At the time of our journey, both ways on a Sunday, they were quite busy with many cars parked in their car parks.
When we set off it was 8 degrees Celsius in Sarajevo, at the highest point on the journey it was just 2 degrees but in Mostar a pleasant 13 degrees and sunny, though the wind was quite cutting.
Two Police checkpoints were passed, not permanent ones, just them trying their luck on the road, but on seeing the German registration plates, just waved us on.
There was a flittering of snow at the high point and again just before the return to the capital.
Enough of setting the scene, we'll move on.
Mostar is mainly famous for its Ottoman bridge, Stari Most (Old Bridge). Originally, at some time on the 15th century, a wooden and fairly unstable suspension bridge was built but after the Ottomans took over it was replaced in 1566 by a stone bridge.
Mostar itself is supposed to be named after the 'bridge keepers', the Mostari.
This stood until the 9th November 1993 when to worldwide condemnation, Croat paramilitary forces decided to shell it and destroy it.
Why? Was it of strategic importance?
Maybe the following will give you a clue -
"Newspapers based in Sarajevo reported that more than 60 shells hit the bridge before it collapsed. Croatian General and sentenced war-criminal, Slobodan Praljak, in attempt to absolve himself and his military units from responsibility and prosecution for the destruction of the bridge and other crimes committed during the war, published a document, "How the Old Bridge Was Destroyed", where he argues that there was supposedly an explosive charge or mine placed at the center of the bridge underneath and detonated remotely, in addition to the shelling, which caused the collapse. Most historians dismiss these claims, and disagree with its conclusions.
After the destruction of the Stari Most, a spokesman for the Croats said that they deliberately destroyed it, because it was of strategic importance. Academics have argued that the bridge held little strategic value and that its shelling was an example of deliberate cultural property destruction. Given that mosques, synagogues, and churches in Mostar were in close proximity, the Old Bridge was targeted for the symbolic significance it served in connecting diverse communities. Andras Riedlmayer terms the destruction an act of "killing memory", in which evidence of a shared cultural heritage and peaceful co-existence were deliberately destroyed."
At the end of 1993 Spanish military engineers constructed a temporary bridge which was upgraded a further three times until 23rd July 2004 when the "old" one was officially opened after reconstruction.
en.wikipedia.org/wiki/Stari_Most
Let's have a walk round.
We parked up just outside the town centre and walked in. Still quite a lot of destruction showing -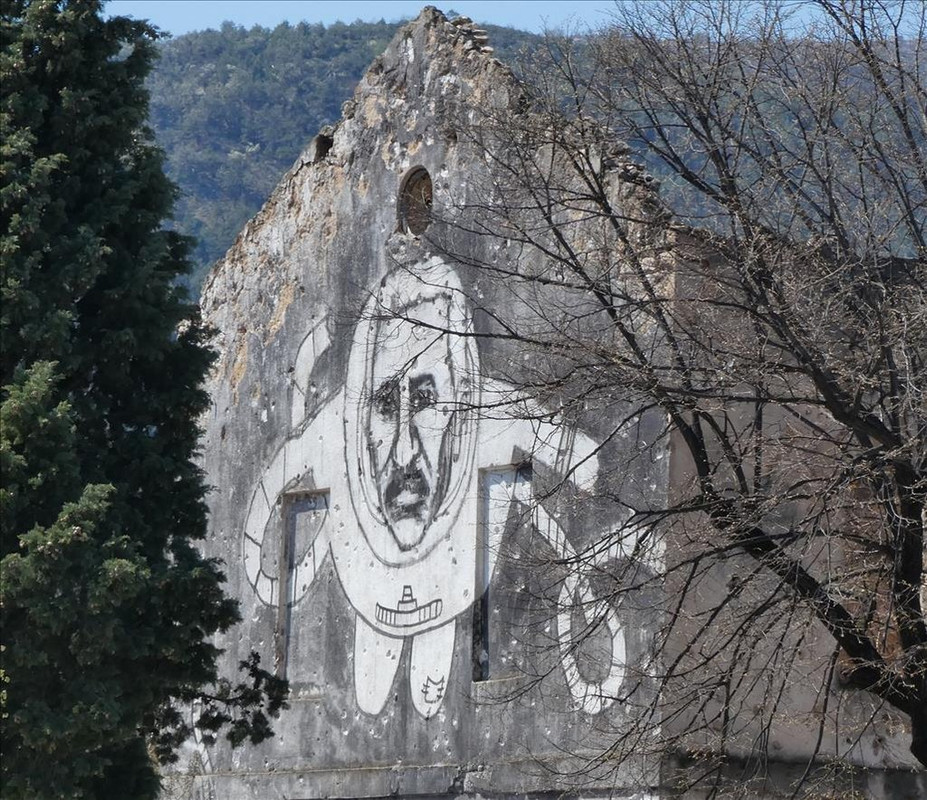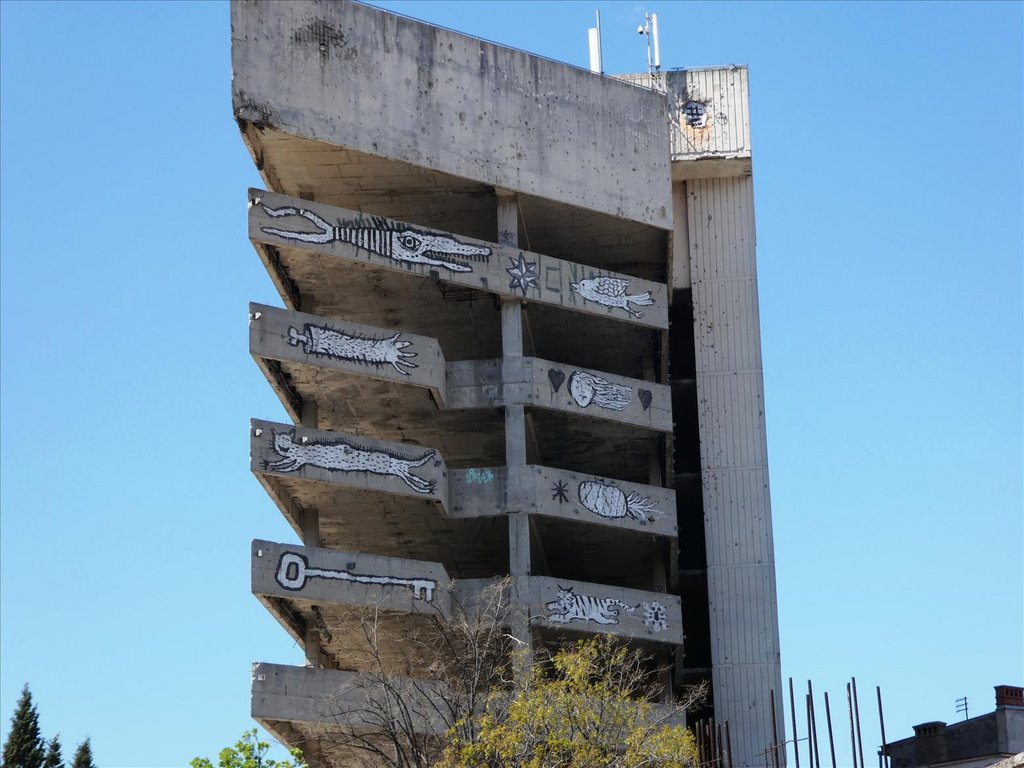 This is the Gymnasium - a series of schools under one roof which though built in 1893 also suffered from a lot of damage during the Bosnian War but was renovated/reconstructed -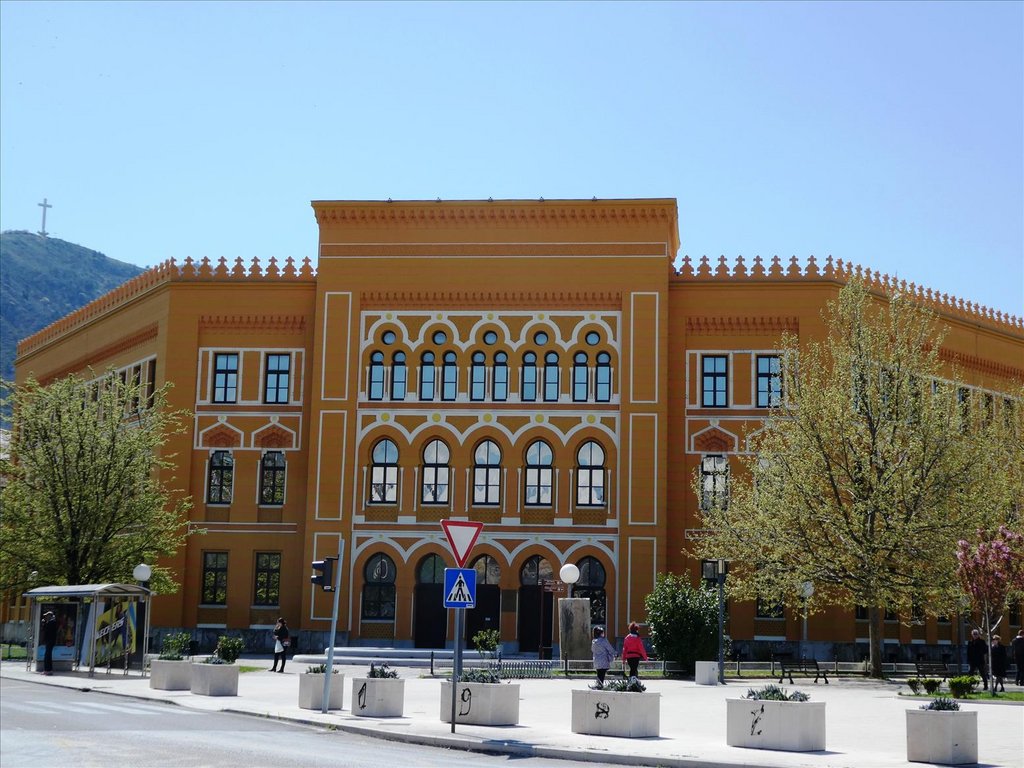 Continuing on with the destruction theme -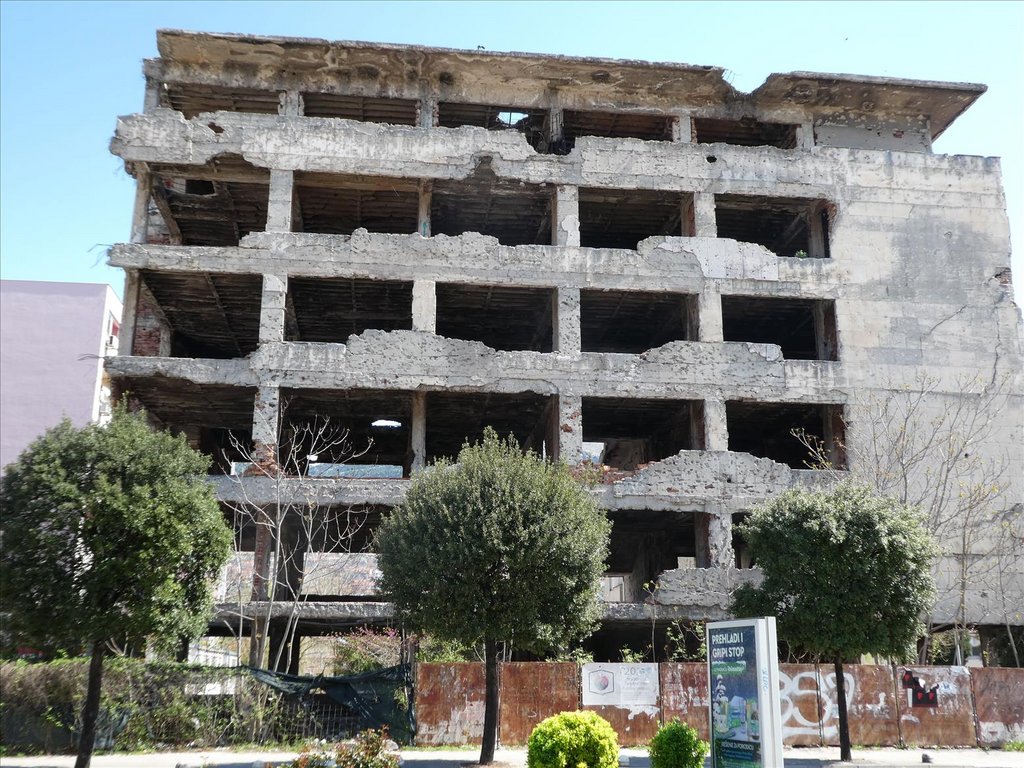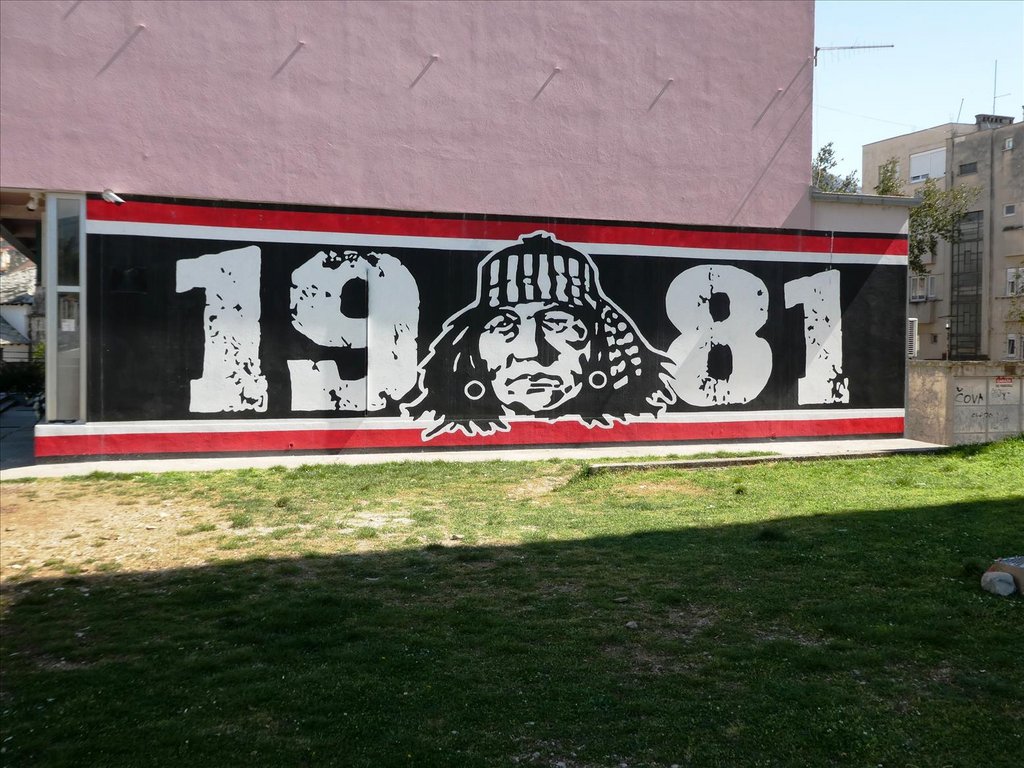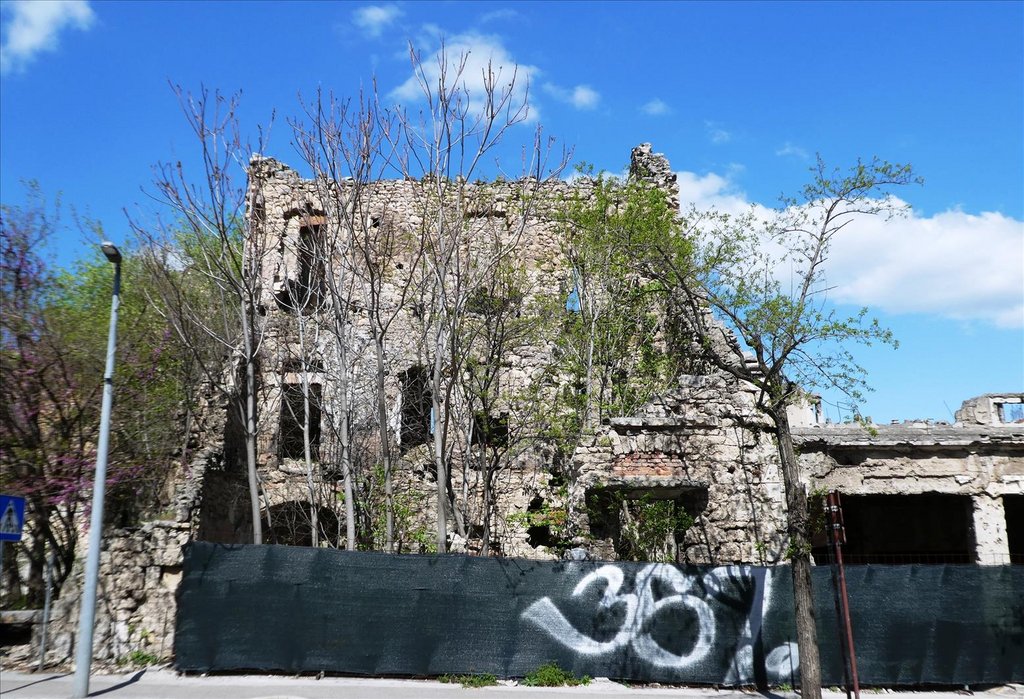 I think you may have spotted the 1981 thing.
I was initially curious as to its significance. Saw it eventually quite a few times and decided it was either something to do with beer or football because as far as I knew there was nothing particularly happening locally in 1981.
Other markings of the same ilk also mentioned "Red Army".
Between Mrs M and myself we are usually reasonably knowledgeable about history, especially with somewhere we had decided to live and researched in to.
On returning home we found it was in fact to do with football - though the figure, which looks to me like a native American Indian I have no answer for.
"Red Army was founded in 1981 in Mostar under the name Crveni šejtani (Red Devils)....."
en.wikipedia.org/wiki/Red_Army_Mostar
We ended up down by the river but a little distance from the bridge. So we made our way to it. The river, clean, good visibility and scenic, is bitterly cold -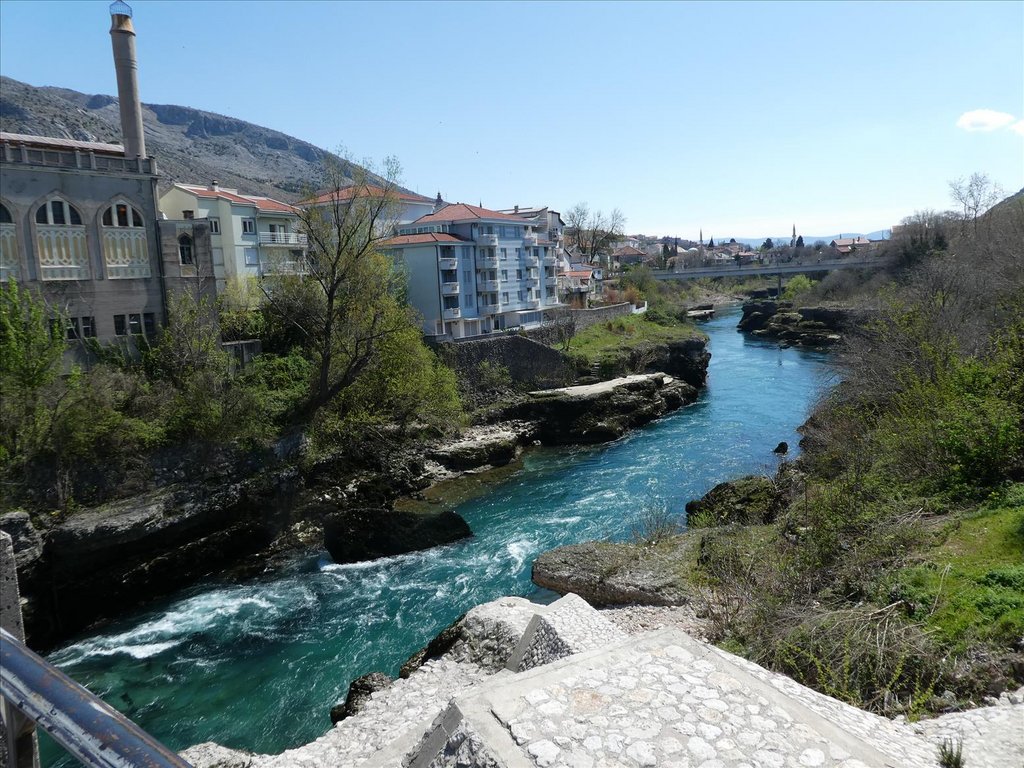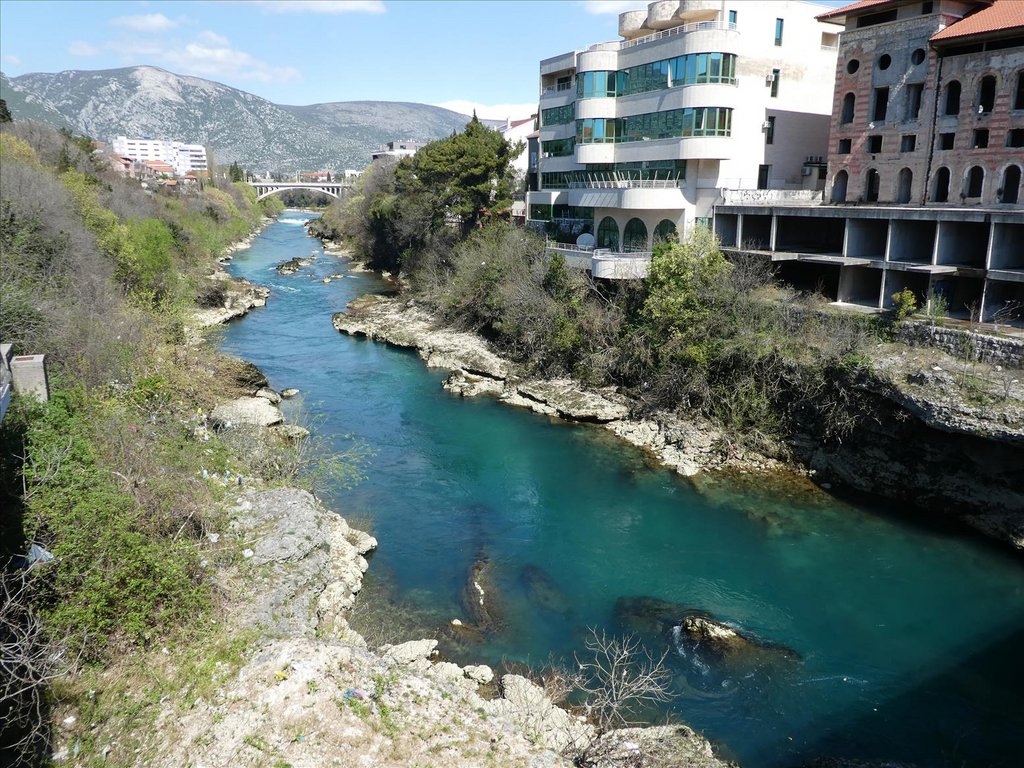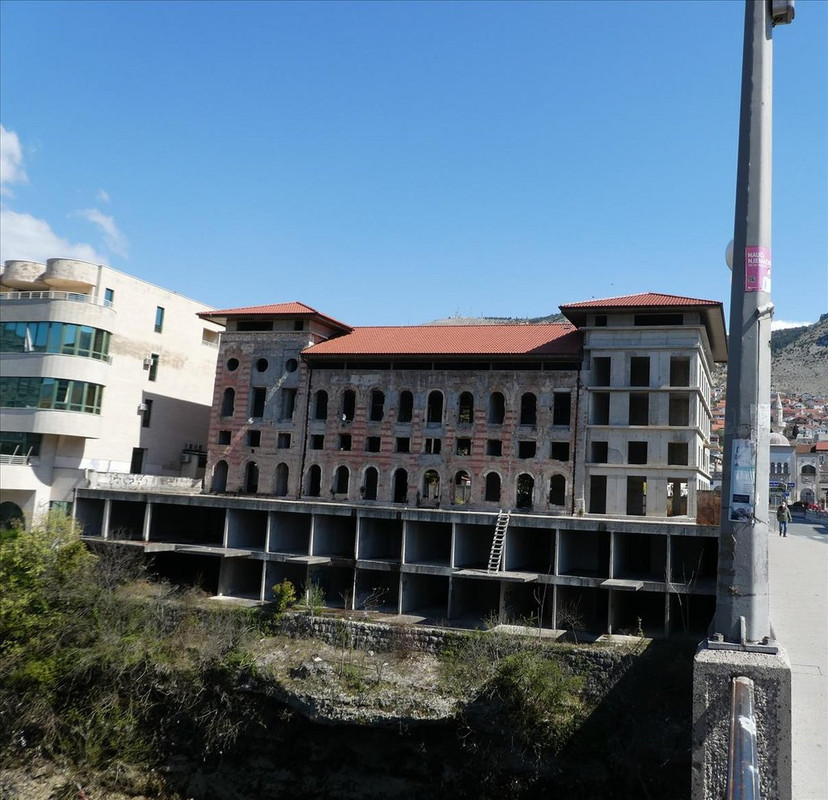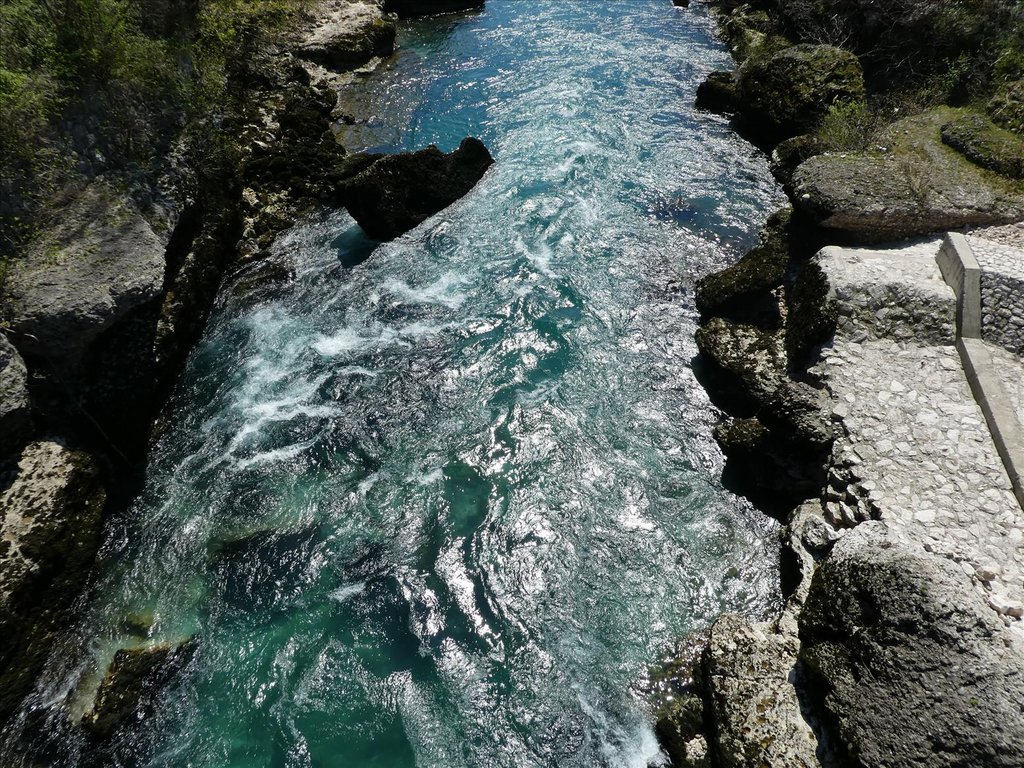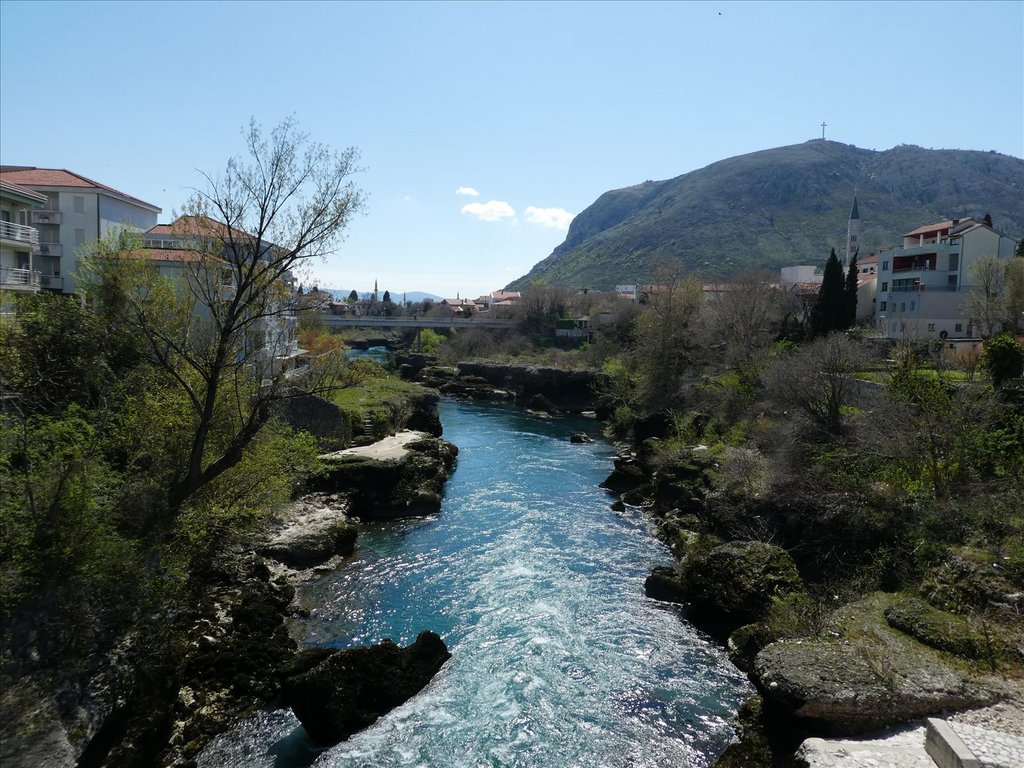 We hit the edge of the old town and walked through it. The old town is now a UNESCO heritage site -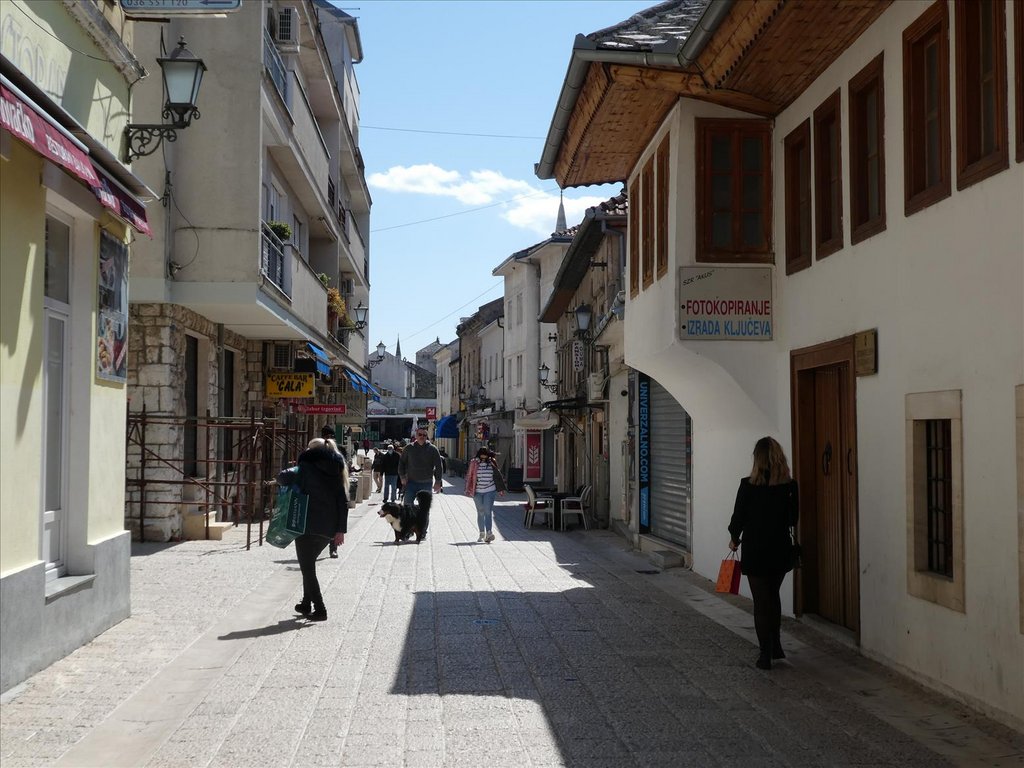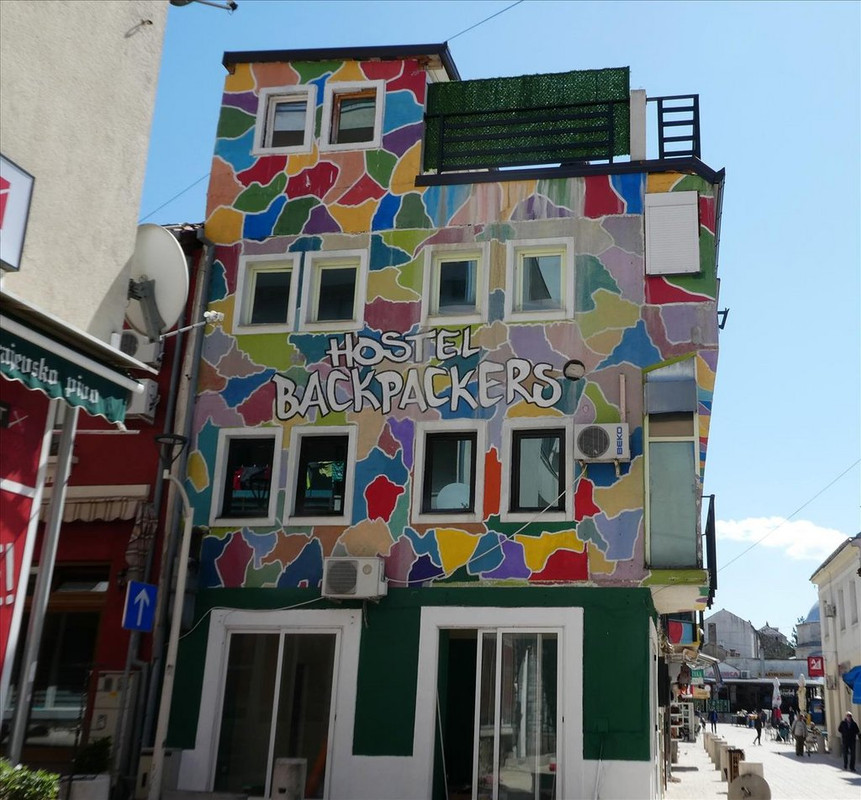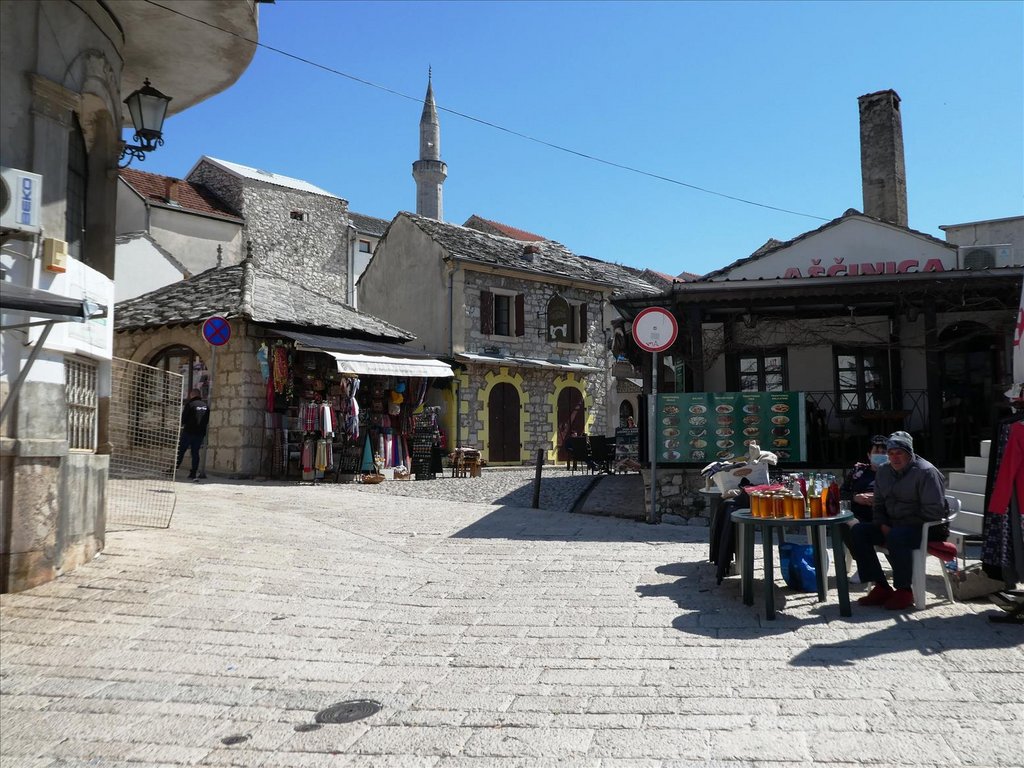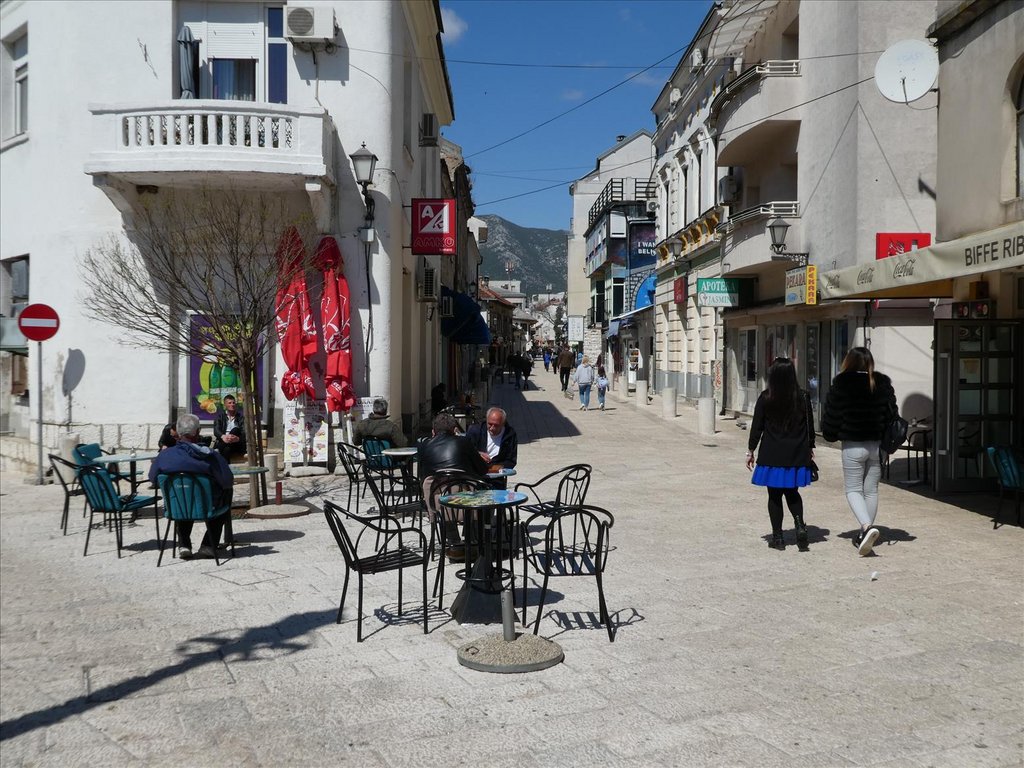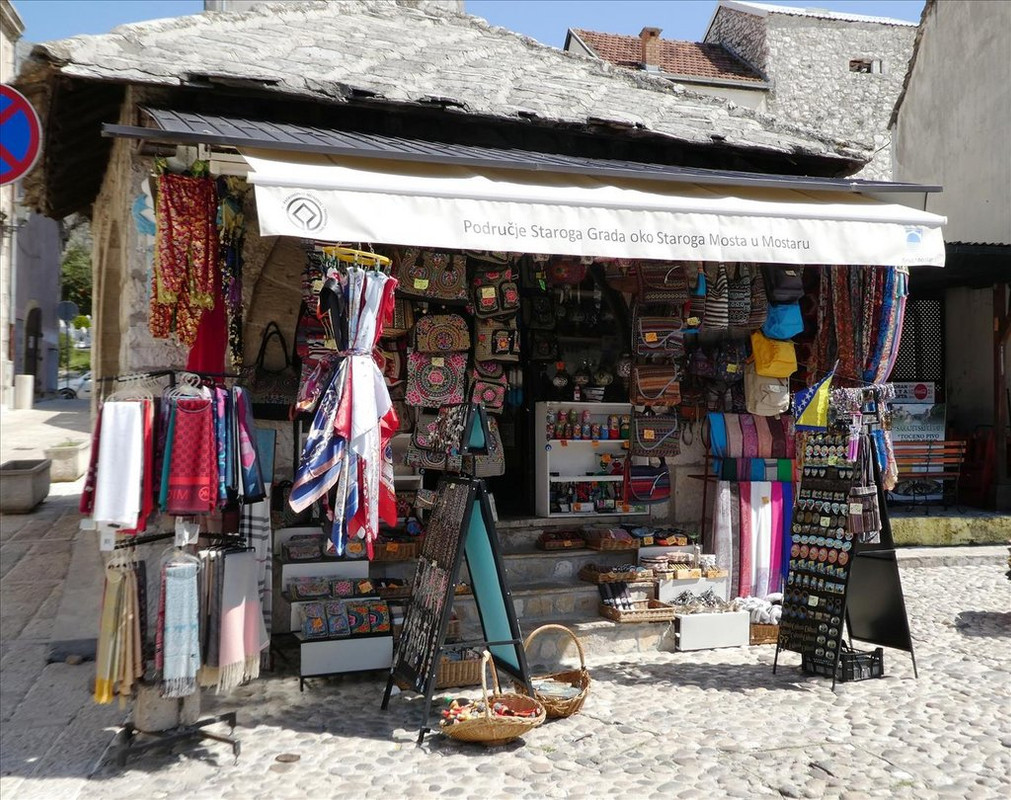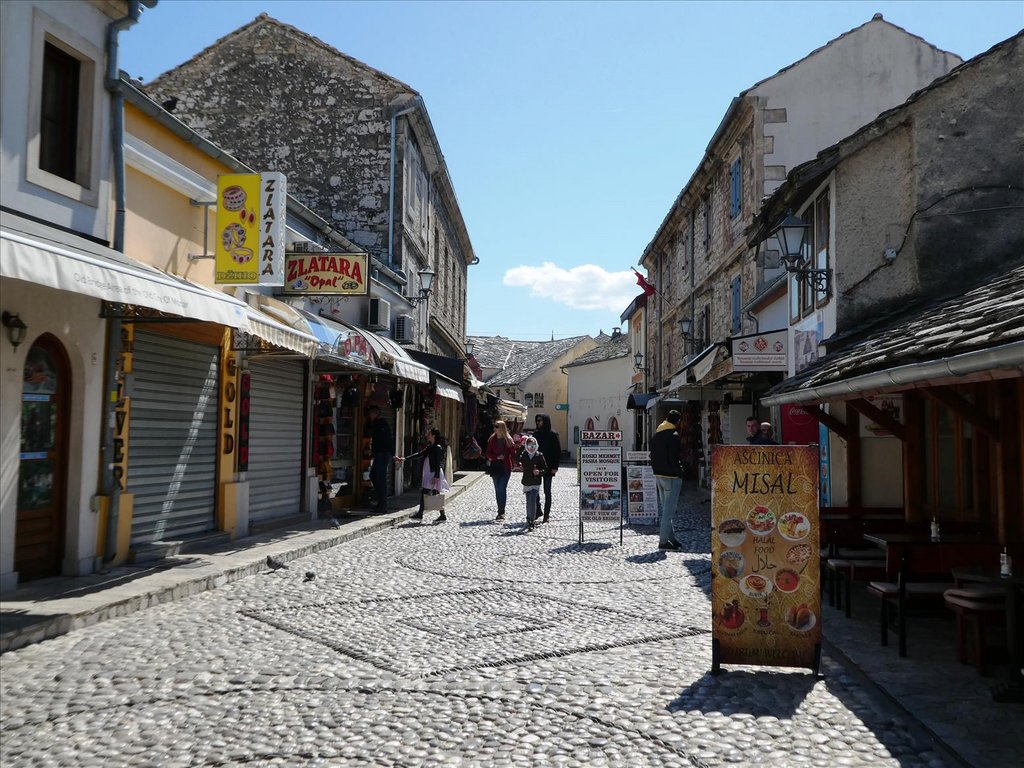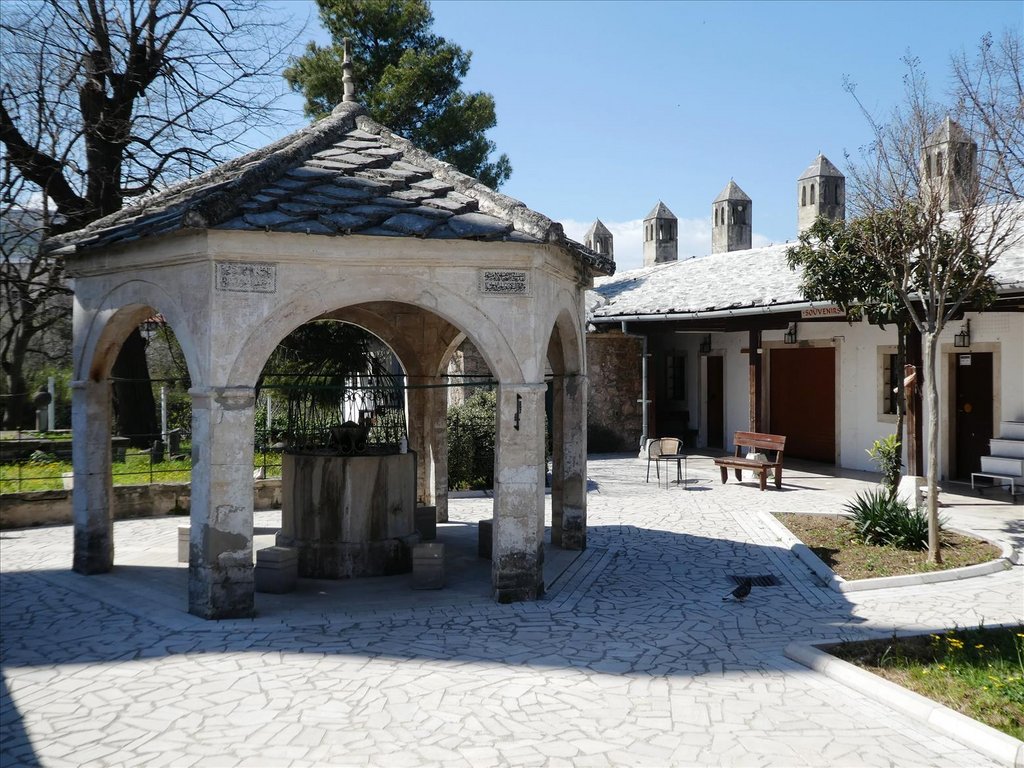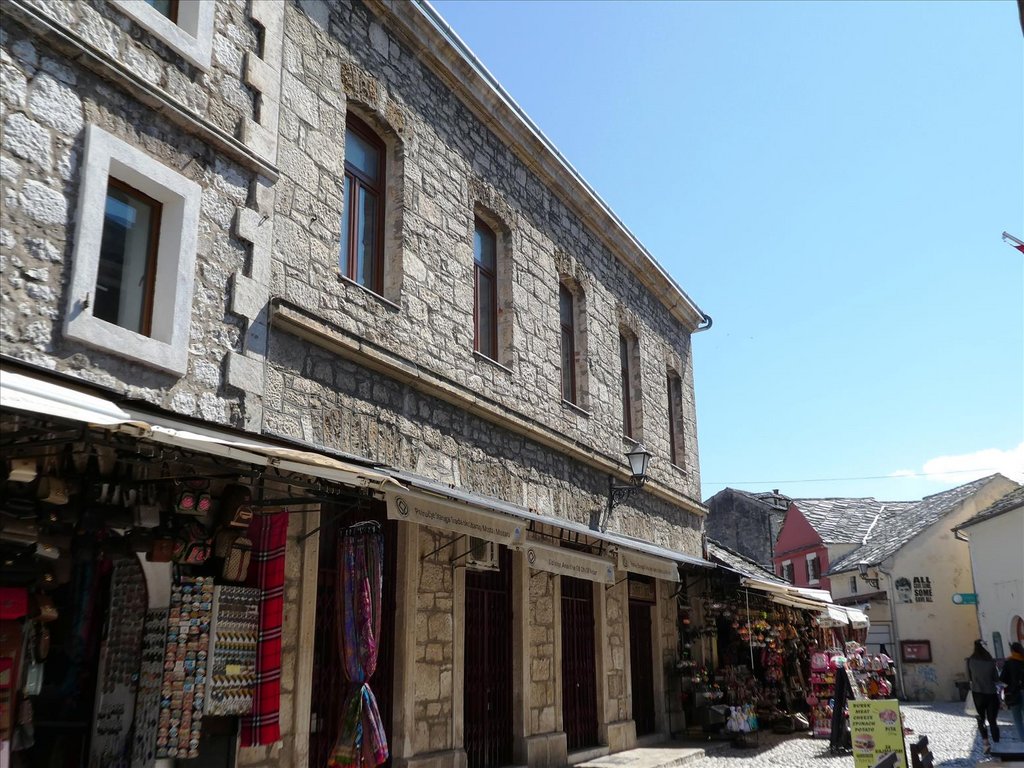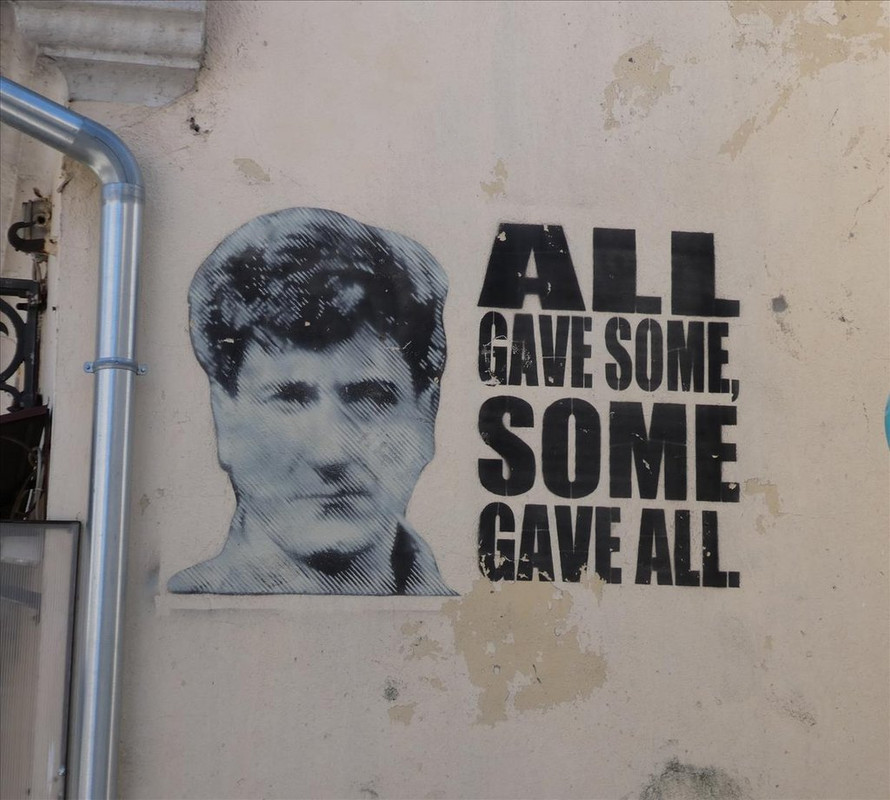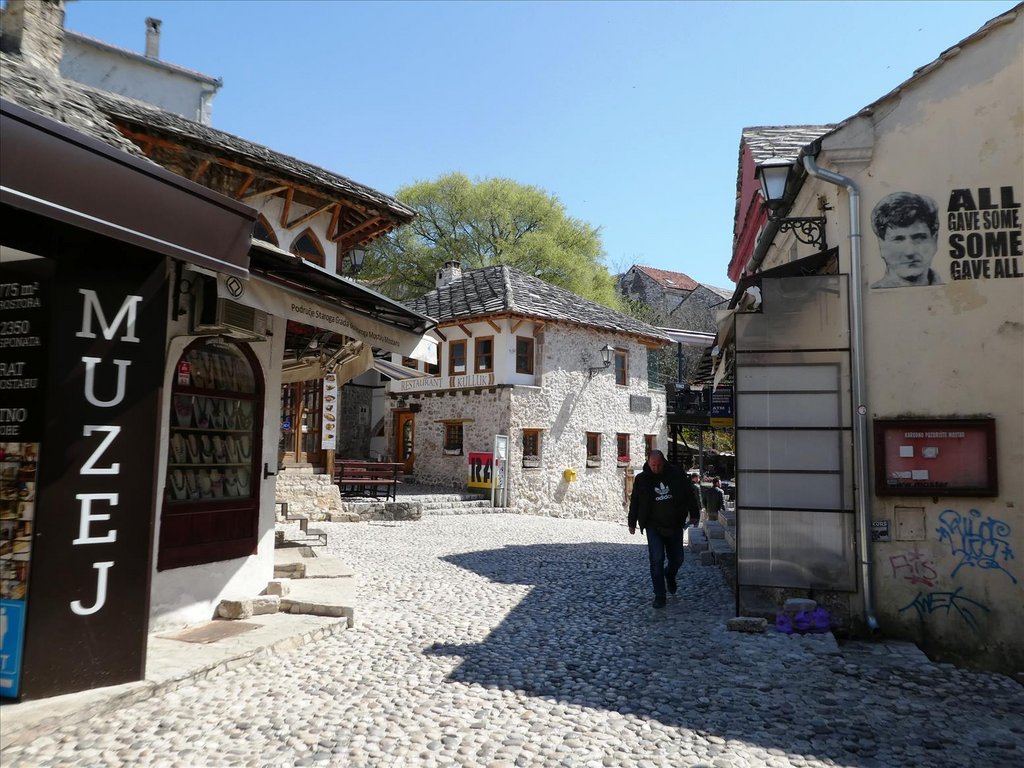 The last corner before a view of the bridge -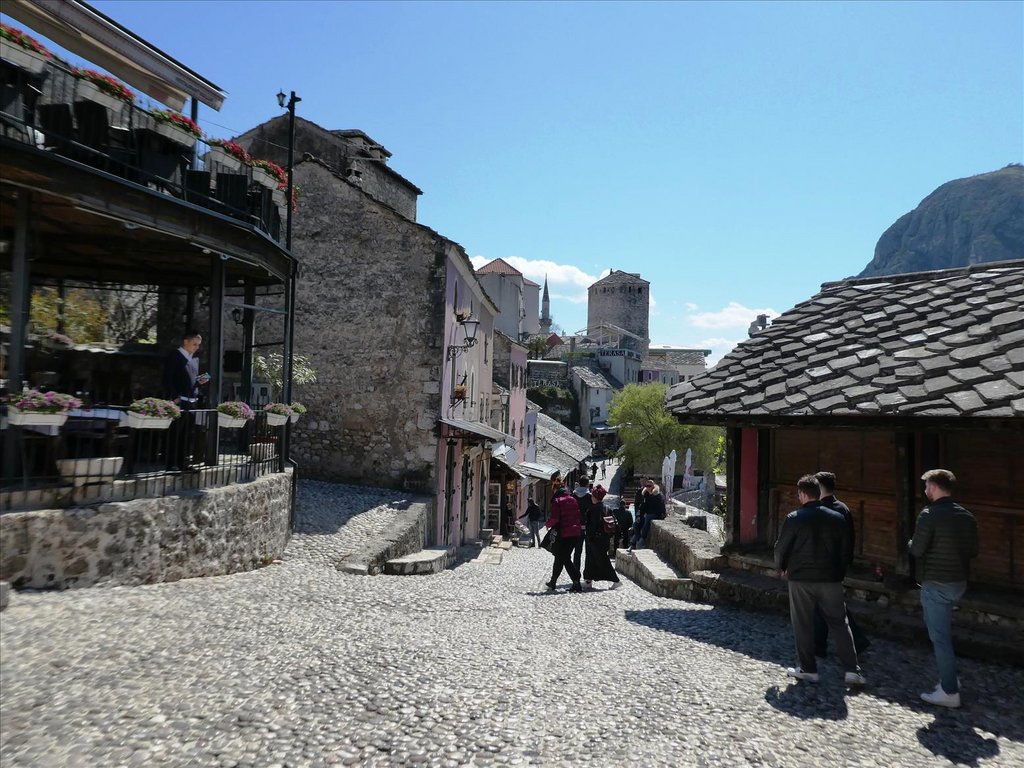 That'll be it then and we meandered to it -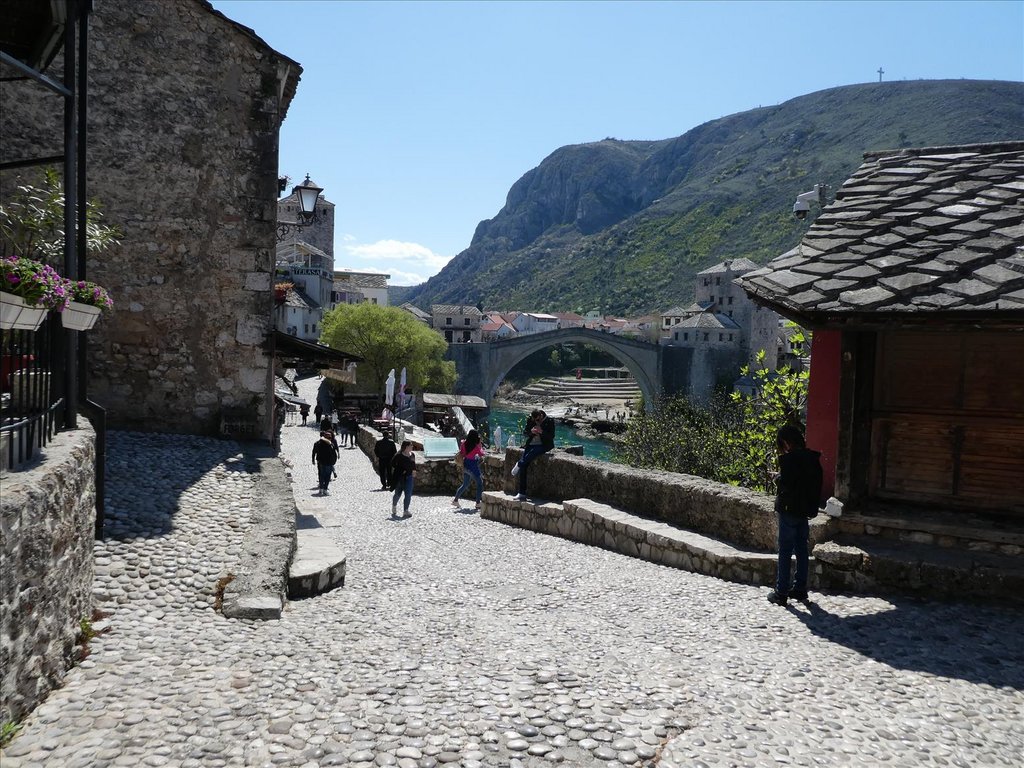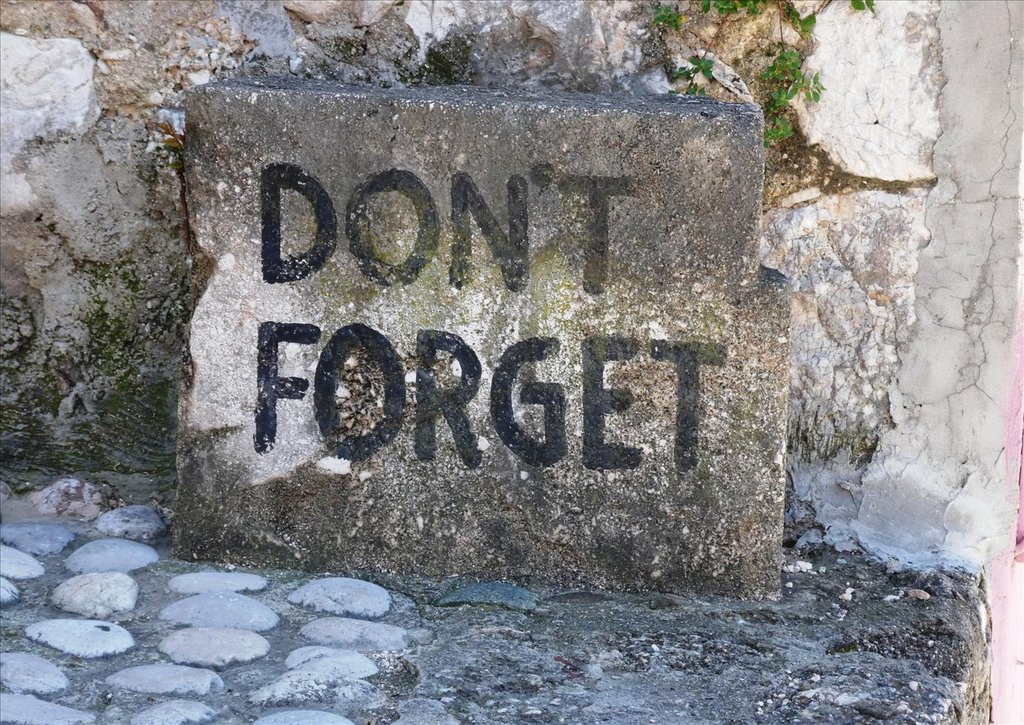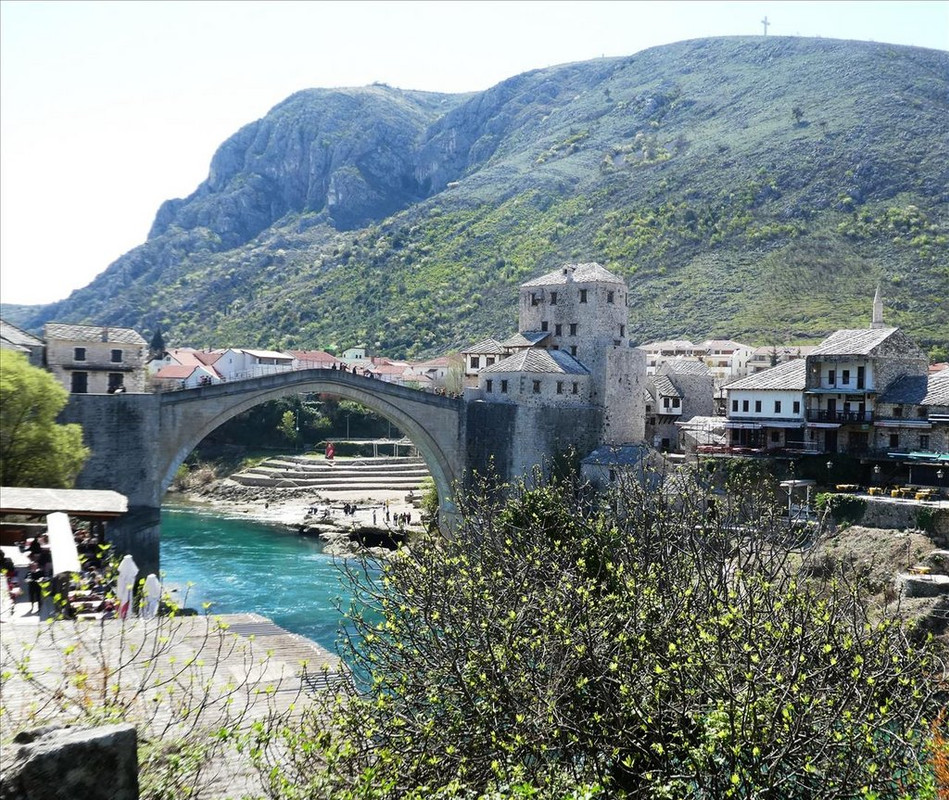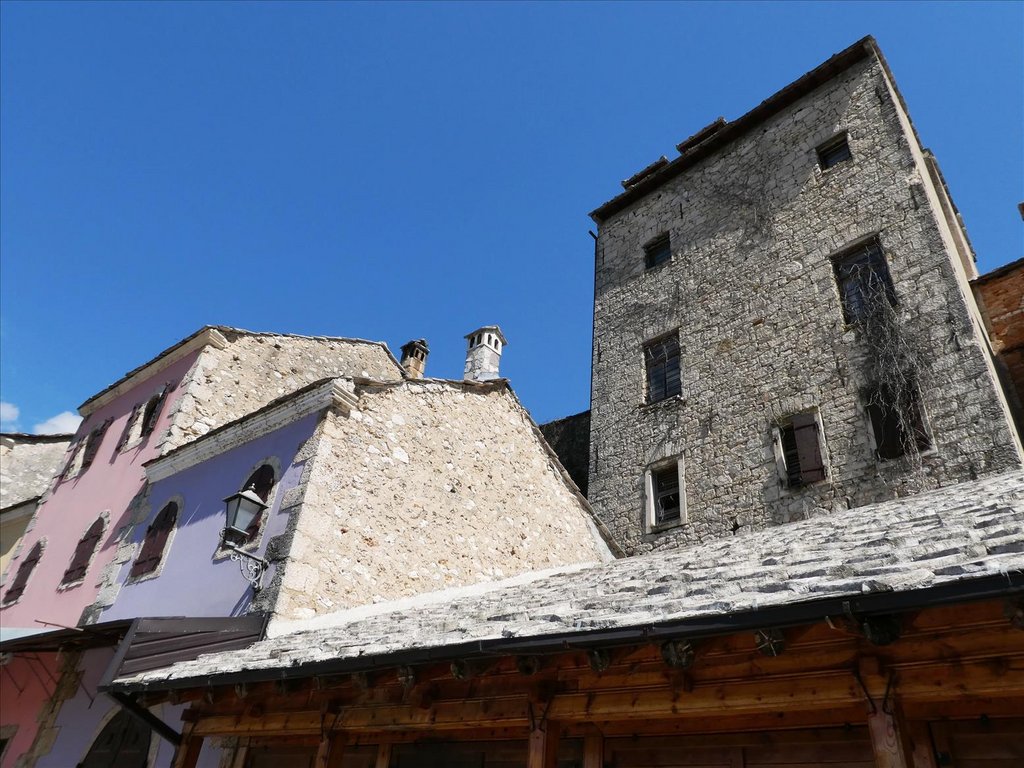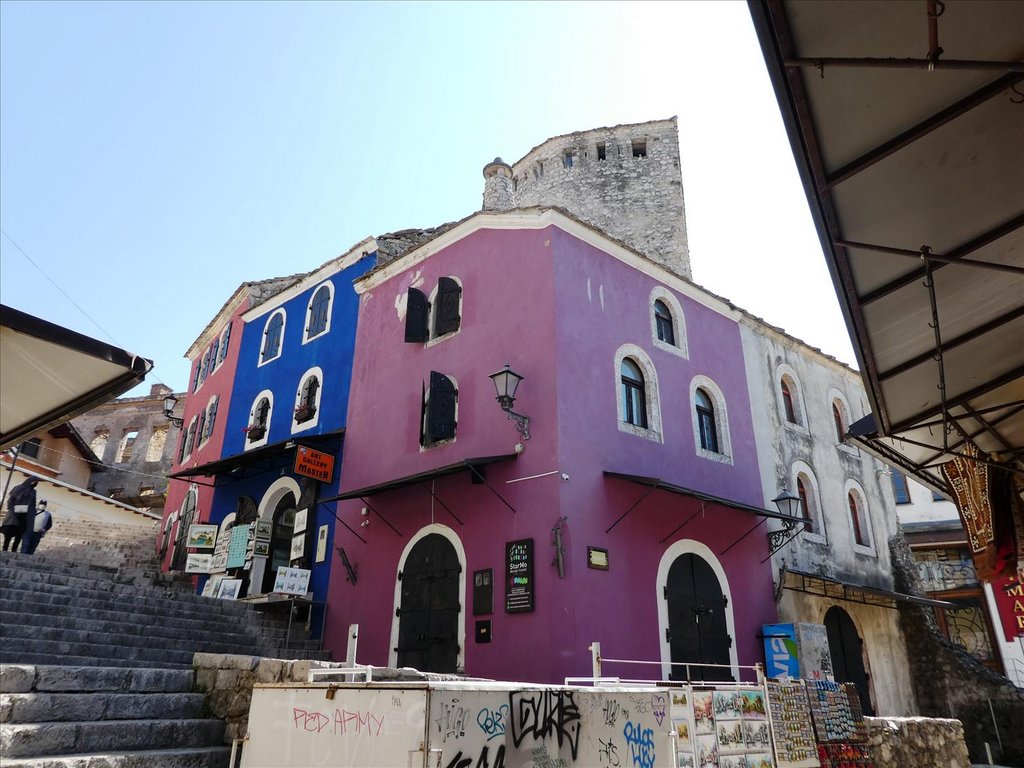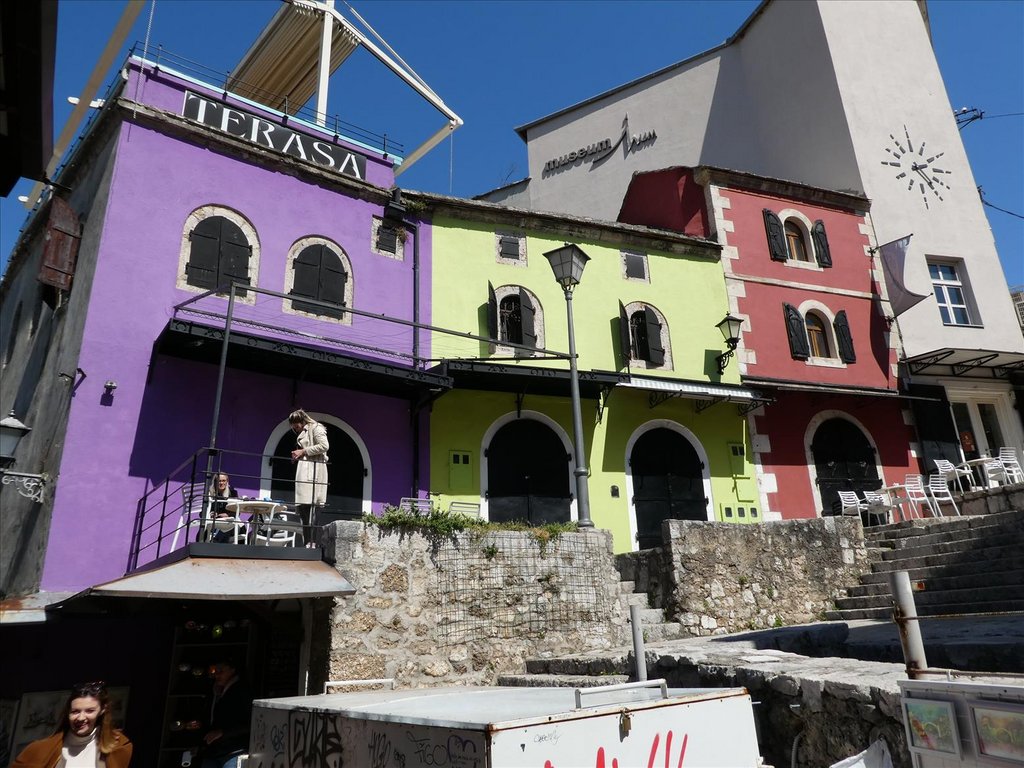 The way onto and to cross the bridge and the views from it -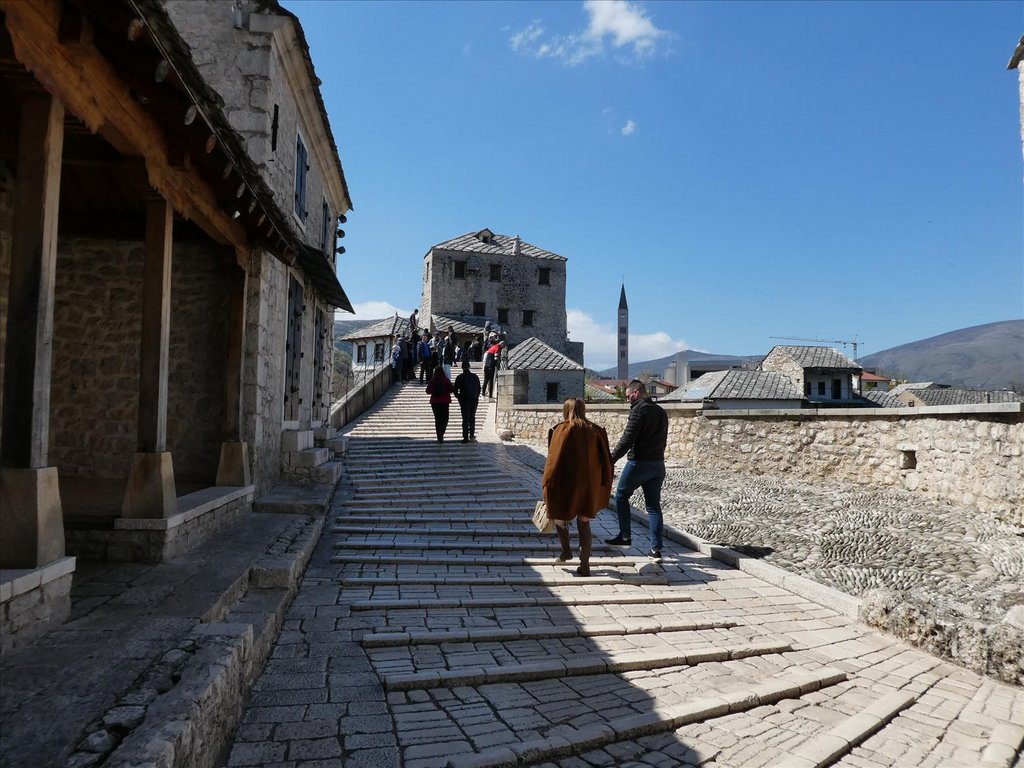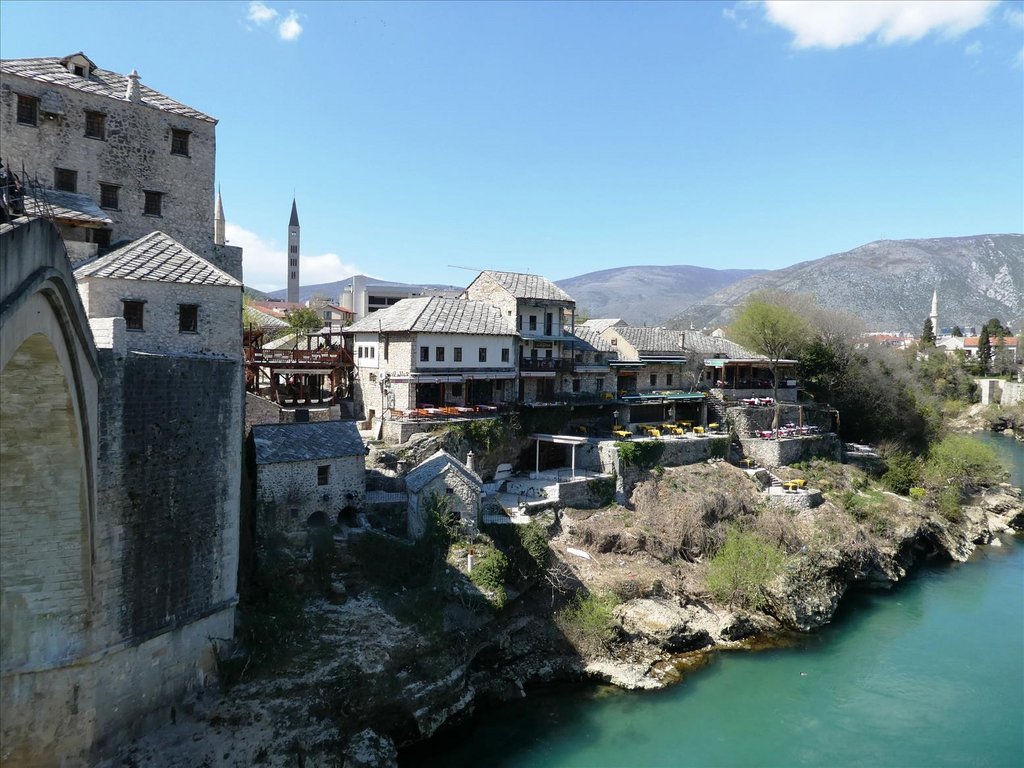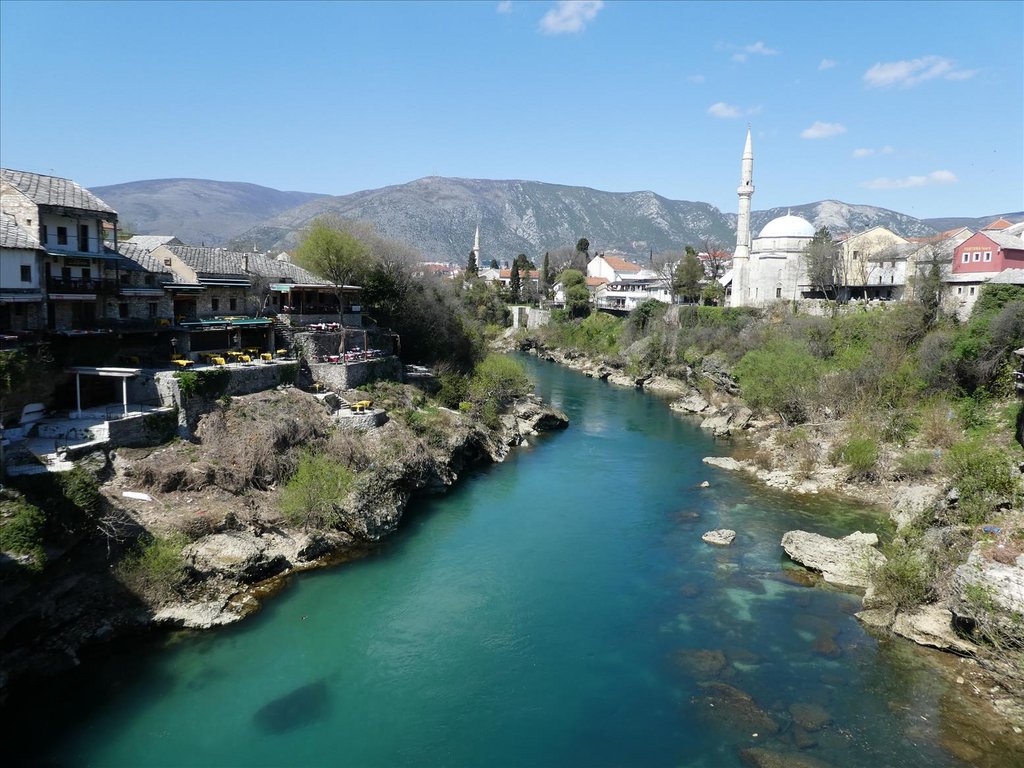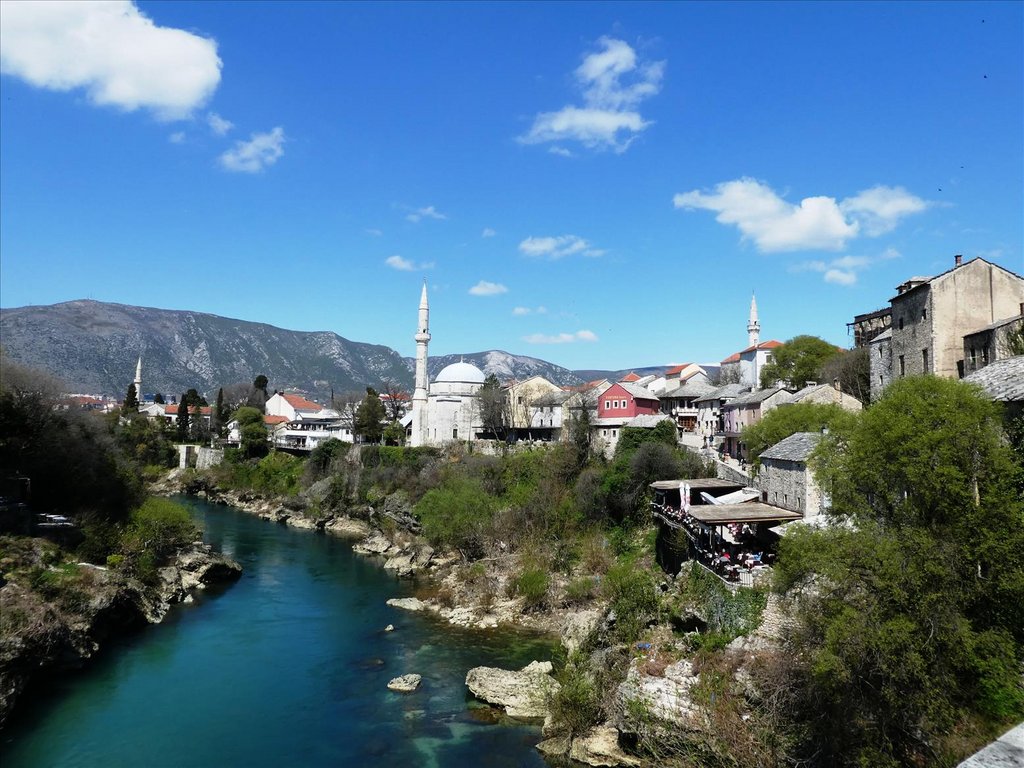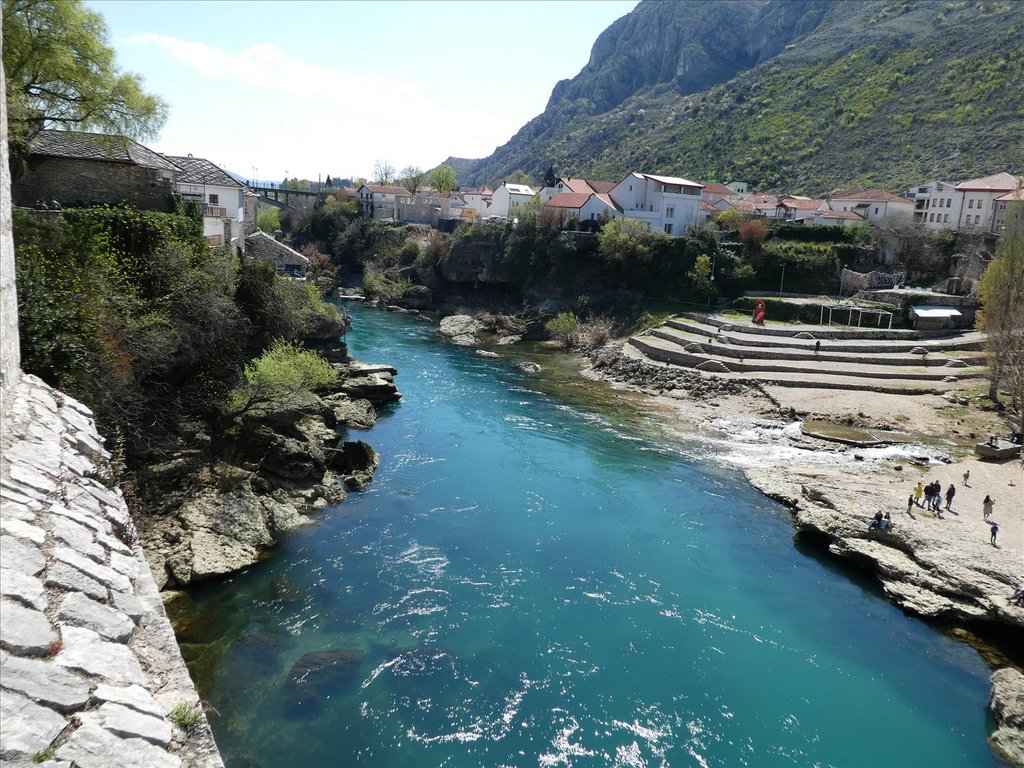 The bridge is also famous for competitions diving off it and those that wish to make a living from getting tourists to pay for the spectacle. This man I heard negotiating to be paid twenty five Euros which was not forthcoming, so he stayed where he was -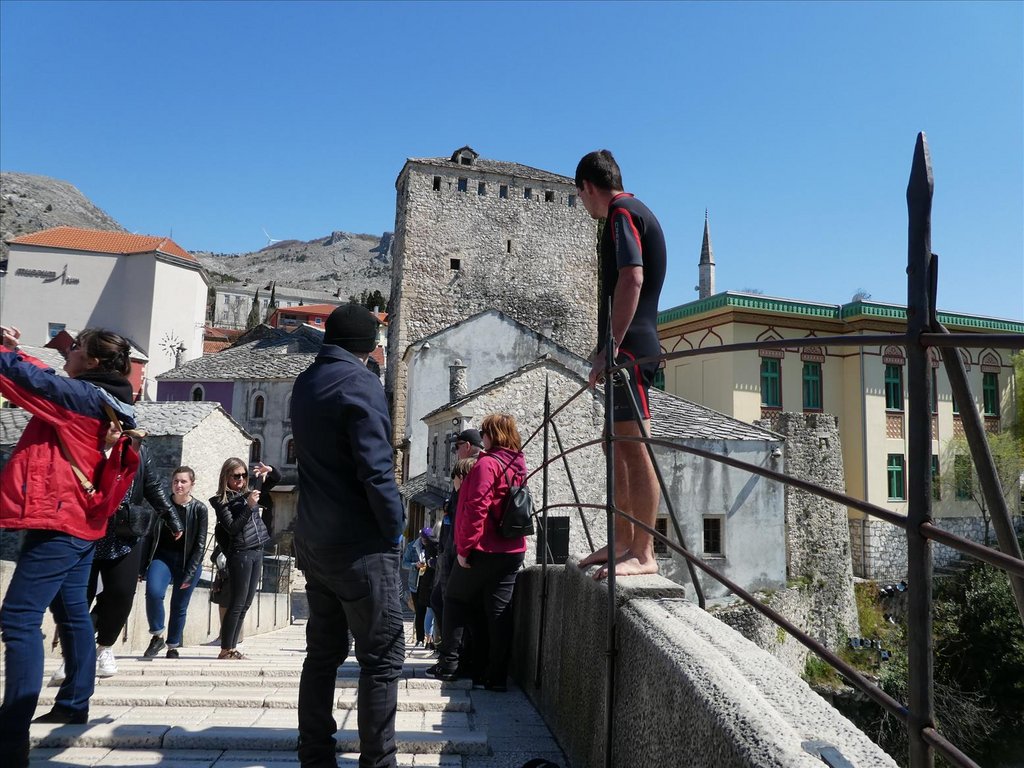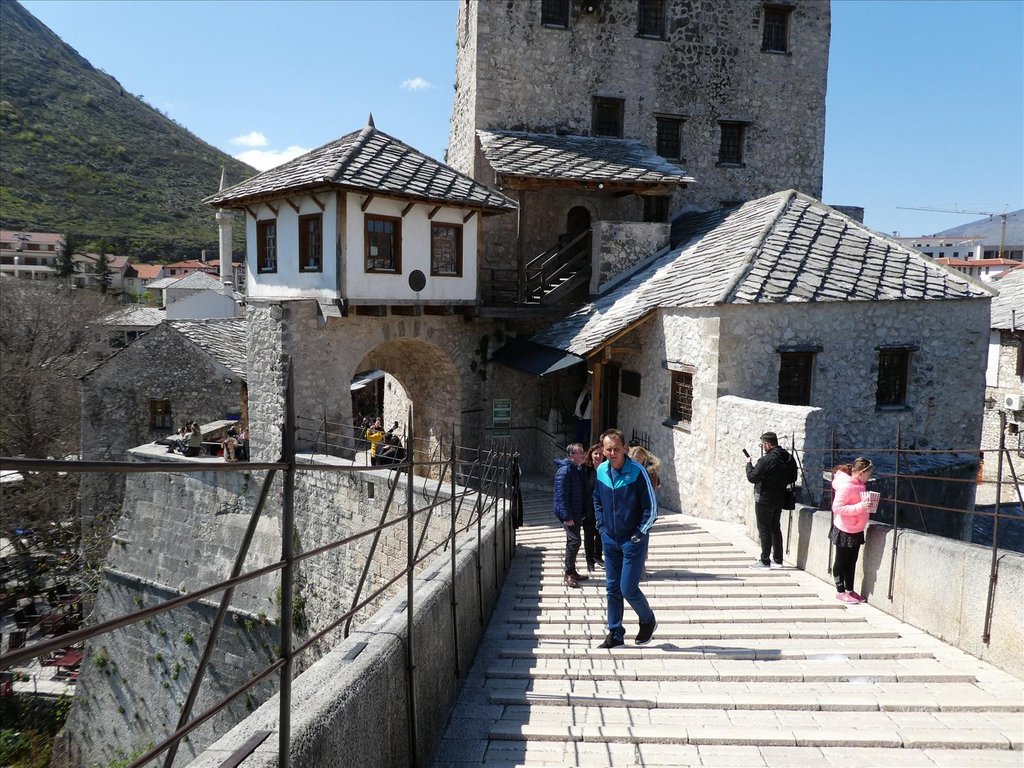 Down there is the classic spot to take a photo -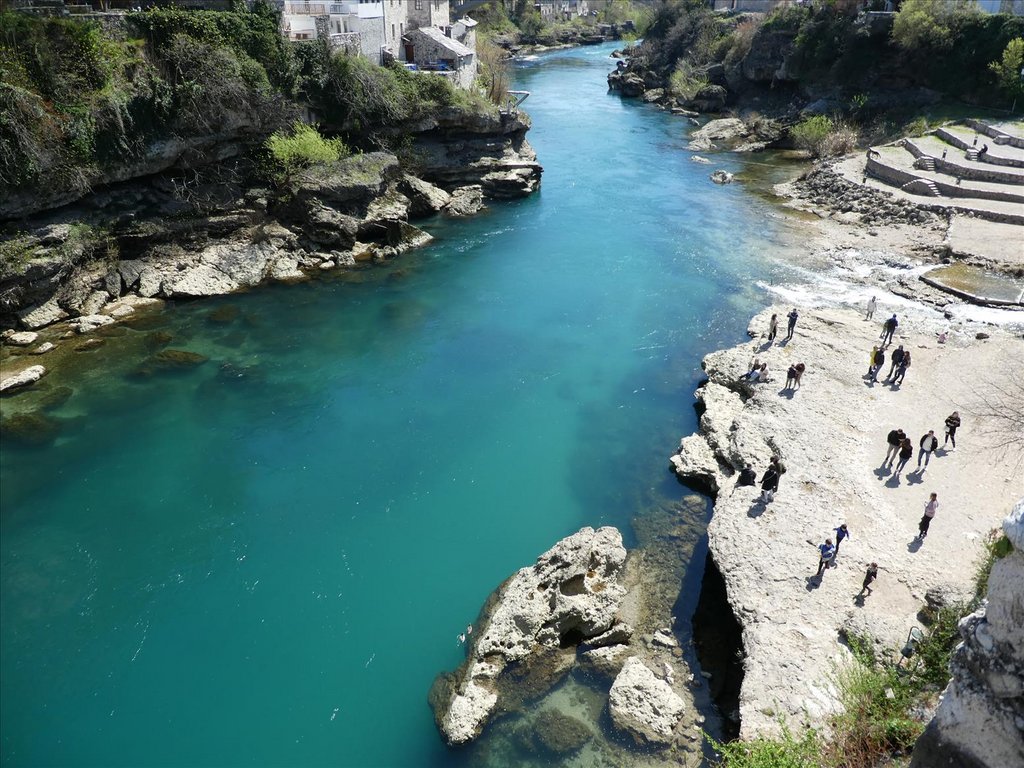 After crossing to the other side we had a walk through more of the old streets. Found a miniature version of the real bridge -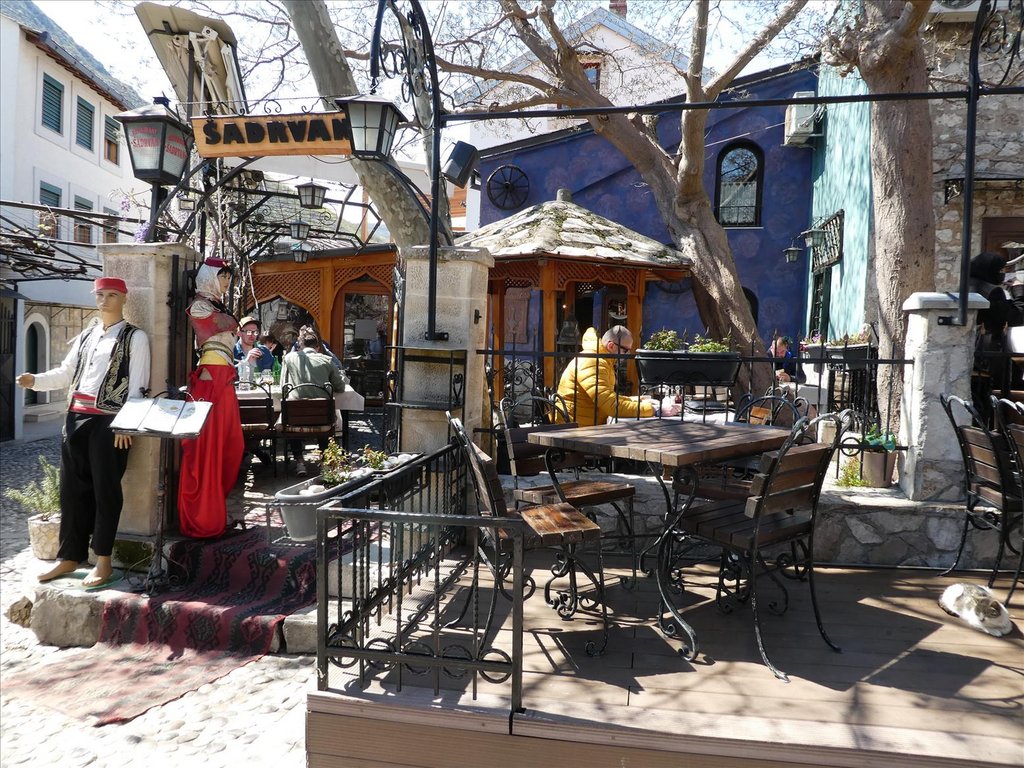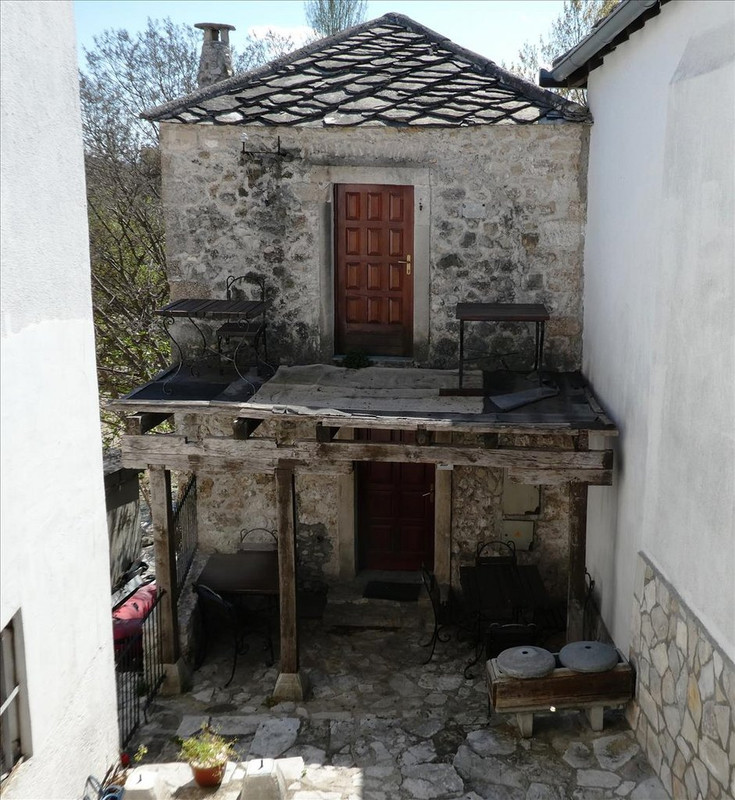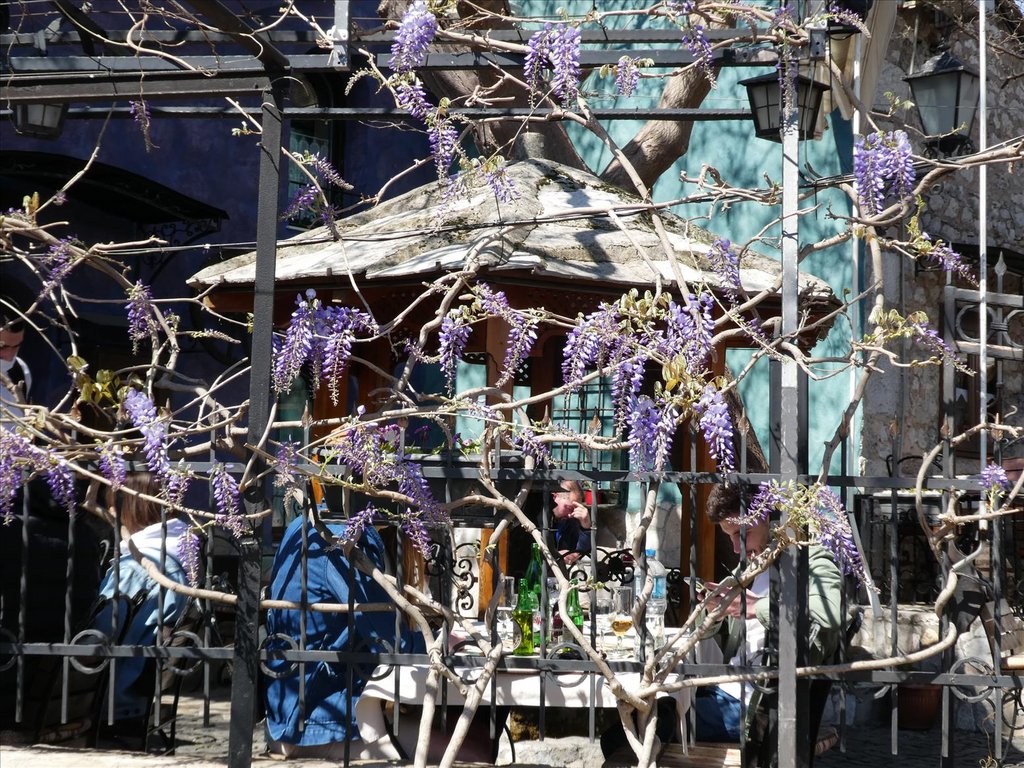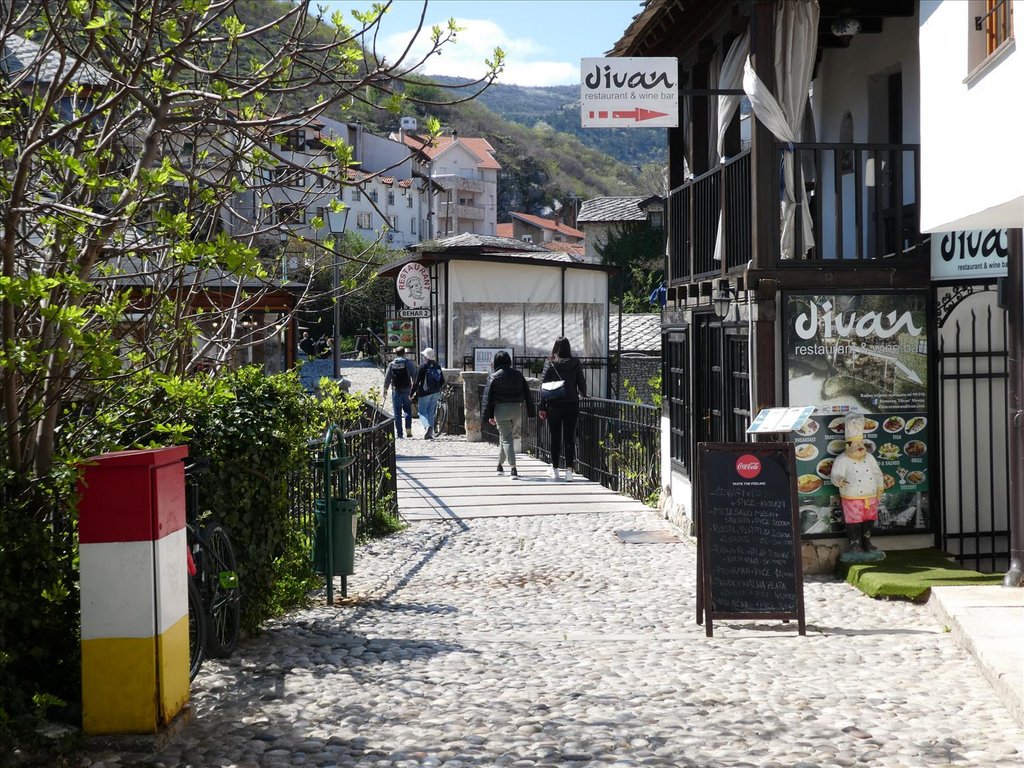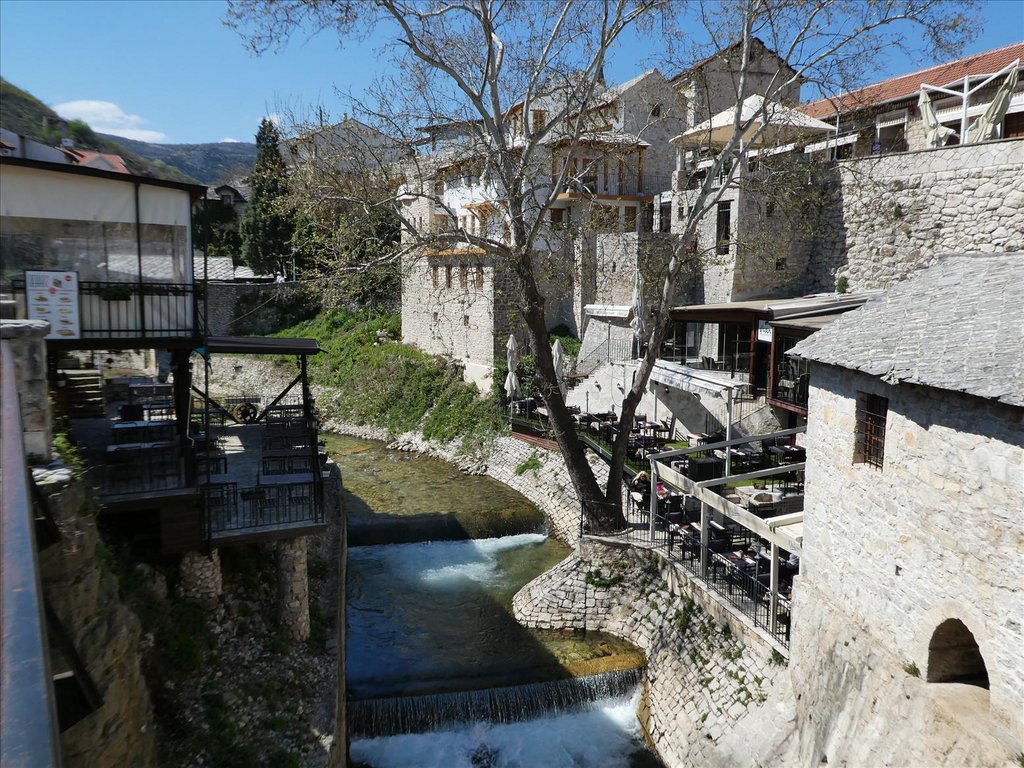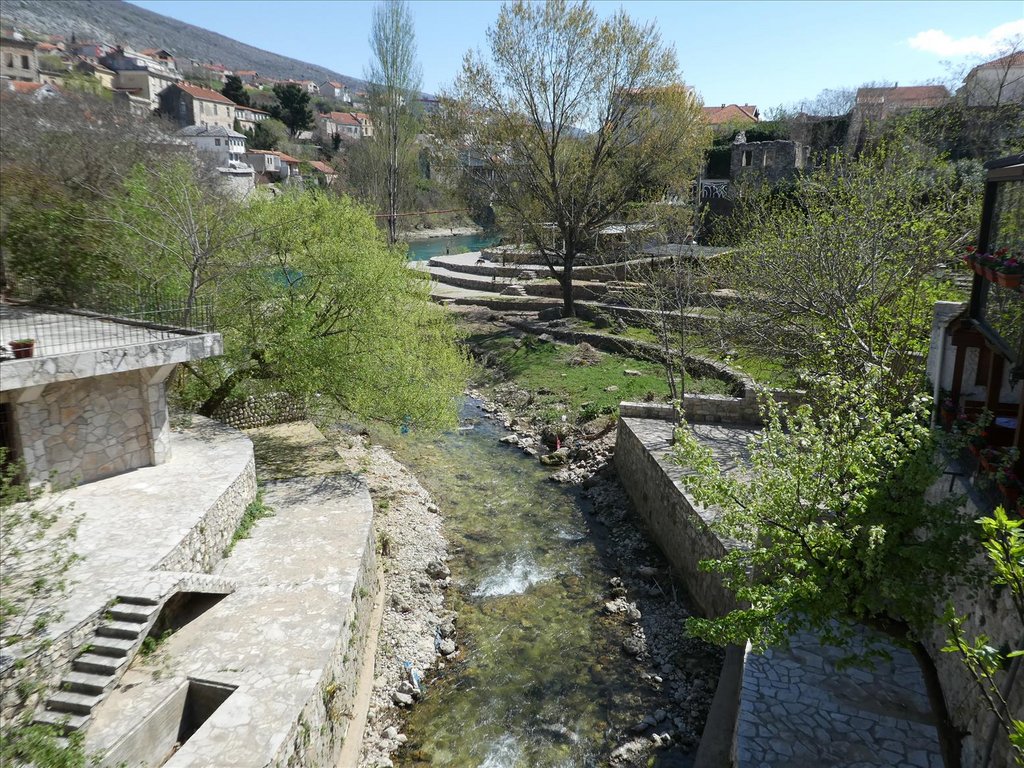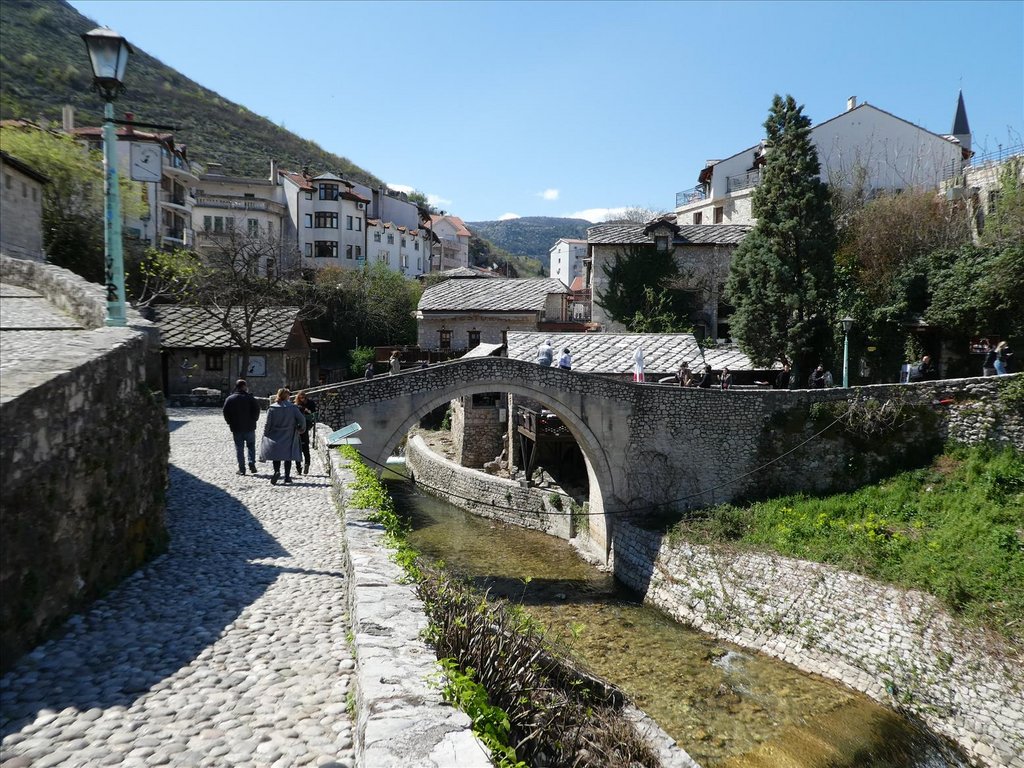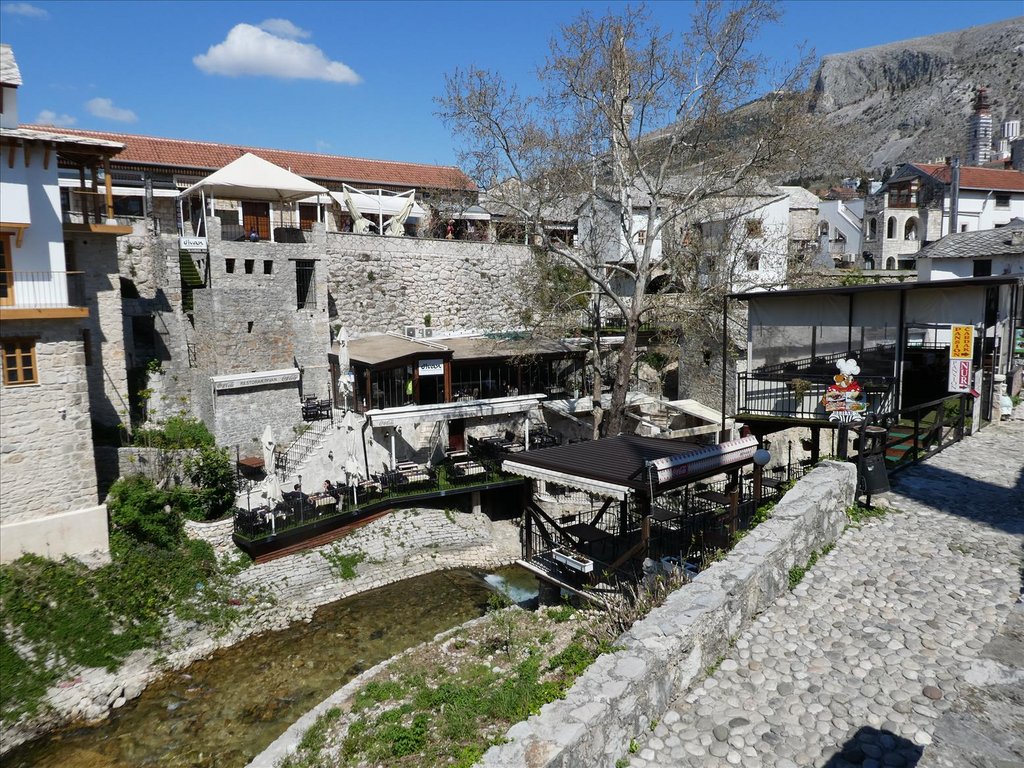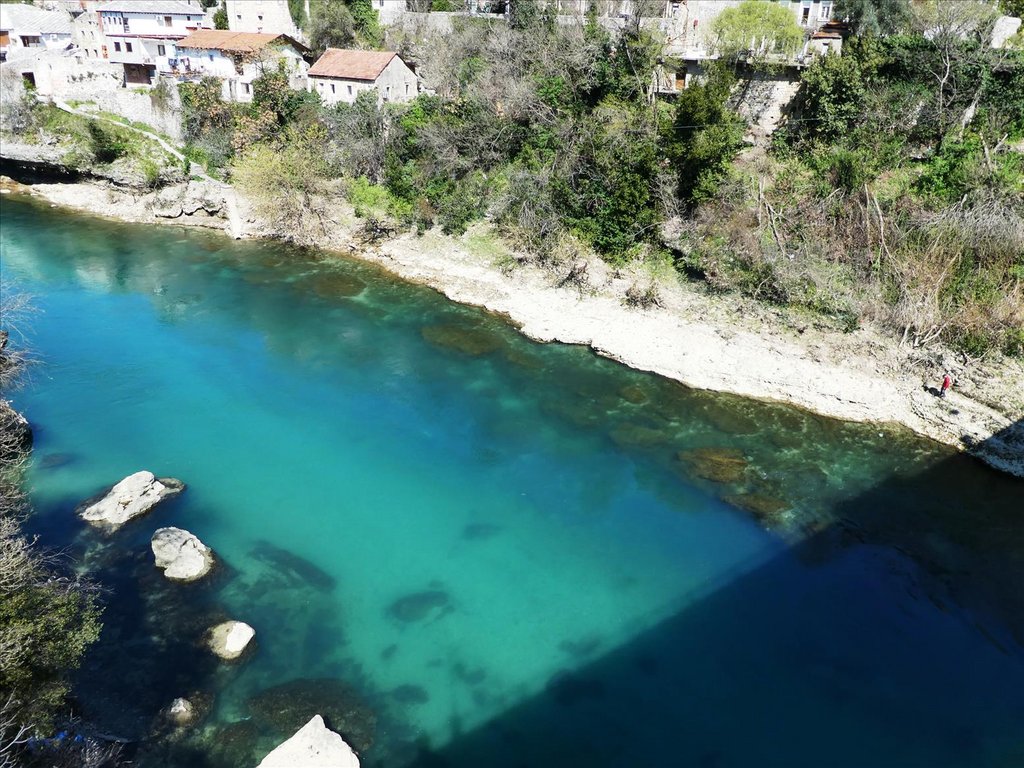 Gradually we moved back away from the main bridge and after a few hours of sightseeing, made our way back to the car -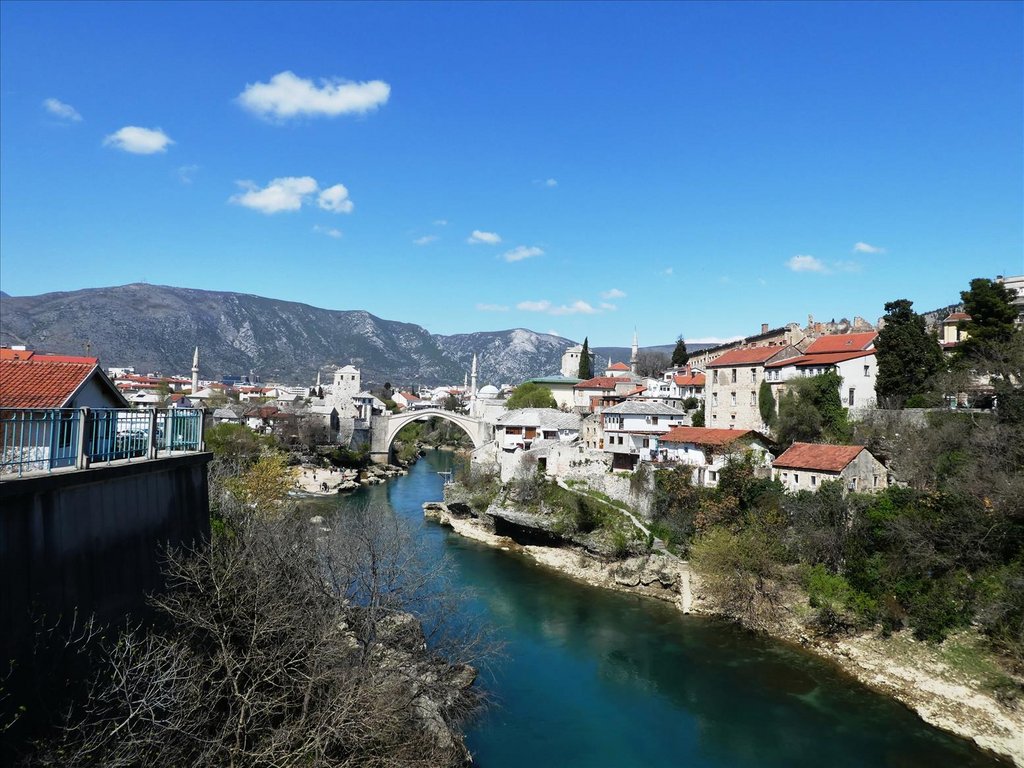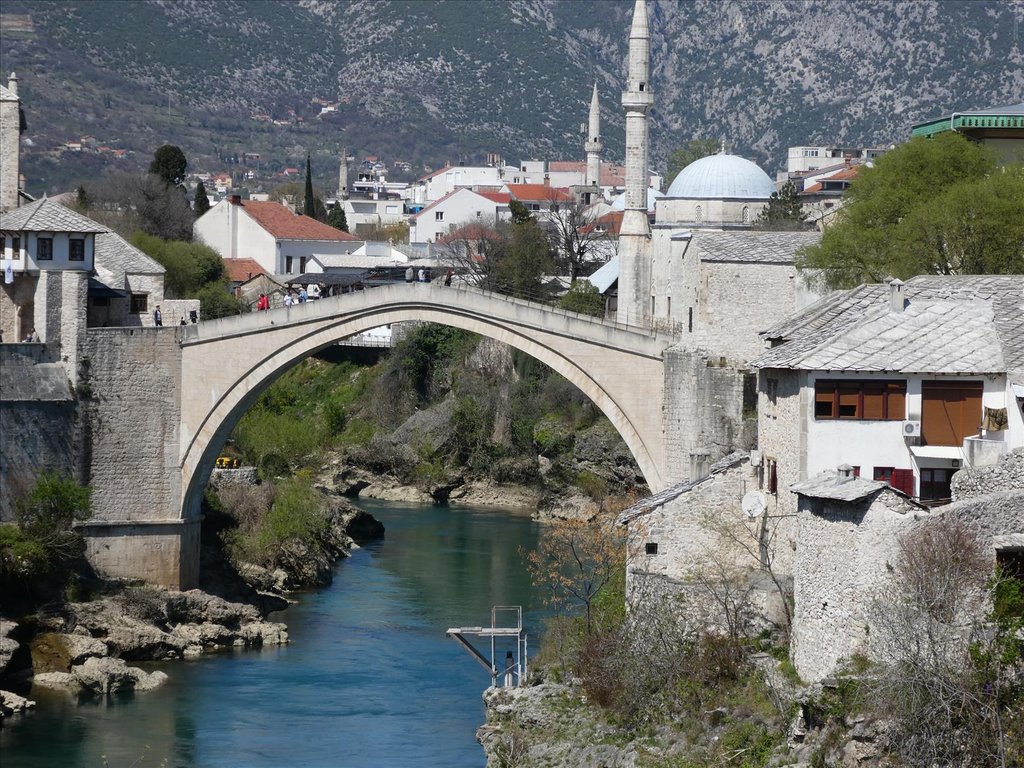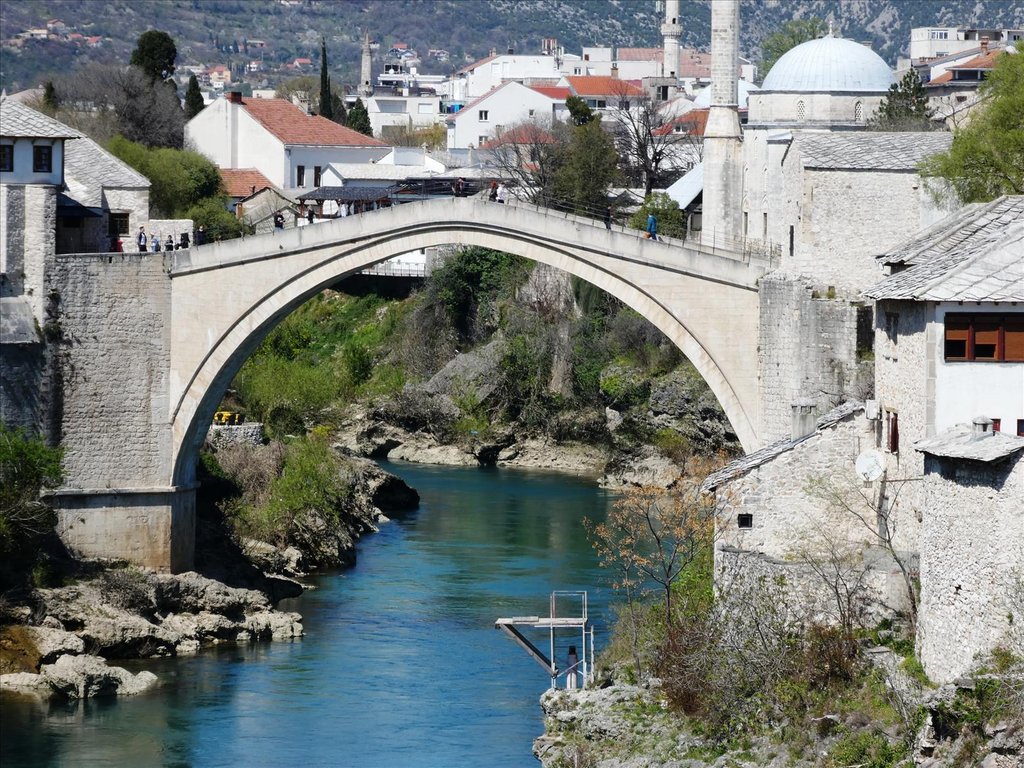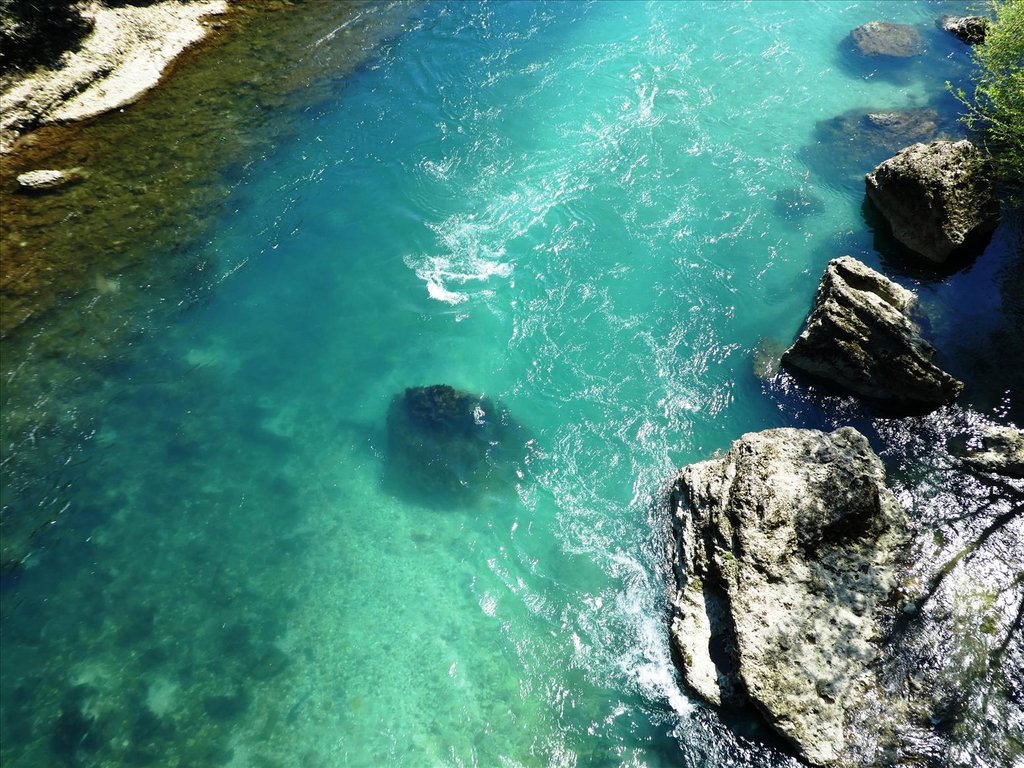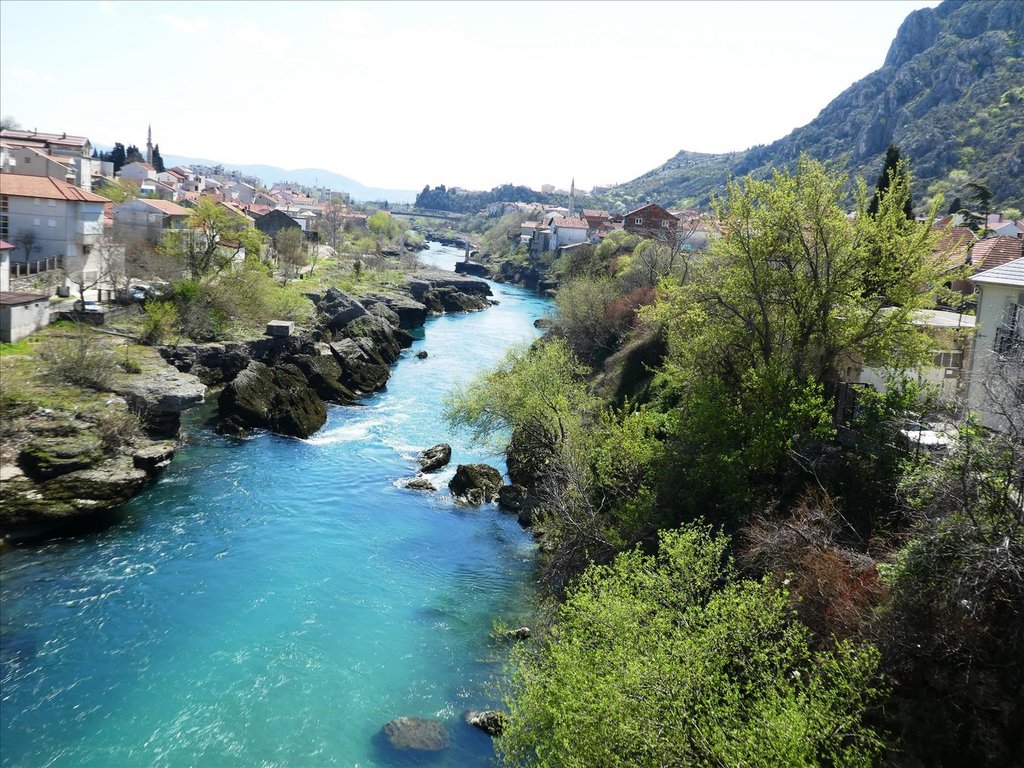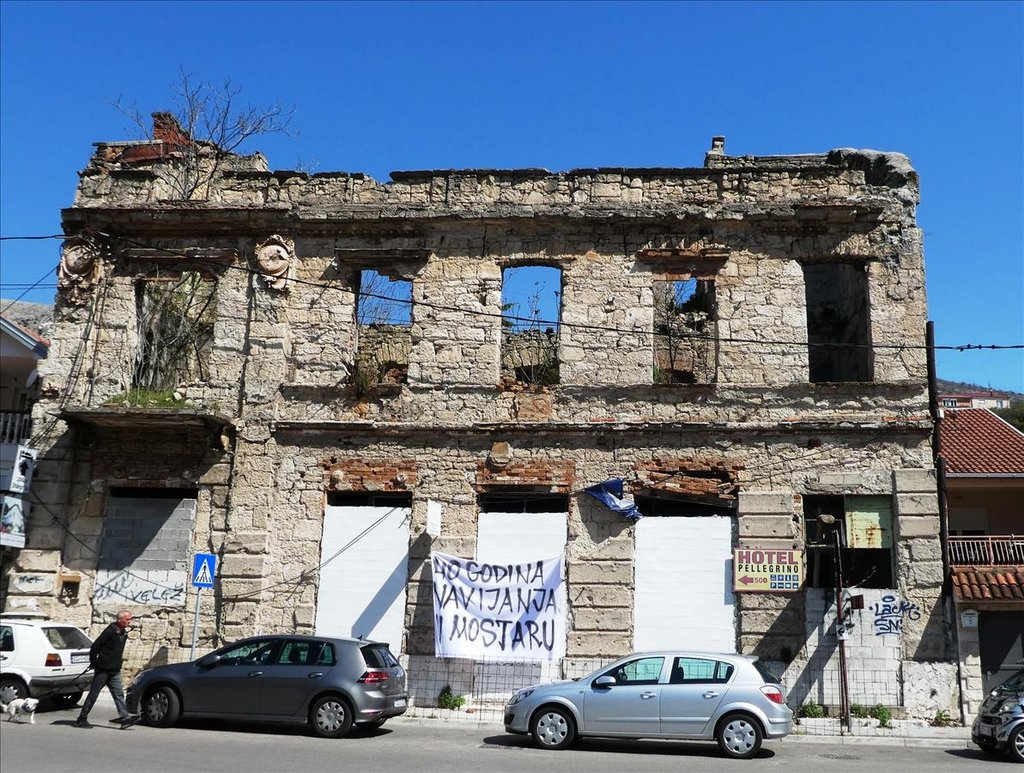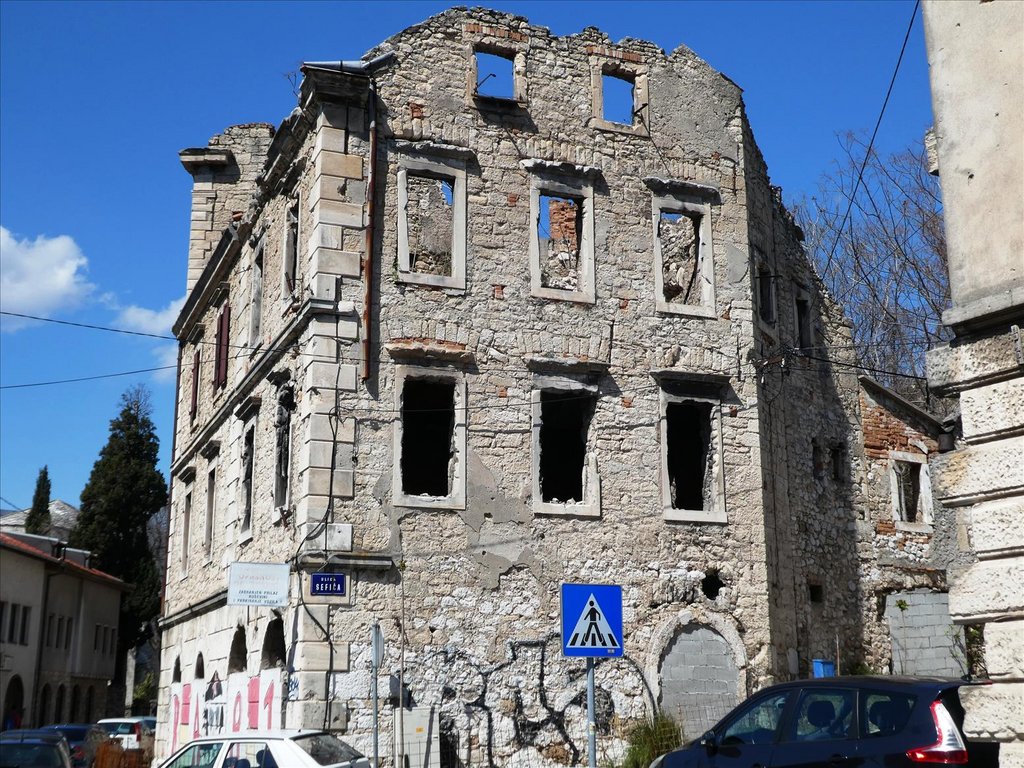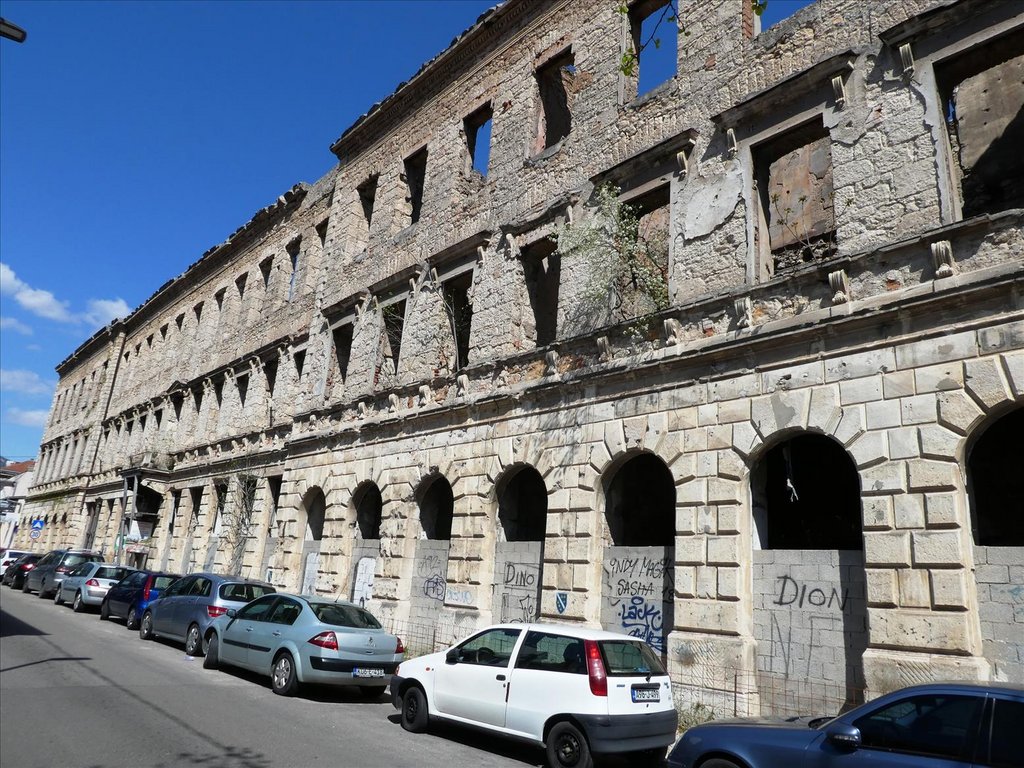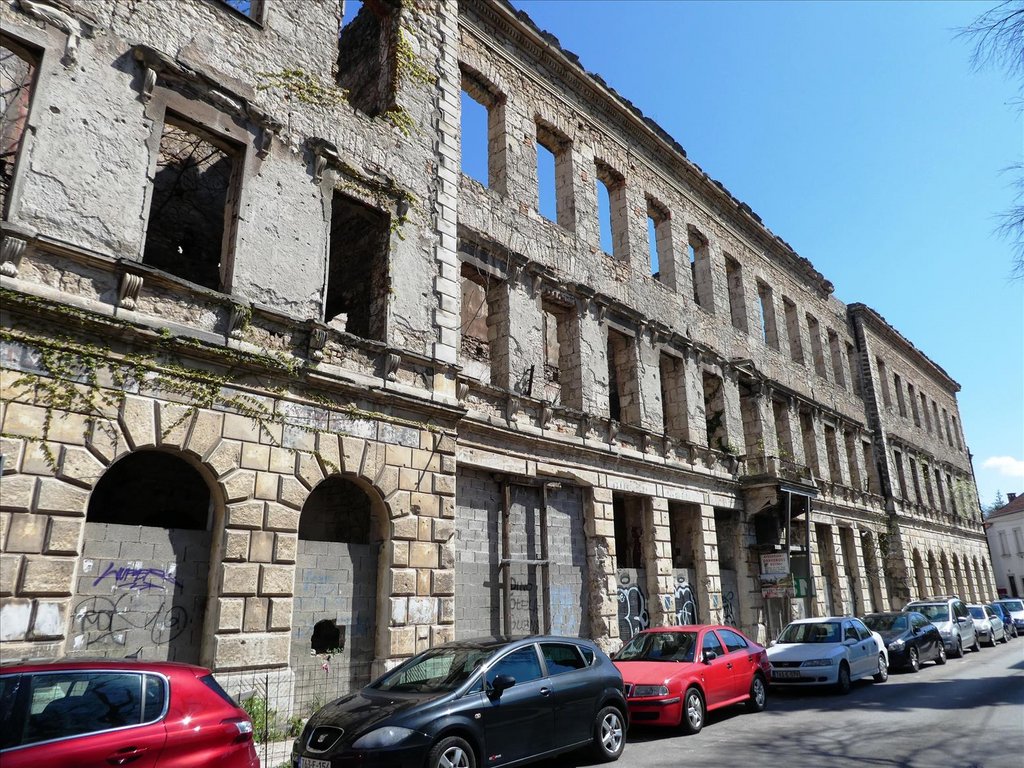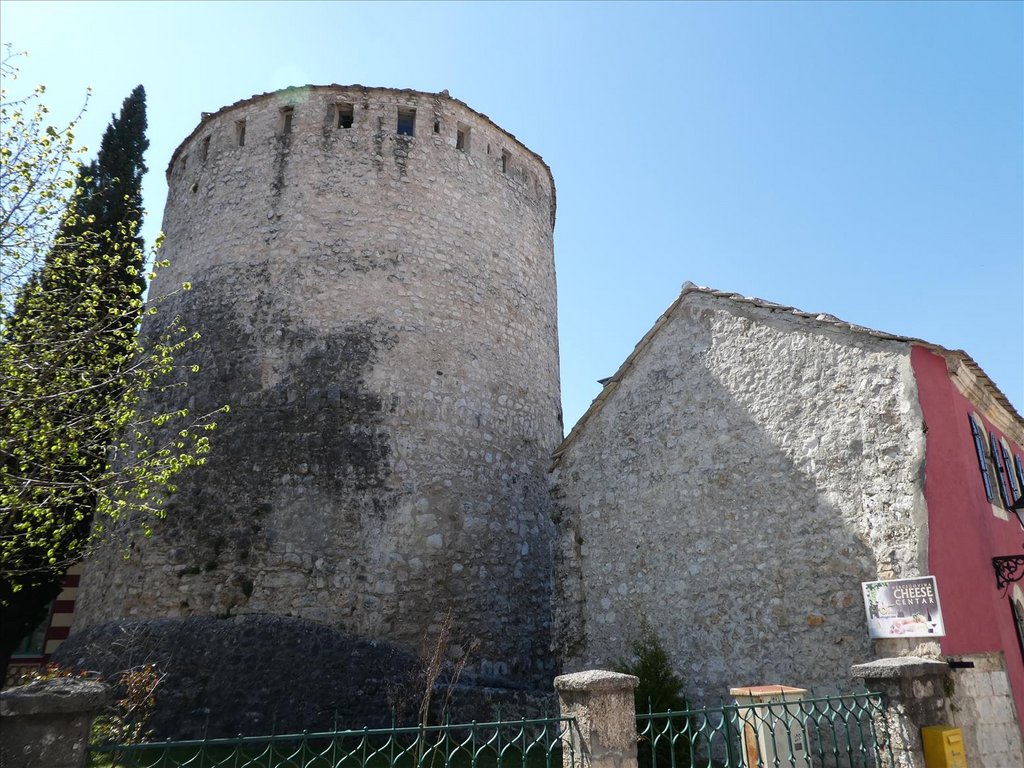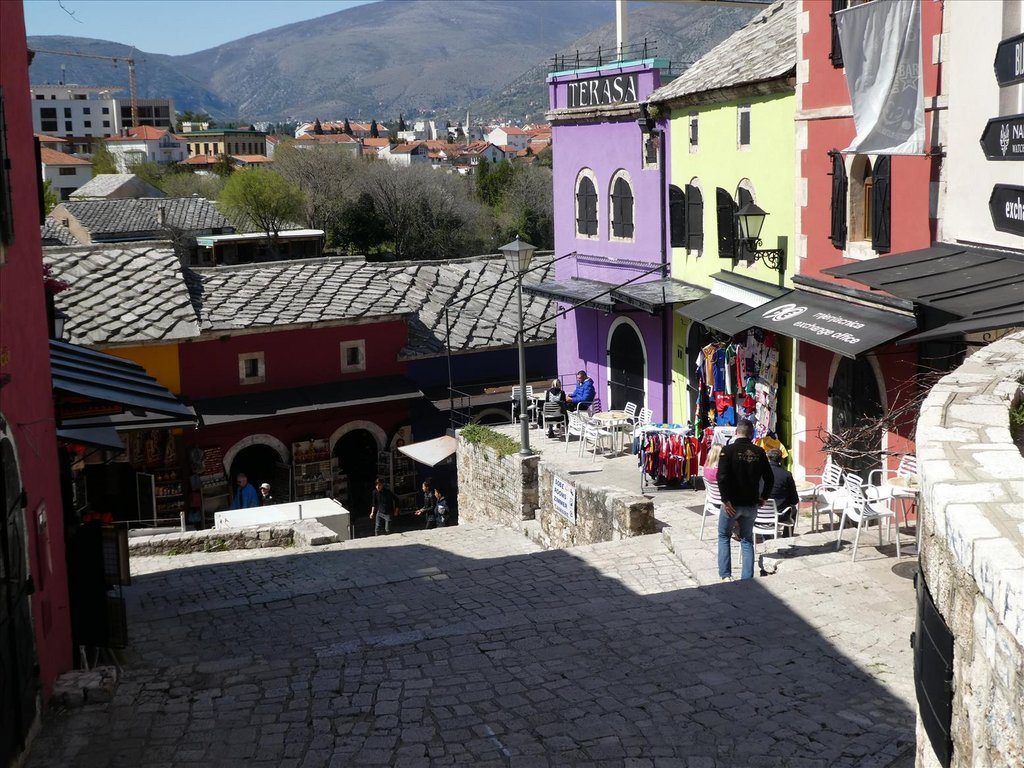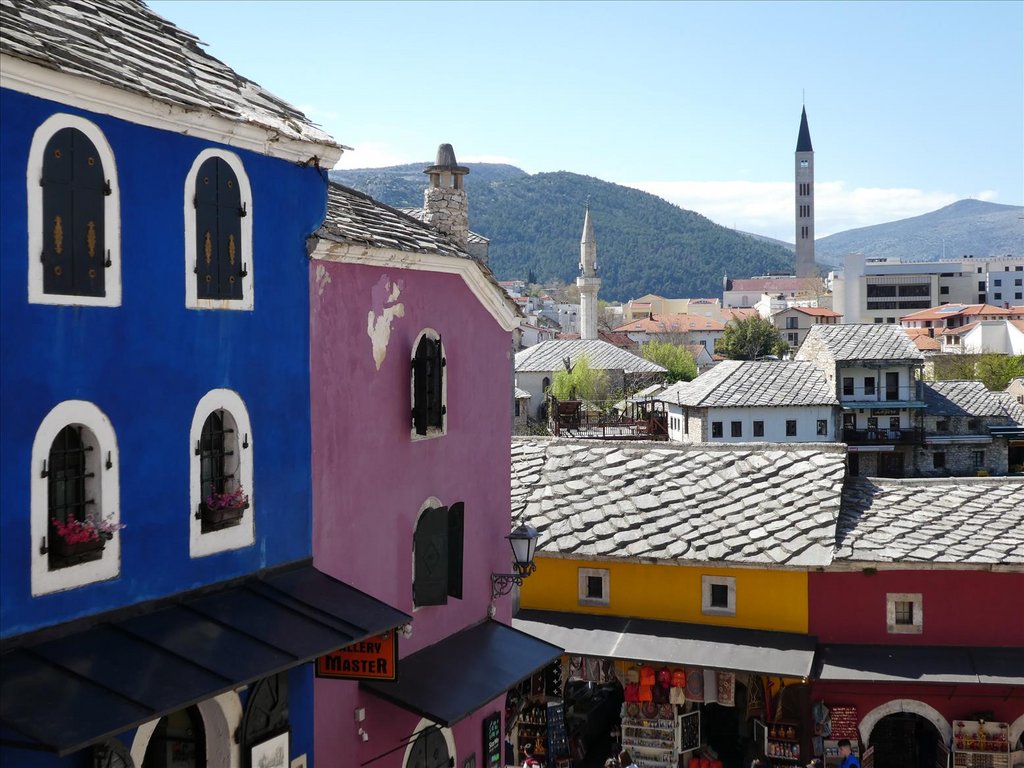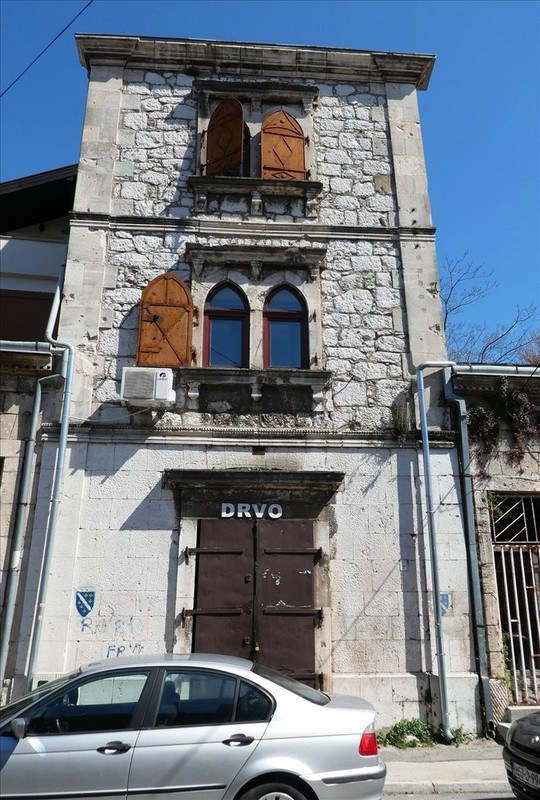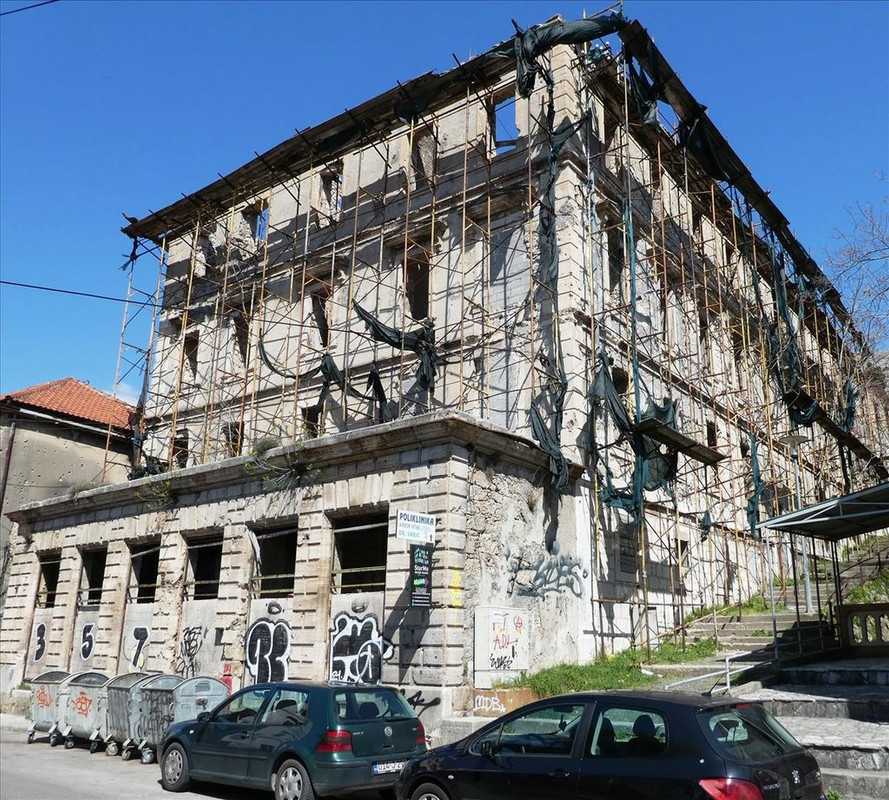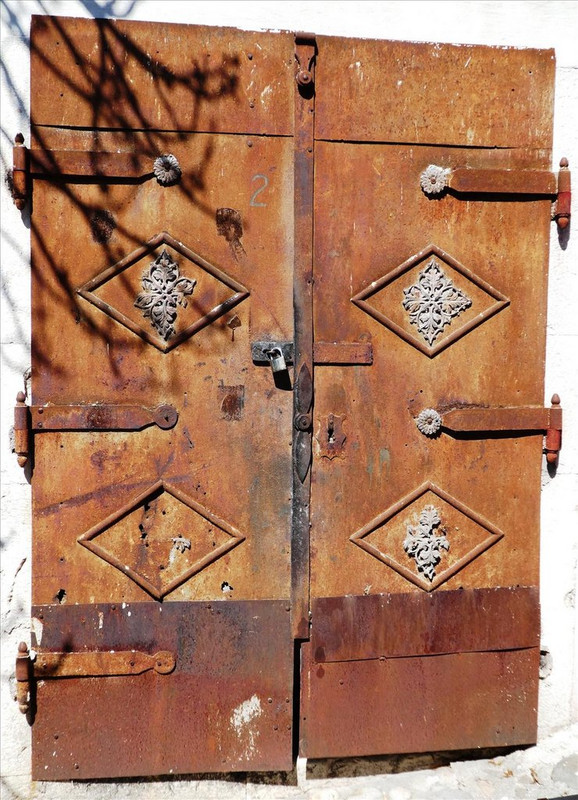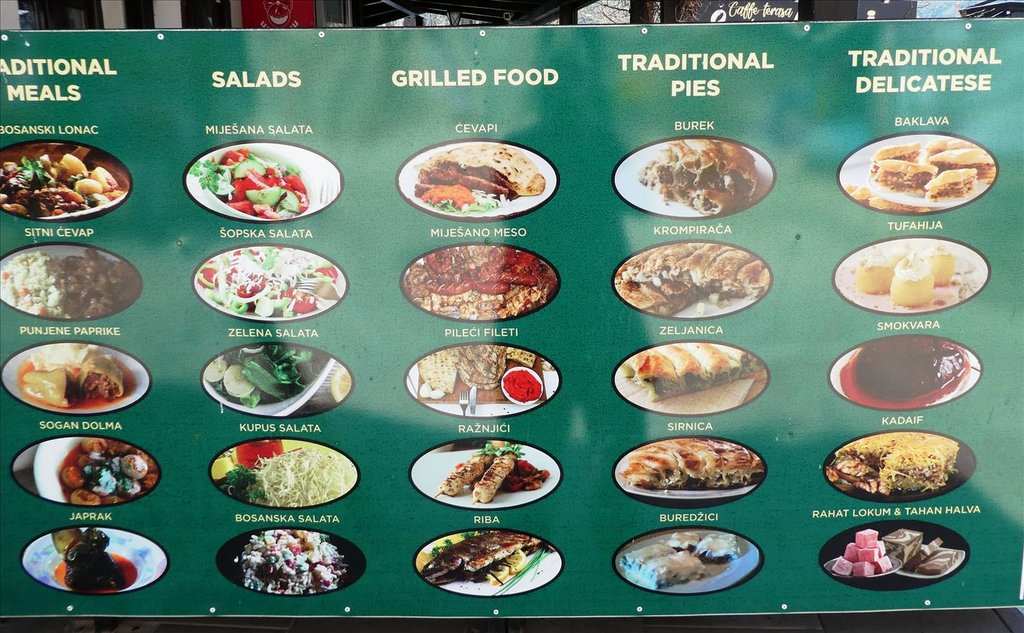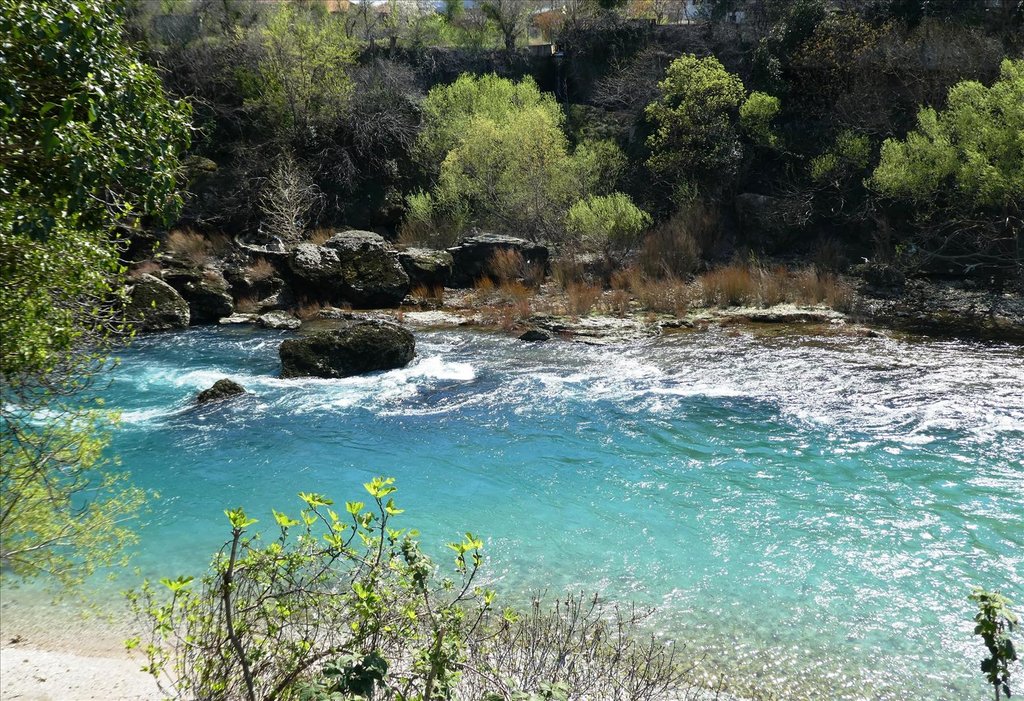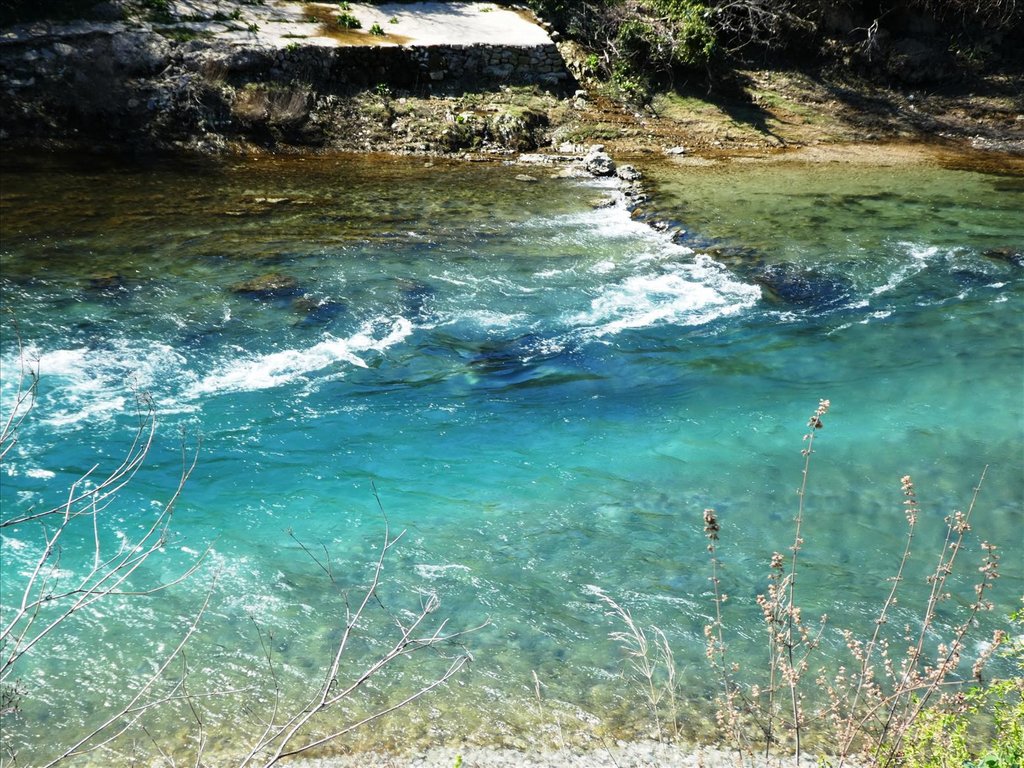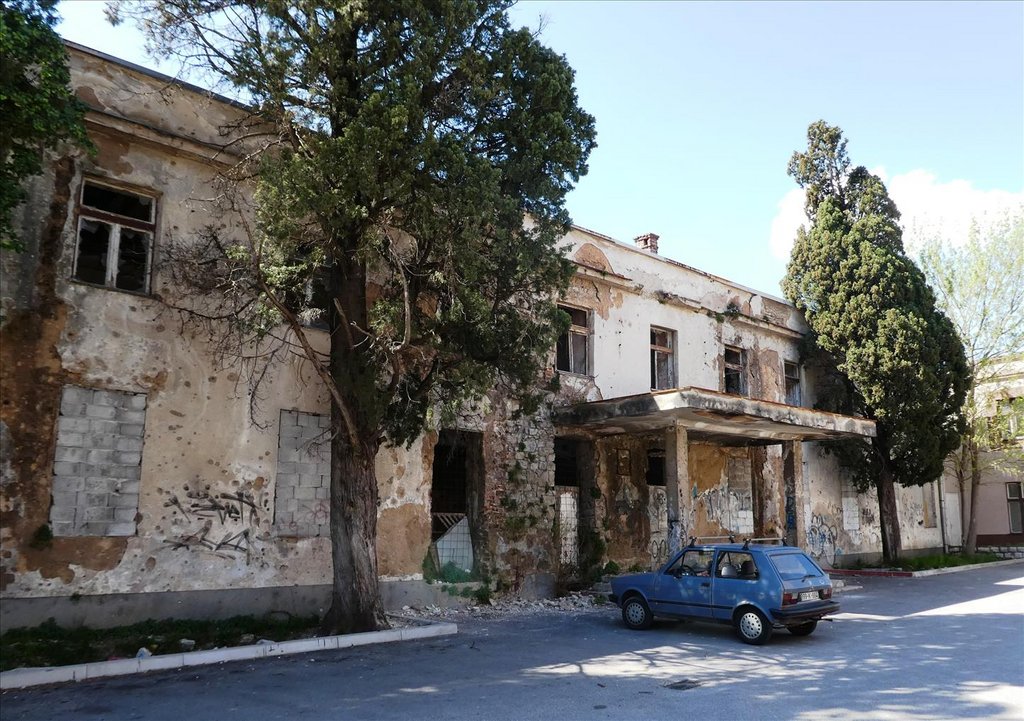 No, the last photo wasn't our car. Just happened to be parked in front of the building.
There you are then. A little tour around Mostar, one of the most touristy places in the country and one that I wouldn't come back to any time near the after covid tourist season and especially not in the summer where temperatures can reach high thirties Celsius and sometimes forty.
We'd had quite a hearty breakfast before setting off at 10am, grabbed a couple of our picnic sandwiches as we set off walking and stopped on the way back to Sarajevo just a few minutes after Mostar to finish off our late lunch by the river.
Dinner at home was home made goulash we'd made the day before and re-heated. Best thing ever, with crusty bread and a small carrot, red cabbage and cucumber salad with a touch of Balsamic vinegar, salt and pepper.
In the photos, see if you can spot anyone with a mask.
As the figures for covid infections are rising and rising very quickly, our policy now is to visit places, but wear our own mask (nobody looks at you or are bothered) as we move around, take a picnic we can eat in a quiet place and no more restaurant/cafe visits, just to be sure.