Post by onlyMark on May 30, 2021 9:46:56 GMT
Every day I see this in the distance -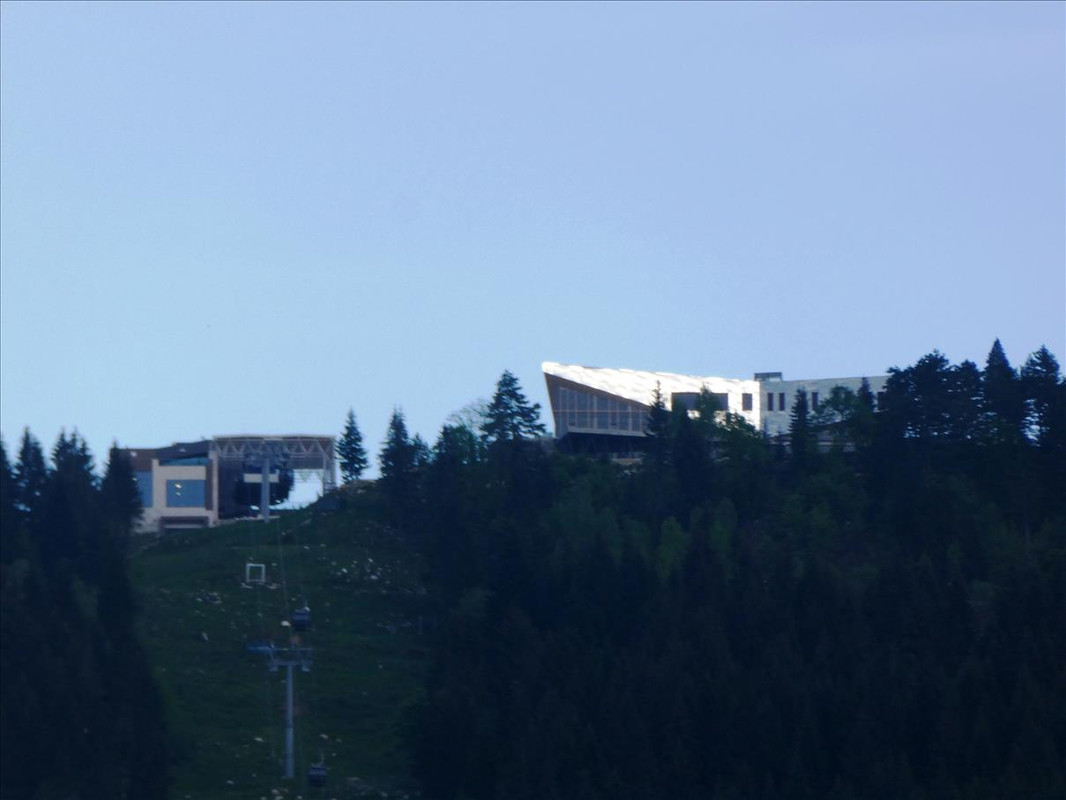 I thought it was about time we went up there.
Fortunately there is a cable car that takes you right to it.
It would, as that is the top cable car station.
Sarajevo is at 518 metres above sea level. The lower cable car station is at 583m and the top (Mount Trebević) is at 1160m.
The cable car ride is very popular at the weekends in the good weather and often there are queues - but, as happened twice to us, people jumped in the queue. Never just in front of me but some distance away. Mrs M forbade me from saying anything. My argument is and was always, then how do those people know not to do it? What makes them so special they can cut in? Nevertheless, others in the queue who were locals, didn't say anything either so I left it.
There are two prices for the cable car, one for locals and one for those who aren't. I'm quite happy with that.
One way it is (halve for Euros) 15KM for visitors and 4KM for Bosnians. Return is 20KM and 6KM.
Quite normal for people to take their bikes up there and ride back down which is an extra 4KM one way. The ride takes about 12 minutes and is 2100m long.
Originally it as built in 1959 - "It had a capacity of 400 passengers per hour. However, the many years of operation and repairs took a toll on the cable car which resulted in serious problems, so much so that the relevant institutions forbade further repairs of the cable car. Such issues arose in 1977, 1982, 1986, 1987, and in particular on November 18, 1989, when further repairs of the cable car was banned."
During the Siege of Sarajevo (1992 - 1996) in the Bosnian War the system was destroyed.
Eventually it was rebuilt and opened again in 2018 and can now transport 1200 people and hour.
Some photos as we climb, looking up and back -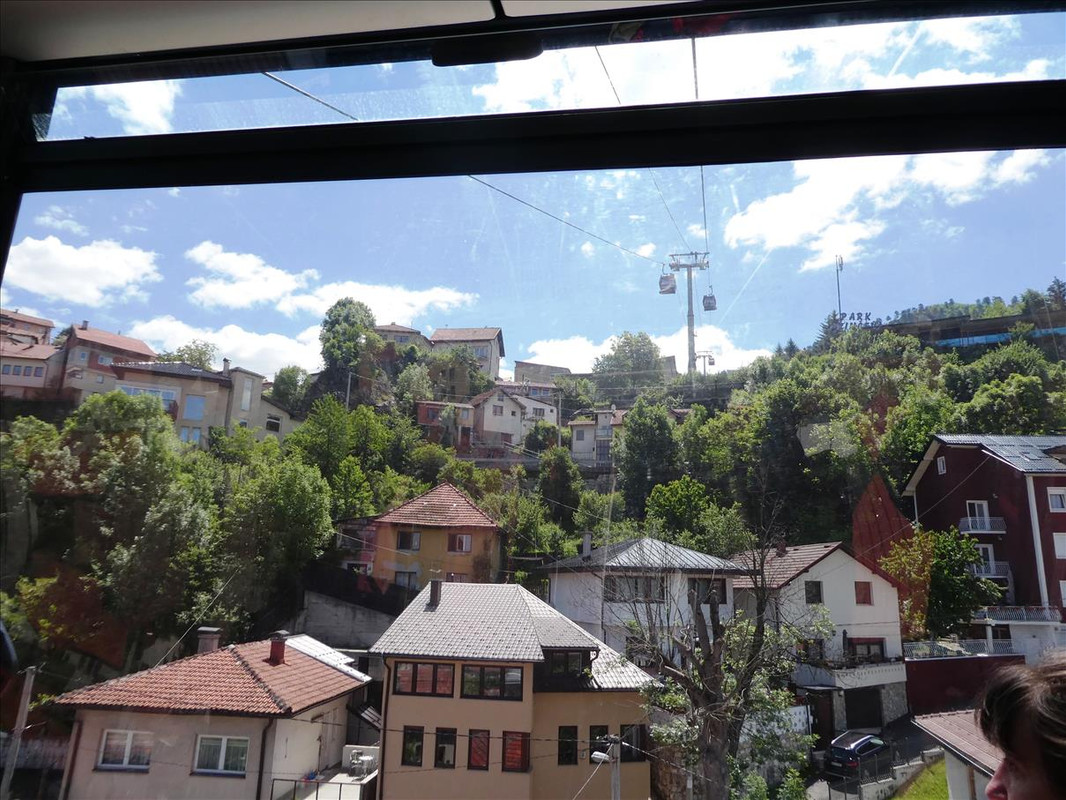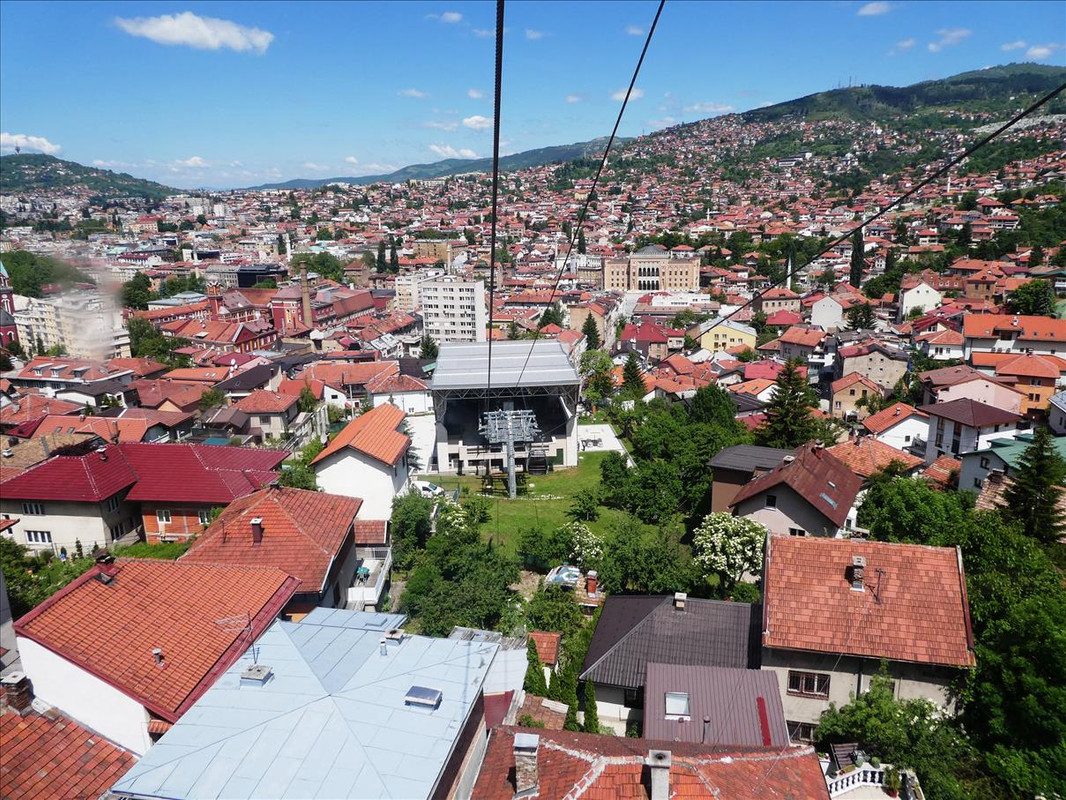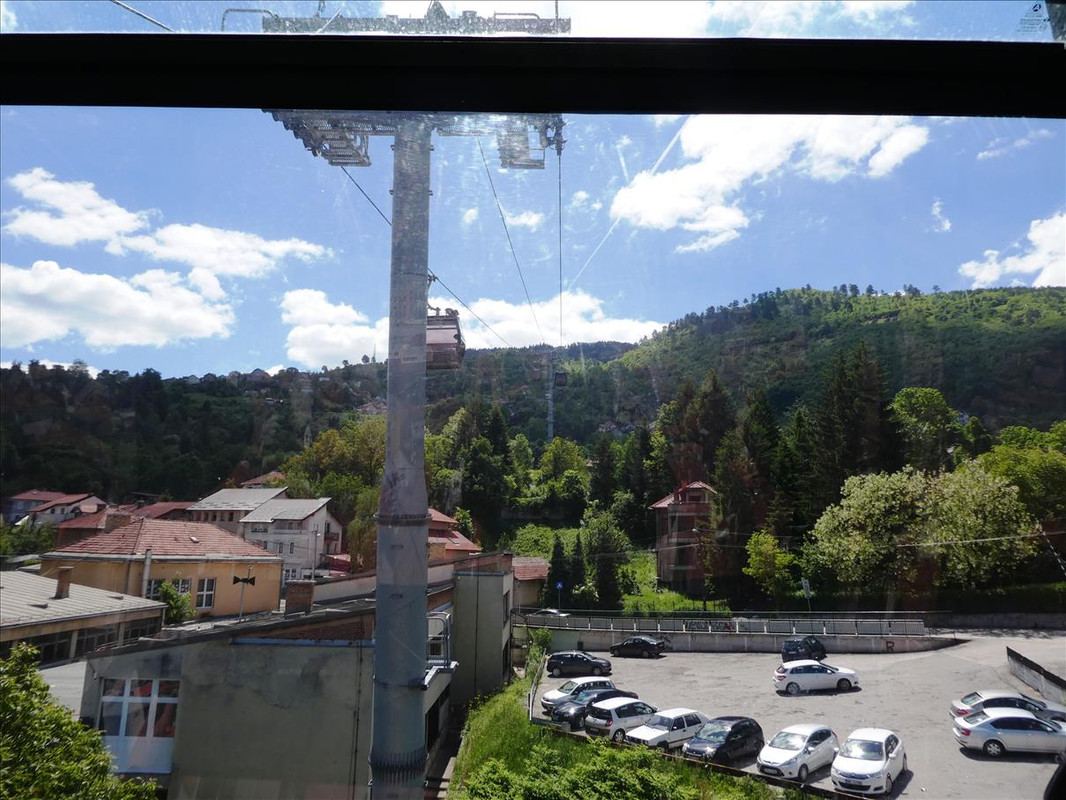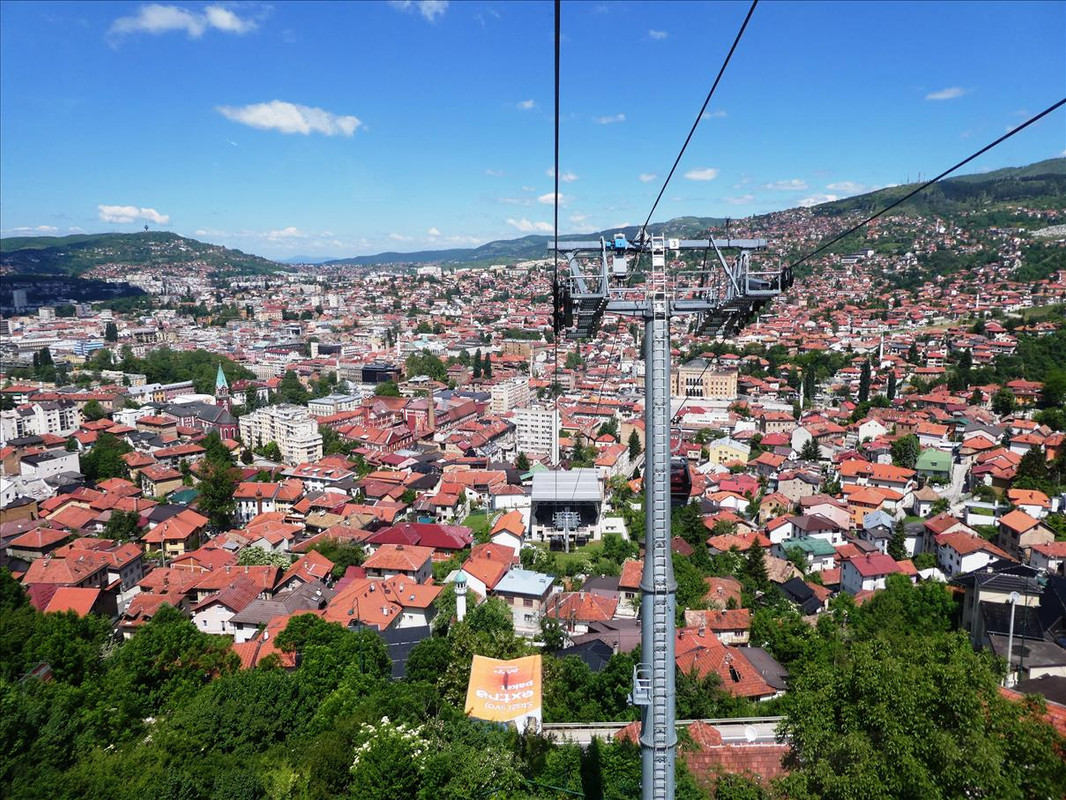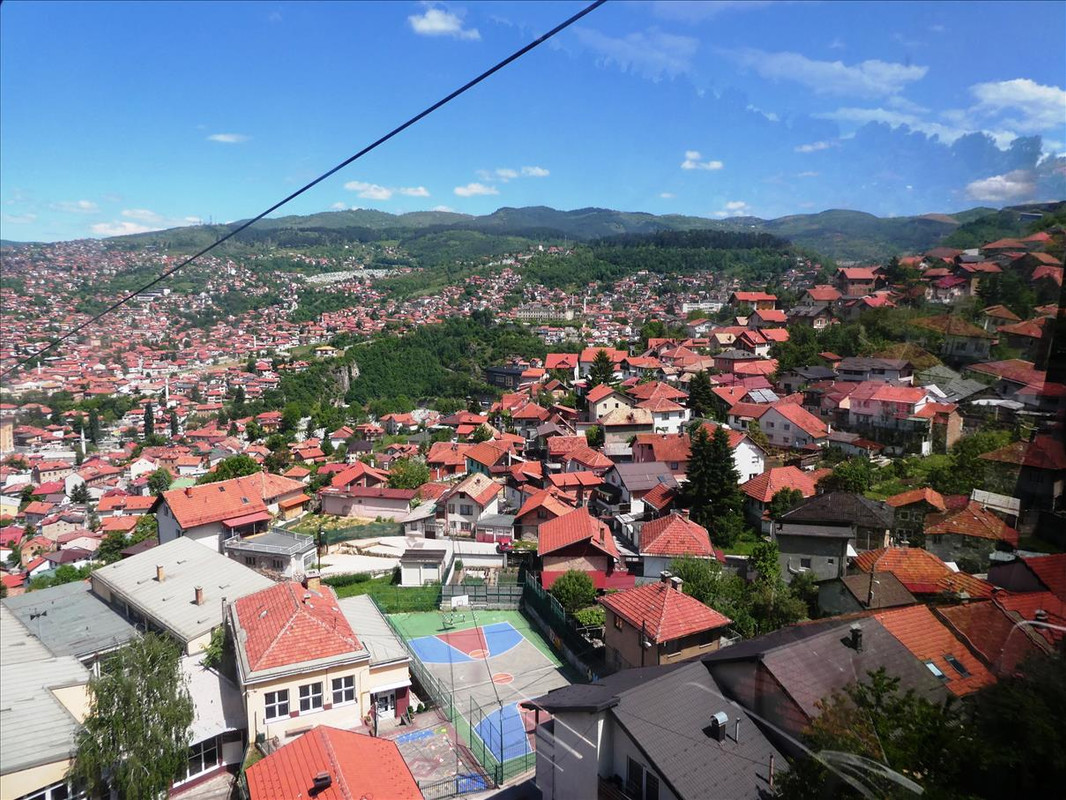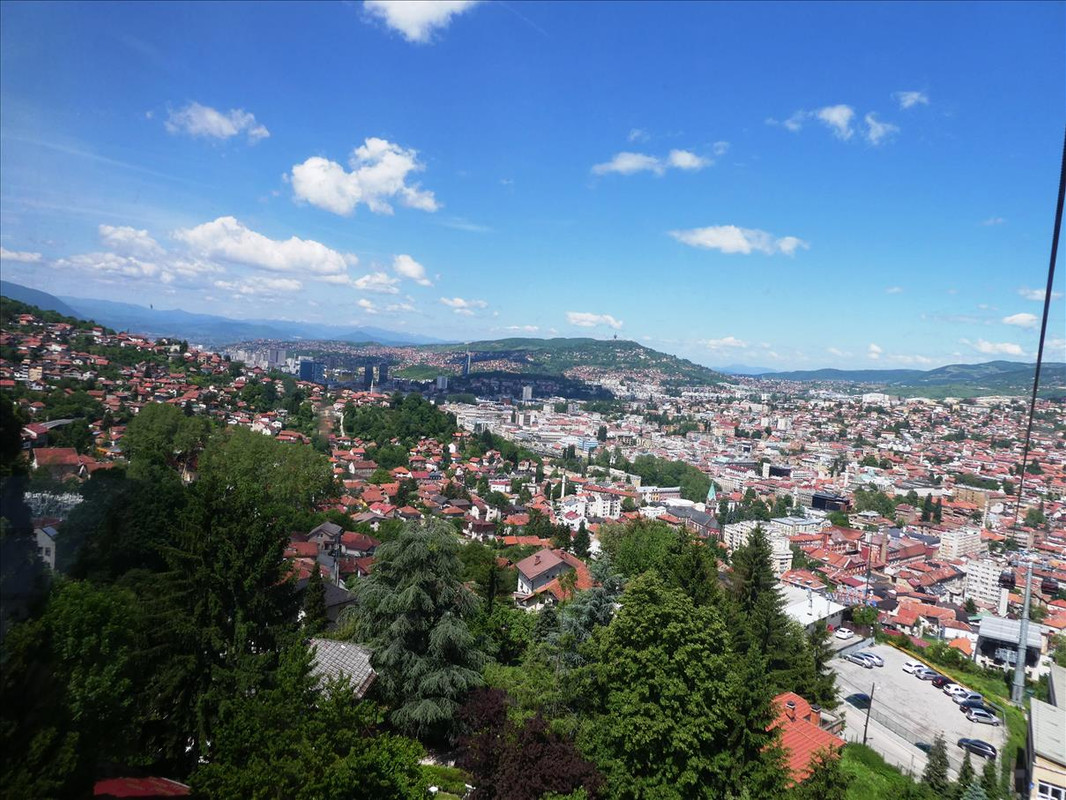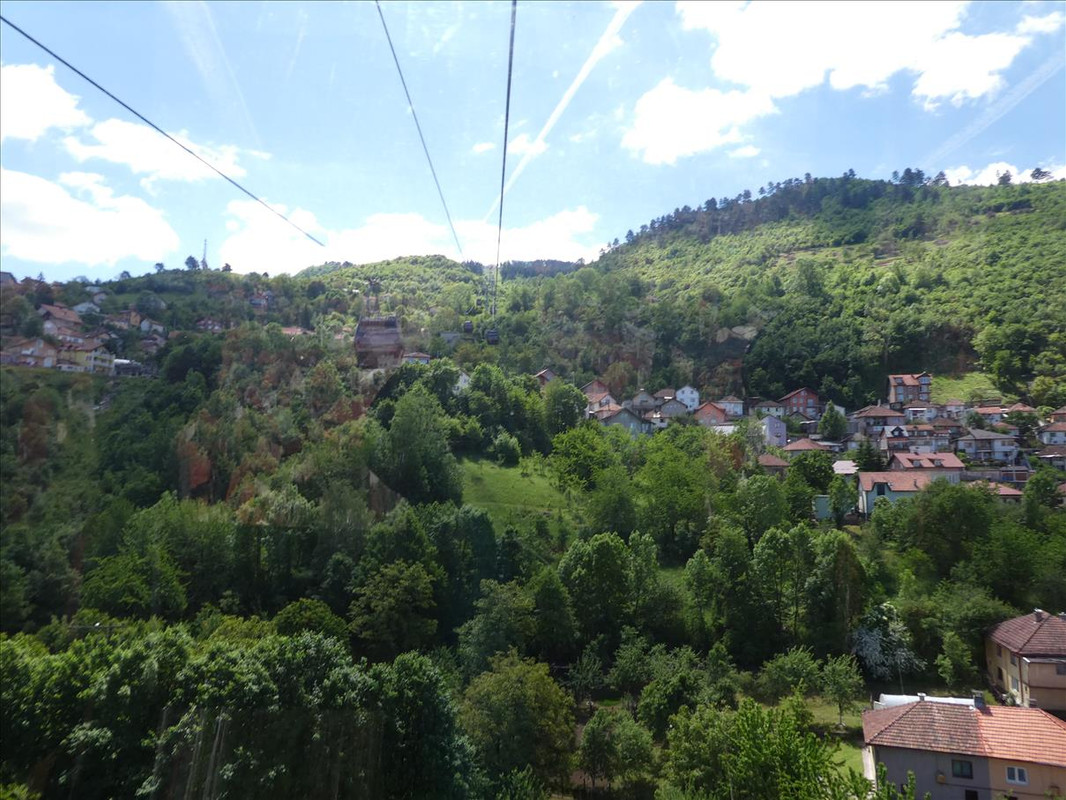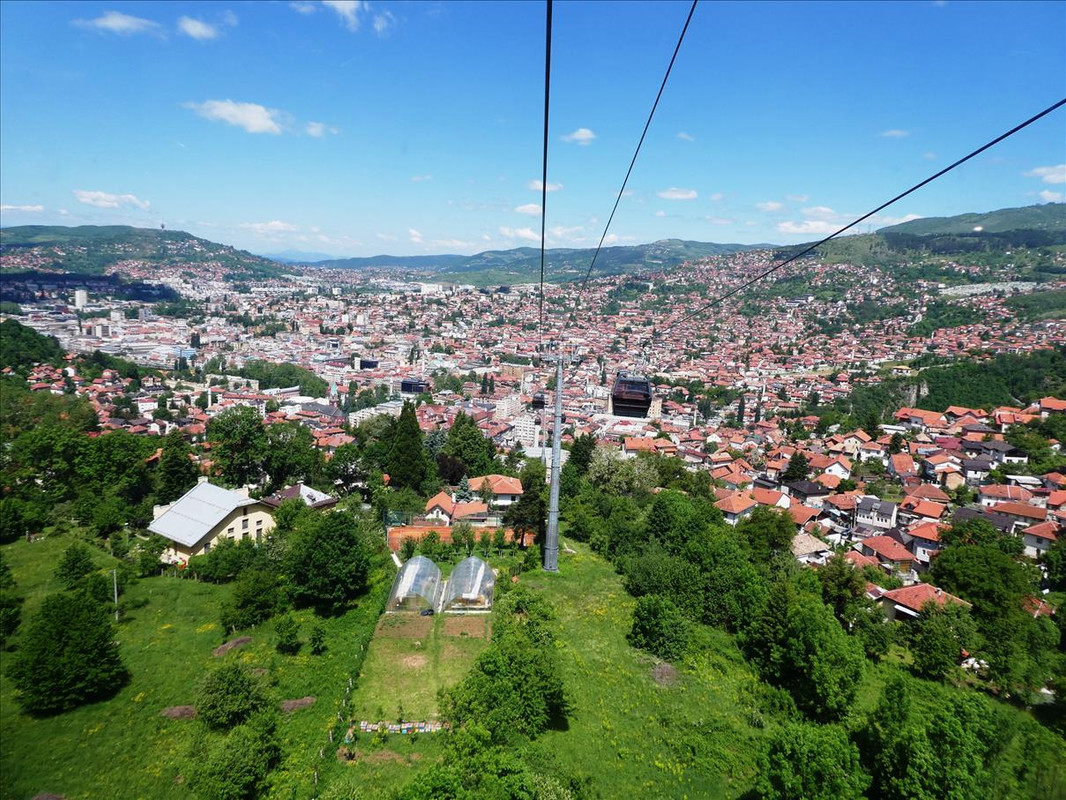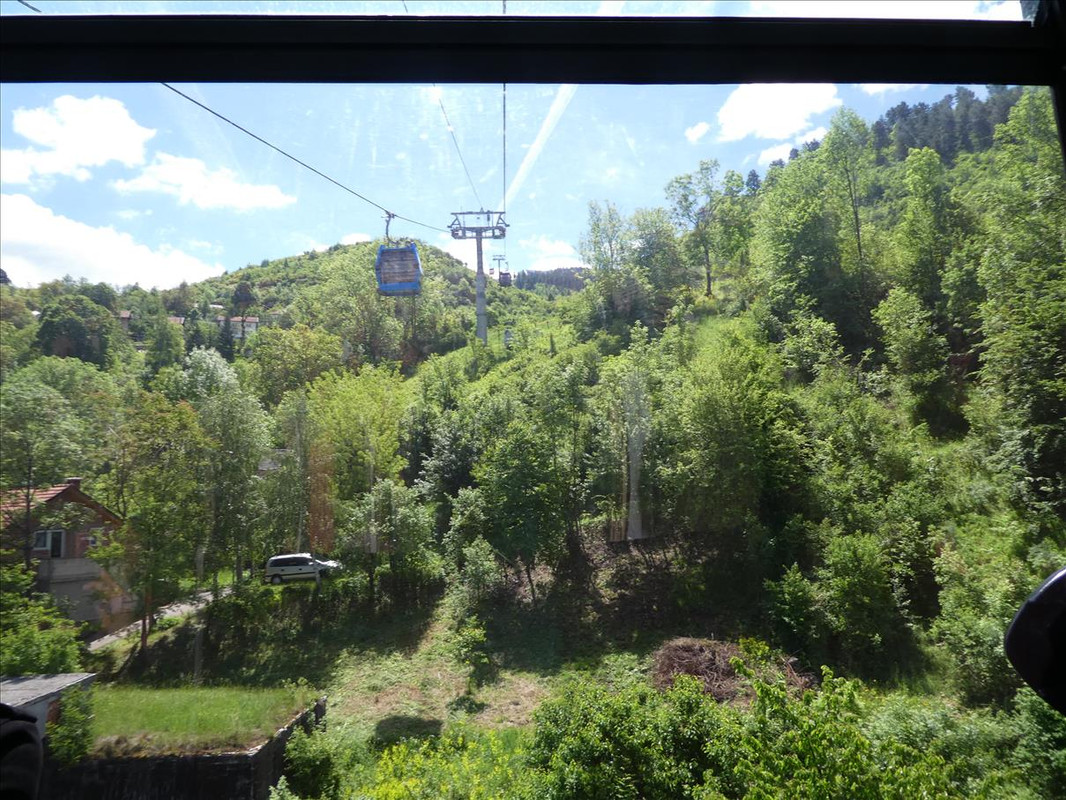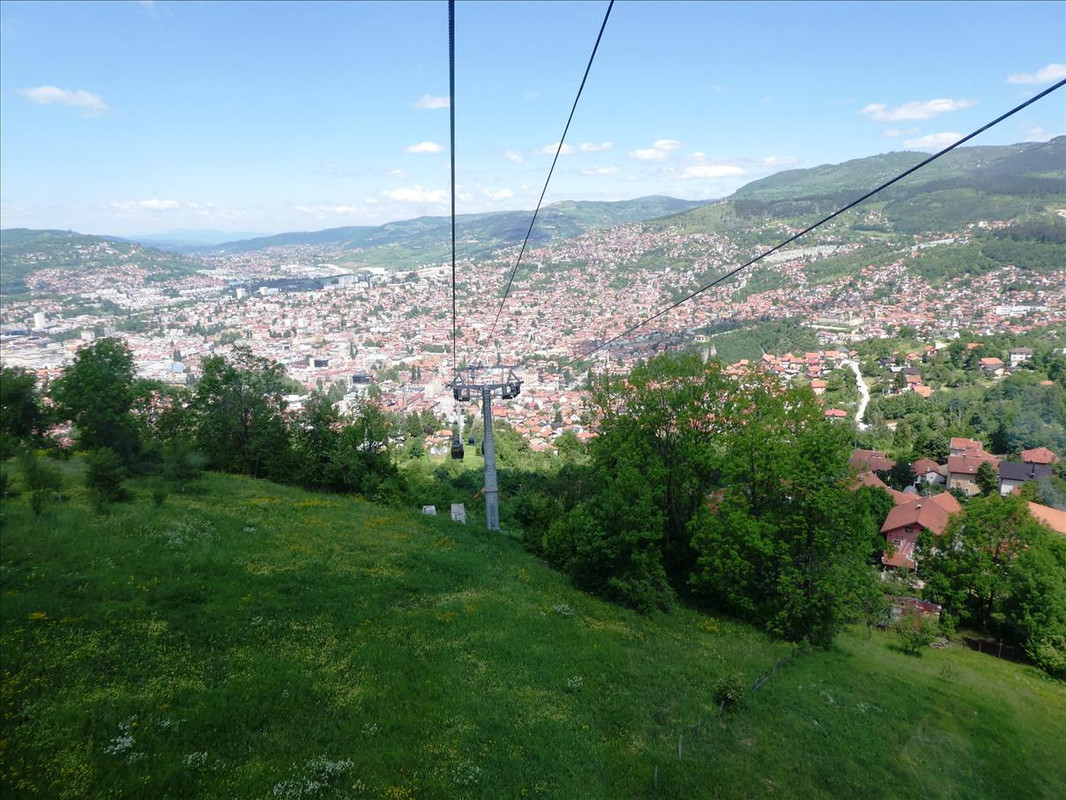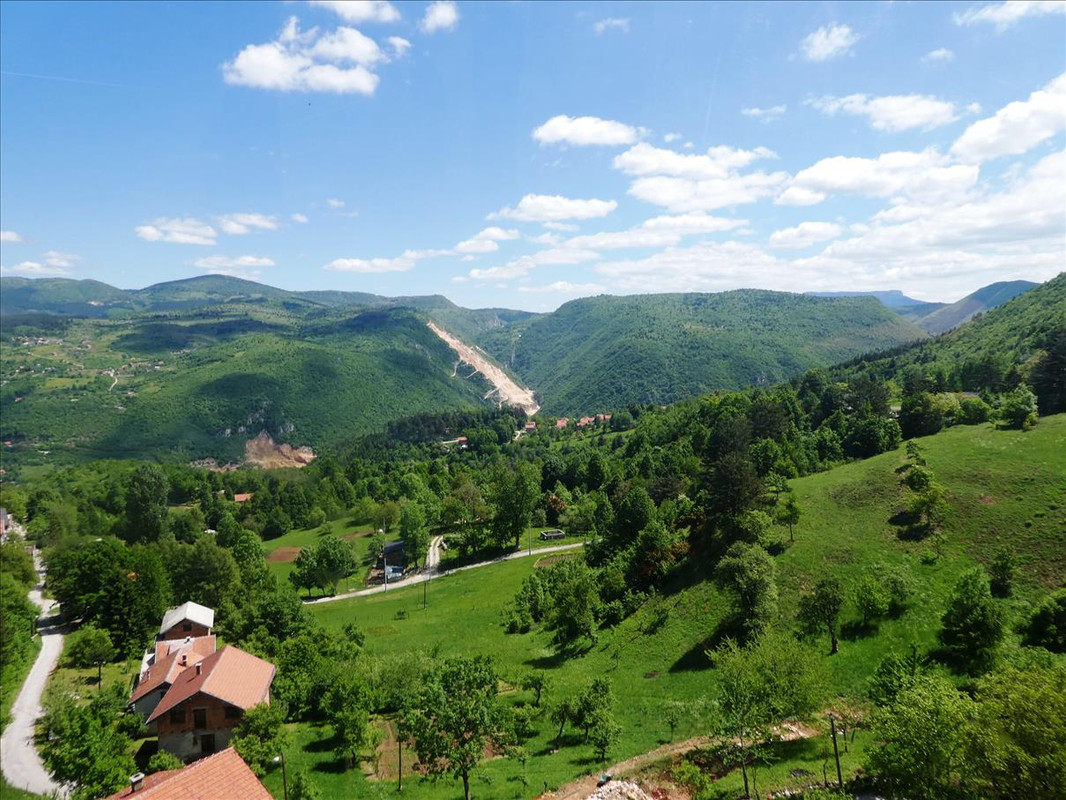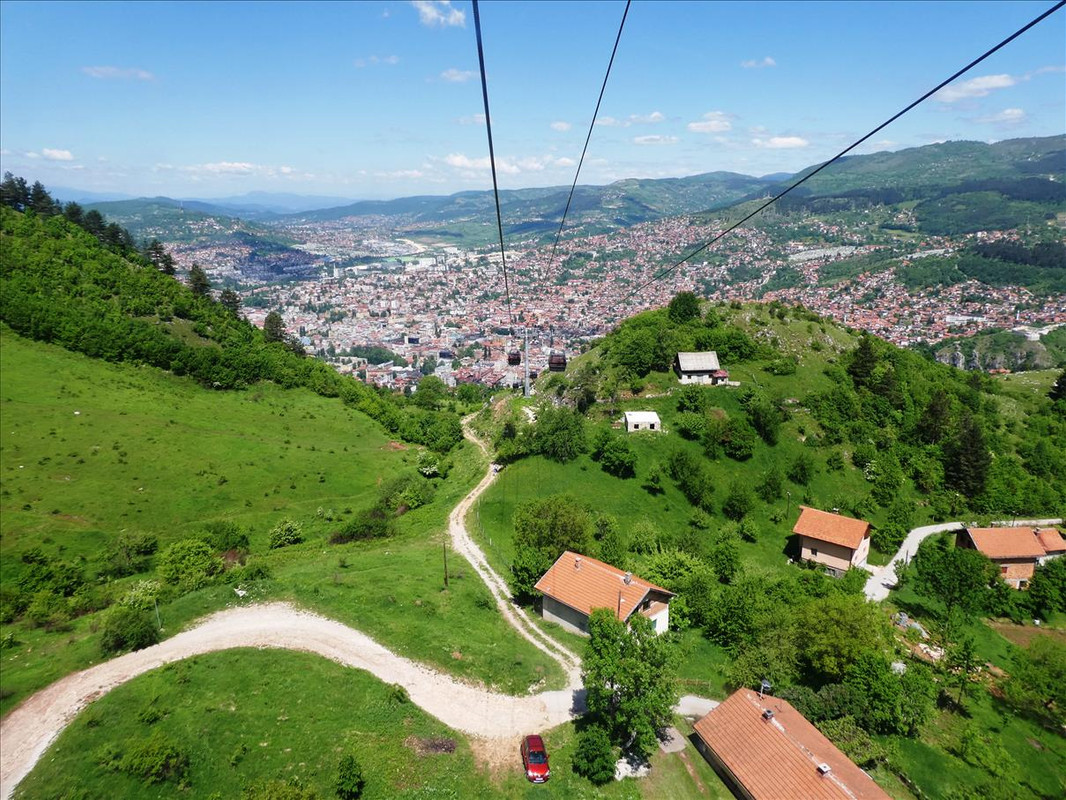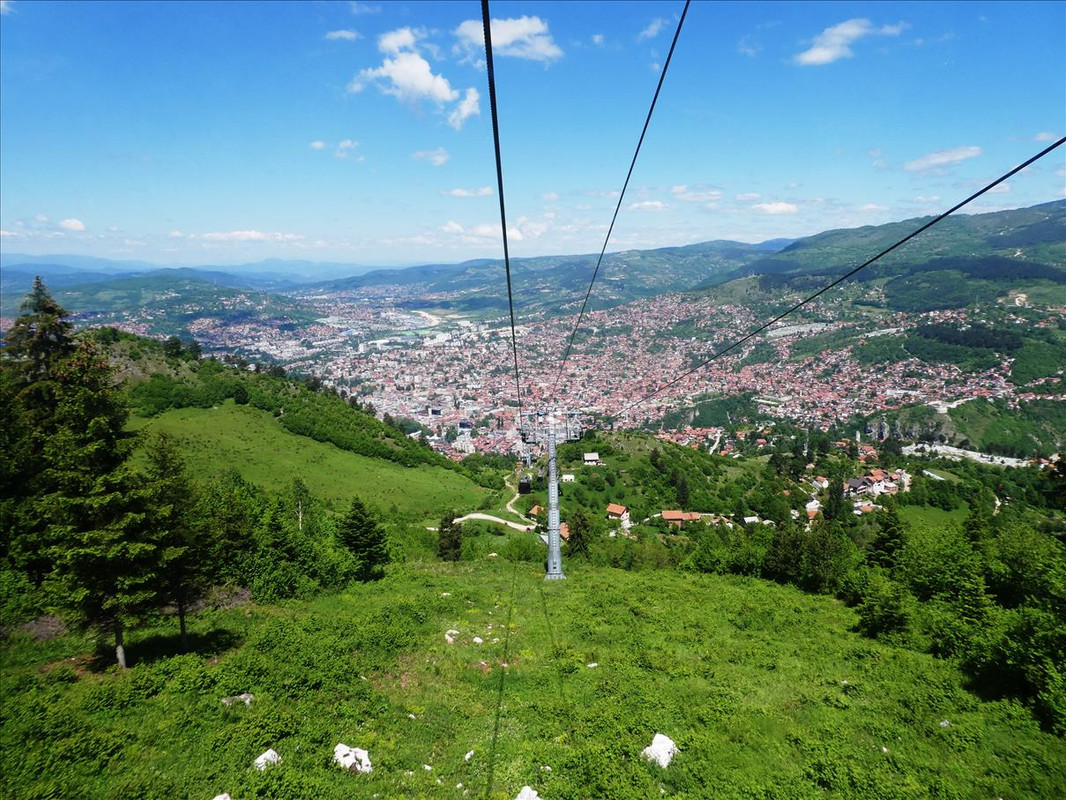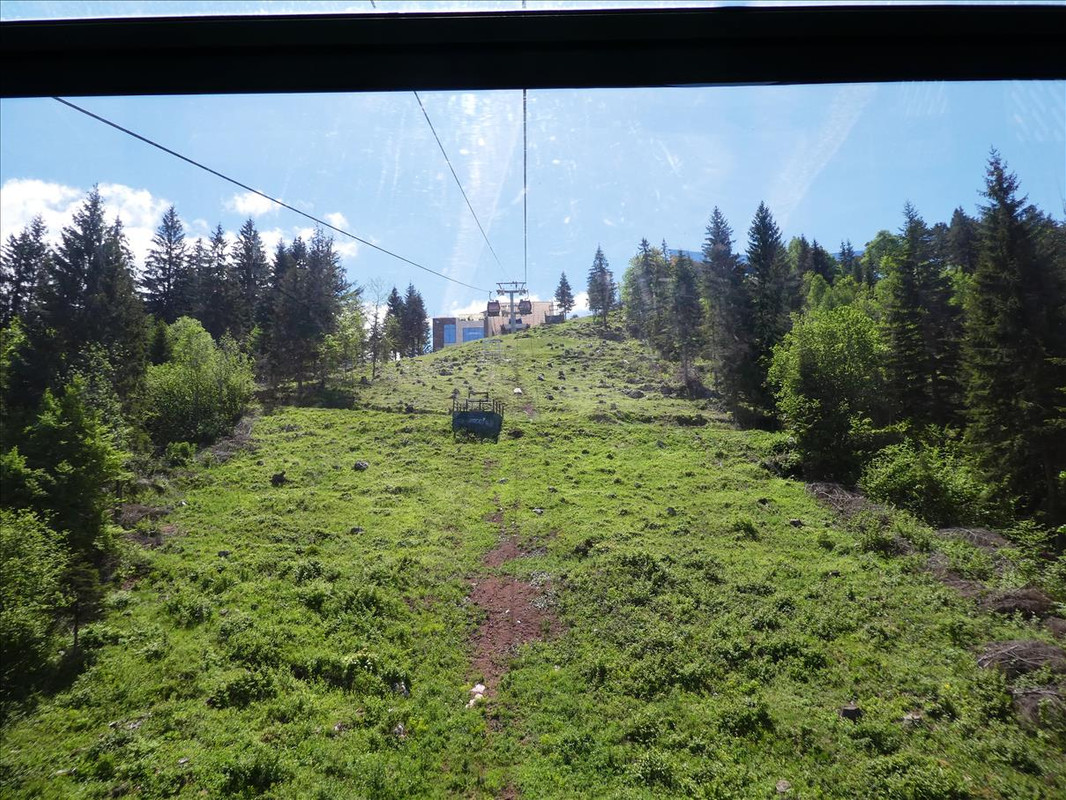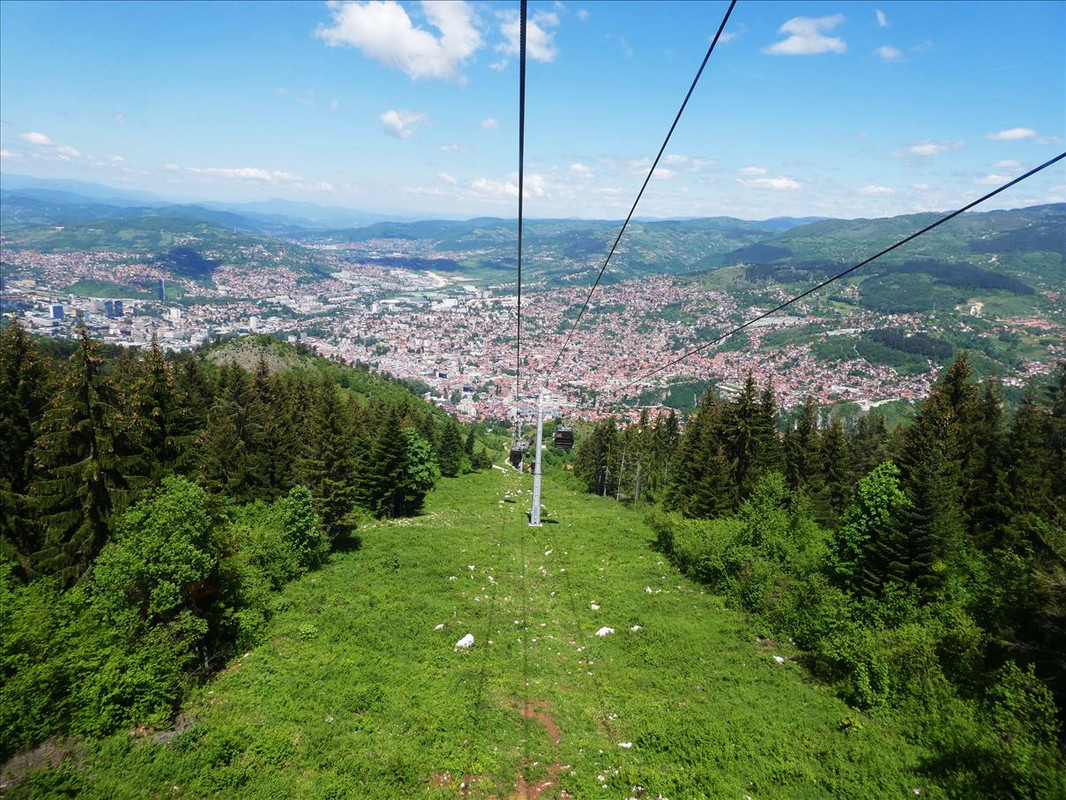 Got there. No cables broke and/or emergency brakes disabled (as with the recent Italian disaster) -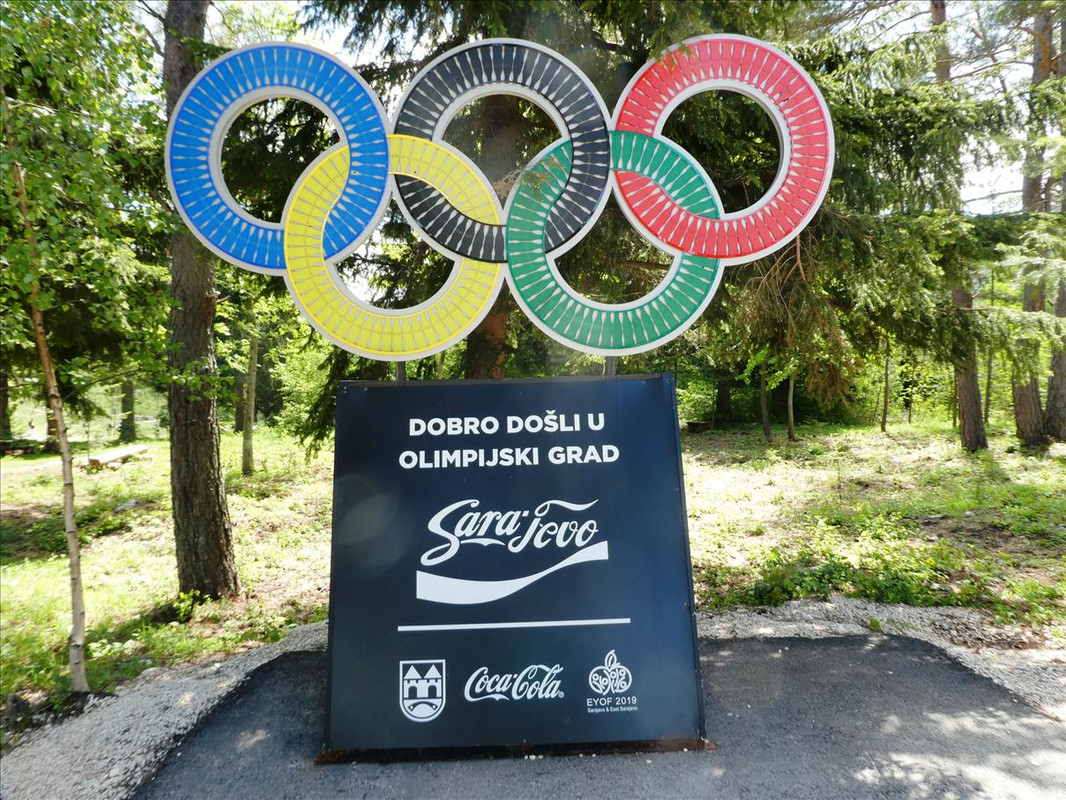 A last look back down as we set off -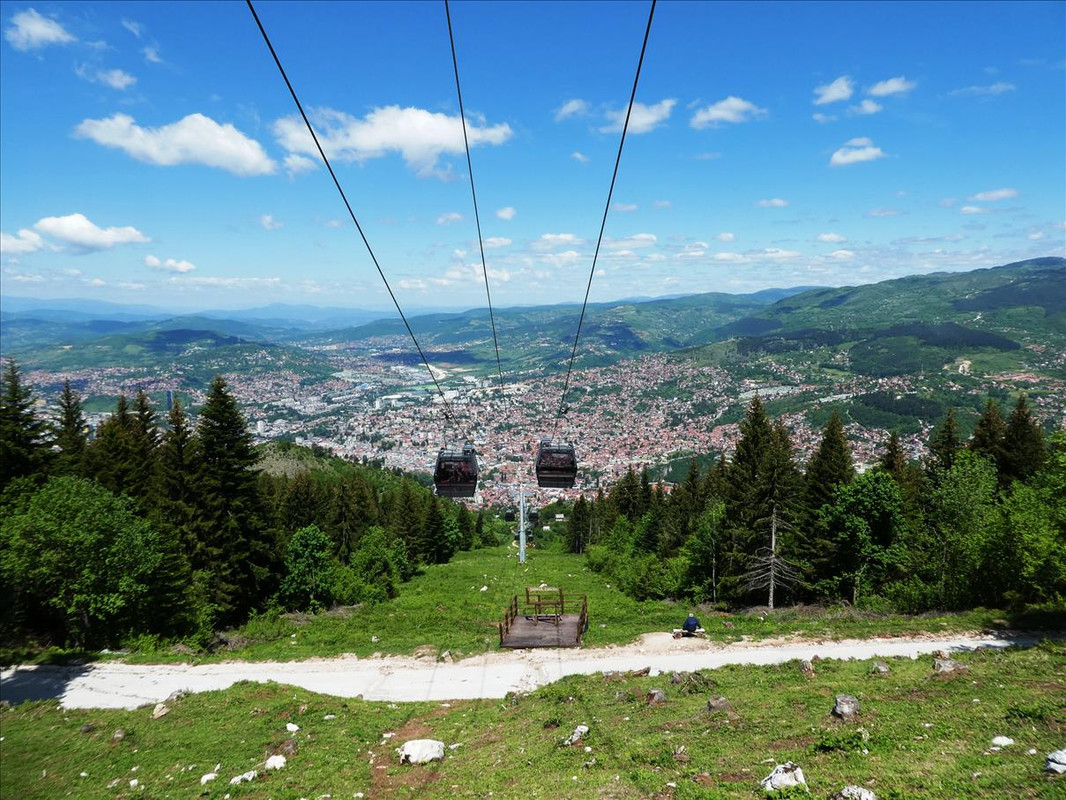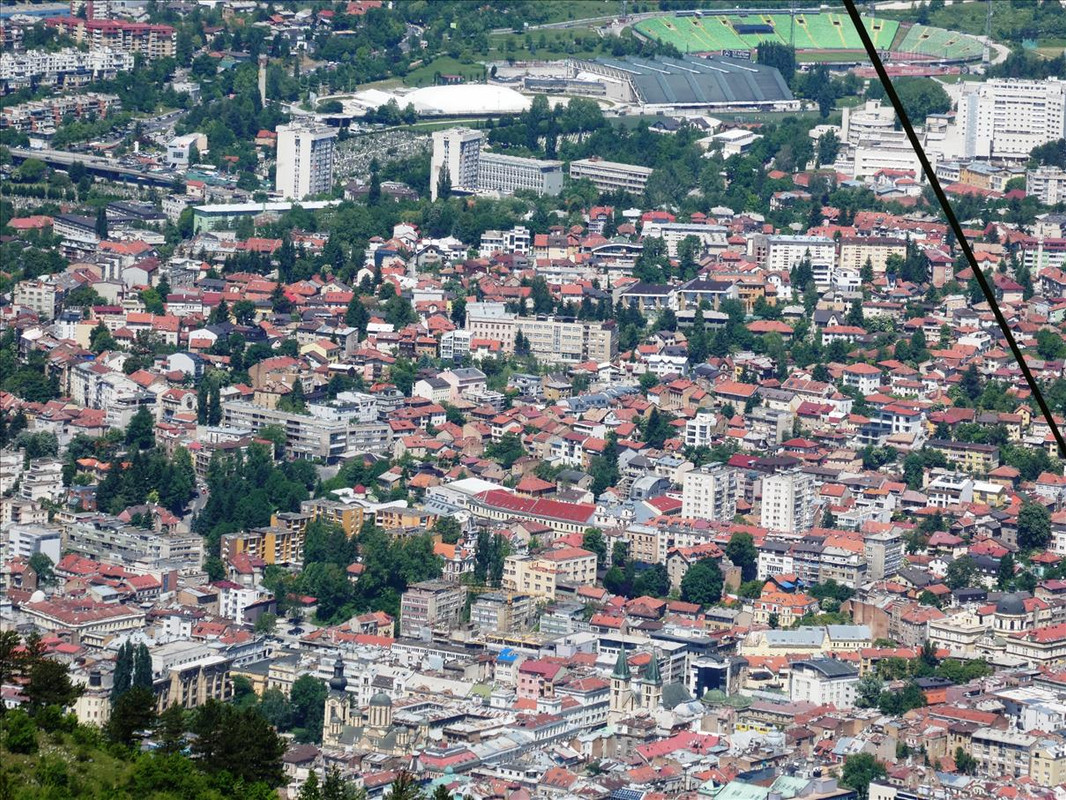 Soon we came to the old Olympic bobsleigh and luge track. There are quite serious attempts to consider opening it back up again, but they are hampered not so much by the track, as the ancillary necessities like refrigeration.
Built for the Sarajevo Winter Olympics in 1984.
It is in three sections which combined for the Olympics and top class competitions and is 1300m long.
What I didn't know is that you can actually walk the full length inside the track still. I wondered if I tried to, somewhere I'd be met by a missing section and have to walk back up again. So I ended up nipping on and off it.
This is the start. For a while the main tarmac track runs with it -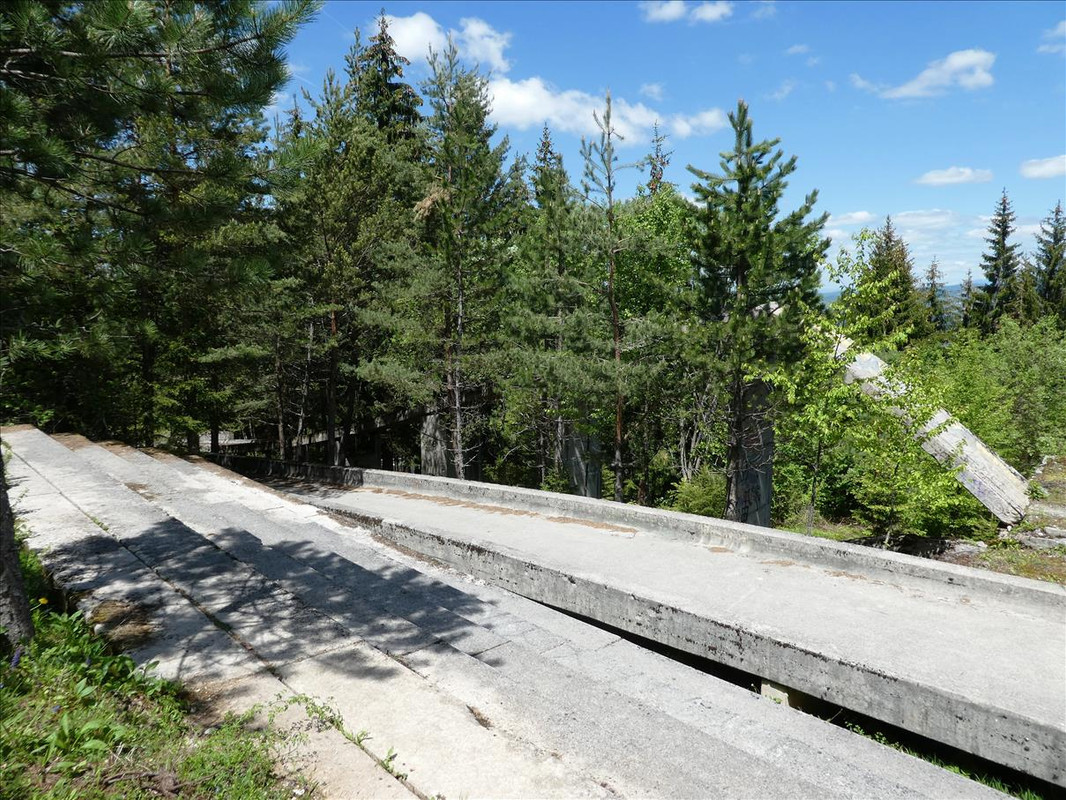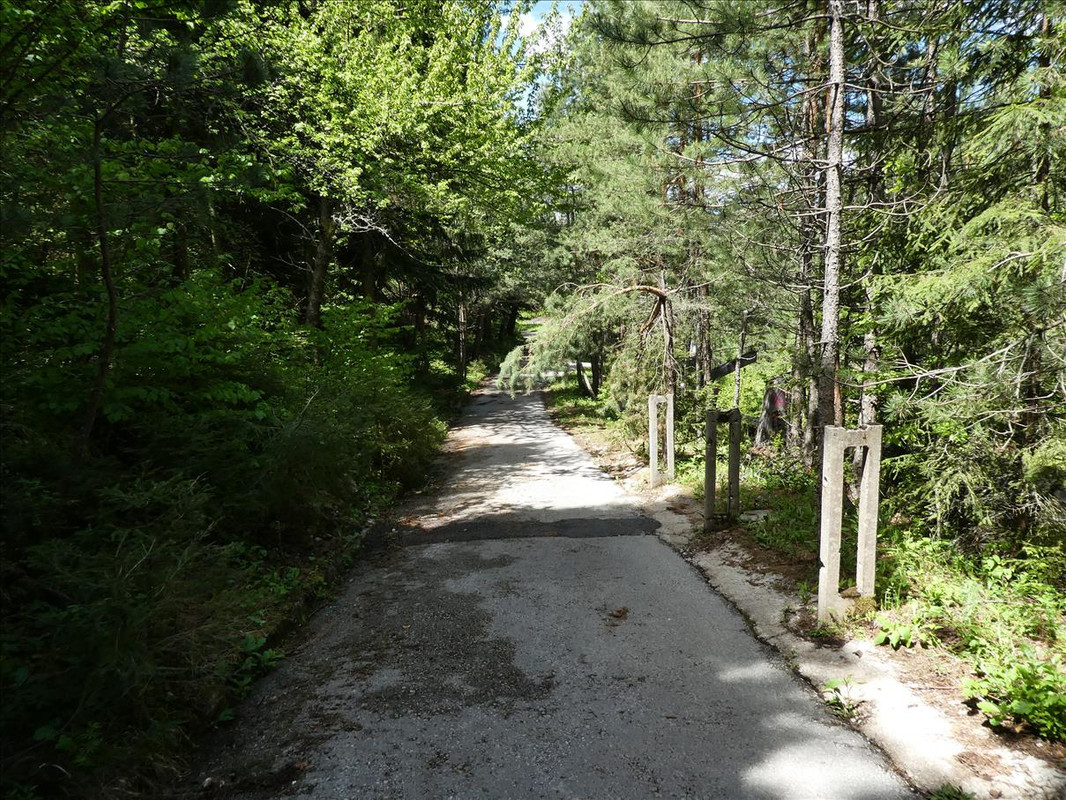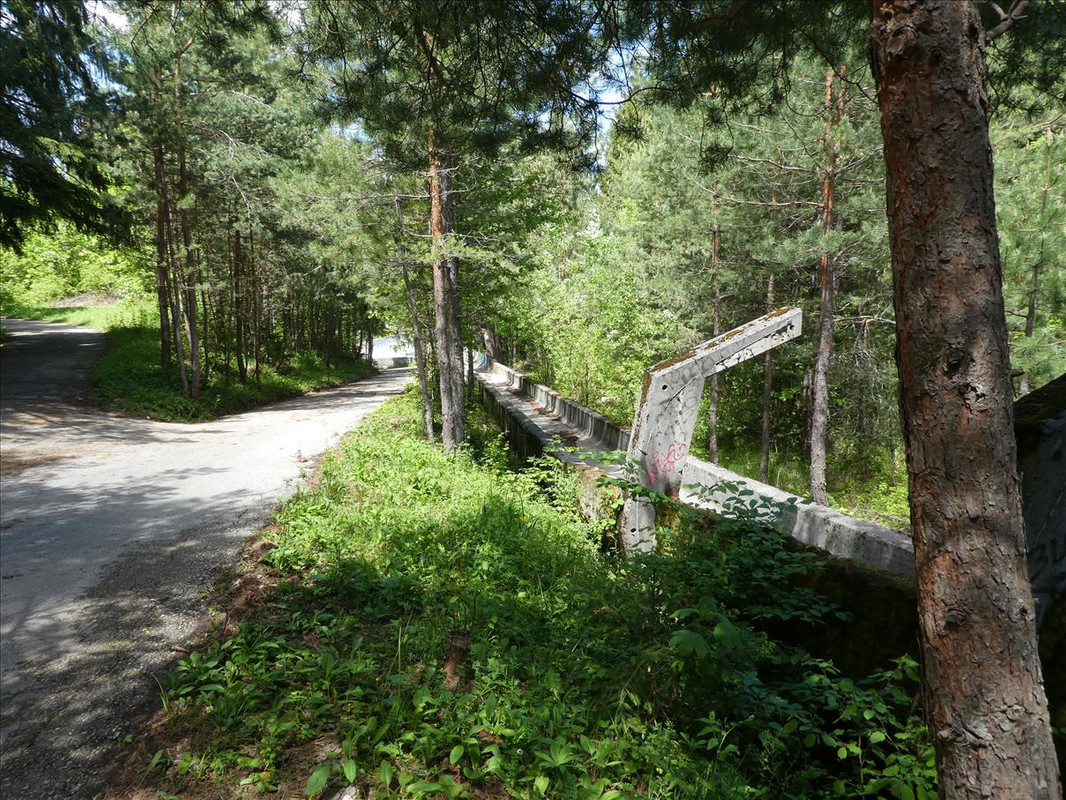 It needs some imagination, but this is the view from a bobsleigh. I crouched down to that approximate height -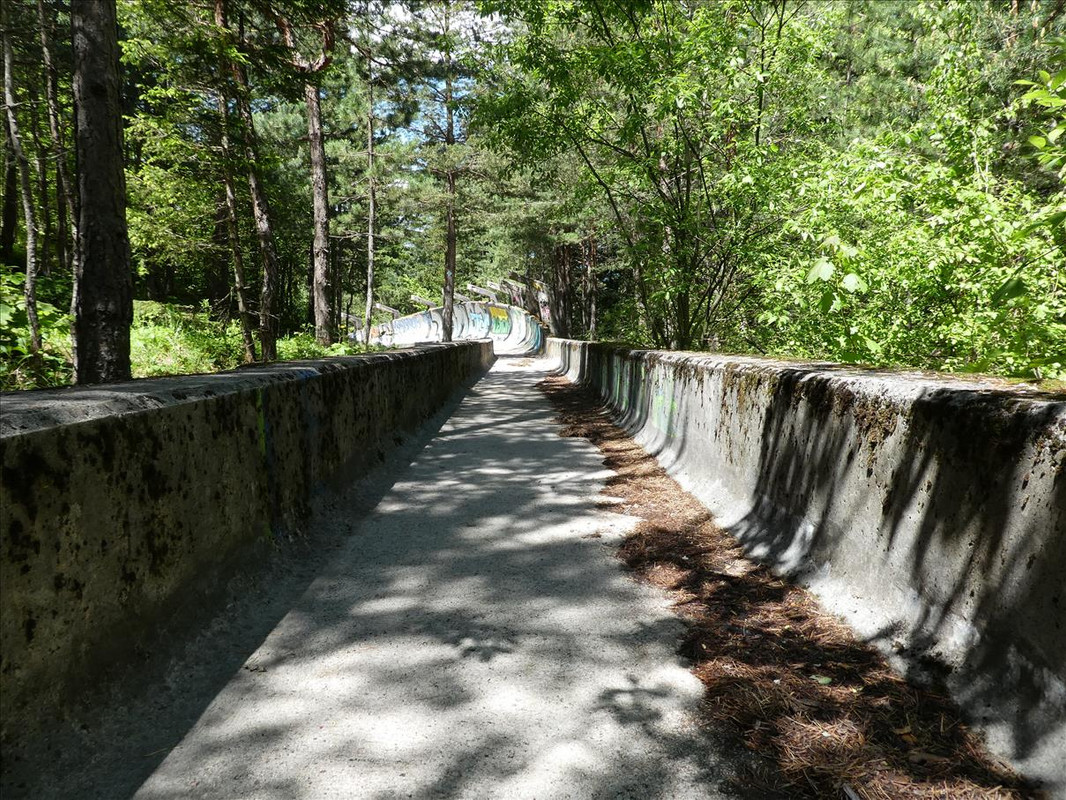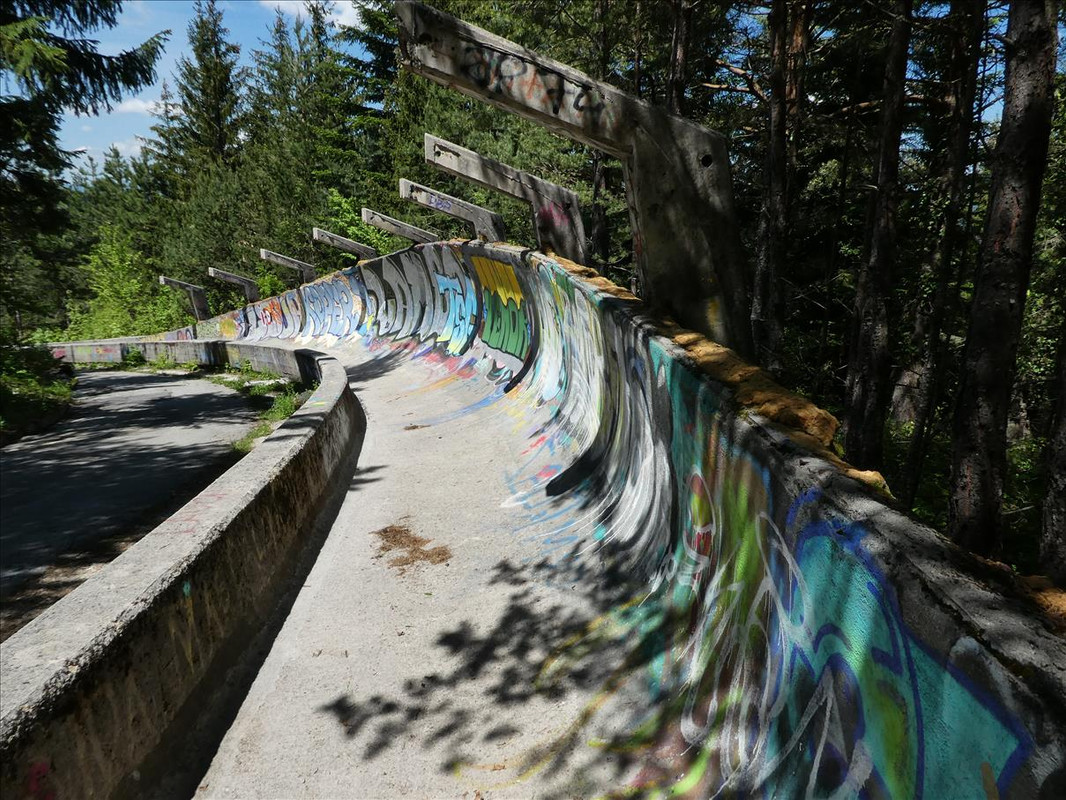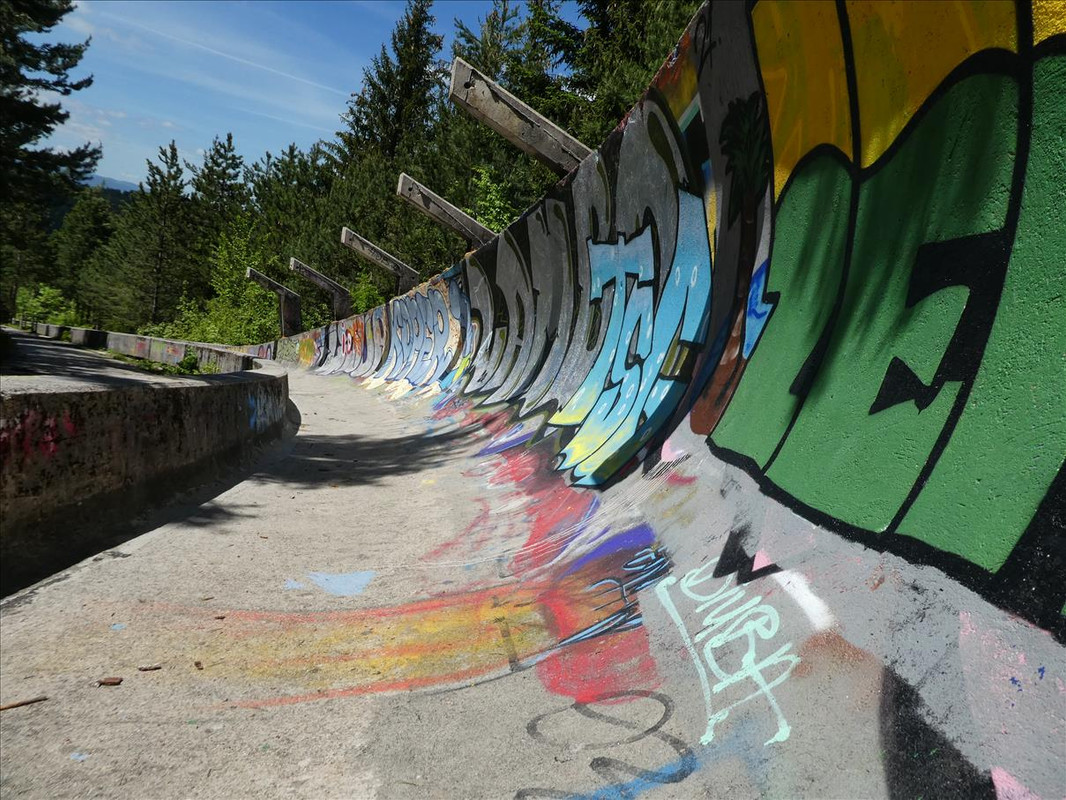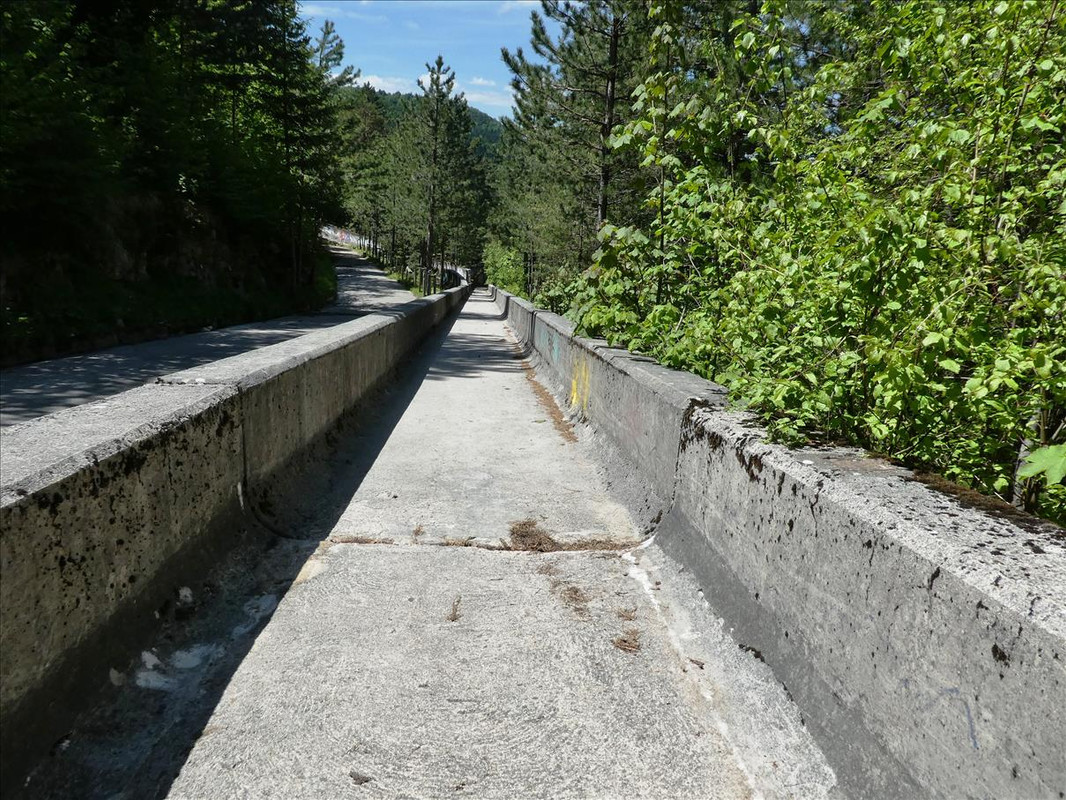 This part was where different sections ended or started -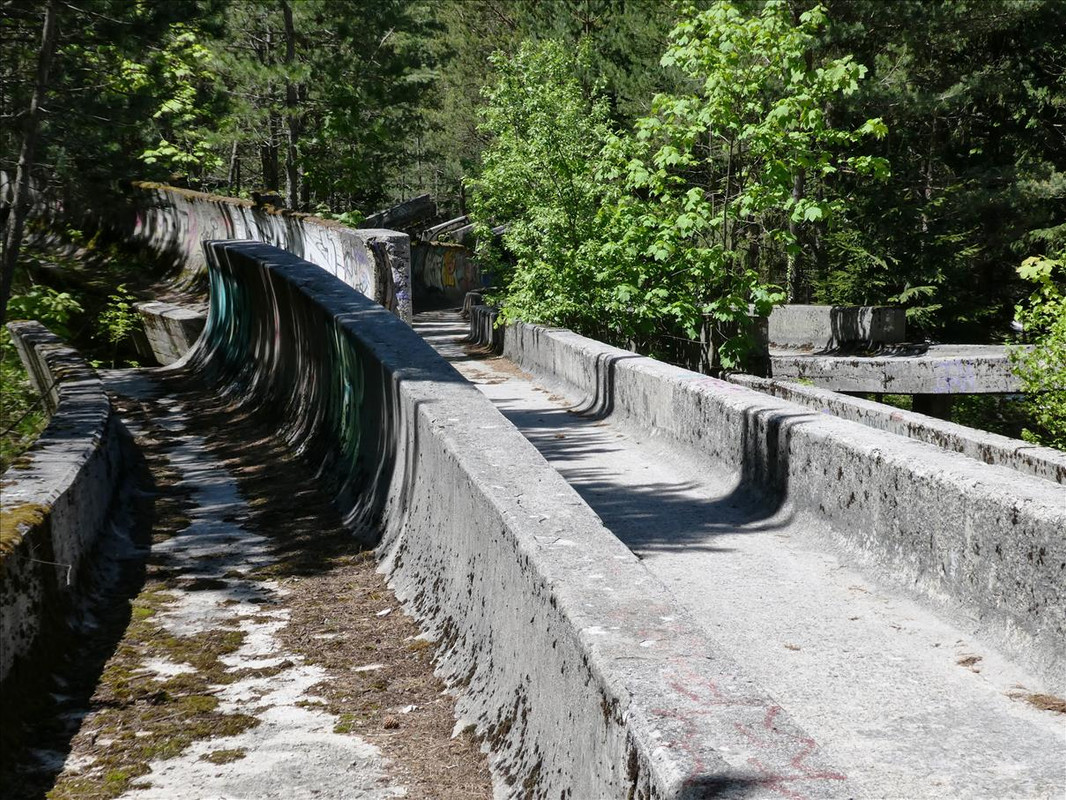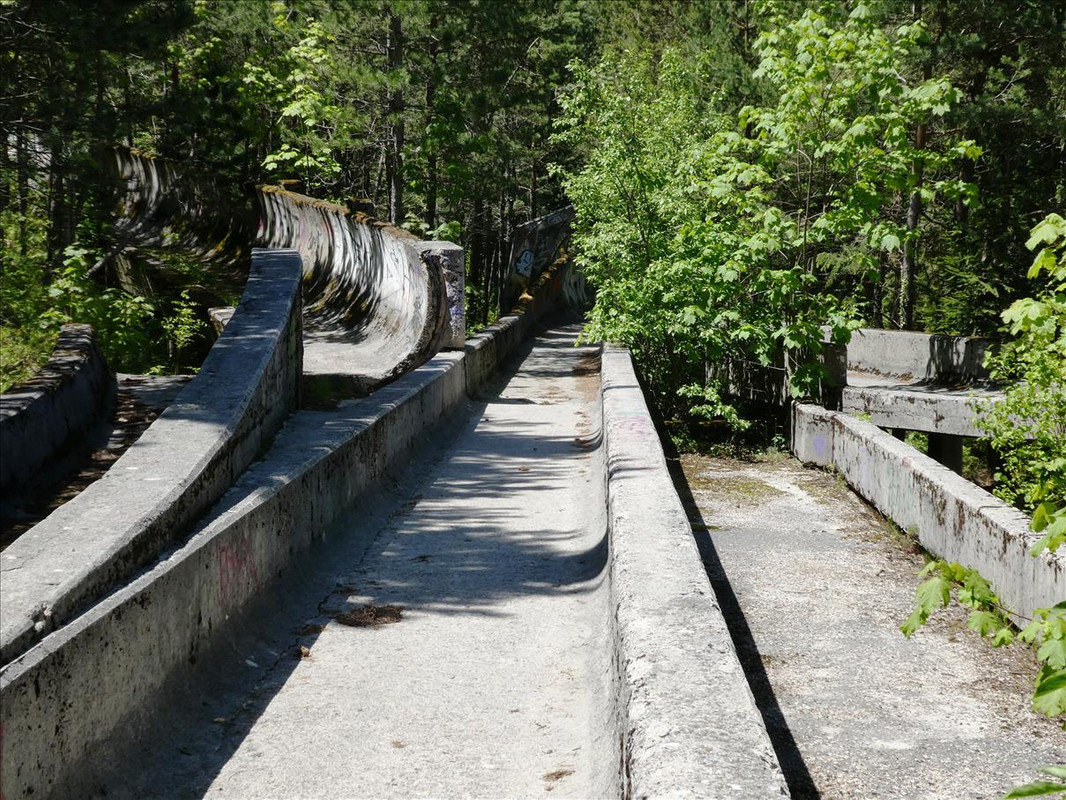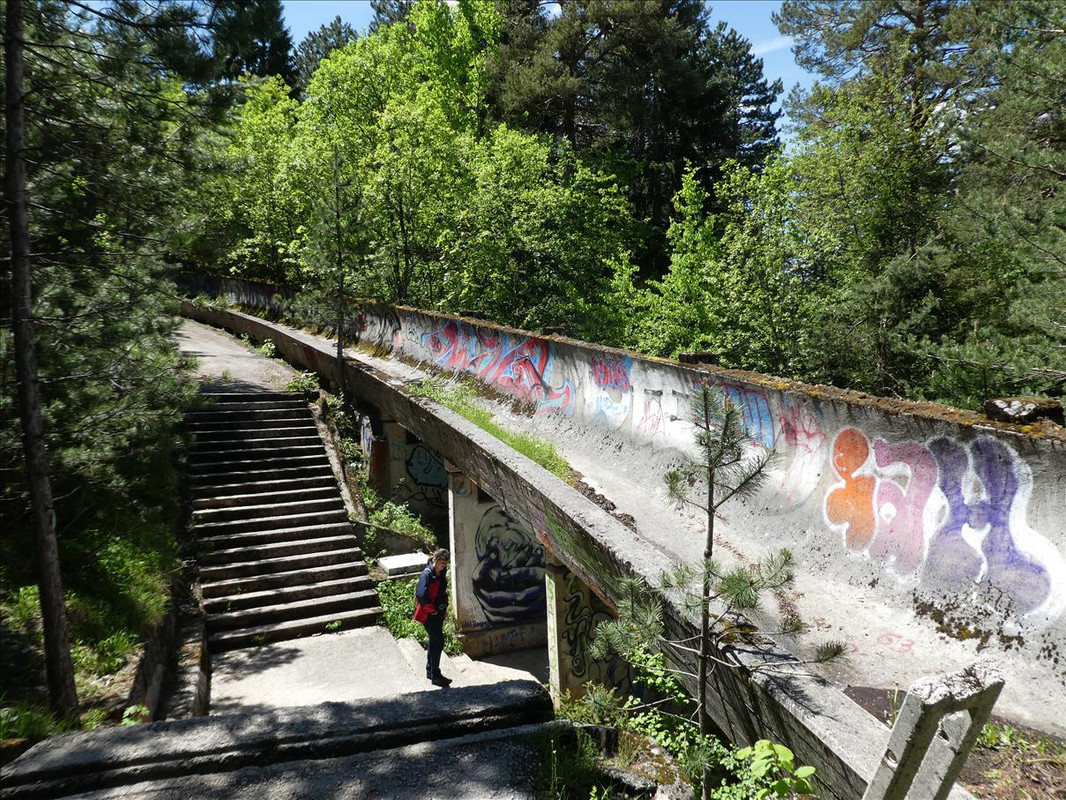 Back on the main track and onwards. The brown you see on the track is the insulation -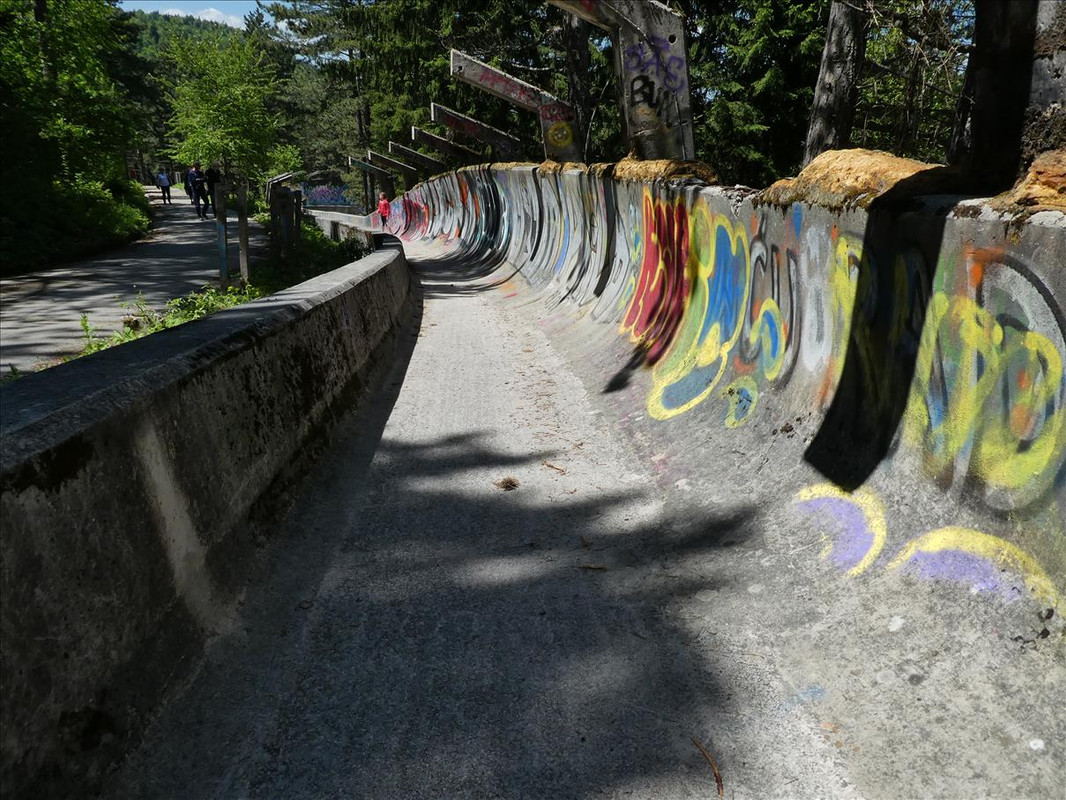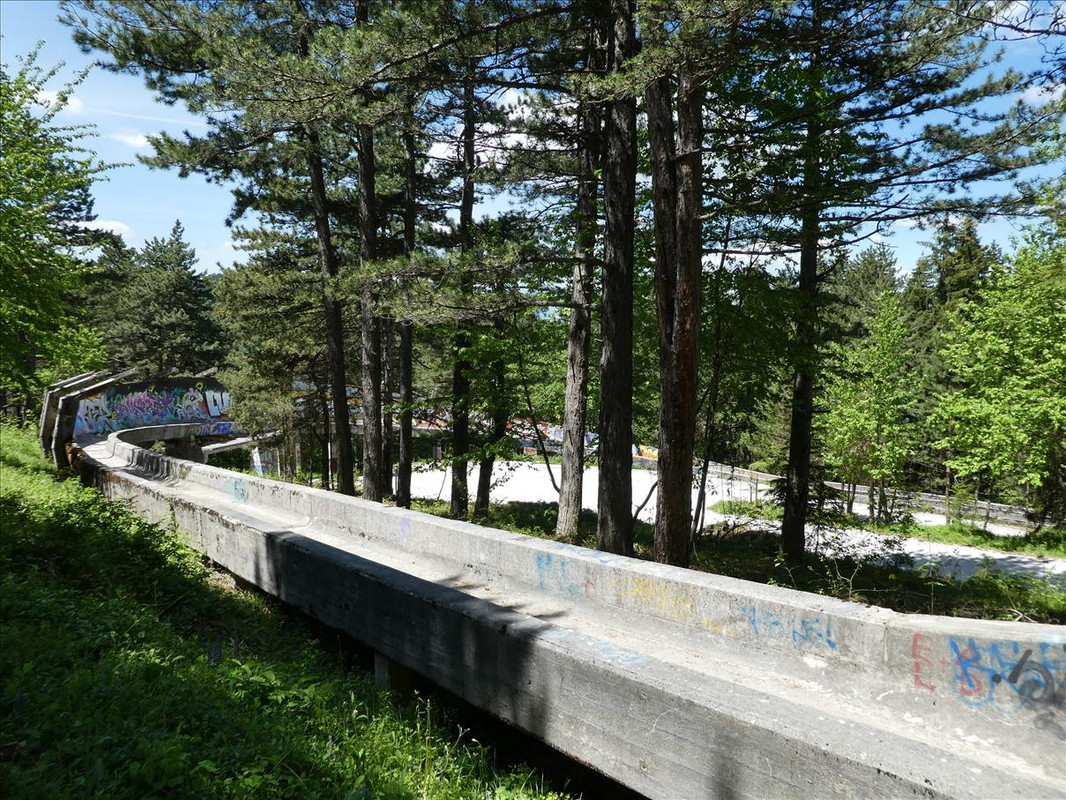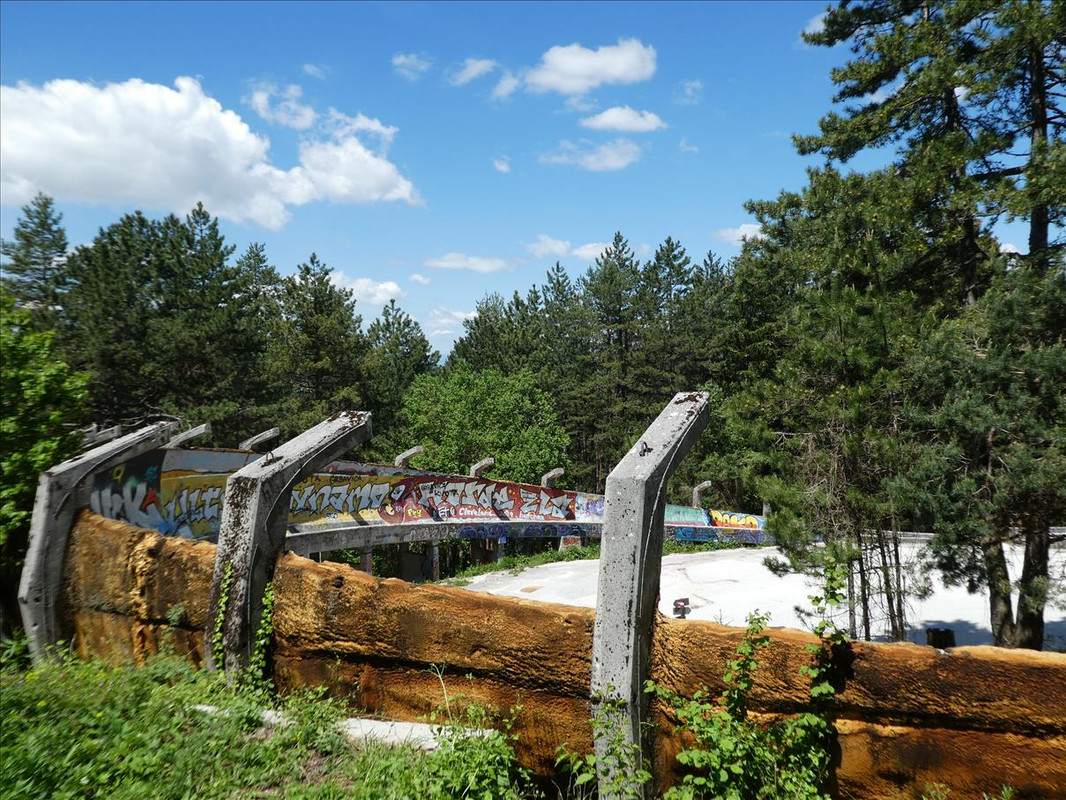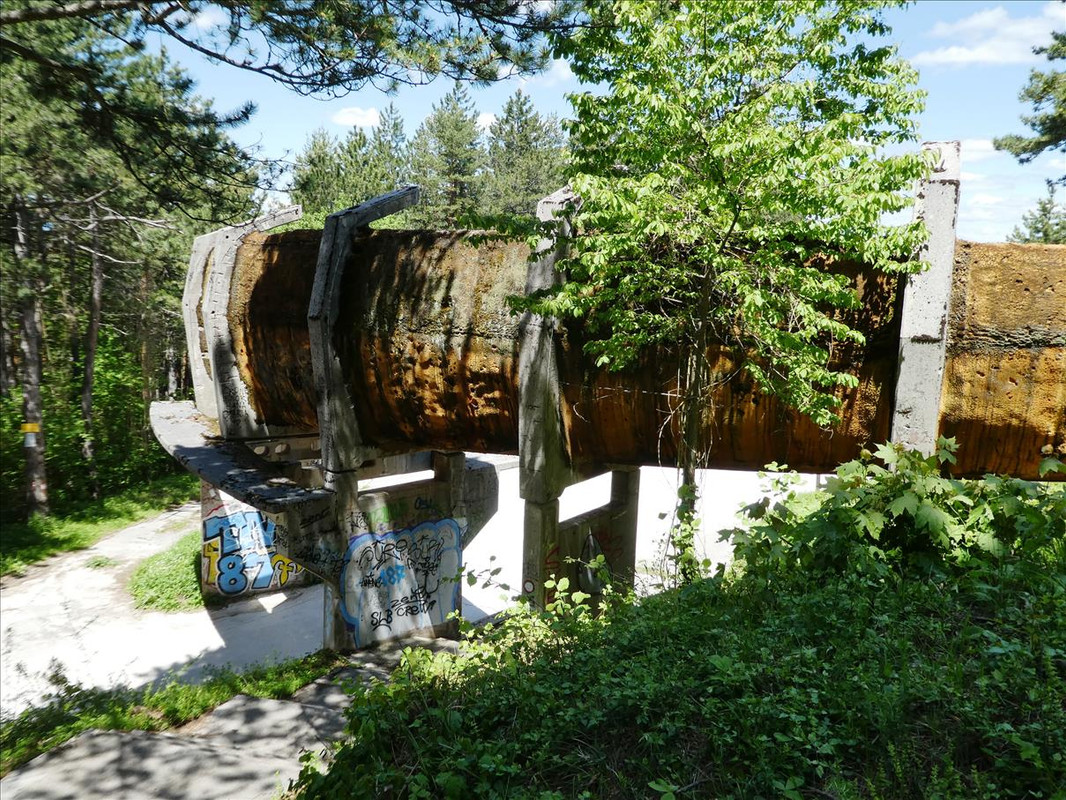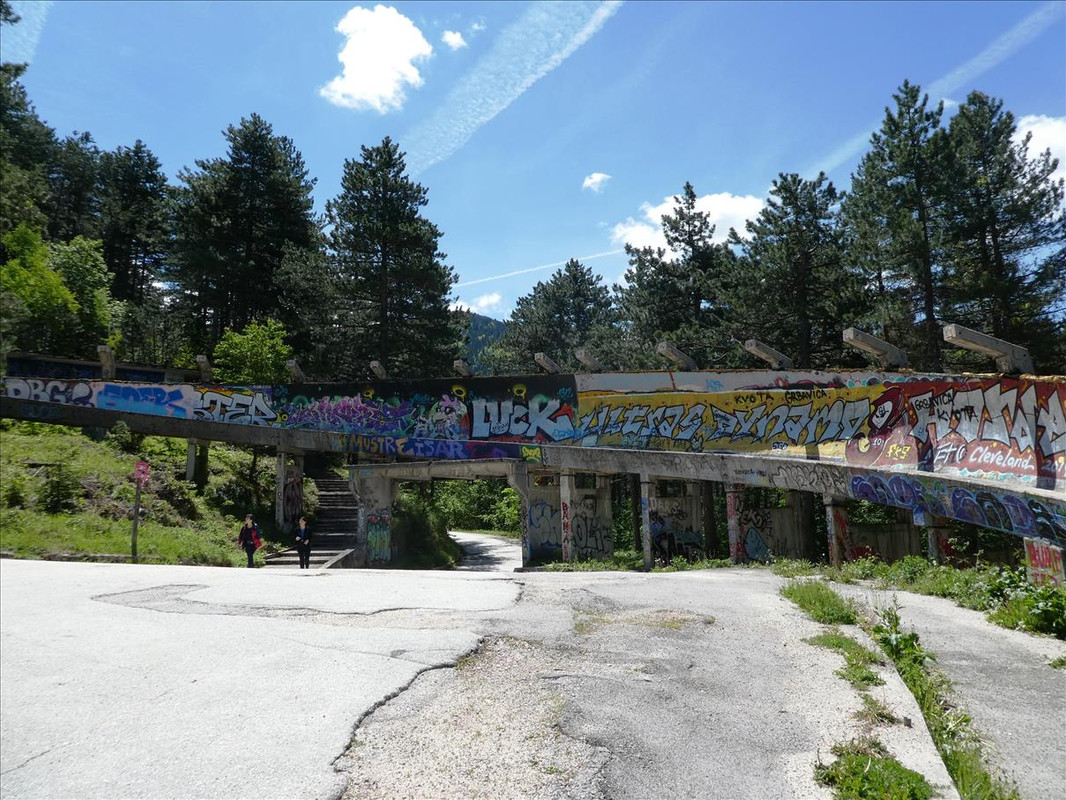 Again, the track splitting off -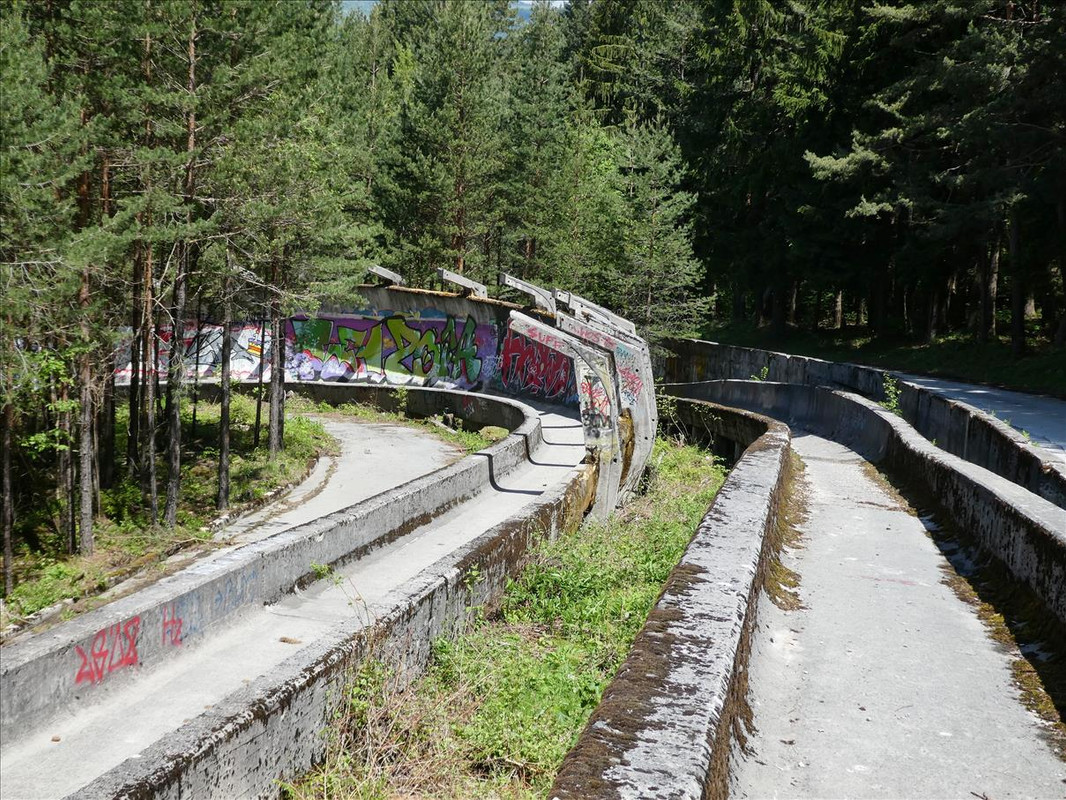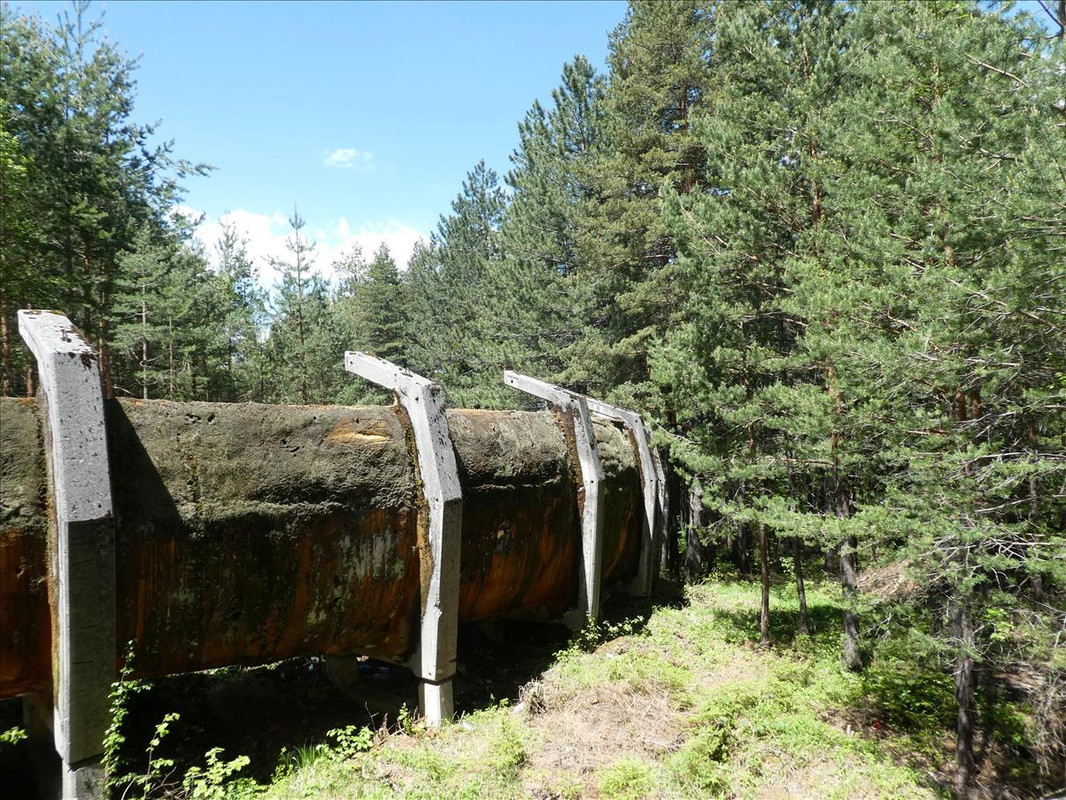 And this is where we made a mistake. The main tarmac track leading down is here. But, I wanted to get to the end of the bobsleigh track and felt it would appear again later on. But it didn't -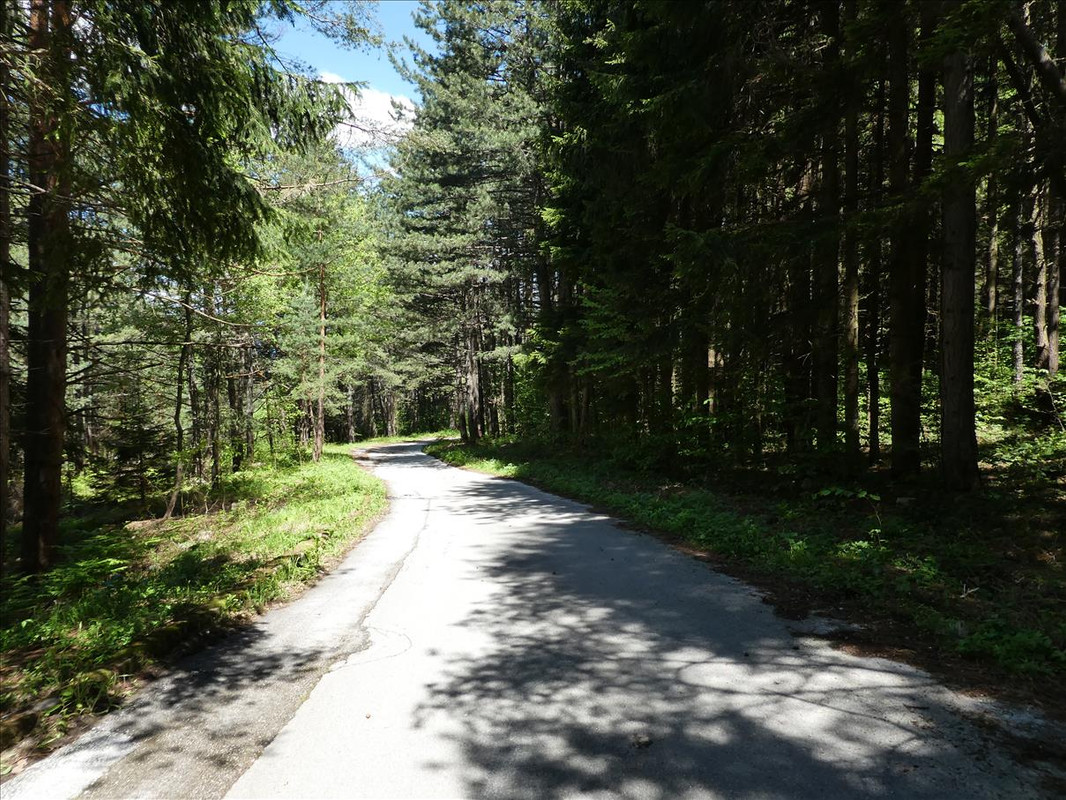 We cut through part of the wood to go further -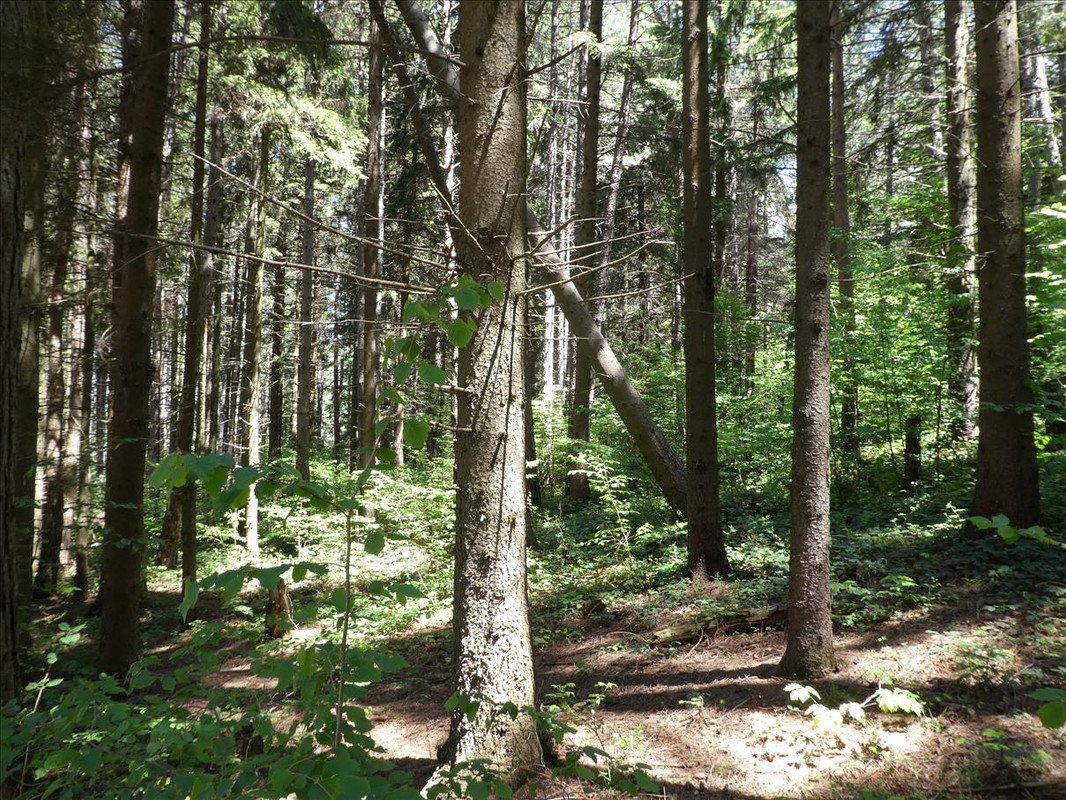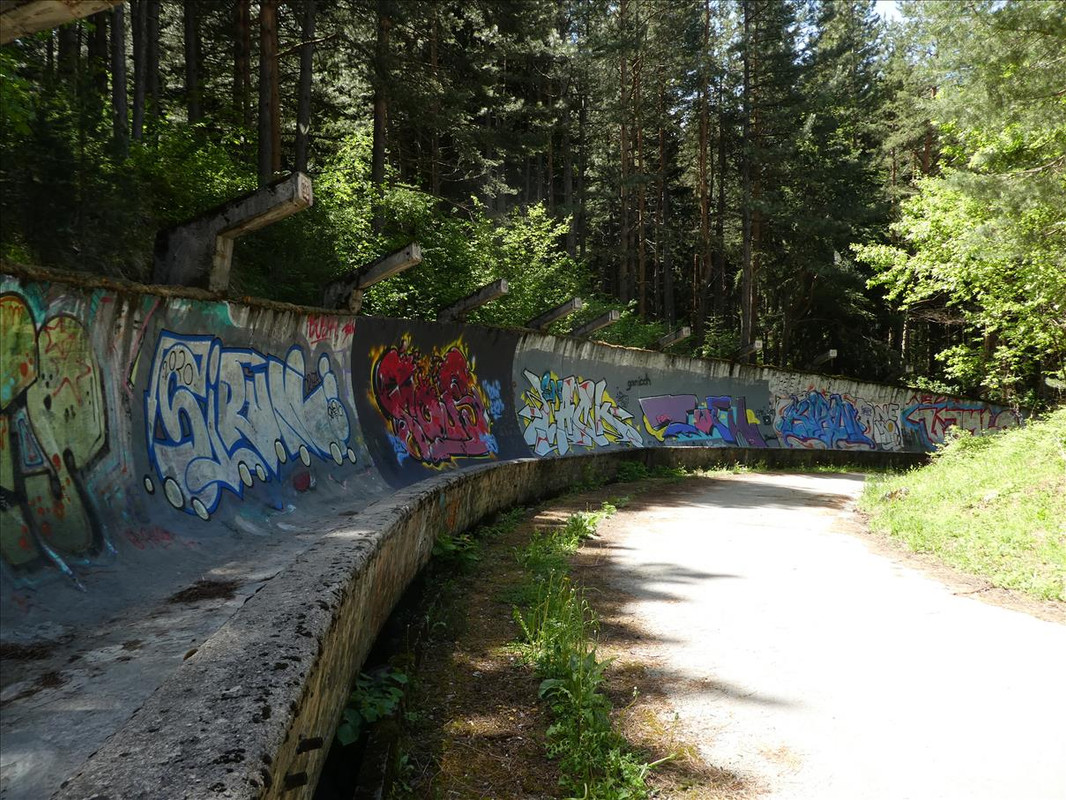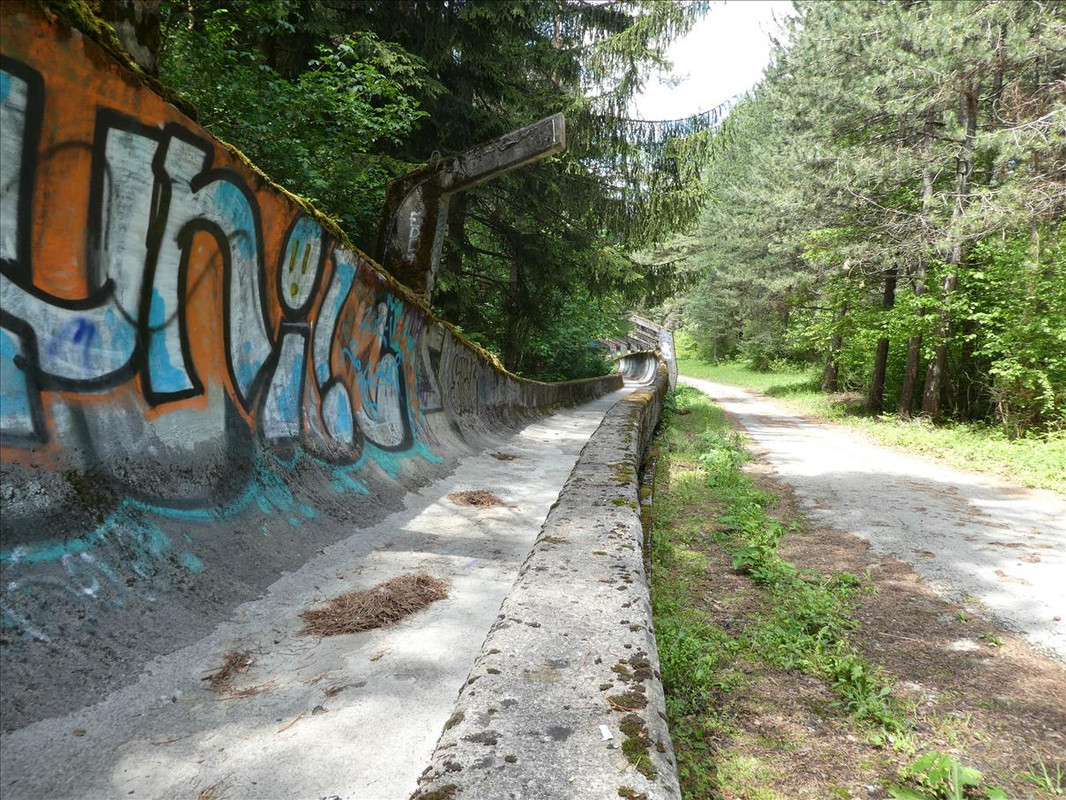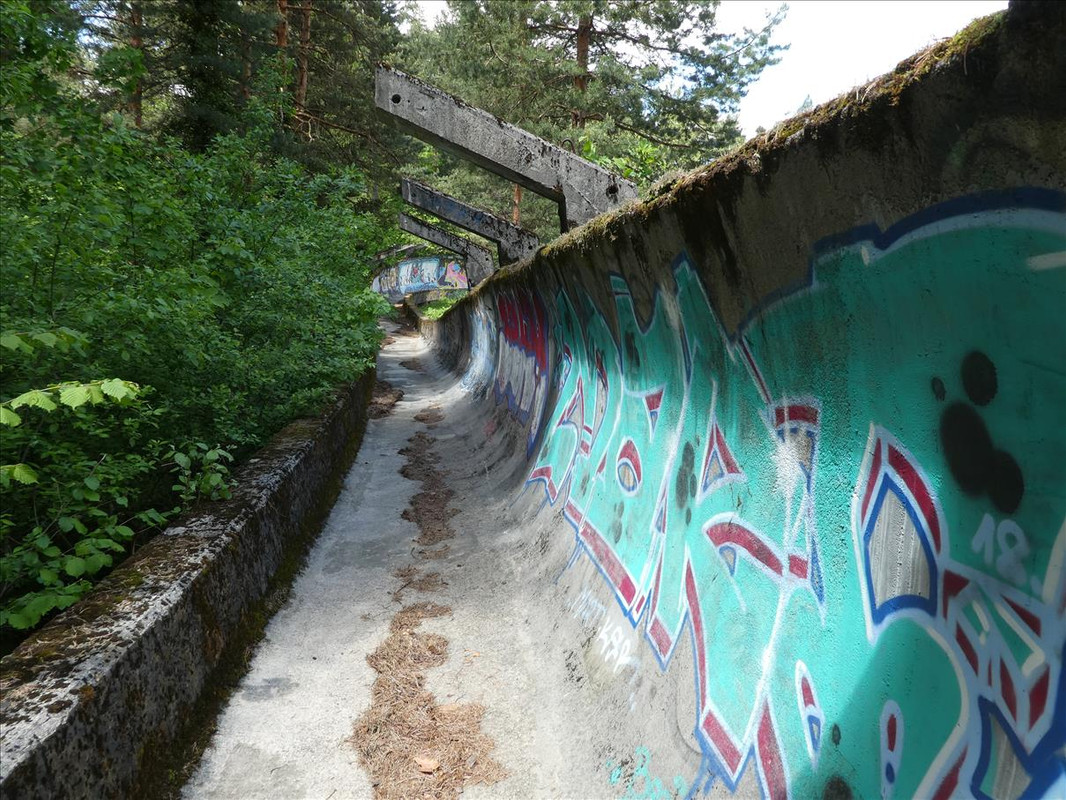 This is the last corner -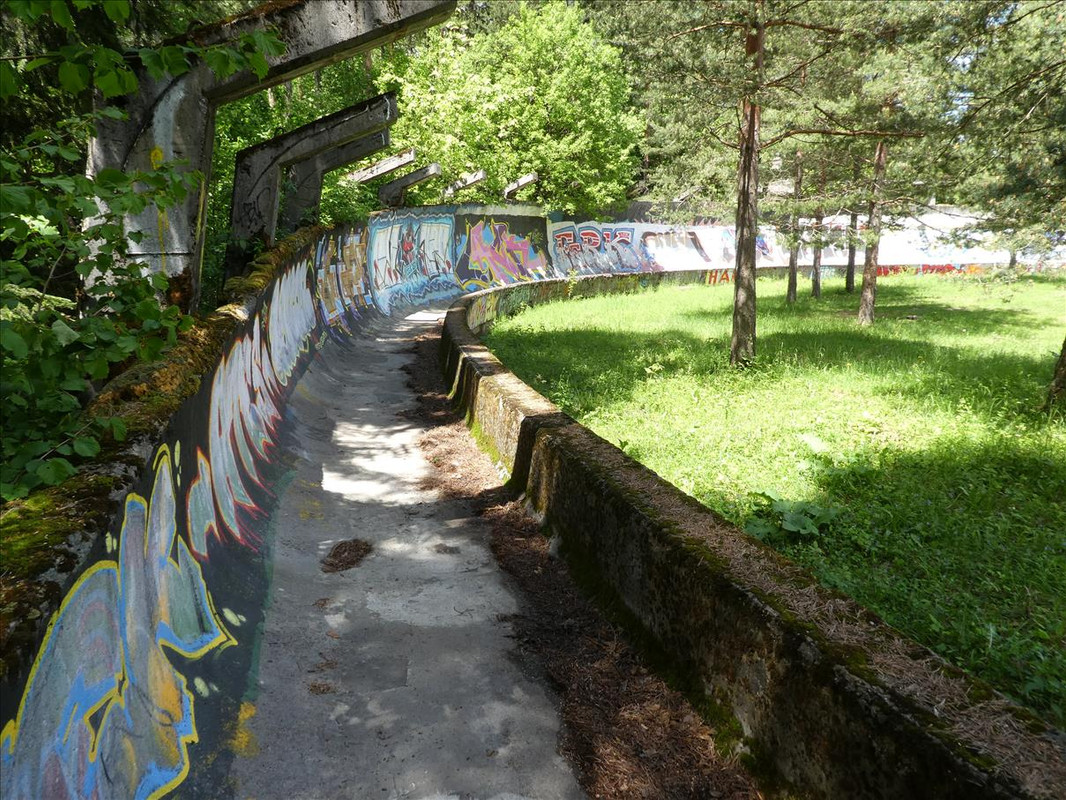 For dramatic effect, imagine doing some unknown but high speed, on ice, and even though it is banked, you still have to steer and with a face full of frozen snot due to the cold and wind -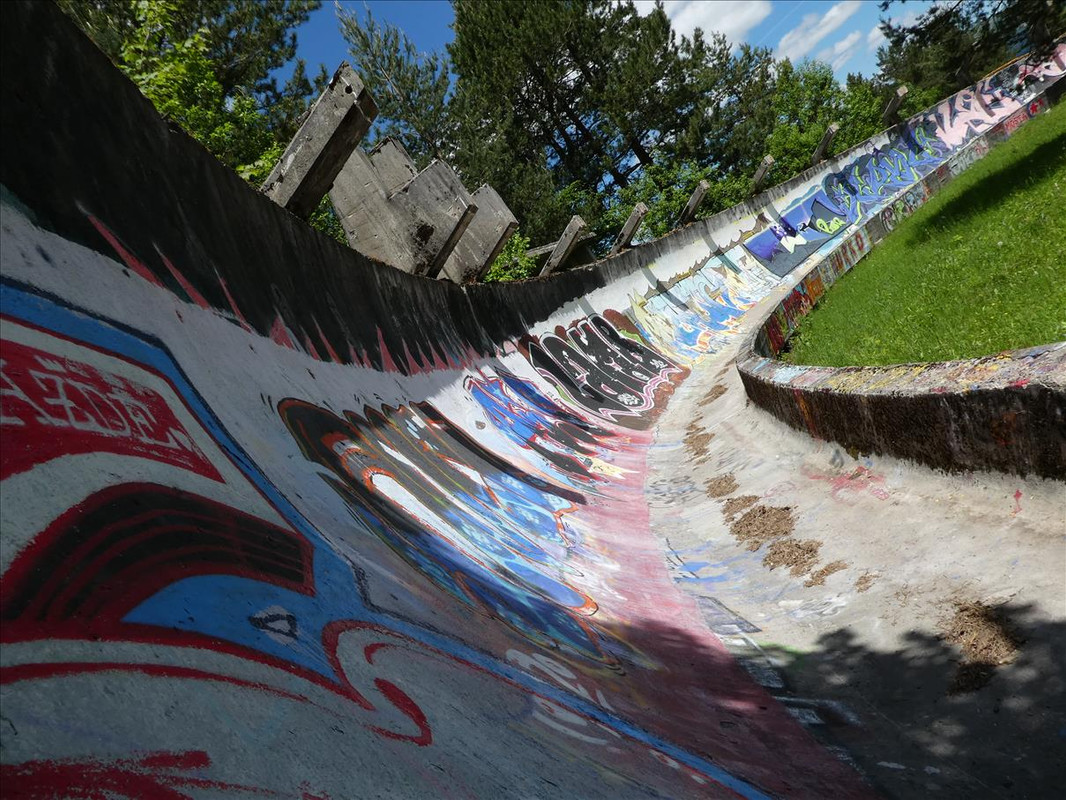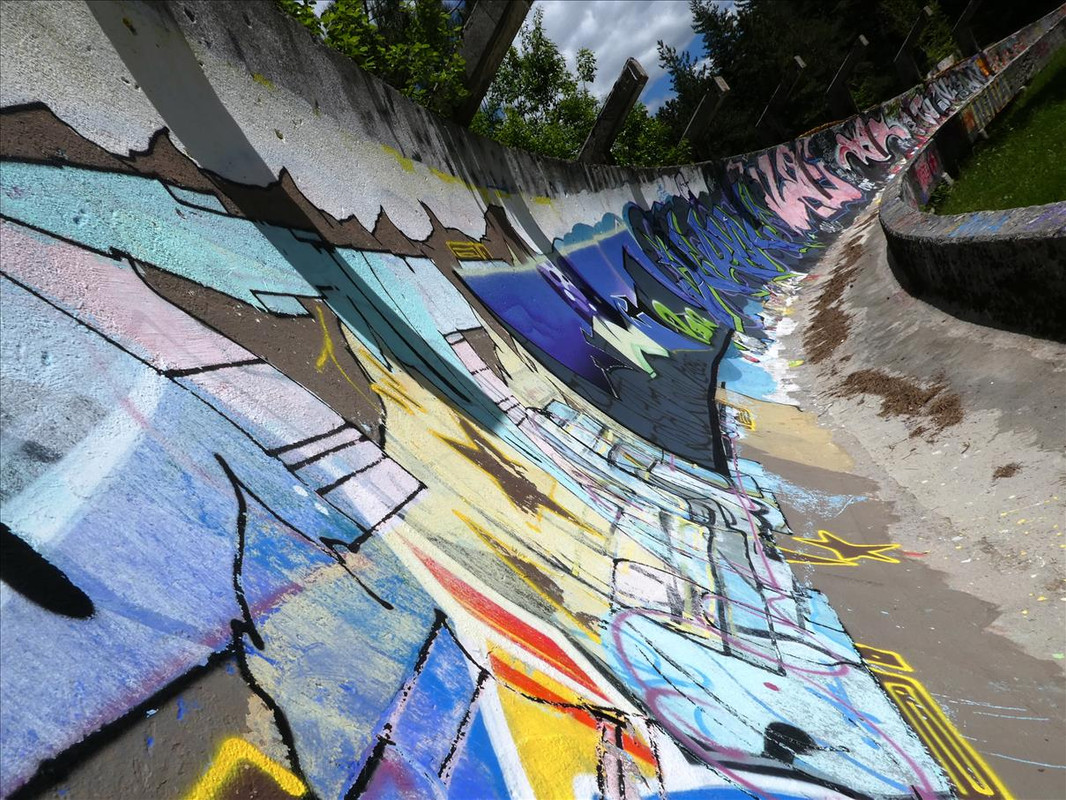 As you come out of the last more or less 180 degree turn it opens up to the finish -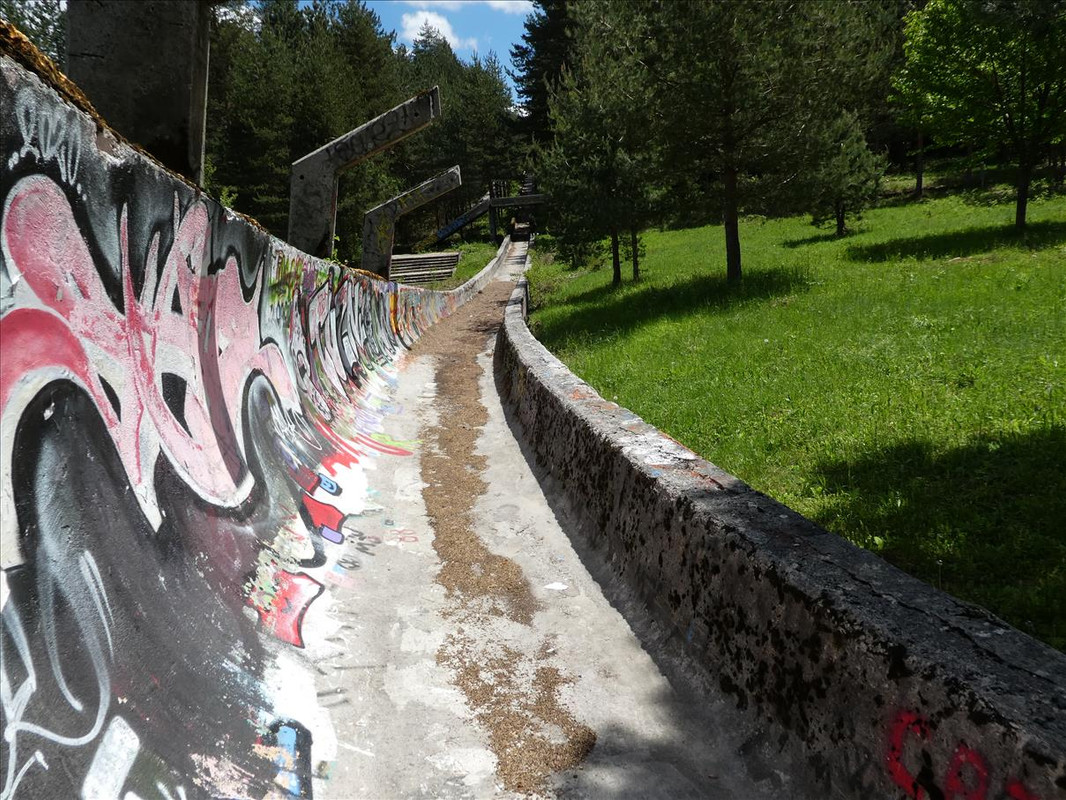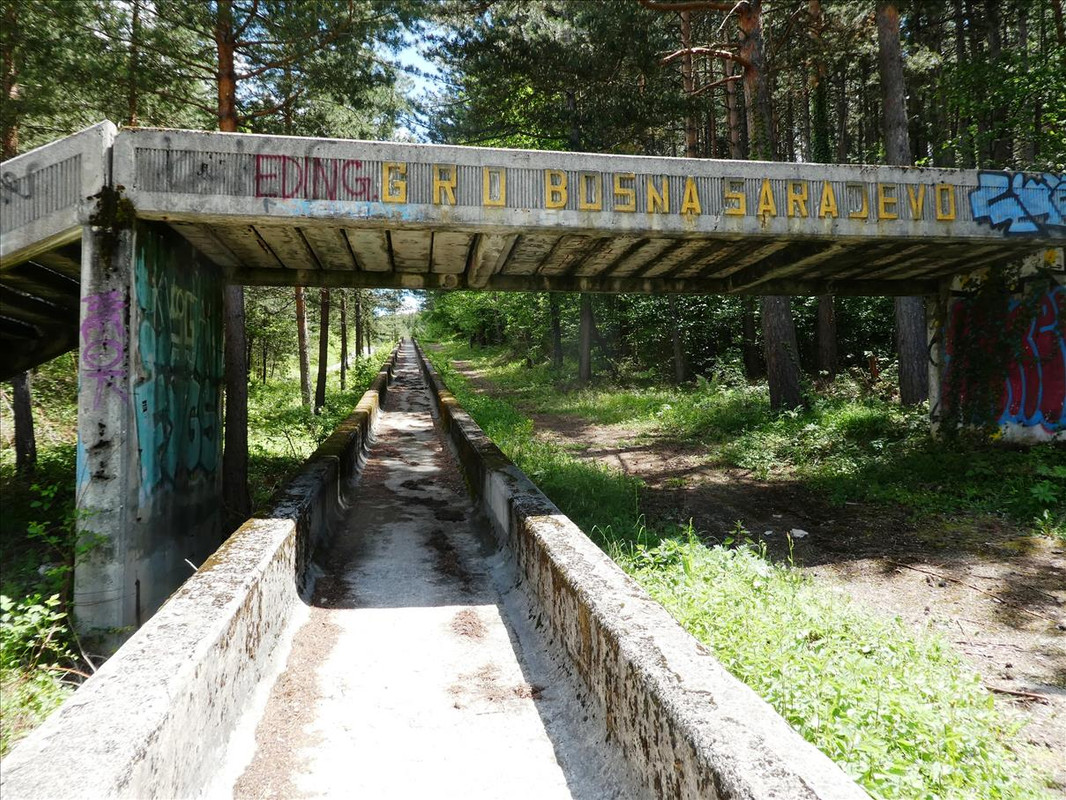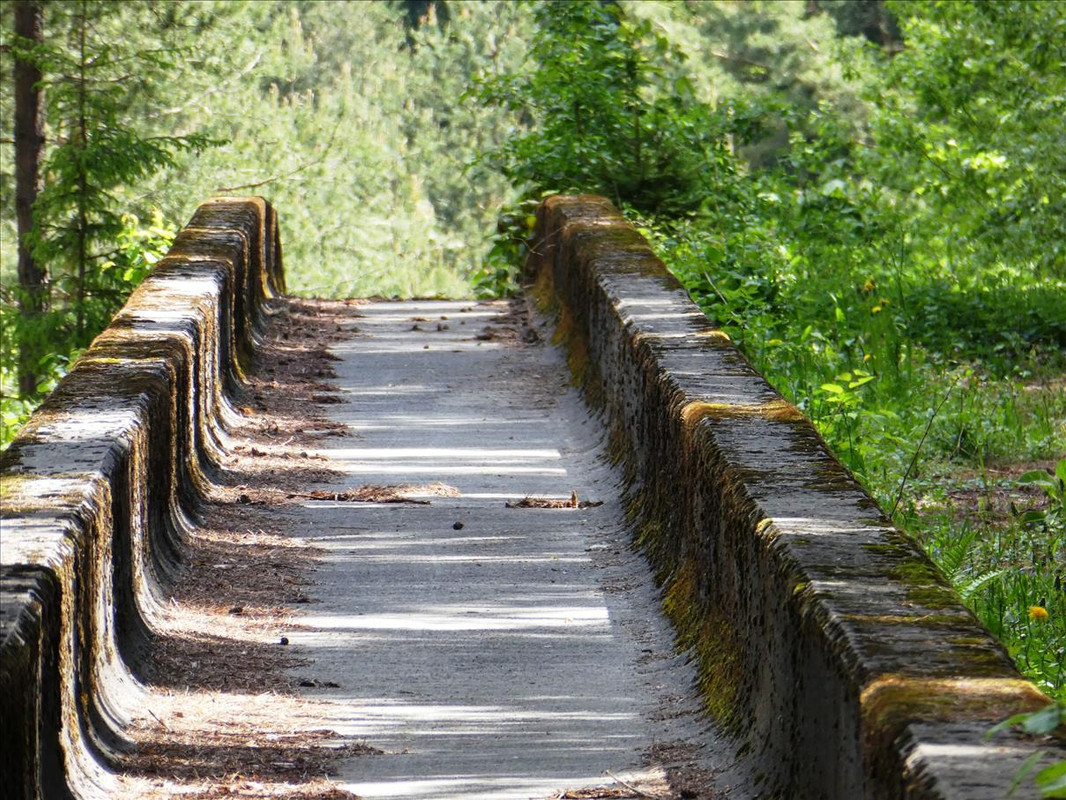 Abandoned building at the end -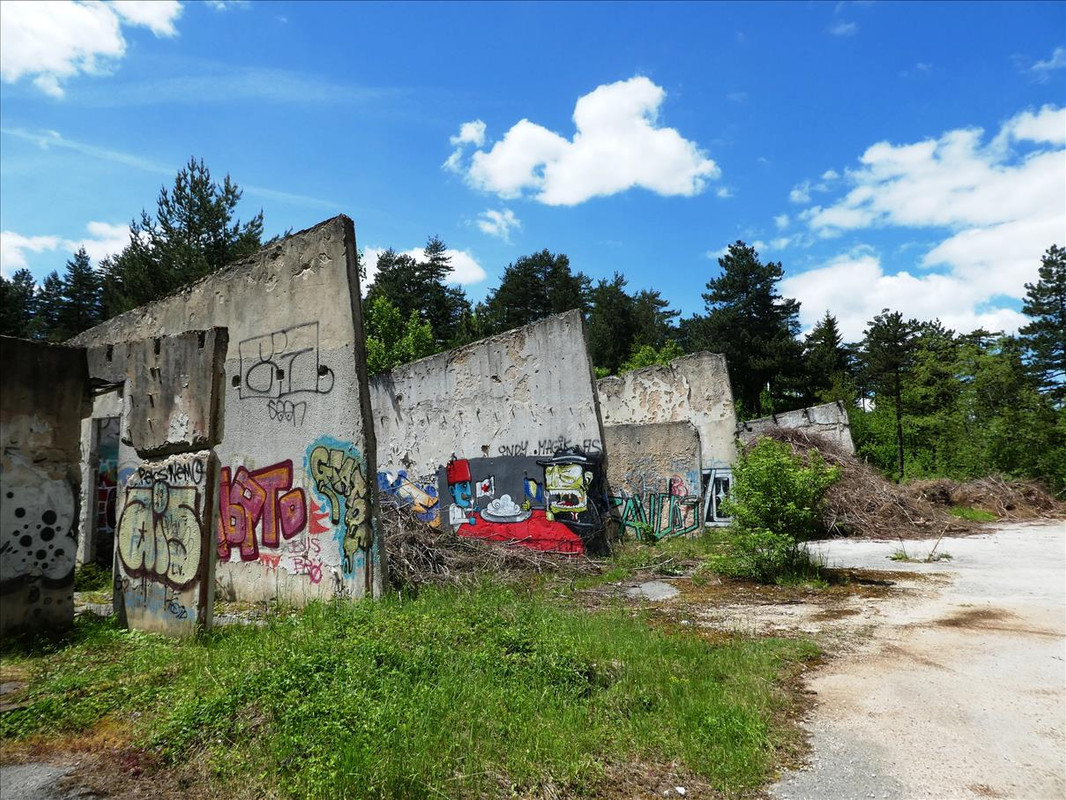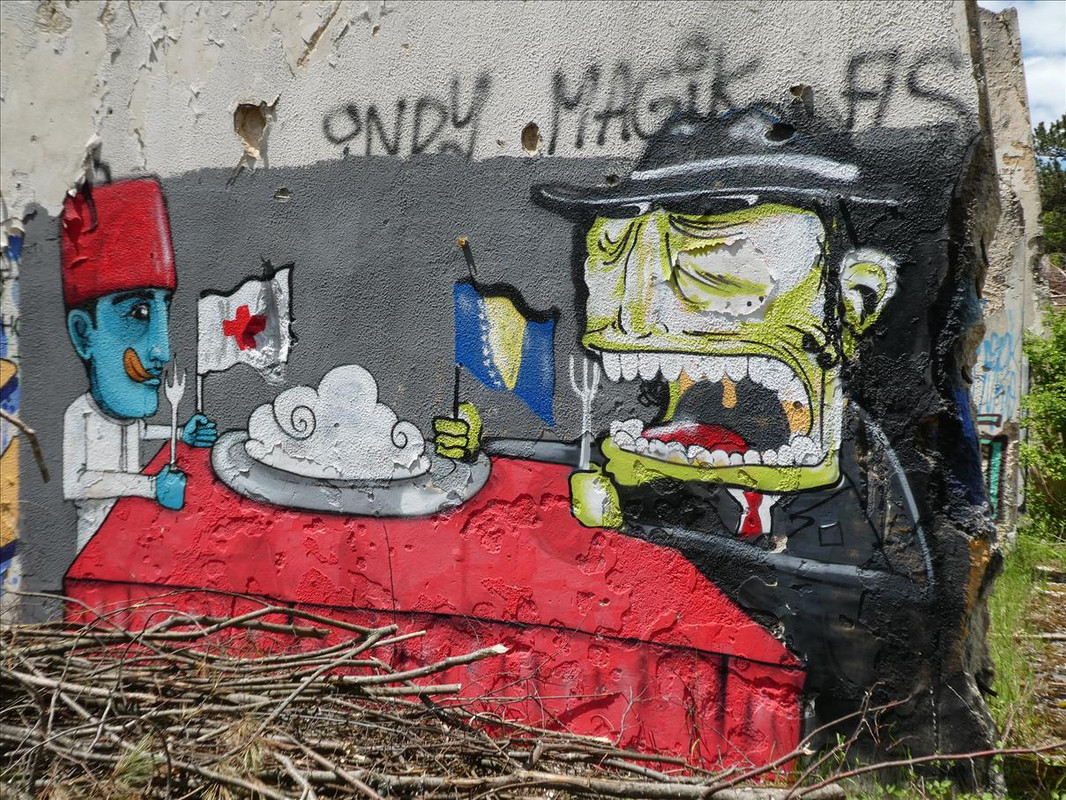 This is what is the main track leading down now from here. A bit rough -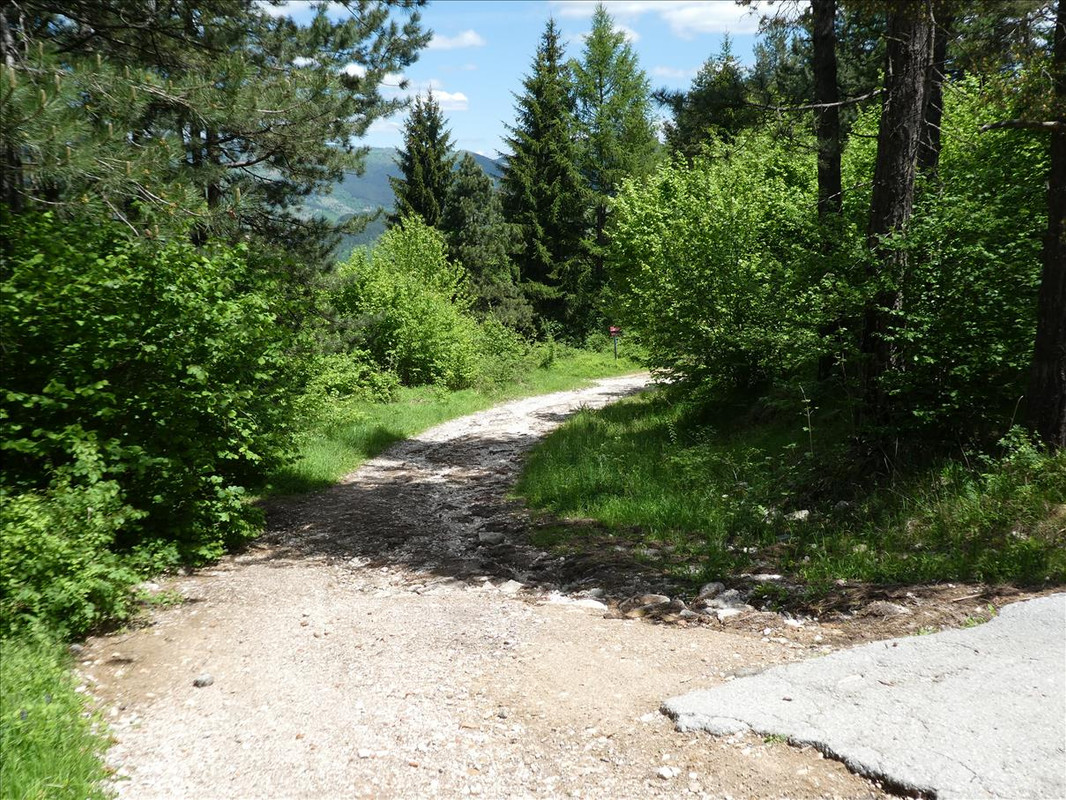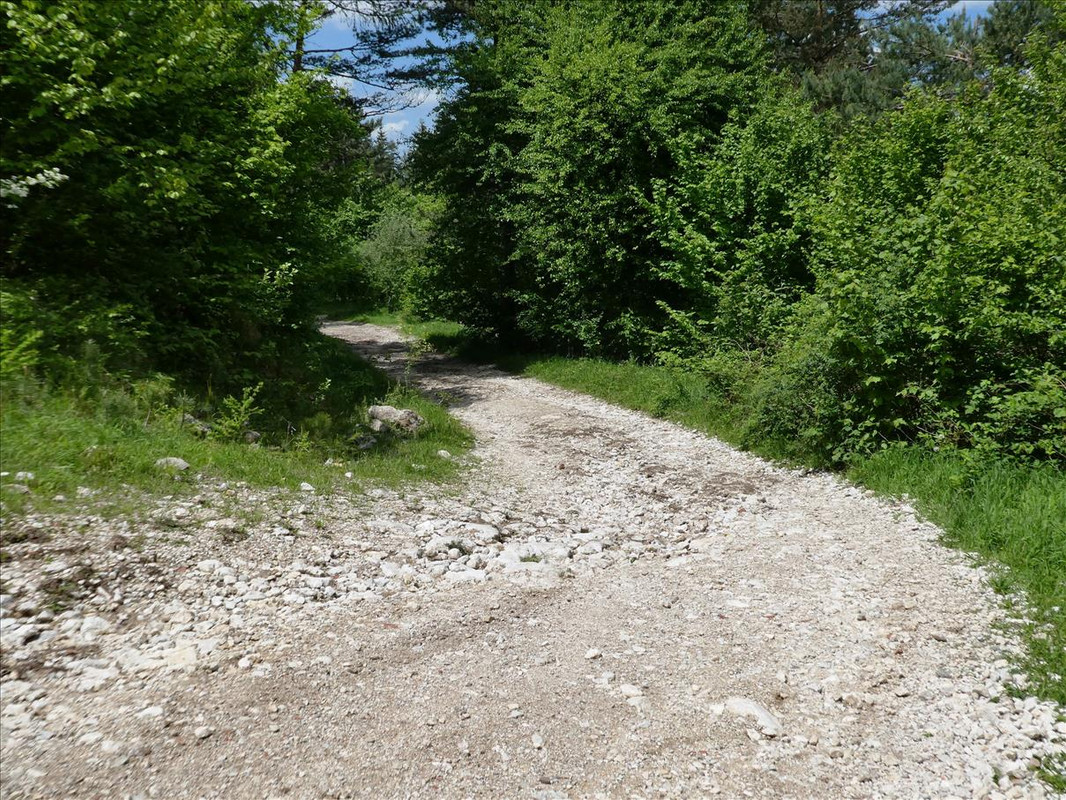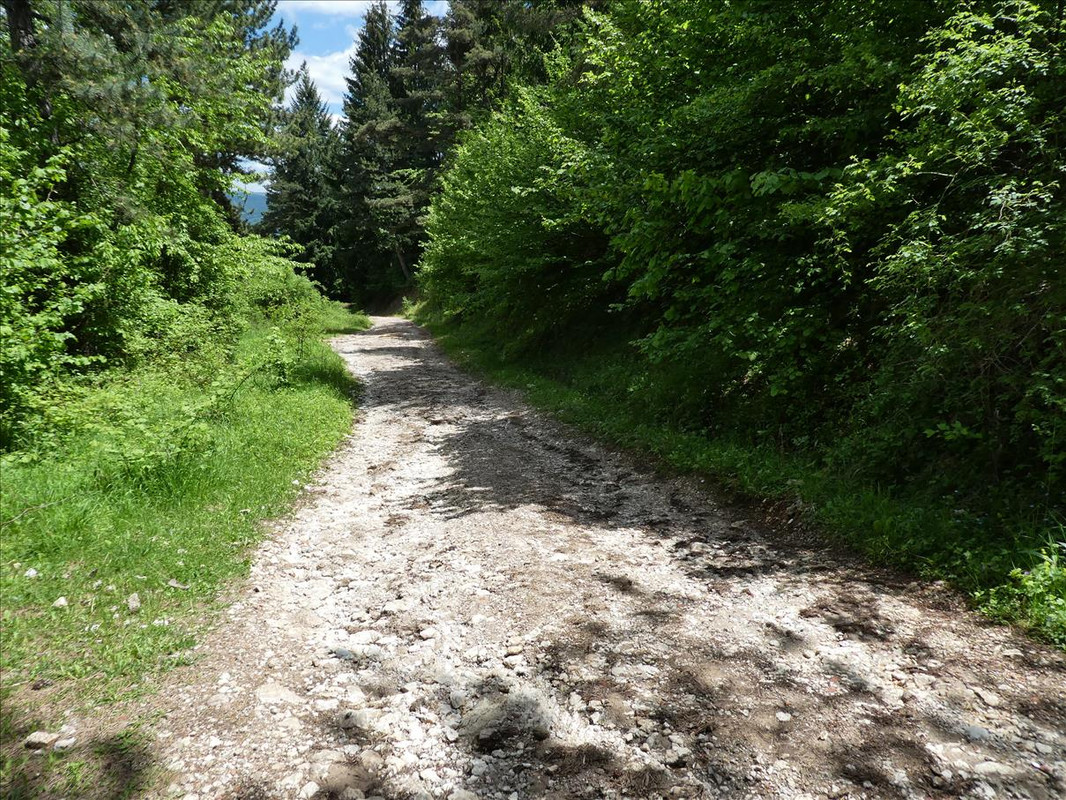 More abandoned buildings a little lower -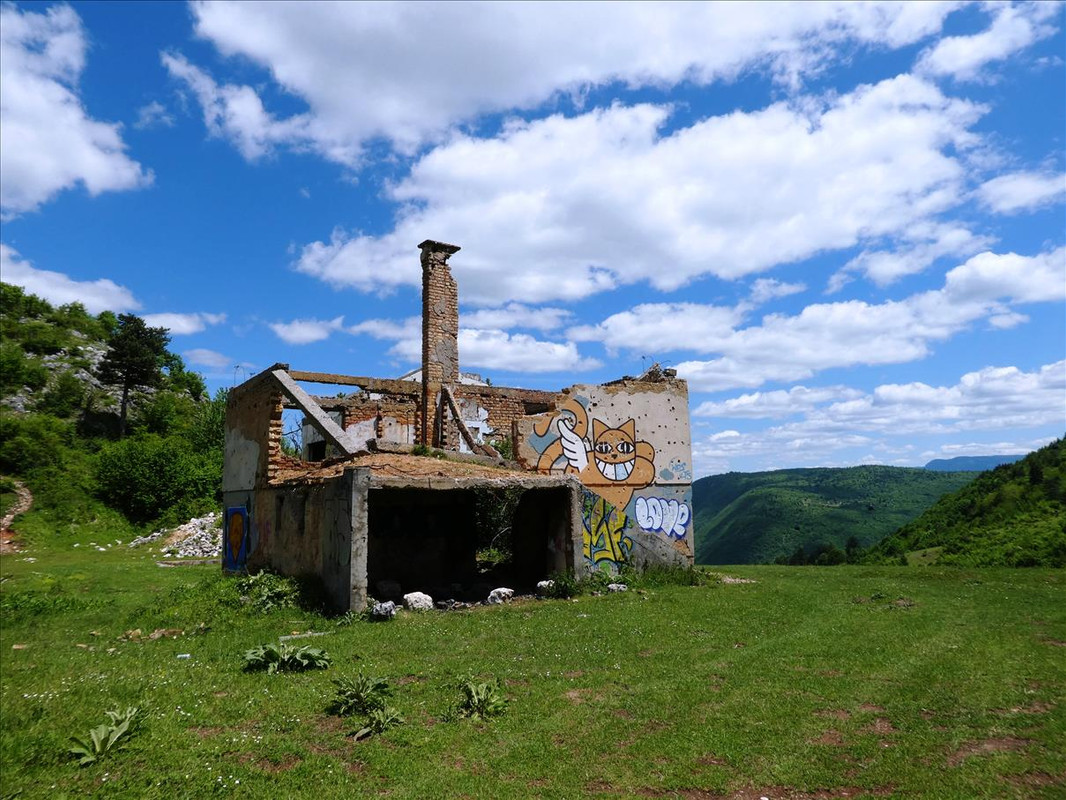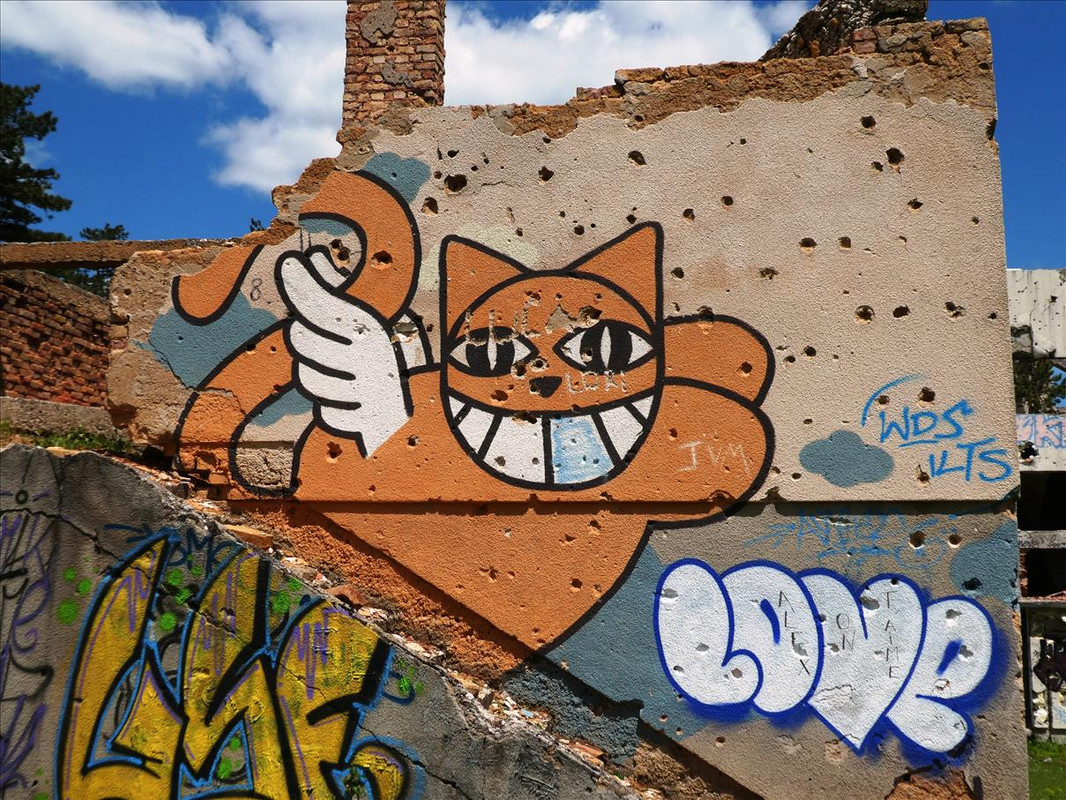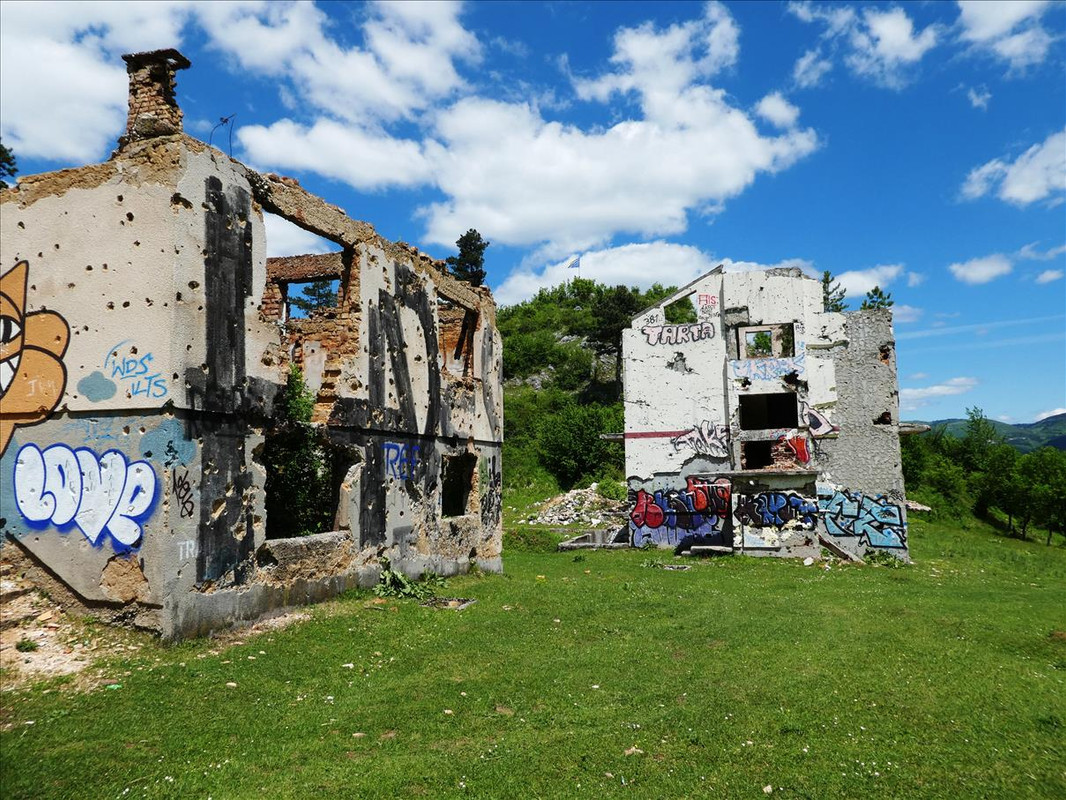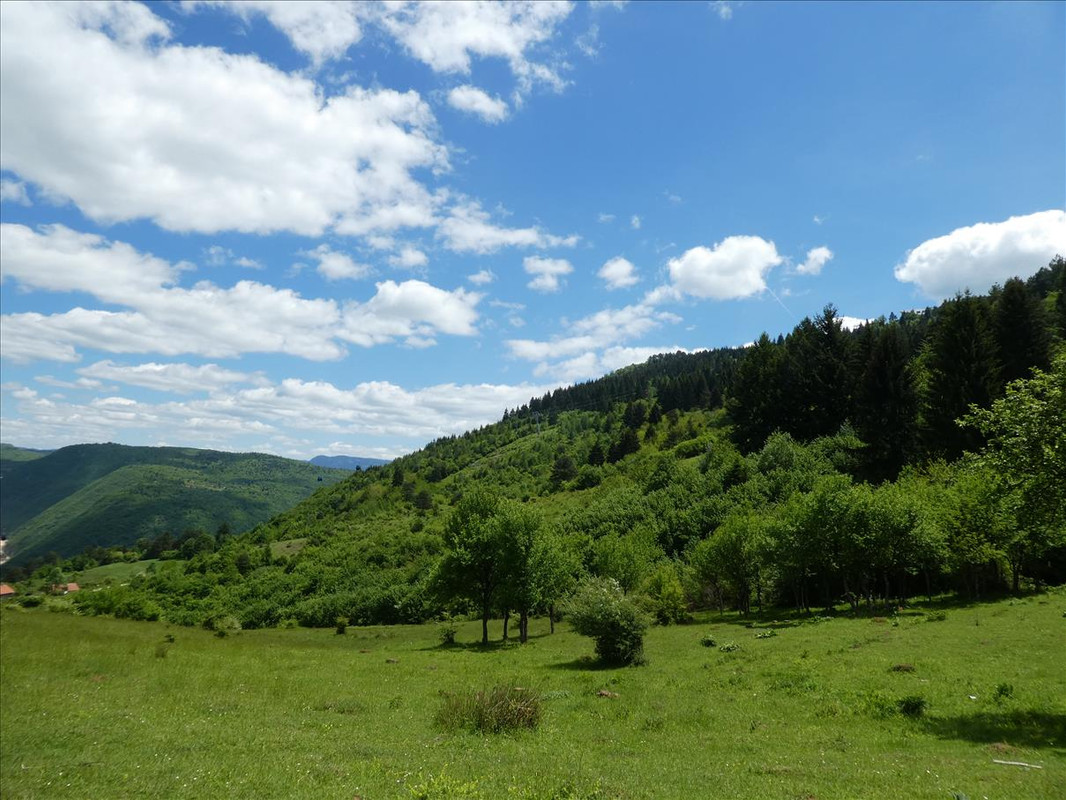 There now came a choice. Walk back uphill to the tarmac, or continue down this little track. We continued down -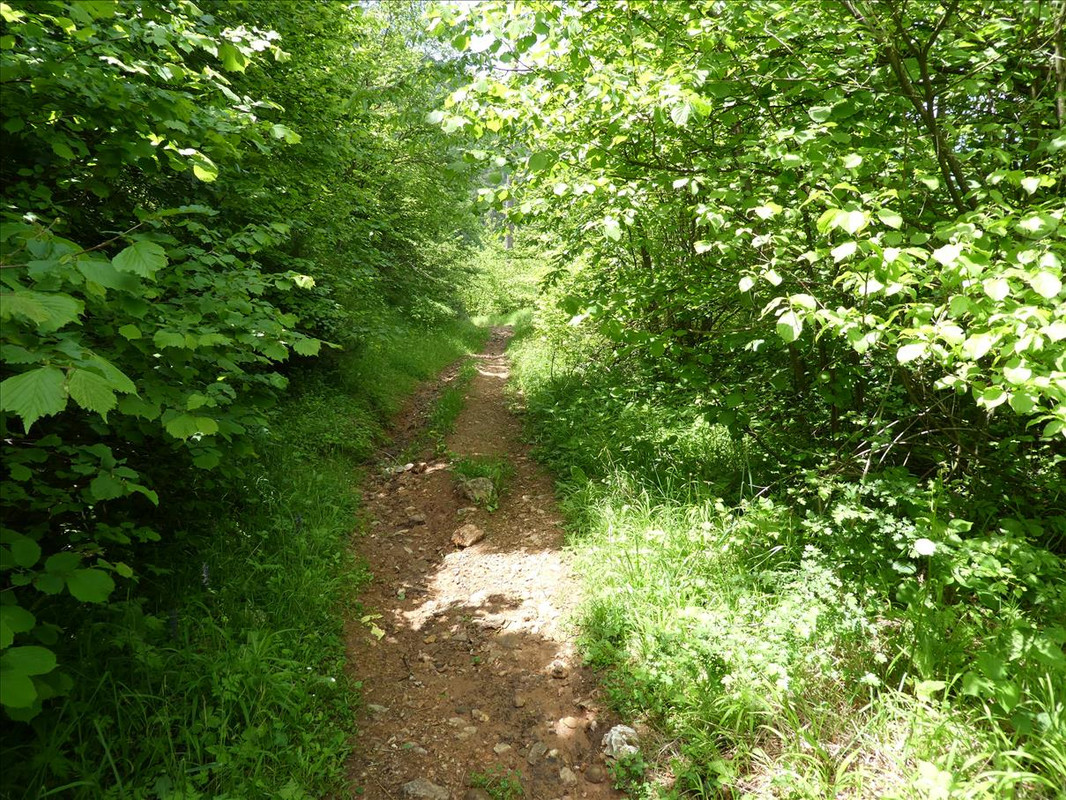 Eventually it wasn't a track any more. It was just where the rain water ran down the mountain. It was steep and we were regretting not turning back. Looking up and down -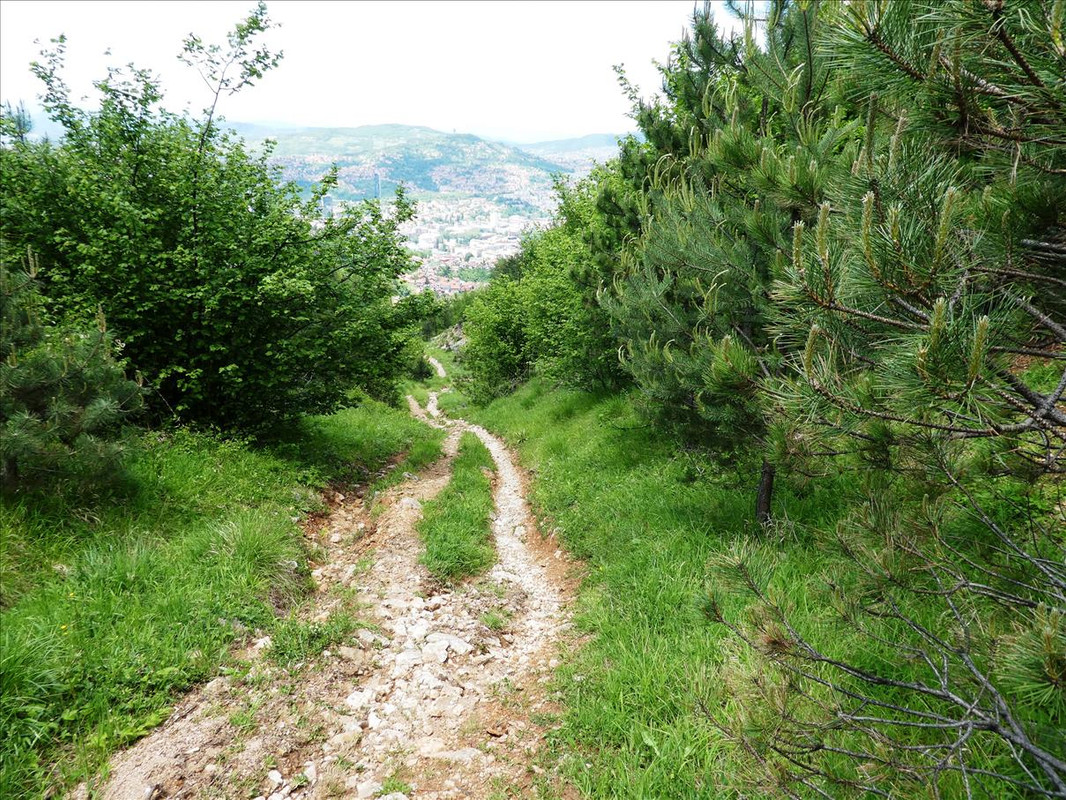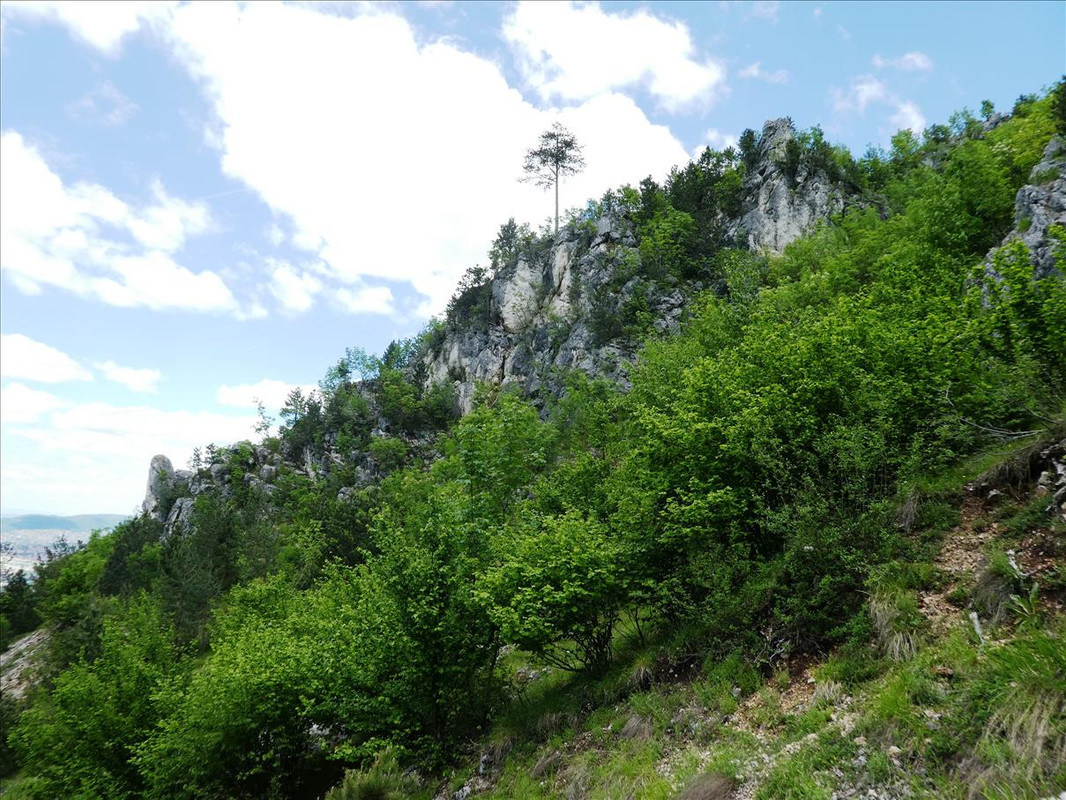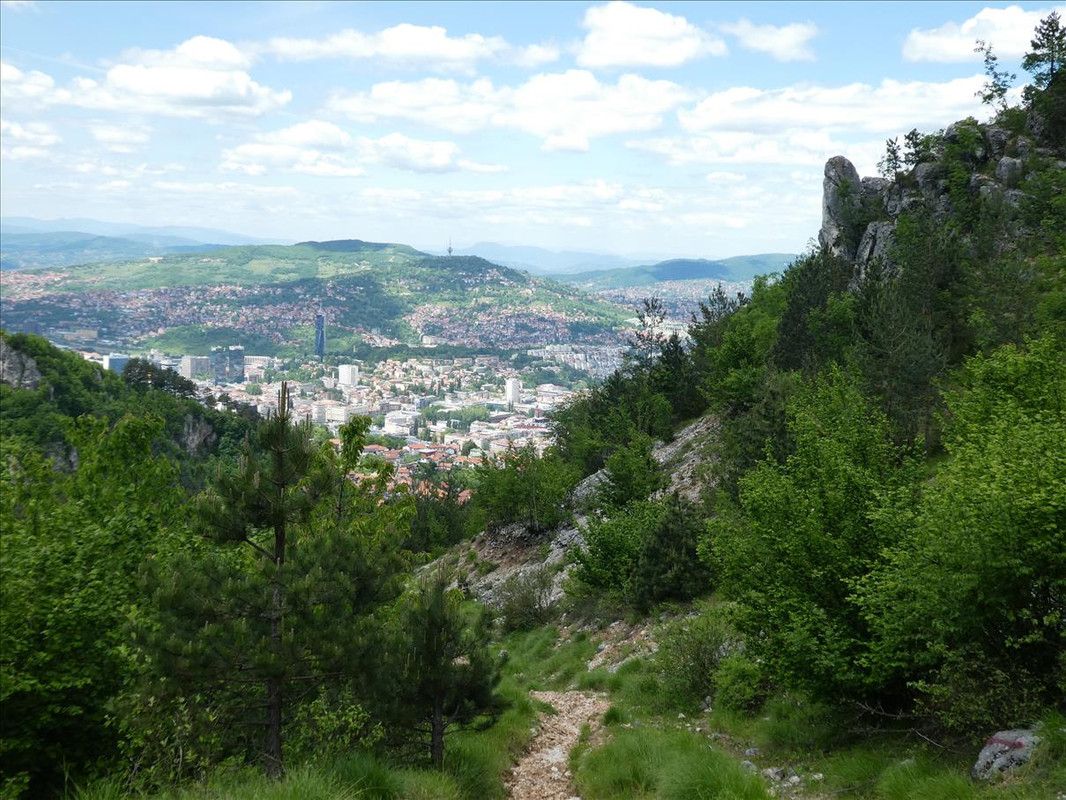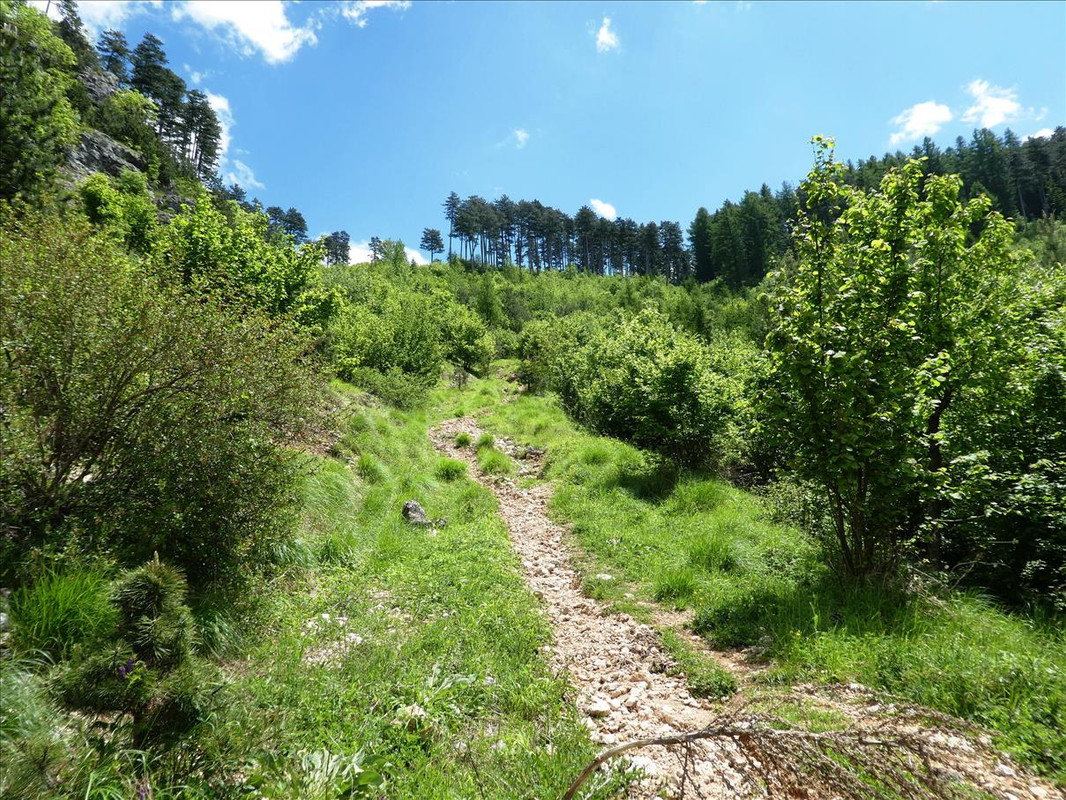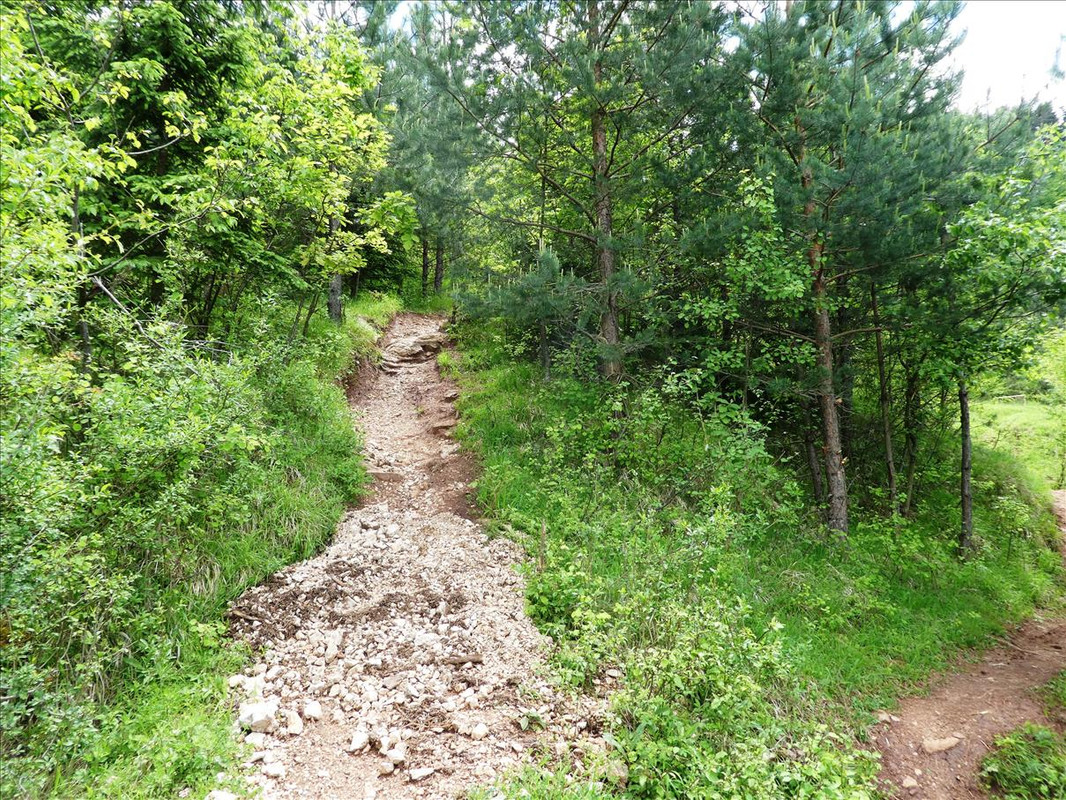 But, we came in sight of civilisation. The followed the road all the way down -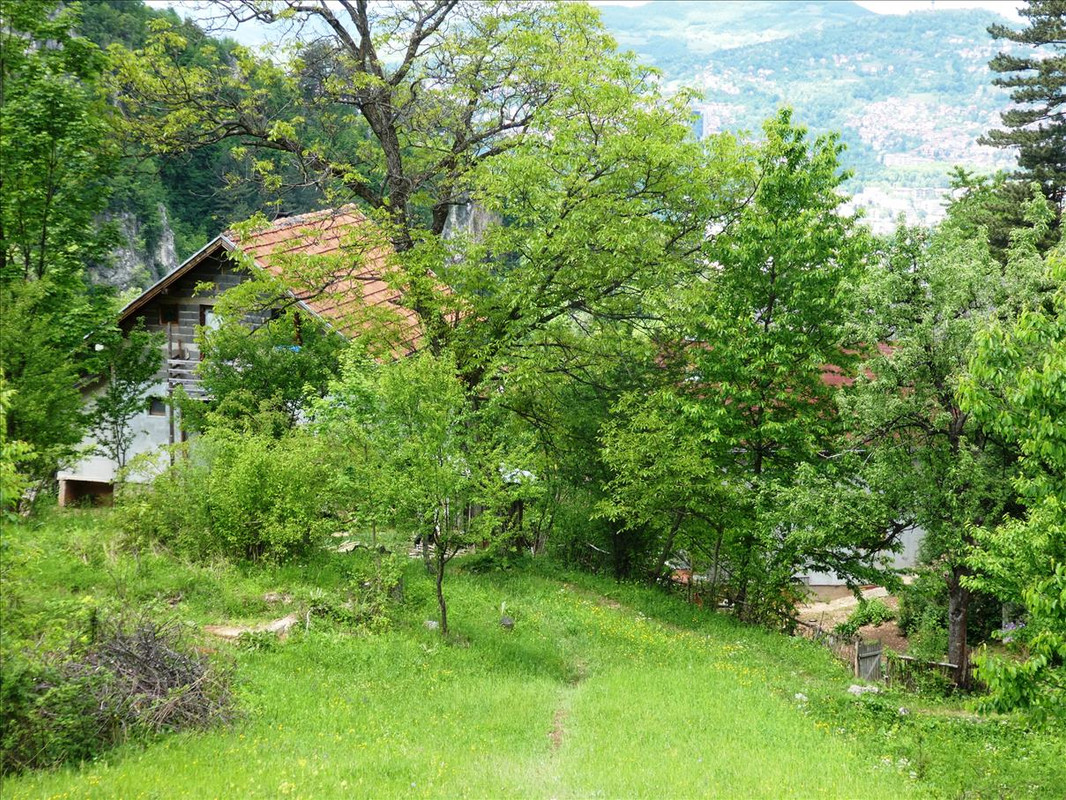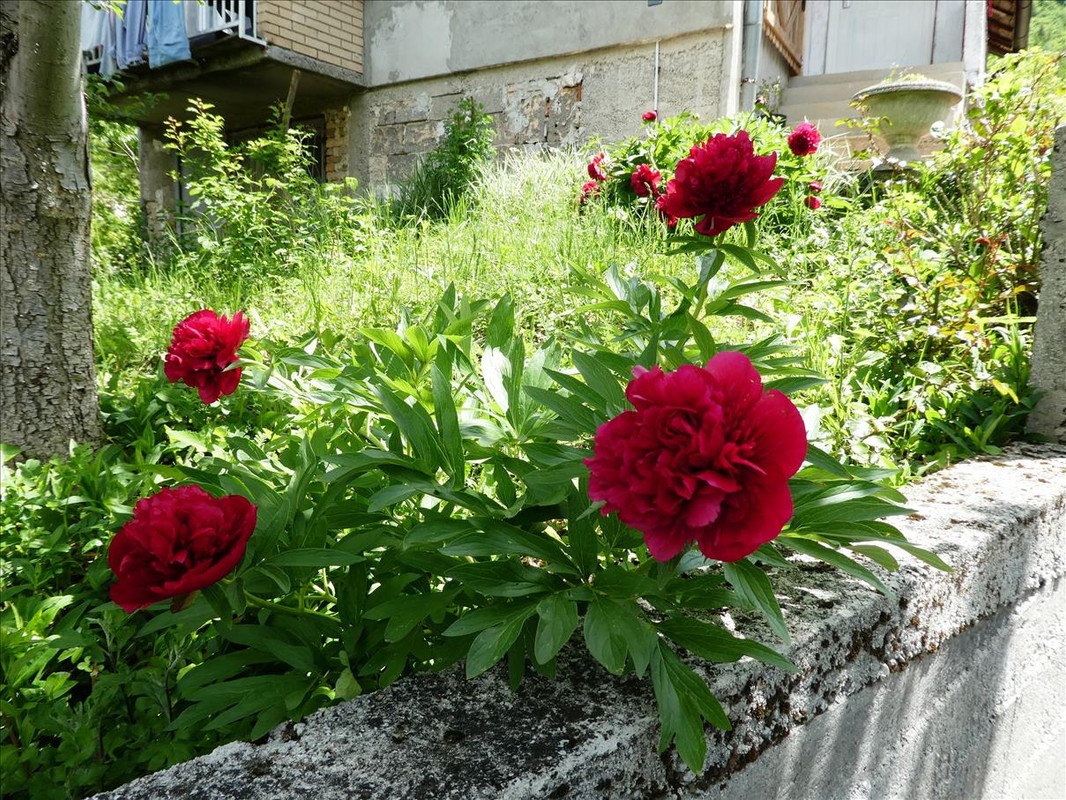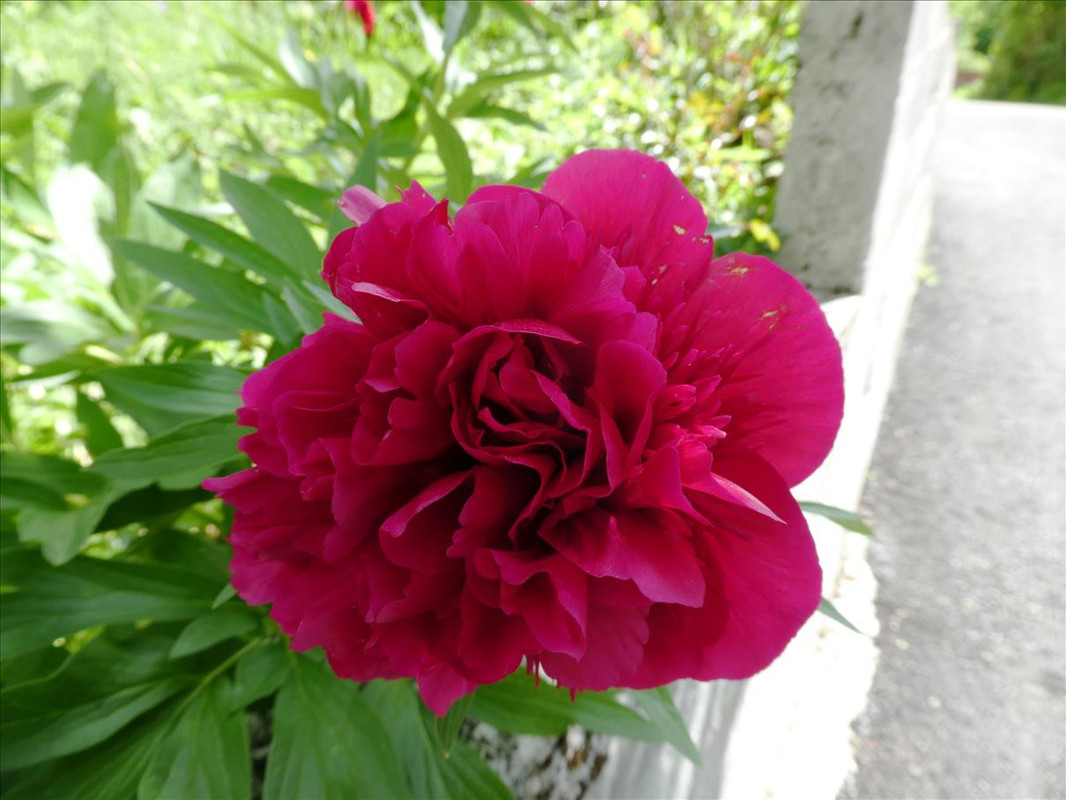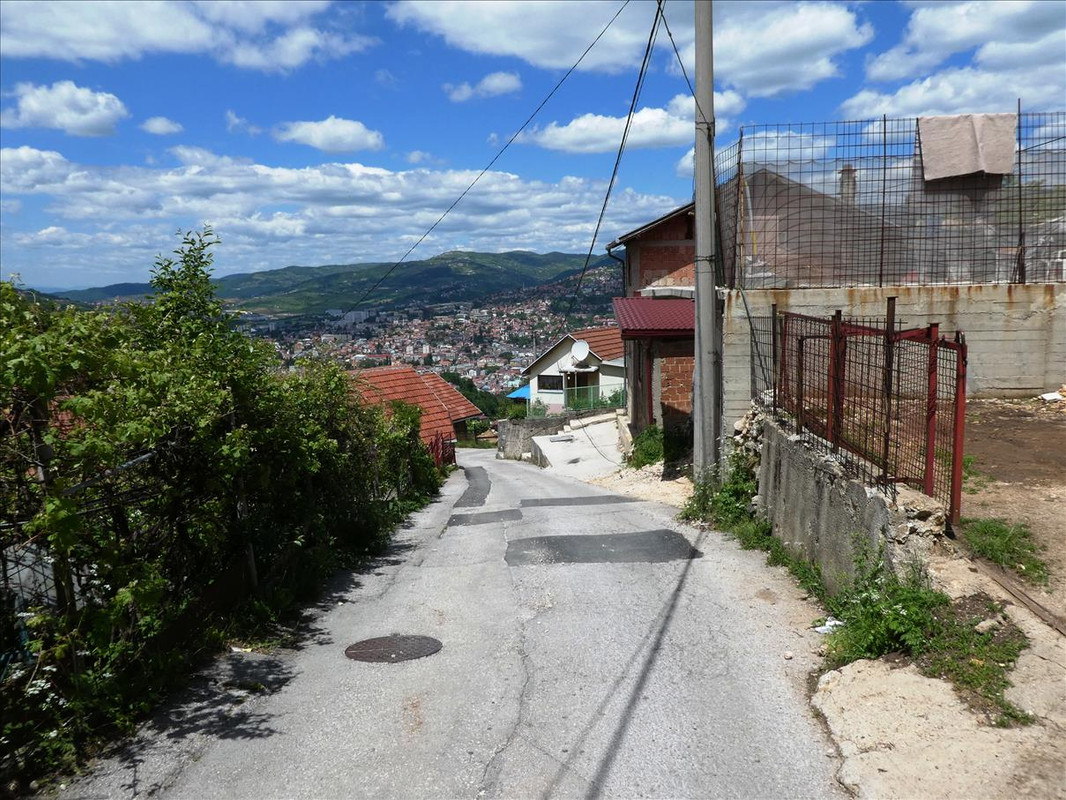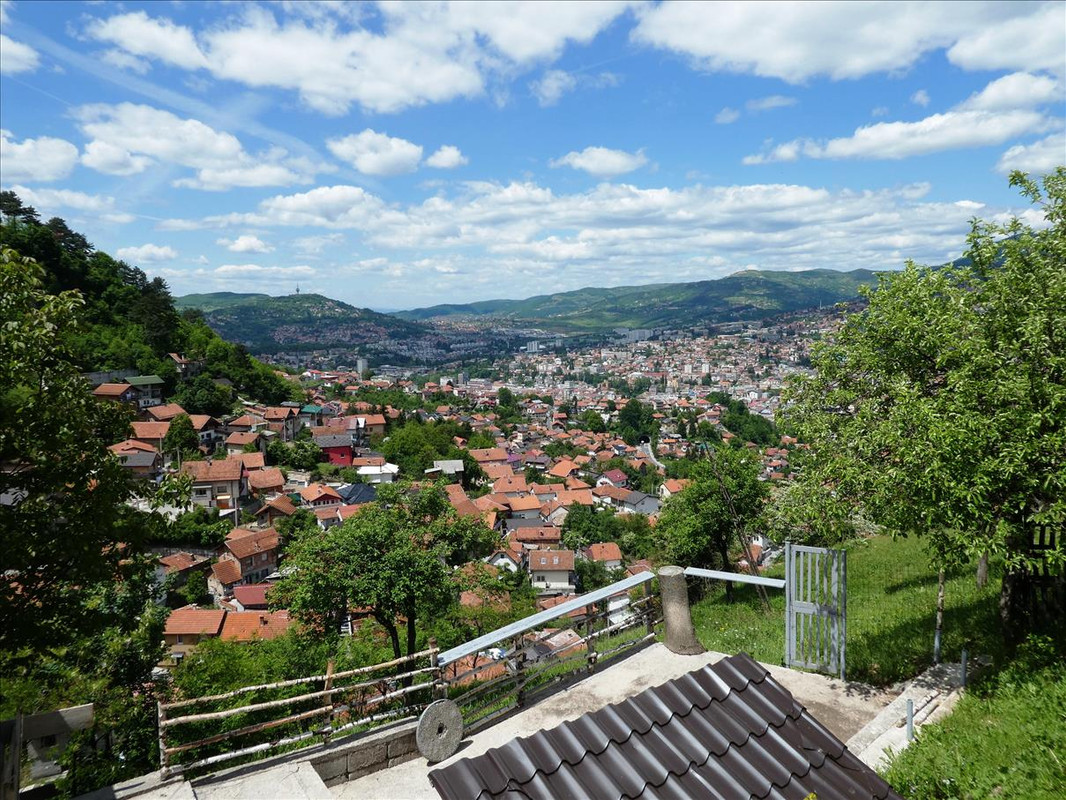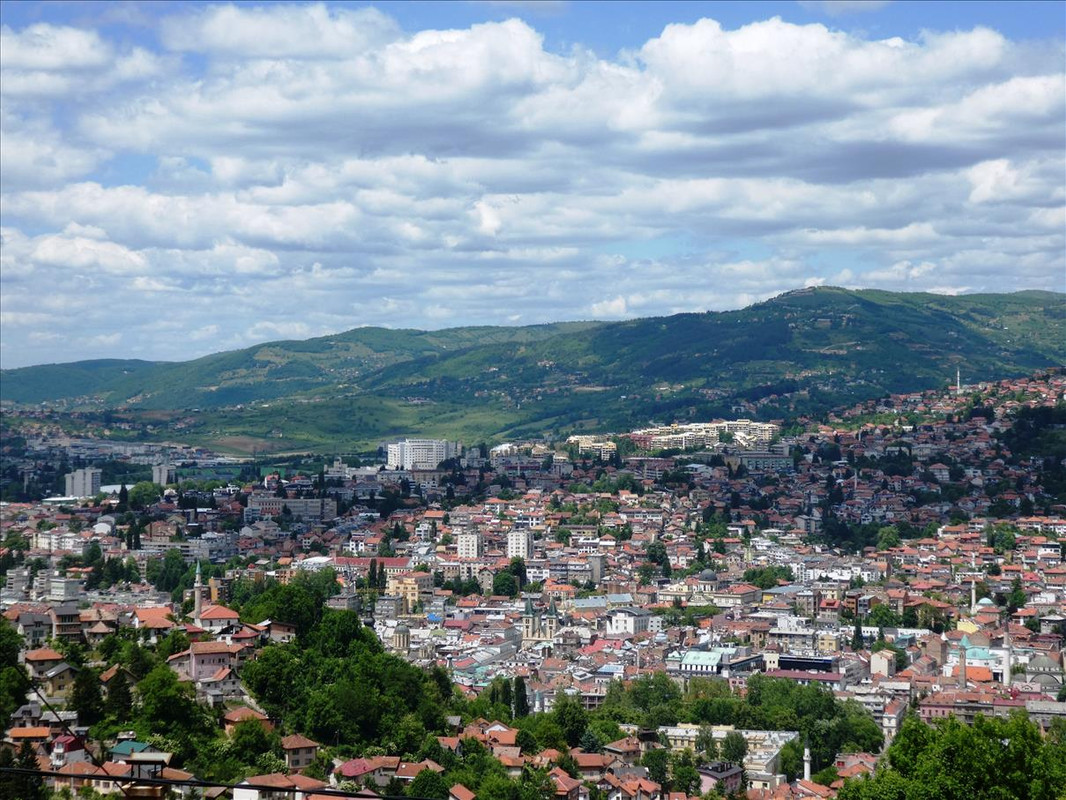 It was a long walk down, took us twice as long as we thought and left me with a sprained ankle from the stony track further back up. I now can't put any weight on it and had to suffer for the rest of the way down, across town and back home.
But we stopped off for a late lunch. Local dolma -