Post by kerouac2 on Jun 9, 2021 13:26:37 GMT
Some billionaires like to battle it out in the skies or outer space (Branson, Musk, Bezos, etc.) French billionaires tend to engage in battle in the art world. This has been going on for 30 years between Bernard Arnault (LVMH) and François Pinault (Gucci, Yves Saint Laurent, etc.). Arnault was even the richest man in the world for several hours on 24 May 2021 as Jeff Bezos did a brief stock market zigzag. Pinault is a midget billionaire, since he is only the 23rd richest man in the world, but he has a bit more prestige. He already has two museums in Venice while Arnault has only one, even though it is the spectacular Fondation Louis Vuitton.
Articles about the rivalry between the two are hilarious because they obviously have to do business with each other and have traded department store chains, big chunks of the textile and fashion industry, financial institutions, etc. There are books about this, but I would imagine that most of them only exist in French.
A few years ago, Pinault snagged a lease on the Bourse de Commerce in the centre of Paris. It is a magnificent building originally constructed in the 16th century for Catherine de Medici but rebuilt in the 18th century as the wheat market, where wheat was both stored and sold (imagine the rats back then). It was even mentioned in Victor Hugo's novel about Notre Dame. In the late 19th century it became the commodities exchange (which migrated from the stock exchange in the Palais Brongniart). And in 1949 the city of Paris sold the building to the Chamber of Commerce, which occupied the building until just a few years ago.
The mayor of Paris offered a 50-year lease on the building to François Pinault in 2016, and they started work on it immediately. Pinault's art collection is worth 1.25 billion euros and in spite of the two museums in Venice, most of his stuff is not on display. So this new place gives him a little more breathing room.
The new museum opened at the beginning of this month, and I went to take a look today. (Had to reserve 2 weeks ahead of time, and that is likely to get worse this year at least, and maybe even much worse when foreign tourists return.) Pinault spent about 150 million euros on the renovation, which isn't too shabby for a building that he does not even own.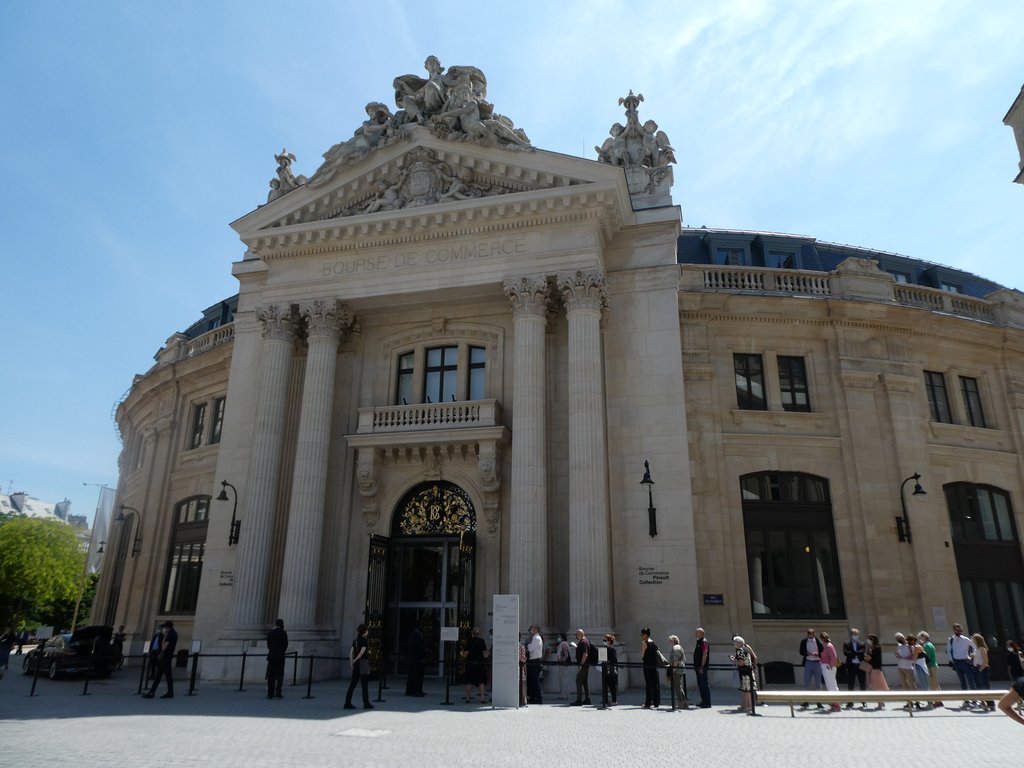 The interior is a huge open space under a rotunda.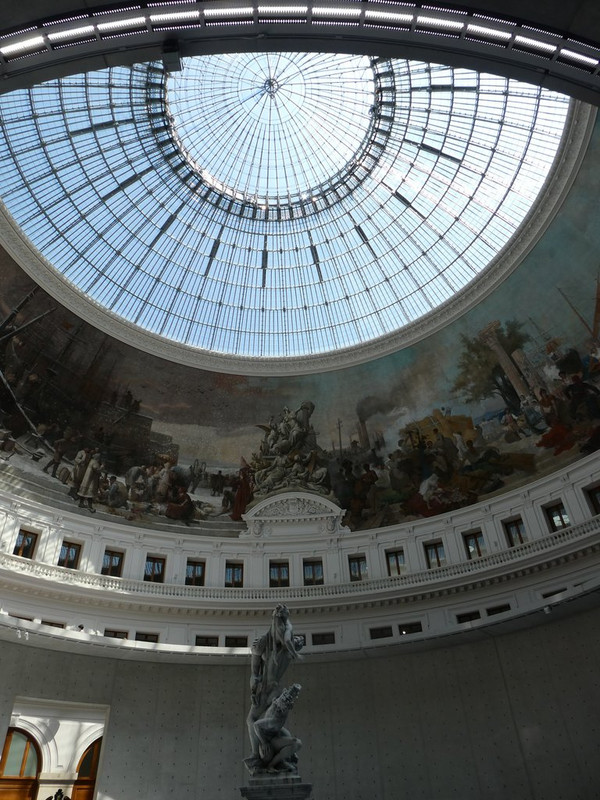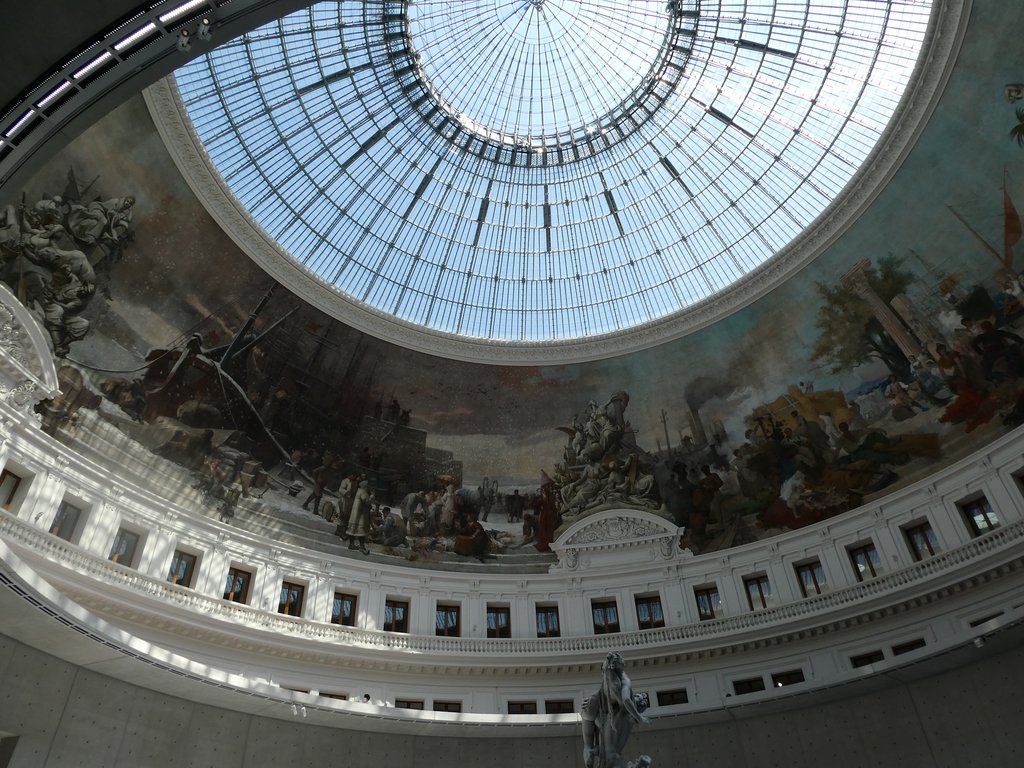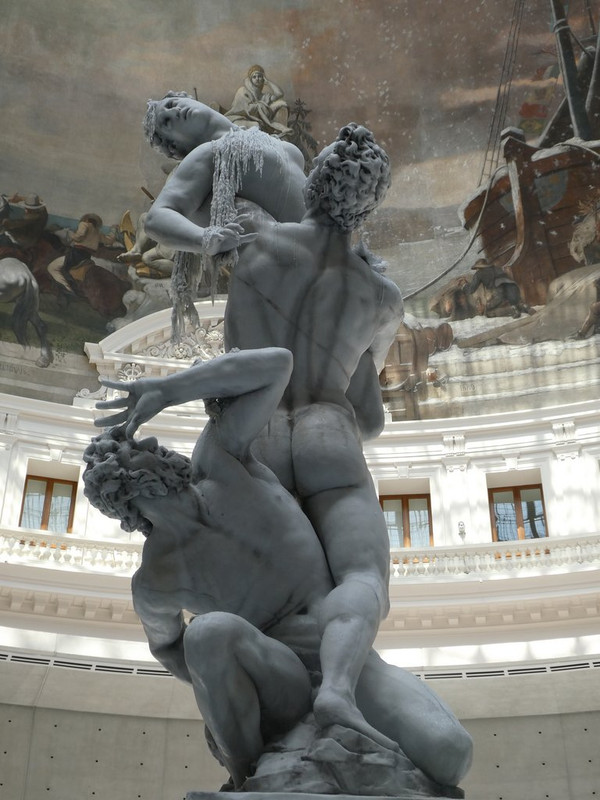 in case anybody needs a closer look