Post by Deleted on Jul 24, 2010 20:27:20 GMT
I always want to see as many things as possible at the Avignon "Off" festival, and this takes more and more organization as the years go by. I started going perhaps 15 years ago and was already overwhelmed that there were just over 500 programs from which to choose. But there are more and more every year – this year there are 1092 spectacles in the "Off" program guide, but there are also more and more spectators, as I discovered the multiple times I came across the "sold out" signs. It made me decide that next year I will go the first week of the festival, before word-of-mouth complicates my life.
Anyway, I left Paris at 7:15 a.m. and my train arrived in Avignon at 9:55 a.m. Most of us spent most of the time sleeping, which was the only normal thing to do. Three minutes later I was at the Europcar cottage in the parking lot and within 10 minutes I was on the road to Avignon (the TGV station is 6 km out of town – shuttle buses for the non motorized).
I have it down to an art now. Since I knew that my hotel room would not be ready, I drove to the city and parked in the underground parking lot that I normally would never consider. I went to the tourist office and got my "Off" card for 14€ (must remember to write a letter of complaint about the increase from 13€ last year – that's 8%, when annual inflation is only 1%). How the technology has changed over the years! In the old days, any of the multitude of theatres would sell you the cardboard card, which had a little fold over section for each theatre to write the name of the plays that you had seen. Now it is a plastic card of the credit card format with your photo and name printed on the card. Last year was a holiday, the technology was new, and I had to wait in a big queue for half an hour to get my card. This year, they were waiting for me, and I had my card in 2 minutes. It is interesting to note that one of the other places you can get the card is the Monoprix department store. I also picked up my huge "Off" catalogue to start mining for ideas. With such an item in hand, I was "tracted" by at least half a dozen people as I walked out he door. Getting tracted is one of the major joys of Avignon. It can range from being silently handed a little advertisement for the spectacle to listening to a 5 minute impassioned explanation about the exceptional reasons to see this outstanding artwork from the star of the show. I love talking to these people and I try to make a point every year of seeing at least one show for which I was tracted. They put so much heart into it that it is the least that I can do
I returned to the car as noon approached and drove to my hotel – where I learned that rooms would not be fully ready until 2 p.m. I checked in anyway and spent the next 90 minutes in the shopping mall next door. I have found that very convenient for years, but my god, I can't believe how much money I spend there every day, mostly in the Auchan hypermarket.
Okay, forget that, not important.
[photobucket]http://s450.photobucket.com/albums/qq228/kerouac2/Avignon/Avignon%202010/?action=view&current=b2ad21c8.pbw[/photobucket]
I went back to the hotel at a more appropriate time and checked in, took a much needed shower (it was over 30° outside), and then I was back on the road to Avignon. Amazingly, I found a parking space and I started poring over the program guide (I try not to do that until I am parked, because sometimes I have spent an hour looking for a space, which can really screw up a schedule.). The program catalogue is a magnificent tool, because it lists the shows every possible way that could interest you:
1. by theatre name
2. by theatre company
3. by country of origin or region
4. by title
5. by style (comedy, drama, music, dance, mime, clowns, etc.)
6. by author
7. spectacles accessible to people who don't speak French
8. by time
I'm am such a basic person that I search by time. What time is it? 5 p.m. What is playing at 5:30, 5:45, 6:00? Do I know where it is? Run!
And that's how I went to my first play of the festival. 17:50 at Présence Pasteur.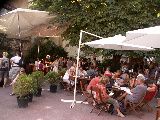 This is a private Catholic high school with a nice courtyard for waiting under the trees.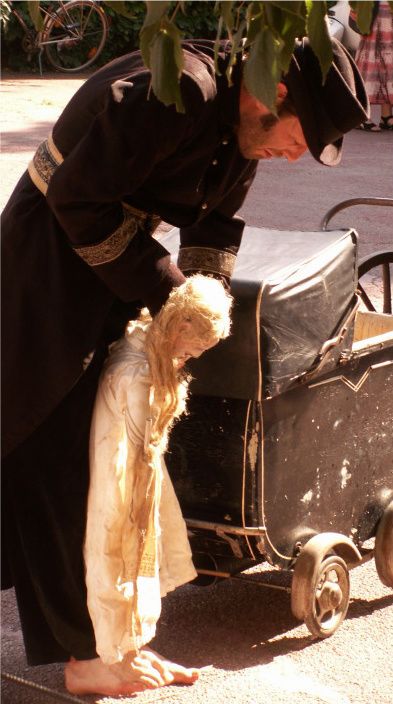 I bought my ticket, was told in what room it would be, and that we would enter "as soon as the marionette show is finished." And thus the very first thing that I saw was the extraordinary "
Les Seaux
" (The buckets) which lasted 12 minutes and was presented twice a day. The buckets in question were buckets of tears caused by floods of nostalgia, as the living remember the dead.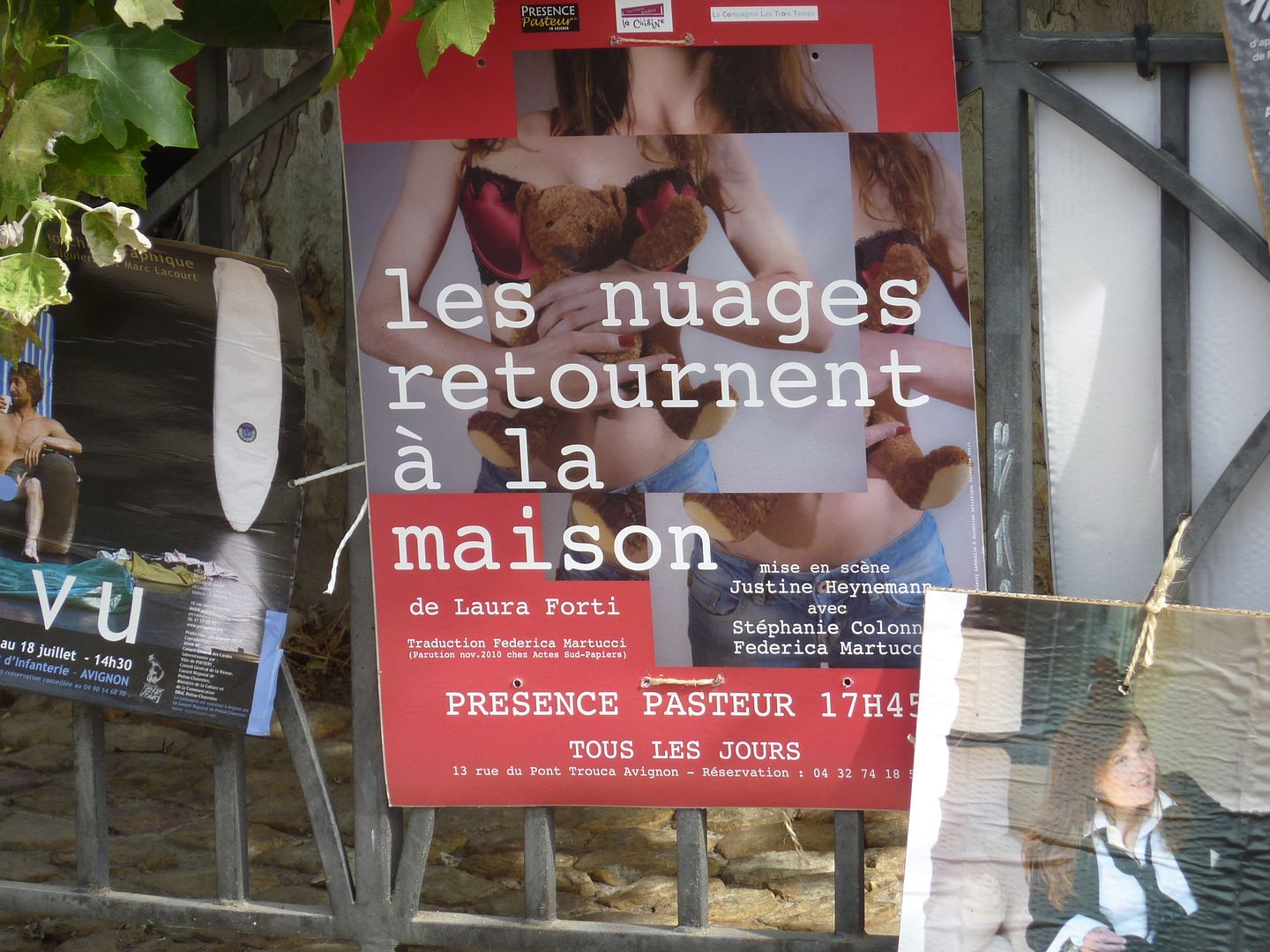 Then it was time for the play I selected, by an Italian author and called "
Les nuages retournent à la maison
" (Clouds return home). It is about the encounter between two women in a hotel room in Florence – an Albanian prostitute and the chambermaid. The first exchanges are rough. The Albanian is always recovering from a long night and she throws the chambermaid out several times. But as the days pass, the chambermaid persists and they start talking about their lives, their past, their solitude. The Albanian is fascinated by normal family life in a normal country, and the Italian is fascinated by the adventure of exile and living a life with no rules. Naturally, the point of the play is to show that there is no such thing as "normal" or "no rules."
It was good but not great.
Next up was "
Pierre Rivière, l'âme du crime
" (I, Pierre Rivière, Soul of the Crime) at the Musée Fujak. The Pierre Rivière story I fascinating, and I have seen both movies made about him. He was a young farmer in Normandy, age 20 in 1835, who put on his Sunday best one morning instead of going to work in the fields, an proceeded to kill his mother, his sister and his little brother with a pruning hook.
He had always been considered an unschooled simpleton but in prison he wrote a 40 page autobiography that stunned everyone and is why he has remained famous to this day. He was condemned to death, had the sentence commuted, and then hanged himself in his cell.
Why did he kill part of his family? He killed his mother because she was a cruel bitch who tormented his father. He killed his sister because she admired her mother and would become like her. He killed his little brother so that his father would not have any regrets about Pierre being condemned to death.
As for the play, it was a suffocating moment in the prison cell. It was presented in a small room with just 18 chairs set along the walls. The "stage" was a square of dirt about the size of a king size mattress on which the actor rolled and writhed, stripped naked, covered himself with mud, dug up things while telling his story with crazy eyes and an immensity of sadness. He would draw things in the dirt, the path to the fields, the travels of his father, the location of the corpses…
As you can imagine, it was pretty intense – especially when you are sitting less than one meter from the action – so I decided that I had had sufficient entertainment for the first day.
The next day started off at the Atelier Théâtre Porte Saint Lazare, which is reserved for amateur theatre companies. At 10:30, I saw "
Les pas sages d'un fou ou quelques aventures de Nasredine Hodja
" (The un-wisdom of a madman or a few adventures of Nasredine Hodja).
I was not very familiar with this wildly popular personage of the Muslim world, and it was high time to correct my ignorance. Apparently the character originated in Turkey, but he is well known from the Maghreb to Mongolia, and has a fake grave in Turkey and two reputedly authentic ones in Iraq and Algeria. He lived in the 8th century, and of course the name is completely variable depending on the country and the languages.
Nasredine Hodja passes for a buffoon or a village simpleton but he always has the upper hand in the end. The actor told a variety of amusing stories about the guy and it was a quite enjoyable hour, during which the spectators were served mint tea.
An example of the kind of story about him is a joke that even I know (the anecdotes in the performance were much more elaborate and detailed than this):
Nasredine Hodja presented himself for the iftar feast at the home of the richest man of the village (iftar is the breaking of the fast at sunset during Ramadan). The rich man was perplexed. "Nasredine," he said. "Why would you come to iftar? You do not respect Ramadan. You do not fast, you drink alcohol, you never pray or go to the mosque. You show none of the signs of a Muslim!"
"Exactly," replied Nasredine. "I am not always a good Muslim, but if I don't at least observe Iftar, how will Allah know that I am a Muslim at all?"
After that, I hit some obstacles, because the festival seems to have been extremely successful this year. I tried to get into a play called "
Lonely Planet
" which intrigued me for some strange reason, but it was sold out. Then I tried to see a Fassbinder play but it was sold out "through next week."
What to do?