Post by koloagirl on Mar 31, 2011 0:56:29 GMT
;D
Aloha awakea (afternoon) from Kaua'i!
Well, back from a morning of good stuff...so now that it is well after midnight in Paris....I'll start you on a walk around "my arrondissement" - lol!
Basically this is a photo tour of my drive yesterday from Lihu'e to my home here in Koloa - with a side trip to the swimming pool where I take exercise classes (and sun!).
Okay....ready?
This is the road I usually take back from the main town here of Lihu'e - it is a backroad or by-pass and is called the Kipu By-pass....I take it because sometimes traffic can slow up (yes, even here!) in some places and this road is just more scenic to me and you can always be moving as opposed to sitting behind another car for awhile!
This is where I pulled over (sorry, no meandering walks from me - I'm not hiking 15 miles from town and snapping pictures - this is via my voiture - lol) on the Kipu By-Pass looking towards a landmark here on Kaua'i - this mountain is called Mt. Ha'upu - the name given this mountain by the Hawaiian Visitor's Bureau (yikes!) is Queen Victoria's profile - honestly I think someone was smoking pakalolo (marijuana) when they thought that name up - and what is wrong with leaving the Hawaiian one? Sorry....I'll now step off my band-wagon!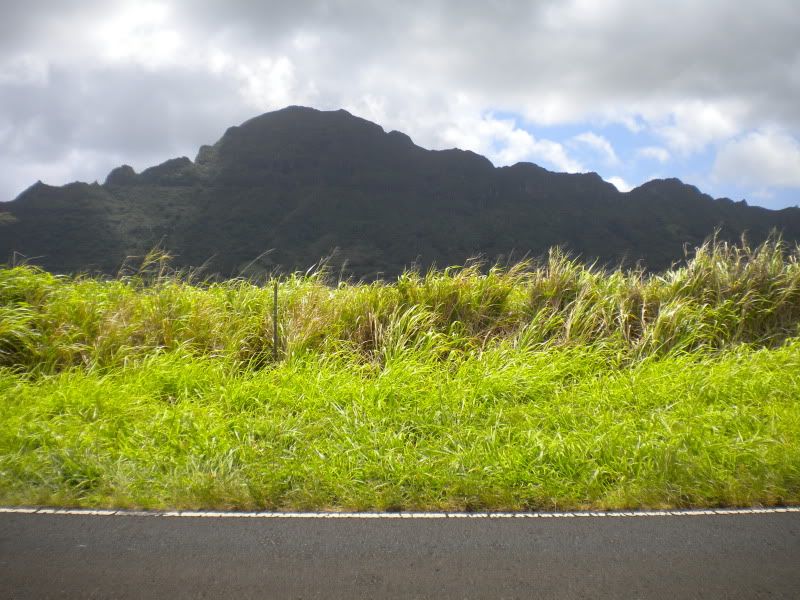 A little farther down the road and a view behind me: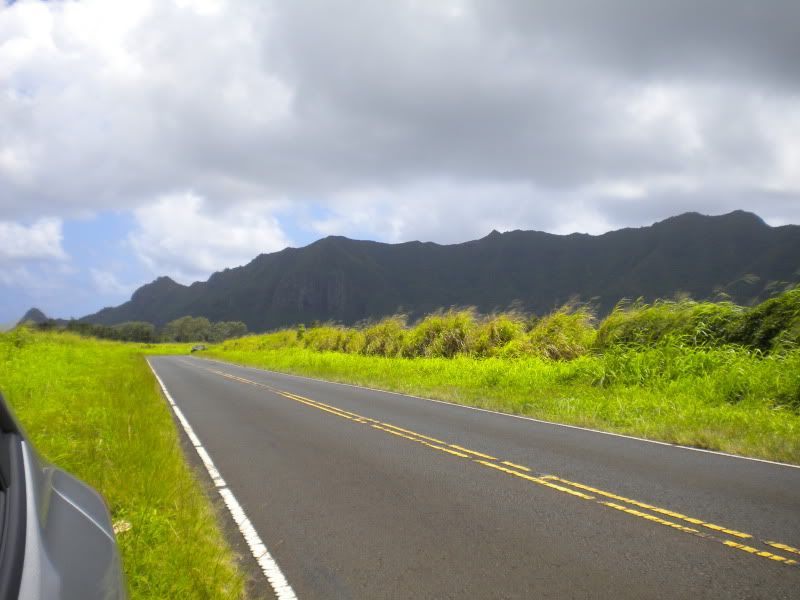 Now I"m jumping around a few miles - back on the main highway about 5 miles and turning onto Maluhia Road - also known popularly as "Tree Tunnel Road" (now that one I can understand, although Maluhia in Hawaiian means "peace and/or serenity" - so again...what's wrong with that? - lol) This is the road that you take to turn to the South Shore of the island, where I live....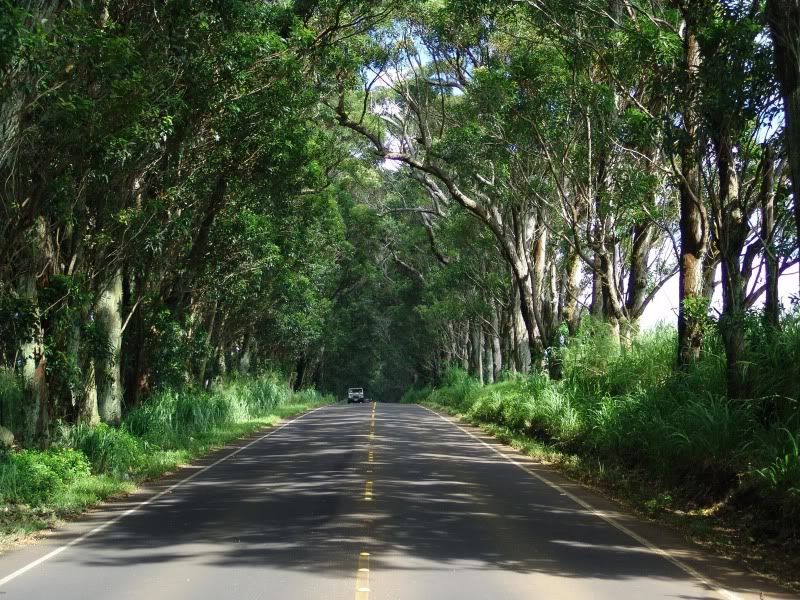 (lots of times you see tourists pulling over on the non-existent shoulder to take snaps - standing right in the middle of the road, which is 50mph speed limit - yikes!!! I love PortinaStorm...but this is via one of those folks who posted this picture on the web!)
After you go thru the area where the trees cross over the road you wind downward a little bit to the "flats" where there are large meadows and the remains of ancient volcanic cinder cones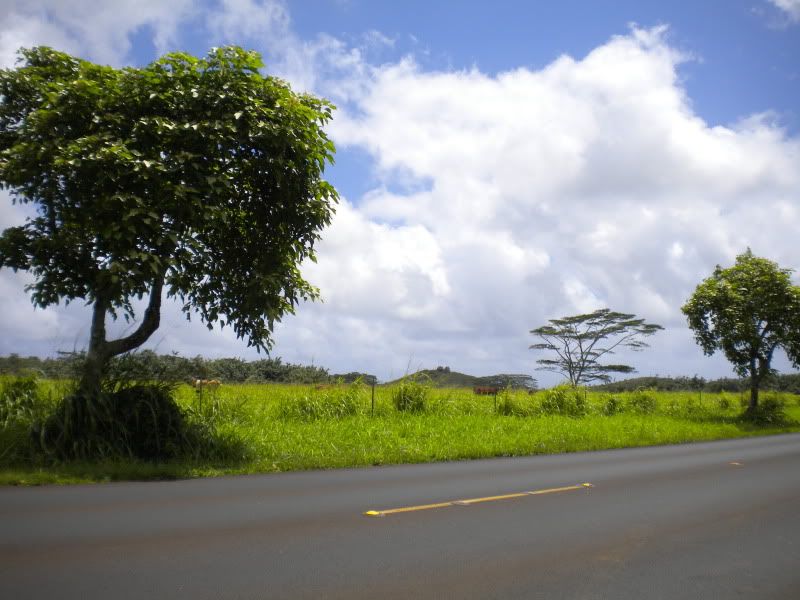 Another 3-4 miles and you come to the town of Old Koloa - this is technically the "town" where I live, but Old Koloa Town is mostly shops for tourists with a post office and two grocery stores - one of which has been in the same family since 1916 and which is still run by folks from that same family...this is the store where I do most of my shopping - it is the building with the red roof line farthest right in the picture...great "Mom and Pop" store!
I live about a mile or so give or take from this intersection....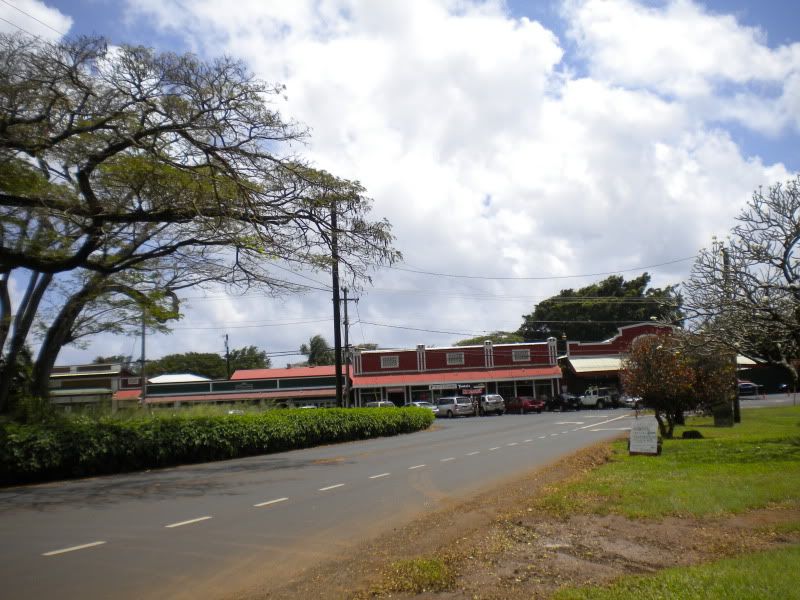 Now I'm going past my house (bye!) and down to the beach, because shoots, everyone wants to see the ocean and palm trees, right? This is a little, little beach, but usually full of people lying an inch apart from one another in the sand - I'll never understand that....I like "personal space" myself on the beach!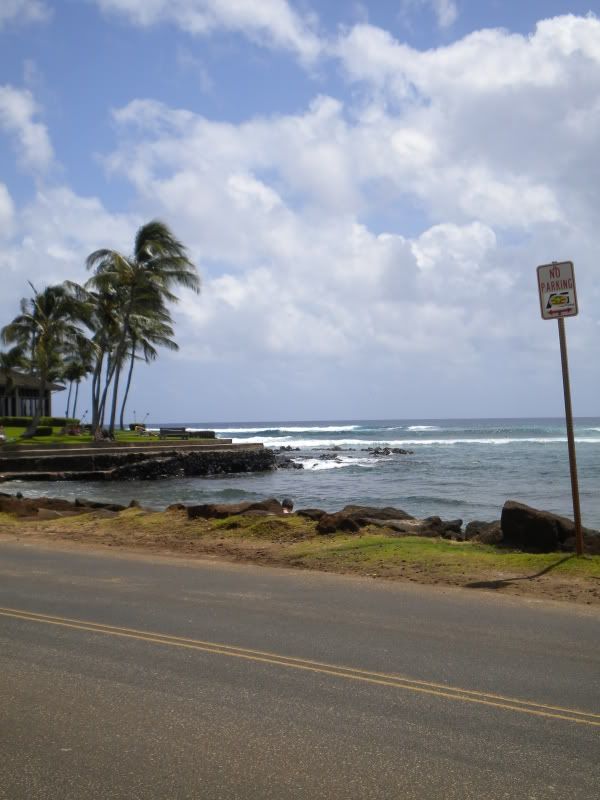 This is a picture of Prince Kuhio Park (which is just next to the beach picture I posted) - and his statue is still draped in lei because his birthday was last Saturday and it was a State Holiday here last Friday and the ceremony was held at the Park on Saturday - thousands of flowers were used to create these lei by hand - hard to see in this picture - too lazy to get out of my car, crawl over the fence and into the park - shame on me!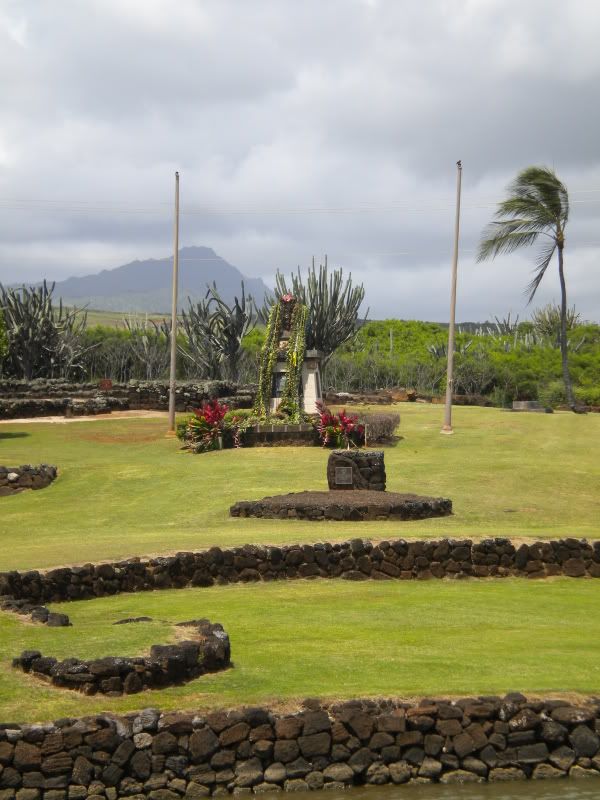 Okay - back home now! Here is my humble abode - I live upstairs in this condominium complex that is small - only 20 units and no vacation rentals (so you don't have neighbors coming and going at all hours, really nice) - I've lived here since we moved here over 13 years ago:
It is nice and leafy and green and here are some plants right opposite my stairwell:
A croton plant (we have tons of these in all colors and sizes: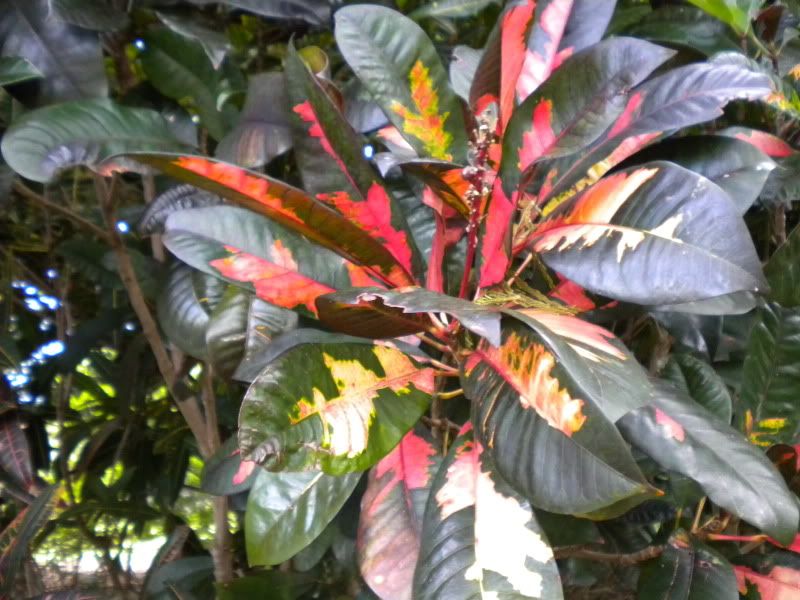 "Pele Hair" - also known in some parts of the U.S. as "Spanish Moss" - an air plant and here it is named after the fire goddess Pele - we use it sometimes in hula as an adornment: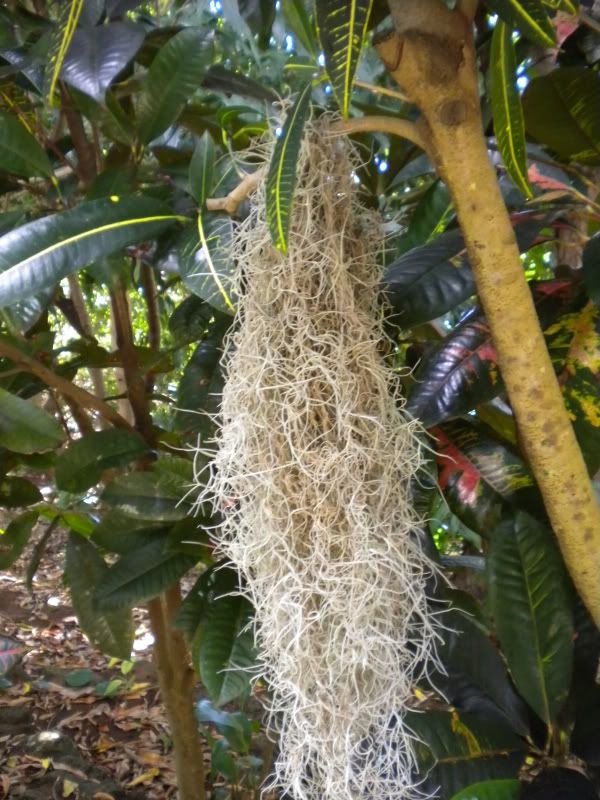 A yellow hibiscus that just happened to be blooming right as I was going up my stairs - so snapped away!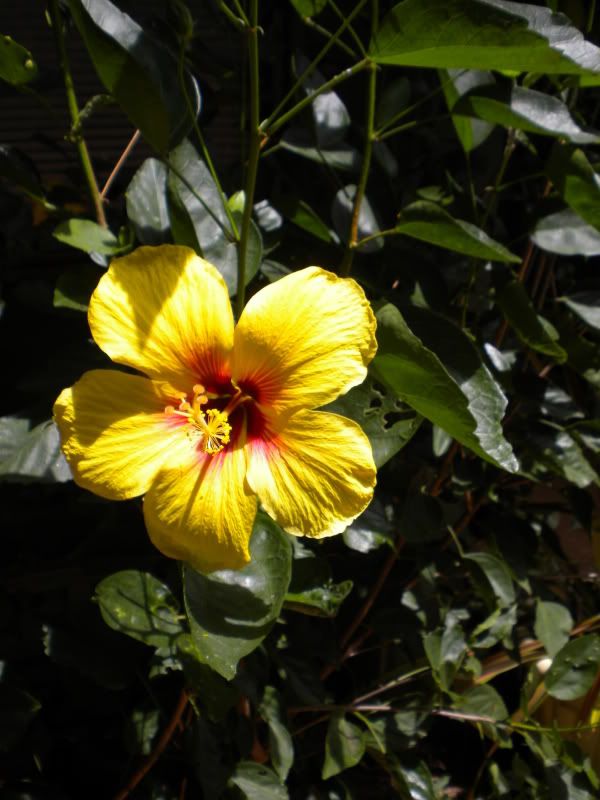 And I love this tree - which is actually an African Tulip tree (and gives big red/orange blooms, which drop and are all over the place to clean up - lol) - but the vine has climbed around the base and I think the leaves are so lovely...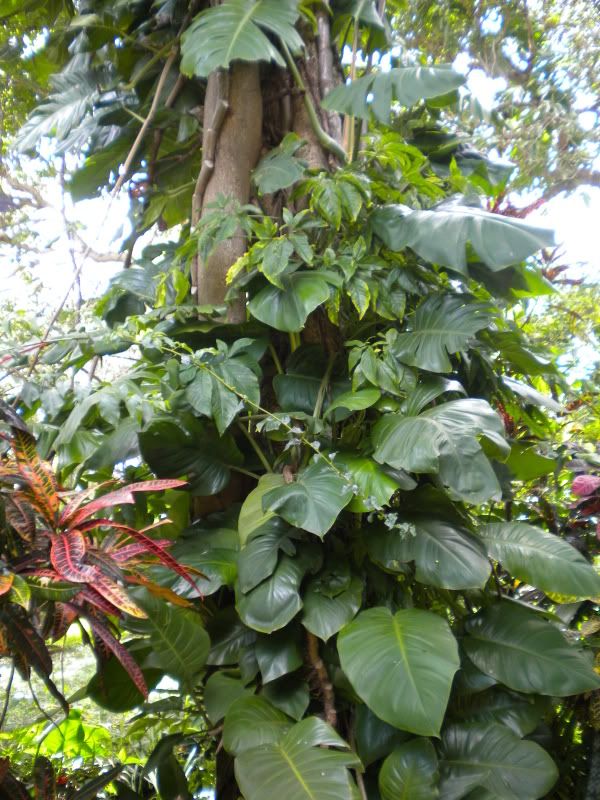 So.....that is a little walk (well....drive!) around part of the island - from the East Side (Lihu'e) to where I live here on the South Shore - in an area called the Po'ipu Beach area (but actually there is no "real" town called Po'ipu, we all live in Koloa technically and that is where our mail is addressed to).
Oh, almost forgot....I didn't remember to put my camera in my shorts when I took my walk this morning (next time I promise) along the ocean....but after my water exercise class I was sunning myself like a lizard on a rock and I thought I'd take a picture of the pool area (palm tree alert!) - here it is: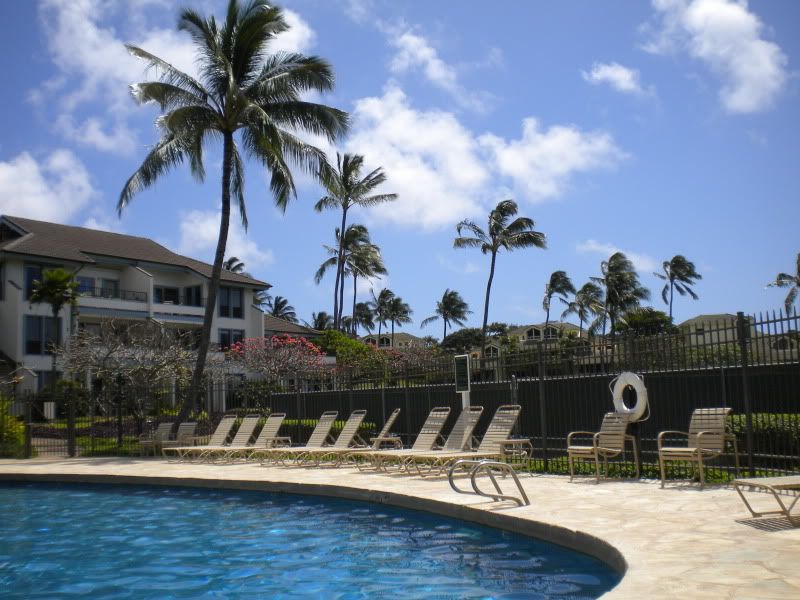 Funnily enough, we have a pool in the middle of our little condo complex and it is quite nice - but I was invited to join the exercise class at a vacation condo complex about 2 miles down the road and I tend to spend far more time at their pool than mine - silly, no?
Okay.....next time I'll remember my camera on my 2 mile morning constitutional along the ocean so that I can share that with you as well! That would be on Friday - have to give myself one day off you know - lol!
Have a wonderful day in whatever part of the world you live in!
Malama Pono,
Janet