Post by Deleted on Mar 20, 2011 20:17:30 GMT
I did not discover experimental theatre until I entered university. When I think of how many things that I didn't discover until university, I could probably write about six volumes on it, three of which would probably concern illegal activities.
Anyway, when you think about it, lots of what was
experimental
back then -- Peter Brook's
Marat-Sade
or a play like
Hair
are practically considered to be mainstream these days, albeit perhaps 'innovative' and 'non-linear'.
A lot of it was probably crap, but a lot of it was fun, too.
The Living Theatre
and copies of it were always good for a little thrill -- being pulled up on stage unexpectedly, or having people suddenly jump out of the audience when you thought that they were just spectators like you.
I remember being pulled on stage once with some other people, something about the Vietnam war, and the line that the three of us were told to chant was: "Eat the flag. It's good for you. It contains Red, White and Blue!" Okay, maybe most of it was ridiculous, but with a little chemical assistance, we really enjoyed it.
Nevertheless, experimental and extreme theatre has gained a permanent place in my heart, and it's almost certainly one of the things that sends me running to Avignon every July.
Peter Brook is now a respected theatrical icon, but this was not yet the case when he moved into a theatre in my neighborhood. He discovered a splendid abandoned theatre in ruins (just like the ones in horror movies or perhaps Detroit) and fixed it up just enough to respect safety codes, but he never renovated it or made it pretty.
I went to see the very first play that he presented there, in 1974. I had only been in Paris for a year at the time. The play was Shakespeare's rarely performed
Timon of Athens
. Most people have never even heard of it.
It was not experimental at all, except for being performed in a ruin with no set decoration. But many other of the plays performed there have been experimental, and I have seen a number of them, some presented by Peter Brook and some just hosted by the theatre, whose name is the
Bouffes du Nord
, by the way.
Last week I returned to see an experimental play called
Requiem 3
. It was about the coronation of King Abel the 1st, who had an unnamed older brother who later killed him, and a few other characters as well.
Anyway, the theatre is actually quite discreet in the neighbourhood. There is no marquee to show what is playing. You have to be "in the know."
The attached café is open to all -- at least most of the time when there is a performance -- but it has blinds to seal itself from view on private evenings.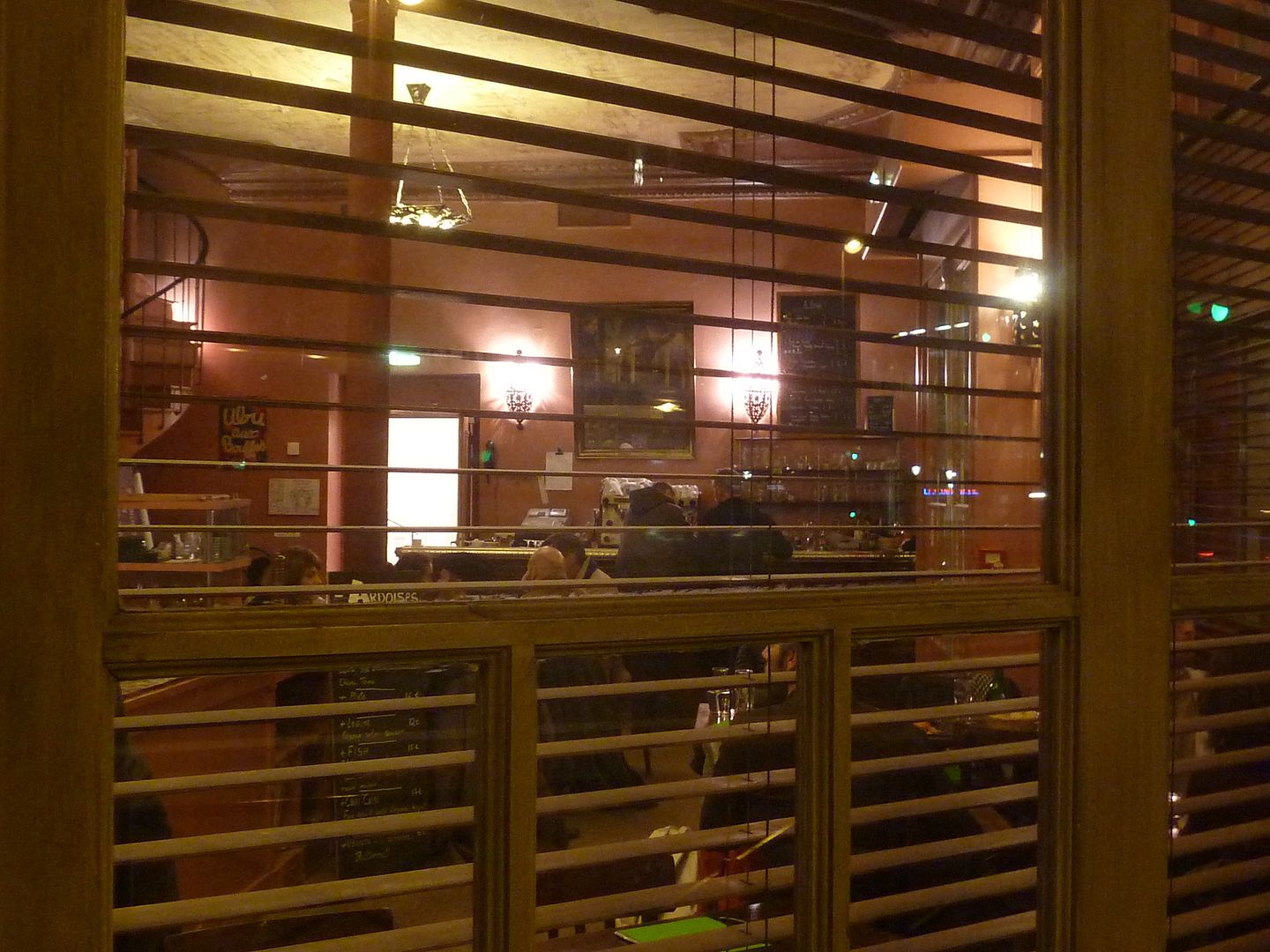 I had a coffee there, but then I moved over to another chamber to wait. One thing that I like about these experimental type places is that they make lounges or anything that strikes their fancy in unused areas. Lots of normal places will keep you waiting out on the street in freezing weather.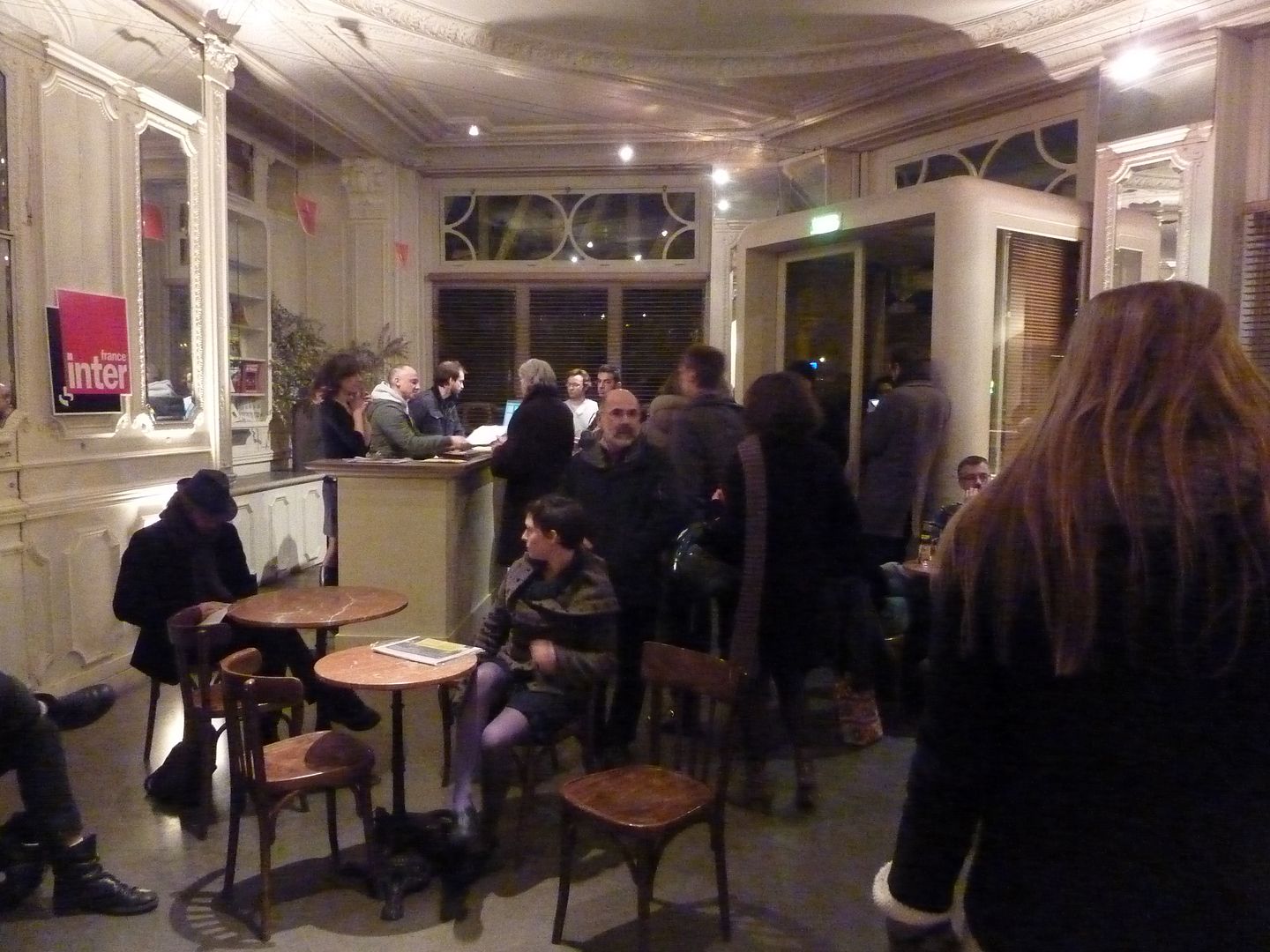 Then it was time to enter the theatre, and I had a front row seat (admittedly dangerous in many experimental plays). The theatre was totally filled with smoke and there was a woman gently rocking a baby carriage on one side of the performance area (no stage in this theatre -- the ground floor serves as the stage wherever there are not seats). A theatre filled with smoke before anything even begins is a dead tip off to experimental theatre.

Well, I really liked the play, but it is sort of difficult to describe. Abel was crowned but stripped totally naked for 95% of the play. Well, not actually naked, because he was covered with syrup, dirt, powder, glitter and who knows what all within 5 minutes. I have to admit that I must admire someone who can wear his nudity with complete dignity and perform as though he were fully clothed. There were two buffoons, the woman with the baby and also the older brother (never named as Cain), who was quite violent. At one time, he was up in the balcony and threw down chairs, cabbages, computer keyboards, drawers and other dangerous items onto the 'stage'.
Very extreme stuff, which it is perhaps best that I do not describe, but the dialogue was crisp and perfectly well written, emotions were created and modified, amazing things happened, and I only saw two people walk out before the end, which is truly remarkable for experimental plays (sometimes I have seen 50% of the audience walk out).
Applause at the end were totally enthusiastic and there were quite a few
Bravos
shouted out. I really thought that it was excellent myself and was really happy to have attended. At the same time, I fully understand that you have to train yourself to like this stuff, as it is not automatic. I still like traditional and classic plays, but this cutting edge stuff it what really appeals to me.
The stage had suffered a bit by the end of the play.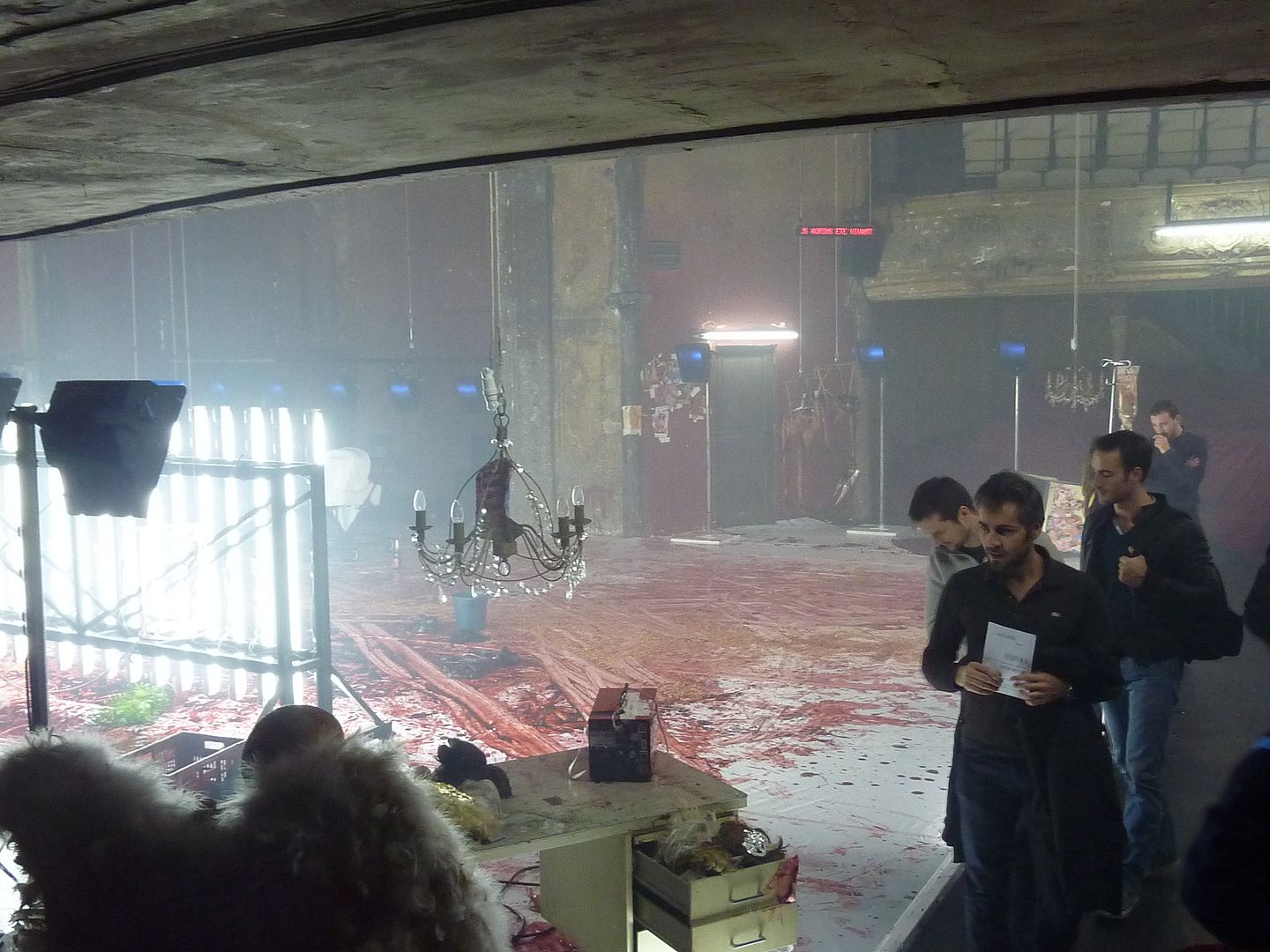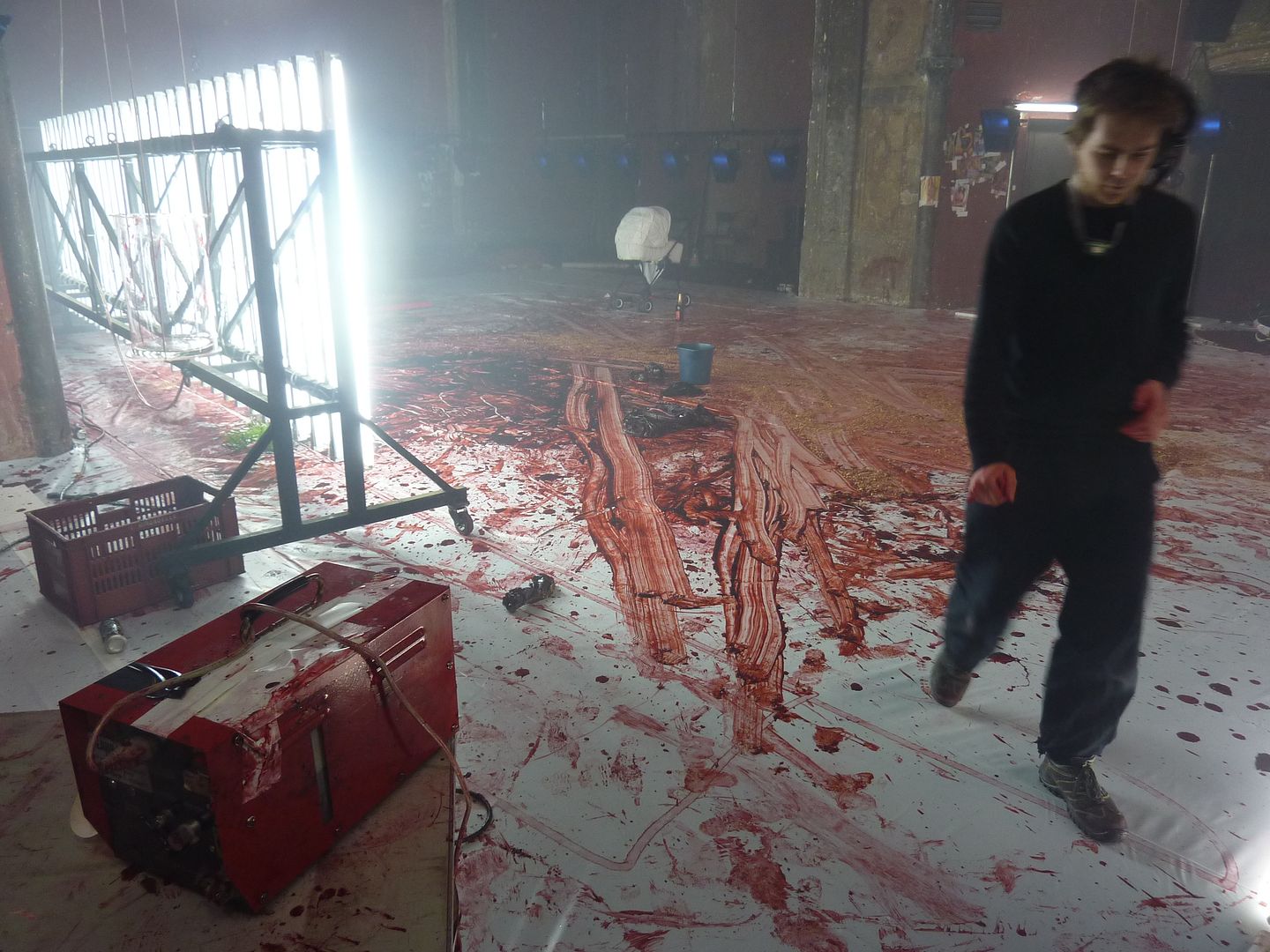 I looked up at the ceiling to appreciate the decrepitude before I left.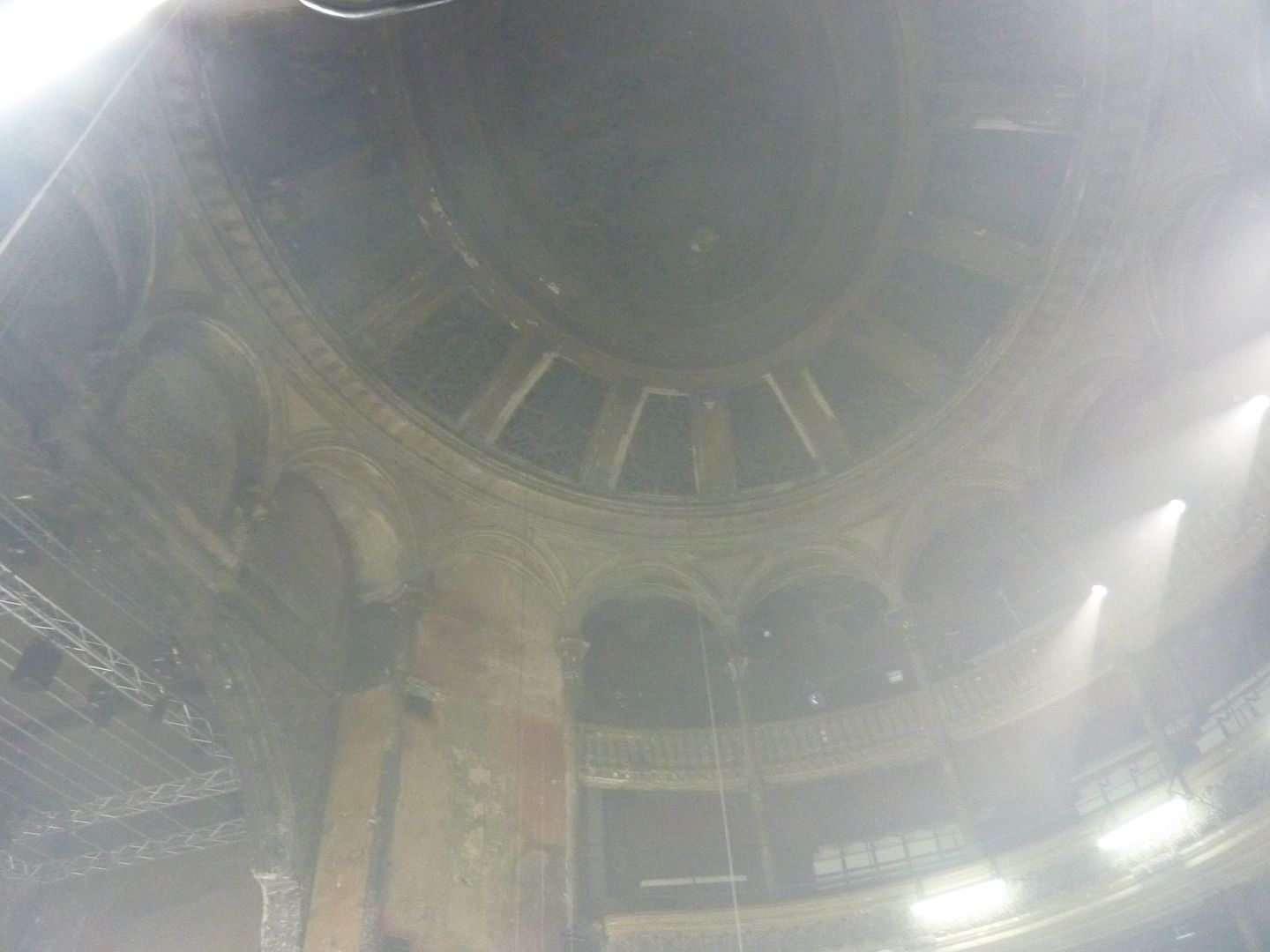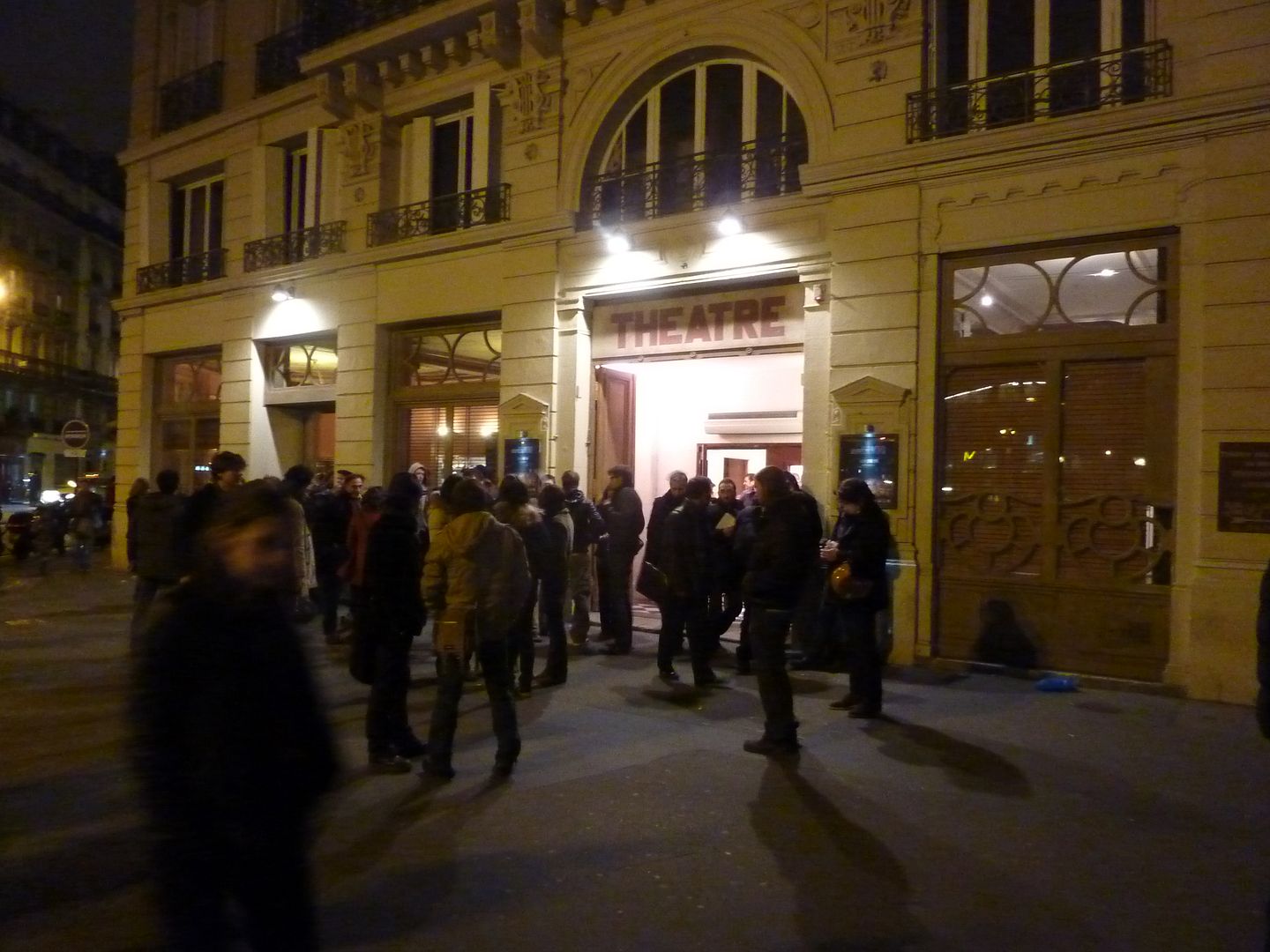 People streamed out, perhaps to get an Indian snack, since the theatre is in Little India at the end of my street.
One thing that amused me was to see that the previous night's "stage" had been folded up and set out for rubbish collection during the performance.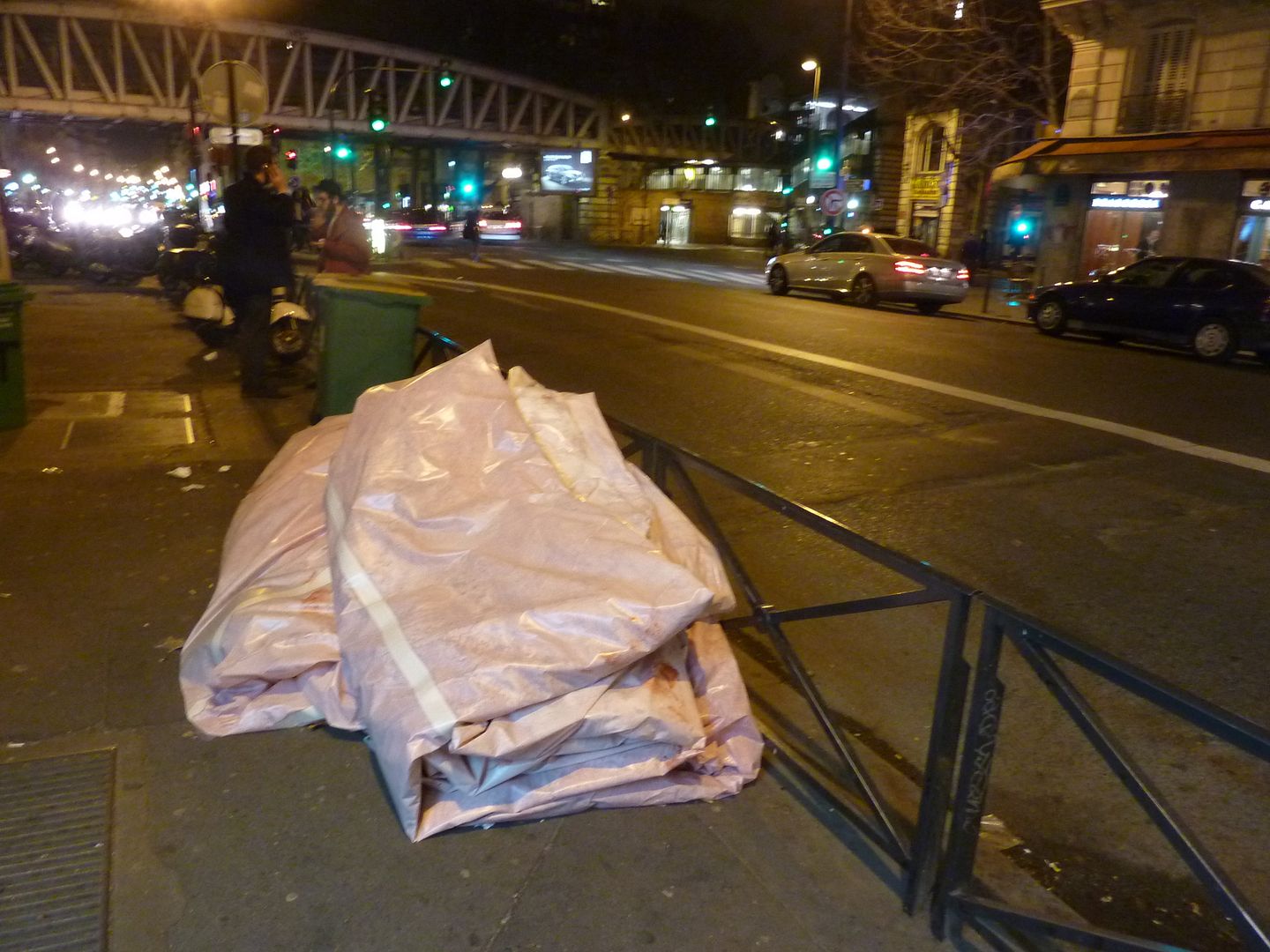 Anybody else out there who enjoys experimental theatre?