Post by Deleted on May 15, 2009 18:26:39 GMT
I always loved mazes as a child and would do any maze across which I came, and I would draw my own in my spare time.
But mazes made of hedges or other vegetation are wonderful (except maybe in
The Shining
), even though I must admit that the only such maze that I have ever been to is the Alice in Wonderland maze at Disneyland Paris.
Here are some of the most famous vegetal mazes in the world.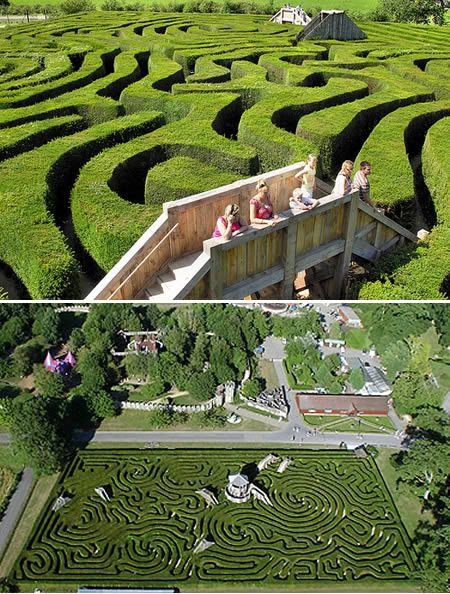 Longleat Hedge Maze (UK)
Made up of more than 16,000 english yews, Longleat's spectacular hedge maze --the world's longest-- was first laid out in 1975 by designer Greg Bright. The Maze covers an area of around 1.48 acres (0.6 hectares) with a total pathway length of 1.69 miles (2.72 kilometres). Unlike most other conventional mazes, it's actually three-dimensional, with six wooden bridges offering tantalizing glimpses towards the elusive centre of the maze, which is marked by an observation tower for visitors who manage to find it.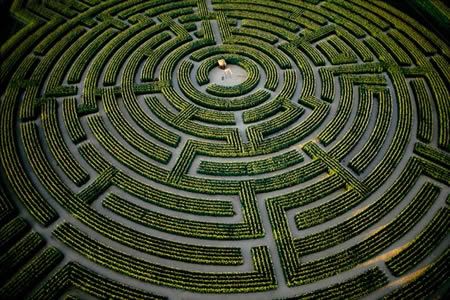 Reignac-sur-Indre Maze (France)
In 1996, the year this plant maze --the world's largest-- was created at Reignac-sur-Indre in Touraine, 85,000 visitors came to admire and lose themselves in the middle of its 4-hectare (10-acre) expanse. Each year, a maze of corn or sunflowers emerges from the ground over the summer, is harvested in the autumn, and then reappears the following year in a different form, thanks to a well-proven technique of sowing and marking out.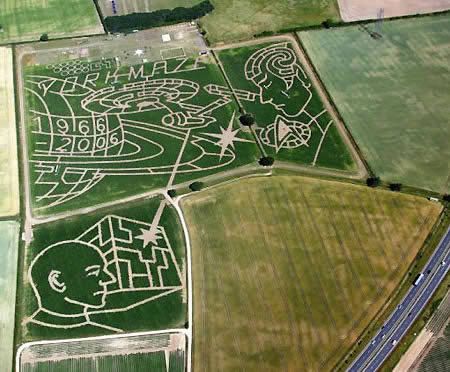 York Maze, a Star Trek tribute (UK)
Containing 1.5 million individual plants, this maze --just outside York-- covers 32 acres, the equivalent of 15 football pitches, and was designed using satellite technology, which meant the paths could be cut to an accuracy of half a metre. The huge maze was created by Tom Pearcy as a tribute to the 40th anniversary of Star Trek.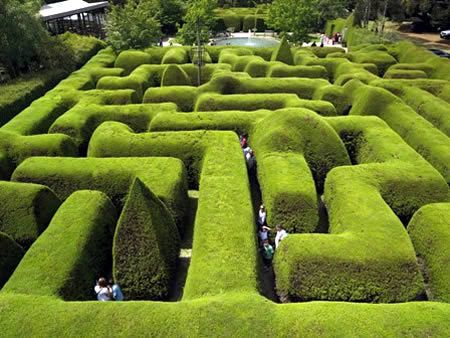 Ashcombe Maze (Australia)
Ashcombe Maze is Australia's oldest and most famous traditional hedge maze, located at Shoreham on the east of the Mornington Peninsula, Victoria. Measuring three meters high by two meters wide, the gardens also boast the world's oldest rose maze, which blooms 217 varieties of roses on 1,200 bushes.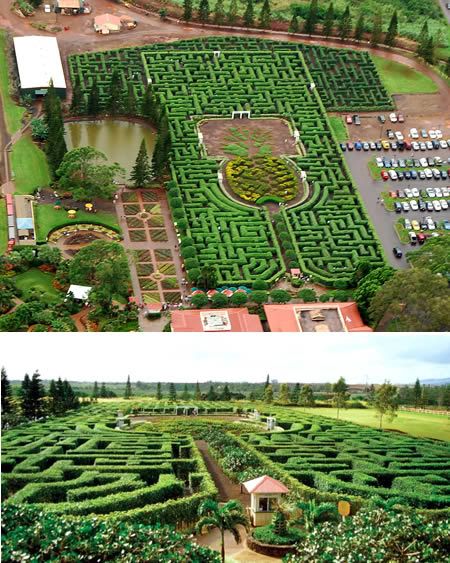 Pineapple Garden Maze (Hawaii)
World's largest maze, according to the Guinness Book of Records 2001, the Pineapple Garden Maze offers over three miles of paths on three acres. Instead of a traditional English hedge, it is planted with 14,000 colorful Hawaiian plants, including hibiscus, croton, panax, pineapple and heliconia. It is located in Waimea Bay, Hawaii at Dole Plantation and certainly looks scary from the air.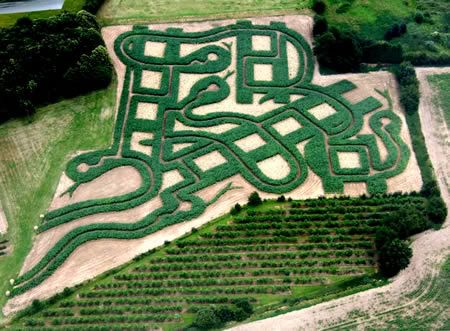 Snake Maze (UK)
Michael Blee, 62, spent several months creating this six-acre maze at Gore Farm in Upchurch, near Rochester, Kent. Its hedges stand 9ft tall. This is the 10th and the most complicated maze Mr. Blee has ever done. He is hoping his giant game makes it into the Guinness Book of Records.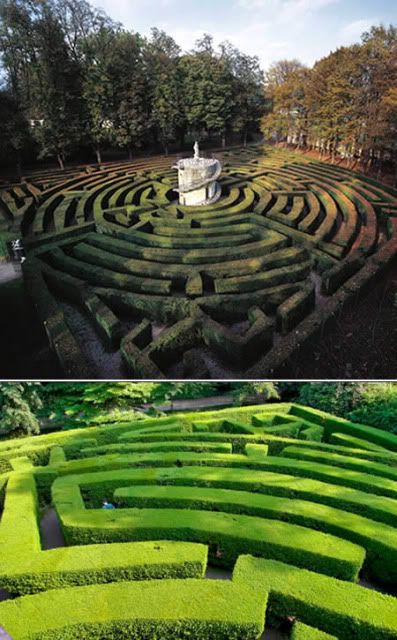 Il Labirinto (Italy)
Created in the early 1700s, Il Labirinto is said to be one of the most complicated labyrinths in the world. Located in the town of Stra, just outside Venice on the grounds of Villa Pisani, the legend says Napoleon got "lost" in it around 1807.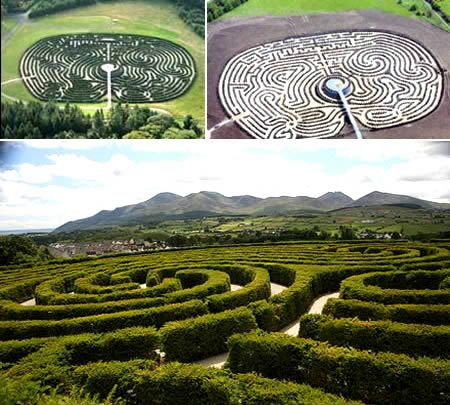 Peace Maze (Ireland)
This Irish maze was officially opened in 2001. The largest permanent hedge maze in the world, it covers an area of 11,000m2 --2.7 acres, or, 1.1 hectares. The path length is 3147m (2 miles or 3443 yards). The hedge is constructed from 6000 yew trees, many of which were planted during December 2000 by people from all over Northern Ireland.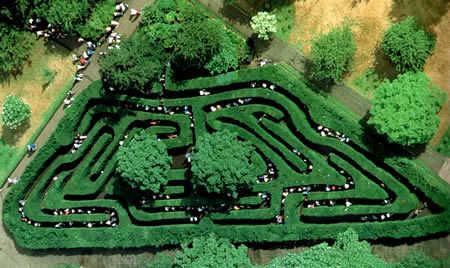 Hampton Court Maze (UK)
The Maze at Hampton Court, the royal palace on the Thames to the west of London, is probably UK's most famous one. Planted as part of the gardens laid out for William of Orange between 1689 and 1695 by George London and Henry Wise, it covers an area of a third of an acre (about 1350 sq meters), with paths of over half a mile (0.8 km) long. It was described with great wit in Jerome K. Jerome's novel 'Three Men in a Boat.' Hampton Court Maze continues to attract hundreds of thousands of visitors each year.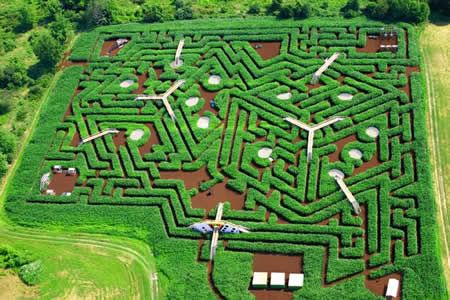 Davis' Mega Maze (USA)
Davis' Mega Maze in Sterling, Massachusetts, has been a popular seasonal attraction since 1998. Davis' Farmland, a seventh-generation family-owned farm, holds this unique maze that changes completely from year to year. Designed in Dorset, England, by maze designer Adrian Fisher who is often credited with creating the modern maize maze craze, the Mega Maze takes more than 12,800 labor hours to be created each year.
(from