Post by onlymark on Oct 19, 2011 9:30:50 GMT
There is an obvious crossover in this post with the menu/food boards. However, I'm posting it here.
After a conversation with a forum stalwart via pm I decided to look a bit further into the cuisine of Jordan where it relates to vegetables.
The national dish, as far as you could say so, is something called Mansaf. This is basically lamb and rice. Maybe even shawarma as well.
en.wikipedia.org/wiki/Mansaf
en.wikipedia.org/wiki/Shawarma
Most dishes revolve around meat and rice, especially for special occasions as you would expect. But where are the vegetables?
I thought maybe there aren't many available, but there are as I'll show in a minute. A blog from a vegetarian who visited Jordan shows what she ate -
alittleadrift.com/2011/07/vegetarian-travel-jordan/
If you look at the first photo you'll see the meze laid out – this is where the majority of non meat dishes are served. But as you see, she mentions two of the dishes were meat, then you can see that ten plates are olives of one form or another, there is an omelette and a plate of boiled eggs. There is some repetition but several plates of yoghurt/tahini/hummus variations. One of them is similar to baba ganoush, made with eggplant and called here mouttabal.
So where is the veg?
She goes on to show some breads and a couple of salads, rice wrapped in vine leaves and then something "a bit heartier and heavier" – fuul/foul/ful – made out of fava beans, a staple of the middle east.
The salads are nice but I'm still looking for the hot (as in temperature) vegetable stuff.
Falafel is mentioned and then she mentions Makloubeh which isn't in its proper form a vegetarian dish.
One thing she forgets, or didn't know about, is mujaddara. This is a poor version of the Egyptian koshari –
www.habeeb.com/mujaddara.recipe.html
It is tasty though.
So, I decided to nip to my local fruit and veg shop and have a quick look. It's no different to any other. Half the shop is fruit, the other half is vegetables. I managed to grab a couple of quick photos, unfortunately the first one is a bit blurred but I'll talk you through it.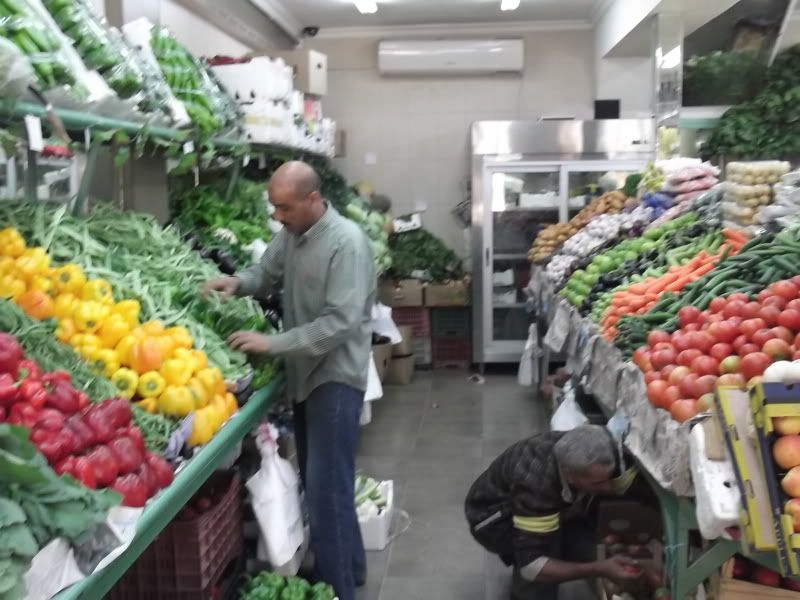 You can see peppers, broad beans, different green leafy things for salads, there's a couple of different types of potatoes, the usual cucumber and tomato (is tomato a veg?), plus zucchini, eggplant, garlic, carrots, but what you can't see because of the blur and the men are the cauliflower, the onions, red cabbage, green cabbage, beetroot and what I know as swede. There are also radishes hidden away.
These are all grown locally. In the bigger supermarkets are also a lot of imported stuff but at a vastly inflated price. All shown here is what is generally available whether local or imported but sold at a reasonable local price.
Moving across the shop we start to see the fruit and things like avocados –
Then moving outside –
And finally outside with the shop assistant holding my purchases (today it was onions, cauliflower, oranges and red local apples) –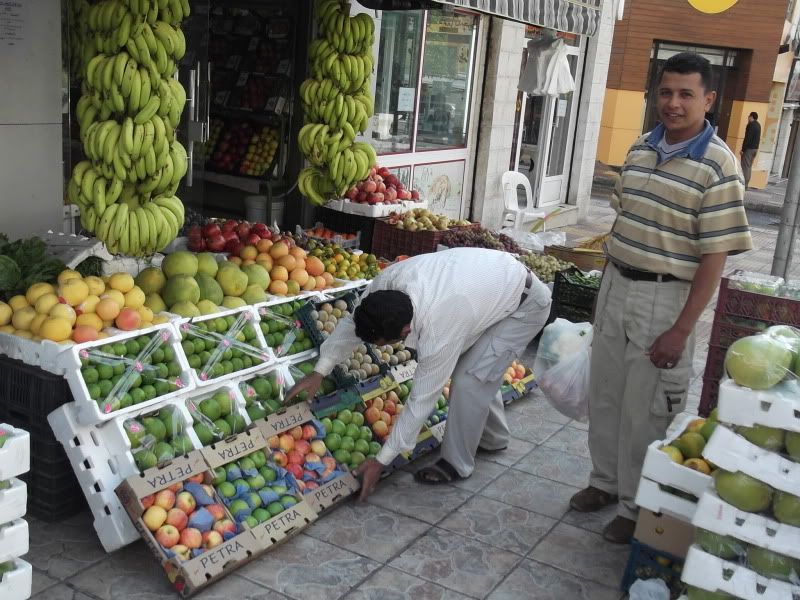 As you can see there is a lot of fruit. Fair enough, but nothing is done with it in general other than peeling and eating it. But there is enough veg to make some good meals, either with or without meat. I also understand it is seasonal and maybe now in autumn there is a bit more available than normal. I know that in Egypt in summer there is a bit of a dearth and the same will probably apply here.
As regards potatoes – my favourite vegetable and so versatile, but apart from French fries I've not really encountered much that they do with them. Even the French fries though are usually frozen.
There must be something to do with them, and the other vegetables, but on the surface experience and looking it doesn't seem much. Even searching initially on Google turns up little that doesn't involve meat as the main ingredient.
I have found though Jordanian cheese stuffed eggplant –
recipes.wikia.com/wiki/Jordanian_Cheese-stuffed_Eggplant
So, your homework for today is to delve more deeply and find out what is done with all the vegetables apart from grinding them up and eating them as a meze etc.
You have over the weekend and I'll mark your papers after I've had some more tabouleh.