Post by onlymark on May 13, 2012 11:56:07 GMT
I had a run out today to a place that in religious terms is very important. But it turned out to be a bit of a disappointment. The reason being that over the years those pesky tourists and the weather have deteriorated the place enough for the Jordanian government to step in and try and do something. This resulted in only a small part of the site being open.
So – this is a bit heavy on the text and not so heavy in comparison on the photos.
Let's talk about Moses for a minute.
You remember him and have heard stories about him whether you are Jewish, Christian or Muslim as he is mentioned in each quite a lot.
He was the guy that lived in Egypt at the time when a rather nasty and worried Pharaoh issued a decree that all male Hebrew children born be killed by drowning in the river Nile. His mother slipped him into a reed basket and tried to hide him in the river. However, he was found by none other than the daughter of said Pharaoh.
Lucky that.
He was raised in the family but when he reached adulthood he witnessed and Egyptian beating a Hebrew. Moses killed the Egyptian and fled across the Sinai Peninsula.
He lived as a shepherd for forty years, marrying and having children. One day leading his flock to the slopes of what is believed to be Mount Sinai where God spoke to him through the medium of the burning bush.
Moses was to return to Egypt to free the Israelites who were now no more than slaves.
The Egyptian Pharaoh refused, God brought down the ten plagues, that seemed to change his mind and they left. But the nasty Paroah decided to send an army after them to slaughter them. This is where God parted the Red Sea for them to escape.
Moses then slipped back to Mount Sinai where he received the Ten Commandments.
The exodus continued until there was a shortage of food and water. Moses struck a rock with his staff and water poured forth. God provided manna from the sky for sustenance (manna from heaven ring a bell?).
The full story gets even longer, though interesting, including a part about Moses instructing the Israelite soldiers to kill every Midianite woman, boy, and non-virgin girl (although virgin girls were shared amongst the soldiers).
Not far from the promised land Moses was warned that due to an offence of trespass he committed at a place called Meribah he was not allowed to cross the Jordan river. He addressed his people and said goodbye to them then went up a nearby mountain to view the land – and promptly died aged exactly one hundred and twenty. God took the body and buried him in an unknown location on the eastern side of the Dead Sea (then called the land of Moab).
The mountain he died on is Mount Nebo.
This is known today and is but a short ride from Amman.
After a breakfast of yet again, two falafel wraps I arrived after about 45 minutes.
I told you this was heavy on the text.
Anyway, this is the entrance to the site on the mount –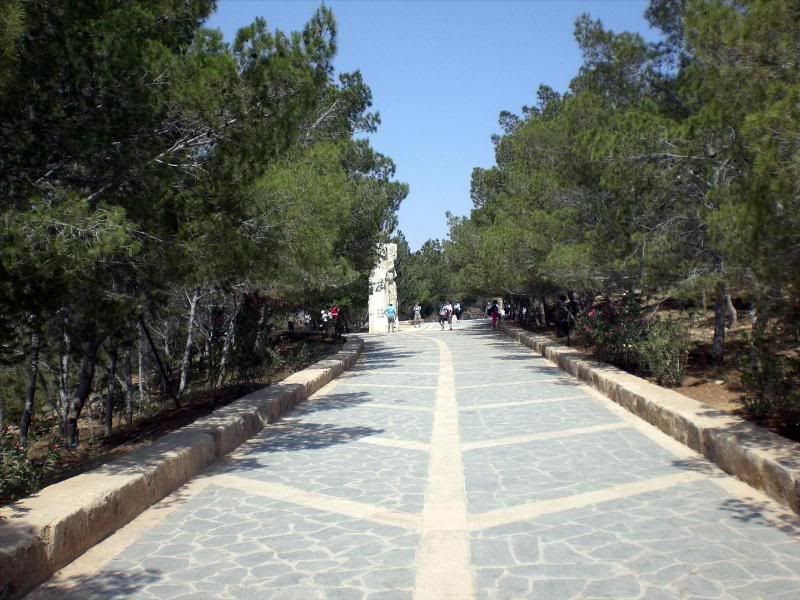 After a payment of 1 Dinar (a bit more than 1 Euro) I had a walk in.
The first thing I came to was this. Erected in 2000 and I'm unsure what the purpose exactly of it is. But it seems to be something of a memorial as well as recording some recently deceased people –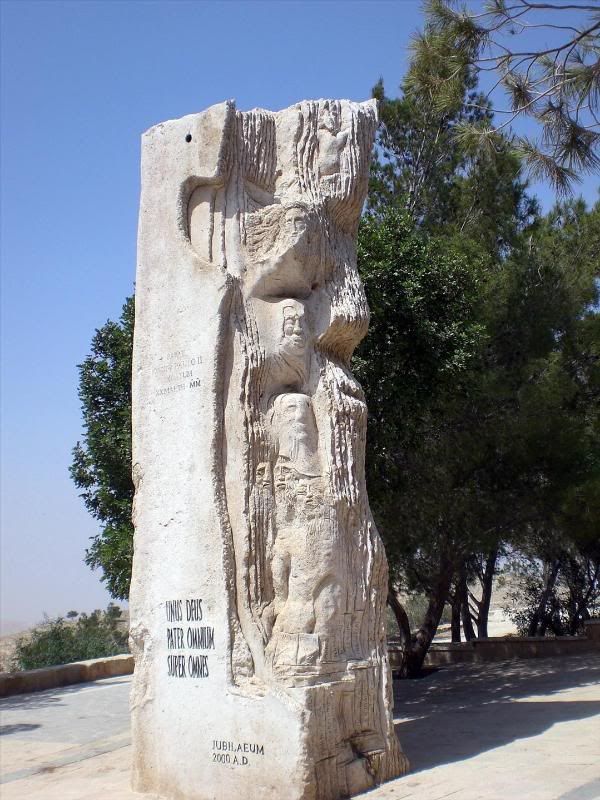 A big bit of rock told me I was in the right place –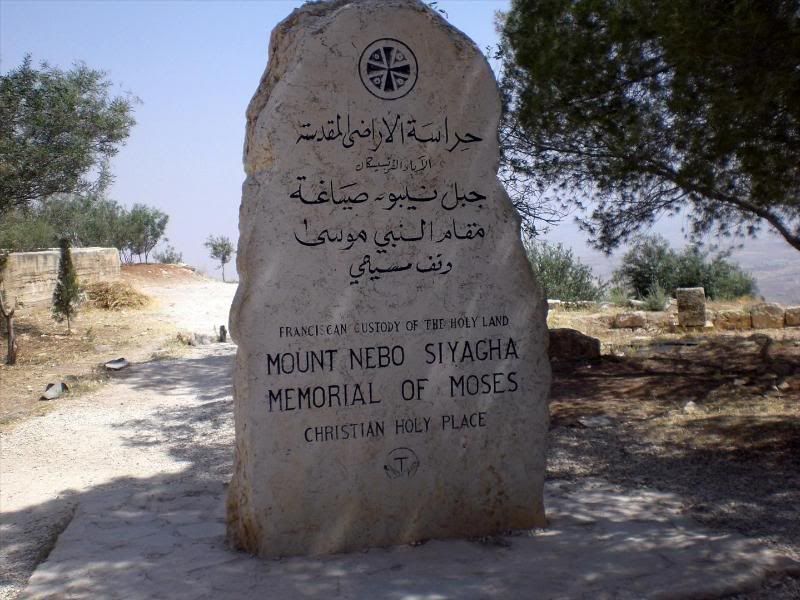 But then came the disappointment. At the top is a church, or at least the remnants of it dedicated to Moses and has a number of fine mosaics within, plus a few tombs and assorted interesting bits.
But it was covered and closed. Covered by a building, not yet finished, for further protection and signs everywhere stating no access. Quite when it will be finished is anyone's guess –