Post by nycgirl on Jan 28, 2013 18:03:34 GMT
Hey everyone, I'm back! My husband and I and my mother-in-law went on a 3 week trip to South Africa and Namibia beginning at the end of December. We began the trip with 4 1/2 days in Cape Town, followed by a week in Namibia, then ended with 9 days in Kruger National Park. I can't think of enough superlatives to describe it, but it was the best trip of my life.
We flew to Johannesburg after a layover in Amsterdam, spent the night in Jberg's airport, and took a flight to Cape Town very early in the morning. When we finally got on our last flight, I was so giddy that the fact that I had an uncomfortable night's sleep (interrupted by an airport security guard hustling us for money) couldn't slow my adrenaline. My first glimpse of Table Mountain from the airplane window gave me a jolt of excitement.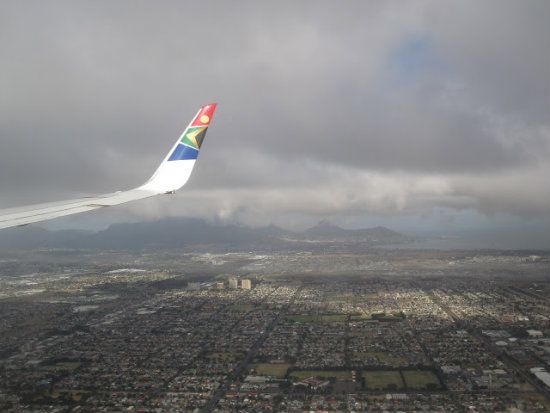 We landed, picked up the rental car, and hit the ground running. My second image of Cape Town, unfortunately, was miles of dilapidated township homes lining the side of the highway. It was a sobering reminder of the lasting effects of the apartheid era, when the
Group Areas Act
forced non-whites to live in the undeveloped outskirts of the city. Here's a pic of what I saw, taken from the Internet.
Our first stop was at Cheetah Outreach, a nonprofit conservation group. Visitors can interact with the tame cheetahs they raise on the premises. The proceeds from these visits go toward conserving cheetahs in the wild. We visited a 10-year-old cheetah named Joseph. While we petted him, the volunteers told us about the unique features cheetahs possess. Famous as the world's fastest land mammal, the cheetah can accelerate from 0 to 60 miles in 3 seconds. It has a super flexible spine, semi-retractable claws that provide a good grip while running, and a long, rudder-like tail that allows it to make hairpin turns at high speeds. Its spotted coat provides camouflage in the bush and the distinctive black "tears" on its face offer protection from the sun's glare. Such a lithe, elegant animal.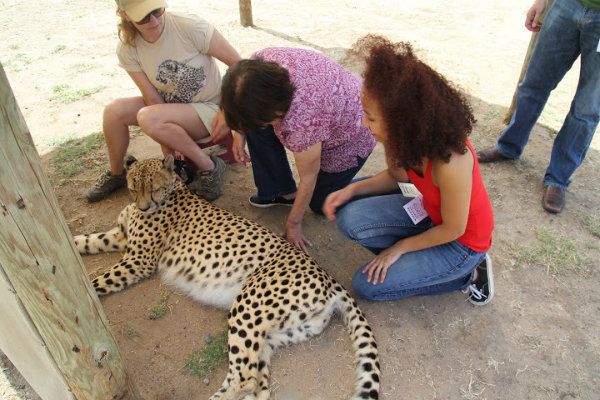 I paid extra to also visit the 4-month-old cheetah cubs. Before I went into the enclosure, the volunteers played with them using a water bottle attached to a lure, which the cubs chased with gusto. The cubs in the adjacent enclosure paced up and down restlessly, wishing they could get a piece of the action.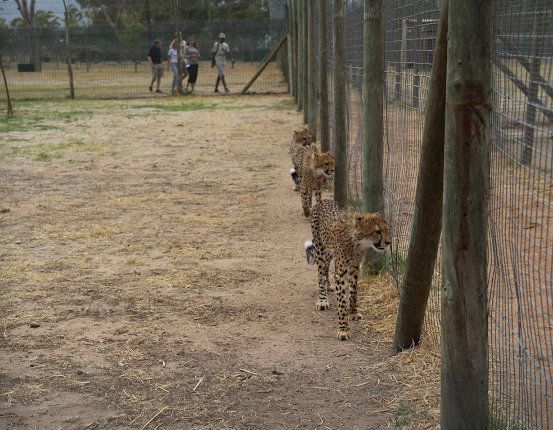 I was sorry to see the cubs were pooped from their playtime by the time I entered, but it was probably the effect the handlers were going for. Anyway, I got to pet them while they napped and they were soft and adorable. They had begun to shed their fuzzy coat, called a "mantle," but still had some left.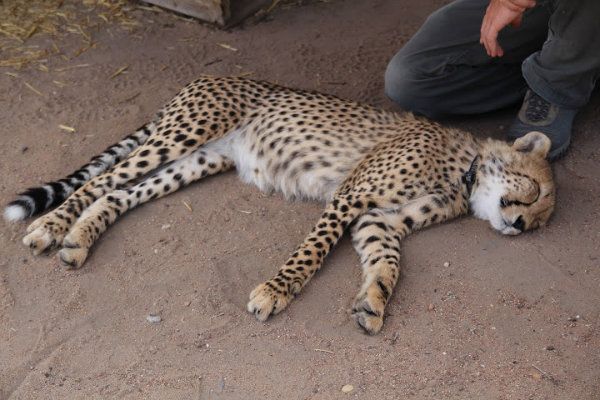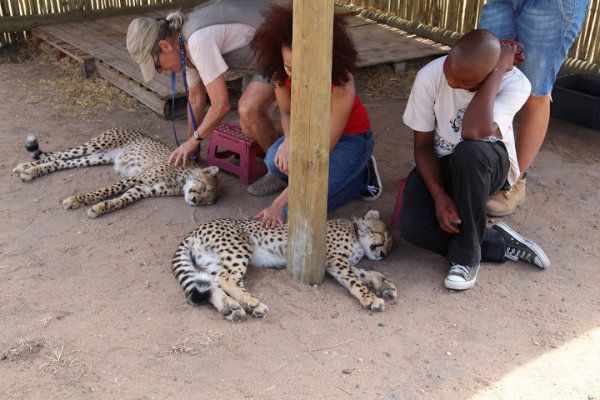 Awww...
All too soon, the visit was over, but we were free to walk around the compound. Cheetah Outreach also takes care of a number of small predators, such as foxes, jackals, and servals. They also raise Anatolian shepherds, an important part of their conservation efforts. Most of the cheetahs in southern Africa live in unprotected farmland and they are often shot by farmers protecting their livestock. In order to reduce this conflict, Cheetah Outreach gives these massive, highly effective guard dogs to farmers free of charge. The organization does not receive any government funds, but pays for the dog-rearing program with donations and the profits earned from visitors.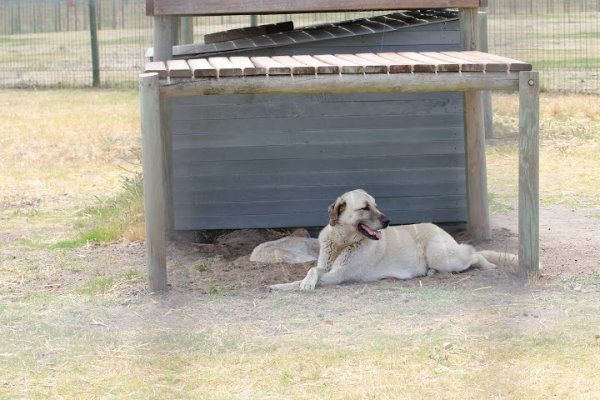 We said goodbye to the animals and were ready to hit the winelands. We drove to Solms-Delta, a 300-year-old wine estate in the beautiful Franschhoek region. I had pre-booked a picnic lunch, so there was a huge basket of goodies waiting for us when we arrived. Before heading to the picnic site, we decided to do a wine tasting. It was gorgeous weather and we relaxed outside in the shade and sampled 8 tasty wines. They gave a generous pour, too. Then we hopped on a tractor and were driven to a secluded spot in the surrounding forest. We spread out a blanket by a pond and had a delicious lunch of lamb, chicken curry, smoked trout, spicy biltong (South African cured meat), pesto marinated vegetables, potato salad, cheese, and homemade bread, capped off with apple tarts for dessert. Way better than the picnics I make! We washed it down with the nice bottle of red wine that came with it. By now we were feeling groggy and lulled by the warm sun and peaceful scenery, so we took a nap.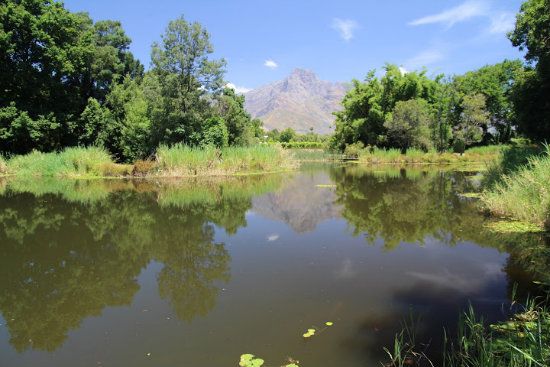 After our nap, we went for a nice long stroll through the grounds on our way back to the car. It was such a lovely, sprawling estate.
Before leaving, I noticed a small museum inside the big white manor and popped in for a look. It housed a small collection of artifacts unearthed on the property, telling the story of the individuals that lived and worked there over the centuries. This plaque honors these people from the past, including the slaves whose names are lost to history.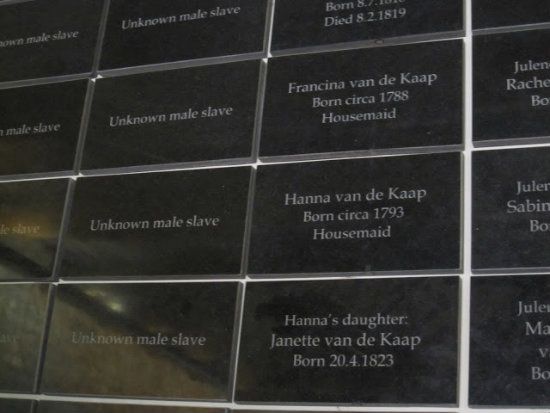 I had intended to visit a couple more wineries in the area, as there were plenty of acclaimed ones all within a stone's throw of each other, but we were pretty tired, so we just drove around and feasted our eyes on the big mountains and lush valleys of Franschhoek.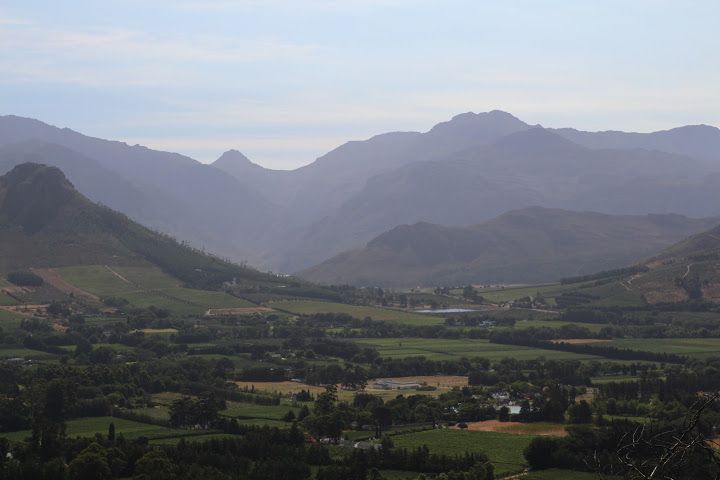 We saw lots of baboons hanging out on the side of the road. They're not particularly attractive animals, but the antics of the little ones were fun to watch.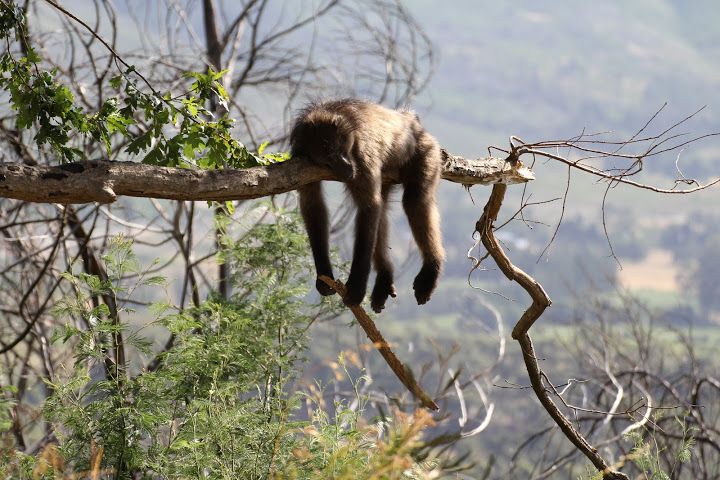 After awhile, it was time to head to our apartment. As we drove to the city center, Table Mountain once again loomed in the distance. We checked into our apartment, a charming, spacious 2 bedroom, and went down for the count right away. The trip was off to amazing start.