Post by onlyMark on Dec 10, 2014 12:21:09 GMT
Sawai Jai Singh was a Rajput king who built five observatories between 1727 and 1734 in India. The biggest and best preserved is in Jaipur. We shall have a little walk around it, if that's ok.
Even though it is one of the more minor sites in Jaipur it is still well visited and I found myself having to queue for half an hour to get a ticket to enter. The problem was partly there was only one man issuing them from a small window in a nearby wall and I don't think he loved his job. A policeman was on hand to control the queue and he frequently had to 'realign' various people who felt that walking straight to the front and thrusting their hand through the window was perfectly reasonable.
Inside I noticed a number of individuals who didn't seem as excited about the place as I was –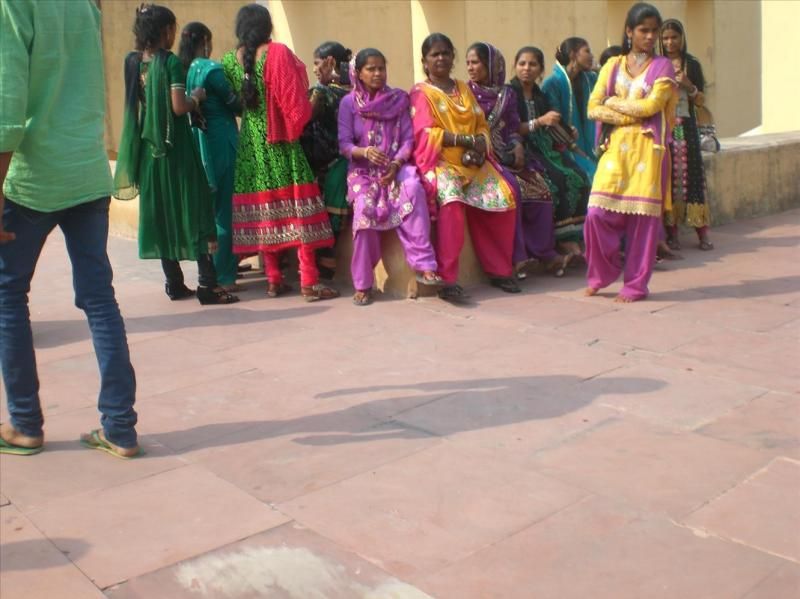 Though it did seem a favourite for school groups who did appear to be paying attention –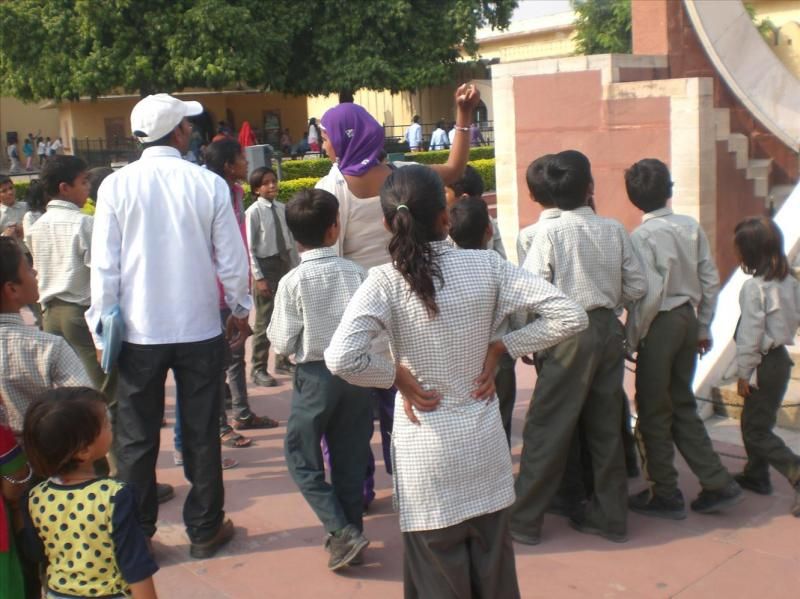 The main attraction is the rather large sundial, the Vrihat Samrat Yantra. The face is angled at 27 degrees to show the time of day in Jaipur. It is 90 feet (27.43m) high and a base of 147 feet (45m). It is supposedly accurate to 2 seconds – which I can believe as when you stand at look at the shadow carefully you can see it move.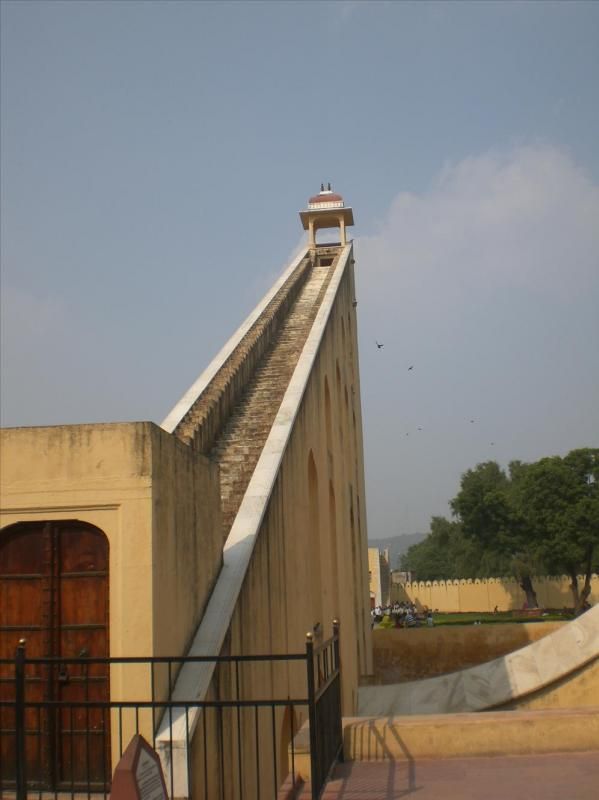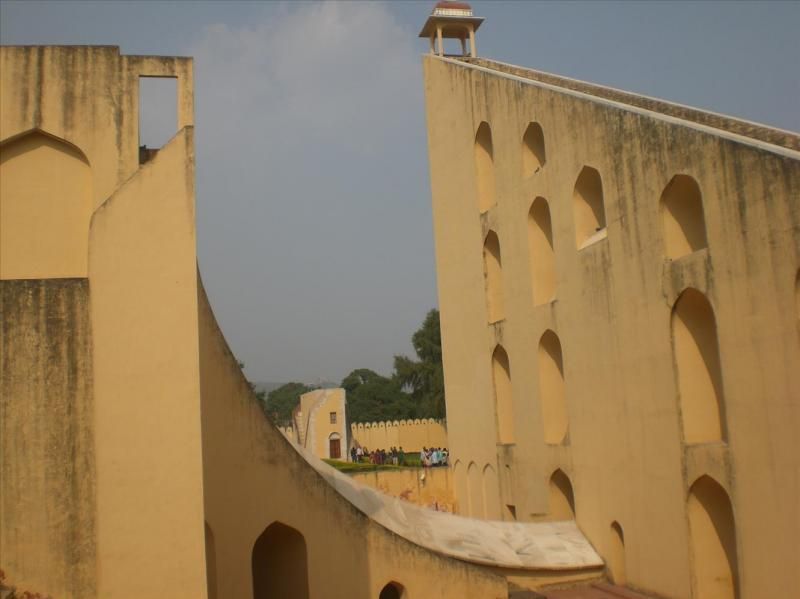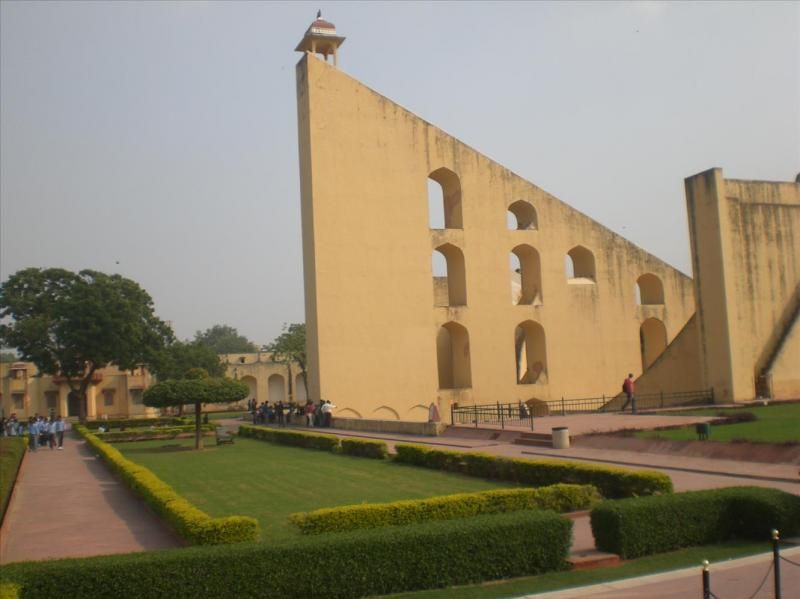 Numerous other instruments are seemingly scattered around the site, but they are placed with precision depending on their function. There are fourteen major ones that measure time, predicting eclipses, tracking stars' location as the earth orbits around the sun, ascertaining the declinations of planets etc.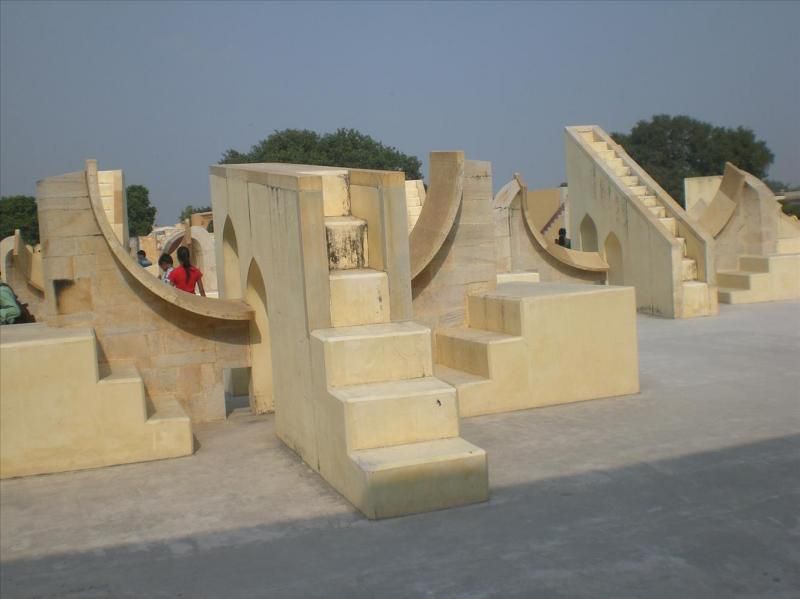 There are twelve instruments dealing solely with zodiac signs.
Several more sundials –
Instruments for measuring the celestial latitude and longitude of an object in the sky –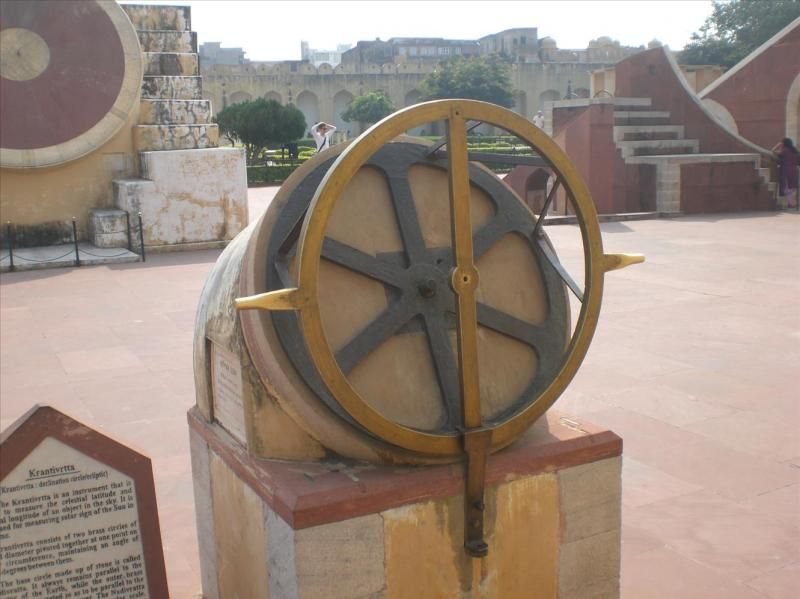 This is one of two hemispheres with a map of the Universe engraved. Two wires are fitted along the diameters of the circle at the edge of the instrument. These wires are at right angle to each other and the shadow of the intersection gives the position of Sun along with other celestial objects. Normally, we can either the Sun or the stars in the sky but this show the position of the sun in relation to the other stars –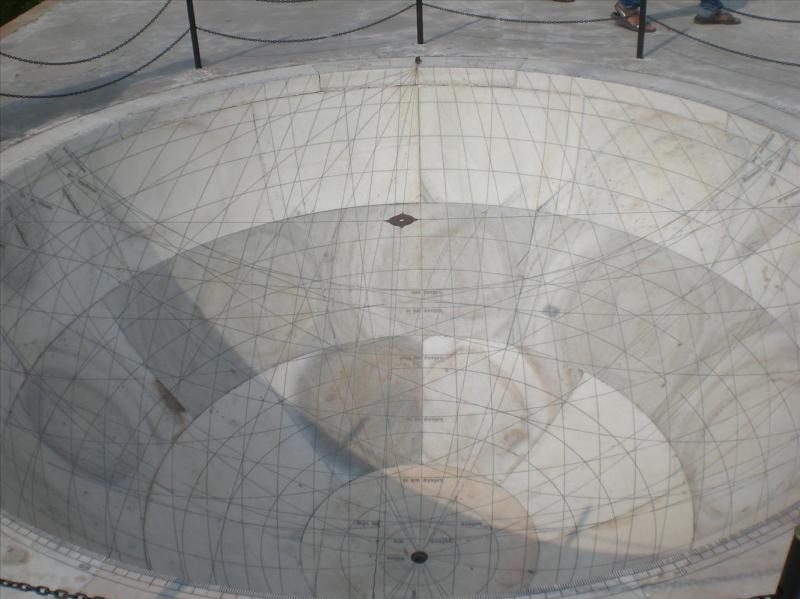 The accuracy is quite extraordinary –
Various other instruments, far too technical for me, are around for someone who knows what they are doing –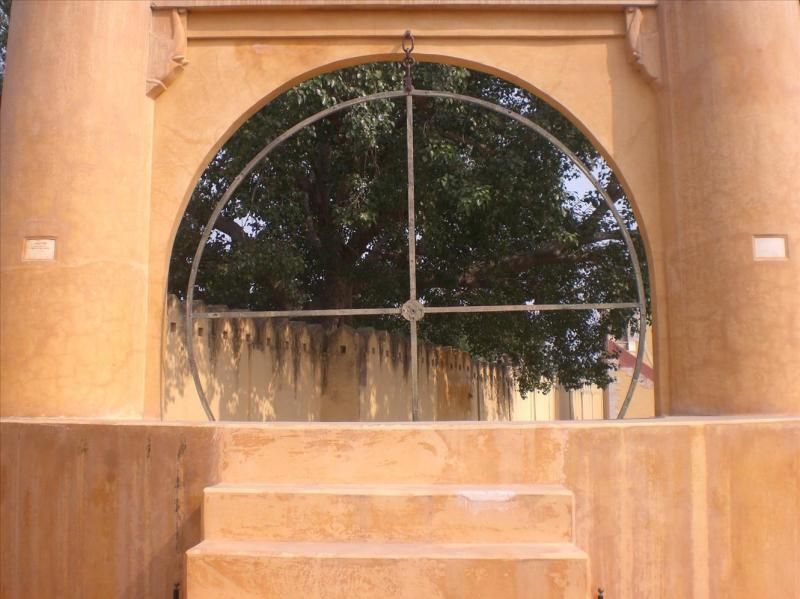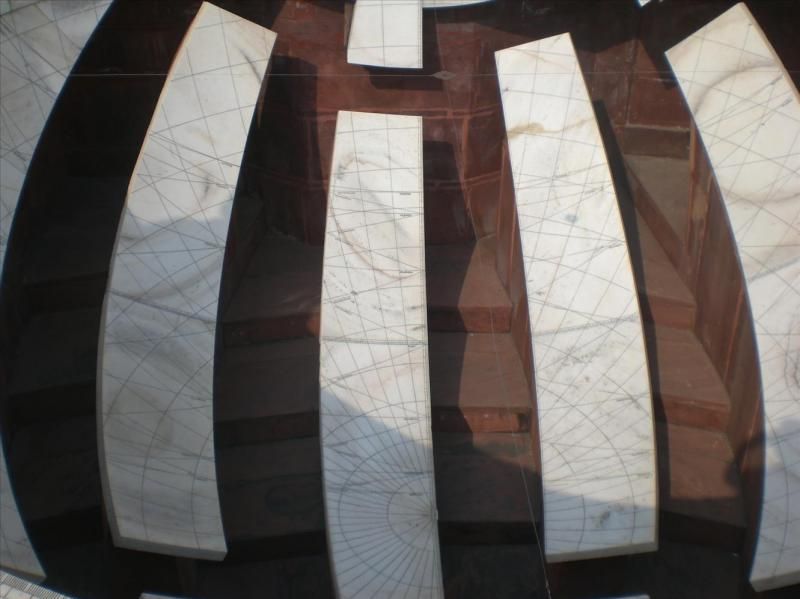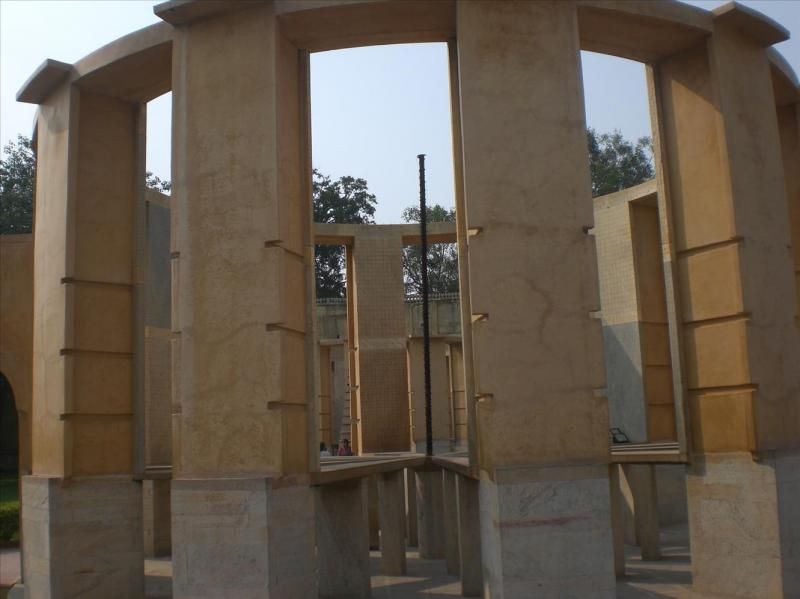 The whole site had a big mix of locals and tourists –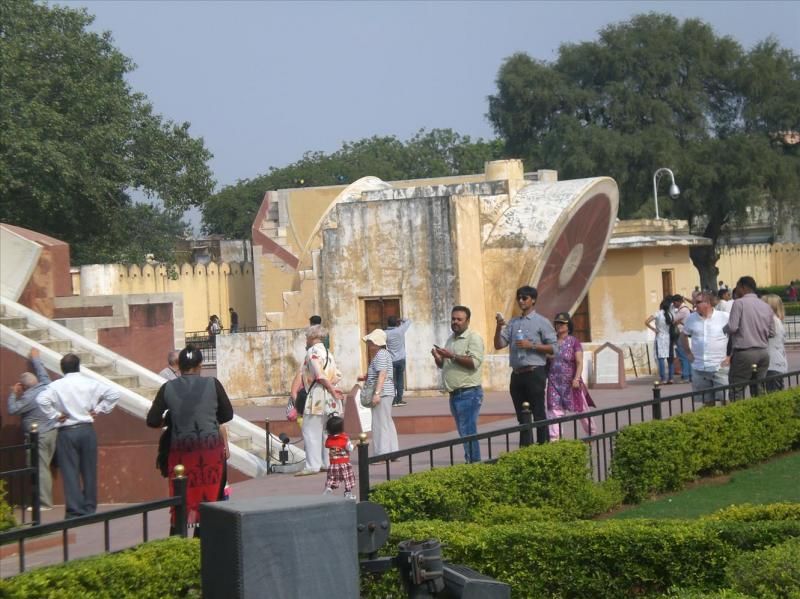 And it is enjoyable to have an hour walking around it. Fortunately, we can do, mainly because of a certain Major Arthur Garrett, a particularly keen astronomer, during his appointment as Assistant State Engineer for the Jaipur District who did many of the repairs after it had fallen into disuse at the end of the 19th and beginning of the 20th centuries.