Post by onlyMark on Jan 29, 2015 14:53:05 GMT
Yesterday I made a bit of a report about the concentration camp at Buchenwald. Related to that theme I remembered something I had seen in a number of German towns and I think there may be few on the forum who know about them. Correct me if I'm wrong but unless you live in Germany or maybe one or two other European countries, plus you look down as well as up when you are walking, you may not be aware they exist. No doubt K2 knows of them but I'd be interested to know if anyone, especially those in Germany, also do.
They are, in German, called Stolpersteine. In English they'd be called a stumble stones or stumble blocks.
It is said that in Germany before WWII if a non-Jew tripped over a protruding cobblestone in the road they'd say that that is where a Jew is buried.
From 1993 onwards a large number or commemorative stones have been laid in German streets, roughly the size of a cobblestone. These have been extended to currently 18 countries and 48000 stones. They are memorials for an individual victim of Nazism – both those who died and survivors and are not restricted to Jews. They can be Sinti, Romani, black, homosexuals, in fact any individual that was persecuted by the Nazi authorities.
Walking around a German town today I was looking for a few things, one of which was an example of this. I saw many in Frankfurt but didn't have my camera with me, but I did today. I'll just post a photo of one to give you the idea. We hear and see the large memorials that exist in many countries/places but these Stolpersteine are so understated as to be almost invisible. To me, the fact they are for individuals and hardly seen or thought of, makes them more poignant.
Imagine walking down a pleasant cobbled street and occasionally seeing one cobble stone that doesn't quite fit in with the rest. Maybe you don't see it at all as you are busy looking in the shops. But if you do, and you stop and look down, maybe even have to crouch down if your eyes are like mine, you may well see something like this -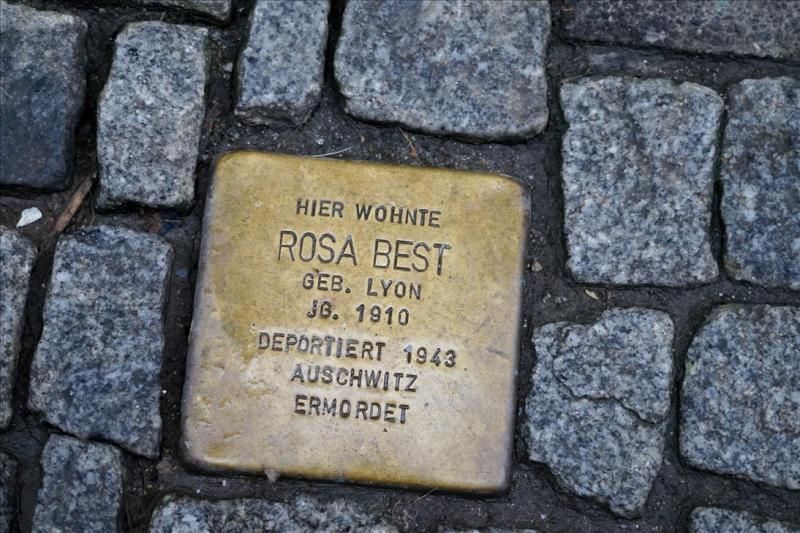 "Here lived Rosa Best. Born Lyon 1910. Deported 1943 Auschwitz. Murdered."