Post by onlyMark on May 31, 2017 9:22:04 GMT
Mrs M, bless her little cotton socks, had an idea.
I had been on the receiving end of some of her ideas over the years and I could see this one would fall on me to sort out. You see, she is the ideas person in our relationship whereas I am the one who gets lumped with it to follow through. She comes up with the thought and I end up making it into reality. She thinks, I do. It is up to me to make it come true.
This situation started in earnest with her idea of buying and doing up a house in Spain. Although an exaggeration, the impression I get is that it took her maybe six seconds to come with the thought and took me six years to get it done.
This latest idea began with me opening my big mouth and wondering why a lot of the people she worked with always seemed to be off on training courses for one thing and another and seemingly a lot of money being spent on "consultants" being flown in to just give a half day course on something I thought people should know anyway. Or a subject with a title that I couldn't work out what on earth it was supposed to be on about, e.g. "Coping with modular paradigm shifts", or, "Quality management processing".
I wondered aloud what courses people like the company drivers went on, or the cleaning staff etc, knowing full well they didn't. They did their jobs and that was it.
Her mind chewed on this for all of a nanosecond, as I'm convinced it is made up of quantum entangled particles, and came up with an idea. She had joined various threads, that of what little skill I might possess, a random thought of something she'd heard of but didn't know precisely what it was, the solution to getting various staff members involved who normally wouldn't be, and giving "added value" to their positions. Plus showing they were appreciated.
I'd have just given them extra time off or something, but she had a better idea.
It's like when our kids were little. My idea of fun for them was for us to go and kick a football around, have a picnic, build a den in the woods and so on. Hers was to buy an educational board game for rainy days. This is how we differed, yet were complimentary with each other.
Hence the "Defensive Driving: Theory and Practical" presentation was born. Mainly for the company drivers but any other staff who felt they needed it. Compulsory for the drivers, optional for anyone else.
It also included a free lunch (though, yes, no lunch is really free), which was a motivator, and on completion you get a certificate, presented by me (not exactly a motivator) which remains on your work file.
As many as wanted/needed could sit in on the classroom stuff for a couple of hours but then a maximum of three would be put in a car with me to do the practical stuff for the next couple of hours. Taking it in turn to drive while I harangued them for their pathetic dangerous actions whilst giving them the benefit of my extensive and exceptional experience and knowledge.
I hoped the second part would be like that but Mrs M said I couldn't shout at them nor be an arrogant smart-arse.
It rather cramped my style, but I put up with the restrictions for the sake of company harmony.
I have done so far one presentation and two practical sessions. Who knew Powerpoint was such a devilish computer programme for the uninitiated, non-office going person like me? In my working life I have spent at a maximum, five months doing office work.
I fear though, after I was informed of how many drivers/others have to or want to do this, that it will be an ongoing saga. Especially as there are outlying offices around the country to sort out as well. One of them is where Mrs M and I were recently and this gave me the opportunity to slip back to South Luangwa National Park.
The whole purpose of the previous paragraphs was just to lead you gently into, with a bit of luck, appreciating the following report and photos and risking life and limb to bring it to you.
We set off on a sunny day and passes though some typical African countryside -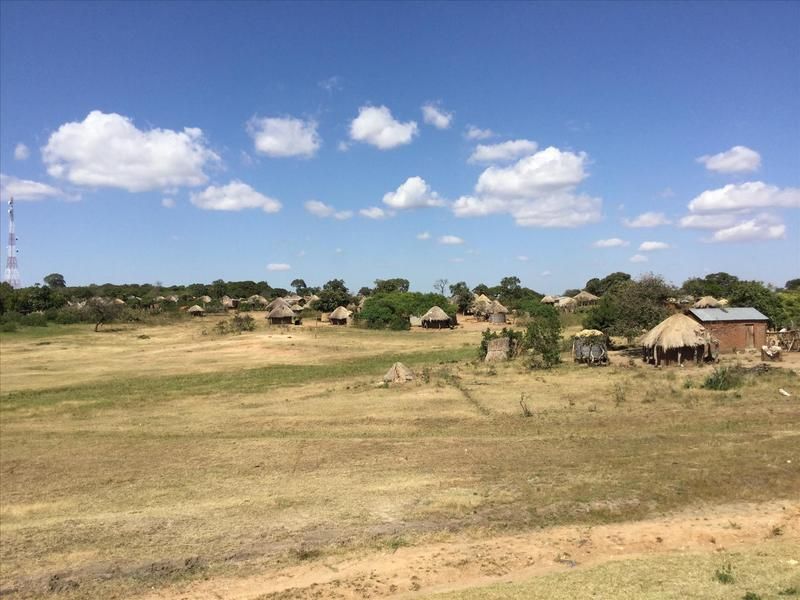 The wet season has recently finished and the rivers and streams are just tidying up and transporting the last of the water, though many will remain and not dry up completely –