Post by onlyMark on Dec 26, 2018 12:04:13 GMT
I went white water rafting this Christmas on the Zambezi at Victoria Falls. It's not the first time. Over the years I've done it, as well as a number of other "adrenaline sports" in a number of different countries, namely New Zealand, Zambia, Uganda, Namibia and Nepal. Quad bikes, motorbikes, canoes, rafts, jet boats, body boards, sand boards, canyoning and all sorts. In fact I've forgotten a few probably.
This is all with professional companies and excepts the stuff I've done myself whereby I go off into deserts or as a job driving through jungles, crossing the Sahara, central Africa, travelling through tribal areas, disputed areas, skirting minefields, negotiating with boy soldiers, being arrested more times than I can mention, dealing with AK47 toting locals with a bad attitude.......... and so on.
Well, all I can say is I've decided I am not invincible any more. I think after this day, it is enough. I'm getting older and maybe, more wise. My body doesn't do what it used to. It's still pretty good and performs to a certain level, but the "cushion" I used to have whereby I didn't have to go to my limits has disappeared and I have never been the type to revel in pushing myself to those limits and beyond. I'm basically, and even though it may not seem so at times, quite a lazy person. If I have to push to a point where it becomes too uncomfortable, then it is not enjoyable. If I can't do it, whatever it is, with excess to spare, then I see little point in continuing.
On this day the raft ejected us twice. On both occasions I was caught up in such a wash that I had the air knocked out of me and was the last to surface. On the second occasion I ended up on the bottom of the river and had to push myself off because the force of the water was holding me down.
I had often experienced an overturned raft and never had difficulties, though I know of others who had. The first time, in the morning, I put it down to one of those things and it was even quite funny in that the force of the water had whipped off my shorts - fortunately they were caught by someone further downstream. Regularly shoes are lost anyway.
The second time, after lunch, the flip was so quick I didn't quite get chance to take a full lungful of air, so I was starting from a disadvantaged position even before I was dunked. Both times, by the time I had surfaced and got my bearings, the rest of the participants had already been taken into the second raft and ours had been turned back the right way.
There were two rafts, plus rescue canoeists. One raft had a platform of sorts at the back with a guide who had two oars. This platform is actually the base needed for a person to be put on if injured and an extraction by helicopter is required. This raft was full of Americans. You may notice later it never overturned. There is often an easy way through the rapids usually and a harder way. The other raft took the easy way.
In our raft were five "paying guests", the guide at the back and a spare guide coming for the experience and maybe even to balance the boat, which considering he weighed about the same as a wet flannel, served little purpose.
I positioned myself rear left as this is my favoured position as I prefer paddling left sided. There were three South Africans on a motorbike tour who were good, but hadn't rafted before. So when the option came to do it easy or hard, they picked hard the first time. We tipped, which I had a good idea that would happen. The second time after lunch, only one wanted hard. I kept quiet. But nevertheless, the guide took us to the hard side though he said he wouldn't - more on that in a second.
The layout was the guide at the back, left side going to the front was me, then the SA lady, her husband front left, the SA guy with the moustache front right, middle right was the most beautiful and intelligent woman in Africa, nay the World, Mrs M (yes, she did it as well), rear right was the spare guide making up the numbers.
We had to walk down a rough path to the river from the top of the gorge to begin and climb out again at the end. This was a bone of contention, the end part, as the company info had written that at the end of a full day (you can do half a day where you need to climb out) there is a cable car.
Nope, not so. There is one but hasn't worked for at least two years.
Funnily enough nothing was said about this until we were halfway through the day and obviously, the guide got it in the neck from us. I'm sure he gets it every trip. On the Trip Advisor reviews of the trip I could only see one reference mentioning this buried away somewhere. All the rest seemed to feel it was hardly worth a line about it and I either forgot about it or made an assumption and didn't think any more about it. Especially as on the company website it mentions the cable car three times.

At least 250m up a cliff, up a goat track after a full day rafting with a heavy wet life jacket and helmet in a 32 deg Celsius humid temperature was for me, not a small thing. My legs are still stiff two days later.
These are the rapids -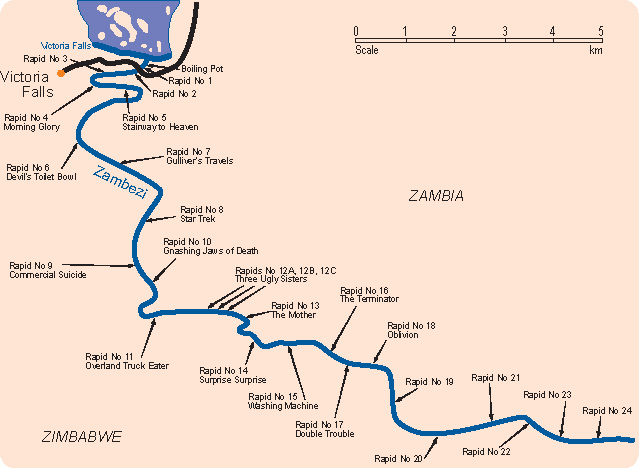 Here is a video of my day, it is 16.50 min long and it is up to you if you watch it all. The high points are at 8:12 and 12:00.
Rapids are graded in severity, from 1 to 6 on rivers.
On the Zambezi are rapids from 2 to 6. The rapid graded 6 we walked around (portage), and even the same rapid, depending on route through, can have different grades.
en.wikipedia.org/wiki/International_scale_of_river_difficulty
We went through all the range from 2/3 to 5 and just to mention a grade 5 is described as -
"Extremely long, obstructed, or very violent rapids which expose a paddler to added risk. Drops may contain large, unavoidable waves and holes or steep, congested chutes with complex, demanding routes. Rapids may continue for long distances between pools, demanding a high level of fitness. What eddies exist may be small, turbulent, or difficult to reach. At the high end of the scale, several of these factors may be combined. Scouting is recommended but may be difficult. Swims are dangerous, and rescue is often difficult even for experts. Proper equipment, extensive experience, and practiced rescue skills are essential."
The first, at 8:12, is a rapid called Midnight Diner and has three routes, the far right (nearest the camera) is called "Chicken Run" and is where the raft with the platform headed. The far left is called "Star Trek" because of the five metre hole. The write up and description for each rapid states, "On the left is "Star Trek" with a hole of up to 5m reserved for the brave." That would be us then.
Our instructions from the guide, besides "paddle" and "paddle harder" was at some point to "get down". This meant dropping as best you could to the bottom of the raft and hanging on to the side rope - then ride it out and see what happens. Our guide was called Kay J.
The second, at 12:00, is called Oblivion, described as - "Class 5: Three waves make up THE rapid on the Zambezi..... The 3rd crashing wave is responsible for more raft flips than any other in the world – only about 1 in 4 attempts succeed!"
Well, it seems the first raft with the Americans happened to be one of the four attempts and you may notice that from earlier the guide has rearranged the boat, there is one person without a paddle, don't know why, but the main thing is he has turned around for him to go backwards whilst the rest now face him. I think for two reasons. Firstly is he has more power rowing as you need some speed up to run over the wave, plus there is more weight then at the "front" to help power through rather than like us where we "dug in" to the face. The first also took a little different line as he spins around.
At the end of the video some participants are interviewed. Not me, I slipped around the cameraman, but at 15:25 first the moustache is interviewed, and wished to remain polite in his words, then the woman is asked a question or two. She is also polite but stutters and searches for a moment or two at one point when asked about the guide. She says, "He made a good photo," meaning she knew on the second flip he'd done it on purpose for effect.
Remember - "The Zambezi is renowned for its extremely high volume and steep gradient – treat it with respect…."
It may be one of the last adventures of sorts I'll be doing. You never know, but going out on a high note is good. I wonder how I can make sitting on the sofa watching the television sound interesting.
A full description of the rapids can be found here.

We came out at rapid 20 -
www.zambezi.com/blog/2012/the-batoka-rapids-zambezi-river/