Post by onlyMark on Nov 9, 2020 20:53:10 GMT
As I am now for a while on my own, the contents of my fridge have morphed into only the things I like. Any other influence has been purged.
It is only natural that two people will have differing tastes, but a lot do overlap, so our fridge tends to have a mix of common things, things she will only eat and things just for me.
As of today, everything she likes has somehow disappeared, leaving only the foodstuffs that appeal to me.
I thought I'd take an unapologetic picture of it on the spur of the moment without excuses, rearrangements or mentioning that there are many things that are really, really healthy in there but you just can't see them.
There isn't.
Are you courageous enough to whip your fridge door open and do the same?
I'm sure we can be uncritical if you have a severed head in there, or tubs of lard or whatever.
No problem if you don't want to. It was just something, sitting here a little bored, that occurred to me when I fetched out something to show Bixa in another thread.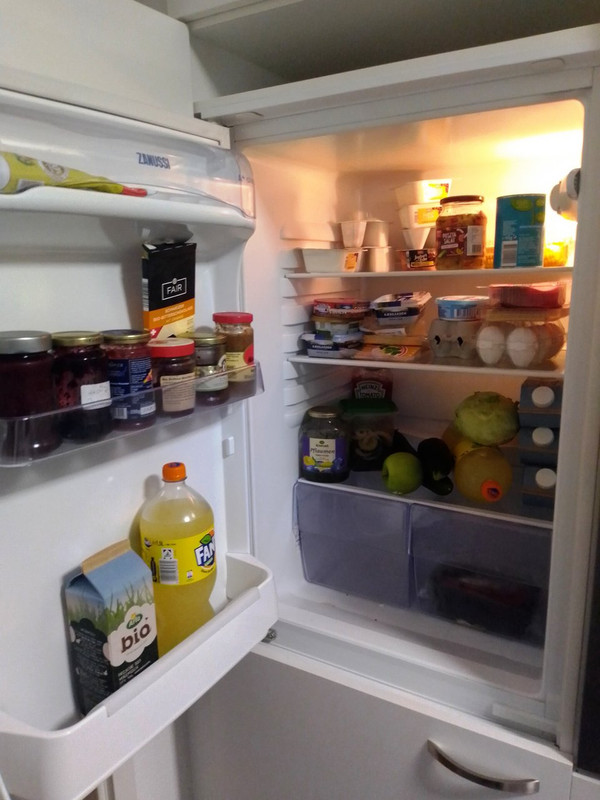 In the door there is the tube of tomato paste, Swiss 60% dark chocolate, various jams including one my MIL made which is Aronija (had to look that one up - chokeberry) and another which is Maline (raspberry), some mustard from Bayern (Bavaria), below is bio milk and sugar free Fanta lemon.
Top shelf there was a special deal on corner yogurts for 28cents so I bought a few, half a tin of baked beans, a jar of Puszta pickle (Hungarian I think) and hidden behind is a pack of corn on the cob.
Middle shelf is cheese, mature sliced cheddar and mature sliced 'Old Amsterdam' cheese, some cheese triangles, a packet of Balkan Kase which is similar to feta but smoother consistency and less salty, Philadelphia spread cheese, a container of some pate, eggs (large bio) and a packet of Landsalami which is salami with pepper, coriander and garlic and a tub of salted butter.
Bottom shelf, left side, is a jar of mint sauce, a container of 'fridge pickles', which is just sliced cucumber and onion in vinegar, Heinz tomato ketchup at the back.
Middle is that last remaining Granny Smiths apple from four I bought a few days ago, there is a cucumber and similar colour but different is a courgette.
Balanced on another sugar free Fanta lemon is a kohlrabi which I will peel, cut into slices and eat raw. I like it best that way. To the right is more bio milk.
I the salad tray is a few tomatoes that shouldn't really be in there as they lose their flavour, but there they are anyway.
That's it. A mix of healthy and unhealthy. Not a bad effort for me really considering what I could have.